Northern Lite announces Limited Edition versions of their 10-2EX CD Special Edition, 9-6 Special Edition, and 8-11EX Special Edition models.  Northern Lite just kicked fully-featured luxury truck camping up a notch.

Continuously refined since their debut thirteen years ago, Northern Lite Special Editions are well known as aspirational products in the truck camper marketplace; the camper many experienced truck campers want to own.  What's not well known is how the Special Edition models came to be.
In 2005, Northern Lite's management team designed the Special Edition to take their molded fiberglass campers to the next level.  Designed for the then Owner, Mac Donkin, the new model came standard with nearly every possible option Northern Lite offered at the time, and a list of material upgrades.  Demand for such a premium non-slide camper had not been established, so Northern Lite capped the original run to just twenty-five units.
Those first twenty-five Special Editions sold out fast.  To meet incoming orders from dealers and customers, another run of Special Editions was produced and shipped.  Before long, the Special Editions were Northern Lite's number one seller.
Today you would be hard pressed to find anything but Special Edition models at Northern Lite's dealers across the United States and Canada.  Northern Lite is practically a Special Edition company.
So what happens when Northern Lite decides to take their Special Editions to the next level?  The Special Editions already feature some of the top materials and finishes you can find in any RV – truck campers or otherwise.  Without changing the floor plans, what could Northern Lite do to make an even more high-end and luxurious camper?
As it turns out, quite a bit.  To celebrate their 30th anniversary as a manufacturer, Northern Lite has produced their best truck camper yet, the Limited Editions.  If there was something that could be added or upgraded in a Special Edition, you'll find it in the Limited Edition.  And you know what that means…
Introducing the aspirational camper for Northern Lite Special Edition owners.  Sorry folks, you knew it couldn't last.  It might be time to trade up.
To get the details on Northern Lite's new Limited Editions, we talked to Keith Donkin, General Manager of Northern Lite.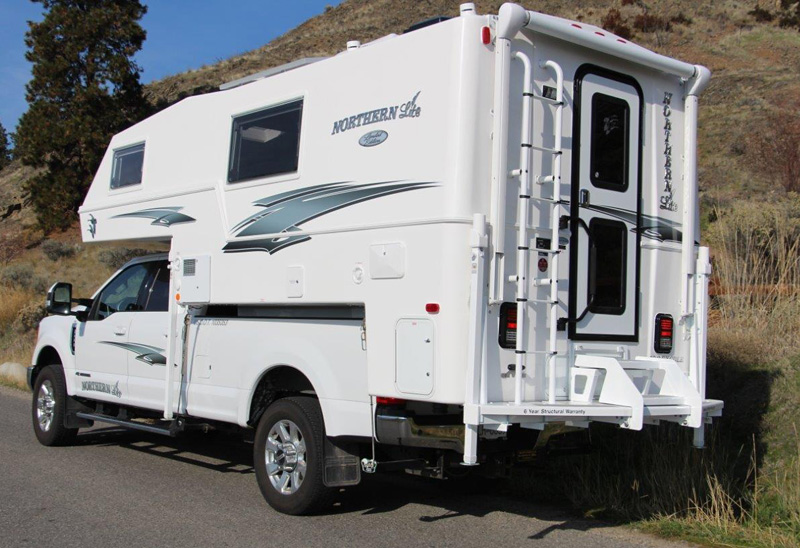 Before we talk about the new Limited Editions, tell us about the Northern Lite anniversary that that these campers are designed to celebrate.
This year is Northern Lite's 30th year in business. We wanted to build something special to celebrate our anniversary. We are only going to build 100 Limited Edition models.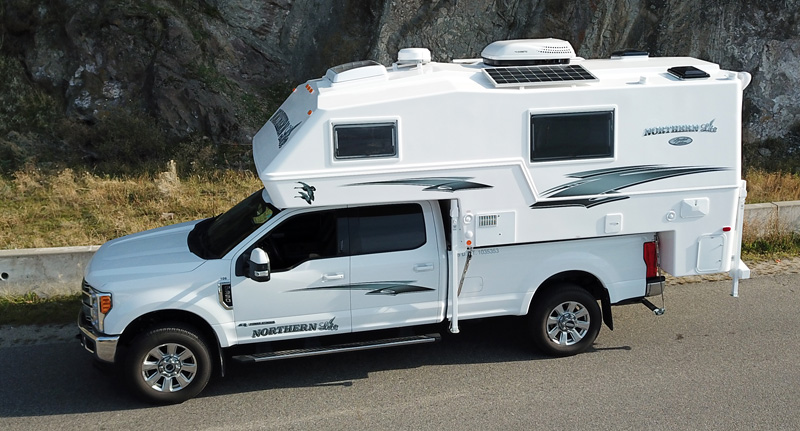 Which Northern Lite models will be available as Limited Editions?
Limited Editions will be available in the 10-2 EX CD Special Edition wet and dry bath, the 8-11 EX Special Edition wet and dry bath, and the 9-6 QC Special Edition. For each model you can also choose between our full booth or U-shape dinette.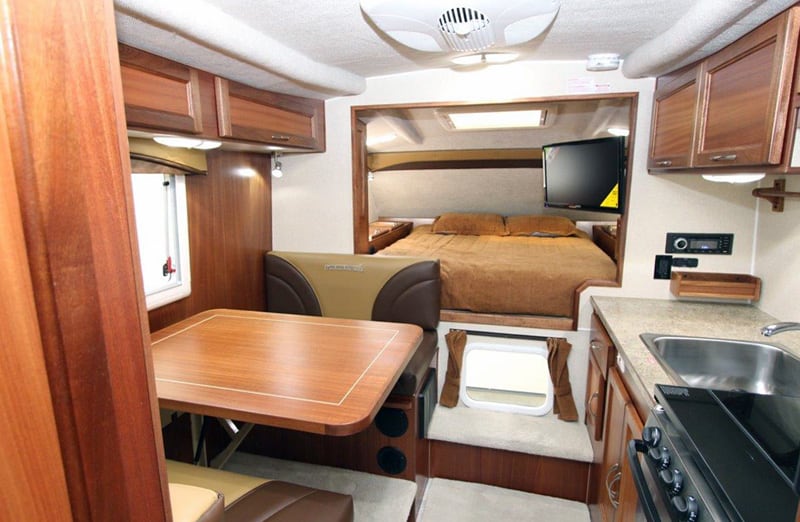 That's ten possible model Limited Edition models and configurations. Will the Limited Editions be dealer stock or special ordered?
Limited Editions can be special ordered, but dealers are placing their orders now for dealer stock. The dealers want to have them for the 2019 RV show season. Most dealers are ordering three at a time because they want one of each model.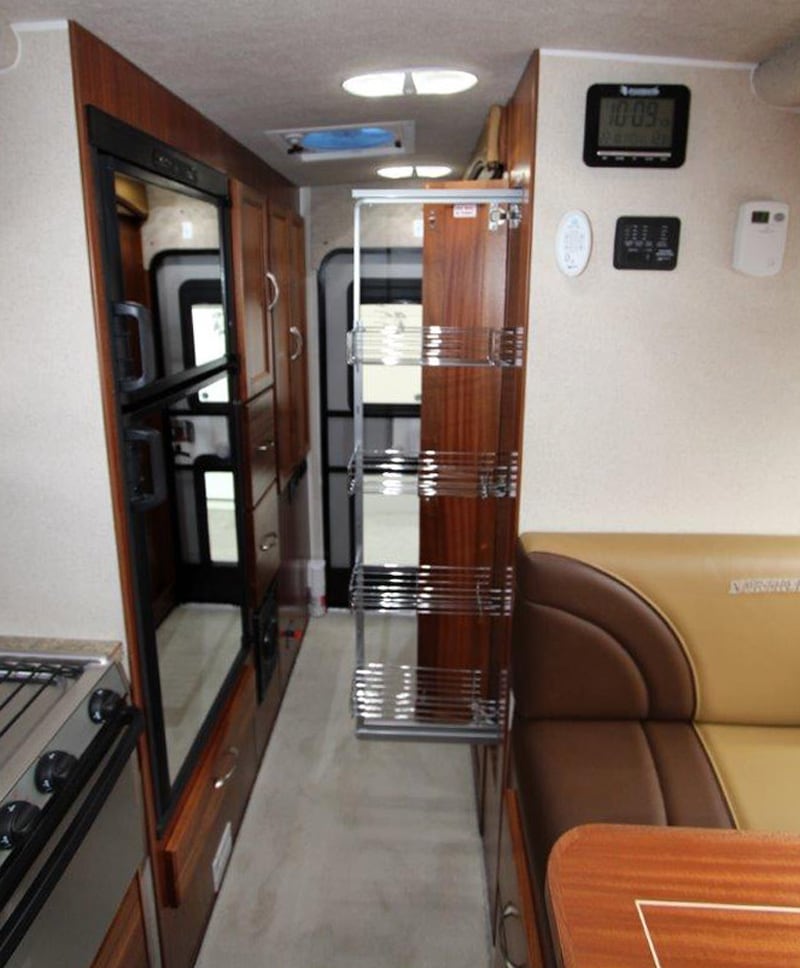 Do the Limited Editions start with the standard features of the Special Editions?
Yes. The Limited Editions have all of the standard features of our Special Editions. We also made most of the Special Edition options standard on the Limited Editions. On top of that we added a deep list of Limited Edition-only luxury features and upgrades.
Since they come loaded with almost everything, the Limited Editions do not have a lot of options. The only options available for the Limited Editions are dually brackets, boat rack, U-shape dinette and Onan generator.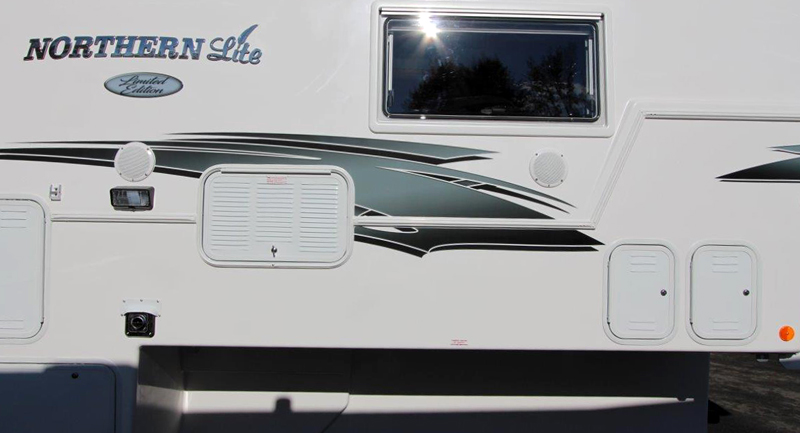 Let's go through the Limited Edition list. Exterior speakers are standard on the Limited Editions. Why were exterior speakers something you wanted to include?
We went back and looked at customer requests from Special Edition owners. One request that we hear often is for exterior speakers.
The new stereo systems we are installing are capable of powering three sets of speakers, so it was a natural upgrade for the Limited Editions. We have been installing exterior speakers on our Australian models for some time, but this is the first time we have offered them in North America.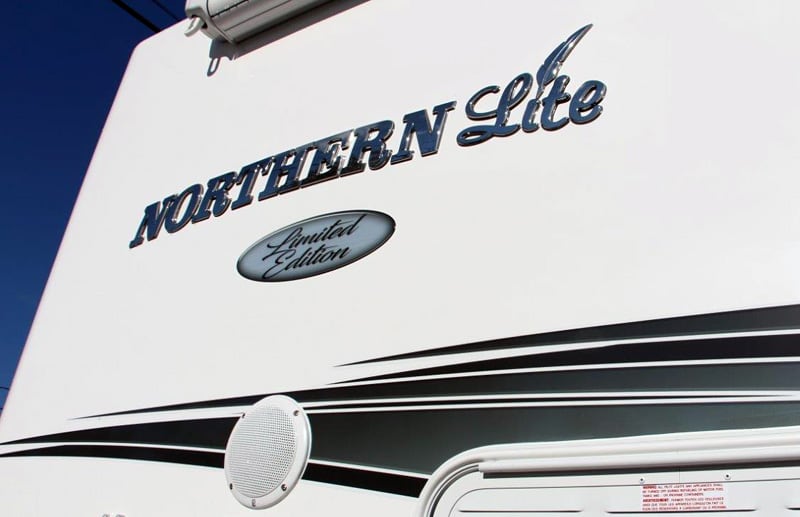 Many of us actually don't use external speakers. Can a Limited Edition be ordered without external speakers?
Yes, you can always delete features for a special order.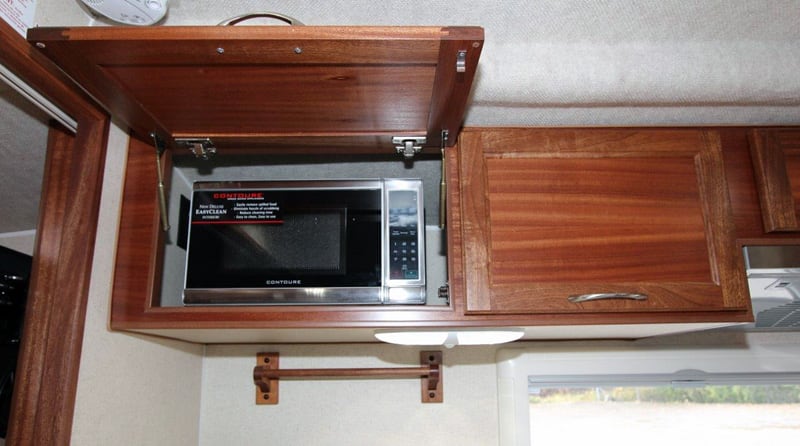 The Limited Editions come standard with 10,000 BTU air conditioners and a microwave. Is this an example of Special Edition options that are standard features on the Limited Editions?
Yes, the air conditioner and microwave are the same models that come standard in our 10-2 EX Special Editions and are optional on our 9-6 and 8-11 EX models.
We are using a new Dometic air conditioner that was designed for the Class B motorhome industry and runs on a 2,000-watt generator. The microwave is a 700-watt model that has proven to be reliable and matches our decor well.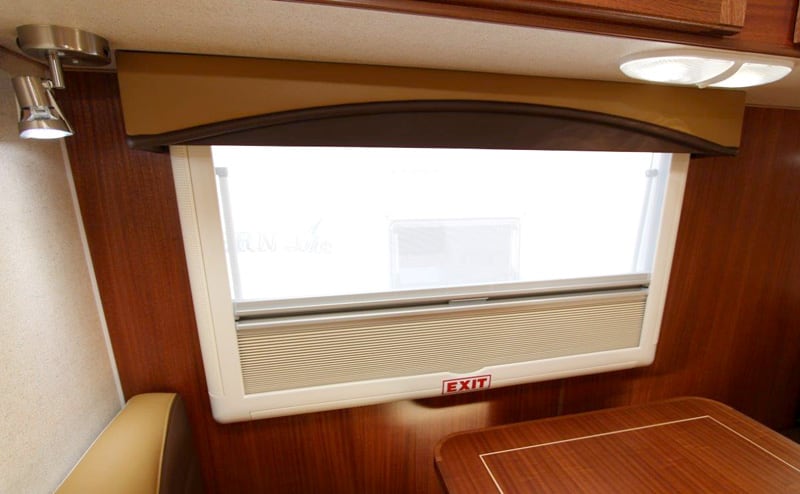 The new Limited Editions are using an upgraded window – the Dometic S5. Before we get into the qualities of the new window, what type of window is currently used in the Special Edition models?
The 9-6 and 8-11 EX use the Dometic S4 windows and the 10-2 EX Special Edition has the Dometic S5 windows. The window lens is the same in the S4 and S5. The blind and screen mechanism are what differentiates the two models.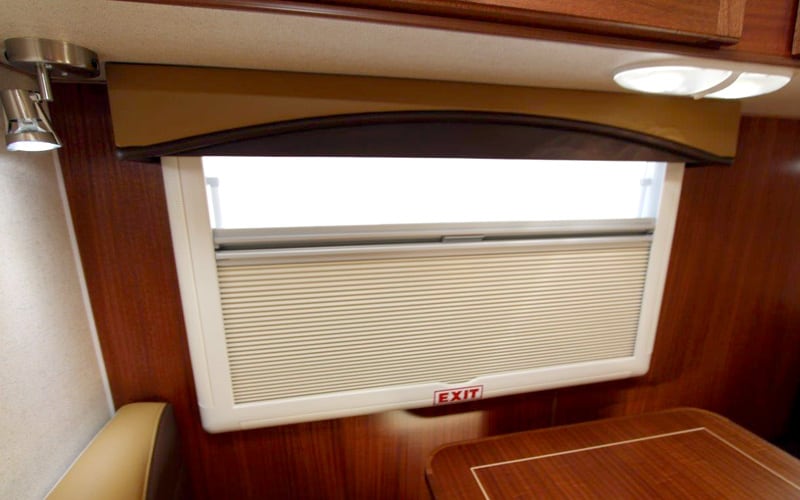 The S5 models cost more, but they have a double-pleated Duette honeycomb blinds with infinite positions. The S4 has a blind release that goes into set positions. With the S5 you can stop it anywhere you want.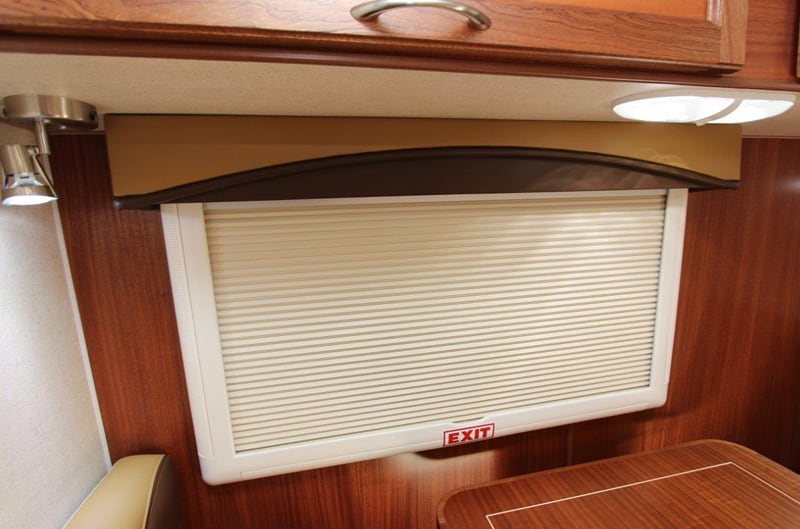 The Dometic website description of the window says it has a practical fly screen. What are they referring to?
The way it connects the screen and blind is smoother on the S5. The S5 has a nicer contact than the S4. It also has an aluminum rib at the bottom instead of plastic, so it pulls down straight.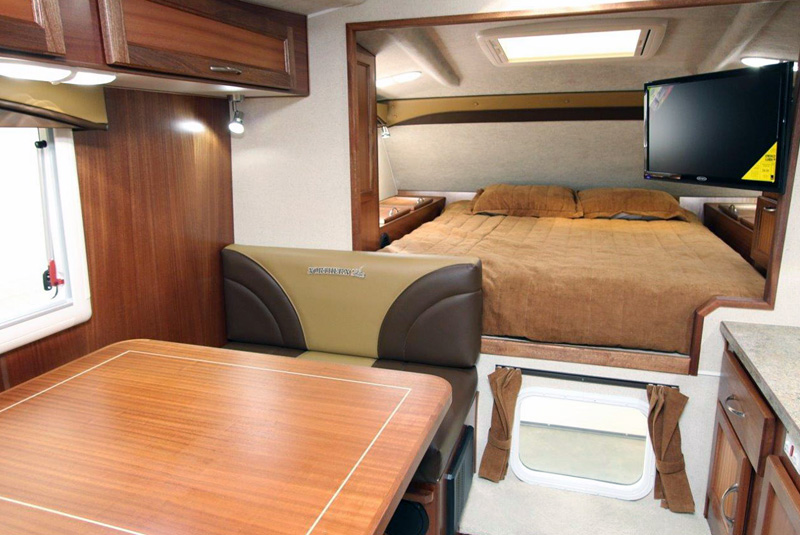 The Limited Editions come with leatherette seating. Leatherette is a synthetic leather that looks and feels like leather, but doesn't absorb spills and costs significantly less than genuine leather. Tell us why you chose leatherette for the Limited Editions seating and valences.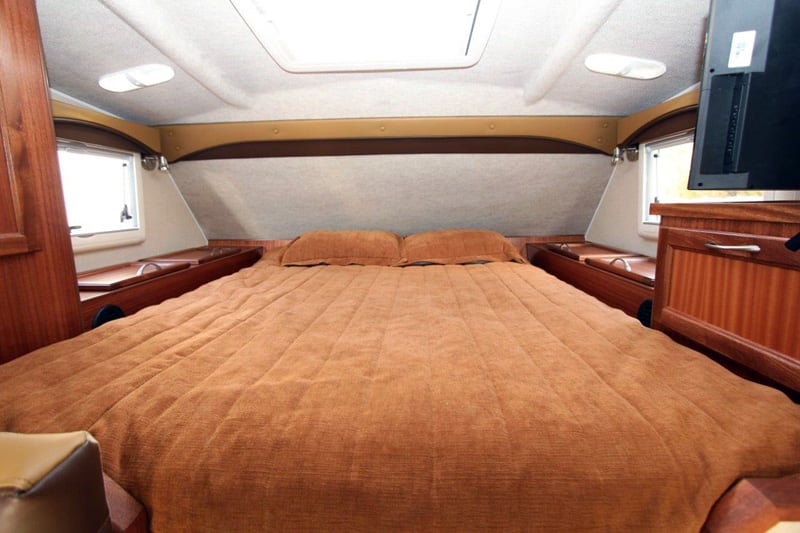 We wanted something richer for the dinette and valances in the Limited Editions. Our fabric supplier came in with sample cushions featuring leatherette and we were very impressed. There's also an additional foam layer in the leatherette cushions. The leatherette cushions are more comfortable.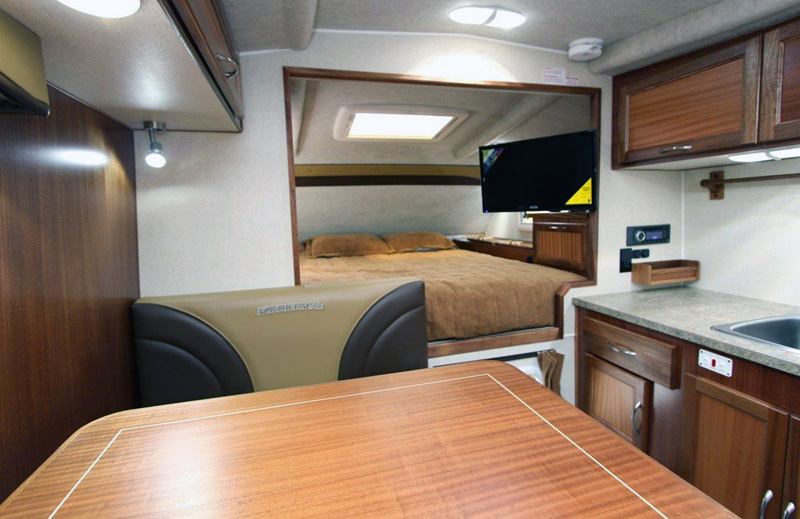 Did you choose between different brands and suppliers of leatherette?
We evaluated numerous swatch samples. Having two colors in the cushion caught my eye because they worked well for a two tone look.
Getting the leatherette cushions completed took longer than I would have thought. There were numerous details that took time to get right, like the stitching. We also had the Northern Lite logo stitched into the cushions. These are small things, but it took time to get it dialed in to the point where we were happy with it.
Why not go with genuine leather for the Limited Editions?
Our campers are used for hunting, fishing, and camping. With that in mind, the leatherette we selected is more durable than leather and will hold up for many years.
We wanted a material that is rich and luxurious, and will last as long as a Northern Lite will last. That's how we approach every product decision here at Northern Lite.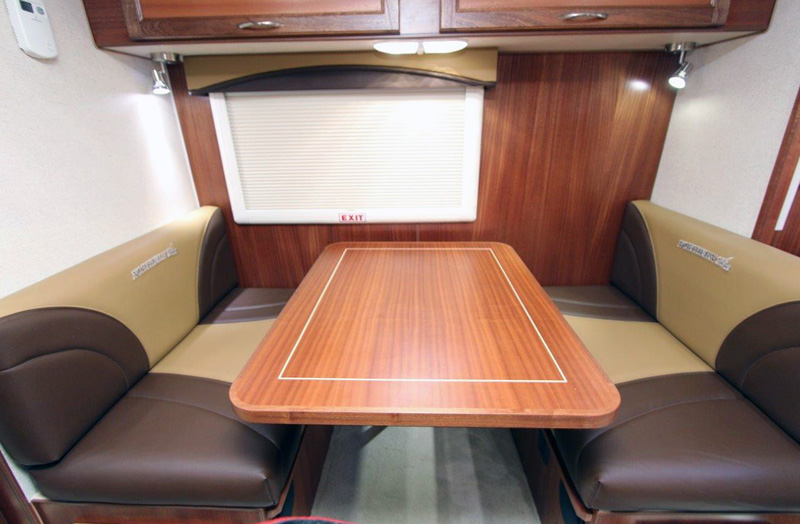 The solid Sapele wood table is simply gorgeous. Where did that idea come from?
My dad bought a new fishing boat. The boat company used Sapele for the cabinets and the table. We both admired the Sapele table and said it would look incredible in our campers. That planted the seed.
Are they made in house?
We outsourced the Sapele tables from a local high-end cabinet here in Kelowna because they require CNC cuts that we can't do here. The Sapele tables are expensive, but they turned out well and tie in with our Sapele cabinets.
There's a good possibility that we'll be manufacturing the Sapele tables ourselves in the near future. We are currently working on another plant expansion. Our plan is to purchase and install a CNC machine for the cabinet shop when the addition is completed. We are also looking to add an automated saw.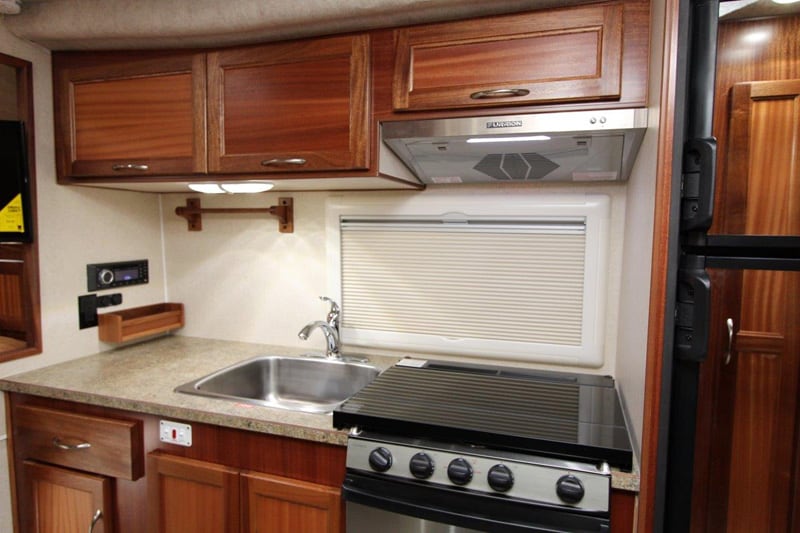 Since the table, cabinets, and TV shelf are Sapele, why not make the kitchen counter Sapele as well?
We don't believe Sapele kitchen counters would hold up.
During our Limited Edition development process, we actually designed a composite solid surface countertop. When we got the leatherette cushions and started prototyping a unit on the production line, the Special Edition countertop tied in better. That's why we have the Special Edition countertops in the Limited Editions.
"Sapele was meant to be interim wood and now we have it in all of our Special Editions and Limited Editions."
What's the story behind Northern Lite and Sapele? It's become a trademark feature of the brand. When did that happen?
That story goes back to Hurricane Katrina. We wanted to do something different than oak. We went to Eucalyptus wood and it was stunning. When Katrina hit in August of 2005, all of the containers of Eucalyptus were damaged in the ports causing a shortage. We immediately had to look for an alternative wood.
We didn't want to stain the wood. We wanted a natural color. One of our suppliers brought in Sapele because they thought it would be a good replacement. It looked good, so we decided to go with it until Eucalyptus was available again.
When Eucalyptus came back online, the mills were cutting it differently. Before we had unique patterns that were visually stunning. The new Eucalyptus cut was in strips creating tight patterns that made people's eyes dizzy. Plus, we liked Sapele more.
That's how we got into Sapele. It was meant to be interim wood and now we have it in all of our Special Editions and Limited Editions.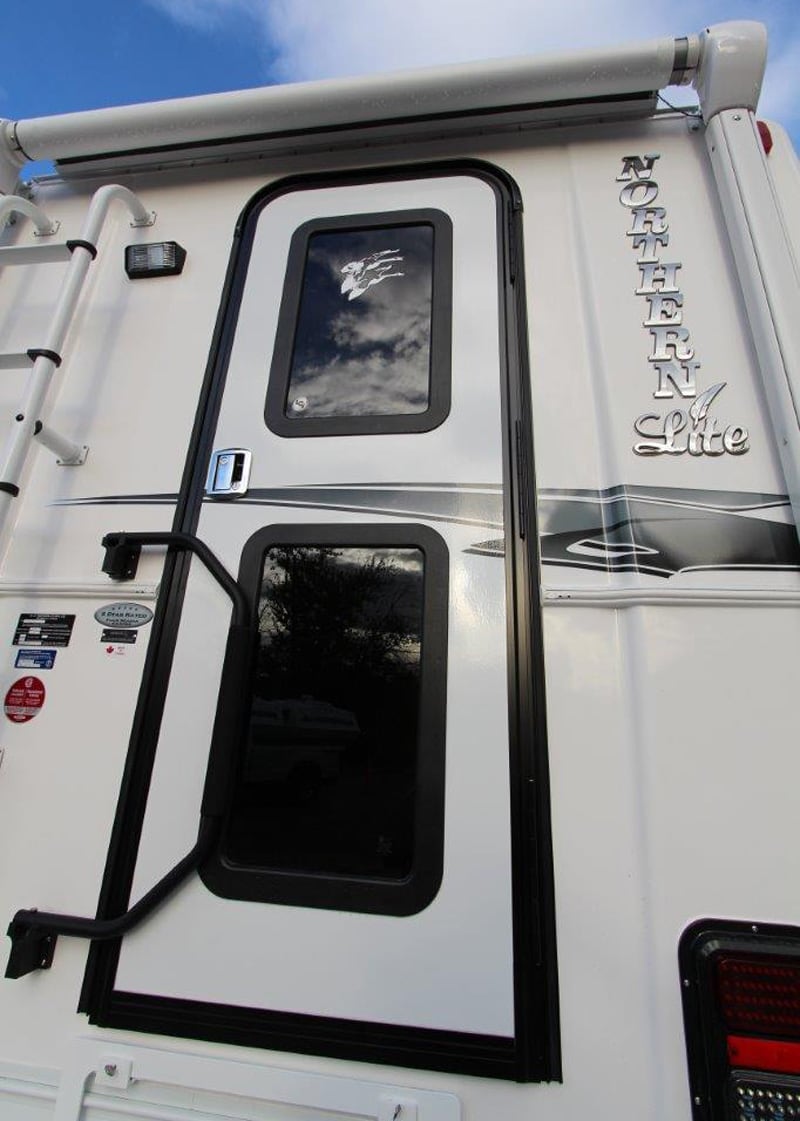 It's amazing how a hurricane in the Gulf of Mexico can change the cabinetry of campers made in Canada. How did the Limited Edition raised chrome graphics come about?
That's an idea we've had for years. We first applied raised chrome graphics on my Dad's Northern Lite as a prototype. When that proved successful, we went back to our supplier and asked for raised chrome Northern Lite letters for the Limited Editions.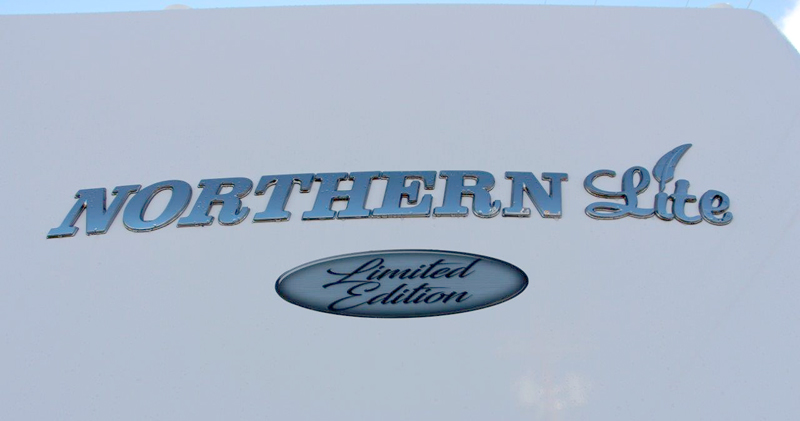 The chrome graphics change color in the light giving the Limited Edition a unique exterior look.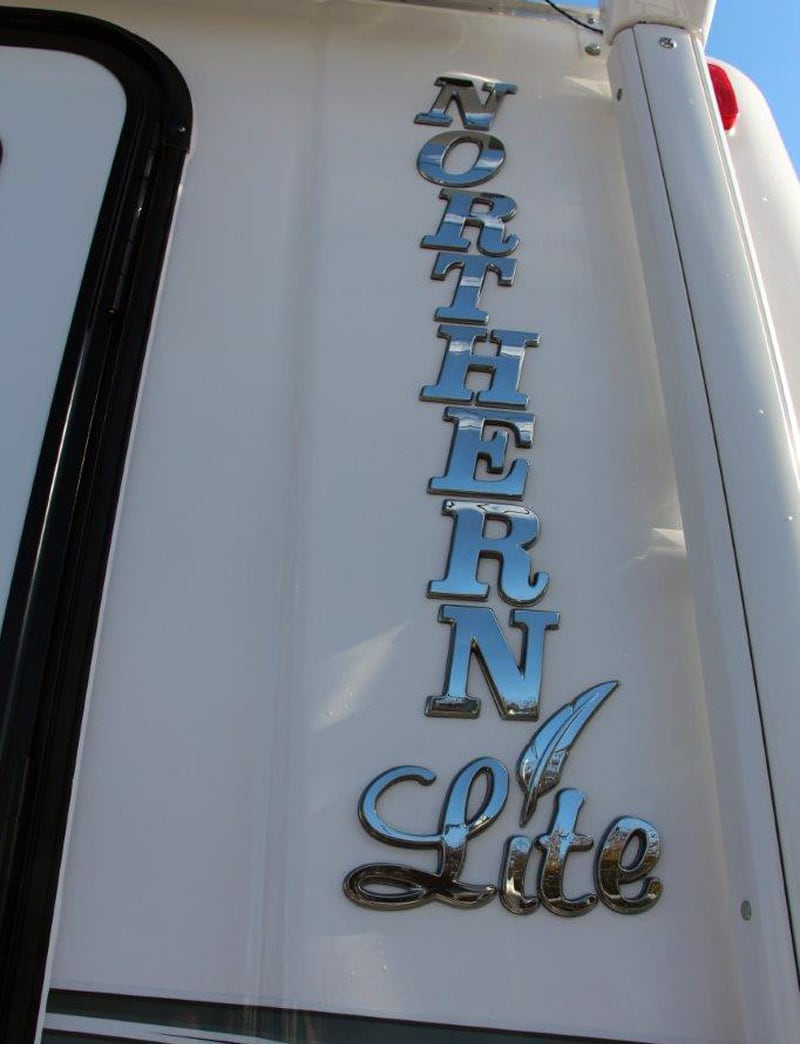 The chrome graphics tie in with our fiberglass shells because we use a high grade marine gel coat. It grabs your eyes and looks sharp. They turned out well.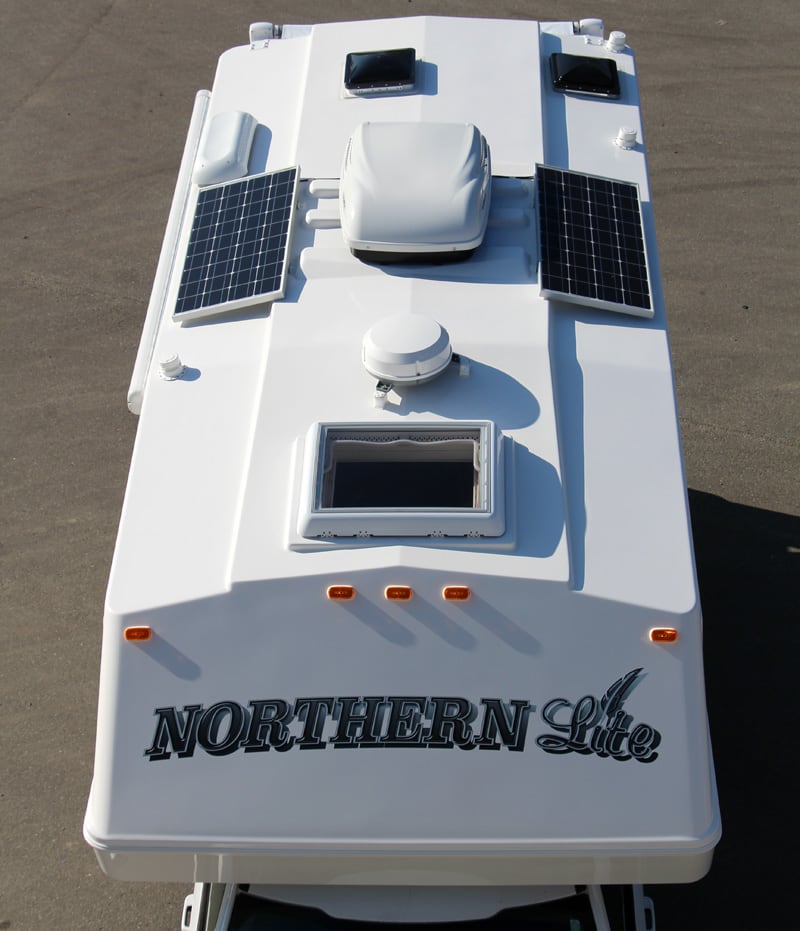 The Limited Editions come with dual 100-watt solar panels. Are these panels an upgrade from the 95-watt panels Northern Lite was using?
Yes. Six months ago we had 95-watt panels. Our supplier upgraded to 100-watt panels at the same size and cost. We use a 30-amp solar regulator for plenty of capacity.
Last year we started offering a second panel as an option for the Special Editions. For the Limited Editions we made two 100-watt panels standard.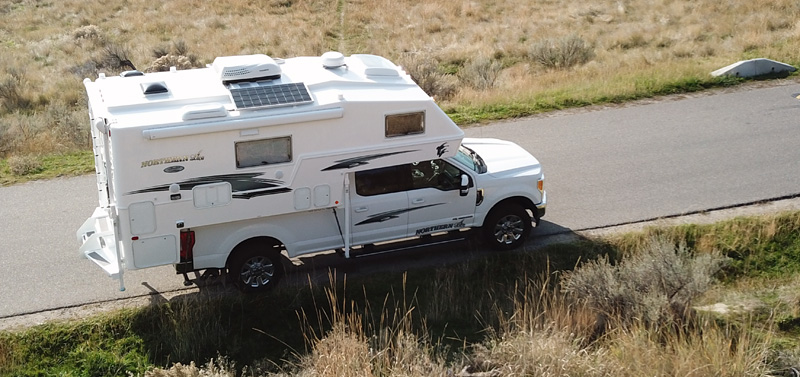 Solar panels are typically pushing 150-watts, often more. Why not go with higher watt panels?
The solar panels we use are built specifically to fit Northern Lite campers. For our molded fiberglass campers, it's all about what fits right on the roof. The panels we use fit the roof well, and have proven to be reliable.
The dimensions of the panels are the key. We have them tucked in on the roof so they fit right and will last a long time. That's one thing we pride ourselves in. Long term, we want as few problems as possible with your camper.
Any thoughts about the new flexible solar panels? Will they work with Northern Lite's molded fiberglass shells?
We have looked at flexible panels, but the width and dimensions don't work with our roof. The width of the 100-watt panel we are using works well with our curves and slopes.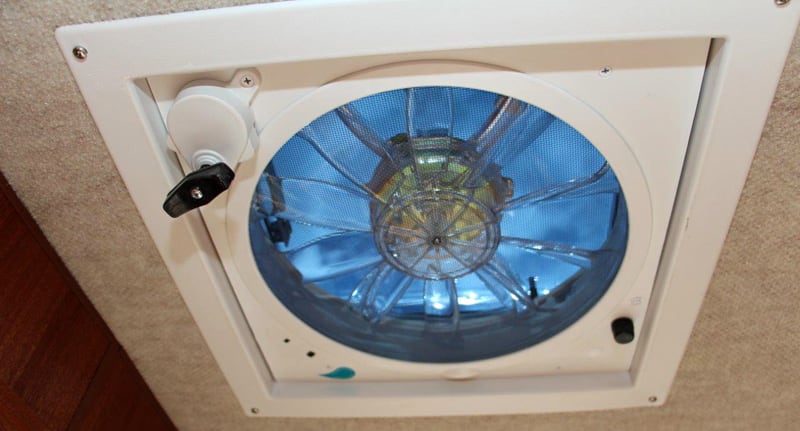 A 7300 Fantastic Fan is optional on the Special Editions and standard on the Limited Editions. Why did you select this model of fan?
The 7300 Fantastic Fan has been exceptionally reliable. It's a three-speed, out-only unit. It has a remote control with rain sensor. It's a high quality unit that lasts. That's why it's optional on the Special Editions, and standard on the Limited Editions.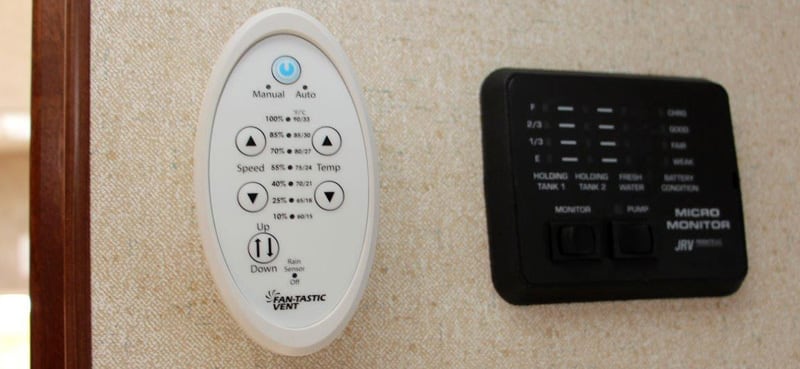 Why not install vent covers on the Limited Edition, or install a vent with built in covers? Vent covers are a likely post-purchase upgrade for many of your customers.
The curves in our roof make it so all-in-one vent and covers can't be installed. Customers can have a dealer install a vent cover for them. I don't like how they look on our campers, so I haven't make them a factory option.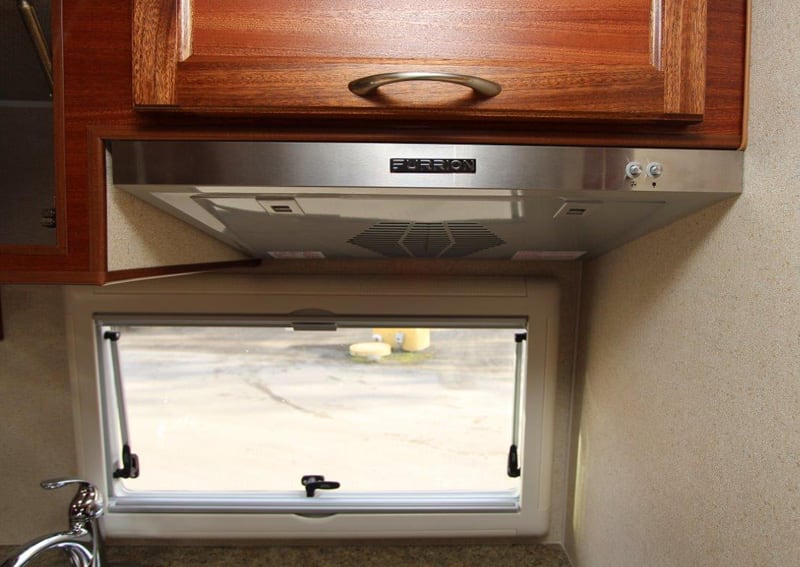 Tell us about it the stainless range hood that's standard on the Limited Editions.
The stainless range hood is a newer product out on the market. I first saw them at the National RV Trade Show in Louisville last year and kept it in mind as we were thinking about the Limited Editions.
For the range hood, we wanted nice LED lighting, a good fan, and quality filters. The new stainless range hood hits those marks, works well, and looks good. There is a strong chance we will put this range hood in our Special Editions moving forward.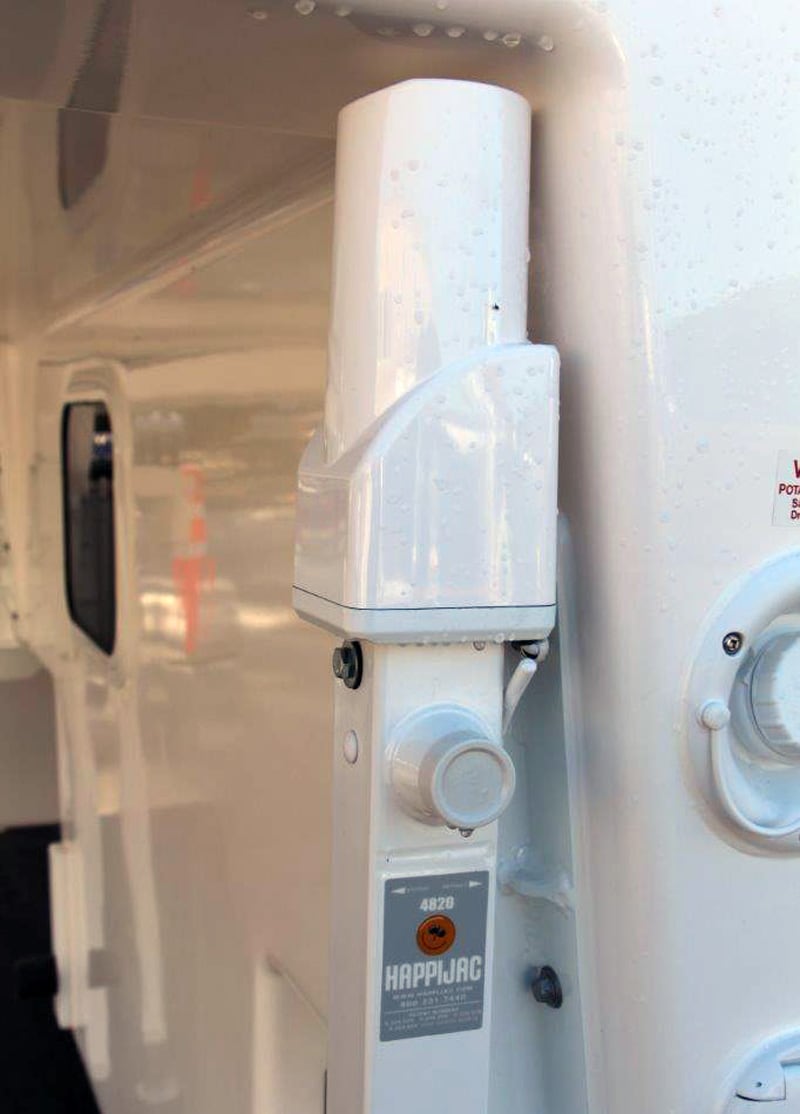 When we were at the Northern Lite factory this past August, you were working on new brackets to accommodate the new Happijac jacks. Tell us about that process.
The new Happijac motors are about 2-inches taller than the outgoing Happijac motors. To fit the new jacks to our campers, we had to reengineer our brackets. We continue to be the only camper manufacturer that runs our jacks brackets under the camper in the front and rear to help reduce stress on the jack brackets.
The new Happijac jack is supposed to be the best jack and motor that they make. I had the first new Happijac jack on the Limited Edition that I had on my truck last week. I operated the jacks and they work well.
All new Northern Lites will feature the new jacks and brackets by the end of the year. The Limited Editions will have them from the beginning.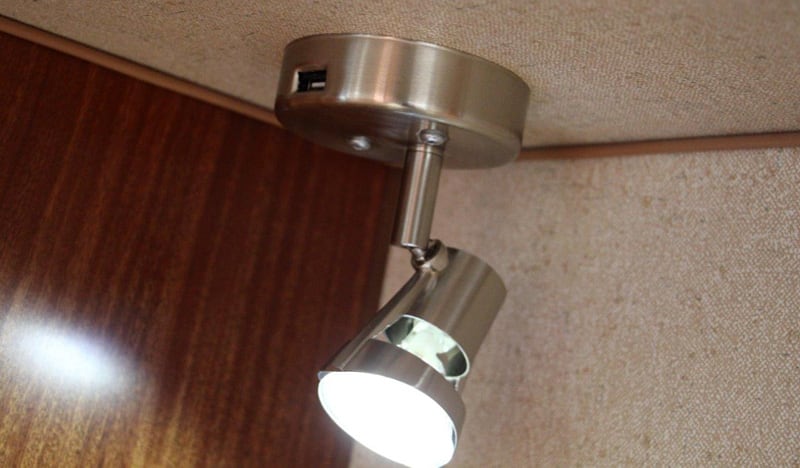 The Limited Edition LED reading lights feature built-in USB outlets. They look like the LED reading lights in the Special Editions. Where's the USB outlet?
The USB outlets are built-in, and hard to see in photography. The LED reading lights are otherwise identical to our current LED reading lights.
There are four reading lights in the Limited Editions; two in the dinette, and two in the cabover. Each one has a built-in USB outlet. There are also five additional USB outlets throughout the camper. That will bring the total number of USB outlets in a Limited Edition to nine.
What is the power of the USB outlets in the new LED reading lights?
They are 2.1 amps.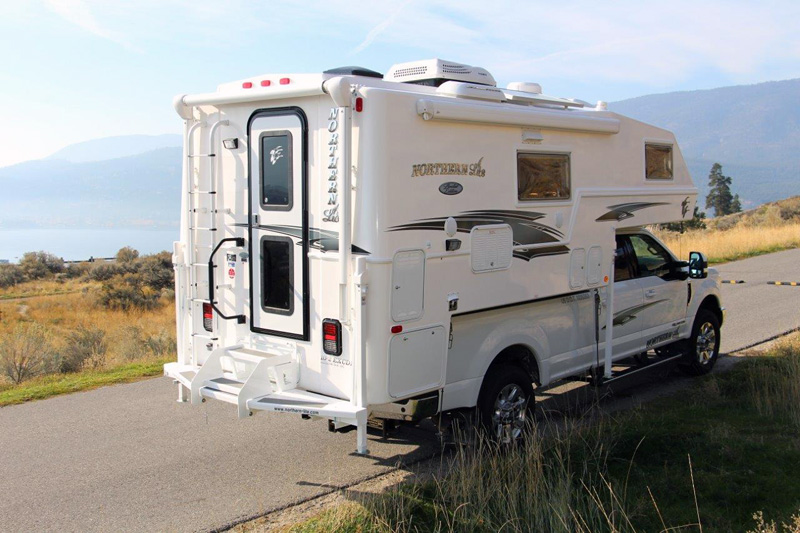 Have you built and weighed the Limited Edition models?
We weighed the 10-2 EX Limited Edition and it's 20-pounds heavier. It is 3,285 pounds. Keep in mind that the 10-2 EX Special Edition comes standard with the air conditioner and microwave; the two heaviest options.
With the 8-11 EX and 9-6 the weight difference will be more because of the air conditioner, microwave, and additional solar panel. We have not built those models as Limited Editions, but we project they will be about 130 pounds heavier than their Special Edition equivalents.
Why are air conditioners and microwaves not standard on the 8-11 EX and 9-6 Special Editions?
We don't usually put air conditioners and microwaves on the 8-11 EX and 9-6 campers because customers will want to load those models on three quarter tons.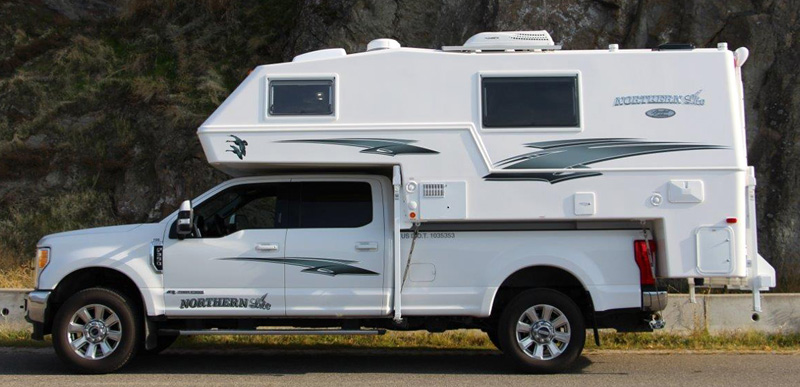 Both campers really need to be on one-ton trucks. The fact that they can be properly payload matched to one-ton single rear wheel trucks is fantastic, but a three-quarter ton is not advisable. Has center of gravity changed for the feature laden Limited Editions?
The parts that are added and changed – air conditioner, added solar panel, added microwave, new Sapele table, etc. – are mostly in the center of the camper and don't impact the center of gravity much.
We know this from adding air conditioners to other models. Our air conditioners are located over the center of gravity on our campers and also don't change the original center of gravity.
When will the Northern Lite Limited Editions be available?
We've got stock units that dealers have ordered coming off the production line in November. If you want one, you'll want to get ahold of a Northern Lite dealer to get your name on one.
The most obvious customer for the new Limited Editions seems to be current Special Edition owners. Is that something you anticipate?
We expect current Northern Lite owners to want the Limited. Some folks might trade in their Special Editions for new Limited Editions. Having some used units out there might help more people get into a Northern Lite. On the downside, our campers hold their value. There might not be a big difference in price from a new unit.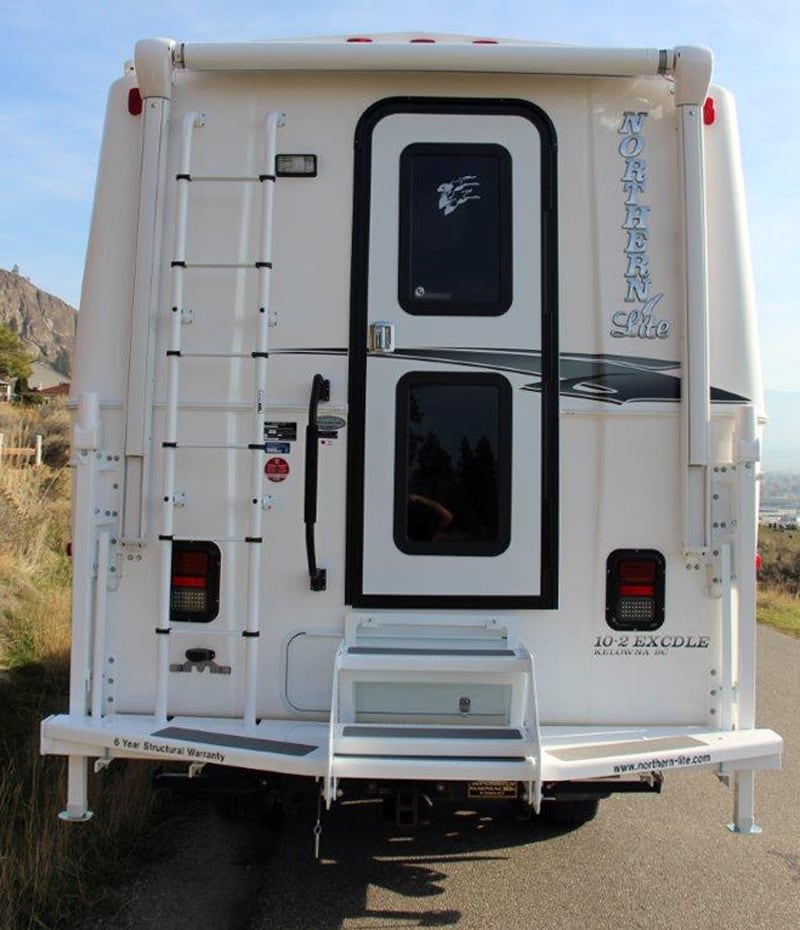 If someone has a Special Edition on order right now, can they switch to a Limited Edition?
We'll work with customers and dealers if they want to switch.
Are there any thoughts about the Limited Editions overtaking the Special Editions on sales of new Northern Lites?
I don't think that will happen because the Limited Edition has a number of unique features. For example, we've gone with one fabric option for the Limited Editions. There will be people who love it, and there will be those who prefer our other fabric choices.
What is the MSRP for the Limited Editions?
The MSRP for a Limited Edition is $3,000 more than a Special Edition. In US dollars, the 10-2 EX Limited Edition is $50,280, the 9-6 Limited Edition is $45,965, and the 8-11 EX Limited Edition is $47,110.
"It looks stunning in person. The pictures don't do it justice. You have to see it for yourself."
Anything else at Northern Lite? Any plant news? Hiring? New products to tease for the future? How was your 2018 year?
All 8-11 EX and 9-6 campers now come standard with a 10-foot side awning. Prior to this change, 8-foot awnings were standard. The wider awnings provide better coverage and are a nice upgrade.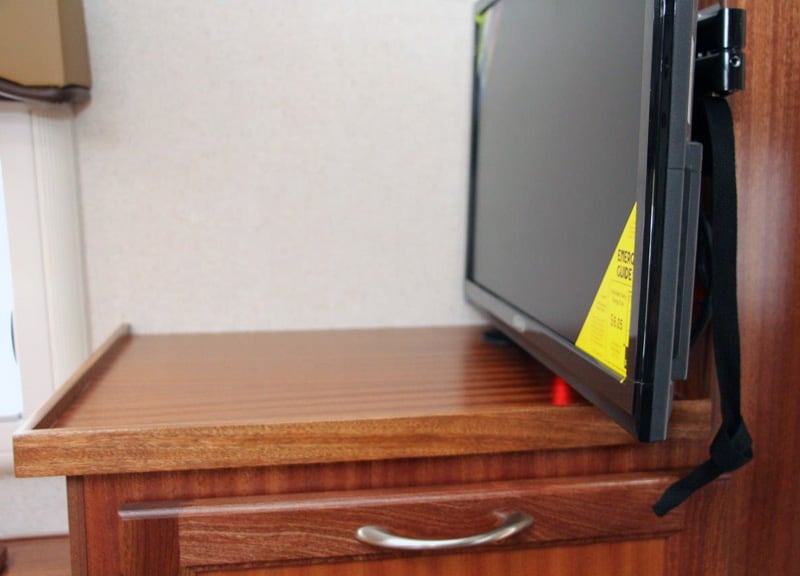 We recently upgraded our TV shelves to Sapele in every Northern Lite model, including the Limited Editions. We added a shelf lip to help prevent items from falling off while traveling. It's a nice upgrade across the board.
Here at the factory, we put up a 25-foot by 40-foot shelter for additional fiberglass mold storage. Our hope is to have the new addition completed in early spring.
During the process of developing the Limited Editions we found ways to tweak our already refined Special Editions to make an even more special truck camper. The Limited Edition upgrades truly take the Special Editions to the next level.
I'm very excited about the Limited Edition. It looks stunning in person. The pictures don't do it justice. You have to see it for yourself.
For more information on Northern Lite, visit their website at northern-lite.com.  Click here for a free Northern Lite brochure.