Northern Lite updates and refines their molded fiberglass truck camper line with a new all-aluminum folding bumper step, standard interior LED lighting, 95-watt solar panel systems, and more.
The day that you crack open the electron pages of Truck Camper Magazine and read, "Northern Lite Debuts Slide Out Truck Camper" will probably be the same day that Canada voluntarily becomes the fifty-first state.  In other words, it's not going to happen.
So what can we expect from Northern Lite campers?  Continuous refinement of their clam shell molded fiberglass non-slide hard truck camper line.  That's what they do, that's what they believe in, and that's that.  If you want to hear a Northern Lite rep say, "No", ask them if they're going to build a slide-out.  We always do, just for fun.
While the news may be far from shocking, Northern Lite is announcing a particularly exciting round of refinements for 2014 in the form of standard upgrades, some of them industry firsts.  To get the details on their 2014 changes, we talked to Keith Donkin, General Manager for Northern Lite.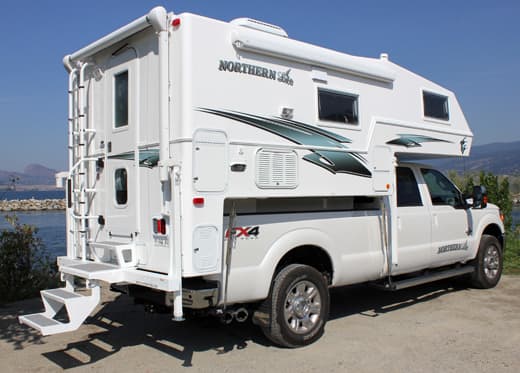 Above: The 2014 Northern Lite 9-6 Special Edition
TCM: Are there any new model introductions or old model deletions for 2014?
Keith: There are no new models for 2014, but we are discontinuing the 8-5 Queen Classic and 9-6 Classic.  The introduction of the Sportsman models in 2011 almost immediately overtook those models in sales.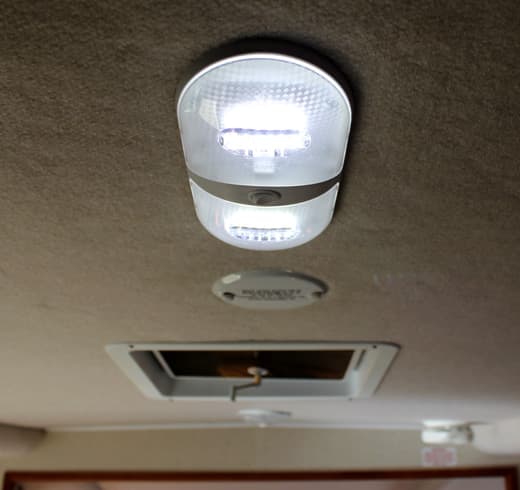 Above: LED interior lighting is standard for all Northern Lite truck campers in 2014
TCM: For 2014, Northern LIte is making LED interior lighting standard.  Was LED interior lighting not already standard for the Special Editions?
Keith: LED interior lighting was an upgrade for the Special Editions in 2013, but every Special Edition was ordered with LED interior lighting.  Making LED interior lighting a standard feature for the Special Editions was a no brainer, but we decided to take it one step further and make LED interior lighting standard on all Northern Lite truck campers for 2014.
TCM: Are you making any changes to the LED lights themselves for 2014?
Keith: No.  We're really happy with the light and temperature color of our LEDs.  We have also gone to an all-LED exterior taillight.  All-LED interior and exterior lighting is standard for all Northern Lites in 2014.
The only incandescent lighting on Northern Lites from this point forward are the range hood lights and the interior refrigerator lights.  Those changes are dictated by the appliance manufacturers, in this case Atwood and Dometic.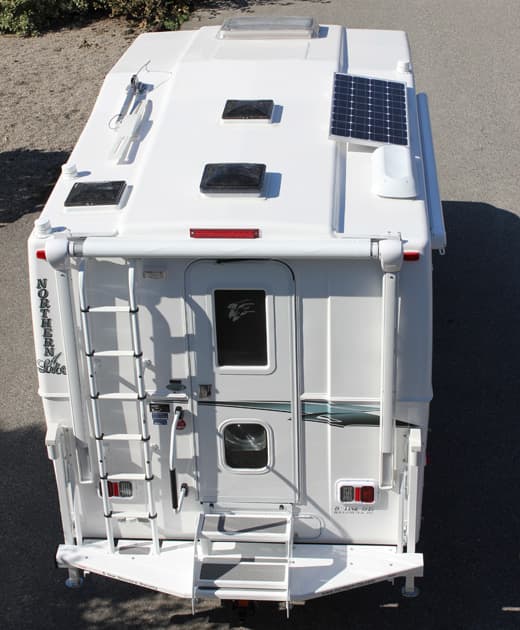 Above: 95-watt solar panels are standard on all Northern Lite truck campers for 2014
TCM: No other truck camper manufacturer offers a solar panel as standard equipment.  What led to including a 95-watt solar panel as standard for 2014 Northern Lite models?
Keith: We have decided to lead the industry by offering solar panels as standard equipment for every Northern Lite truck camper in 2014.  The majority of our customers are adding solar panels at the dealership.  Adding solar at the factory as standard equipment is more efficient and offers a significant cost savings to the consumer.