Truck Camper Magazine reviews a long bed 2019 Arctic Fox 865, a hard side, non-slide, wet bath truck camper with a cathedral arch ceiling.  After being off-menu for five years, is the non-slide Arctic Fox still competitive?

In 2009, Northwood Manufacturing offered us the opportunity to take out an Arctic Fox truck camper for a long-term evaluation.  When they asked us which model we would prefer, we asked for the long bed version of the non-slide Arctic Fox 865.
A few weeks later, we picked up a gleaming new 2009 Arctic Fox 865 from Truck Camper Warehouse in New Hampshire.  From the onset, the fit, finish and overall construction quality of the 865 was very impressive.
That winter we met up with fellow truck camping friends and spent a few weeks exploring southern Florida, The Everglades and The Keys.  Somewhere along the way, we fell in love with the Arctic Fox 865.
First and foremost, the floor plan was just killer.  We found ourselves backing the rig up to spectacular beaches, water inlets and jungle trailheads and basking in the rear panoramic window views.  This was exactly the kind of experience we dreamed about when we envisioned RV travel.

Above: Our winter in a 2009 Arctic Fox 865 – and an important lesson
A little over year after we returned the unit, Northwood discontinued the 865.  Northwood's leadership explained that the demand for non-slides just wasn't strong enough and they needed the valuable production slots for their main bread winner, the Arctic Fox 990.  At the time, it appeared that was that for the our favorite 'Fox.
"Hey TCM! We just picked up a 2013 Arctic Fox 865.  Thanks for turning us onto this camper.  We love it!"
Wait, what?!
Every once in a while we would get an email from a reader who just bought a brand new 865.  When we inquired about these units, Northwood said they quietly built one run of the 865 every year for special orders and dealers who wanted them.  In essence, the Arctic Fox 865 was still available, but off-menu.
That's all I needed to know.  In Northwood new camper announcements, model year updates and reviews I made sure to mention my favorite Arctic Fox model and its availability – if you asked.  And guess what?  People started asking for it.  And asking for it, and asking for it.
Of course the leadership at Northwood probably thought I was really asking for it.  Fortunately, they were also excited about the growing popularity of the latent model.
Finally, in June of 2016, Northwood officially put the 2017 Arctic Fox 865 into their model line-up.  The 865 was back!
A Hard Look At The 865
We may be personally biased to hard side non-slide truck campers with this exact floor plan, but that doesn't mean the 2019 Arctic Fox 865 gets the proverbial rubber stamp of approval.  No sir.
We are going to take a hard look at this camper and praise and criticize it accordingly.  You already know the history I have with this model.  Now it's time to put that bias aside and answer the big question; is the 865 a truly competitive truck camper in 2019?  Let's dig in.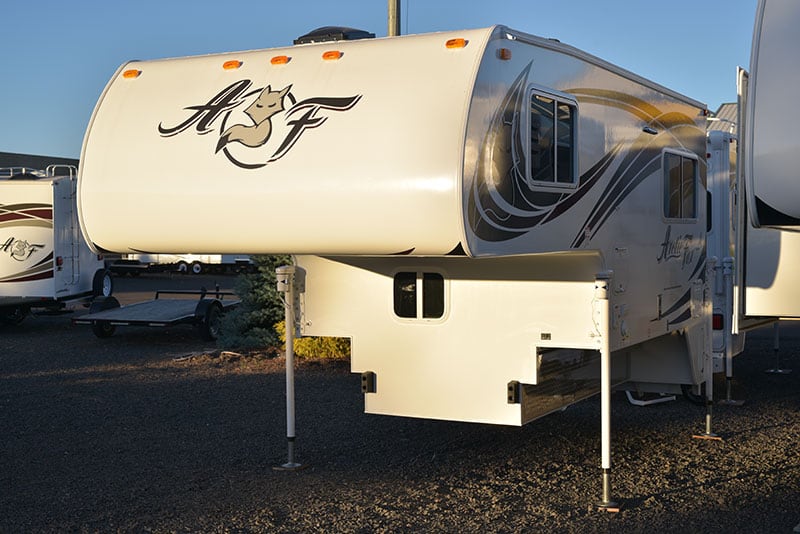 We photographed and reviewed a long bed version of the 2019 Arctic Fox 865 at Thunder RV in La Grande, Oregon.
Floor Plan Evaluation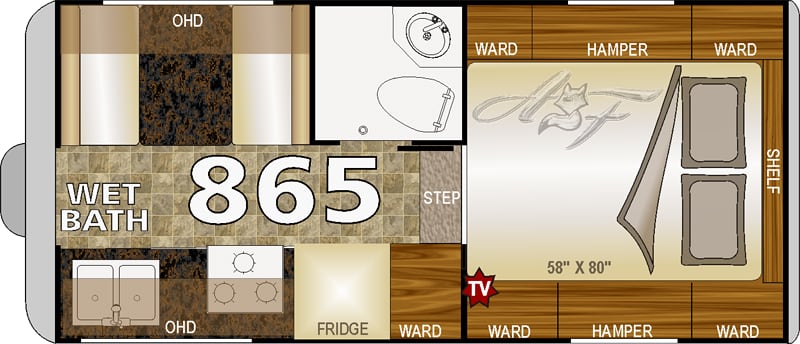 Even though the 865 was taken off-menu for years, Northwood kept the model current.  The 2019 Arctic Fox 865 reflects every Northwood model year update; stainless appliances to LED ambient lighting to the cathedral-arch ceilings.  It's all here.