Truck Camper Magazine reviews a long bed 2019 Arctic Fox 865, a hard side, non-slide, wet bath truck camper with a cathedral arch ceiling.  After being off-menu for five years, is the non-slide Arctic Fox still competitive?

In 2009, Northwood Manufacturing offered us the opportunity to take out an Arctic Fox truck camper for a long-term evaluation.  When they asked us which model we would prefer, we asked for the long bed version of the non-slide Arctic Fox 865.
A few weeks later, we picked up a gleaming new 2009 Arctic Fox 865 from Truck Camper Warehouse in New Hampshire.  From the onset, the fit, finish and overall construction quality of the 865 was very impressive.
That winter we met up with fellow truck camping friends and spent a few weeks exploring southern Florida, The Everglades and The Keys.  Somewhere along the way, we fell in love with the Arctic Fox 865.
First and foremost, the floor plan was just killer.  We found ourselves backing the rig up to spectacular beaches, water inlets and jungle trailheads and basking in the rear panoramic window views.  This was exactly the kind of experience we dreamed about when we envisioned RV travel.

Above: Our winter in a 2009 Arctic Fox 865 – and an important lesson
A little over year after we returned the unit, Northwood discontinued the 865.  Northwood's leadership explained that the demand for non-slides just wasn't strong enough and they needed the valuable production slots for their main bread winner, the Arctic Fox 990.  At the time, it appeared that was that for the our favorite 'Fox.
"Hey TCM! We just picked up a 2013 Arctic Fox 865.  Thanks for turning us onto this camper.  We love it!"
Wait, what?!
Every once in a while we would get an email from a reader who just bought a brand new 865.  When we inquired about these units, Northwood said they quietly built one run of the 865 every year for special orders and dealers who wanted them.  In essence, the Arctic Fox 865 was still available, but off-menu.
That's all I needed to know.  In Northwood new camper announcements, model year updates and reviews I made sure to mention my favorite Arctic Fox model and its availability – if you asked.  And guess what?  People started asking for it.  And asking for it, and asking for it.
Of course the leadership at Northwood probably thought I was really asking for it.  Fortunately, they were also excited about the growing popularity of the latent model.
Finally, in June of 2016, Northwood officially put the 2017 Arctic Fox 865 into their model line-up.  The 865 was back!
A Hard Look At The 865
We may be personally biased to hard side non-slide truck campers with this exact floor plan, but that doesn't mean the 2019 Arctic Fox 865 gets the proverbial rubber stamp of approval.  No sir.
We are going to take a hard look at this camper and praise and criticize it accordingly.  You already know the history I have with this model.  Now it's time to put that bias aside and answer the big question; is the 865 a truly competitive truck camper in 2019?  Let's dig in.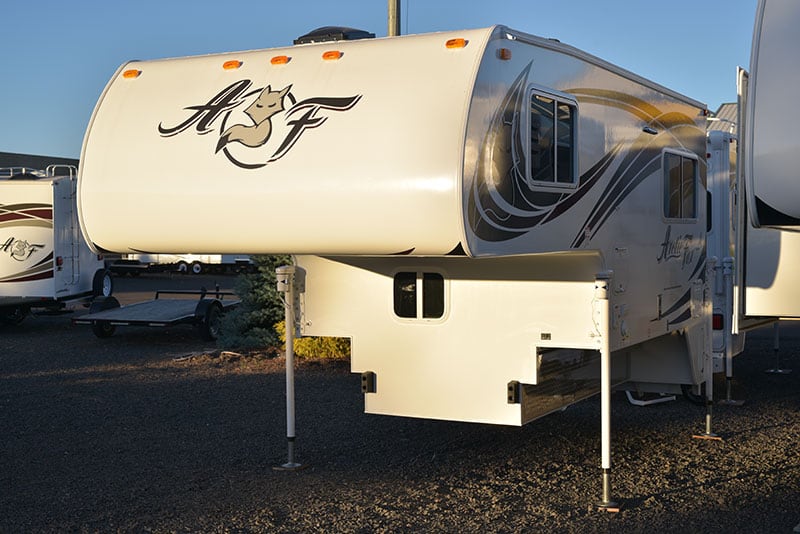 We photographed and reviewed a long bed version of the 2019 Arctic Fox 865 at Thunder RV in La Grande, Oregon.
Floor Plan Evaluation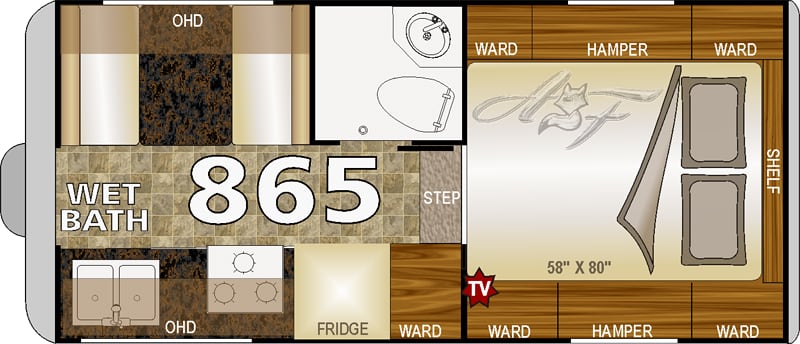 Even though the 865 was taken off-menu for years, Northwood kept the model current.  The 2019 Arctic Fox 865 reflects every Northwood model year update; stainless appliances to LED ambient lighting to the cathedral-arch ceilings.  It's all here.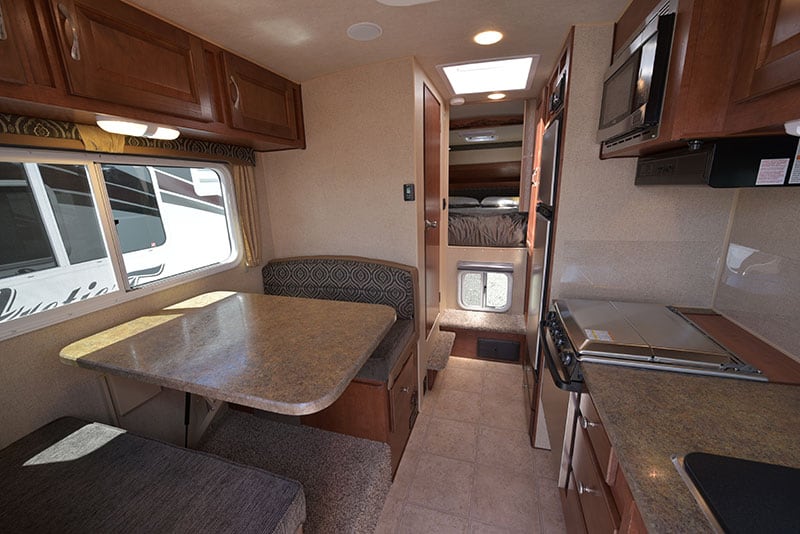 Standing at the entry door and looking towards the front of the camper you're presented with a bright open space.  In fact, some folks might think there's a dinette slide-out when they stand and sit in this unit. It's really spacious.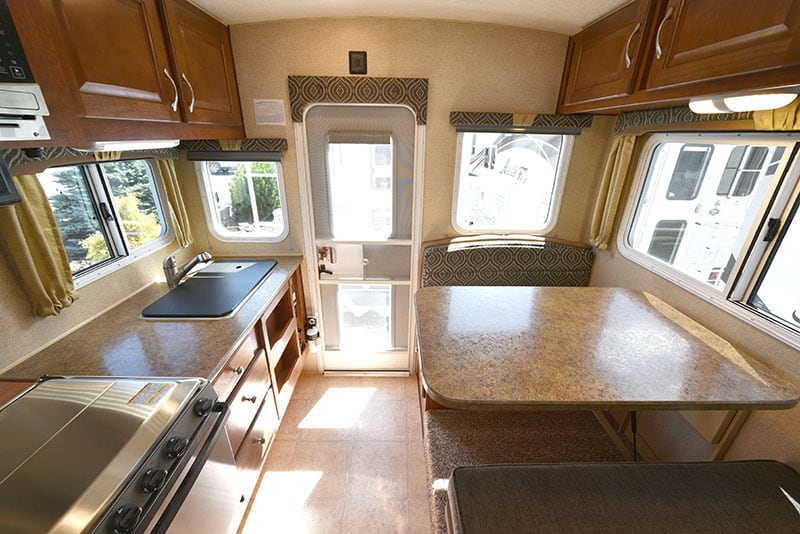 This is the real magic of the Arctic Fox 865 floor plan; the five-window rear panoramic view.  This design is made possible by putting the wet bath mid-ship.  Having camped extensively with this floor plan in three different camper models, we now feel closed-in with rear bath and mid-dinette units.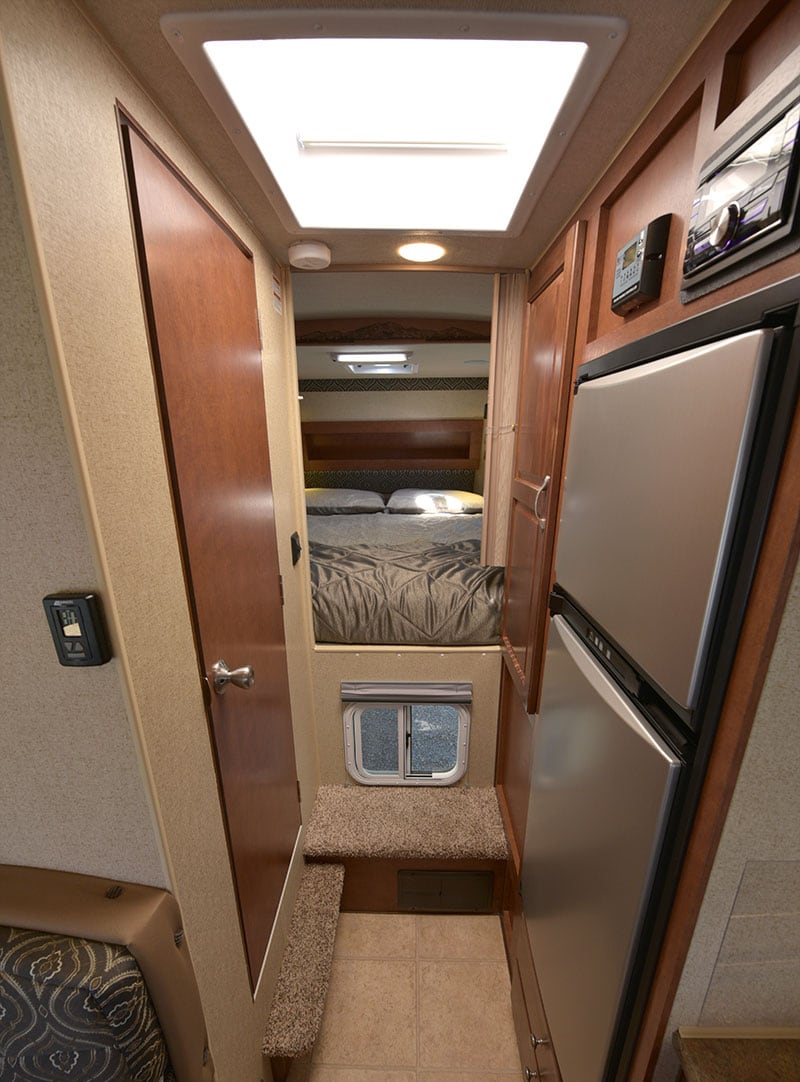 The main dinette-kitchen living area and the cabover are separated by a short hallway.  On the driver's side of the hallway is the wet bath.  The refrigerator and a closet are on the passenger's side.
To bring natural light into this potentially dark area, Northwood placed a skylight and LED light above the hallway.  The skylight is a particularly nice touch as it brings both daylight and a sense of additional height to this area.
The hallway physically separates the cabover bedroom from the main dinette-kitchen living area.  This means someone can be in the main living area making coffee and perusing their smartphone in the morning without necessarily waking up their sleeping spouse.  Don't try that with mid-dinette floor plans.
It also means the camper is broken into three distinct rooms; the dinette-kitchen room, the bathroom, and the cabover bedroom.  We like this separation, but it precludes the whole-camper wide-open presentation a rear bath creates.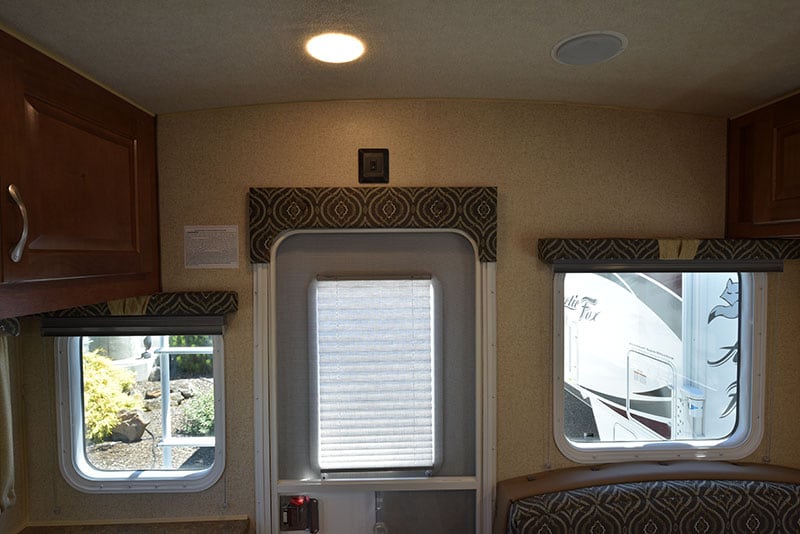 For model year 2017, Northwood debuted cathedral arch ceilings across all Arctic Fox truck campers.  The difference this makes to the look and feel of their interiors cannot be understated.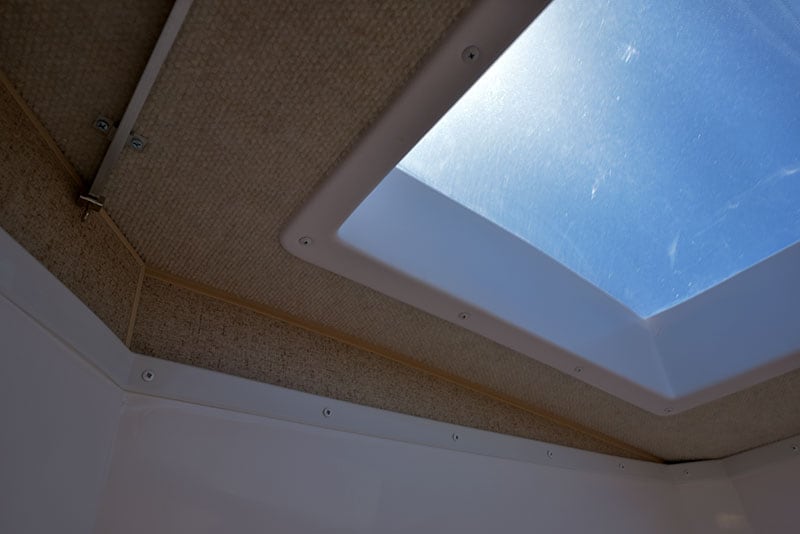 Throughout the main living area, bathroom and cabover, the taller curved ceilings add a greater sense of space and sophistication.  For example, the photograph above shows the taller curved roof in the wet bath.  If you haven't already, you need to experience this in person to fully appreciate the difference.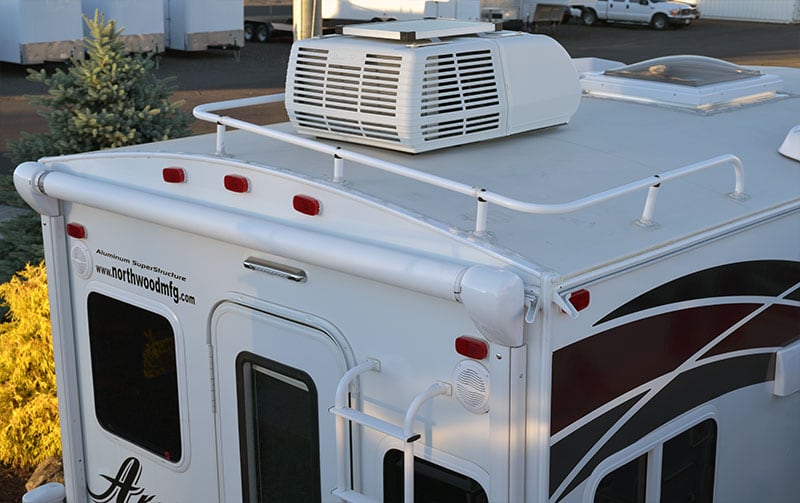 Of course this taller profile increases the weight and vertical center of gravity of their campers.  It also makes climbing on the roof, walking around and getting back down more difficult.
I am on our camper's roof every other week or so to check the seals and I would be concerned about climbing around the rear awning and negotiating the curved roof.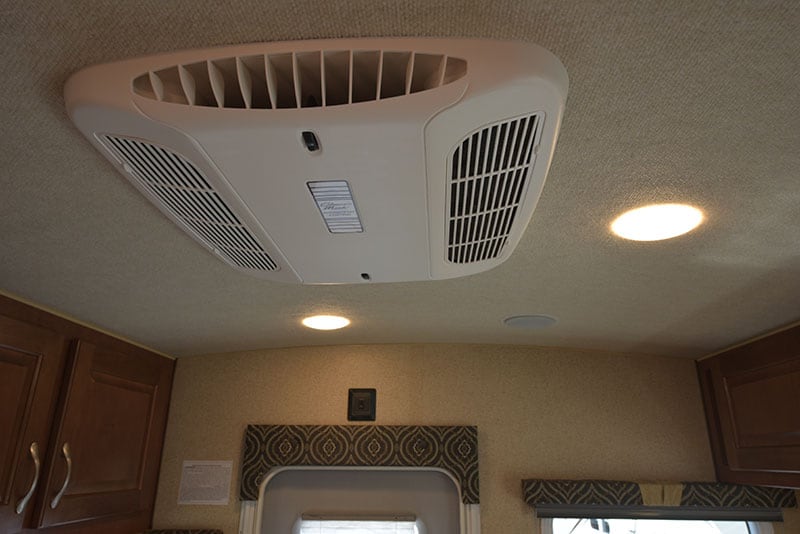 Since we're already looking up, the Coleman Mach air conditioner is a medium-profile model rather than the low-profile.  Although the medium-profile models increase the overall height of your rig, they're also quieter in operation.  Always trade-offs.
If you look at the previous roof shot, you'll see the 20-watt solar panel Northwood mounts on the top of their air conditioners.  This won't keep your batteries topped off during normal use, but it's a nice addition.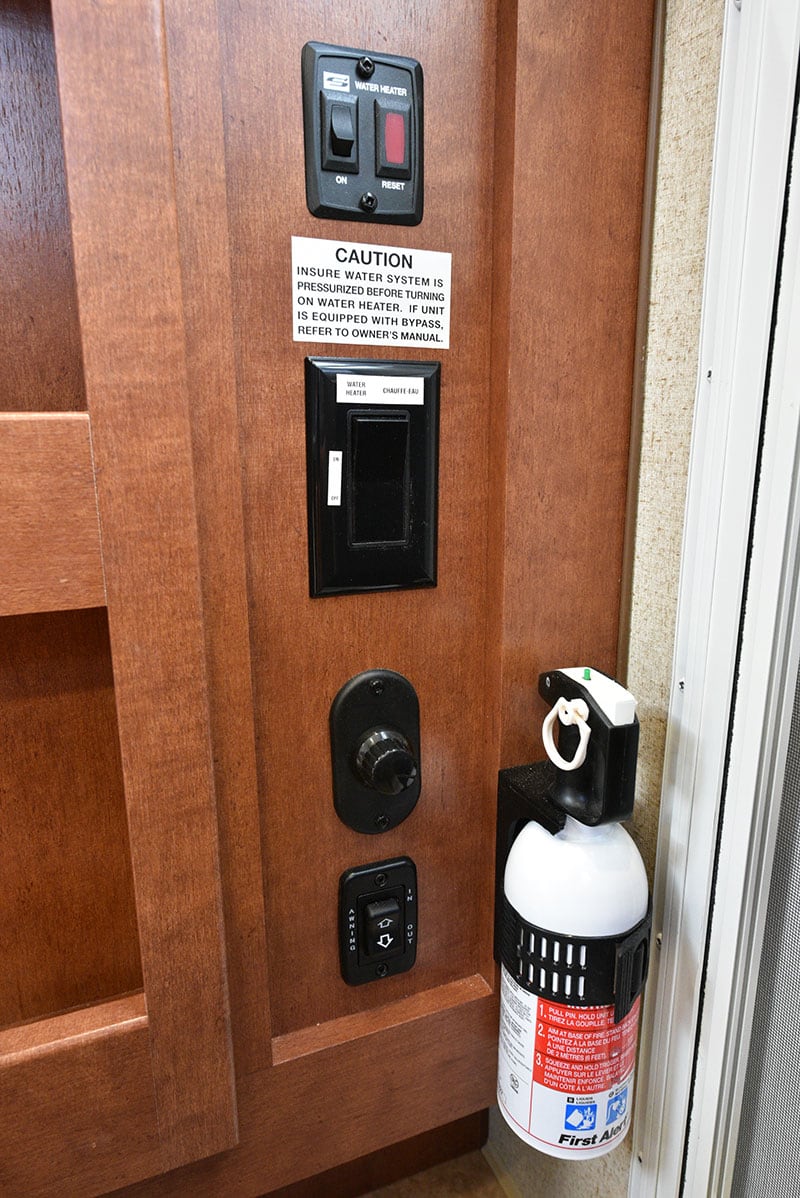 Let's go back to the entry door and take a closer look.  Just inside the entry door are interior lighting controls (black circular dimmer switch), awning extension rocker switch, and the Suburban water heater switches (electric and propane).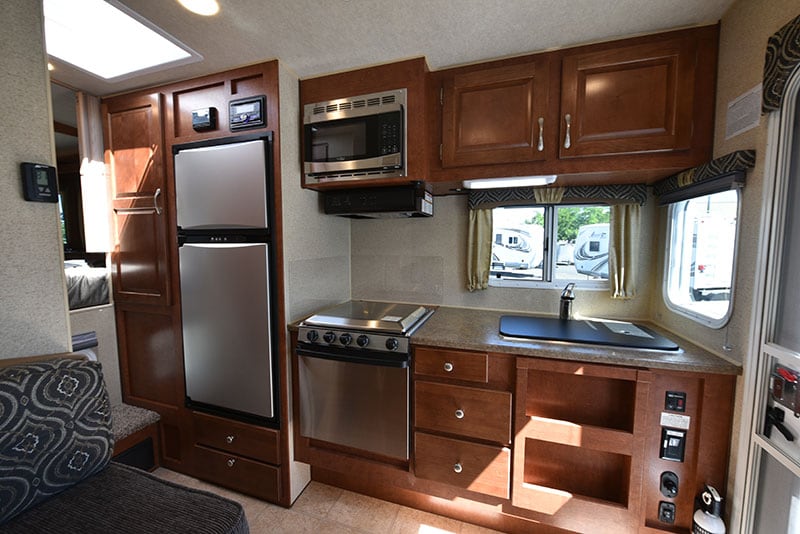 The straight passenger's side kitchen is fully-featured with a 7-cubic foot refrigerator, 22-inch microwave, propane cooktop and oven and a deep single-bowl sink.  As a non-slide design, the refrigerator can be vented to the roof eliminating the need for a noisy fan.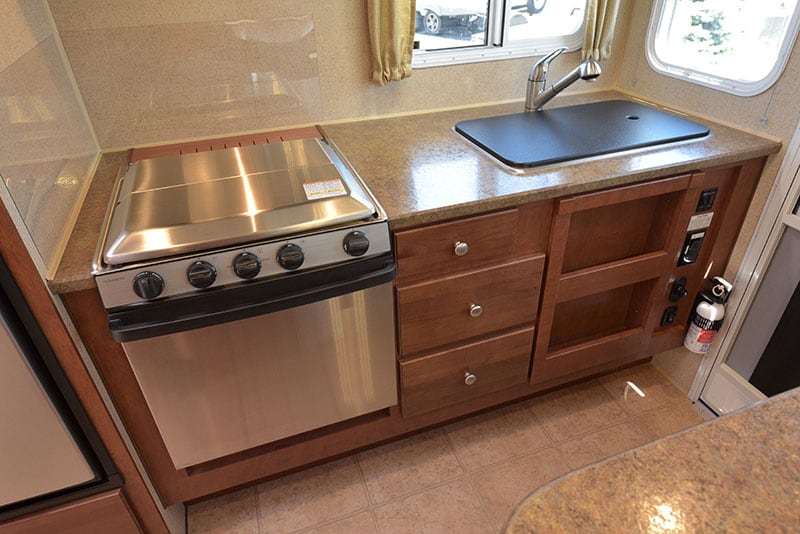 The lower kitchen is attractive and well laid out.  There's enough counter space to prepare food and wash dishes as long as you don't attempt both at the same time.  Naturally there's additional meal prep and dish drying space via the dinette table.
We do like the spice rack under the sink, but wonder where Northwood wants us to put the trash.  Typically we have a small trash container under the sink.  In the 865 you're forced to find another solution.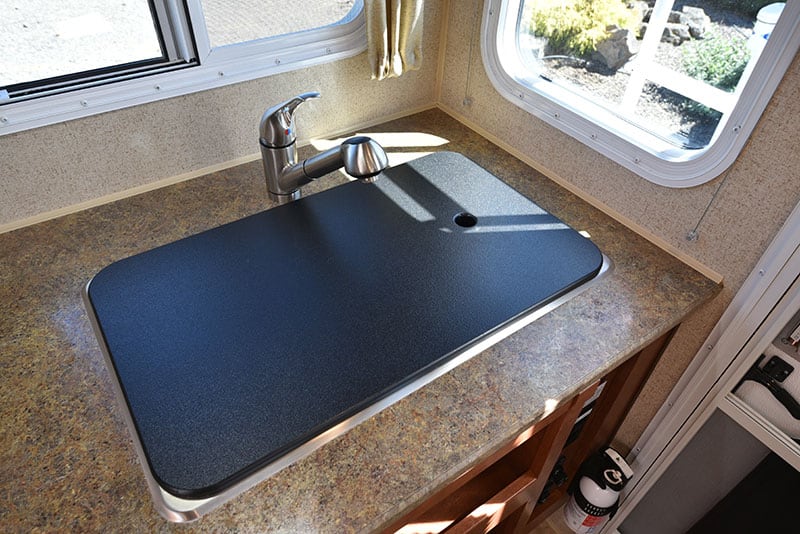 Northwood includes a black in-set cutting board for the sink, but it's not likely to be used in this position while cooking or washing dishes.  The cutting board is also quite big to store if you're not going to use it.
While truck camping, we prefer smaller cutting boards that can be easily replaced.  For our purposes, this cutting board would be removed and stored at home.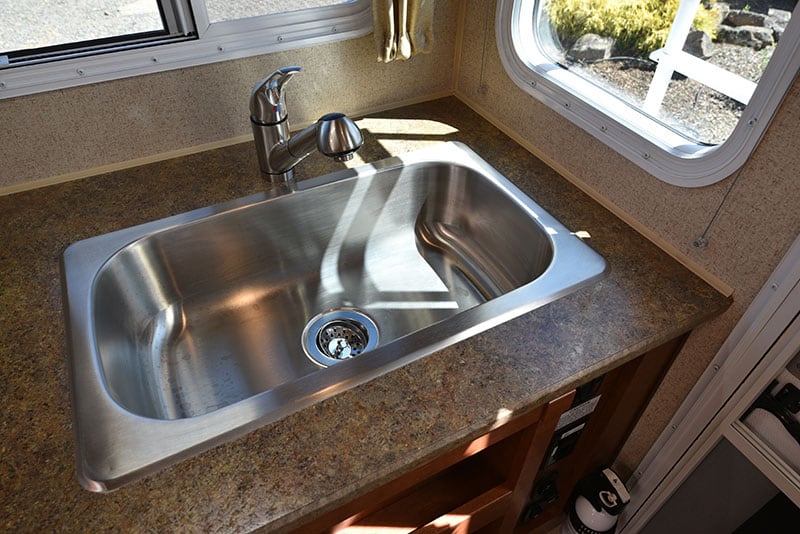 The stainless steel sink's wide aspect ratio really caught our attention.  The width will be very useful when washing larger pots and pans, but it wastes a little counter space in front and behind the basin.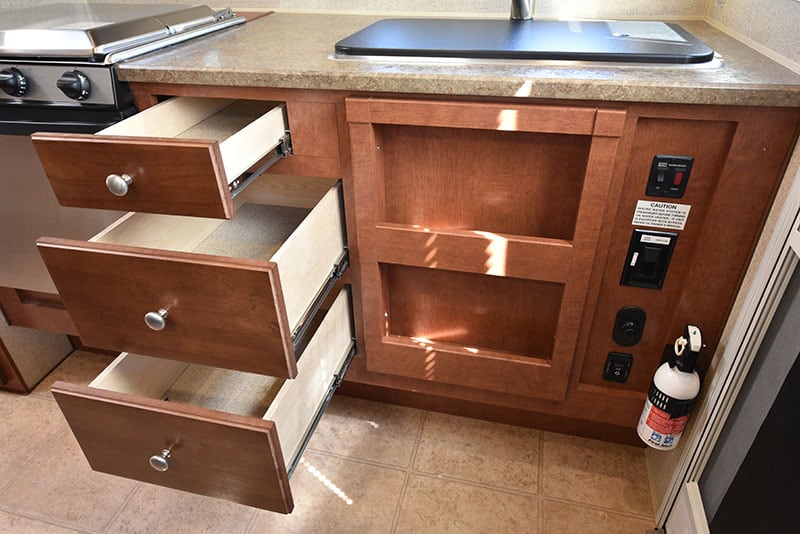 I absolutely love the three pull-out drawers under the kitchen counter.  This is exactly the right storage type in the right place.
Who doesn't like having their silverware in the top kitchen drawer?  It's practically universal for human kind, but not every camper has a drawer in the right place.  Kudos are also on order for the stainless steel ball bearing drawer slides.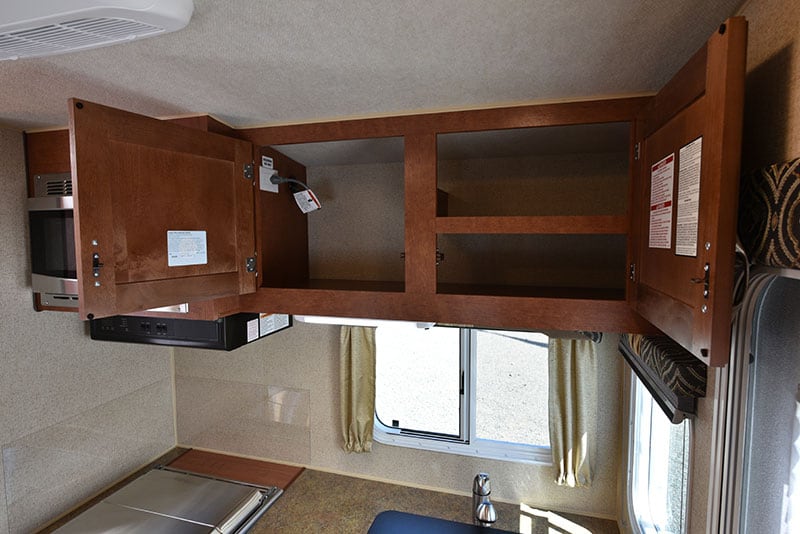 The upper kitchen cabinets are excellent.  I was particularly glad to see a shelf on one side.  This creates three different storage area heights for dishes, cups, mugs and various dry foods.  This simple variance makes this storage much more functional and dramatically improves the real world storage capacity for this space.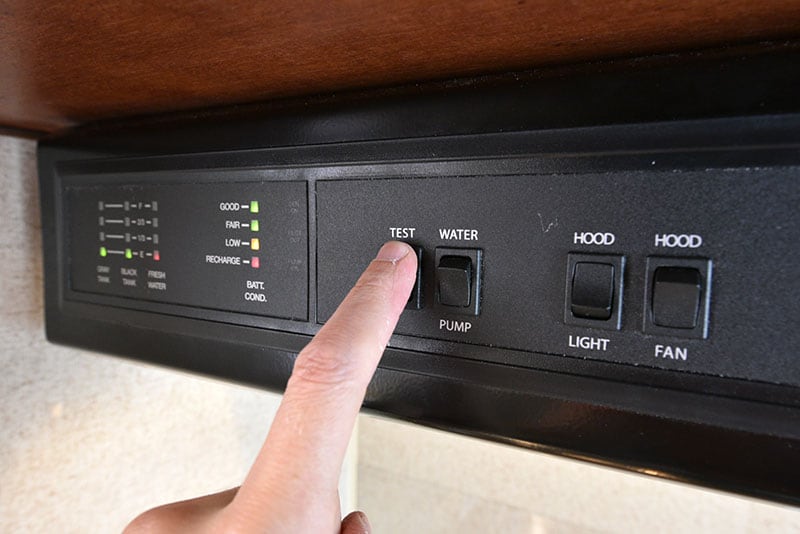 Over the past few years, truck camper manufacturers have been getting away from having the tank and battery monitor panel built into the range hood.  Range hood monitor panels were the standard fifteen years ago, but wall-mounted monitors are currently in vogue.
Which is why I surprised myself when I saw the hood monitor panel in the 865 and thought, "This is great!"  The location and convenience of range hood monitor panels is unbeatable.
Mid-ship and pushed out into the main living area, range hood monitor panels are easy to reach, see and use.  Having the water pump in this location also makes sense.
On balance, I would like to see more accurate tank and battery monitors.  The four-light levels are useful, but notoriously inaccurate.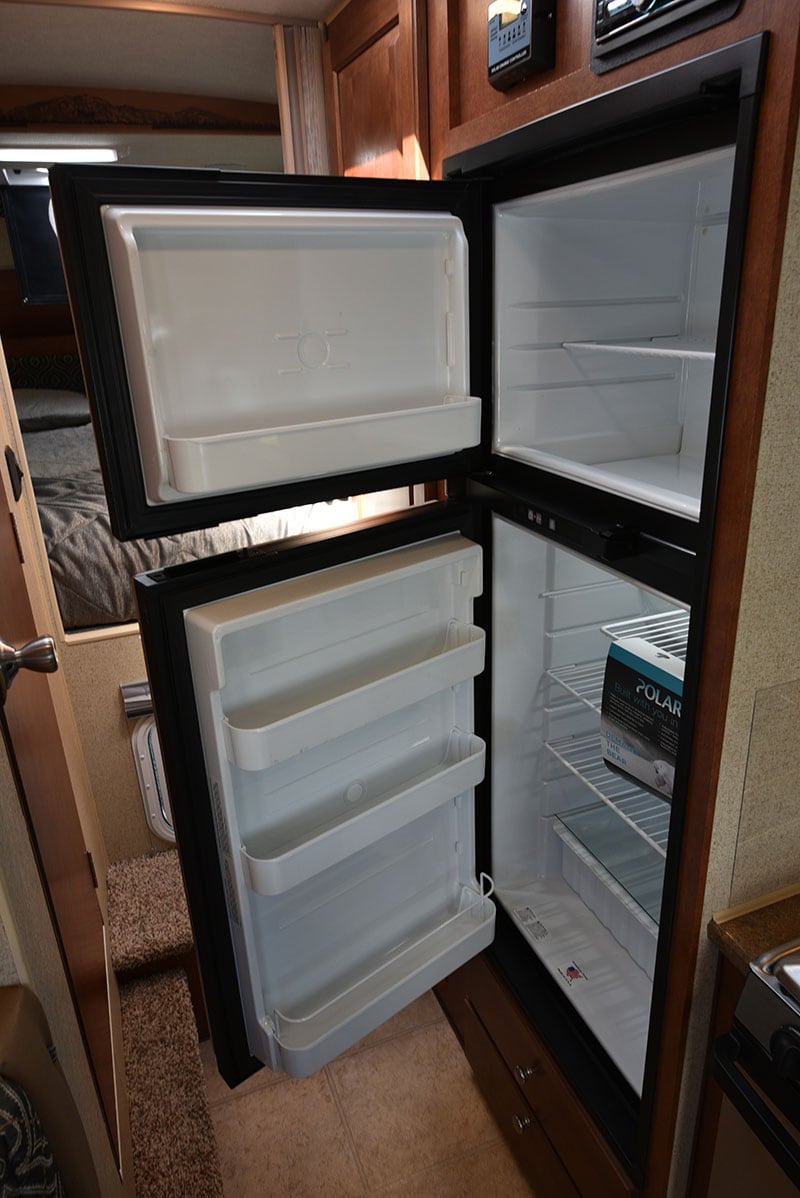 In our project camper we have a six-cubic foot refrigerator/freezer.  This is plenty of cold storage capacity for up to a week of off-grid camping.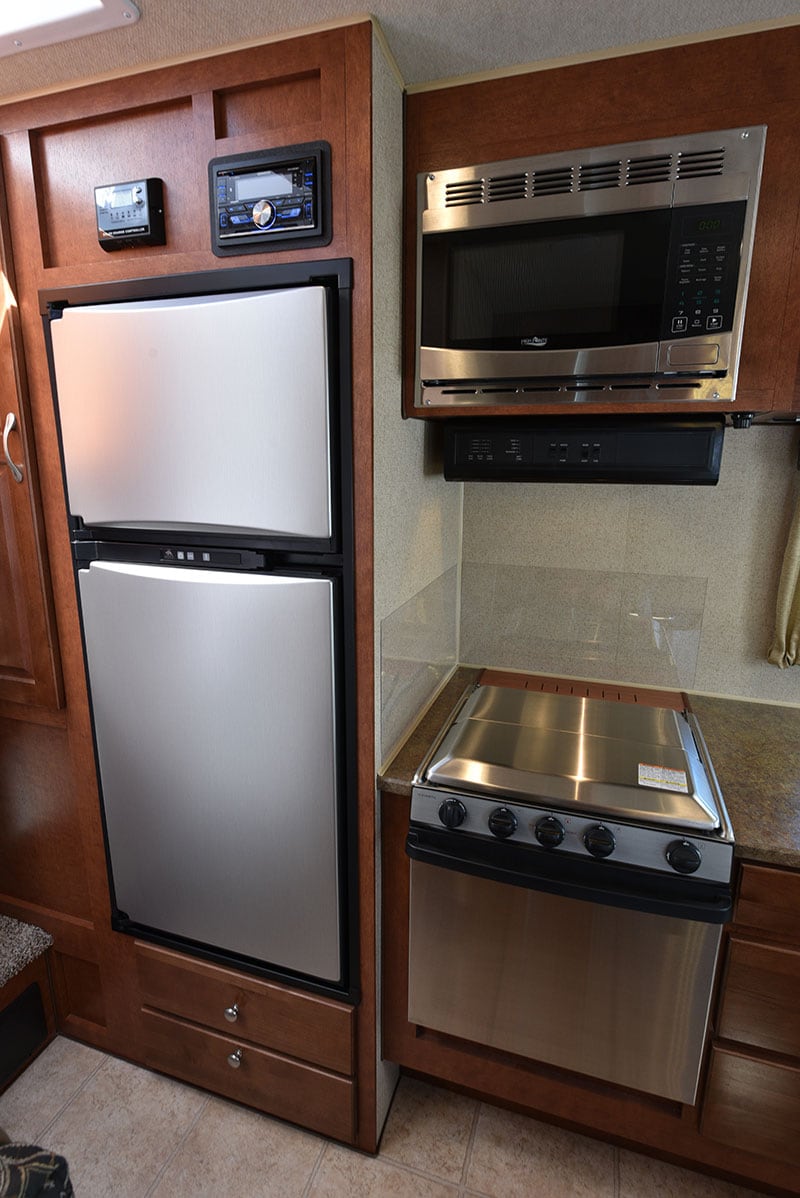 The seven cubic-foot Norcold in the Arctic Fox 865 adds a welcome extra square-foot of additional capacity, and may even stretch our off-grid time another day.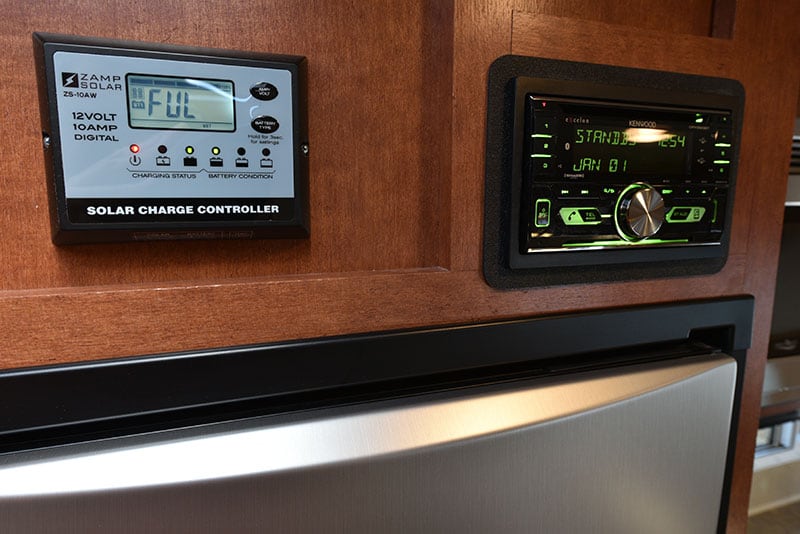 Above the refrigerator is the optional Zamp Solar charge controller and Kenwood audio-video system.  We have used Zamp Solar charge controllers and panels for years and find them extremely reliable.  How we ever went camping before solar power is beyond me.
The Kenwood Excelon DPX-series 2-din CD-receiver offers Bluetooth, a USB front port, and integration with Apple iOS, Android, SiriusXM, Spotify and Pandora (with internet connection available).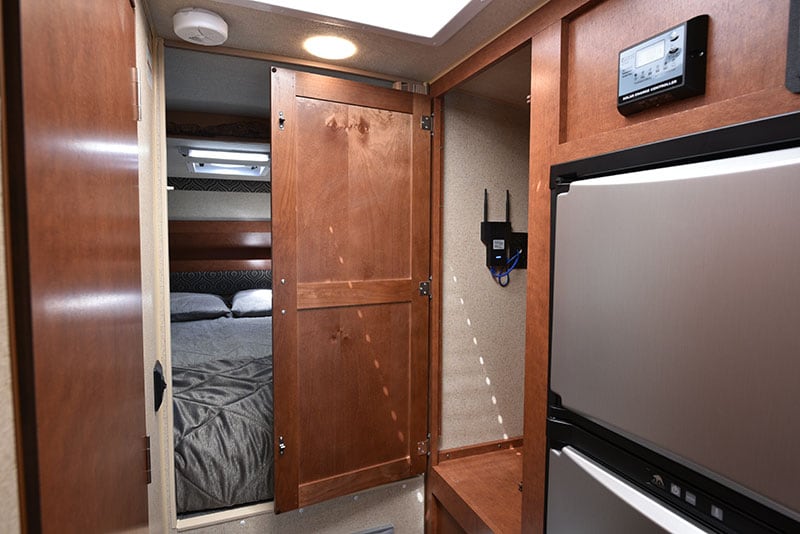 For 2019, Northwood is installing Magnadyne omni-directional television antennas on the roof.  These HD-television antennas feature built-in 2.4-GHz long-range WIFI extenders.
When connected to the optional Magnadyne RV-Link WIFI router (shown above) the antenna and router can offer more and stronger WIFI signals – if they are open and available.  The RV-Link has the system's ISP and password is printed on the front of the unit.
For now, this feature is exclusive to Northwood in the truck camper space.  I can see this technology becoming standard in the near future – like AM/FM antennas are today.  I would recommend turning this router off when not in use to avoid amp draw.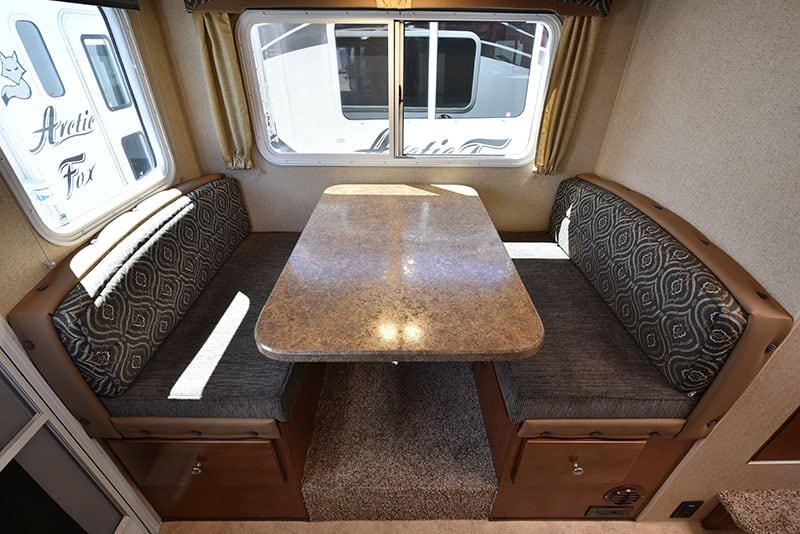 For a lot of hard-side truck camper fans, a sofa or lounging chairs are top of the list.  Personally, I love a well-designed full-booth dinette.  Yes, I love sofas and loungers, but never at the expense of the functionality and versatility of a full-booth dinette.
This is where we eat, work, unfurl maps to discuss destinations and routes and generally sit and talk turkey.
Speaking of sitting, the seats were properly portioned in the 865 but the cushions were exceptionally hard.  If this were our camper, we might change the foam to a more comfortable density.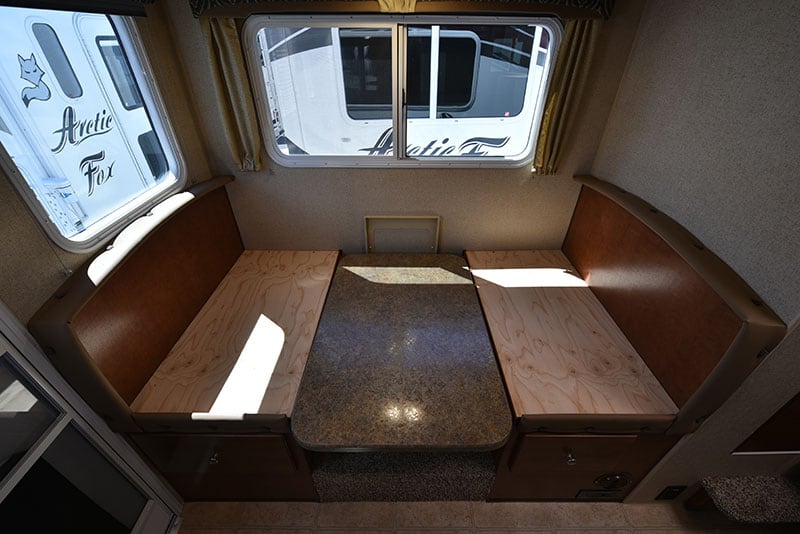 The full-booth dinette in the Arctic Fox 865 features the Dream Dinette table system that keeps the table rock steady and eliminates the need for a table leg.  With a quick unlatch under the inner-most end of the table, the Dream Dinette system allows the table to be pushed down to make the dinette bed platform.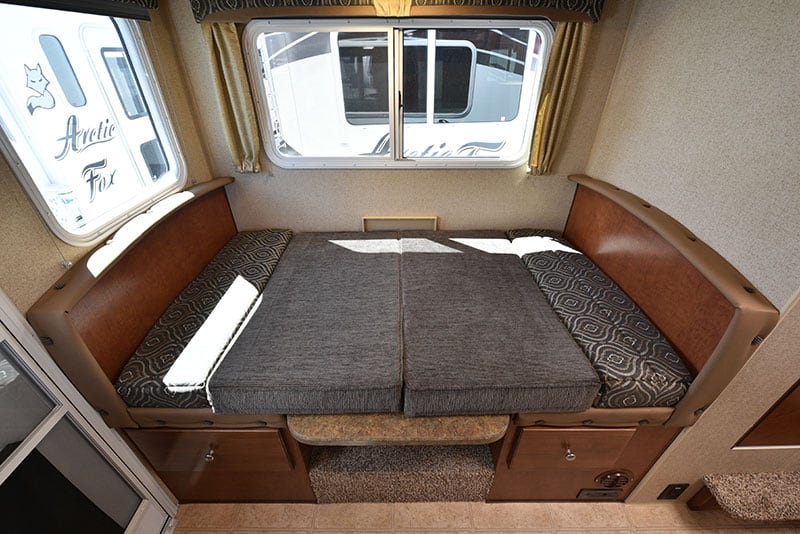 The dinette cushions assembled easily into a 68-inch long by 39-inch wide bed.  That's 5'6" in length, so tall folks will need to curl up a bit.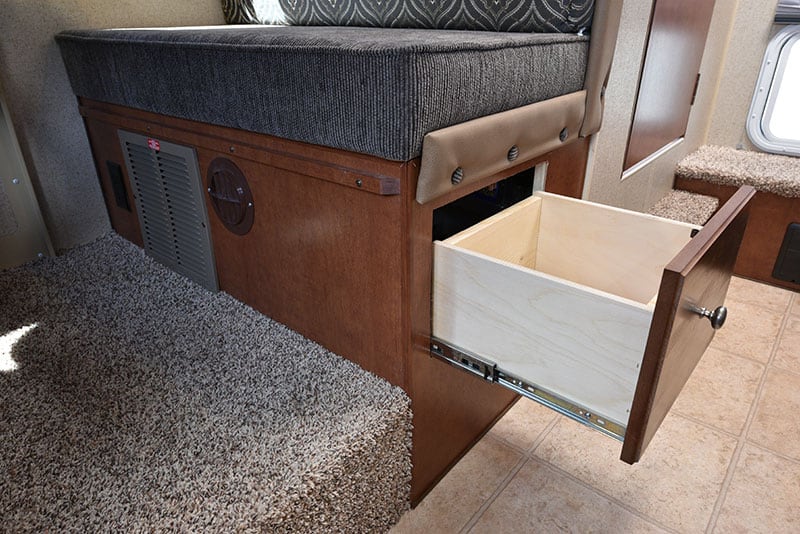 Both sides of the dinette feature pull-out drawers.  The rear-facing seat also has a 110-volt outlet, air return and heating vent.
The 110-outlet is very welcome, but its location is awkward to reach.  Imagine sitting in this dinette and needing to plug in your laptop or smartphone.
A better outlet location would be the underside of the upper dinette cabinetry – next to the central LED light.  While the Northwood design team is at it, add a couple USB outlets and a 12-volt connection in this same location.  I guarantee Arctic Fox customers would appreciate it.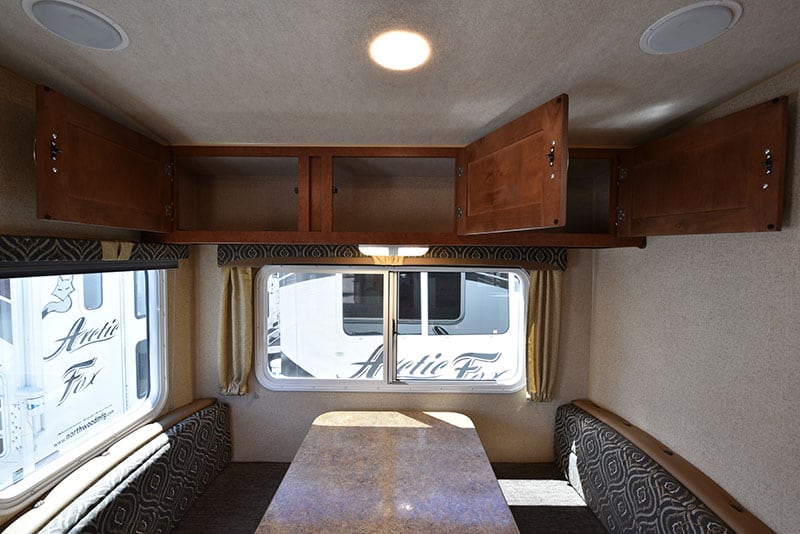 This is one more reason why we love non-slide truck campers.  These upper dinette cabinets would disappear if this was a slide-out model.  Ask all the Arctic Fox 811, 990, 992, 1140 and 1150 owners about their upper dinette cabinets.  They don't have any.
There's a good amount of wide-open storage up there.  In our camper, this is where we store towels, extra paper towel rolls and tissue boxes – oh, and my entire stereo system (tube amp and speakers).
Would I trade a few feet of interior space for this storage?  Not a chance.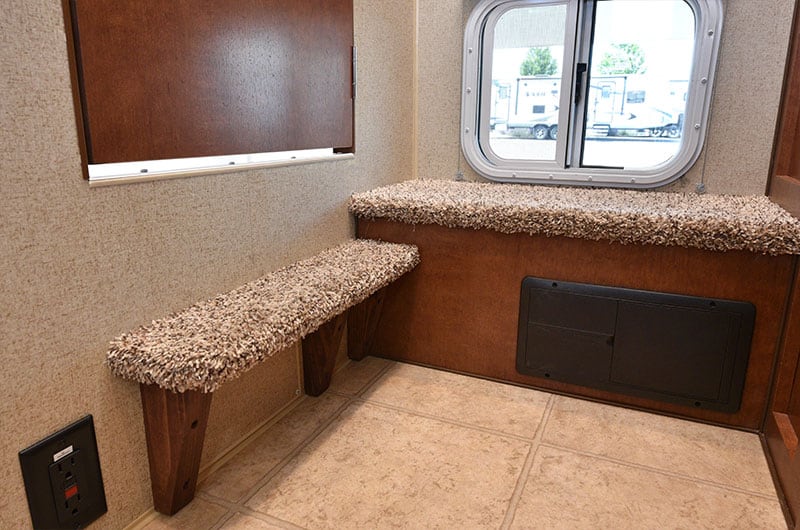 Returning to the hallway, the mid-ship wet bath has quite a step to enter and exit.  Northwood provides a small step to help bridge the gap, but it's something owners will need to get accustomed to.  I would be very interested to hear why this wet bath needs such a tall entry point.
Since we're already down here, note the 110-volt outlet, breaker and fuse box and slider pass-through window.  The 110-volt outlet might be close enough to the bathroom for hair dryer use in the bathroom.  It's also close enough to the dinette to be useful for longer laptop power cords.
The location of the breaker and fuse box is perfectly located.  It's remarkable how often we find ourselves checking fuses when trouble-shooting anything electrical.
Many manufacturers have gotten away from having pass-through windows, but we regularly use ours for ventilation – especially when we want to leave some airflow while keeping our camper secure.  Just open this window and crank up the ceiling fan.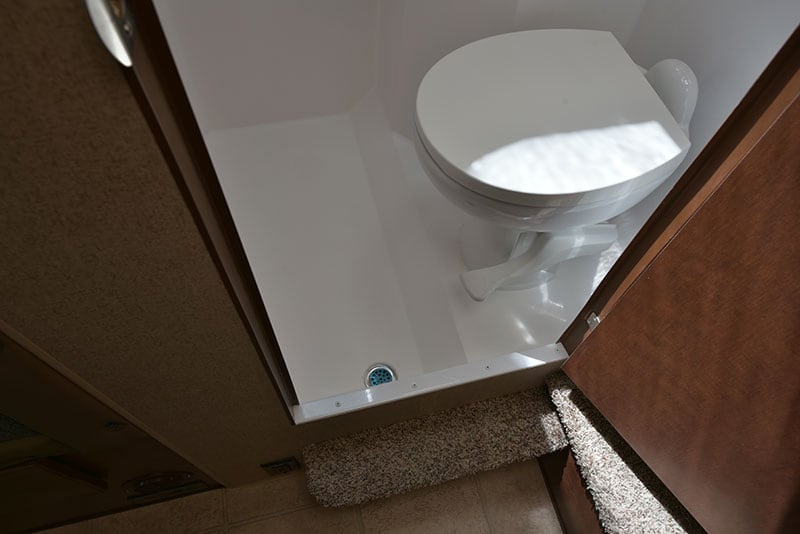 The wet bath in the Arctic Fox 865 is huge.  As a one-piece fiberglass stall, this wet bath is made from the highest possible material quality.  Fiberglass stalls also drain and dry better than other design and material approaches.
The foot-flush toilet is a good height and has ample leg room.  Dry bath fans will not be converted, but this wet bath offers more toilet and shower room than most dry bath truck campers can dream of.
The sink is relatively small, but right-sized.  Most of us are just brushing our teeth, washing hands, washing our face and (for guys) shaving.  None of those activities need more sink than this.  Perfect.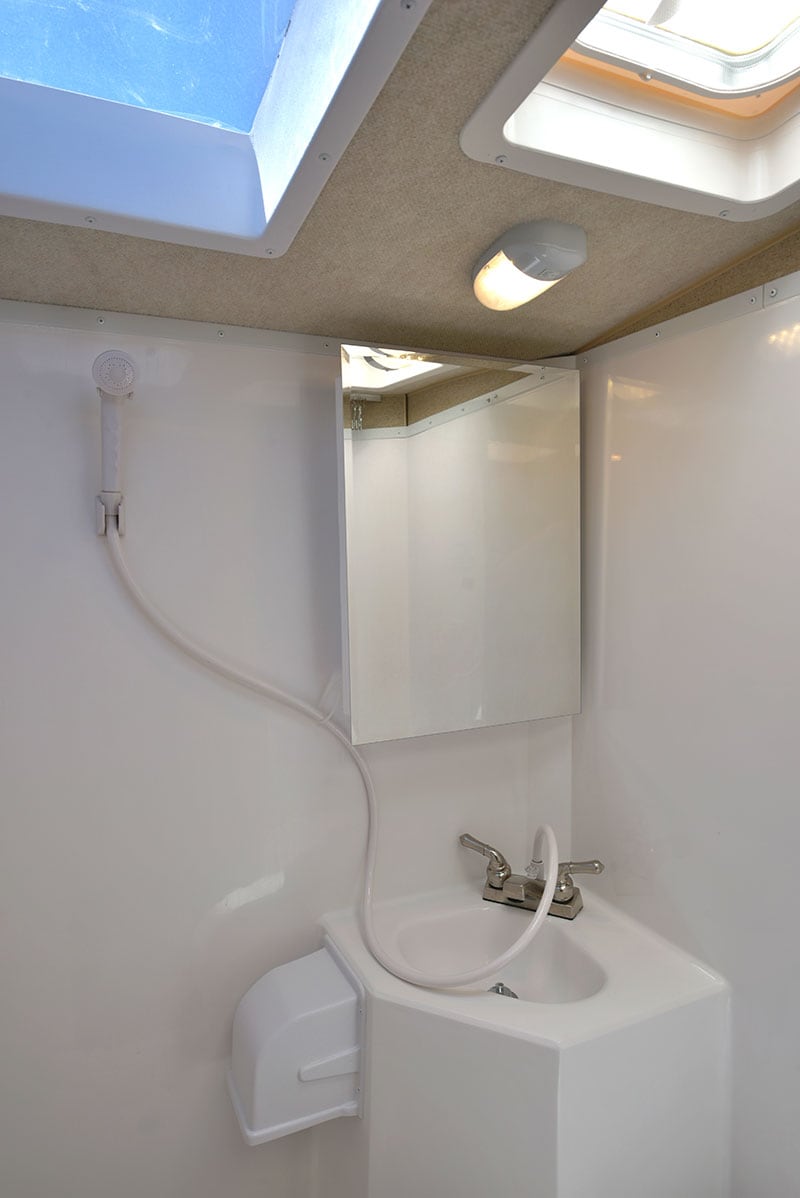 Unfortunately, the placement of the mirrored vanity is challenging.  It's impossible to be directly in front of it as the toilet occupies the space where you would stand.  You literally have to kneel on the toilet to see yourself in the mirror.
I don't know how Northwood would make this change, but the ideal vanity mirror location would be catty-corner above the sink.  Or, they could add an additional bathroom mirror where one can directly stand and see it.
If this one change was made, I would happily sign off on this being one of the best wet baths in the business.  The skylight brings in welcome light and height.  The fan is in the right place.  And the space available for showering and using the throne is awesome.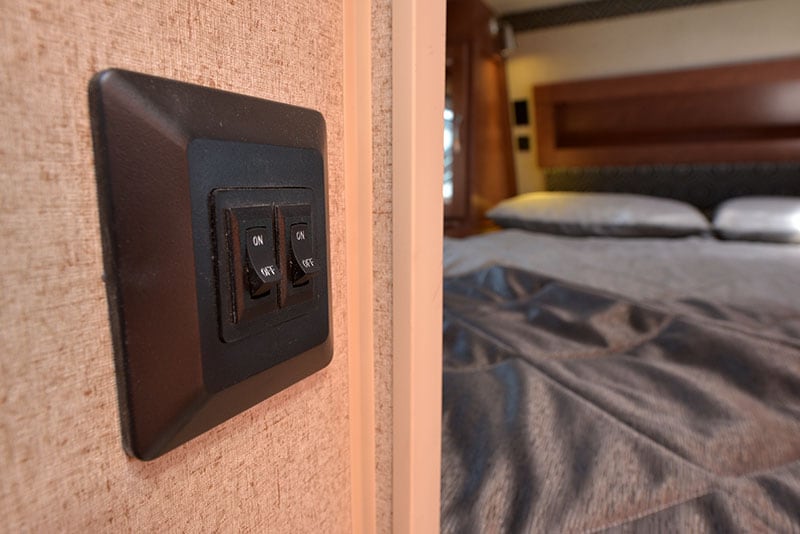 I bet nearly everyone who climbs into a Arctic Fox cabover for the first time thinks something must be wrong with the lighting.  Click, click – they don't work!
Well, you passed right by the answer.  These two switches activate the lighting in the cabover.  If they're off you can click 'till you're blue, but you won't be illuminated.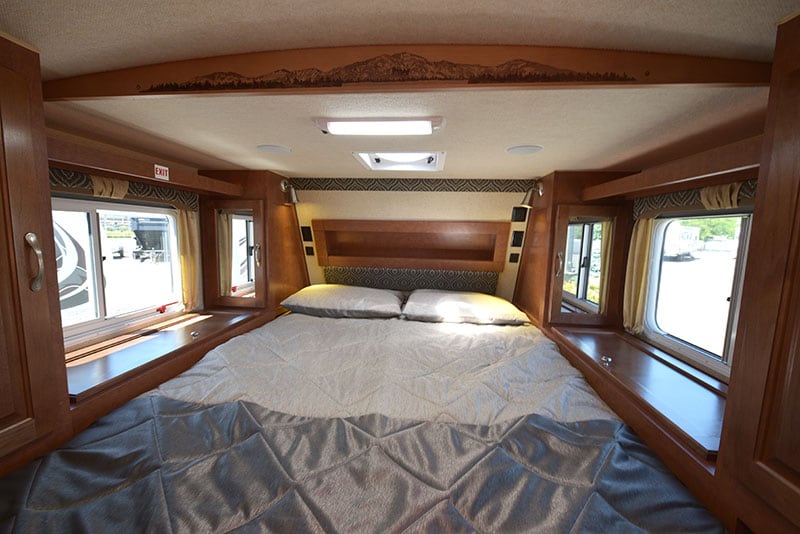 A few years ago, Northwood got serious about their truck camper cabovers.  They extended their front nose profile to allow for a taller space.  They also added ambient lighting, a front nose cubby and all the outlets in all the right places.  The result is easily one of the best appointed and presented cabover bedrooms in the truck camper marketplace.
One aspect of all Northwood cabovers that splits from most other truck camper brands is the use of fans above the bed rather than Heki or traditional hatch skylights.  By installing fans, Northwood prioritizes insulation, airflow and fan-access convenience.  It's a trade-off, but a good one.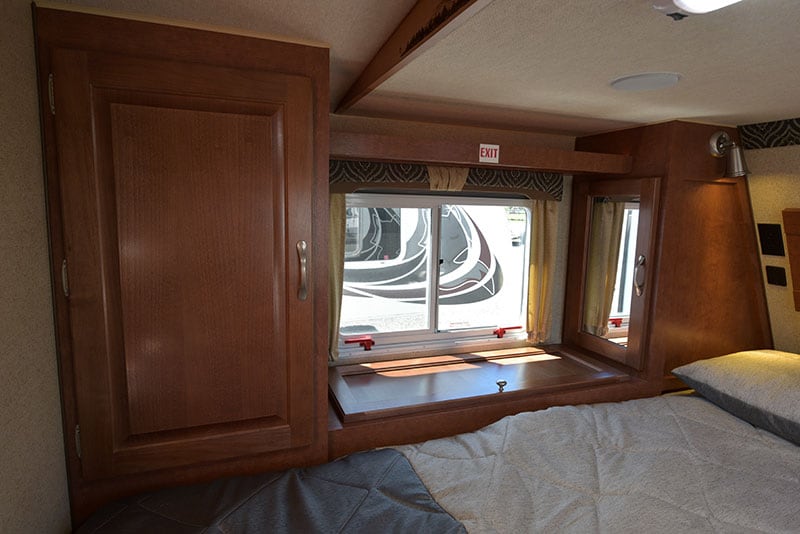 The driver's side features a closet, hamper and front-nose penguin cabinet.  I can't see anyone complaining about the lack of storage opportunities here.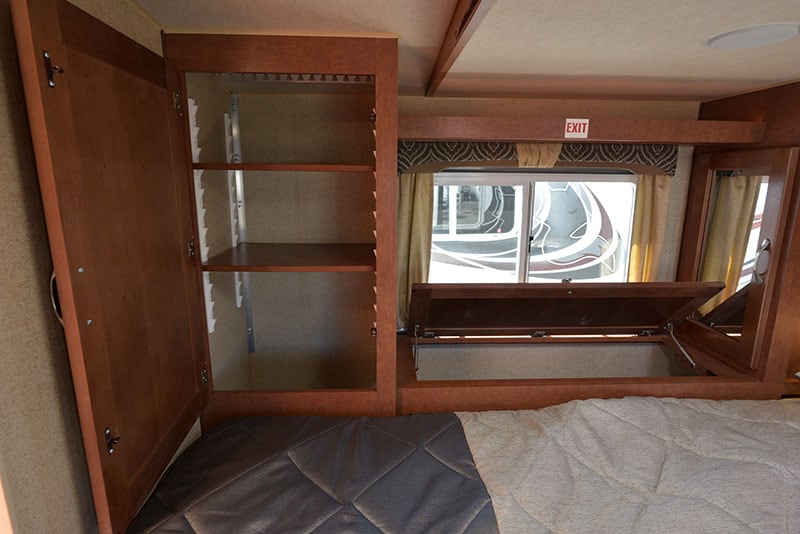 The closet features movable and removable shelving and a hanger rack.  The hamper has a gas strut to hold it up.  Again, top notch.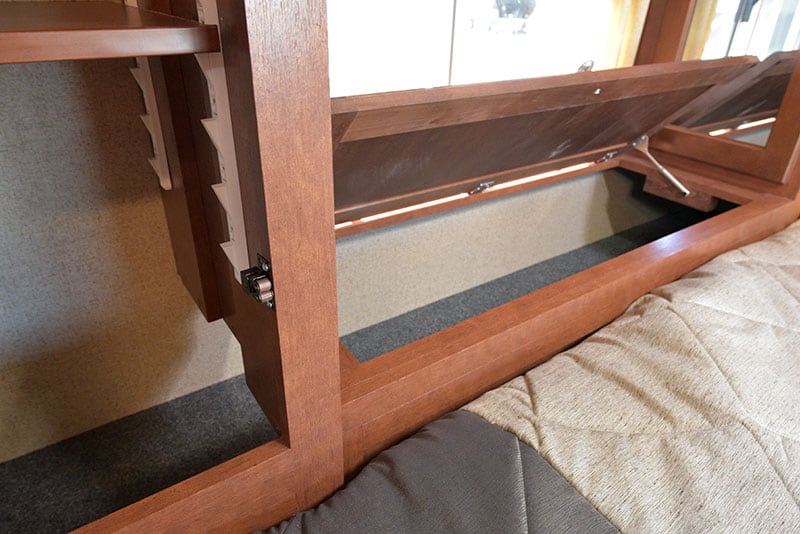 The cabinetry is also open between the closet (which extends down), hamper and front penguin.  This saves a bit of weight and allows for more storage.  It also allows for loose items to roll around a bit, but that's unlikely once these storage areas are loaded.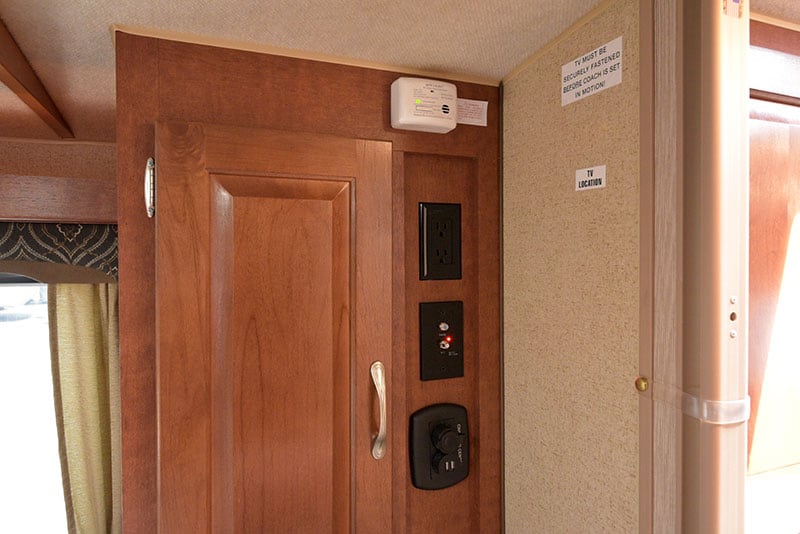 The passenger's side is where a HD television would be mounted.  The review unit did not have this option installed, but you can see the "TV LOCATION" sticker on the wall and the television amplifier and coax connection.
This area also has a 12-volt and two USB-outlets.  The 12-volt might be there for the television, but it's useful for other charging purposes as well.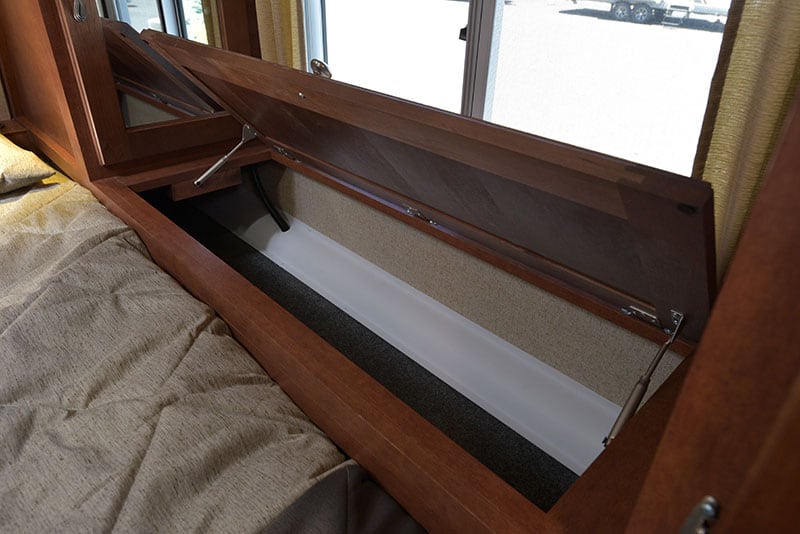 The passenger's side hamper houses a white channel for the cabover's power connections.  Since side hampers are often used for clothing, this channel should not have much of an impact of the hamper's overall capacity.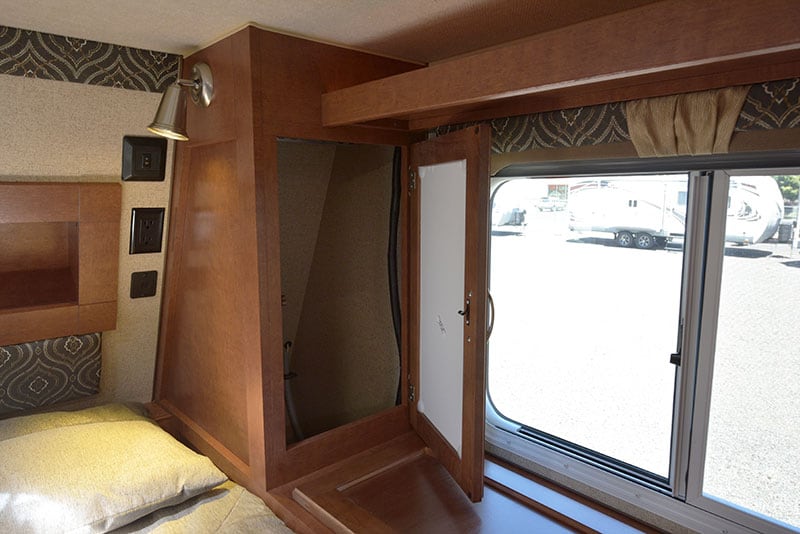 The front cabinet penguins are very welcome, but we would love to see a shelf in there.  Otherwise it's tough to use the available height in this space.
The front nose wall features a 110-volt outlet (for CPAP machines) and two USB-outlets for charging phones, tablets and other devices.  In fact, both sides of the cabover get 110-volt outlets and two USB-outlets.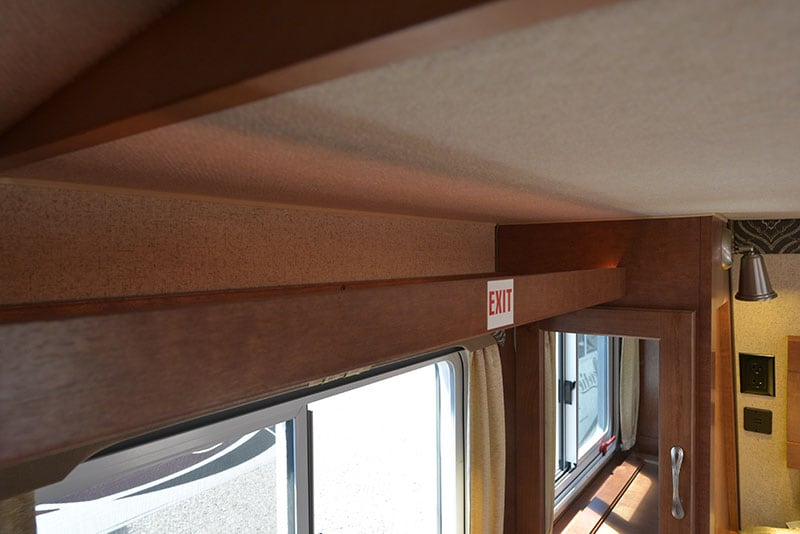 This photograph was taken during the day, but you can see the LED ambient light on the ceiling above the "EXIT" sticker.
When relaxing at night, having low intensity ambient lighting is relaxing and gives the cabover a warm and inviting feel.  We have installed a similar ambient lighting set-up in our project camper and use it every day.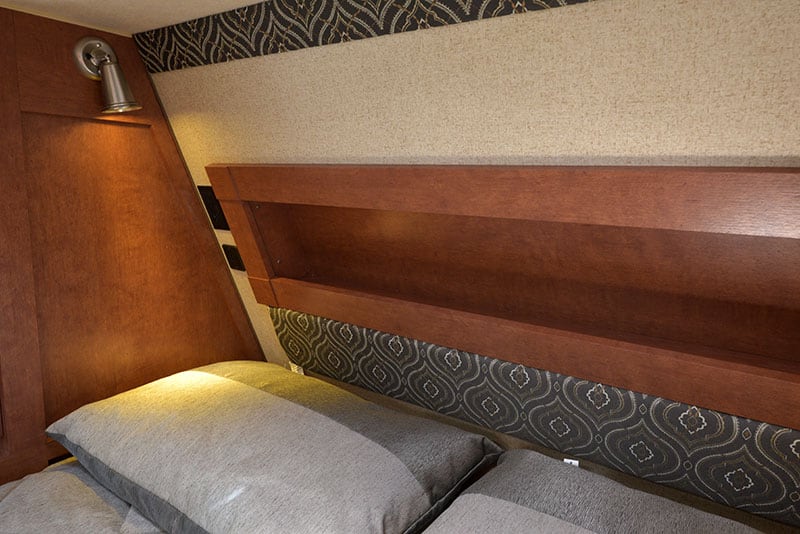 The front nose cubby also has ambient lighting tucked into it.  This space is intended for books, tablets and other regularly accessed items in the cabover.  I can definitely see an iPad and a book or two here if this were our camper.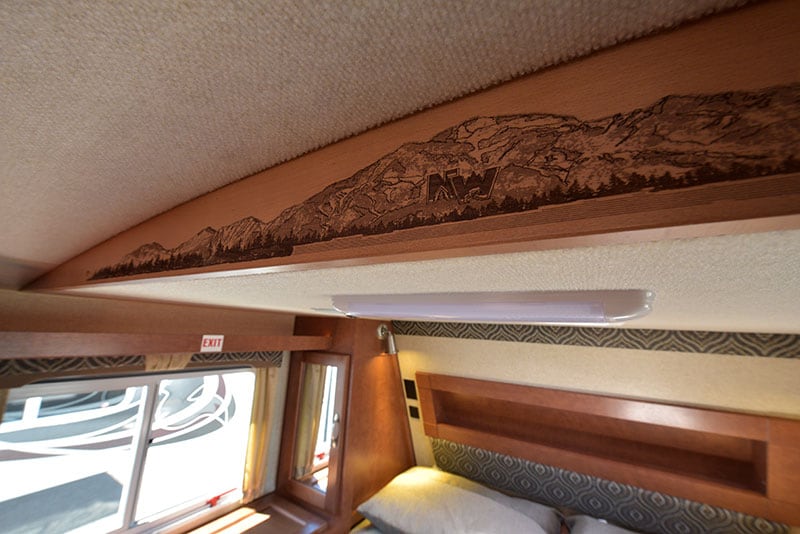 The "NW" mountain etching in the cabover transition beam is a direct reflection of the company's outdoor-oriented, quality-driven and expectation-exceeding culture. It also echos the, "Go Anywhere" spirit of truck camping.  Personally, I like it.
That said, some folks may either not like the mountain etching, or grow tired of it over time.  Ideally the beam would be reversible; etching on one side, blank on the other.
Specifications
| | |
| --- | --- |
| Specifications | |
| Dry Weight | 3,236 pounds |
| Wet Weight* | 4,204 pounds |
| Floor Length | 9'4″ |
| Overall Length | 17'0″ |
| Width | 8'1″ |
| Interior Height | 6'7″ |
| Exterior Height | 9'10" w/ air conditioner |
| Center of Gravity | 42″ with AC and generator |
| Truck Type | Long or Short Bed |
On the Northwood Manufacturing website, the company states the dry weight of the 2019 Arctic Fox 865 at 2,641-pounds.
To that weight you need to add the weight of the Fox Value Pack, a mandatory options package built into every Arctic Fox truck camper.
Northwood reports the total weight of the Fox Value Pack at 595 pounds.  That brings the total dry weight of the base Arctic Fox 865 to 3,236-pounds.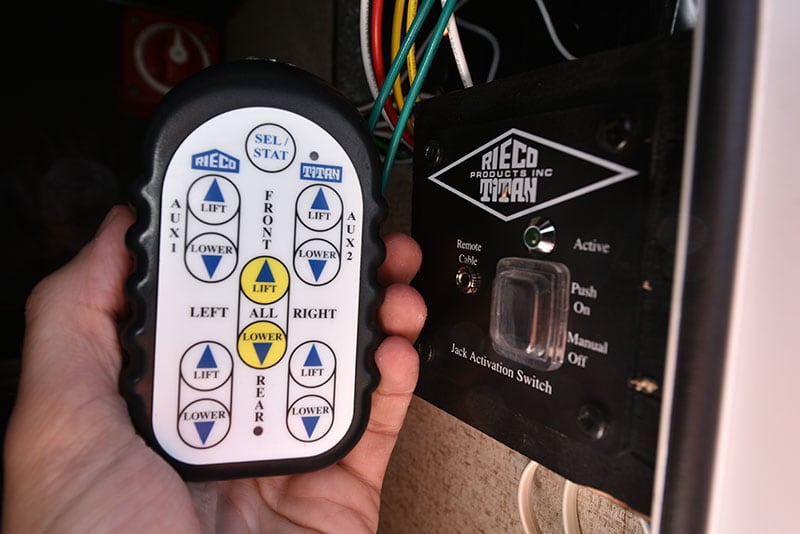 The Fox Value Pack (mandatory options package) includes 17-items; a rear electric awning, sliding battery rack, dual 30-pound propane tanks, roof rack and ladder, Rieco-Titan electric jacks with remote (shown above), outside speakers, Joey sliding storage tray, HDTV/WIFI antenna, diamond plate knee wall armor, 2-way 7-cubic foot refrigerator, deluxe stainless-look refrigerator door panels, 22-inch microwave, multi-speed reversible fan vent, hardwood hamper doors, below dinette access door and drawer, and front bedroom shelf and bedspread.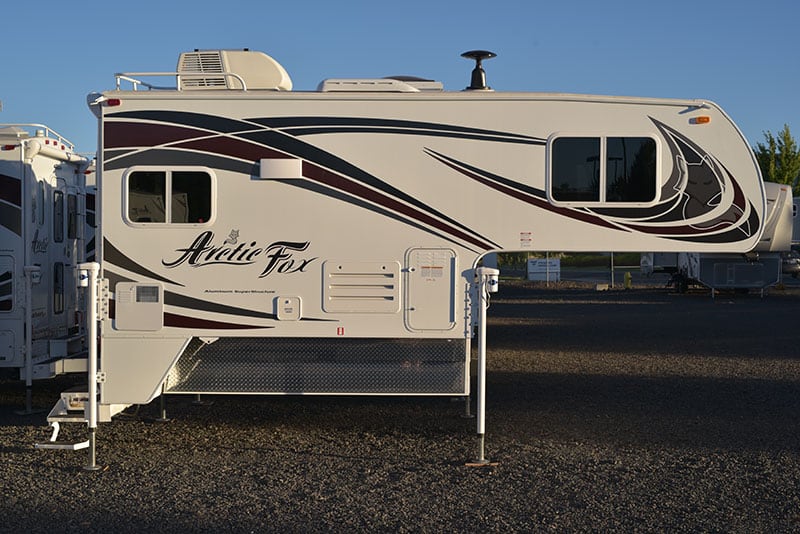 The 9'4″ floor length of the Arctic Fox 865 is perfect for towing and the 42-inch center of gravity is excellent for a long bed truck.
The 8'1″ width and 6'7″ interior height match the rest of Northwood's Arctic Fox truck camper line.  In width and interior height, the 865 is a full-blooded 'Fox.
Capacities
| | |
| --- | --- |
| Capacities | |
| Fresh | 28 gallons |
| Grey | 32 gallons |
| Black | 31 gallons |
| Water Heater | 6 gallons |
| Propane Tanks | 2x 30 pounds |
| Batteries | Two Batteries |
Northwood is known for putting huge holding tanks in the popular Arctic Fox truck camper line.  For example, the best-selling Arctic Fox 990 has 59-gallons fresh, 39-gallons grey, and 43-gallons black.  Those are some impressive numbers.
In contrast, the Arctic Fox 865 has 28-gallons fresh, 32-gallons grey and 31-gallons black.  When you add the 6-gallon water heater, that takes the fresh water total to 34-gallons.  While these numbers are lower than other Arctic Fox models, they are very respectable for a camper this size.
In fact, the holding tank capacity of the 865 is nearly identical to the tank capacity on our project rig.  Using typical water conservation techniques we typically dry camp for up to a week.  If you need to shower everyday, or leave the water on while washing dishes and brushing your teeth, cut that time in half.
Almost every camper we have ever camped in has had a 6-gallon water heater.  When mixed-in with cold water, a 6-gallon water heater provides ample capacity for typical camper showers.  You can't sing the entire length of Bohemian Rhapsody, but you don't have the vocal range for that anyway.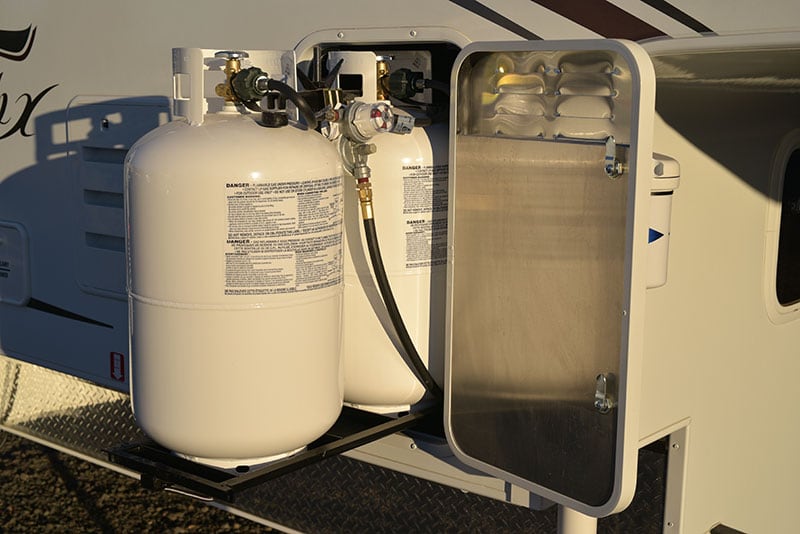 The propane capacity of the 865 is on par with the rest of Arctic Fox's truck camper line; two 30-pound vertical propane tanks.  This is the highest capacity available in modern truck campers, and will keep your off-grid propane refrigerator, furnace, and cook top running (battery power permitting) for up to two weeks – possibly more.
Unless you fire up a generator for hours, or are trying to camp in -20 Fahrenheit, you're good to go.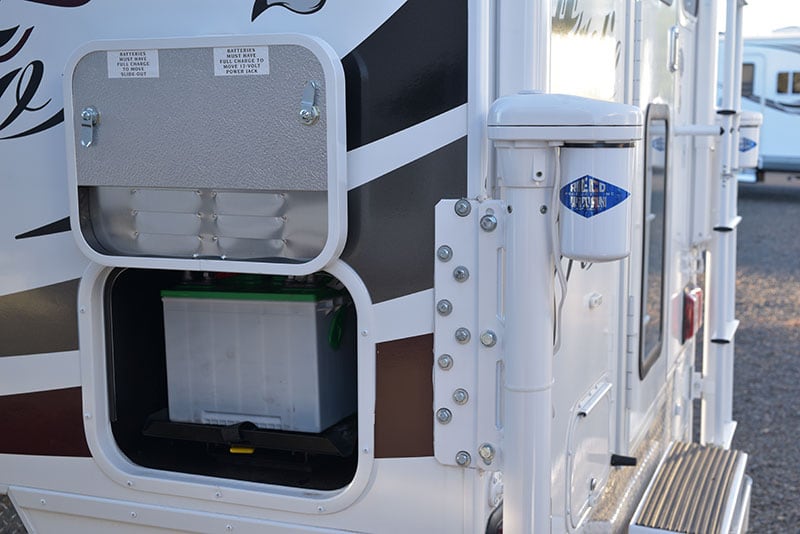 Speaking of batteries, the Arctic Fox 865 has two Group 27 batteries.  This is fairly typical of a camper this size and should serve most truck camper owners very well.
This is especially true since the Arctic Fox features LED interior lighting.  Add the optional 170-watt Zamp solar panel and you will have 190-watts (with the 20-watt panel on the air conditioner) to keep your house batteries topped off.
Wet Weight Calculations
To accurately calculate the wet weight of the Arctic Fox 865, we need to start with the true base dry weight.
That means adding the 595-pound weight of the Fox Value Pack, Northwood Manufacturing's mandatory options package.  That brings the dry weight of the 865 to 3,236-pounds.  Unless you special order a base model with no options, it's highly unlikely that you'll ever see an Arctic Fox 865 at this weight.
The great majority of Northwood dealers will order this camper with the most popular options including an air conditioner, built-in generator, audio-video system, HD-television, thermal pane windows, solar panel and controller, and the Fox Landing bumper step.
Base Dry-Weight – special factory order only
Arctic Fox 865: dry weight, 3,236 pounds + 28 gallons fresh, 233.5 pounds + 6 gallon full hot water heater, 50 pounds + 2x 30-pound full propane tanks, 54 pounds + 2 batteries, 130 pounds + stuff, 500 pounds = 4,203.5 pounds
Optioned Review Unit
On the manufacturer's invoice, the unit under review had five options; thermal-pane windows, Fox Landing bumper step, 11,000 BTU air conditioner, WI-FI extender, and the above described Fox Value Package.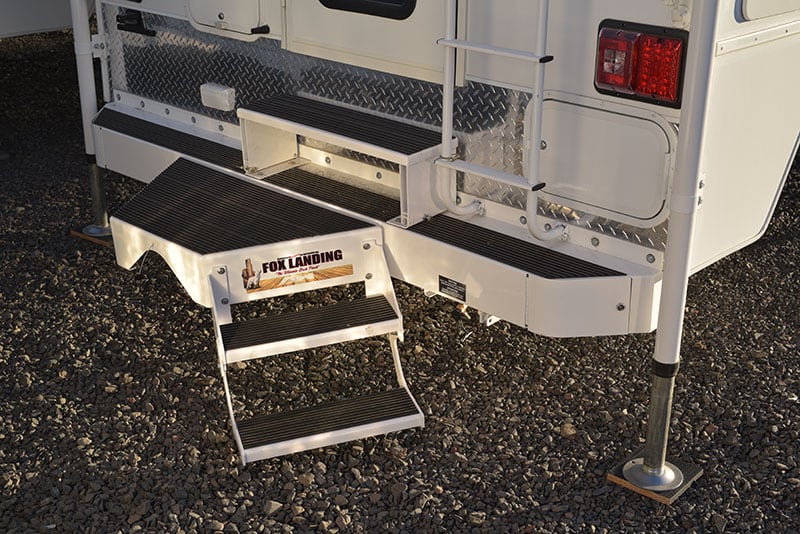 We already included the 595-pound weight of the Fox Value Package in the dry weight. We then estimated the weight of the above options to 175-pounds.
Taking the base dry weight of 3,236-pounds (with the Fox Value Package) and adding the 175-pound option weight we get 3,411-pounds.  With this dry with options weight, let's run the numbers.
Arctic Fox 865: dry weight, 3,411 pounds + 28 gallons fresh, 233.5 pounds + 6 gallon full hot water heater, 50 pounds + 2x 30-pound full propane tanks, 54 pounds + 2 batteries, 130 pounds + stuff, 500 pounds = 4,378.5 pounds
Truck Recommendations
At the 4,378.5-pound wet weight, there are two very good truck matching options for the long bed Arctic Fox 865 under review.  First, it is more than possible to match this camper with a one-ton single rear wheel truck.
That stated, very few one-ton single rear wheel trucks offer anything near that much payload.  To get a one-ton single rear wheel truck with enough payload (4,378.5-pounds or better), you will likely need to special order a truck.
A 2019 Ford F-350 XLT single-rear wheel (SRW), Crew Cab, 4×4 offers up to 4,450-pounds of payload capacity.  That's a nice truck, but you won't likely find it on a dealer lot.  It's a special order.
The second option would be my strongest recommendation; match the long bed Arctic Fox 865 with a long bed dual rear wheel (DRW) truck.  Most late model one-ton dually trucks will offer more than enough payload.  And if you're towing, a dually is definitely the way to go with the 865.
If you want to follow in our tire tracks, our 2018 Ram 3500 6.4L HEMI, dual rear wheel, Crew Cab, 4×4 has a whopping 5,889-pounds of payload.  Even better, this truck starts in the low-$40K range for a base Ram Tradesman model.  Of course Ford and Chevy offer great one-ton dually trucks as well.  It's a matter of preference.
The Verdict
After five years of lobbying for the Arctic Fox 865 to be put back on Northwood's official menu, I was elated to see it finally return for 2017.  It remains, by far, my favorite Northwood truck camper and one of my all-time overall favorite campers period.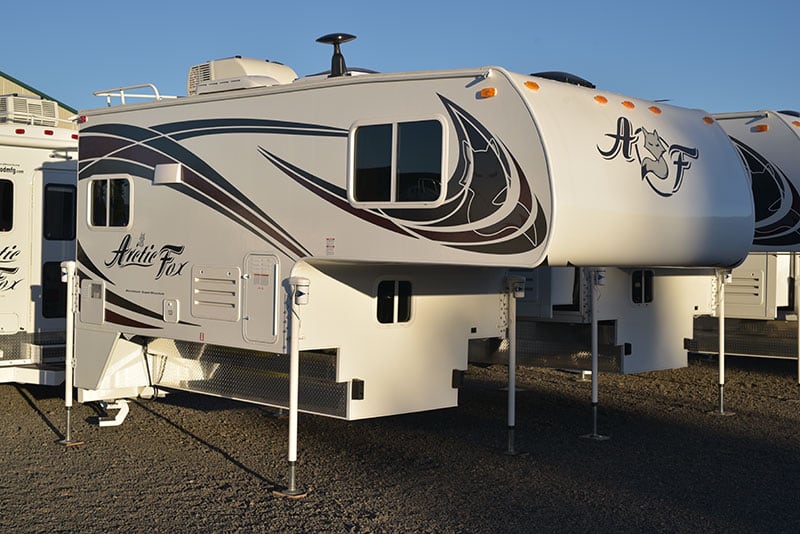 The reason for my adulation sits squarely in the brilliant non-slide, mid-bath floor plan and its high-quality execution.  The panoramic rear view, full-booth dinette, straight kitchen, large wet bath, and cabover bedroom separation make the floor plan work beautifully.  Northwood's top notch quality makes the final product a real winner.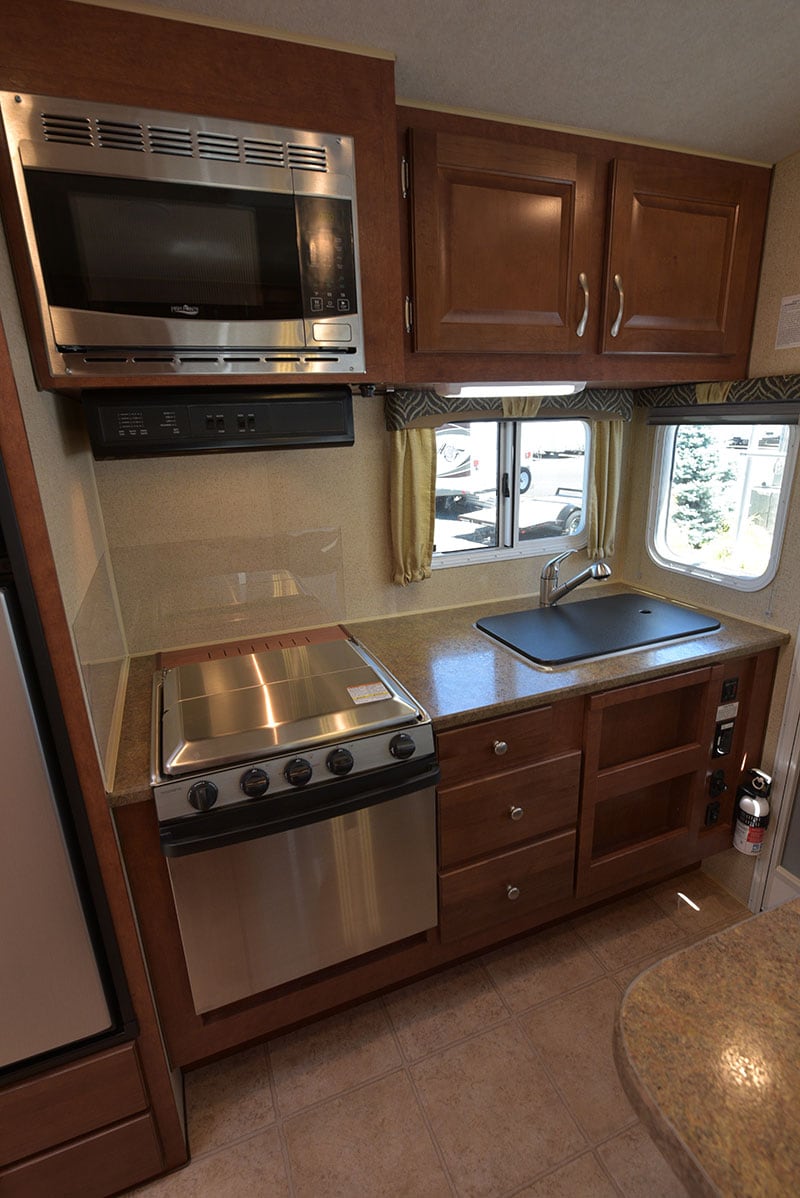 There are a few nit picks.  For one, there appears to be no good place to put a kitchen trash container.  The vanity mirror in the wet bath is in an inconvenient position over the toilet.  And great care will be needed when climbing the rear ladder up and over the rear awning and cathedral arch roof.
None of that takes away from the exceptional build quality and the fit and finish that are evident throughout this entire unit.  Nor does it detract from the stunning amount of storage available.  Properly matched, this unit is ready for serious truck camping.
Even if you're currently looking at single-slide truck campers, you owe it to yourself to see an Arctic Fox 865 in person.  You might be happily surprised at how open and spacious this floor plan feels.  It's a knockout.
Pros
Fantastic non-slide floor plan; interior feels like a slide-out model
Rear panoramic view and arch ceilings make the camper feel spacious
One-piece fiberglass wet bath is high-quality and huge
Excellent storage opportunities throughout the unit
Overall fit, finish and quality were exceptional
Single rear wheel compatibility is possible – but a dually is recommended
Cons
Wide kitchen sink wastes precious counter space
Unusually tall entry step into the wet bath
No space available for a dedicated kitchen trash container
Ladder to cathedral arch roof is challenging to climb and descend
Four-light tank monitors and sensors are notoriously innaccurate
Fox Value Package could confuse customers on weight and price
Model Information:
2019 Arctic Fox 865
MSRP: $27,035 plus Fox Value Package ($5,490)
Warranty: One-year limited warranty
Northwood Manufacturing
Phone: 1-800-766-6274
Request an Arctic Fox Brochure
Web: northwoodmfg.com
Quality, Customer Service, and Long-Term Reliability
Truck Camper Magazine inspects all reviewed truck campers for design, material, and quality issues and reports what we find. However, since Truck Camper Magazine reviews only brand new truck campers, our reviews do not address long-term quality, customer service, or reliability.
To learn about a brand's long-term quality, customer service, and reliability, Truck Camper Magazine recommends talking directly with truck camper owners at truck camper rallies and online via truck camper forums and truck camper owners groups.
Please be sure to balance your gathered feedback across multiple sources including direct correspondence with the truck camper manufacturers and your closest truck camper dealers.
If you are new to truck campers, start in the Newbie Corner.