Truck Camper Magazine reviews a Four Wheel Camper Hawk, a pop-up, non-bath, short bed truck camper for full-size trucks.  Can an ultra-light short bed pop-up be spacious and comfortable?

Be sure to also check out Four Wheel Camper's response to this Hawk review.
For the purposes of this review, we visited the Four Wheel Camper factory and headquarters in Woodland, California.  It was the first time we were able to meet with Robert Vogl, CEO of Four Wheel Campers, after announcing the Salt Creek Capital acquisition in February of 2017.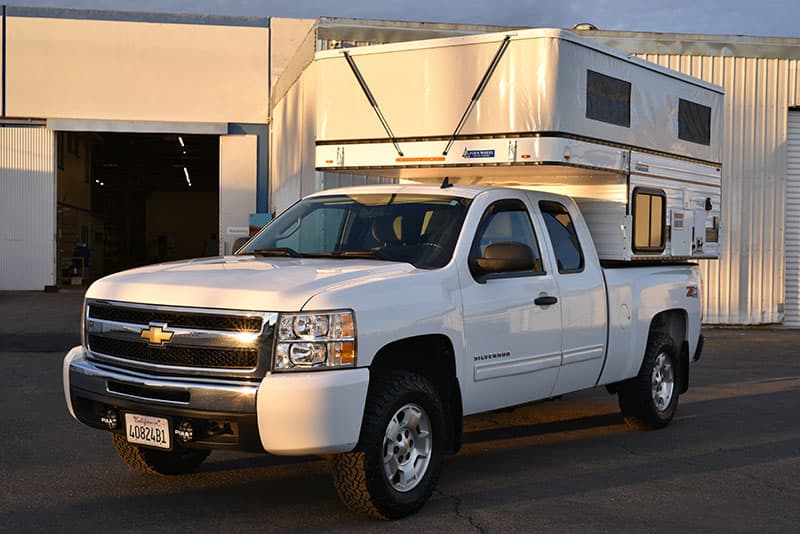 Our meetings with Robert and the new leadership team members were very encouraging.  Robert thoroughly understands the Four Wheel Camper concept and is dedicated to the quality the brand is known for.  More importantly, Robert is making a series of methodically planned changes to further improve product quality while steadily increasing production.  These are his core missions.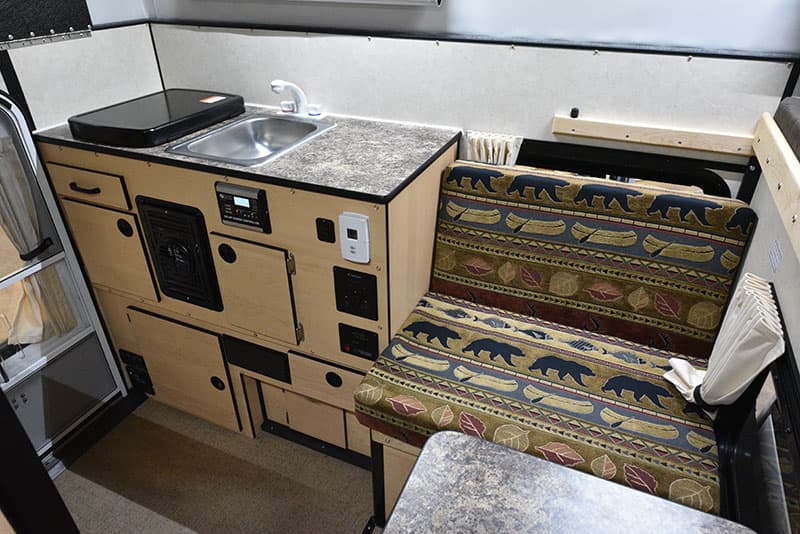 With that focus, Robert took us through the plant and showed us a number of areas where changes were already underway or in rapid development.  Robert brought us to new equipment, revealed streamlined production areas, highlighted specific material and component updates, and explained an almost completely reorganized production floor.  Robert asked us to hold our detailed reporting of the factory changes until they are finalized, but we got Robert's point.  Four Wheel Campers is on the move.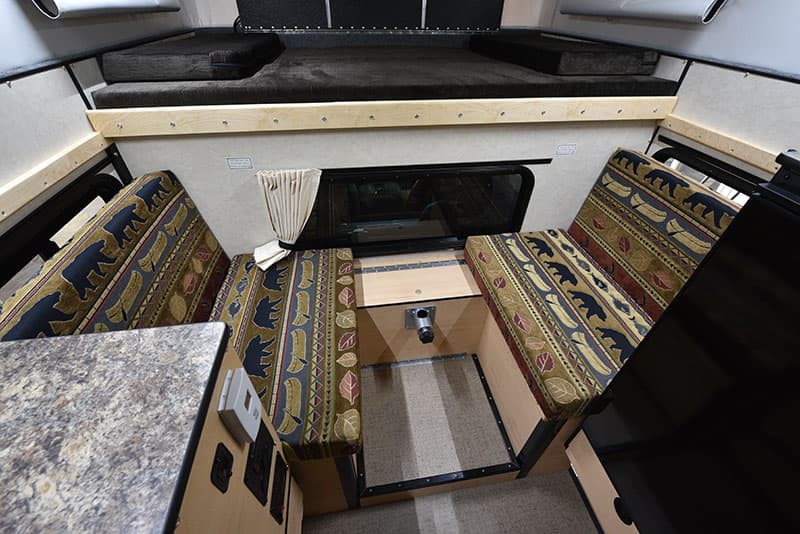 While changes and future plans are exciting, we are even more interested in where the Four Wheel Camper product is today.  The Hawk is one of Four Wheel Camper's most popular models, if not the most popular.  Designed for full-size, half-ton, short bed trucks, the Hawk aims for the heart of the pop-up marketplace.  Based on its popularity, what better model to haul off the production line and review?  Let's dig in.
The Four Wheel Camper Hawk is available in four different floor plans (see all but the Shell Model below); Roll Over Couch, Side Dinette Seating, Front Dinette Seating, and a Shell Model (no interior).
One commonality between all Four Wheel Camper Hawk floor plans is how wide open and spacious they are inside. Standing in the unit with your back to the entry door, the Four Wheel Camper Hawk has tons of headroom. It may seem odd to state that a short bed pop-up truck camper feels open and spacious, but the Hawk really does.
The Hawk under review is the Front Dinette Seating floor plan.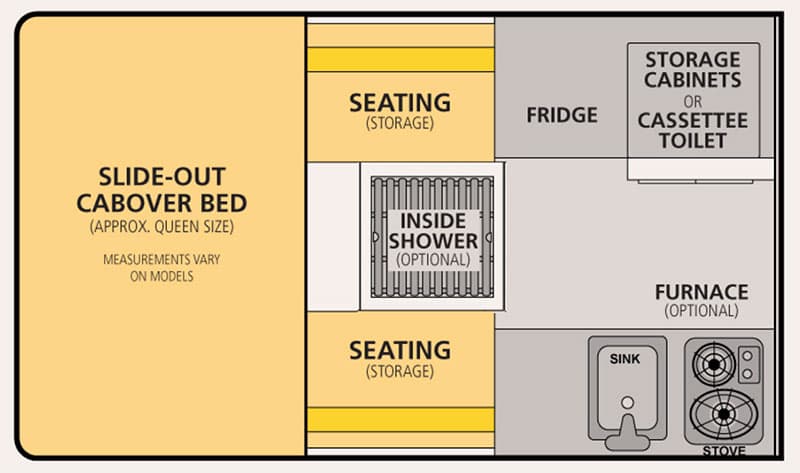 Robust Entry Door Locks
If there's a truck camper manufacturer with more formidable entry door locks than Four Wheel Campers, we haven't seen it. In addition to the standard RV door lock (the red toggle below), Four Wheel Campers installs a residential deadbolt.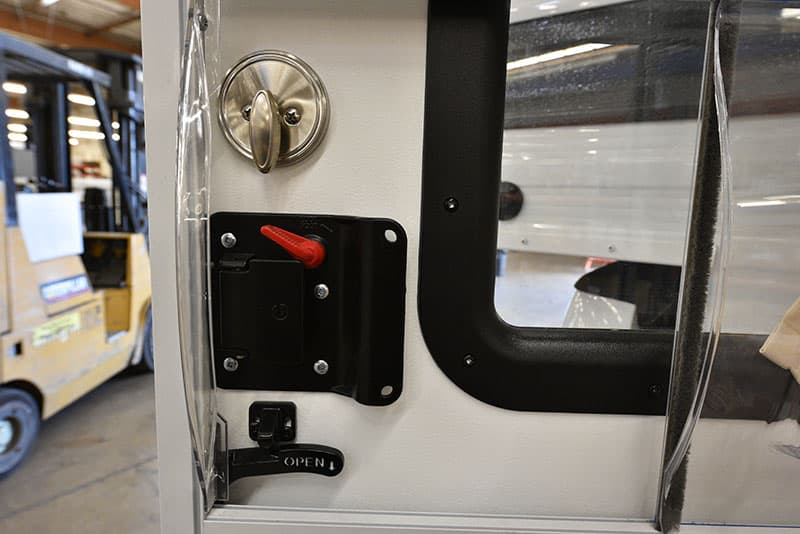 That's right, a pop-up truck camper with a deadbolt lock. Look at that stainless steel beast!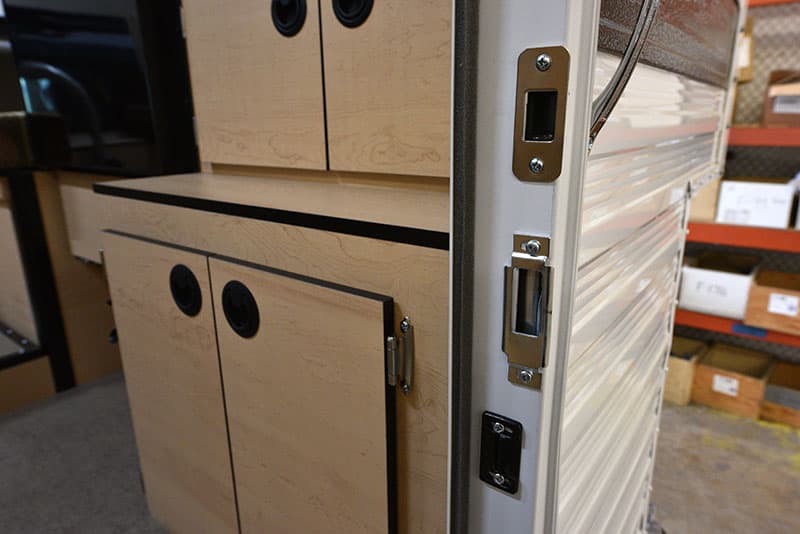 The top strike plate shows the impressive girth of the deadbolt. If someone wants to break into a Four Wheel Camper, it's probably not through the entry door.
While we have not once heard of an occupied truck camper break-in (pop-up or otherwise), we would welcome the residential deadbolt when the top is down and the camper is stored and unattended.
Just Inside the Door Switches
Just inside the entry door on the driver's side is a row of switches and a combination propane and carbon monoxide detector. What's puzzling here is what appears to be three missing switches. The "Interior Floor" switch is in place, but the "Exterior Down", "Flood Lights" and "Refer Fan" are all inserted with what appear to be blanks.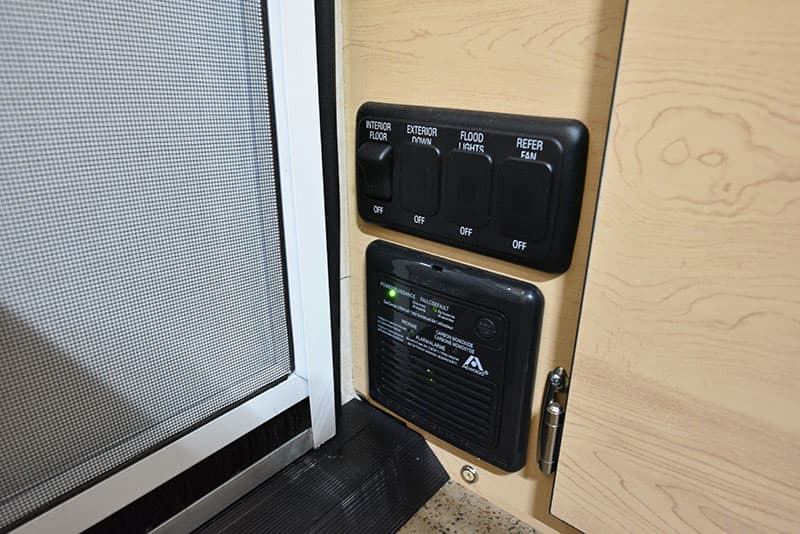 My assumption is that these are options not installed on this particular camper. For example, not every Four Wheel Camper customer would want or need "Exterior Down" lights, "Flood Lights", or a "Refer Fan". Ideally, the blanks would also cover the names of the options the customer did not order.
Roomy Feel In A Pop-Up Camper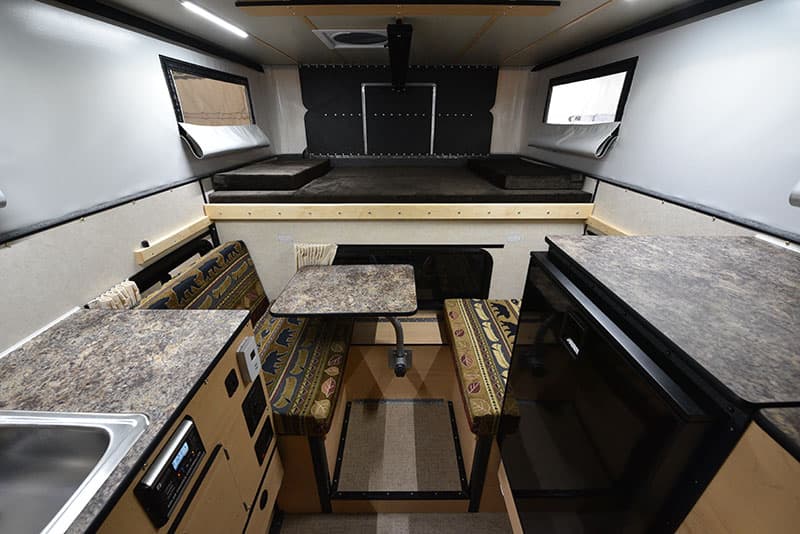 On the driver's side of the Front Dinette Seating floor plan is the kitchen and half of the front dinette.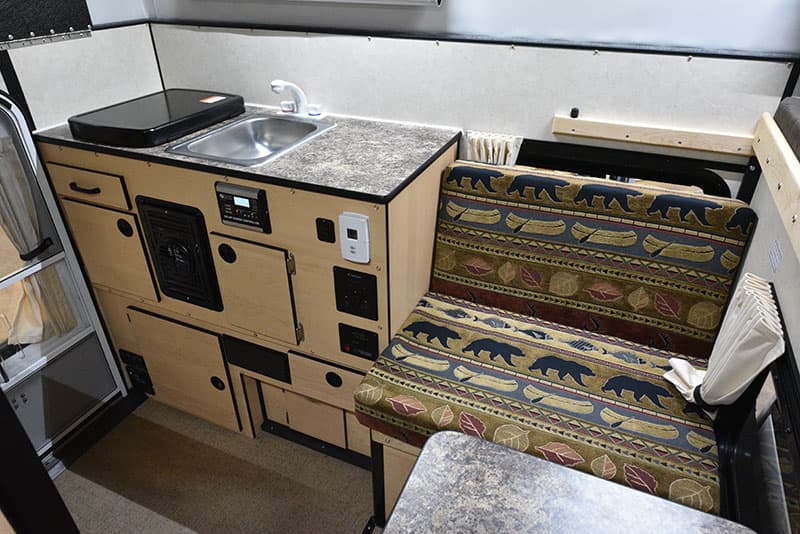 Four Wheel Camper Hawk Kitchen
The kitchen area contains the majority of monitors and controls for the camper. Having these features located all in one area makes sense.
The formica kitchen counter contains a standard two-burner propane cooktop with cover, stainless steel sink, and a Whale Marine faucet.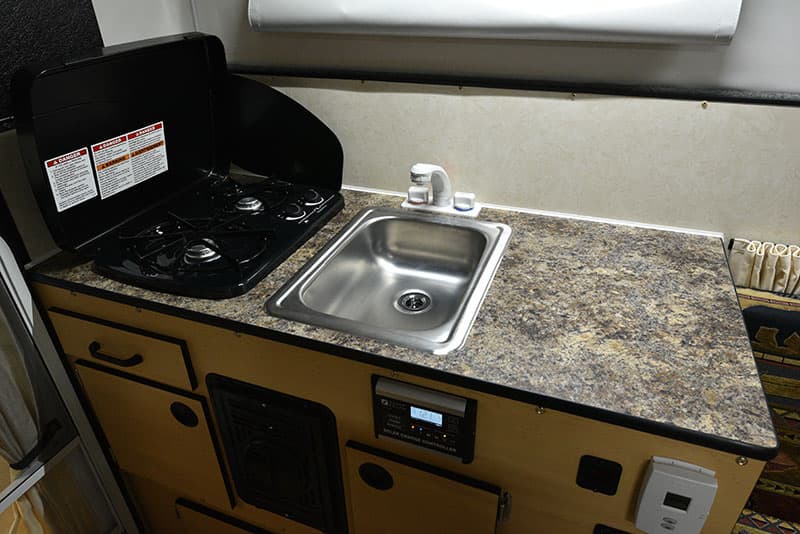 Wherever possible, Four Wheel Campers avoids traditional RV parts and materials in favor of high-end marine grade products. In fact, many of the marine-grade appliances in a Four Wheel Camper are not seen in any other RV – including the Whale Marine faucet shown above.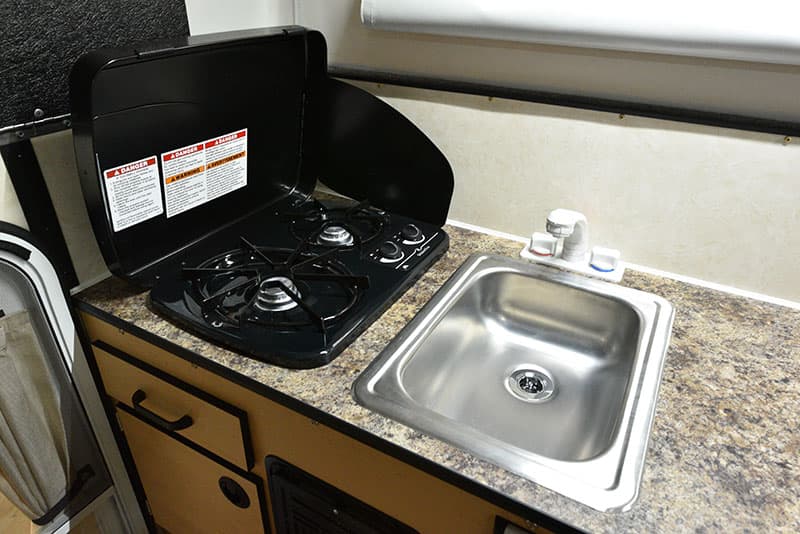 Four Wheel Campers should be applauded for using a high-end marine-grade product where they could have easily installed a standard RV faucet. As you will see, the theme of using high-quality materials and appliances repeats itself throughout the Four Wheel Camper product. Well done.
Look! There's Even A Silverware Drawer!
Immediately under the two-burner cooktop is a drawer Four Wheel Campers has designated for silverware. They even include a silverware tray if you don't get the hint.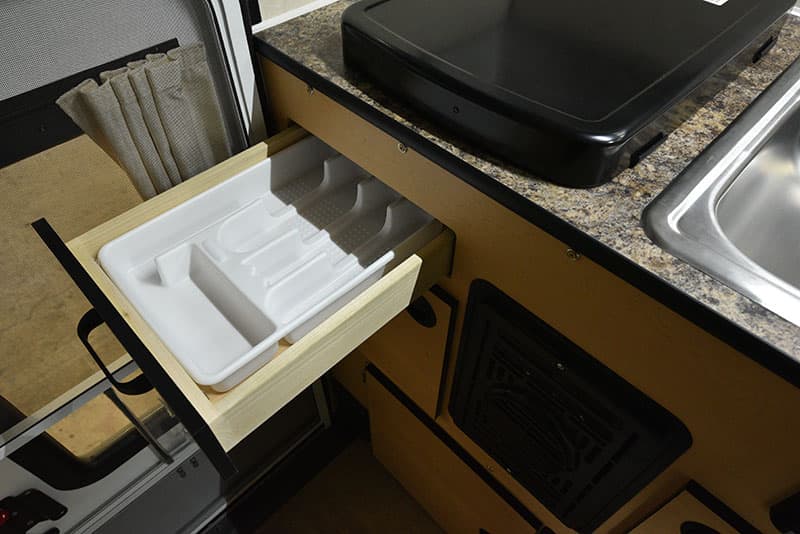 Right now I'm camped next to a hard side, long-bed, multi-slide truck camper from a major brand that doesn't have a proper silverware drawer in the kitchen. In hilarious contrast, here's a perfectly located silverware drawer in a short-bed pop-up camper. The right storage opportunity in the right place makes a huge difference in day-to-day truck camping life. Love it.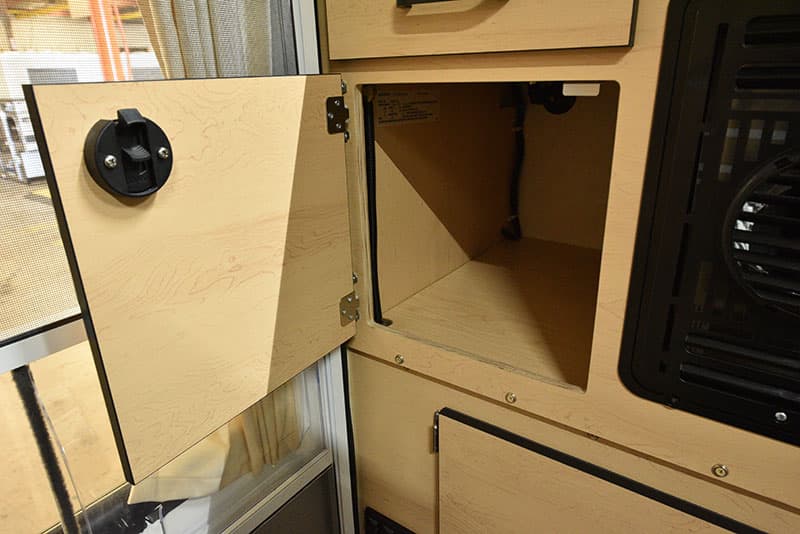 Under the silverware drawer is a cabinet with a less defined purpose. We would probably use this for dishes and/or dry foods. Others might keep items they need access to near the entry door; flashlights, dog leashes, compact umbrellas, etc.
The cabinetry hardware throughout the unit balances the need to be both durable and lightweight. In person, the cabinetry latches, handles, and hinges feel robust.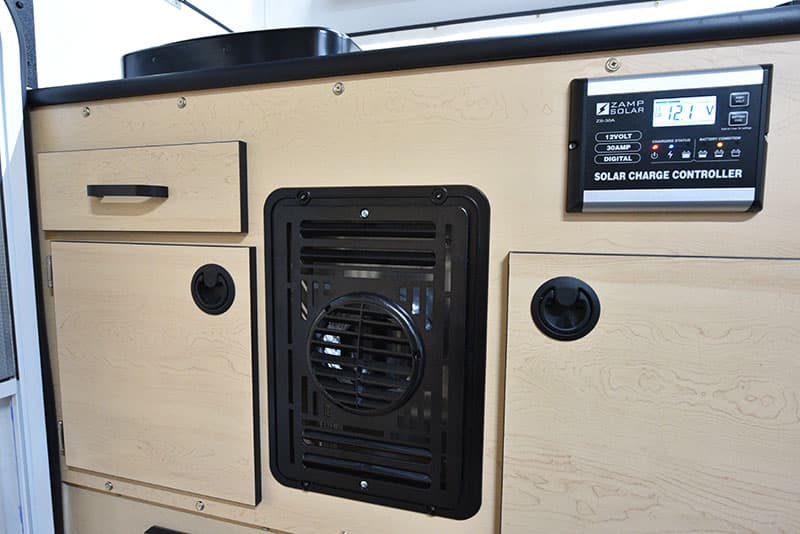 Almost directly under the sink is an optional forced air furnace. The trick to building a truly warm pop-up truck camper is the combination of a propane furnace and an insulated soft wall.
Insulated Thermal Pack Soft Wall
Four Wheel Campers offers an insulated soft wall as part of their Thermal Pack option.
Here are the three visible layers that make up a Four Wheel Camper soft wall; the grey vinyl blackout layer, the clear vinyl window layer, and the big screen layer.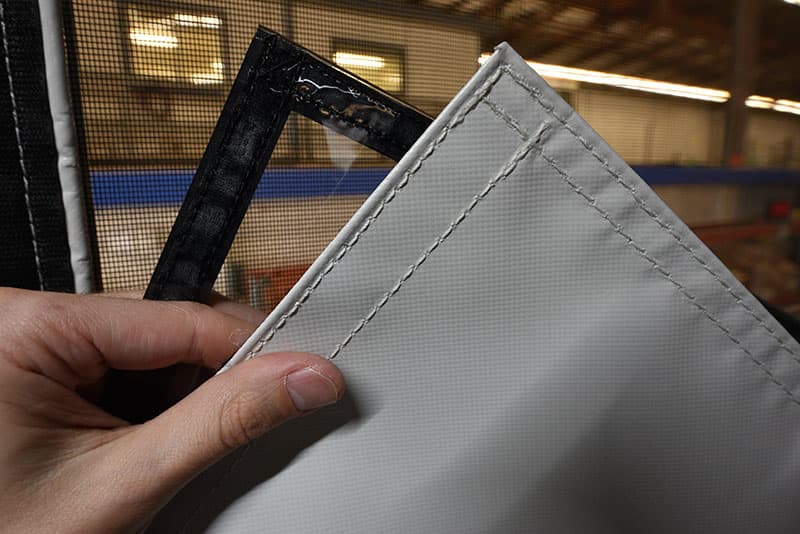 What you can't see is the optional Thermal Pack insulation material inside the grey vinyl blackout layer.
Zamp Solar Panel and Charge Controller
To the right of the furnace is the optional Zamp ZS-30A solar charge controller, optional water heater switch, and optional digital thermostat (part of the furnace option).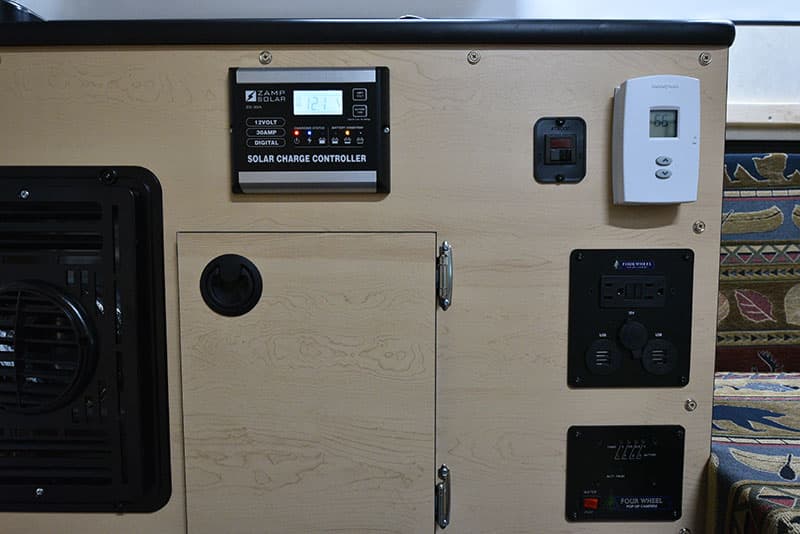 There is also the standard 110-volt/12-volt/USB outlet-set, and the standard fresh tank monitor, battery monitor, and water pump switch.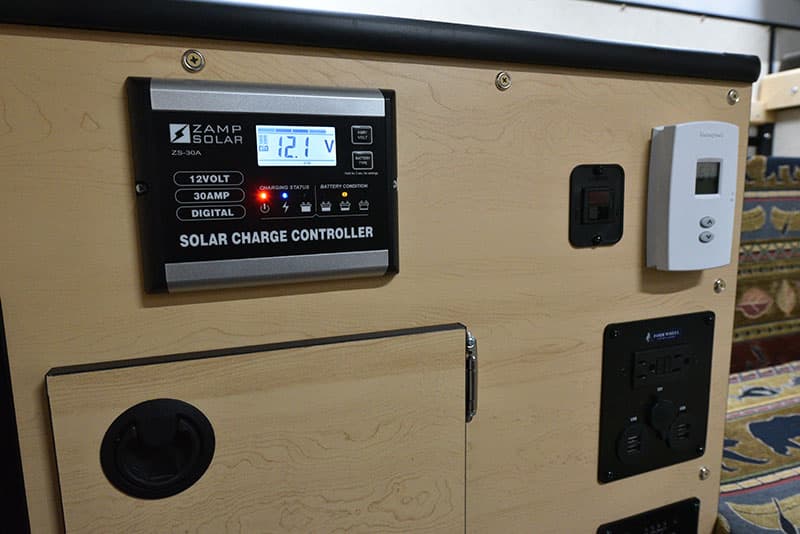 The optional Zamp ZS-30A solar charge controller is exactly the same make and model that we installed in our project truck camper. Almost three years later, we are still very pleased with the Zamp controller and 160-watt Zamp panel.
Shurflo 4009 Water Pump
Directly below the solar controller is a compartment dedicated to a standard Shurflo 4009 water pump and filter.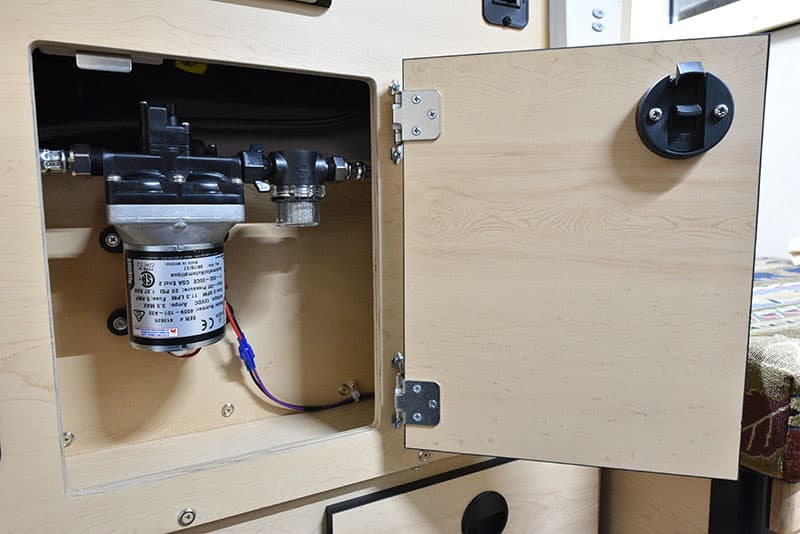 RV water pumps are quite reliable, but they will fail after many years of service. To those of us who have experienced this trip-halting situation, having the water pump immediately behind a compartment door is absolutely beautiful. Just look at that water pump behind an easily-accessible cabinet door. Pure poetry.
Interior AGM Battery Storage
The Four Wheel Camper Hawk has an interior battery compartment in the lower right corner of the kitchen area.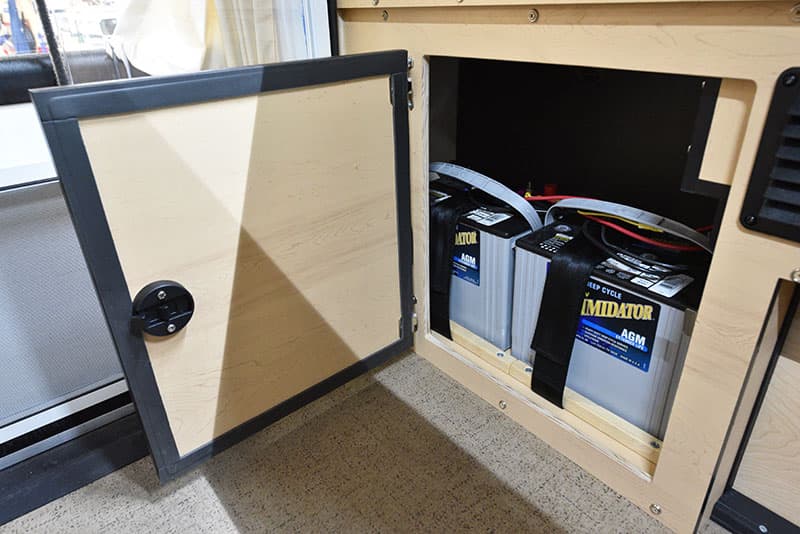 As a non-vented interior battery compartment, sealed AGM batteries are required for safety. Never put non-sealed batteries into a non-vented interior battery compartment.
Marine Grade Products In A Pop-Up Camper
Under the outlet cluster, we found a Blue Sea Systems marine-grade 120-volt circuit breakers (left) and 12-volt fuse block (right). Like the Whale Marine faucet, the quality of the Blue Sea Systems product is much higher than you will find on most truck campers.
In fact, you won't find this level of quality in most Class A motorhomes. This is truly outstanding, and a demonstration of the commitment that Four Wheel Campers has to the long-term reliability of their products.
Access Door For Turnbuckles
For those of you who are long-time Truck Camper Magazine readers, you know my unrepentant fondness for old-school practical truck camper design. Well, under the kitchen is one of my favorite examples of old-school smarts; a truck bed access door. This door is mirrored on the passenger's side for double the old-school awesome.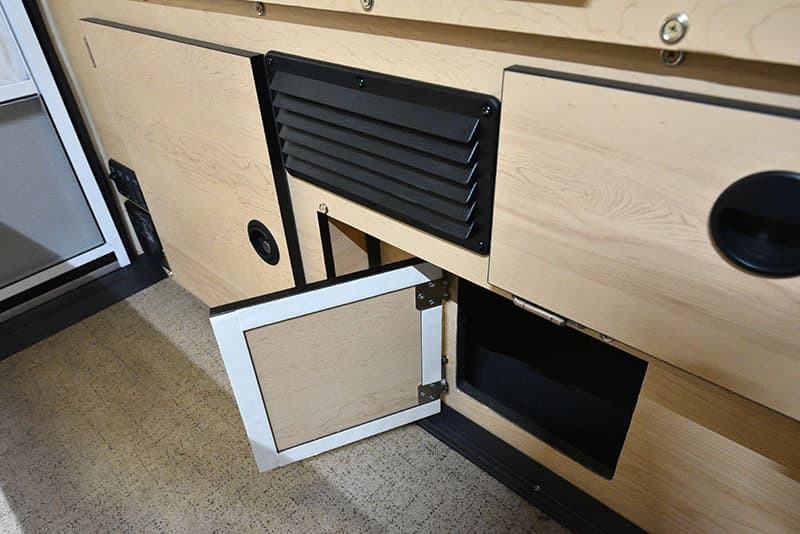 Loaded on a truck, these doors give direct access to the space between the truck's wheel wells and the front wall of your truck's bed. In these outside/inside spaces you can put full water jugs, stinky hiking boots, loaded laundry bags, and more.
Turning to the passenger's side, we find the second half of the face-to-face dinette.
Isotherm Cruise 130 Elegance Refrigerator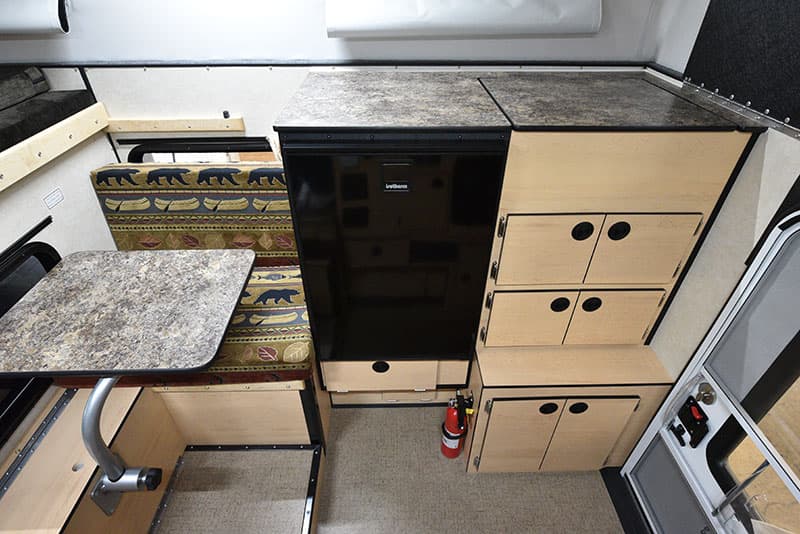 There is also an optional Isotherm Cruise 130 Elegance refrigerator and additional storage opportunities.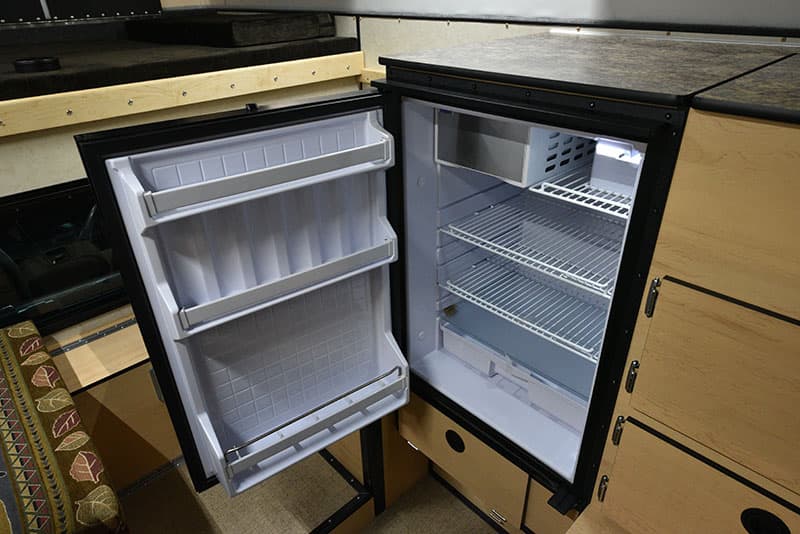 The Isotherm Cruise 130 Elegance installed on the review unit is a marine-grade refrigerator. This 130 liter (4.59 cubic foot) unit uses a silent and extremely efficient Danfoss compressor. It also happens to be the largest and most expensive optional refrigerator for the Hawk at $1,090.
The Hawk comes standard with a 3-way, 1.7 cubic foot refrigerator. If you're a weekend camper, the standard 1.7 cubic foot refrigerator may be all you need.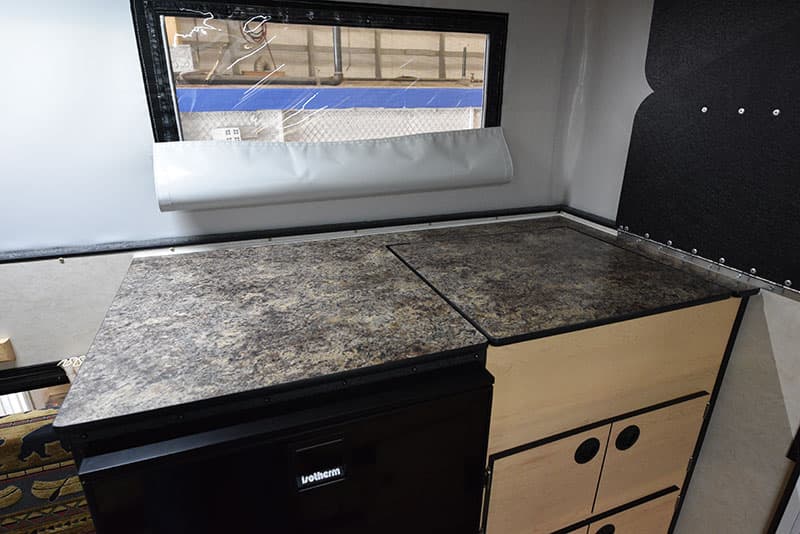 The formica counter top used in the driver's side kitchen and passenger's side vanity areas is both durable and attractive. It also provides a lot of space to put things down. Just be sure these items are put away before you bring the roof down.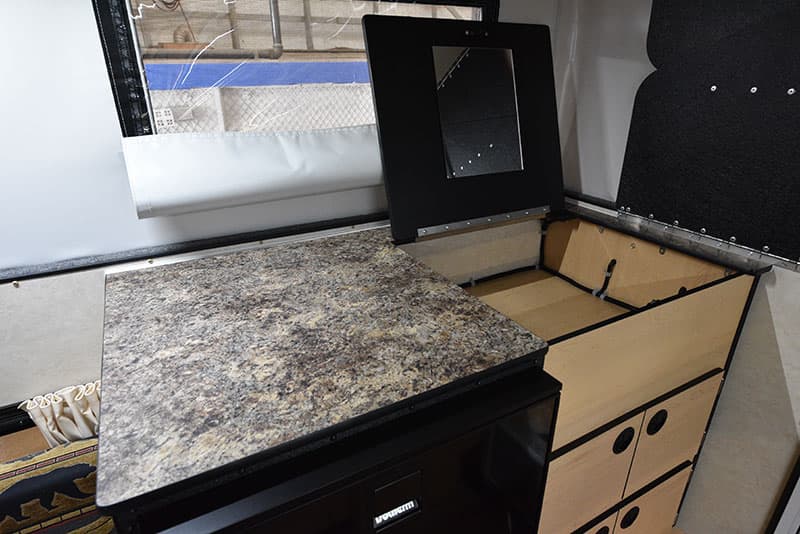 The right hand side opens up to a large vanity and mirror. This is another old-school pop-up truck camper design element that can't be beat. The Hawk's vanity is the perfect place to keep toiletries and clothing.
Double Door Storage Compartments
Under the vanity opens up with two double-door storage compartments. At first I found these four doors to be attractive and impressively intricate, but the more I looked the more the four doors seemed unnecessary.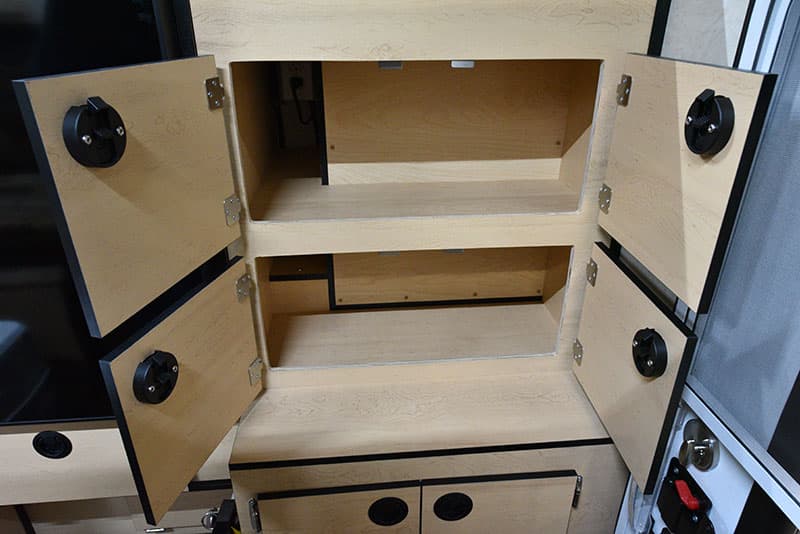 Why not have a single door for both compartments hinged at the back wall? One door, two hinges, one latch (versus) four doors, eight hinges, and four latches. Unless there's a loss of functionality I'm missing, two doors seem more practical.
Built-In Porta-Potty Storage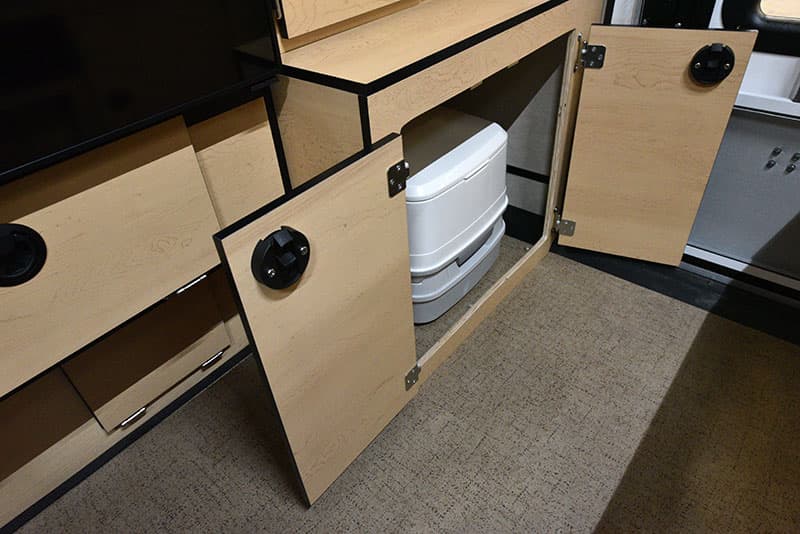 Many of us would not consider truck camping without some sort of onboard potty. To meet this demand, the Four Wheel Camper Hawk has a lower compartment specifically designed for storing a porta potty.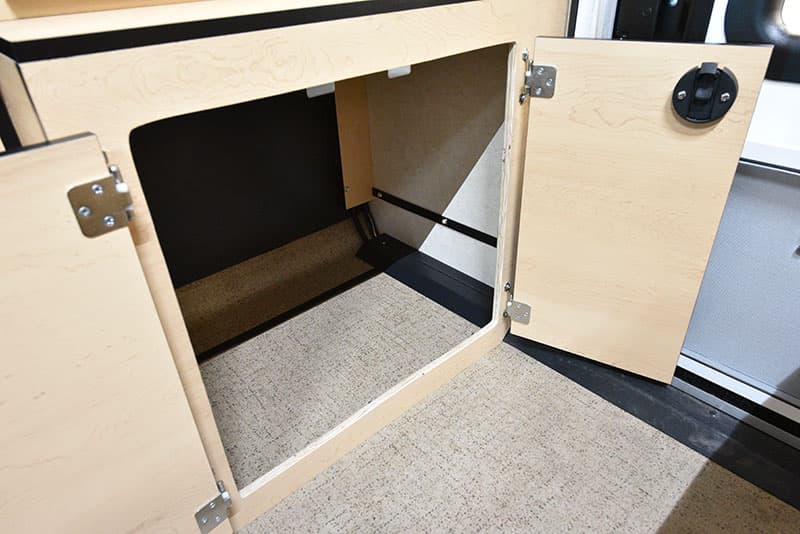 If you don't require a porta potty, you can use this big compartment for other purposes. And once again, I'm wondering why Four Wheel Campers puts two cabinet doors here instead of one. I bet there's a good reason and I welcome Four Wheel Campers to tell us about it in a Manufacturer's Response.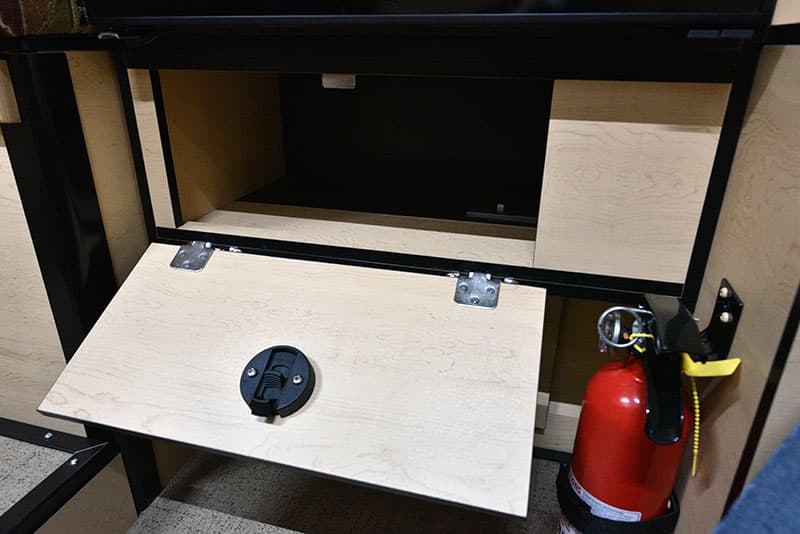 Under the refrigerator is another compartment.
Essentially, Four Wheel Campers has put a storage compartment anywhere there is a useful amount of available space to be utilized. In a short bed pop-up truck camper with no overhead cabinetry, every inch of available storage is very welcome. That stated, it's up to you how to use these nooks and crannies.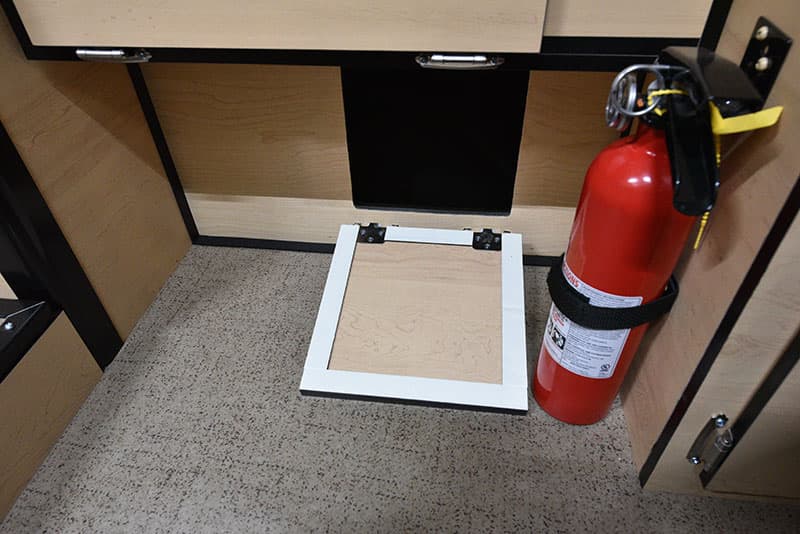 Here's the passenger's side truck bed access door. Note the seal designed to make these doors as tight as possible against the outside elements.
Next we turn toward the front of the camper to the dinette and cabover bedroom area.
Seating For Four In The Hawk
The dinette in the Front Dinette Seating floor plan is along the front wall of the Hawk. This floor plan allows for the largest dinette possible in the Hawk design envelope.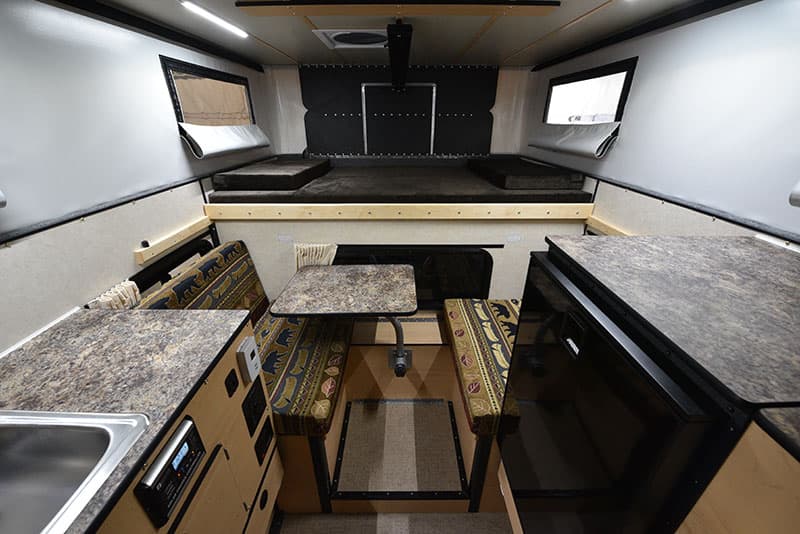 Essentially, this is a full-booth dinette with room for up to four adults to sit. Four might be a bit cozy, but it's more than possible. For two adults, this dinette is nothing less than roomy!
Dinette Table That Swings
The dinette table leg is designed to be quickly loosened, moved, and tightened back down.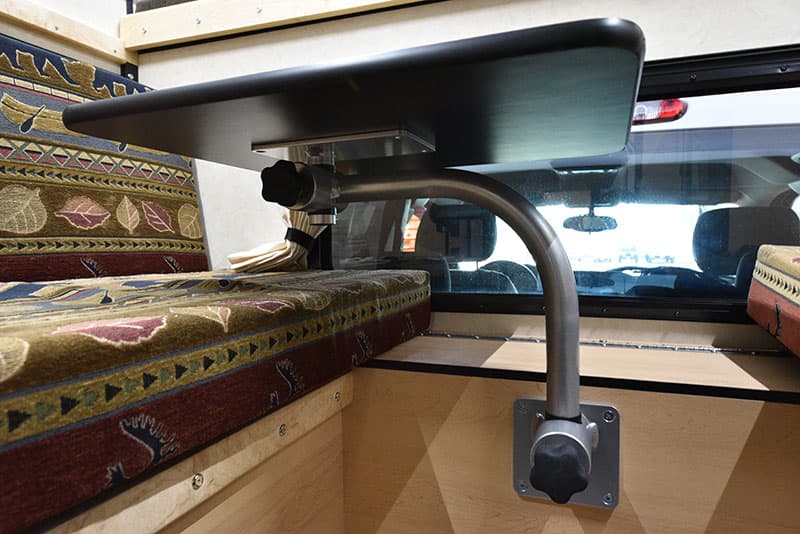 It's a more simple design than the Lagun table leg system other manufacturers are employing, but doesn't quite offer the same range of adjustability.
Within about a minute I was able to loosen, move, and tighten the table into several useful positions.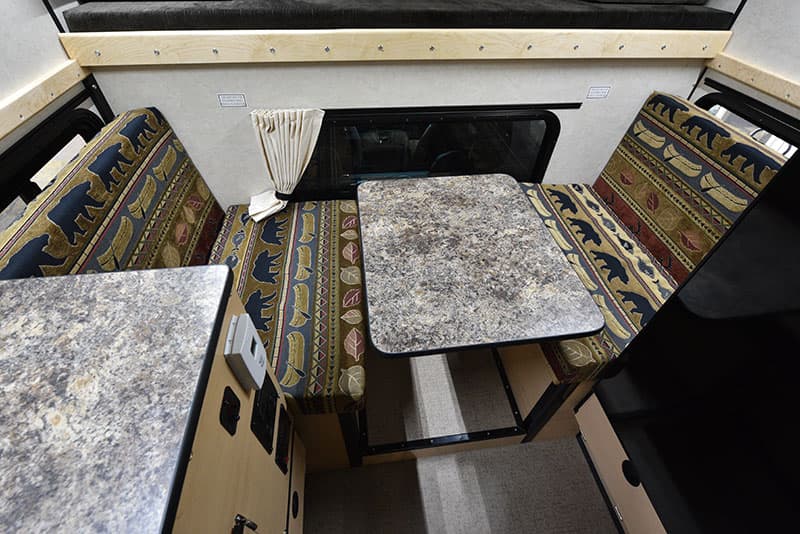 Personally I always want a bigger and more stable table than these versatile small table systems provide, but this table and leg system are likely all most people will need in the Hawk.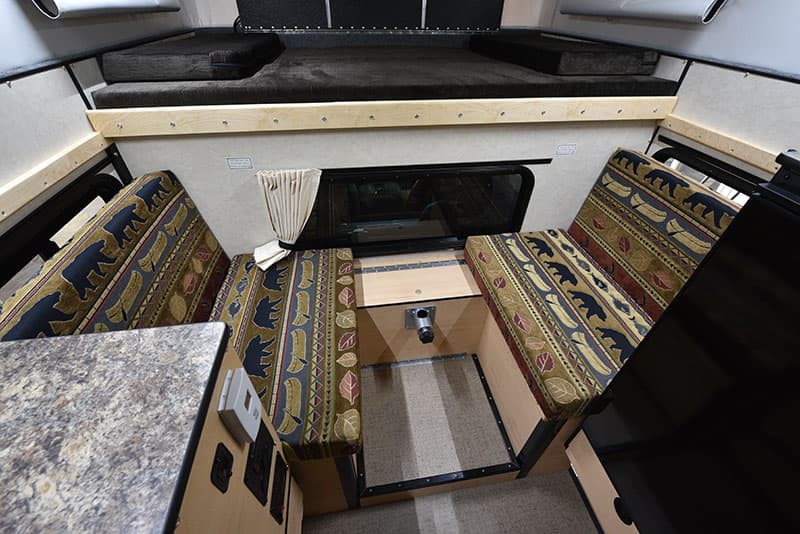 The table was also easy to remove. If you don't need a table in your camper, leave it at home and open up the camper that much more.
What's Under The Dinette Seats?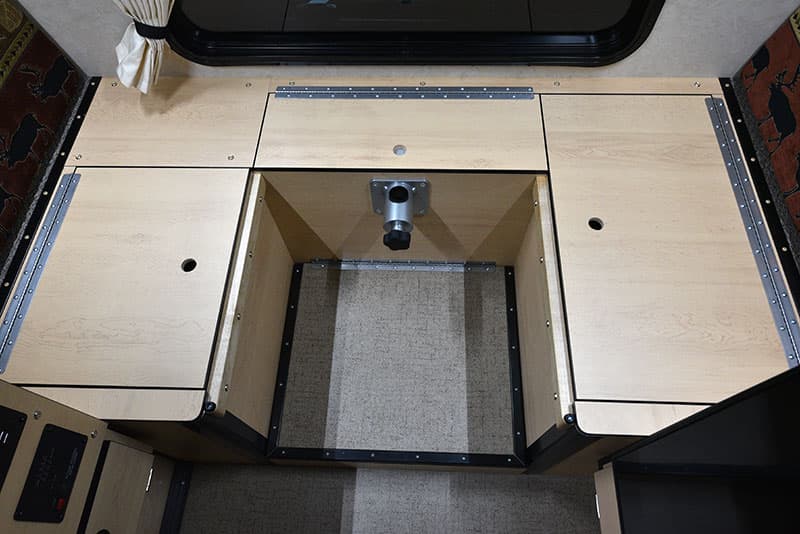 With the dinette cushions removed, we discovered four additional storage compartments. We also admired the piano hinges, finger hole lifts, and the overall quality the cabinetry team brings to the product. This is excellent cabinetry work in an area some customers might not see or notice until after the sale. Very impressive.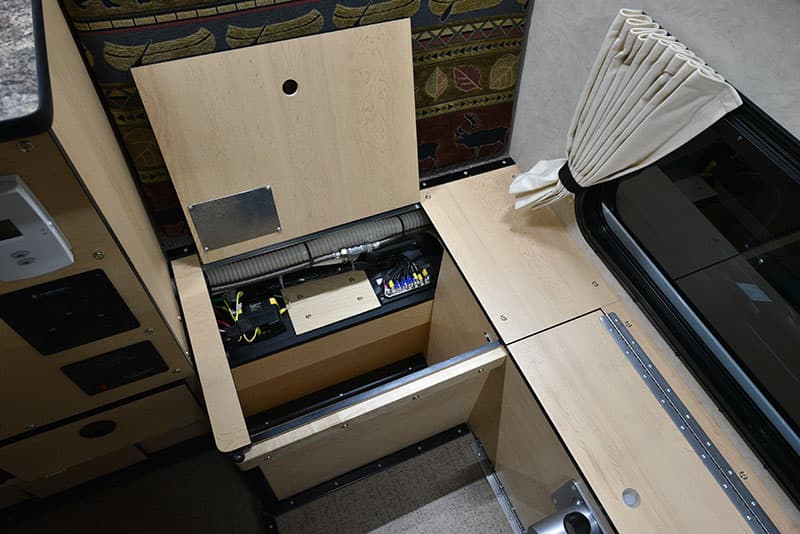 Under the dinette seats I discovered more storage and additional features. Here we see what's under the driver's side dinette seat including electrical, plumbing, and storage.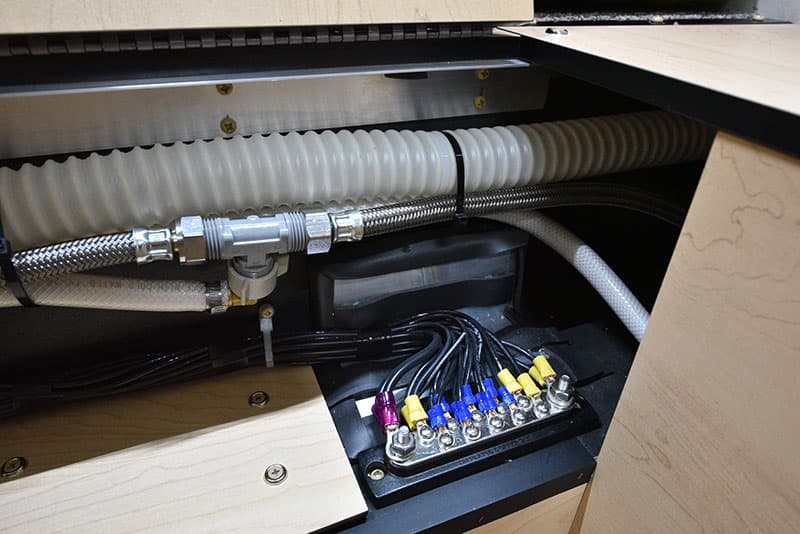 Taking a closer look under the driver's side dinette seat we found a Blue Sea Systems automatic charging relay and neatly tied and secured plumbing and wiring.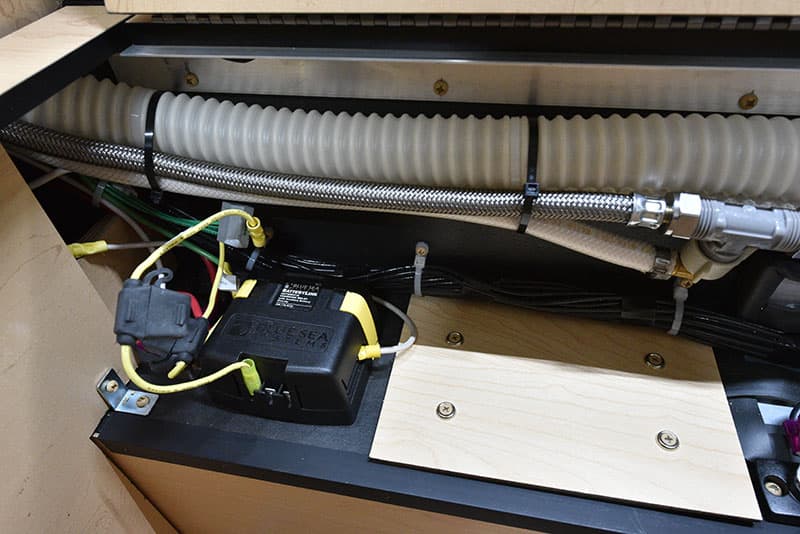 The electrical and plumbing installations are impressive, but the wiring is more exposed than I'd like see in a storage area. Perhaps Four Wheel Campers can find a way to better seal and protect these electrical connections.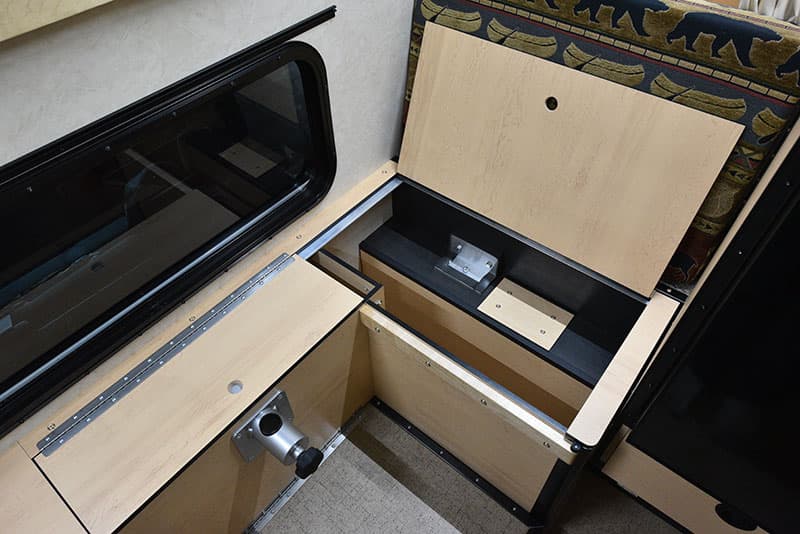 Under the passenger's dinette seat is nothing but lots of glorious storage.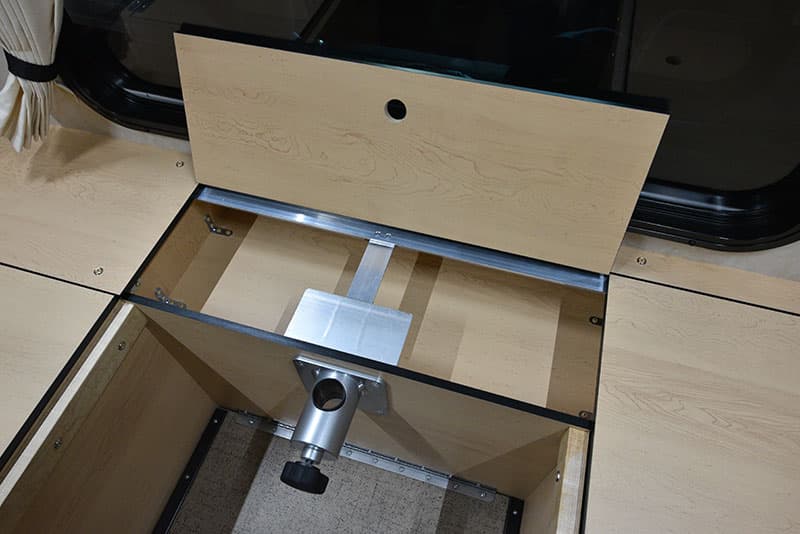 Between the two seats is another storage area. The metal plate behind the table leg receiver is something of a mystery. Our best guess is that it's there to help strengthen and stabilize the table leg system. Four Wheel Campers is bound to have a better answer than that, and they're welcome to share.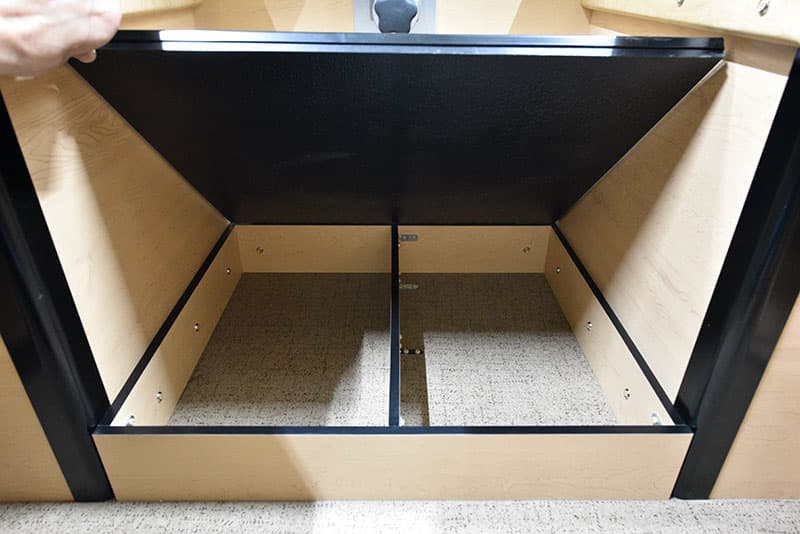 I almost missed this storage spot during my review photography. It's located under the dinette where your feet go. This is not a storage spot we typically find on other truck campers.
Making The Hawk's Dinette Into A Bed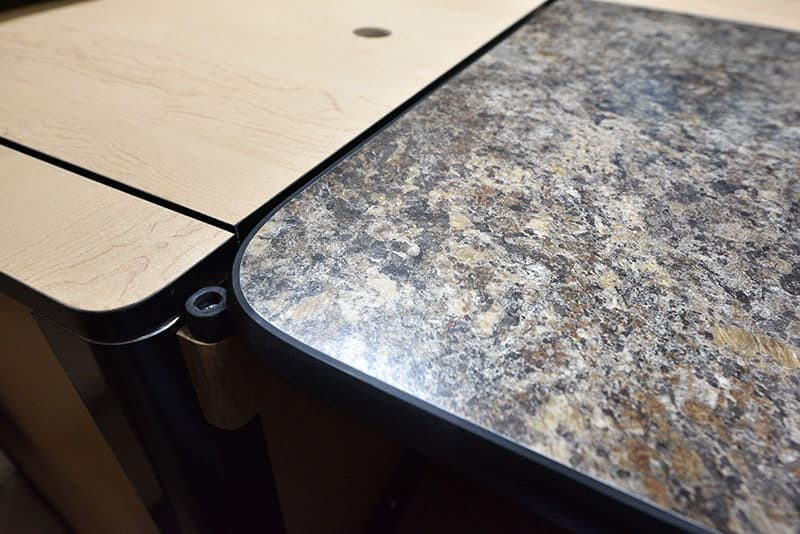 The dinette table fits between the passenger and driver's side to make a bed platform. Note the rubber stopper that keeps the table top firmly in place. I love the details in this camper.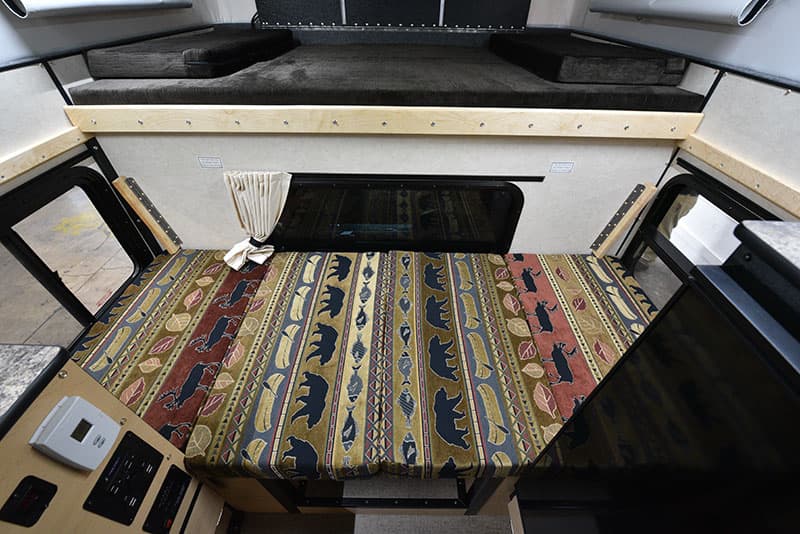 The dinette seat cushions perfectly fit to make a 30-inch by 76-inch bed. All too often dinette cushions either don't quite fit to make a bed, or have to be wrestled into position. Not here.
If you look again at the photo above you'll see two beds ready to sleep up to four adults. That's an impressive amount of sleeping capacity for a short bed pop-up truck camper. And that's before we pull the cabover bed out.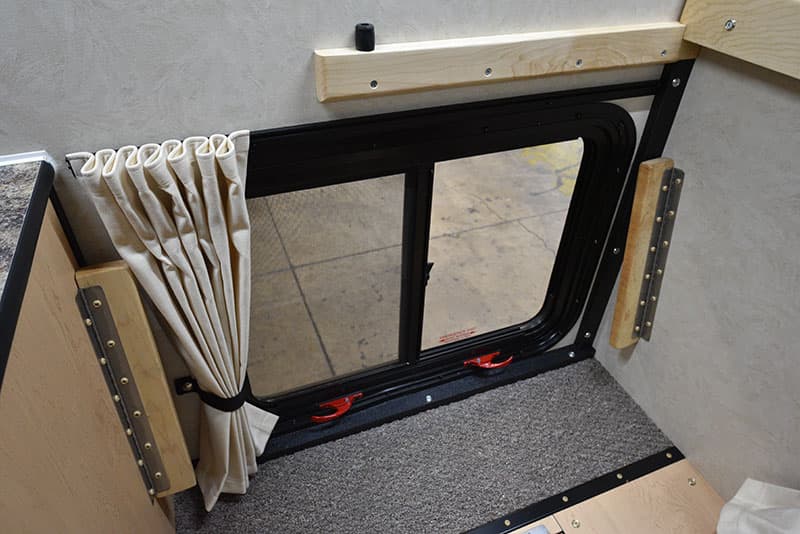 There are small windows on the driver and passenger's side of the dinette. When made into a dinette, these windows are behind the seats. When made into a bed, these windows would be at your head and feet.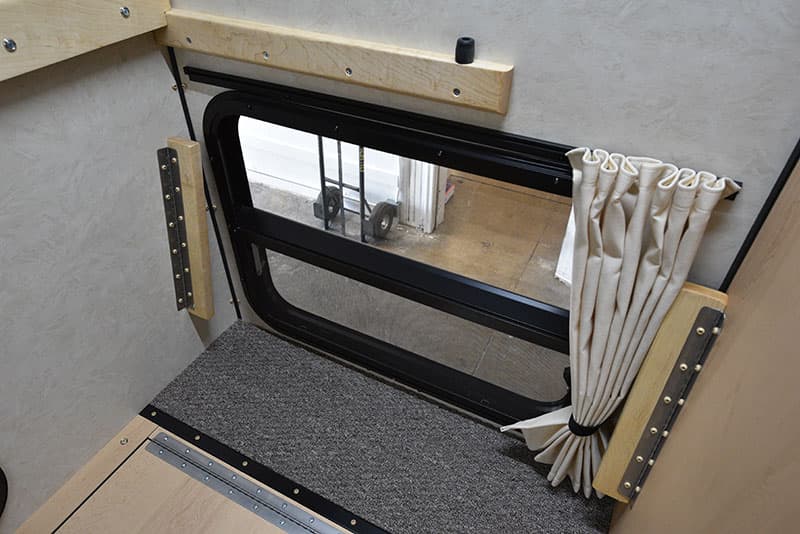 What puzzles me is the usefulness of these windows. Yes, they bring daylight and airflow into the unit, but how much light and airflow is possible if they're tucked behind the dinette seats most of the time?
I am curious what the Four Wheel Campers team thinks about this. Is this a design element that needs to be challenged, or are these windows much more beneficial in real life camping situations than I am aware?
The Four Wheel Camper Hawk has a pull-out 64-inch by 77-inch cabover bed that comes standard.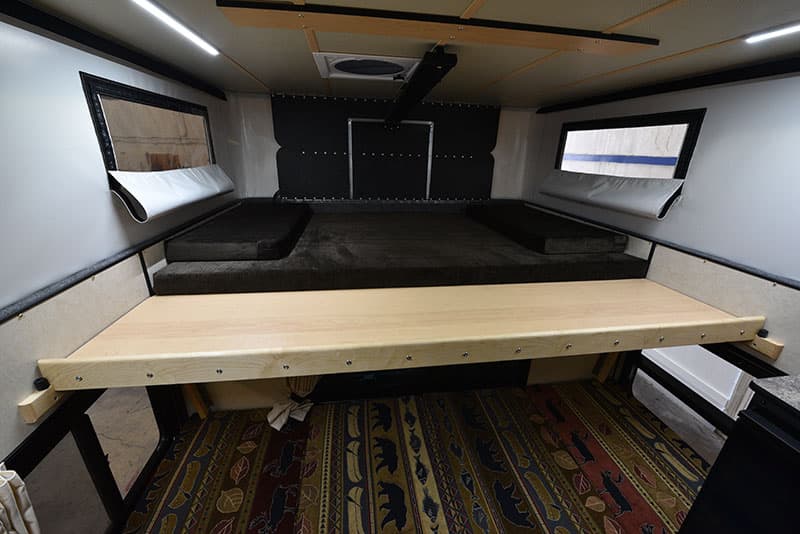 This is a really impressive bed size for a short bed pop-up truck camper.
King Bed Option In Four Wheel Campers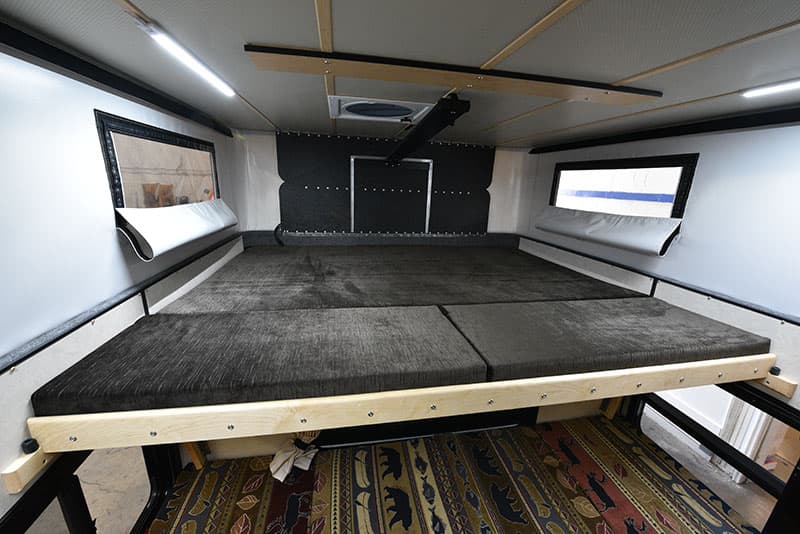 Four Wheel Campers also offers the King Slide option that pulls out into a 80-inch by 80-inch bed (not shown).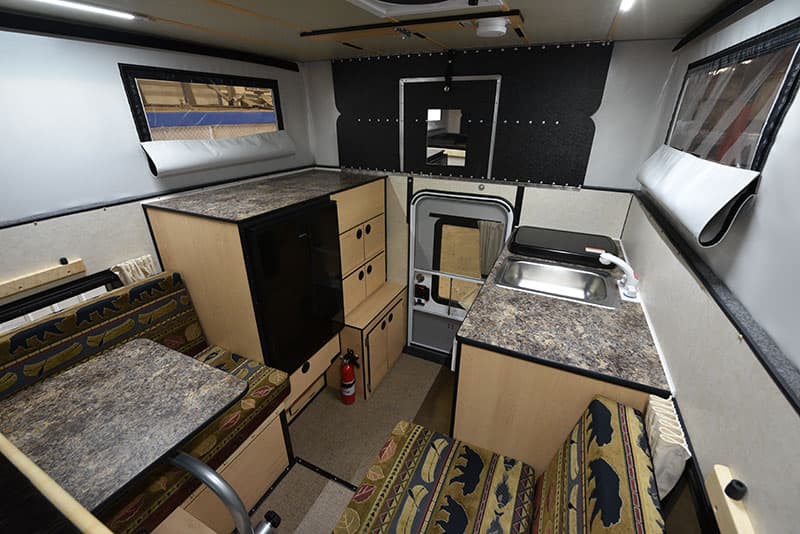 As I finished the photography for this review, I took one last look at the interior living space in the Four Wheel Camper Hawk.
For a camper that is designed and built to go almost anywhere, this is a very welcoming and cozy environment.
Imagine waking up in the camper you see above, only you're on the White Rim Trail, or the Baja Peninsula, or somewhere in Alaska. That's what the Four Wheel Camper concept is really all about. Comfort, anywhere you want to go.
The Four Wheel Camper lift mechanism system consists of two sets of black composite folding panels and a black guide beam.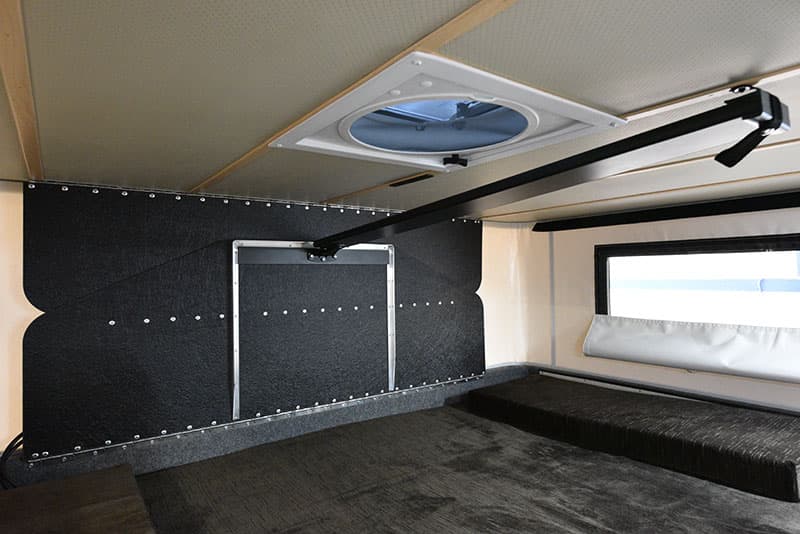 In the photograph above you can see the two black composite folding panels in the raised roof position. The panels are secured with a black guide beam that's snapped to the ceiling.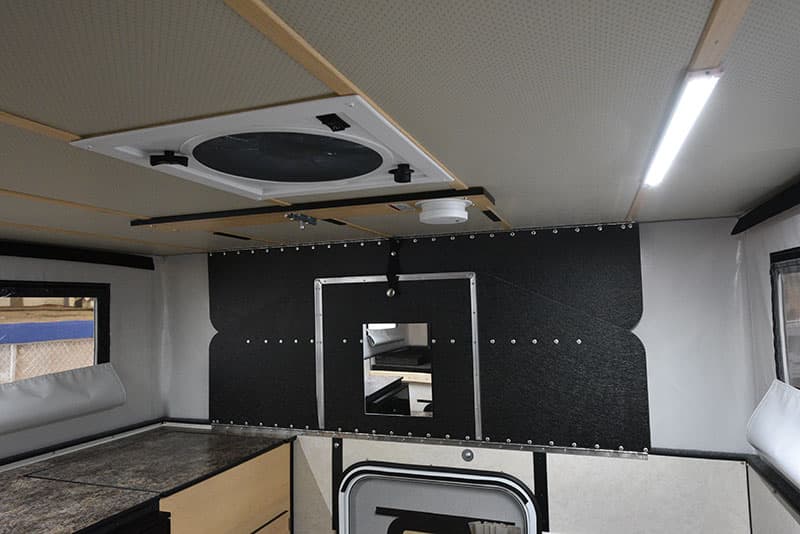 Identical black composite panels hold the rear soft wall in the raised camping position. The roof is also held in place by the four gas struts located on the exterior front nose and rear wall of the unit.
Exterior Mounted Lift-Assisting Gas Struts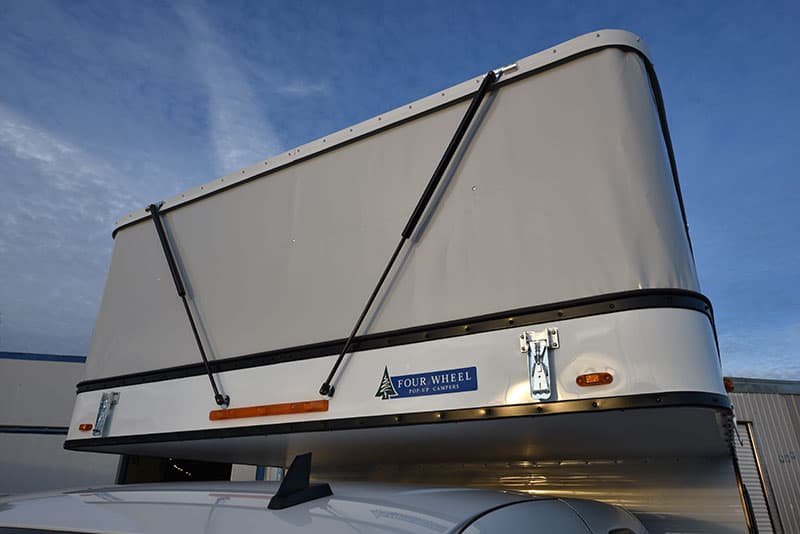 For the better part of thirty years, the majority of Four Wheel Campers were built without lift-assisting gas struts. The owner had to walk inside the unit and physically lift and push up the roof. While this was not difficult for most Four Wheel Camper customers, it wasn't easy or comfortable for everyone.
With lift-assisting gas struts installed, the roof lift still requires an initial lift and push. However, once the roof lift is initiated, the gas struts begin to take over.
If you've ever opened the rear hatch on a minivan or hatchback on a car, you know that initial pull needed to initiate process, and then the gas struts take over and lift the door. The Four Wheel Camper roof lift experience is similar to that, only you continue the push as the struts take over, and gently guide the roof into the raised camping position.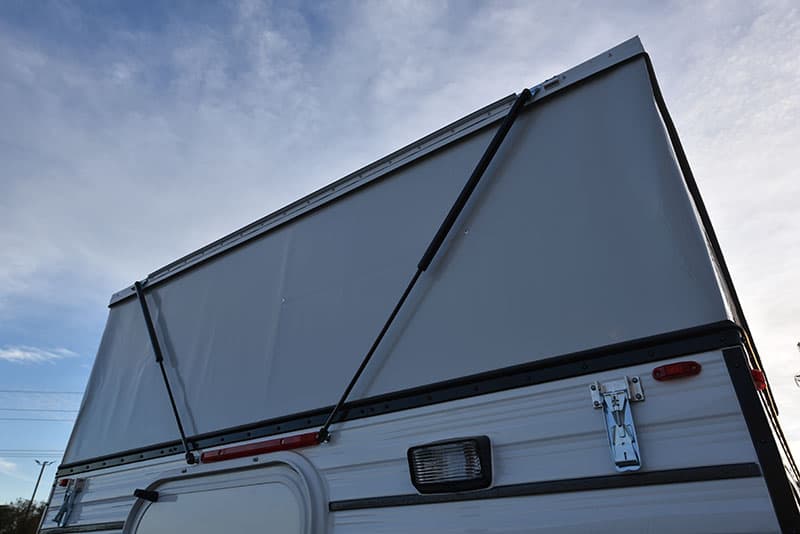 Four Wheel Campers wrestled with lift-assisting gas struts for a number of years installing them both inside and outside as they fine-tuned the solution. Interior gas struts worked beautifully but interfered with the living space. The exterior mounted struts were out of the way but were exposed to the elements.
After long-term testing, the Four Wheel Camper team found that the exterior-mounted struts not only worked better than the interior struts but survived the elements. Even with the positive long-term reports, FWC owners should expect to replace these struts at some point for optimum performance. The good news is that the struts are not hard to access, and replacing them should be a quick job.
Stan Kennedy Shows Us How To Use The Pop-Up Mechanism
To showcase how the pop-up mechanism works, I asked Stan Kennedy, Sales and Marketing for Four Wheel Campers, to help me out.
Stan was the very first person at Four Wheel Campers that I contacted when we launched Truck Camper Magazine in 2007. Ever since, he's been our go-to guy for anything we could ever hope to ask about Four Wheel Campers. Stan truly lives and breathes Four Wheel Campers. He loves the community, loves the lifestyle, and loves the product. Around here we often refer to him as Mr. FWC.
Stan (along with Four Wheel Camper's previous Owner, Tom Hanagan) taught Angela and me how to raise and lower a Four Wheel Camper roof. For this review, I asked him to go through the motions once more, with gusto. As always, Stan was a pro.
How To Raise and Lower a Four Wheel Camper Roof
Before you can raise the roof, you need to release the six latches that secure the pop-up roof during travel.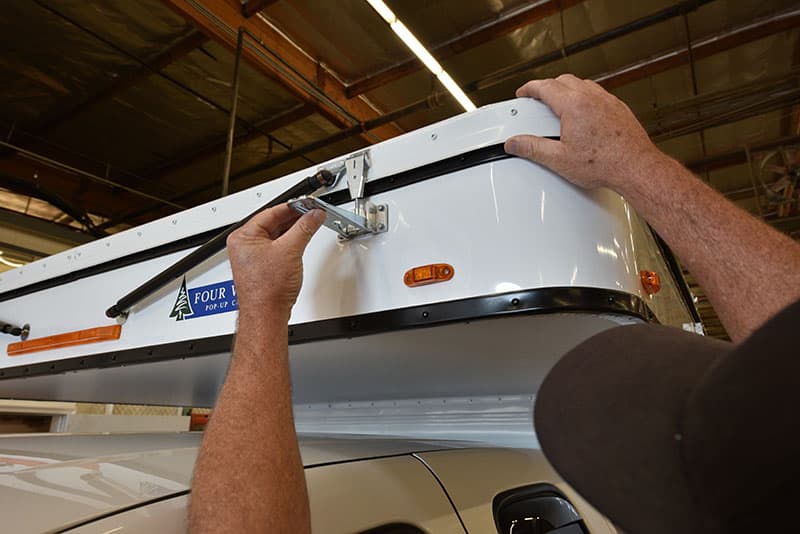 For obvious reasons, it's very important to release all six latches before raising the roof.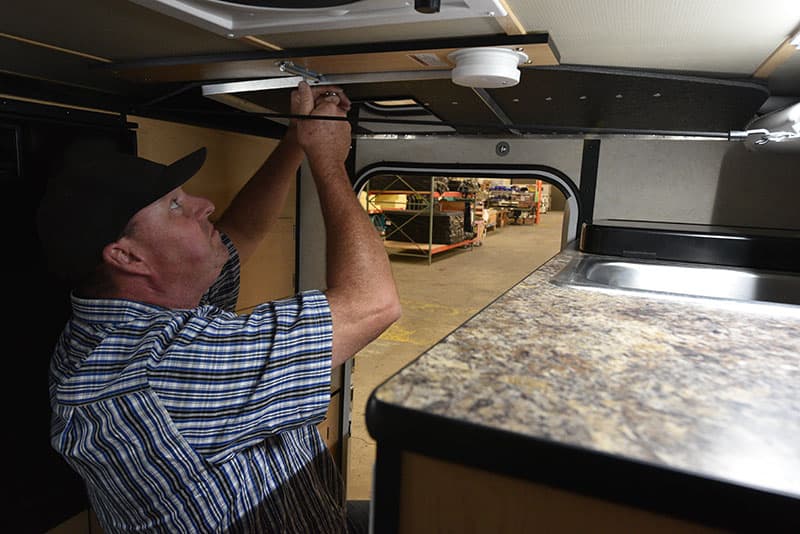 With all six exterior latches released, open the entry door, crawl in, and unlatch the rear barrel bolt. That bolt holds the rear lift mechanism in place during travel. Tom recommended pushing up a little on the lift mechanism to release the tension when unlatching the barrel bolt.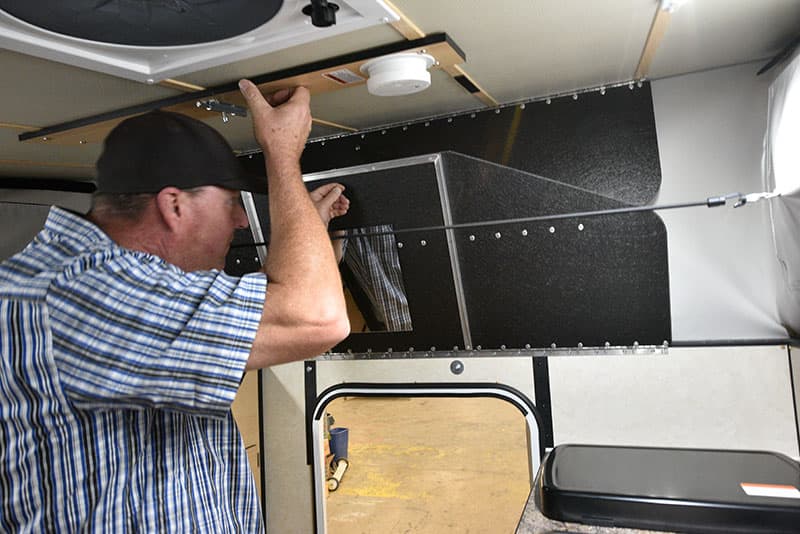 With the barrel bolt unlatched, place your hand on the rear lift panels and gently but firmly lift upwards. As you push and guide the roof up, the exterior gas struts will begin to assist your lift.
When the rear roof is completely in the up position, the lift mechanism is secured with a black strap. That wraps around a knob and snaps into place.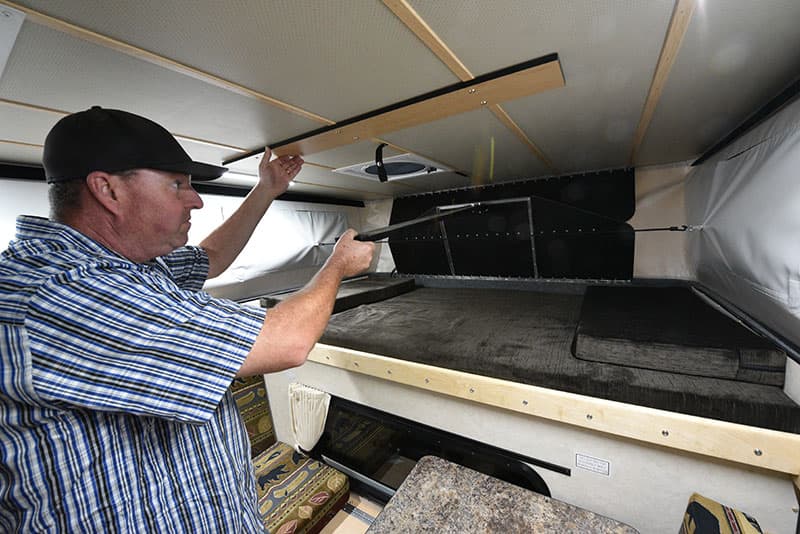 For the next step, you turn towards the front of the camper and put one hand on the roof and one hand on the forward guide beam. With one smooth motion, push up on the roof and push forward with the guide beam.
When the roof is fully in the up, the guide beam is secured to the roof with another black strap and snap.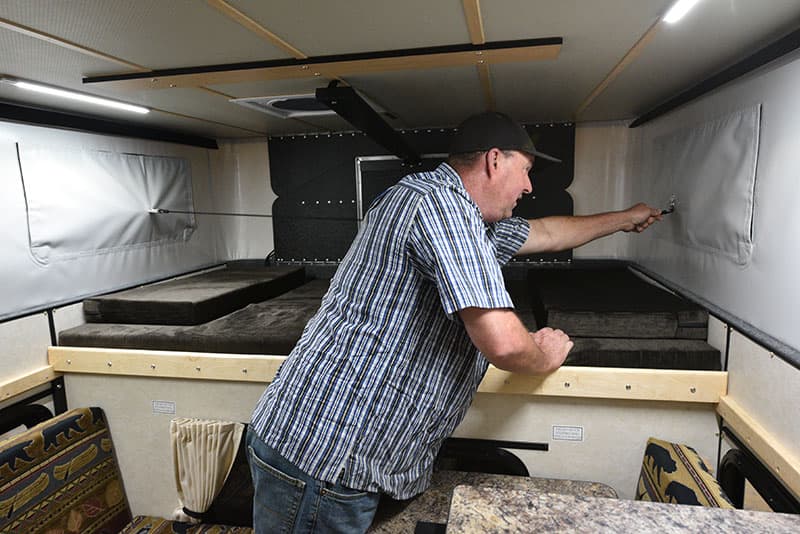 The last step is to unhook the two bungee cords that pull in the soft walls while the roof comes down. Put the bungee cords somewhere you'll remember as they're vital to the roof raising and lowering process.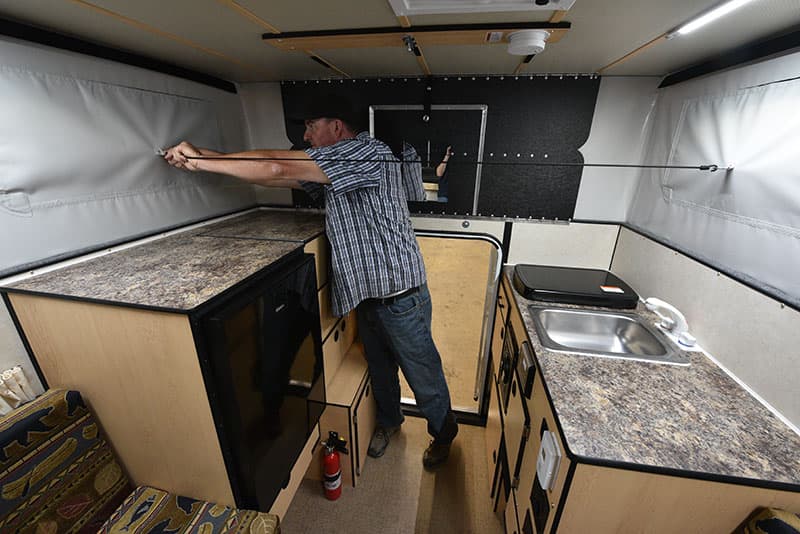 When you have removed the front and rear bungees, you have completed the roof lift. Lowering the roof is exactly the same procedure in reverse. Thank you, Stan!
Four Wheel Hawk Specifications
Dry Weight
1,075 pounds
Wet Weight*
1,827 pounds
Floor Length
80″
Overall Length
128″
Width
80″
Interior Height
6'6″ top up
55″ down
Exterior Height
83″ top down
59″ down
Center of Gravity
32″
Truck Type
Short Bed
Weighing A Four Wheel Camper
Four Wheel Campers has a set of Intercomp SW-500 racing scales set up on a custom-built platform. The platform and scale pads can be rolled under a camper quickly to determine a dry weight.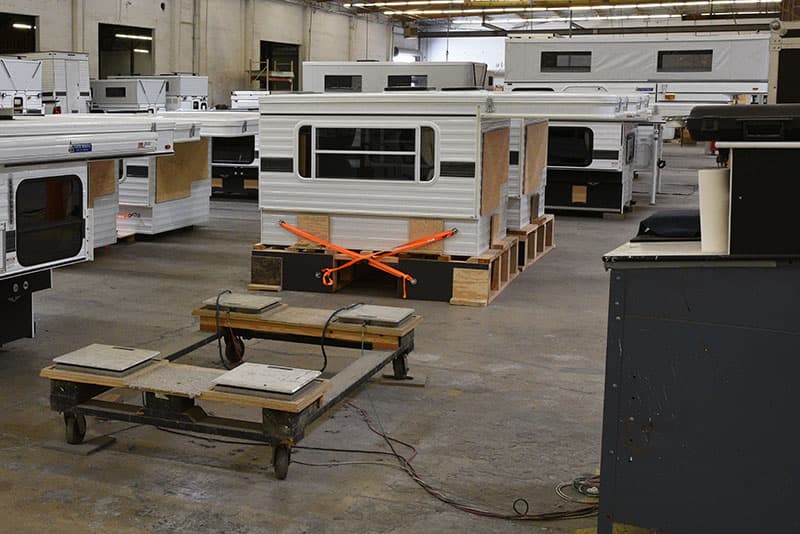 Above: The Intercomp SW-500 scales at Four Wheel Campers in 2015
Over the years we have used Intercomp racing scales to weigh dozens of truck campers from small pop-ups to big triple-slides and are always impressed with the speed and accuracy of the results.
In our opinion, no truck camper manufacturer or dealer should be without an Intercomp racing scale system for accurate weights and customer weight requests. The SW-500 wired system shown above starts at under $1,000. A wireless scale system is around $1,700. Either way, the investment is minimal compared to the importance of the information these scales provide.
Since we have witnessed Four Wheel Campers using their own scale system, we can vouch for the accuracy of their stated dry weights. Thank you, Four Wheel Campers.
What makes me uncomfortable is the fact that the Hawk comes in four different floor plans, but Four Wheel Campers publishes only one official dry weight for the Hawk. While we don't expect the four floor plans to vary significantly, we do expect the different floor plans to be different weights and would like to see that information provided by Four Wheel Campers.
Furthermore, we would like to see Four Wheel Campers weigh each and every camper that leaves the factory and document that dry-with-factory-installed-options-weight on the unit itself. We also want to encourage Four Wheel Campers to clearly mark the center of gravity on every truck camper. All of this is in line with the safety-first position that Truck Camper Magazine promotes in every truck camper review.
Side Note: Four Wheel Campers talked about this point in their Manufacturer's Response to this Hawk review.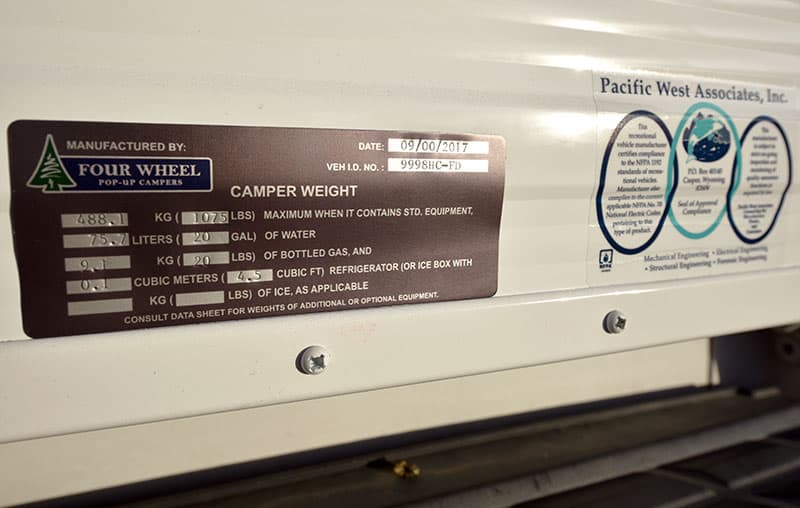 Let's assume the 1,075-pound dry weight is accurate for the Four Wheel Camper Hawk with the Front Dinette Seating floor plan. To that weight, we need to add any options installed at the Four Wheel Camper factory or dealership. For example, the option weight on the Hawk review unit is approximately 241 pounds bringing the total dry with option weight to 1,316 pounds. I will cover this in more detail for the Wet Weight Calculation.
Four Wheel Camper Hawk Measurements
With an 80-inch floor length and a 128-inch overall length, the Four Wheel Camper Hawk is among the shortest production pop-up truck campers available. The shortest production pop-up is actually the Four Wheel Camper Swift at 70-inches of floor-length and a 111-inch overall length.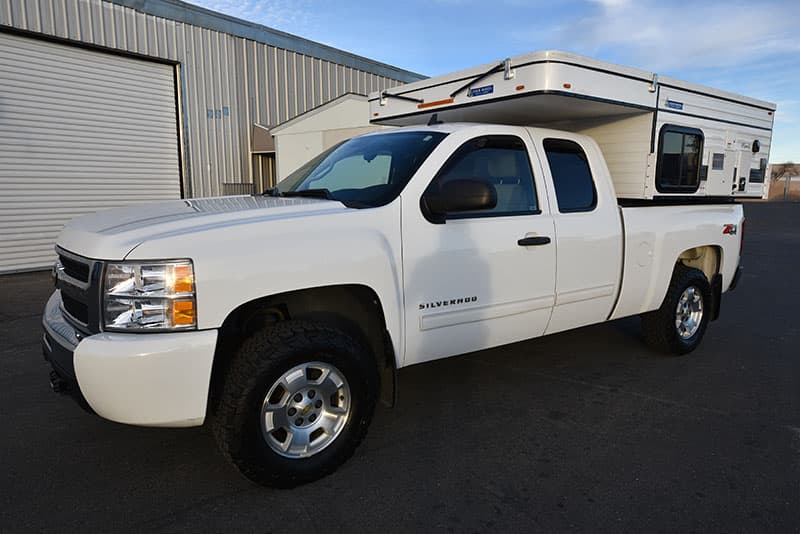 With a pull-out cabover that extends into the camper, the Four Wheel Camper Hawk maintains an overall length of just 128-inches. That effectively means you get a North-South cabover size in an East-West overall length – a really neat trick! Owners can also choose not to extend the cabover and just have a normal East-West bed. The cabover versatility in this camper is fantastic.
Interestingly enough, the width of the Hawk is also 80-inches making the main living area a square box. At 80-inches, the Hawk is not the narrowest pop-up. The Four Wheel Camper Swift (and some units) are narrower. It's important to note that the Swift is designed for mid-size trucks like the Toyota Tacoma while the Hawk targets full-size short bed trucks.
With 6'6" of interior height and no upper cabinetry, the Four Wheel Camper Hawk is wide open and spacious inside. I stand at 6'3" and was very comfortable standing and moving about in the Hawk. Climbing into the cabover, I was not able to fully sit up, but that's a typical limitation for a pop-up design.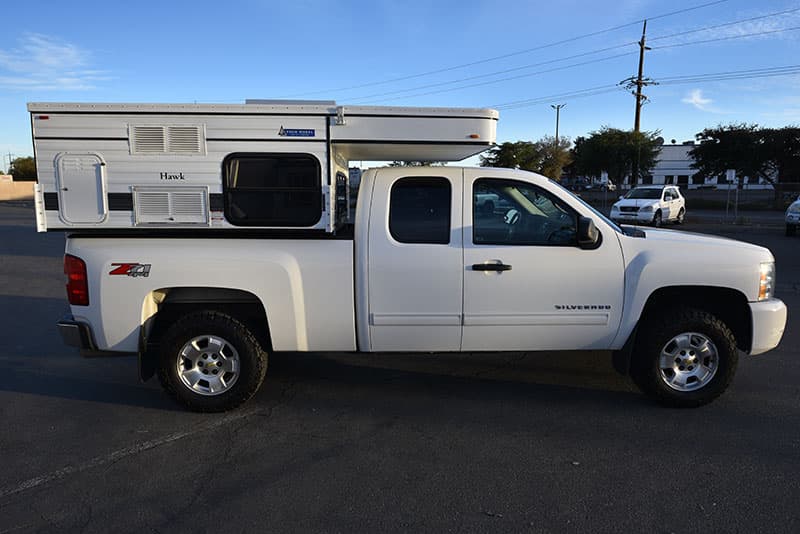 Four Wheel Campers reports the center of gravity on the Hawk at 32-inches. We would like to see this delineated for each Four Wheel Camper floor plan, but it's not likely to change too much. At 32-inches, the center of gravity should be forward of the rear axle on all full-size short bed trucks.
Four Wheel Camper Hawk Capacities
Four Wheel Hawk Capacities
Fresh
20 gallons
Grey
N/A
Black
Cassette toilet or
porta potti
Water Heater
Optional 6 gallons
Propane Tanks
2x 10 pounds
Batteries
One or Two Batteries
While not industry-leading, the 20-gallon fresh tank in the Hawk is very competitive for a short-bed full-size pop-up truck camper. Limiting the fresh tank to 20-gallons also helps to keep the wet weight of the Hawk down and maximizes its potential compatibility with short bed half-ton trucks.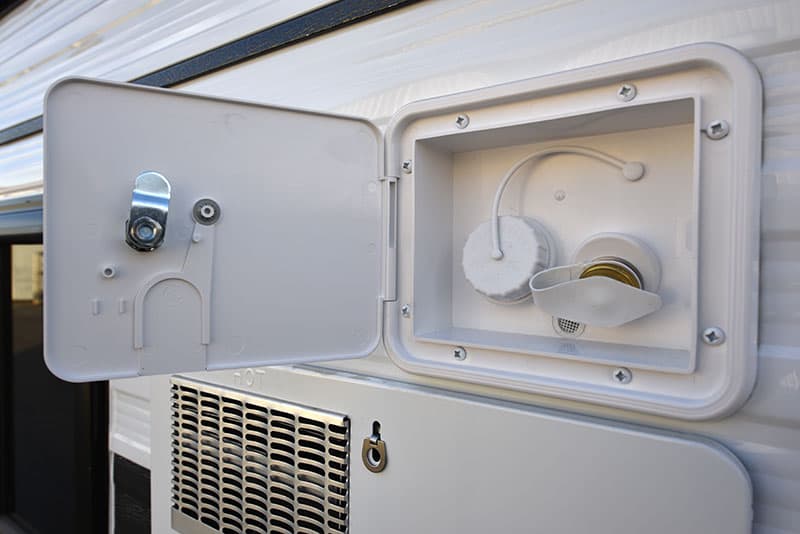 20-gallons is also a lot of water for a truck camper that lacks a bathroom, built-in toilet, and shower. The only standard feature on the Hawk that taps the fresh water capacity is the kitchen sink. You can wash a lot of hands and dishes and brush a lot of teeth with 20-gallons of fresh water.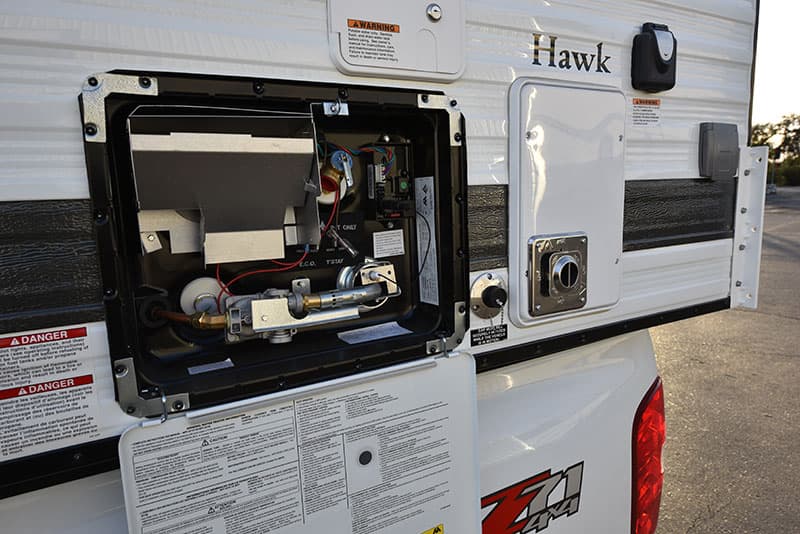 If you add the optional 6-gallon water heater and outside shower package, your total onboard fresh water supply jumps to 26-gallons. The only way 26-gallons of fresh water could be a limitation would be if you take a lot of outside showers (or order the Hawk with the optional interior shower). Since most pop-up camper owners are very conservative with their water use, it's more likely that the 20-gallon or 26-gallon fresh water capacity will last upwards of a week, or more. Probably more.
There is no grey water holding tank on a Four Wheel Camper. Grey water from the kitchen sink (the only internal grey water source) is captured via an external portable grey water tank.
There is no black tank available for the Hawk, unless you opt for the Hawk Flatbed model (which offers an optional cassette toilet). That's right, Four Wheel Campers makes a flatbed Hawk with a side entry, a rear face-to-face dinette, and an optional inside shower. That's another camper, for another review.
10-Pound Propane Tanks
The only truck camper manufacturer that uses 10-pound propane tanks is Four Wheel Campers. The obvious advantage of 10-pound propane tanks is that they are lighter to lift and maneuver and are more compact to fit into the Four Wheel Camper design.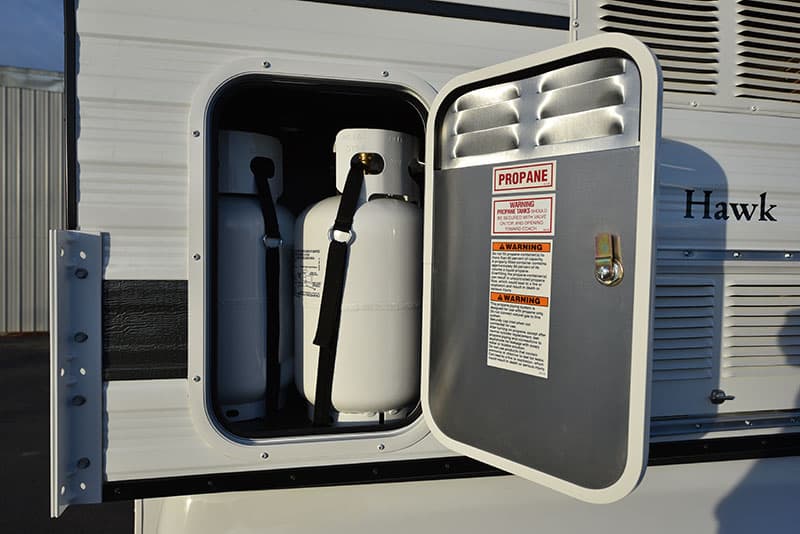 10-pound tanks can be refilled at propane filling stations but cannot be easily exchanged 24-hours a day and 7-days a week like 20-pound vertical tanks. For this reason, we hope that future Four Wheel Camper design moves toward 20-pound vertical tanks.
The Hawk comes standard with one Group 24 AGM battery. The Hawk under review had two Group 24 AGMs. With the minimal power requirements of this camper, two Group 24 batteries is likely overkill. Unless you're looking to run the furnace for multiple days (furnace fans are notorious power hogs), or need to charge some power-hungry devices (like the MacBook Pro I'm typing this on), start with one Group 24 AGM battery and add another when needed.
Since it cannot be overstated, the non-ventilated battery compartment in the Hawk requires sealed AGM batteries for safety.
Wet Weight Calculations
Using the standardized TCM wet weight calculation, it's time to crunch the numbers on the 2018 Four Wheel Camper Hawk.
Base Dry Weight – factory order without options
Four Wheel Camper Hawk: dry weight, 1,075 pounds + 20 gallons fresh, 166.8 pounds + 2x 10 pound full propane tanks, 20 pounds + 1 battery, 65 pounds + stuff, 500 pounds = 1,826.8 pounds
Base Dry Weight – optioned as reviewed
Four Wheel Campers makes it super easy to find the weight of their options. They have a downloadable PDF on their website. Using this information, we were able to determine the weight of the options installed on the review unit.
Here are the options on the review unit and their weights: Thermal Pack (5 pounds), Second Camper Battery (53 pounds), Power Roof Vent Fan (8 pounds), Forced Air Furnace with Thermostat (25 pounds), Water Heater, and Outside Shower Package (70 pounds), Porta Potti (10 pounds), 2-Way Compressor Refrigerator/Freezer 130 Liter AC/DC (70 pounds).
To this option list we are going to add two additional options not included above; Mechanical Camper Jacks (100 pounds), and an 80-Watt Portable Solar Panel (25 pounds). The camper needs jacks to be loaded and unloaded by the customer. The camper has a Zamp solar controller necessitating a portable or roof panel. This brings the total option weight to 366 pounds.
Let's add this option weight to the Truck Camper Magazine standard wet weight calculation. We are also going to add the 6-gallons of fresh water weight for the optioned water heater (50 pounds).
Four Wheel Camper Hawk: dry weight, 1,441 pounds + 20 gallons fresh, 166.8 pounds + 6 gallon full hot water heater, 50 pounds, 2x 10 pound full propane tanks, 20 pounds + 1 battery, 65 pounds + stuff, 500 pounds = 2,242 pounds
Truck Recommendations
To bring the above wet weights closer to reality, we are going to adjust the 500 pounds stuff weight to a more realistic 250 pounds. Since the Four Wheel Camper has no upper cabinetry and relatively limited storage capacity, the 250 pounds of stuff weight could still be pushing what most folks will bring.
Changing the stuff weight from 500 pounds to 250 pounds takes the base wet weight of the Hawk to 1,576.8 pounds. The optioned wet weight of the review unit is 1,992 pounds. Both wet weights are well within the full-size, half-ton short bed truck range, but not every half-ton truck will be a payload match.
The majority of full-size, half-ton, short bed trucks have less than 1,500 pounds of payload. In fact, it's not unusual for brand new half-ton trucks to have far less. Most truck buyers are not attempting to maximize payload when they purchase a truck. To the contrary, they're looking for packages and options that often remove hundreds of pounds of possible payload capacity. To state the obvious, truck packages and options are heavier than most folks realize.
The good news is that there are several simple solutions to a proper truck and camper match for the Hawk. The first solution is to over truck. Match the Hawk to nearly any three-quarter or one-ton short bed truck and you're done. Always run the numbers and check the payload stickers to be sure (and overall fit compatibility). It's hard to imagine a three-quarter ton or one-ton truck that couldn't handle the Hawk with payload to spare.
Speaking of payload to spare, another simple solution is to custom order a full-size, half-ton, short-bed truck. For a previous review, we built a 2017 Ford F150 XL short bed, 4×4, Super Crew, 3.5L EcoBoost V6 with 2,650 pounds of payload capacity. To reach this impressive half-ton payload number, the truck required Ford's Heavy Duty Payload Package with 18-inch wheels. Even with some luxury options carefully added, this truck would be a fantastic payload match for a loaded Four Wheel Camper Hawk.
If you prefer Ram, Chevy, or GMC, tell your preferred dealer that you need 1,576.8 (base) or 1,992 (as reviewed) pounds of payload capacity. Then, start building a custom truck order. Make it clear that the final truck needs to have the required payload capacity on the door, or you'll refuse the truck. If they say the dreaded, "Don't worry about it" or, "You'll be fine" find another truck (or camper) dealer.
According to Toyota's website, the maximum payload capacity for a 2018 Toyota Tundra is 1,730. That is for a SR, 4×2 Double Cab 5.7L V8 Standard Bed. That puts the Tundra on the map for a lightly-optioned Hawk. Just be careful if you add options like four-wheel drive. That option alone drops the Tundra's payload capacity by 100 pounds.
If you're matching a Hawk to a half-ton truck you already have, follow the Truck First path featured in the article, "How To Match A Truck and Truck Camper". Most Four Wheel Camper Hawks are custom ordered from the factory. You can work with the Four Wheel Camper team to build a Hawk that fits within your truck's payload requirement. Should your half-ton have less payload capacity than the Hawk's standard base wet weight of 1,576.8 pounds, consider a Hawk Shell Model.
You can also light weight the truck and camper. Pack less stuff, remove the jacks (a popular practice for pop-up camper rigs), and do not travel with water. We once removed the factory hitch on our Chevy 3500 to make a proper payload match.
Any doubts about the quality and quality control at Four Wheel Campers after the 2017 acquisition announcement can be put to rest. Every facet of the Hawk under review exuded the quality and incredible attention to detail Four Wheel Campers is known for. There wasn't one element of the Hawk under review that didn't appear ready for decades of reliable off-road travel.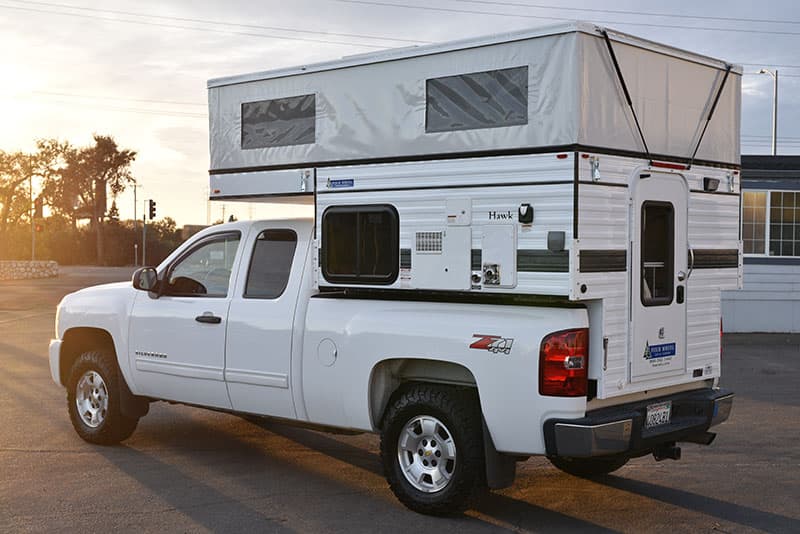 The lack of overhead cabinetry limits the overall storage capacity of the Hawk, but also makes the camper feel exceptionally open and spacious inside. Folks who are unfamiliar with Four Wheel Camper interiors are going to be shocked at how roomy they feel.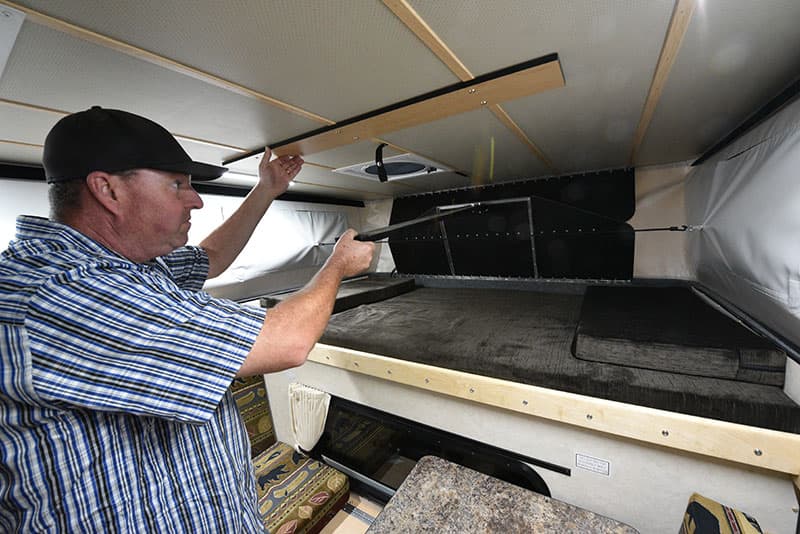 Some might be concerned by the manual roof lift system and how easy or difficult it can be to operate compared to the electric lifts offered by competitors. When we borrowed a Four Wheel Camper in 2010, we were raising and lowering the roof in about three minutes. Honestly, I think we would get that down to two minutes if we were using a Four Wheel Camper day-to-day. The mechanism is so well thought out that it's a pleasure to use, especially with the gas struts making the lift easy.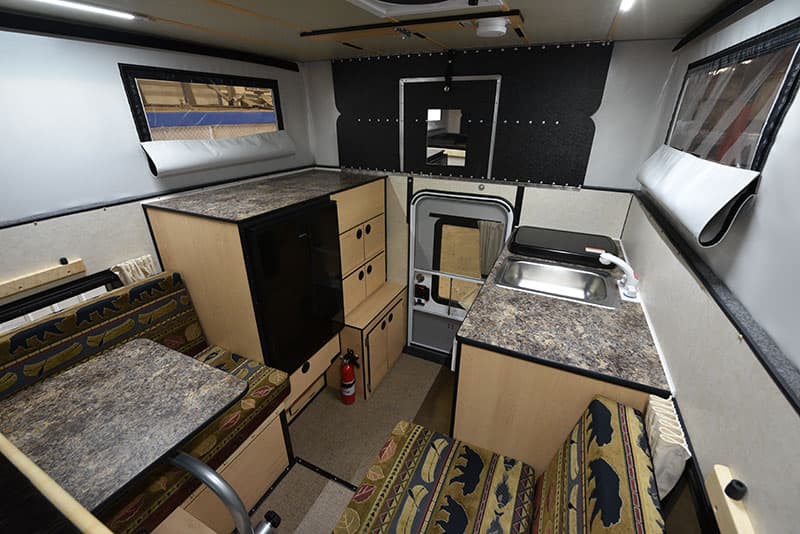 One aspect of the Hawk that I was not able to fully wrap my head around was the interior storage. Normally I am noting what storage is available where and assessing what most folks would use that storage for. We have camped in more truck campers than you can shake a turnbuckle at, so this process is normally quite natural. In the Hawk, the numerous oddly shaped and located storage nooks defeated this intuition.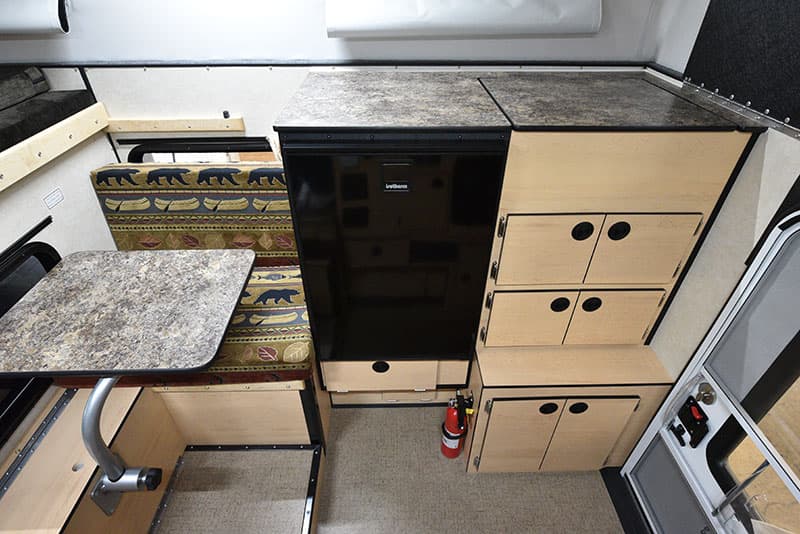 It would be really helpful if Four Wheel Campers created a list of storage nooks in each camper and suggested what items to store where. For example, where to store dry foods, socks, underpants, T-shirts, jeans, toiletries, and basic camping supplies. Based on the quantity and diversity of storage in the Hawk, these suggestions could save a lot of time.
The other design element that left me perplexed was the location of the windows behind the dinette seats. I'm hoping Four Wheel Campers chimes in with a Manufacturer's Response to explain this design decision. My best guess is that there's no other place to put these windows, and it's better to have them than not to.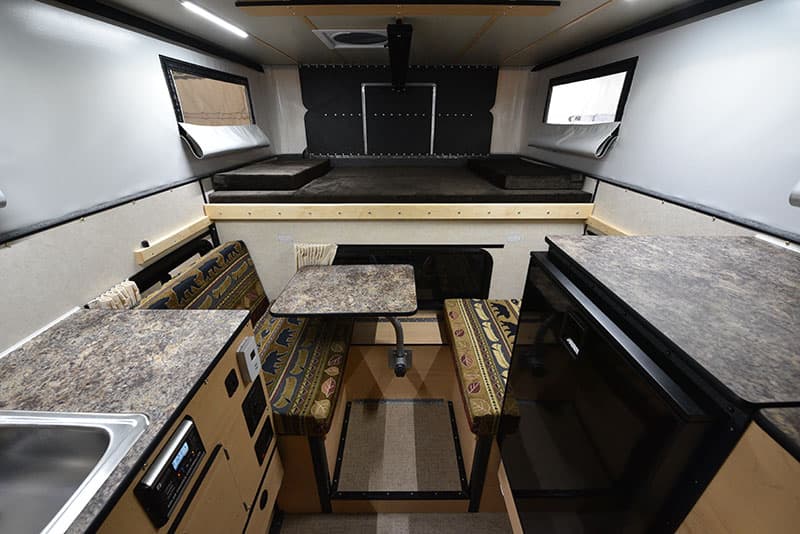 In the end, the concept of a Four Wheel Camper boils down to three key elements; lightweight, durability, and simplicity. Building a high-quality pop-up truck camper that meets these three objectives has defined Four Wheel Camper's niche for four and a half decades.
I'm happy to say that this focus is still firmly in place at Four Wheel Campers. If you're on the hunt for a pop-up camper with these qualities, the Four Wheel Camper Hawk should be on your very, very short list.
Pros
Half-ton compatible if carefully matched – see Truck Recommendations above
Excellent workmanship throughout; cabinetry, wiring, plumbing, fit and finish
Interior of the unit feels wide open and spacious with lots of headroom
High-end marine-grade components including Whale Marine and Blue Sea Systems
Large face-to-face dinette and dinette bed for a half-ton short bed camper
Quantity of diverse storage opportunities in main living area is incredible
Cons
Some storage nooks are oddly shaped and located. Use suggestions would help
The small double cabinet doors seem unwarranted. Single doors might be preferable
Windows hidden behind dinette seats appear inefficient for daylight and airflow
Electrical connections under the driver's side dinette should be better protected
10-pound propane tanks require filling stations and are not exchangeable
Only one set of outlets in the kitchen area. None on the passenger's side or in the cabover
Model Information:
2018 Four Wheel Campers Hawk – Front Dinette Seating floor plan
MSRP: $17,995, plus $1,500 for Front Dinette Seating option
Warranty: 5 years on the aluminum frame, pop-up soft walls, and roof. 1 year for the interior. Individual appliances have their own warranties.
Four Wheel Campers
Phone: 530-666-1442
Request a Four Wheel Campers Brochure
Web: fourwheelcampers.com
Quality, Customer Service, and Long-Term Reliability
Truck Camper Magazine inspects all reviewed truck campers for design, material, and quality issues and reports what we find. However, since Truck Camper Magazine reviews only brand new truck campers, our reviews do not address long-term quality, customer service, or reliability.
To learn about a brand's long-term quality, customer service, and reliability, Truck Camper Magazine recommends talking directly with truck camper owners at truck camper rallies and online via truck camper forums and truck camper owners groups.
Please be sure to balance your gathered feedback across multiple sources including direct correspondence with the truck camper manufacturers and your closest truck camper dealers.
If you are new to truck campers, please start in the Newbie Corner.