Robert Vogl, in partnership with Salt Creek Capital, acquired Four Wheel Campers this past September.  As part of the transaction, Robert Vogl transitioned in as the new CEO.  Here's the story behind the purchase and Robert's fresh vision for Four Wheel Campers.

It should be no surprise to the predominantly baby boomer-aged readership of Truck Camper Magazine that the majority of the leadership teams within the truck camper industry are also boomers (or better) and beginning to at least think towards retirement.
Over the next decade, younger team members will be stepping into industry leadership positions, companies will be sold to younger entrepreneurs and, for family-owned companies, the next generation will be taking the helm.  Due to the size of the baby boomer generation (76 million just in the United States), this generational rotation is happening across all industries.
This brings us to Four Wheel Campers.  Four Wheel Campers was founded in 1972 by Dave Rowe.  In the 1980s, Dave sold the company to Jack Billings, who sold Four Wheel Campers to Ben Burnett in the 1990s.  Ben then sold the company to Tom Hanagan in 2001, who has run the company with his wife, Celeste, for the past 15 years.
Ready to retire and enjoy their own travel and truck camping adventures, Tom and Celeste sold Four Wheel Campers this past September to Salt Creek Capital, a San Francisco area private equity firm.  After the acquisition, Salt Creek Capital Executive Partner, Robert Vogl, stepped in as the new CEO of Four Wheel Campers.
Naturally, we were extremely interested in talking with Robert about the transition, and his plans for Four Wheel Campers.  When we learned that a private equity group was behind the purchase, our interest in the backstory intensified.
Fortunately, Robert Vogl welcomed the opportunity to talk with us about the acquisition and talked with us at length about his vision for the product and company.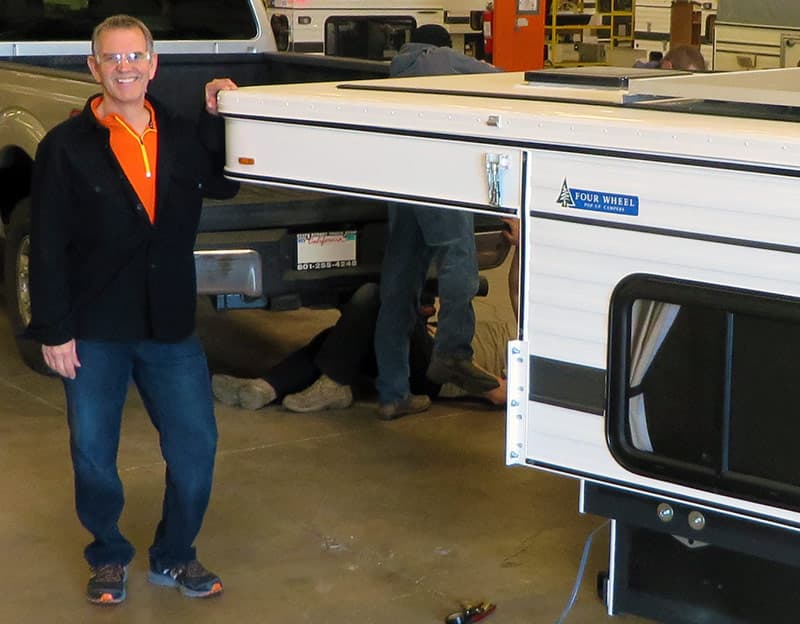 Above: Robert Vogl, CEO of Four Wheel Campers
TCM: Tell us about your professional career before coming to work for Salt Creek Capital and purchasing Four Wheel Campers.
Robert: I guess I am what some would describe as a serial entrepreneur.  I bought my first business, B&B Graphics, in my mid-20s.  When I first got out of college and started working for others, I saw a lot of obviously bad decisions being made.  Employees did what they were told regardless of how they felt about the projects or issues at hand.  That wasn't who I was.  I needed to do things that I believed in.
Several of the companies I've owned over the years were in the custom manufacturing arena.  When I sold the last manufacturing company, I went to work in the consulting and investment banking industries.
As an investment banker, my clients were business owners who were either looking to retire and sell their companies or looking for an equity partner to bring in the resources necessary to take their company to the next level.  Sometimes the transaction was designed to pass the company down from one generation to the next.  Whatever the situation, there was always some type of change of ownership taking place.
The companies for whom I consulted as a part-time CEO were primarily owned by technical people.  I helped them organize and structure their businesses and worked with them on both tactical and strategic issues.
It was through my investment banking activities that I worked with many different private equity groups, including Salt Creek Capital.  Salt Creek was one of the groups we approached with companies we represented for sale.
During my communications with Salt Creek, they let me know about their executive partnership program.  Salt Creek works with businesses looking for a liquidity event, and partners with an executive who will then take over as CEO.
I started working with Salt Creek Capital as part of this program about a year before the transaction with Four Wheel Campers finalized.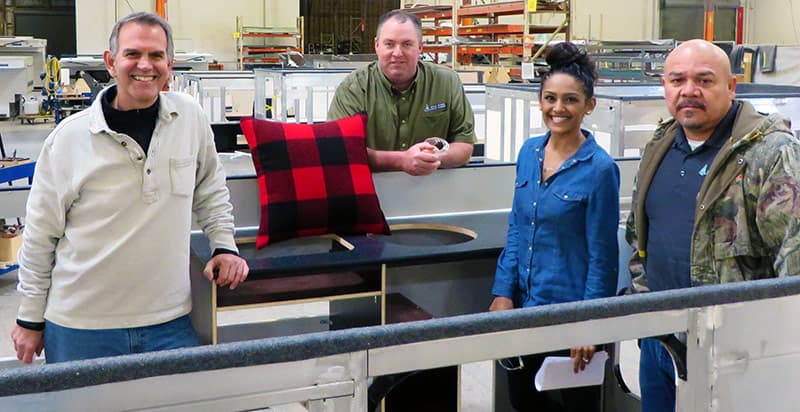 Above: Robert Vogl and his leadership team with the first Four Wheel Camper Woolrich Edition on the production line
TCM: Some folks might be concerned about the idea of a private equity company purchasing a truck camper manufacturer.  How would you address these concerns?
Robert: Contrary to public perception, private equity is a great avenue for a company to have as a partner in building a business.  Unlike some of the stories you might read about large private equity groups looking to mine the asset and value of a company for shareholders, middle-market private equity wants to add value to a business.
Also, some private equity groups have a five-year horizon for selling the companies they acquire.  Salt Creek Capital has a different operating model.  There is no arbitrary exit date for the companies we purchase.  We will hold on to a company as long as the CEO wants to stay on and continue to run it.  There is no five-year exit plan.
The last statistics I saw showed that about 70,000 businesses in the United States are backed by private equity.  It is a growing trend.  In the general business world, when a company is acquired by private equity, it's a strong signal that the company harbors tremendous value and growth opportunities.  Otherwise, the company would not have passed the vigorous due diligence process.
Also, private equity can attract talent that other businesses can't.  Professionals know that a company with private equity has the resources it needs to be successful and there are strong possibilities for growth.
TCM: Why was Four Wheel Campers a good acquisition for Salt Creek Capital?
Robert: There are a number of different models that private equity groups use to evaluate potential acquisitions.  Salt Creek Capital differentiates itself by specializing in smaller businesses where the owner is looking to transition out.  Salt Creek specifically looks for owners who want out of their business, usually to retire.
At first blush, neither Salt Creek or myself were fired up about Four Wheel Campers because of the way the business was presented.  Four Wheel Campers was presented as a business in the RV industry, and that's not a space of interest to most private equity groups due to the volatility during recessions.
As they "peeled away the skins of the onion", they discovered that Four Wheel Campers actually wasn't an RV play, but rather an outdoor recreation industry opportunity.
That got the wheels turning as to what Four Wheel Campers was all about.  Salt Creek liked the business and thought it was a great product.  The demographics were positive.  The company has been growing over the last five years.  It looked like a phenomenal opportunity to improve upon what the current owner had built and take it to the next level.
It's also a branded product.  If you look online, the reviews for Four Wheel Campers are primarily glowing from the user base.  They have dedicated and loyal customers who speak well about the product.
After the required due diligence and discovery, Four Wheel Campers had the right components and we ended up buying the business.
TCM: How did you come to be CEO of Four Wheel Campers?
Robert: Obviously, Salt Creek is not a very good judge of character (laughs).
Seriously, the most succinct answer is that I was one of their executive partners at the time.  They looked at the company and at my background and saw a good fit.  I didn't know anything about pop-up campers, but I have extensive experience with custom manufacturing.
TCM: Do you have a background in camping or RVing?
Robert: I was raised in northern California in Marin County.  My father was a World War II veteran of the 10th Mountain Division.  For folks who don't know about the 10th Mountain Division, they conducted war games in the Colorado mountains when it was 40 below zero with three feet of snow.
When I was growing my stepmother asked my father why he wasn't going out camping with us.  His response was, "I camped for three God damn years in the mountains of Colorado and I have done enough camping for a lifetime".  So, I did not grow up camping.
After I sold my last manufacturing company, I moved to Vail and learned to ski.  There I met my current fiancé.  She came from an outdoor-oriented Colorado family that enjoys camping, fishing, kayaking, canoeing, rock climbing, and hiking.
When we were dating, she asked me to go camping with her family.  At the time my idea of camping was the Ritz Carlton.  After a number of months she said, "If we are going to continue to go out, you need to learn to camp."
Well, I quickly fell in love with going off-road and off-the-grid into the backcountry of Colorado, Utah, Arizona, and New Mexico.  It was fun to get away from civilization for a week or two.  Eventually, sleeping on the ground got old, and we started looking for alternatives.
Our first thought was a trailer or a teardrop.  That seemed appealing, but the trailers we were looking at were not capable of going where we wanted to go.  Then we looked at Sportsmobile, but the price tag and miles per gallon dissuaded us.
Then Four Wheel Campers came across my desk at Salt Creek Capital and, in a blinding flash, the solution seemed obvious.  From a personal standpoint, the product was a perfect fit.  For Salt Creek Capital, it was a fantastic business opportunity.  It was really fortuitous.
TCM: What do you perceive as the marketplace strengths of the Four Wheel Camper product?
Robert: Four Wheel Campers is an iconic brand and the product is extremely well made.  The campers put up with a ton of abuse with normal usage.  The brand and product are pillars on which we can further build the company.
During our extensive due diligence, we also found that there was a phenomenal following for Four Wheel Campers.  I have never seen anything like it.  It is really head and shoulders above anything else in the market.  That's a testament to Tom Hanagan, the previous Owner of Four Wheel Campers, and what he did with the company.
Four Wheel Campers also has a core group of dedicated and knowledgeable employees.  There's a lot of institutional knowledge, even with Tom retiring, that remains to drive product improvements forward.
Our market has nothing to do with the traditional RV owner.  It took me a little while to figure that out.  We kept hearing about the overland community.  I had never heard of the term even though I was part of it.  I started trying to wrap my head around it.
When folks would have gone camping back in the 50s, 60s, and even into the early 70s, they could go to a national or state park and be relatively alone.  Fast forward to the 2000s.  You go to a campsite now and it's wall to wall people.  You've got your 20×20 plot along with 100 others.  You are crammed in like sardines.
This kind of camping to getaway doesn't get you away.  You can't get away from people in campgrounds anymore.  That is why this is a growing industry.  You can still get into nature, get off the paved road, away from campgrounds, and into the middle of nowhere.
TCM: That is all too true.  Do you have plans to make changes to the product?
Robert: At this point, our focus is to refine what we're already doing.  Down the road, I'm looking to build in more conveniences and will take pages from the customers who are modifying their campers.  We also want to make the campers even more robust and lighter weight, whenever possible.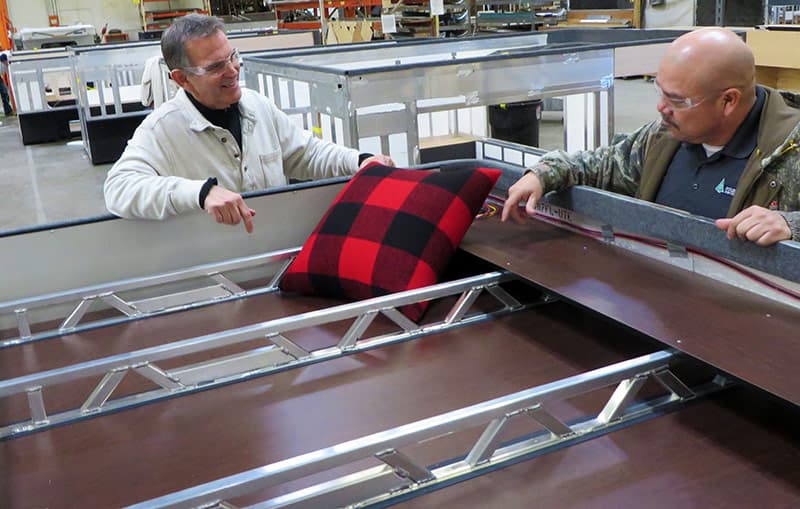 Above: Robert discusses the Woolrich Edition with Chicali Segoviano, Foreman for Four Wheel Campers
TCM: Have you made any changes at Four Wheel Campers yet?
Robert: We will be making a number of internal changes to allow us to produce a better product more efficiently.  We need to bring in the tools that will allow that to happen.  We also need to collect the right information to help us make good decisions on what needs to change, and how we need to change it.
The first major project is to implement an ERP (Enterprise Resource Planning) system by the end of 2017.  That will be an incredibly painful process, but it is well worth the pain on the other side.  The ERP system will radically alter the process of how we go about getting the product out the door.
The ERP system will also help us make better decisions on where we need to invest to be more efficient.  For example, it might show us where CNC equipment will make the most impact.
My long-term job is to make everybody else's job easier.  People aren't going to think that in the short term, but my job is to make things easier for our employees while improving our product.
TCM: Will you be at Four Wheel Campers leading the team day-to-day?
Robert: Yes, I am the permanent CEO.  I live about ten miles down the road.  I am here every day.  I am also a shareholder in the business.
TCM: How would you describe your role at Four Wheel Campers?  What do you do in a given day?
Robert: Right now I'm metaphorically drinking from about three fire hoses.  This was an asset sale and not a stock sale, so we had to set up all-new systems in the first 90 days.  For example, we have the same vendors, but we had to set things up with our new corporate entity.  That is the distracting aspect of my day and our accounting department's day.  We are finally getting to the end of that process now.
Eventually, I want to get out of the front office and spend more time in the factory looking for ways to improve efficiency, quality, and make life easier for our employees.  With my background in manufacturing, I'm really looking forward to that.
We have already instituted some manufacturing changes to reduce busywork.  As time goes on, I will spend more and more time on the production floor to figure out how to do things better.  I like digging into the manufacturing process, and seeing how things can be done better for quality and efficiency.
TCM: What's your vision for Four Wheel Campers?  Where do you see the company in five years?
Robert: One of the appealing attributes of Four Wheel Campers is its incredibly strong growth.  The company has had a hard time keeping up with demand.  If we could produce twice as many units, everyone would be sold.  We've got to ramp up our production to meet demand.
I also want to bring awareness of Four Wheel Campers to different segments of outdoor enthusiasts.  Outdoor enthusiasts are magnitudes larger than the RV and overland community we currently target.
Five years from now, we will have dramatically increased our production capacity and quality and broadened Four Wheel Campers into the outdoor enthusiast market.  That's where I see the company in five years.
To visit the Four Wheel website, go to fourwheelcampers.com. Click here for a free Four Wheel brochure.