Robert Vogl, in partnership with Salt Creek Capital, acquired Four Wheel Campers this past September.  As part of the transaction, Robert Vogl transitioned in as the new CEO.  Here's the story behind the purchase and Robert's fresh vision for Four Wheel Campers.

It should be no surprise to the predominantly baby boomer-aged readership of Truck Camper Magazine that the majority of the leadership teams within the truck camper industry are also boomers (or better) and beginning to at least think towards retirement.
Over the next decade, younger team members will be stepping into industry leadership positions, companies will be sold to younger entrepreneurs and, for family-owned companies, the next generation will be taking the helm.  Due to the size of the baby boomer generation (76 million just in the United States), this generational rotation is happening across all industries.
Which brings us to Four Wheel Campers.  Four Wheel Campers was founded in 1972 by Dave Rowe.  In the 1980s, Dave sold the company to Jack Billings, who sold Four Wheel Campers to Ben Burnett in the 1990s.  Ben then sold the company to Tom Hanagan in 2001, who has run the company with his wife, Celeste, for the past 15 years.
Ready to retire and enjoy their own travel and truck camping adventures, Tom and Celeste sold Four Wheel Campers this past September to Salt Creek Capital, a San Francisco area private equity firm.  After the acquisition, Salt Creek Capital Executive Partner, Robert Vogl, stepped in as the new CEO of Four Wheel Campers.
Naturally we were extremely interested in talking with Robert about the transition, and his plans for Four Wheel Campers.  When we learned that a private equity group was behind the purchase, our interest in the backstory intensified.
Fortunately, Robert Vogl welcomed the opportunity to talk with us about the acquisition, and talked with us at length about his vision for the product and company.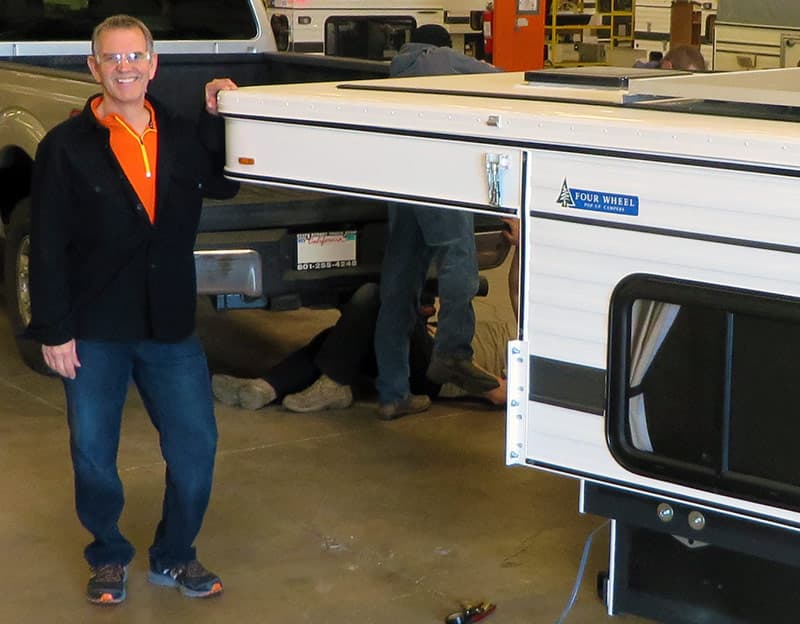 Above: Robert Vogl, CEO of Four Wheel Campers
TCM: Tell us about your professional career before coming to work for Salt Creek Capital and purchasing Four Wheel Campers.
Robert: I guess I am what some would describe as a serial entrepreneur.  I bought my first business, B&B Graphics, in my mid-20s.  When I first got out of college and started working for others, I saw a lot of obviously bad decisions being made.  Employees did what they were told regardless about how they felt about the projects or issues at hand.  That wasn't who I was.  I needed to do things that I believed in.
Several of the companies I've owned over the years were in the custom manufacturing arena.  When I sold the last manufacturing company, I went to work in the consulting and investment banking industries.
As an investment banker, my clients were business owners who were either looking to retire and sell their companies, or looking for an equity partner to bring in the resources necessary to take their company to the next level.  Sometimes the transaction was designed to pass the company down from one generation to the next.  Whatever the situation, there was always some type of change of ownership taking place.
The companies for whom I consulted to as a part-time CEO were primarily owned by technical people.  I helped them organize and structure their businesses and worked with them on both tactical and strategic issues.
It was thorough my investment banking activities that I worked with many different private equity groups, including Salt Creek Capital.  Salt Creek was one of the groups we approached with companies we represented for sale.
During my communications with Salt Creek, they let me know about their executive partnership program.  Salt Creek works with businesses looking for a liquidity event, and partners with an executive who will then take over as CEO.
I started working with Salt Creek Capital as part of this program about a year before the transaction with Four Wheel Campers finalized.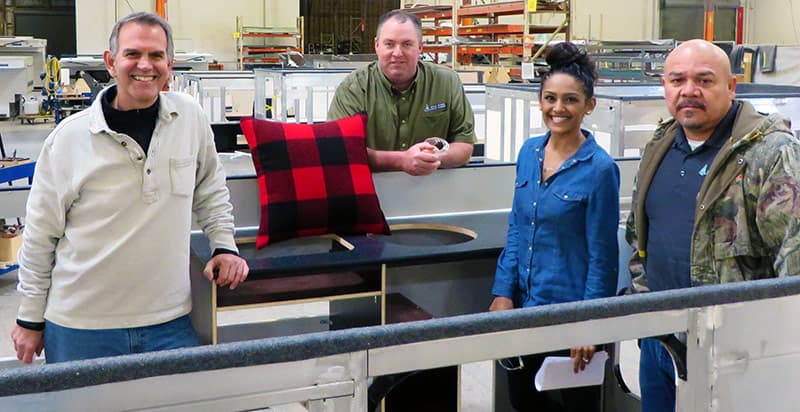 Above: Robert Vogl and his leadership team with the first Four Wheel Camper Woolrich Edition on the production line