Woolrich and Four Wheel Campers announce 100 Woolrich Limited Edition pop-up truck campers for the outdoor enthusiast.  Four Wheel Campers is about to go full on Buffalo Check.

Known as the original outdoor clothing company, Woolrich was founded in 1830 by John Rich in Plum Run, Pennsylvania.  As part of their remarkable history, Woolrich furnished wool blankets for the Union soldiers during the Civil War, supplied the military with wool blankets during World War 1, equipped Admiral Byrd's team for three expeditions to Antarctica, and outfitted blankets and clothing for the US soldiers in World War II.
187 years after their founding, Woolrich clothing is sold in thousands of department and specialty stores across the United States and Canada.  Their brand and products are synonymous with the outdoor lifestyle, as is their classic red Buffalo Check fabric pattern.  If you've been on Earth for a couple decades or more, you probably know the Woolrich style.
So what is Woolrich doing co-branding with Four Wheel Campers (itself a 45 year old company) to produce 100 Woolrich Limited Edition pop-up truck campers?
Both companies represent and support the outdoor recreation lifestyle and market high-end products with extreme outdoor capabilities.  The opportunity comes from how they approach the outdoor recreation marketplace from totally different perspectives with totally different (but equally vibrant) communities.
Woolrich has also coordinated successful co-branding product partnerships with Converse, GORE-TEX, Goal Zero, and even Dogfish Head Brewery.  It's exciting to see them turn their attention to the pop-up truck camper marketplace, and make a serious play.
To find out more about the Woolrich Limited Edition Four Wheel Campers and the partnership behind it, we talked to Matt Henwood of Main Line Overland, and Robert Vogl at Four Wheel Campers.
Matt (along with his brothers and business partners Pete and Thomas) spearheaded the initiative with Woolrich and were involved throughout the design and development process.  All of the photos in this article were supplied by Thomas Henwood from Main Line Overland.
Robert is the new CEO of Four Wheel Campers and will be featured in an in-depth interview in a few weeks.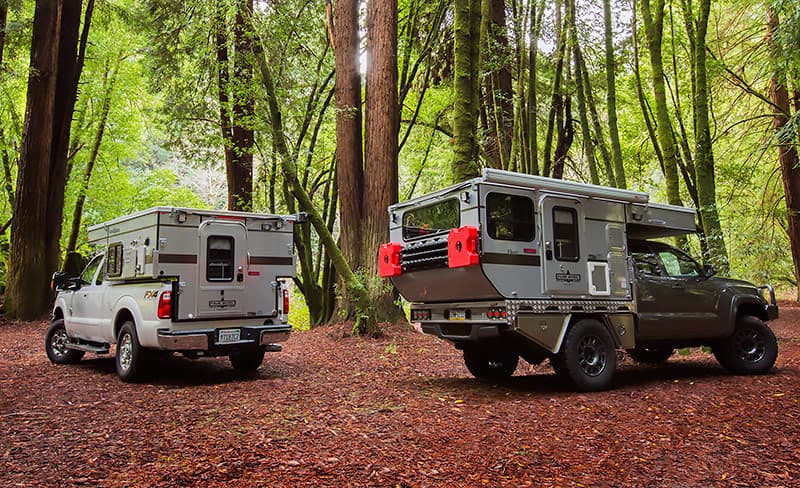 Above: Woolrich Limited Editions of the Four Wheel Camper Hawk (left) and flatbed Fleet (right) models
TCM: How did the Woolrich and Four Wheel Campers co-branding partnership come to be?
Matt: At the Four Wheel Camper dealer meeting about a year ago, we talked about the possibility of a special edition project.  We wanted something to further differentiate the Four Wheel Camper brand and the product from other camper brands.  Four Wheel Campers has done the Silver Spur edition, but we wanted something more unique.  We also wanted an opportunity to work with a larger brand.
After the meeting, we did a lot of research and started to vet potential partner companies.  Being from Pennsylvania, we're big Woolrich fans, so we reached out to them.  Their initial reaction was extremely positive.  They loved the idea and the visuals of Four Wheel Campers we sent them.
Two months after the dealer meeting, we had a meeting with Woolrich at the Woolrich Mill in Pennsylvania.  Tom Hanagan, then President of Four Wheel Campers, came out from California to meet with the folks at Woolrich.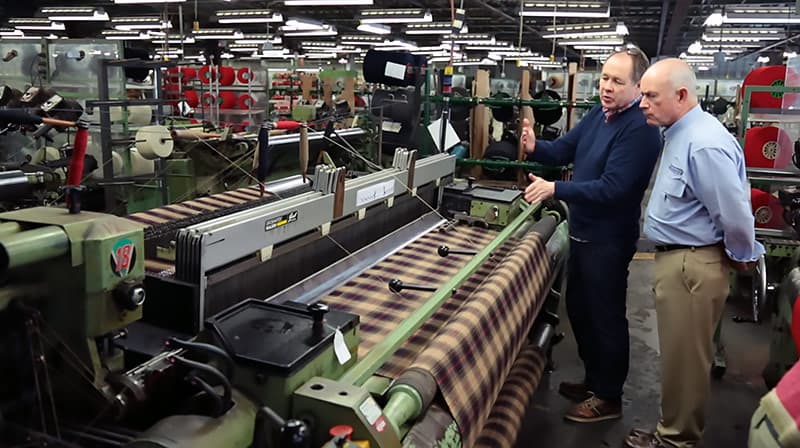 Above: Tom Hanagan of Four Wheel Campers and Rob Stuart, Woolrich's Fabric Designer, at the Woolrich Factory in Pennsylvania
We got the grand tour of the mill, which was amazing.  It was like a step back in time with their machinery and process showing the intricacy and attention to detail.  We got to really see how they make their textiles and fabrics.
We then sat down with Nick Brayton, President of Woolrich, and descendant of the Rich family.  We talked about the collaboration with Four Wheel Campers and the potential of the project.