The cabinetry hardware throughout the unit balances the need to be both durable and lightweight.  In person, the cabinetry latches, handles, and hinges feel robust.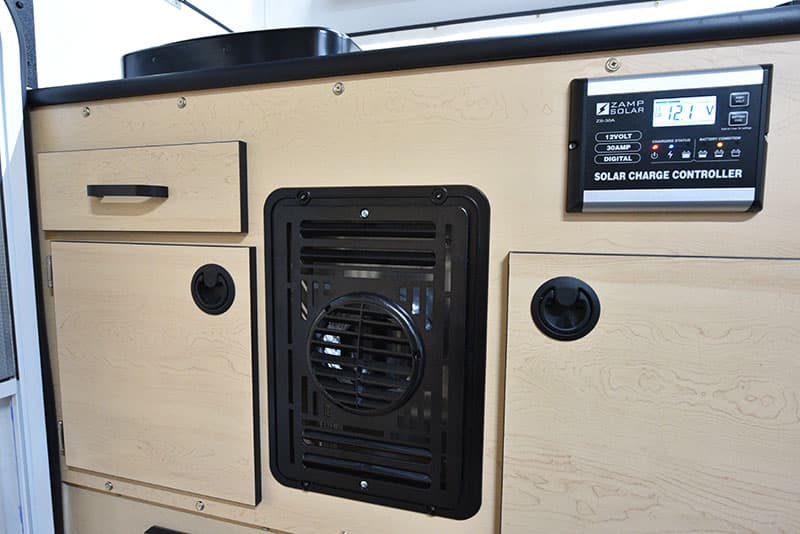 Almost directly under the sink is an optional forced air furnace.  The trick to building a truly warm pop-up truck camper is the combination of a propane furnace and an insulated soft wall.
Insulated Thermal Pack Soft Wall
Four Wheel Campers offers an insulated soft wall as part of their Thermal Pack option.
Here are the three visible layers that make up a Four Wheel Camper soft wall; the grey vinyl blackout layer, the clear vinyl window layer, and the big screen layer.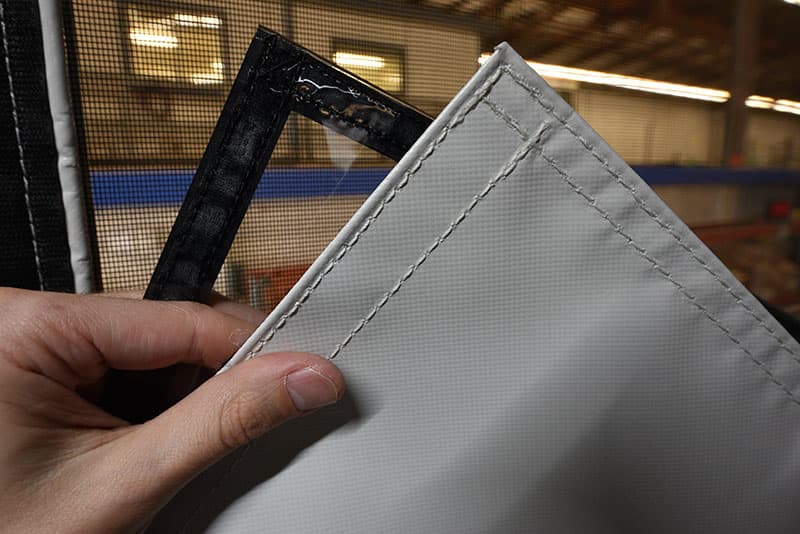 What you can't see is the optional Thermal Pack insulation material inside the grey vinyl blackout layer.
Zamp Solar Panel and Charge Controller
To the right of the furnace is the optional Zamp ZS-30A solar charge controller, optional water heater switch, and optional digital thermostat (part of the furnace option).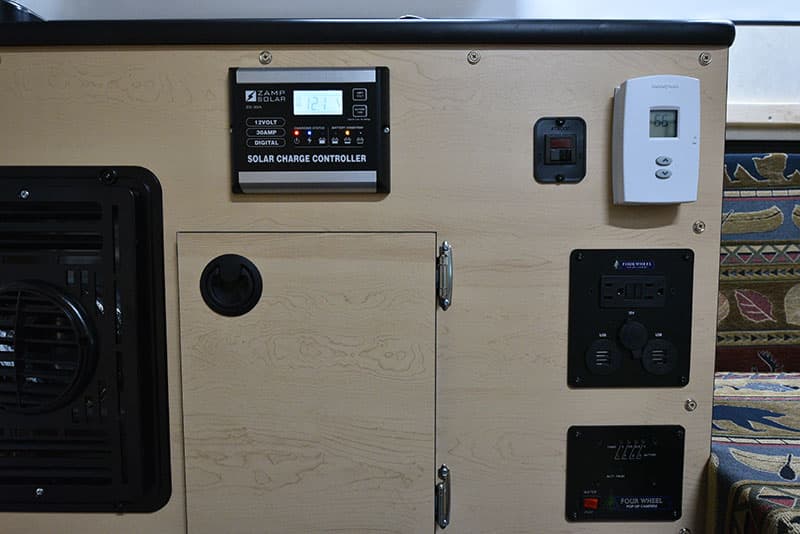 There is also the standard 110-volt/12-volt/USB outlet-set, and the standard fresh tank monitor, battery monitor, and water pump switch.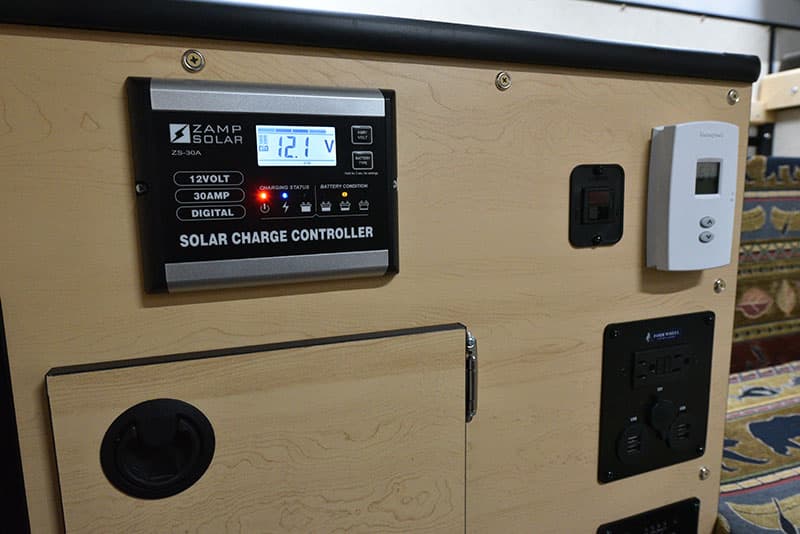 The optional Zamp ZS-30A solar charge controller is exactly the same make and model that we installed in our project truck camper.  Almost three years later, we are still very pleased with the Zamp controller and 160-watt Zamp panel.
Shurflo 4009 Water Pump
Directly below the solar controller is a compartment dedicated to a standard Shurflo 4009 water pump and filter.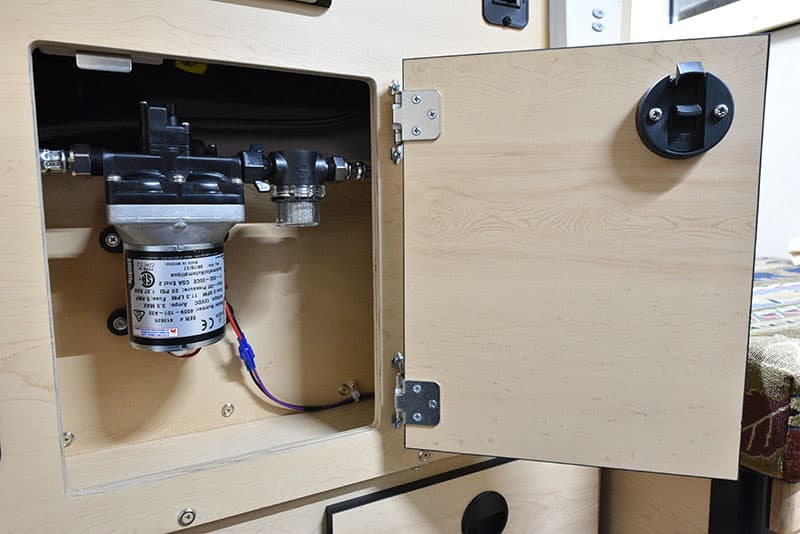 RV water pumps are quite reliable, but they will fail after many years of service.  To those of us who have experienced this trip-halting situation, having the water pump immediately behind a compartment door is absolutely beautiful.  Just look at that water pump behind an easily-accessible cabinet door.  Pure poetry.
Interior AGM Battery Storage
The Four Wheel Camper Hawk has an interior battery compartment in the lower right corner of the kitchen area.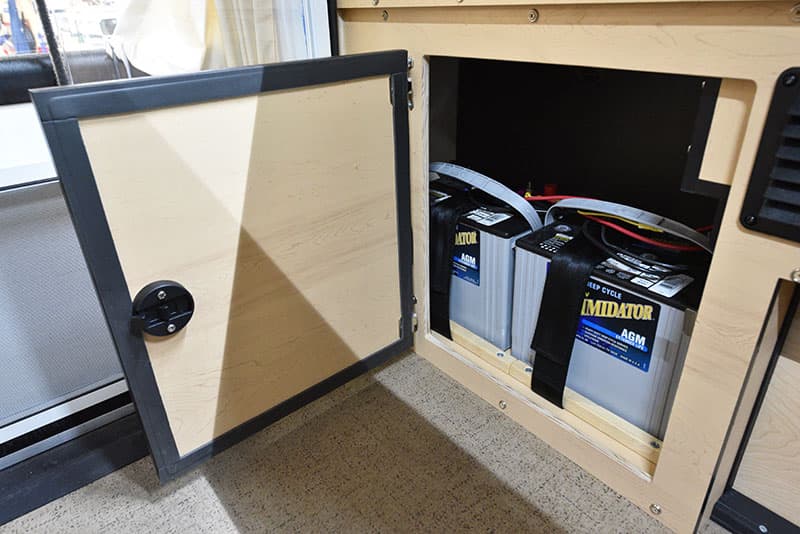 As a non-vented interior battery compartment, sealed AGM batteries are required for safety.  Never put non-sealed batteries into a non-vented interior battery compartment.
Marine Grade Products In A Pop-Up Camper
Under the outlet cluster, we found a Blue Sea Systems marine-grade 120-volt circuit breakers (left) and 12-volt fuse block (right).  Like the Whale Marine faucet, the quality of the Blue Sea Systems product is much higher than you will find on most truck campers.
In fact, you won't find this level of quality in most Class A motorhomes.  This is truly outstanding, and a demonstration of the commitment that Four Wheel Campers has to the long-term reliability of their products.
Access Door For Turnbuckles
For those of you who are long-time Truck Camper Magazine readers, you know my unrepentant fondness for old-school practical truck camper design.  Well, under the kitchen is one of my favorite examples of old-school smarts; a truck bed access door.  This door is mirrored on the passenger's side for double the old-school awesome.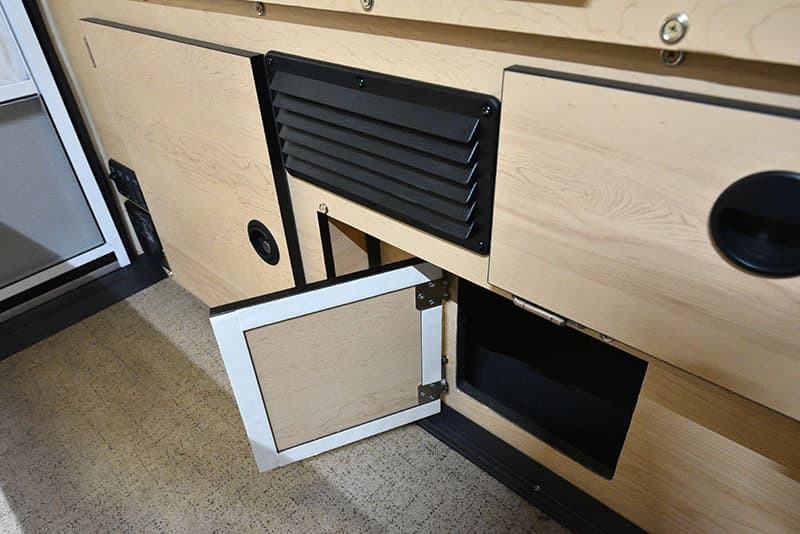 Loaded on a truck, these doors give direct access to the space between the truck's wheel wells and the front wall of your truck's bed.  In these outside/inside spaces you can put full water jugs, stinky hiking boots, loaded laundry bags, and more.
Turning to the passenger's side, we find the second half of the face-to-face dinette.
Isotherm Cruise 130 Elegance Refrigerator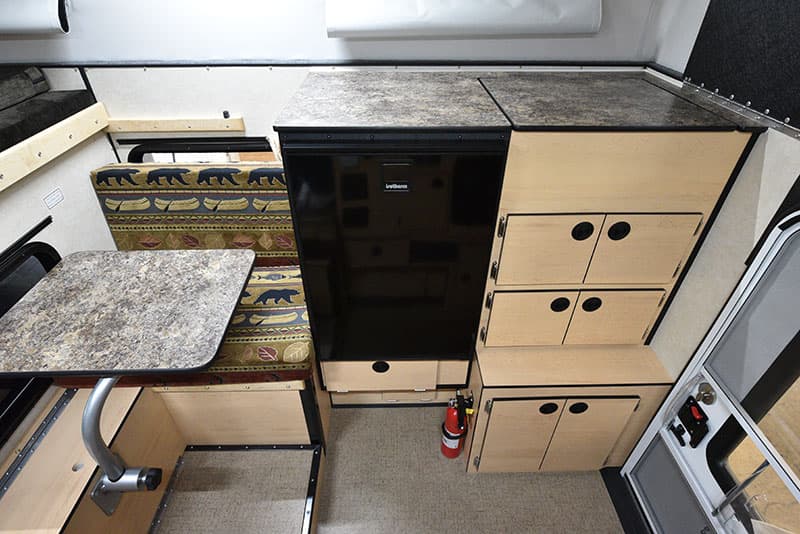 There is also an optional Isotherm Cruise 130 Elegance refrigerator and additional storage opportunities.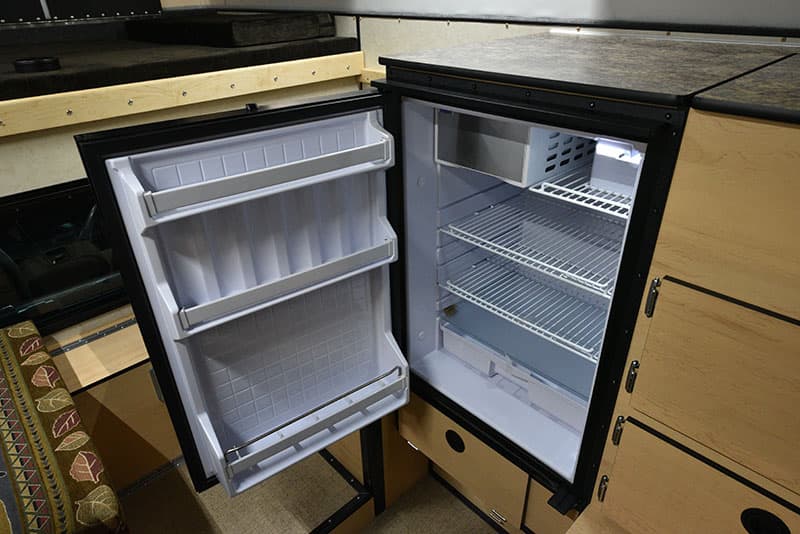 The Isotherm Cruise 130 Elegance installed on the review unit is a marine-grade refrigerator.  This 130 liter (4.59 cubic foot) unit uses a silent and extremely efficient Danfoss compressor.  It also happens to be the largest and most expensive optional refrigerator for the Hawk at $1,090.
The Hawk comes standard with a 3-way, 1.7 cubic foot refrigerator.  If you're a weekend camper, the standard 1.7 cubic foot refrigerator may be all you need.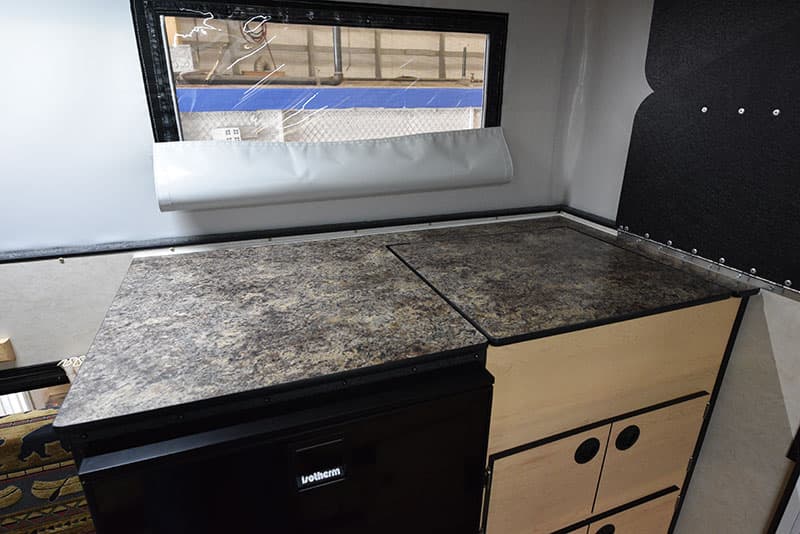 The formica counter top used in the driver's side kitchen and passenger's side vanity areas is both durable and attractive.  It also provides a lot of space to put things down.  Just be sure these items are put away before you bring the roof down.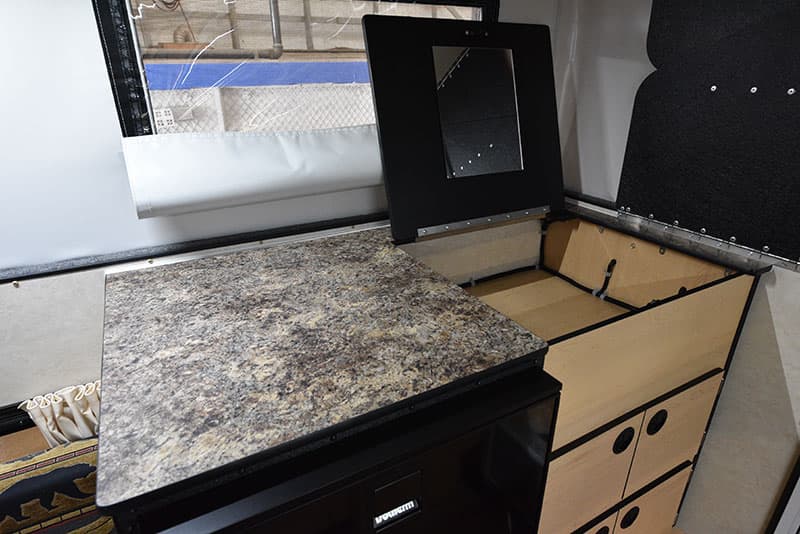 The right hand side opens up to a large vanity and mirror.  This is another old-school pop-up truck camper design element that can't be beat.  The Hawk's vanity is the perfect place to keep toiletries and clothing.
Double Door Storage Compartments
Under the vanity opens up with two double-door storage compartments.  At first I found these four doors to be attractive and impressively intricate, but the more I looked the more the four doors seemed unnecessary.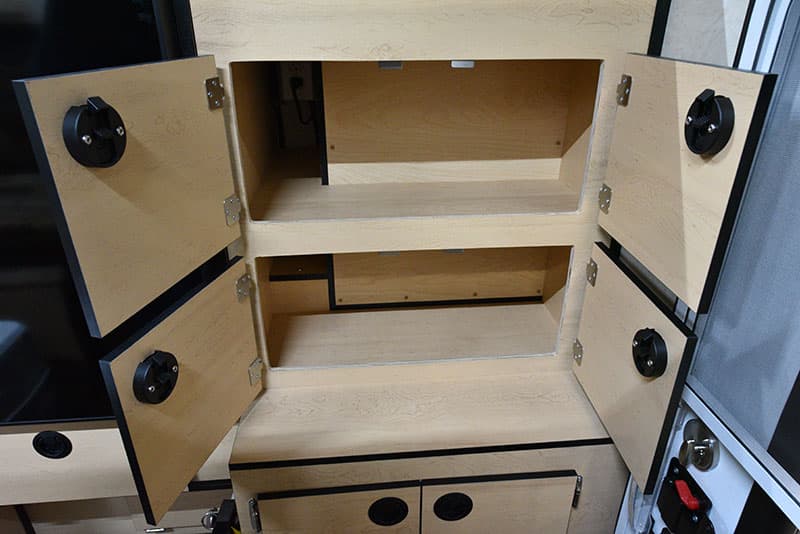 Why not have a single door for both compartments hinged at the back wall?  One door, two hinges, one latch (versus) four doors, eight hinges, and four latches.  Unless there's a loss of functionality I'm missing, two doors seem more practical.
Built-In Porta-Potty Storage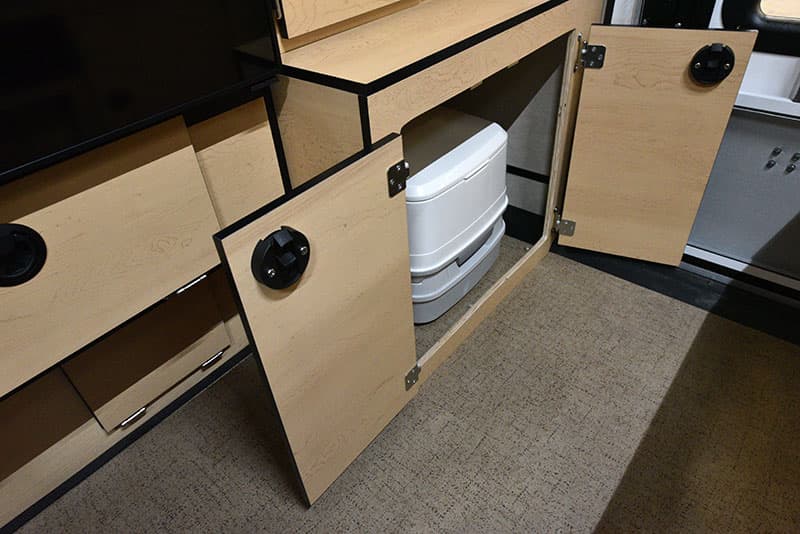 Many of us would not consider truck camping without some sort of onboard potty.  To meet this demand, the Four Wheel Camper Hawk has a lower compartment specifically designed for storing a porta potty.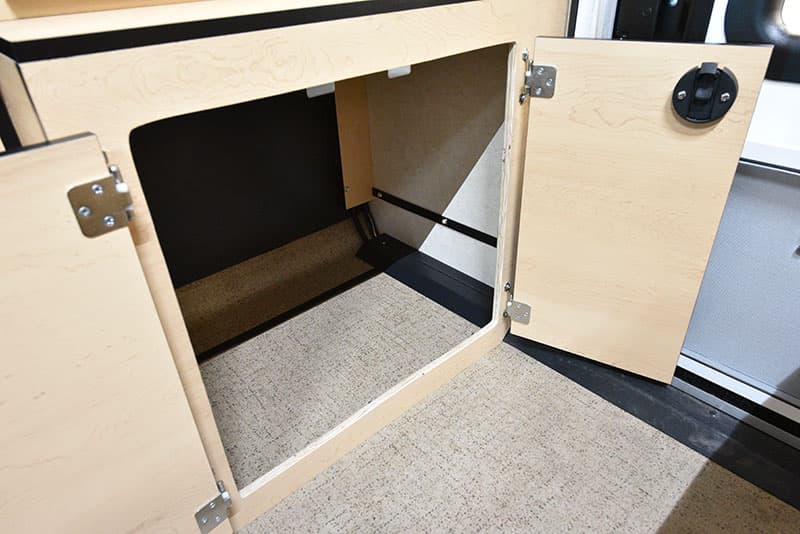 If you don't require a porta potty, you can use this big compartment for other purposes.  And once again, I'm wondering why Four Wheel Campers puts two cabinet doors here instead of one.  I bet there's a good reason and I welcome Four Wheel Campers to tell us about it in a Manufacturer's Response.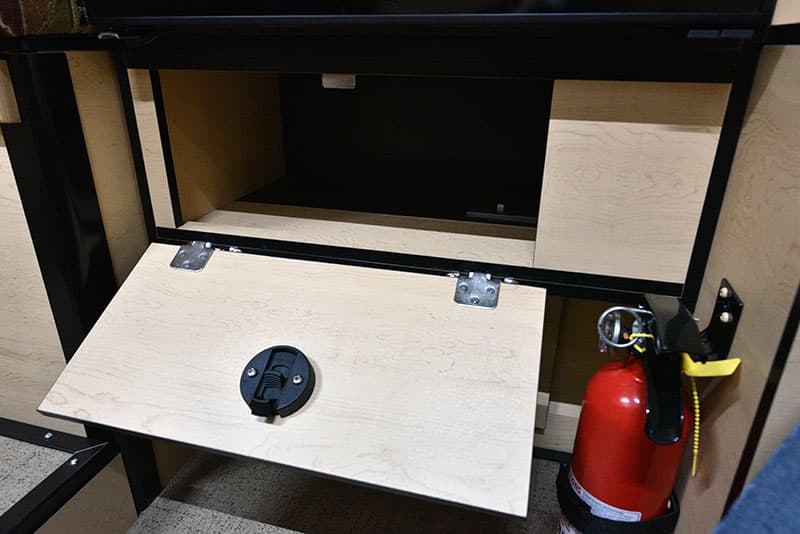 Under the refrigerator is another compartment.
Essentially, Four Wheel Campers has put a storage compartment anywhere there is a useful amount of available space to be utilized.  In a short bed pop-up truck camper with no overhead cabinetry, every inch of available storage is very welcome.  That stated, it's up to you how to use these nooks and crannies.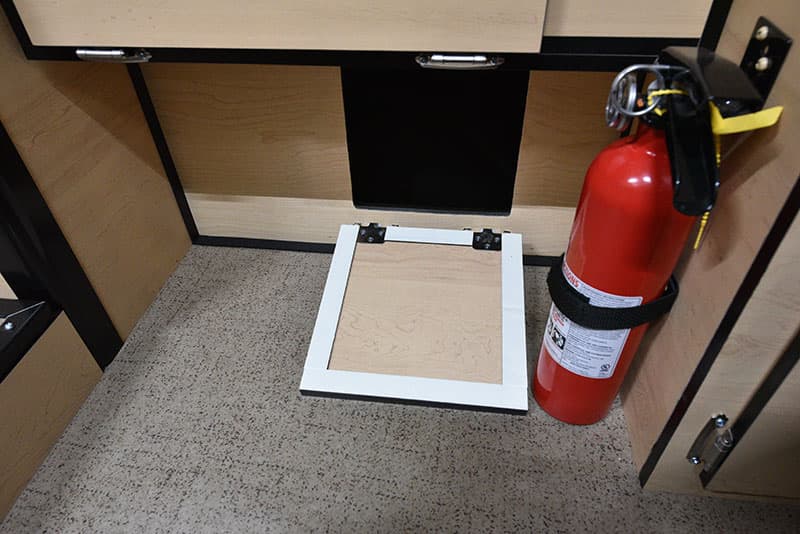 Here's the passenger's side truck bed access door.  Note the seal designed to make these doors as tight as possible against the outside elements.
PREVIOUS – Floor Plan Evaluation | VERDICT – Pros and Cons  | NEXT – Hawk Dinette