Four Wheel Campers has made a number of significant changes across its entire line of lightweight pop-up truck campers for 2018.  They've also updated their building, added new CNC equipment, and started the path to 5S and lean manufacturing.

This is not your typical annual manufacturer update.  Yes, Four Wheel Campers has some important updates to their product line to share, but those changes are part of a more significant shift happening in Woodland, California.
It would be easy to dismiss the new plant signage, new office furniture, and new production floor equipment as just part of the 2016 acquisition by Salt Creek Capitol.  As many things are in life, this quick answer would be far from the complete picture.
So what's really going on in Woodland, California?  Nothing less than a reinvention.  Every facet of the Four Wheel Camper company, product, and culture is being reexamined, challenged, and pushed forward.
The new management team is methodically implementing new manufacturing concepts, new business strategies, and new operation approaches designed to take an already strong company and make it into a world class manufacturer.
For Four Wheel Camper customers this means improved quality and quality control, improved availability and delivery time, and improved documentation and presentation.  Essentially, take every aspect of the Four Wheel Camper product and experience and take it up a notch, or two.  Then keep going with a culture of Kaizen; continuous improvement.  If that sounds like something from the automotive industry, it is.
To dig into the specifics of the Four Wheel Camper product changes for 2018, we talked to Dan Welty, Vice President, and Stan Kennedy, Sales and Marketing, for Four Wheel Campers.  We start with the new propane and plumbing lines, and wind up in 5S and lean manufacturing.  Hold on Four Wheel Camper fans.  Big changes ahead.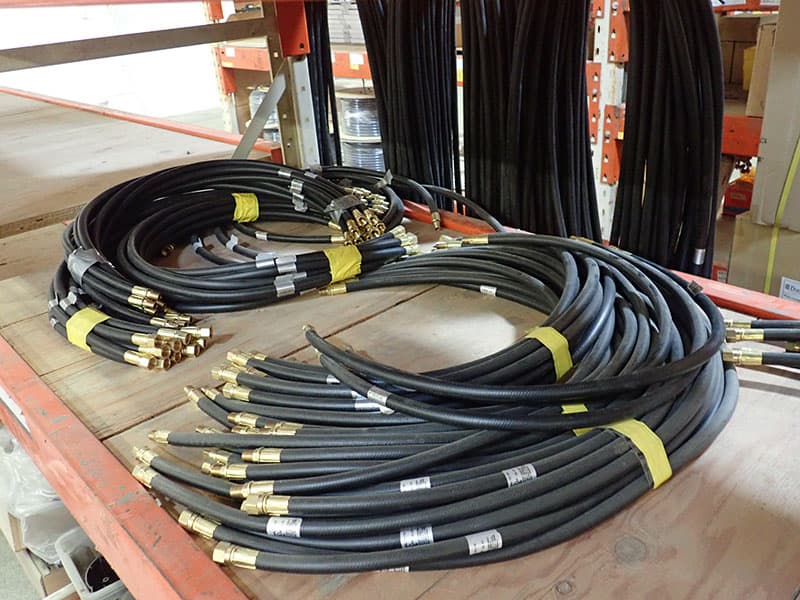 Above: Pre-assembled flexible rubber propane lines
TCM: For 2018, Four Wheel Campers is changing its propane lines from copper to flexible rubber lines with a new manifold system in all campers built for their US customers.  How are the new flexible lines different than the outgoing copper lines?
Stan: The flexible rubber propane lines are easier to manufacture than the copper lines and the quality is more consistent.  The copper lines were extremely reliable, but were hand built for each specific camper.  This involved some complex runs and bends through and around cabinets and various components.
Rubber propane lines are becoming an industry standard.  They are pre-manufactured and utilize screw-on connections.  The rubber lines are also not going to kink like propane lines can, and are more durable and easier to maintain for the customer.
Dan: Less angles mean propane flows better with the rubber lines.  We are also saving three to four hours of manufacturing time per camper with the rubber propane lines.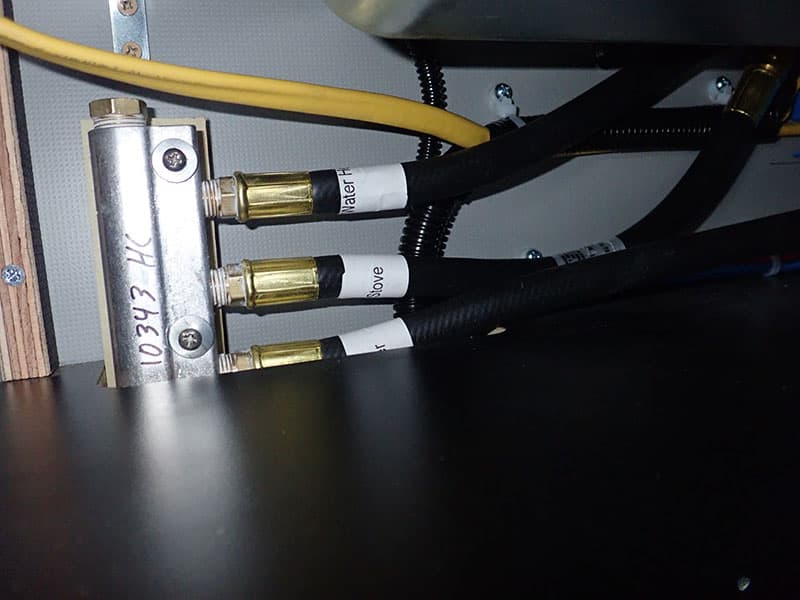 Above: The new propane manifold
TCM: What are the advantages of the new propane manifold?
Dan: Again, production quality and manufacturing efficiency.  With the copper lines we had to hand build so many different size lines for each individual camper.  The new rubber propane lines and manifold system is assembled ahead of time, installed in the camper, hooked up, and then pressure tested.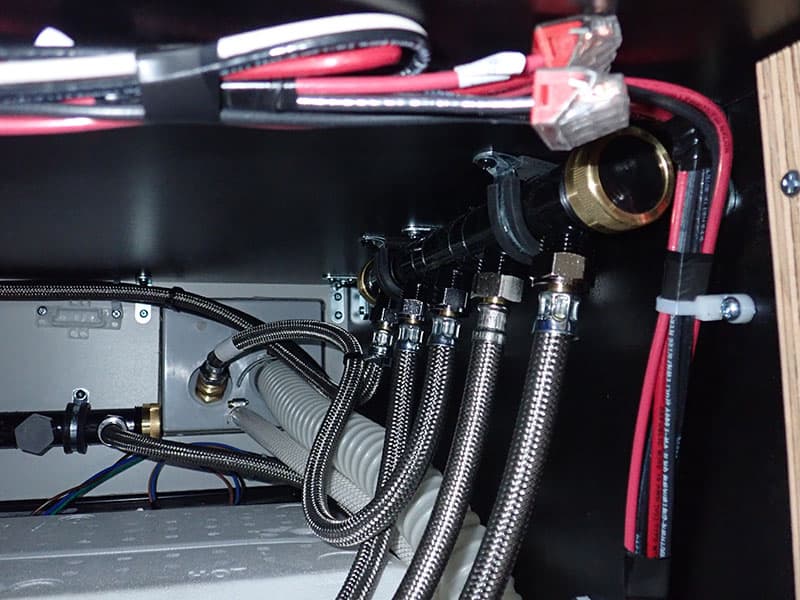 Above: The plumbing manifold with the polymer braided lines