Four Wheel Campers gives their 2015 pop-up camper line a list of upgrades including a skid guard camper base, new composite folding lift panels, and external lift struts.

When your customers are deeply passionate about the concept, function, and design of your existing product, it can be a daunting challenge to introduce product changes.  If the customer likes what you're manufacturing, and sales are strong, why change it?
The core design of a Four Wheel Camper has remained remarkably the same for over four decades.  From one hundred feet away, a Four Wheel Camper profile and overall aesthetic gives very little indication whether it's a 1974, or a 2014.  Loyal Four Wheel Camper customers would have it no other way.
So who in their right mind would mess with such success and risk changes?
Tom Hanagan, President of Four Wheel Campers – that's who.  Since acquiring Four Wheel Campers fourteen years ago, Tom has been on a relentless mission to improve the product.  He has pushed for innovations in materials, design, appliances, fit, finish, and overall quality, all while carefully maintaining the core concept of the product.
If one were to compare a 1974 Four Wheel Camper to a 2014 Four Wheel Camper up close, the results of Tom's efforts would be both subtle, and obvious.  For example, the new unit would have a seamless one-piece roof, radius camper door, and a marine-grade shore power cord.  Every inch of the 2014 product has been challenged, tweaked, and refined to last longer and maximize the ever-important weight to utility ratio Four Wheel Campers is famous for.
For 2015, the evolution continues.  Once again, Tom Hanagan and his team are meticulously pushing the product forward.  To explain exactly what's new for 2015, we talked to Tom.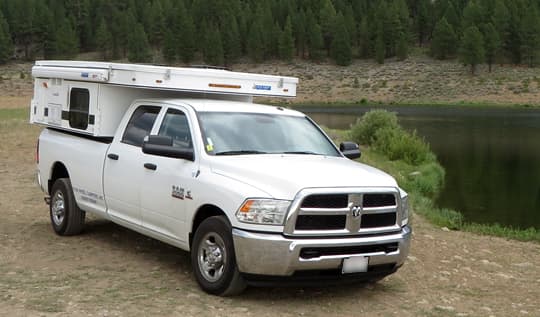 Above: A brand new 2015 Four Wheel Camper at Martis Creek Lake, Truckee, California
TCM: Are any new campers being added for 2015, or existing camper models being deleted, for 2015?
Tom: The Finch is being replaced by the Swift, in response to the newer quad cab mid-size trucks, like the Tacoma.  The Finch was originally designed to fit the older mini trucks, but they are fading away as the years slide by.  The new Swift is 75" wide, like the Fleet, and provides a more spacious interior, yet keeping the footprint at only 70".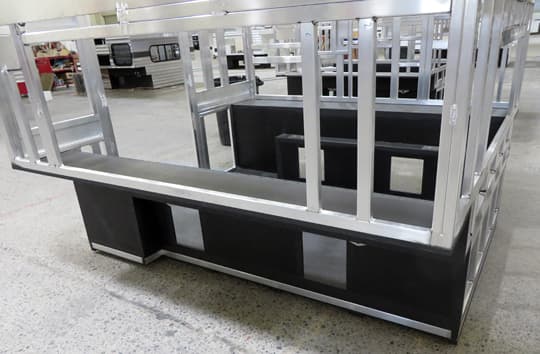 Above: The Skid Guard camper base
TCM: Tell us about the new Skid Guard camper base.
Tom: Four Wheel Campers has used Douglas Fir or Birch plywood on the bottom floor for over forty years.  For 2015, we are upgrading to a modern thermally fused polyester surface on the upscale Douglas Fir.  The material is called Skid Guard and it's manufactured for decking on marina boat docks.  It's durable, moisture-resistant, and manufactured in Washington state.
We have performed soak tests on the Skid Guard material, and its ability to resist moisture deterioration is very strong, which is excellent for the longevity of the product.  Skid Guard also improves the abrasion resistance for a camper when mounted on a truck.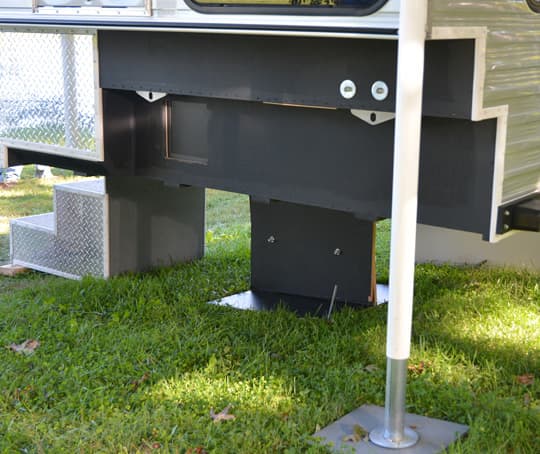 Above: Skid Guard material on the camper's base
TCM: Does the Skid Guard material change the weight of the camper?
Tom: Using the Skid Guard material adds about twelve pounds to the weight of a Four Wheel Camper.  To compensate, we are looking at redesigning our cabinetry architecture in the galley to improve the frameless construction.  We are always looking for ways to increase the durability and longevity of our product while maintaining or decreasing the overall weight.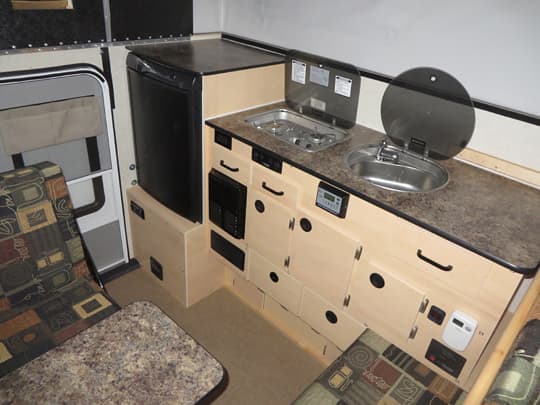 Above: The new painted wood cabinetry
TCM: For 2015, FWC is offering painted wood cabinetry.  Looking at the photos of this newly painted cabinetry, it doesn't look any different than the previous cabinetry.
Tom: Aesthetically, the new painted cabinets look identical to the old cabinets.  For decades, Four Wheel has used a vinyl facing on plywood cabinetry.  The newly painted cabinetry uses an ultraviolet (UV) cured multi-coat finish that includes a clear coat which is applied to an American Douglas Fir plywood.  The end result is a cabinet that looks the same but has a much more durable finish.
In the past, we've used Mahogany plywood luan.  Environmentally, this was not good because of poor forest practices in other parts of the world.  We now use a domestic Douglas Fir that exceeds the performance of the imports and is more environmentally responsible.
We pay close attention to the environmental impact of the materials we use.  Manufacturing in California also puts environmentally sensitive requirements on our materials.  It is harder to make a product in California than anywhere else in America.
We also pay attention to resourcing domestically and want to use American-made products as much as possible.  For example, our composite lift panels, Atwood appliances, countertops, and cabinetry are all domestically manufactured.  As much as possible, we use American-made products in our campers and progressively continue to do so.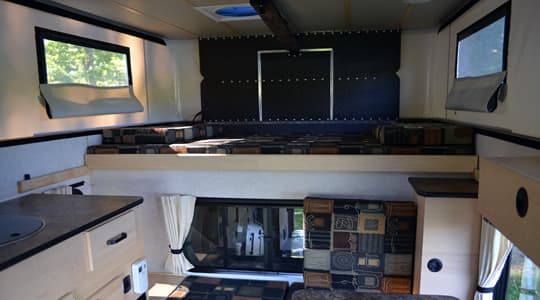 Above: The interior of a 2015 Four Wheel Camper with the painted cabinets, new mattress, and composite folding lift panels
TCM: Can you get different color cabinets, or just the standard color?
Tom: For now, we only offer one color, a light birch wood grain tone.  The cabinets come to us with the UV coating and paint already applied.  The color we use maximizes the sense of open space inside the camper.  On the other hand, we also offer a techno interior featuring blacks and grays.  This style was requested by our German distributor a few years ago, and it has become more popular here in America than it is in Europe.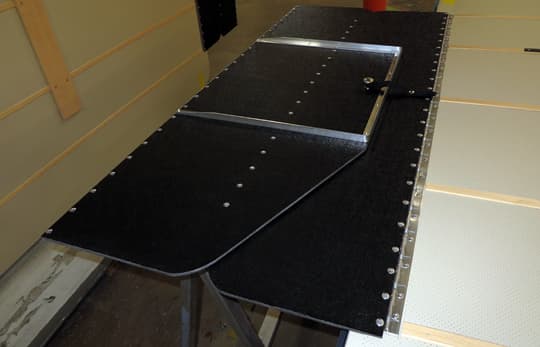 Above: The composite folding lift panels shown during installation at Four Wheel Campers
TCM: For 2015, you have changed the standard wood folding lift panels to composite.  What's the advantage of changing to composite for the lift panels?
Tom: The original patented bi-fold Four Wheel Camper lift system was designed in 1972.  The nature of the panel is that it provides a sheer wall on the front and back of the camper to support the roof.  As a result, the roof support in a Four Wheel Camper is exceptionally strong offering a greater resistance to wind and snow on the roof.
The new composite panel system is the same design, with a change of materials.  Instead of plywood, it's now a fiberglass reinforced resin panel that's made in the Dakotas.  The new panels will not rot and greatly enhance the strength and life of the lift system.
Above: The new exterior gas strut roof system
TCM: We borrowed a Four Wheel Camper Grandby for a review back in 2010.  That camper featured internal gas strut roof lift assists.  The internal struts were a fantastic help to lift the roof but protruded into the camper's interior.  Tell us about the new exterior gas strut roof lift system.
Tom: As you said, there is an intrusion to the bedding compartment for some folks with the interior lift assist.  It works well but can get in the way for some customers.
Over the past few years, a handful of Four Wheel Camper owners have developed exterior gas strut systems for their personal use.  We were impressed with their ingenuity but were concerned about the durability and strength of the attachment points and the long-term weather resistance of the struts.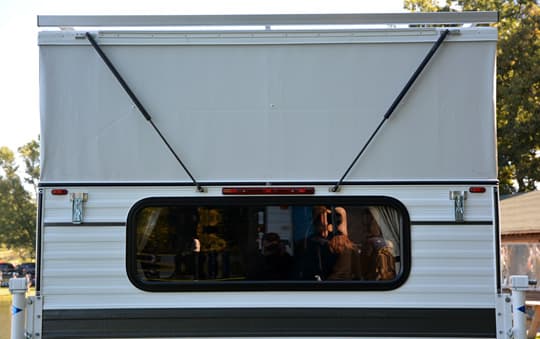 Above: The new exterior gas strut roof system
After considerable testing, we have developed a strong point of attachment and realized that weather is not a huge factor in the performance of the struts we use.  We did a series of weather ability tests and the struts held up well, even in coastal conditions.  Now we offer an exterior and interior gas strut roof lift system.
The exterior gas strut roof lift system gives the user more room inside because there is no interference.  With the front and rear location of the exterior struts, there is no interference with passage through tight locations with trees and shrubs.
TCM: Can customers with older Four Wheel Campers install the new external struts?
Tom: Both the internal and external gas lift assist struts are an option for most older Four Wheel Campers.  In many cases, the struts can be installed as an aftermarket kit by the owner, or by a Four Wheel Camper dealer.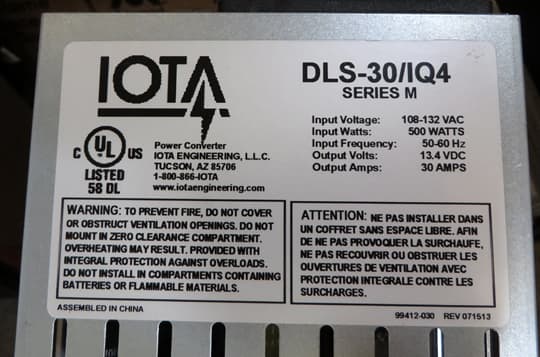 Above: The IOTA IQ4 Smart Charger is standard for 2015
TCM: Tell us about the IOTA IQ4 Smart Charger that's standard for 2015.
Tom: We have used the IOTA converters for many years.  IOTA makes good and reliable converters and is based in Tucson, Arizona.  We are very happy with the company and its products.
We upgraded to the IOTA IQ4 Smart Charger as it is better suited to the charging characteristics of AGM batteries.  The IOTA IQ4 Smart Charger is designed to handle the charging curve of AGMs by varying the voltage going to the battery during the charging process.
TCM: Do you install AGMs as standard with Four Wheel Campers?
Tom: Not every Four Wheel Camper comes with a battery.  When the option is chosen, we install Deka AGM batteries.  We have looked at other battery brands and have found there are challenges with reliability and warranty support.  Deka AGM batteries work well for us and our customers.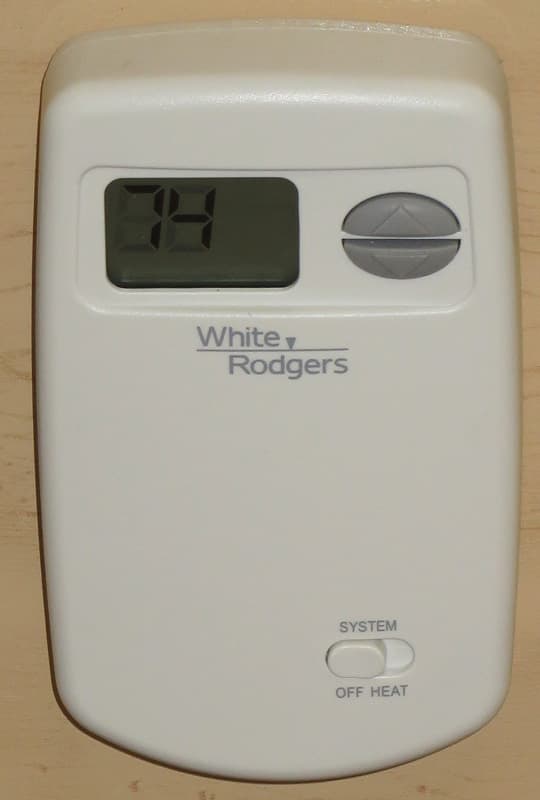 Above: The digital furnace thermostat
TCM: Why is Four Wheel Campers changing to a digital furnace thermostat for 2015?
Tom: We have had a lot of customer requests for a digital thermostat for more effective and efficient heating.  We have used the typical analog thermostat since we started installing furnaces decades ago.  The new digital thermostat gives the user a more even heating curve, which translates into better comfort for our owners.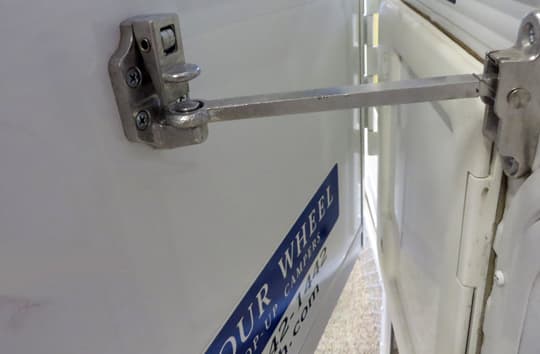 Above: The positive latch door catch
TCM: What is the new positive latch door catch?
Tom: The outside door has a spring-loaded door latch to keep it open.  It uses a positive locking device to keep the door from closing.  Made from cast aluminum, the new latch also resists corrosion and requires no maintenance.
For years we used a friction-style door stop.  With usual wear and tear, the friction door stop becomes less reliable.  It was also hard to keep the door open in windy conditions with the friction system.  This new positive latch door catch is easy to operate, and reliable for the long term.
We also changed our interior door latches.  Many of our owners travel off-road extensively and need a serious interior door latch to keep their cabinetry closed and secure.  Traditional RV latches do not offer the strength we needed, so we have upgraded to a fiberglass reinforced nylon door latch.  The new latch is strong and reliable and will keep the drawers and cabinets closed in overland conditions.  Our customers have been happy with them.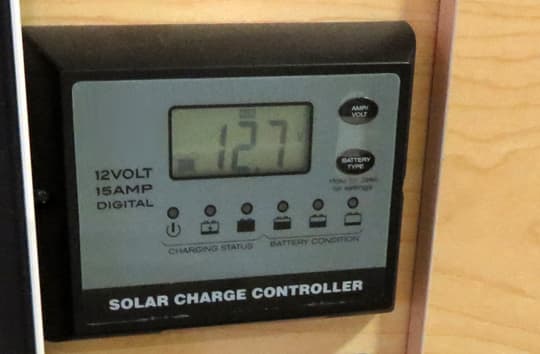 Above: The new solar charge controller
TCM: Four Wheel Campers has offered solar panels for years.  For 2015, you're introducing a new solar panel system and digital charge controller.  Tell us about the new solar system.
Tom: We have changed over to a new 100-watt panel.  Solar panels and controllers continue to improve on quality, efficiency, and function.  More importantly, the higher wattage panel and system are lower in price because there have been dramatic changes in the solar marketplace.  We now offer a 100-watt panel for less money than we offered the 85 or 90-watt panel just last year.  Hopefully, this trend continues.
As we find better products, we will change them.  Here at Four Wheel Campers we can improve on the fly rather than wait for a model year change.  If we find better panels, for a better value, we will upgrade.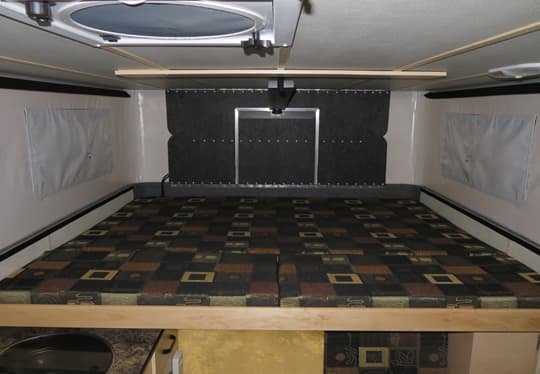 Above: Higher density foam mattresses are new for 2015
TCM: While we slept fine in our borrowed Grandby, we were pleased to see that there's a new softer foam cabover bed mattress for 2015.  Where did this new mattress come from, and what makes it softer than the mattress it replaces?
Tom: Traditionally, we have focused on higher density foam mattresses for durability and longevity, even though it is more expensive than typical lower density polyurethane foams.  Exclusive of the density, though, is the softness, or cushiness factor, technically referred to as the IFD, or indentation force deflection, rating (this used to be the ILD).  The higher the IFD, the firmer the cushion.
Well, we listened to our customers, and they said the mattress foam in our overcab was too firm.  We looked at a variety of IFD densities, from 45, to 43, to 38, and came up with one that we thought would offer more comfort.  Then we tested it in a highly empirical way.  In other words, we slept on it.  So far, customer feedback on the new overcab bed mattresses has been very positive.
TCM: Can existing customers get the new mattress foam?
Tom: Existing customers can get replacements, and we can do it here.  Also, many folks will look for mattresses that are specific to their needs.  Some get mattresses cut to size where they live.  For all of our new campers, we are providing a more comfortable mattress.
TCM: Are you using the new foam for the dinette seating as well?
Tom: For the seating, we have a firmer IFD foam because of the more localized weight distribution.  The firmer foam in the dinette is very comfortable.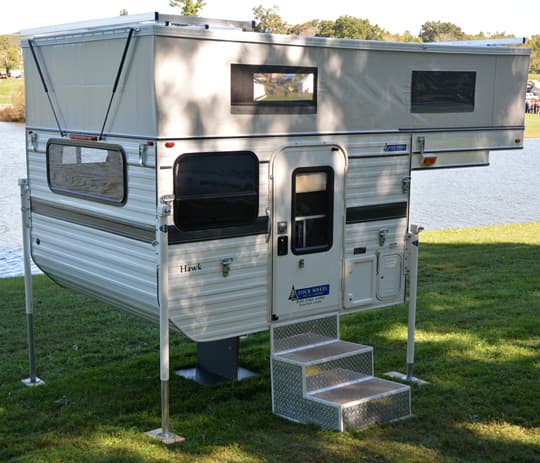 Above: A 2015 Four Wheel Hawk flatbed camper at Overland Expo East
TCM: How often are you able to get out and actually use a Four Wheel Camper?
Tom: I go out as often as I can.  Many of us go out and use and enjoy the product, but also find areas to improve.  For example, we are continuing to fine-tune the interior design for storage and ergonomics.  Something as simple as relocating a latch can make a big difference.
A lot of the upgrades and changes are based on customer and dealer feedback.  Our use of the product, and the feedback from dealers and customers, make all the difference.  This is not a design team that sits in an ivory tower and thinks up ideas.  We listen to our users in the marketplace and make improvements.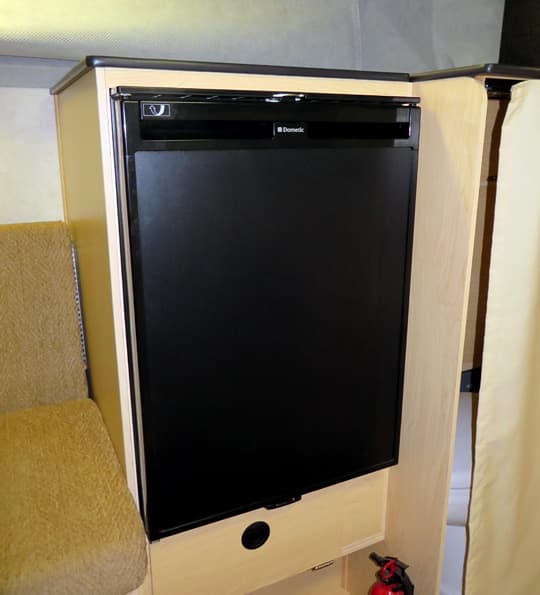 Above: The Dometic 12-volt compressor refrigerator
TCM: Can you think of any specific changes you made after going out camping?
Tom: As the direct result of my camping experiences, I've made many changes including transitioning to a curved corner door, improvements to the side dinette, and numerous storage compartment changes.  I always come back to the shop with a list of things I want to address and explore to improve the product.
I went camping with one of our avid owners a few years ago who was concerned about the noise of his compressor refrigerator.  We had been installing a brand and model that had good reviews and worked well, but our customer insisted that it was quite loud in its operation.
As a test, we installed another brand of compressor refrigerator in my own Four Wheel Camper.  As the afternoon wore on, I went over to his camper for a discussion and thought his refrigerator did sound loud.  Then we went to my camper and he was frustrated that he couldn't hear my refrigerator at all.
When we tested the new refrigerator, it also had a lower power draw, higher reliability, and was quieter.  Needless to say, we switched to the new refrigerator from that point forward.
By being out in the field using our products, we find all kinds of areas to improve, many, like a noisy refrigerator, that might not be obvious on the production floor.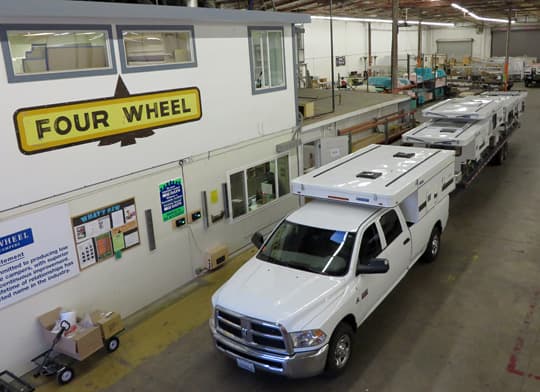 Above: 2015 Four Wheel Campers ready for shipping to a Four Wheel Camper dealer
TCM: That's excellent.  We wish more manufacturers would get out there and camp in their own products.  How are things going at Four Wheel Campers?
Tom: Four Wheel continues to grow and broaden its reach.  In 2015, we are looking to add more dealers, which means greater access to Four Wheel Campers around the globe.
We continue to work on improving the product with better materials and design.  We moved to a new factory almost four years ago and have more production capacity.  We have a new manufacturing engineer who loves to be in the outdoors with her son and husband and is from the aerospace industry.
We have a family atmosphere here at Four Wheel Campers.  We work closely together and continuously strive to improve the product.  We all come from different backgrounds with different perspectives and experiences.  It's a well-balanced mix, and it makes us a better company.
To visit the Four Wheel website, go to fourwheelcampers.com. Click here for a free Four Wheel brochure.