Four Wheel Campers gives their 2015 pop-up camper line a list of upgrades including a skid guard camper base, new composite folding lift panels, and external lift struts.

When your customers are deeply passionate about the concept, function, and design of your existing product, it can be a daunting challenge to introduce product changes.  If the customer likes what you're manufacturing, and sales are strong, why change it?
The core design of a Four Wheel Camper has remained remarkably the same for over four decades.  From one hundred feet away, a Four Wheel Camper profile and overall aesthetic gives very little indication whether it's a 1974, or a 2014.  Loyal Four Wheel Camper customers would have it no other way.
So who in their right mind would mess with such success, and risk changes?
Tom Hanagan, President of Four Wheel Campers – that's who.  Since acquiring Four Wheel Campers fourteen years ago, Tom has been on a relentless mission to improve the product.  He has pushed for innovations in materials, design, appliances, fit, finish, and overall quality, all while carefully maintaining the core concept of the product.
If one were to compare a 1974 Four Wheel Camper to a 2014 Four Wheel Camper up close, the results of Tom's efforts would be both subtle, and obvious.  For example, the new unit would have a seamless one-piece roof, radius camper door, and a marine-grade shore power cord.  Every inch of the 2014 product has been challenged, tweaked, and refined to last longer and maximize the ever important weight to utility ratio Four Wheel Campers is famous for.
For 2015, the evolution of Four Wheel continues.  Once again, Tom Hanagan and his team are meticulously pushing the product forward.  To explain exactly what's new for 2015, we talked to Tom.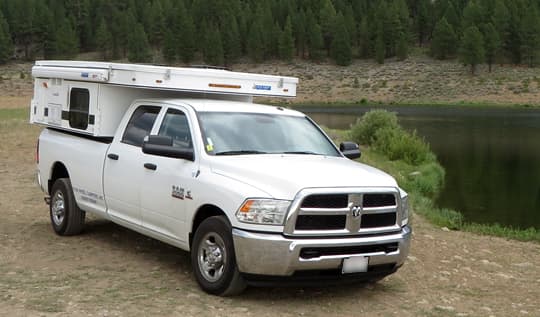 Above: A brand new 2015 Four Wheel Camper at Martis Creek Lake, Truckee, California
TCM: Are any new campers being added for 2015, or existing camper models being deleted, for 2015?
Tom: The Finch is being replaced by the Swift, in response to the newer quad cab mid size trucks, like the Tacoma.  The Finch was originally designed to fit the older mini trucks, but they are fading away as the years slide by.  The new Swift is 75" wide, like the Fleet, and provides a more spacious interior, yet keeping the footprint at only 70".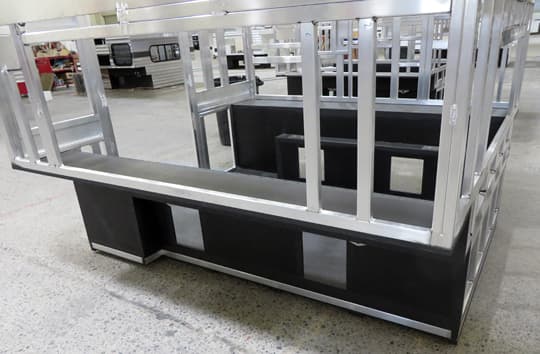 Above: The Skid Guard camper base
TCM: Tell us about the new Skid Guard camper base.
Tom: Four Wheel Campers has used Douglas Fir or Birch plywood on the bottom floor for over forty years.  For 2015, we are upgrading to a modern thermally fused polyester surface on the upscale Douglas Fir.  The material is called Skid Guard and it's manufactured for decking on marina boat docks.  It's durable, moisture resistant, and manufactured in Washington state.
We have performed soak tests on the Skid Guard material, and its abilities to resist moisture deterioration is very strong, which is excellent for the longevity of the product.  Skid Guard also improves the abrasion resistance for a camper when mounted on a truck.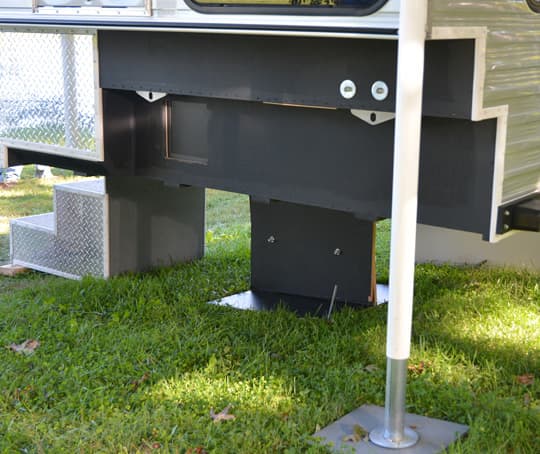 Above: Skid Guard material on the camper's base
TCM: Does the Skid Guard material change the weight of the camper?