For the first time, Gordon and I step out of our hard-side truck camper comfort zone and enter the world of pop-up truck campers.

When our friends Tom and Heidi Baldacci flew out from Lancaster, Pennsylvania to go truck camping with us this past June, it was the opportunity we were looking for to borrow a pop-up truck camper.  Since discovering truck campers just five years ago, we've only owned and experienced the hard-side truck camper lifestyle.  We've certainly enjoyed hard-side campers, but always wondered what it would be like to use a pop-up.  What was it like to use a pop-up?  And what made them so appealing to so many truck camper owners?
A few months before Tom and Heidi's arrival, we contacted Tom Hanagan, President of Four Wheel Campers, and asked him if we could borrow a truck and camper for a one week California tour with our friends.  He agreed and and we picked up a Four Wheel Camper Grandby and 2010 Dodge 3500 at the factory in mid-June.  The almost brand new truck is normally used for hauling camper loads and was overkill for the camper load.  It was also a wonderful truck.
Grandby on a Pedestal
When we got to the Four Wheel Camper factory, we spotted our Grandby right away.  He was standing proud and tall on his pedestal for all to see.  Seeing Grandby in this manner, I knew that he must be the Four Wheel Camper chosen for Truck Camper Magazine.  How else would you explain why he was sitting on a pedestal, right?
Seriously though, Four Wheel Campers has an outdoor showroom in Woodland, California where you can see all of their camper models on pedestals.  The pedestals elevate the campers to the approximate height they would be if mounted on a truck.  Or maybe it's that they've all won prizes.  Either way, there was Grandby perching proud on his pedestal.
On the Friday afternoon before our trip, Grandby was escorted over to the beautiful 2010 Dodge 3500 truck that we would be using for the week.
Stan the Man
For weeks prior to our trip I had been having nightmares.  These nightmares had to do with our upcoming trip around California.  I'd wake up in a sweat in the middle of the night.  What was all this worry about?  Crazy as it seems, it was about using a pop-up camper.
As hard side truck camper people, we needed a thorough lesson on how to use and operate a Four Wheel pop-up camper.  Stan Kennedy, Four Wheel Camper's Sales Manager, would be our guide and teacher.  Immediately I asked Stan the difficult question, "What are the important differences between the Adventurer hard side camper we have now and the Four Wheel Grandby we are about to use?"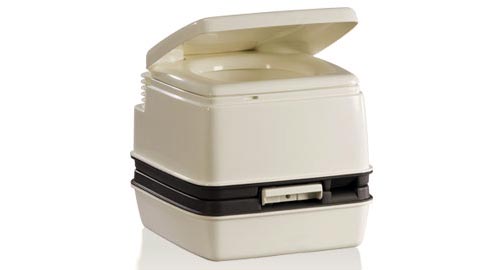 Before I ended my question, Stan started talking about the Porta-Potti.  Prior to us getting to Four Wheel Camper, I had envisioned a Porta-Potti to be like the miniature pink plastic toilet that my two year old niece used for her potty training.  Like her pink toilet, I thought it would literally need to be dumped after each use.  To my pleasant surprise, the Porta-Potti was more like a mini-cassette toilet.  It had a separate closed off black tank with a two gallon capacity and could be used for about a day without needing to find a RV dump or toilet.  Yahoo!  That was a big relief, no pun intended.
After our Porta-Potti lesson, Stan handed us a portable grey tank; a white five gallon bucket with a lid and hole just big enough for a garden hose.  You mean Grandby doesn't come with a grey tank?  Spoiled, spoiled me.  Stan took us over to the driver's side of the camper to show us a plug that we would connect via a short hose to the grey tank bucket when we wanted to use the sink.  Each time we went to a campground or boondocking spot, we hooked up the hose to the bucket and we had a portable grey tank.  Pretty neat trick.
Raising and Lowering Grandby
Another obvious difference between our Adventurer hard-side camper and the pop-up Four Wheel Camper was the pop-up roof.  Mounted on the Dodge truck, Grandby's roof was about seven feet tall.  Already I was thinking about all the places we could go where we wouldn't have to worry about the height of the rig.
Tom Hanagan, President of Four Wheel Campers, came over to talk to us about raising and lowering Grandby's pop-up roof.  On the outside of the rig, Tom showed us the latches, and said in a stern Principal-like tone, "There are SIX latches.  Don't forget to undo all SIX latches."  Throughout the entire trip, Gordon and I were counting from one to six each and every time we raised and lowered the pop-up roof.  We didn't want to go to detention, or worse, if we forgot.
With all SIX latches unlatched, Tom showed us how to go inside the camper to pop-up the roof.  First, you disconnect the rear bungee cord that spans the rear width of the camper helping to pull in the soft wall.  Then you unlatch the rear barrel bolt that holds the rear lift mechanism in place during travel.  Tom explained to us that it's best to push up just a little on the lift mechanism to release the tension when unlatching the barrel bolt.
When the lift mechanism is released, you then place your hand on the rear roof and push gently but firmly upwards.  The optional gas struts on the Grandby helped to lift the rear roof into its up position.  With the rear roof up, the lift mechanism is secured with a black strap that wraps around a brass knob and snaps into place.
Next you turn towards the front of the camper and unhook the front bungee cord.  Then put one hand on the roof and one hand on the bar that operates the front lift mechanism.  With one smooth motion you push up on the roof and push forward on the front lift mechanism until the roof and lift mechanism are fully extended.  Once the front roof is up, the bar is secured to the roof with another black strap and snap.