For the first time, Gordon and I step out of our hard-side truck camper comfort zone and enter the world of pop-up truck campers.

When our friends Tom and Heidi Baldacci flew out from Lancaster, Pennsylvania to go truck camping with us this past June, it was the opportunity we were looking for to borrow a pop-up truck camper.  Since discovering truck campers just five years ago, we've only owned and experienced the hard-side truck camper lifestyle.  We've certainly enjoyed hard-side campers, but always wondered what it would be like to use a pop-up.  What was it like to use a pop-up?  And what made them so appealing to so many truck camper owners?
A few months before Tom and Heidi's arrival, we contacted Tom Hanagan, President of Four Wheel Campers, and asked him if we could borrow a truck and camper for a one-week California tour with our friends.  He agreed and we picked up a Four Wheel Camper Grandby and Dodge 3500 at the factory in mid-June.  The almost brand new truck is normally used for hauling camper loads and was overkill for the camper load.  It was also a wonderful truck.
Grandby on a Pedestal
When we got to the Four Wheel Camper factory, we spotted our Grandby right away.  He was standing proud and tall on his pedestal for all to see.  Seeing Grandby in this manner, I knew that he must be the Four Wheel Camper chosen for Truck Camper Magazine.  How else would you explain why he was sitting on a pedestal, right?
Seriously though, Four Wheel Campers has a showroom in Woodland, California where you can see all of their camper models on pedestals.  The pedestals elevate the campers to the approximate height they would be if mounted on a truck.  Or maybe it's that they've all won prizes.  Either way, there was Grandby perching proud on his pedestal.
On the Friday afternoon before our trip, Grandby was escorted over to the beautiful 2010 Dodge 3500 truck that we would be using for the week.
Stan the Man
For weeks prior to our trip, I had been having nightmares.  These nightmares had to do with our upcoming trip around California.  I'd wake up in a sweat in the middle of the night.  What was all this worry about?  Crazy as it seems, it was about using a pop-up camper.
As hard side truck camper people, we needed a thorough lesson on how to use and operate a Four Wheel pop-up camper.  Stan Kennedy, Four Wheel Camper's Sales Manager, would be our guide and teacher.  Immediately I asked Stan the difficult question, "What are the important differences between the Adventurer hard side camper we have now and the Four Wheel Grandby we are about to use?"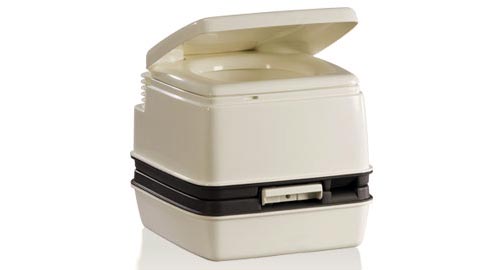 Before I ended my question, Stan started talking about the Porta-Potti.  Prior to us getting to Four Wheel Camper, I had envisioned a Porta-Potti to be like the miniature pink plastic toilet that my two-year-old niece used for her potty training.  Like her pink toilet, I thought it would literally need to be dumped after each use.
To my pleasant surprise, the Porta-Potti was more like a mini-cassette toilet.  It had a separate closed-off black tank with a two-gallon capacity and could be used for about a day without needing to find an RV dump or toilet.  Yahoo!  That was a big relief, no pun intended.
After our Porta-Potti lesson, Stan handed us a portable grey tank; a white five-gallon bucket with a lid and hole just big enough for a garden hose.
You mean Grandby doesn't come with a grey tank?  Spoiled, spoiled me.  Stan took us over to the driver's side of the camper to show us a plug that we would connect via a short hose to the grey tank bucket when we wanted to use the sink.  Each time we went to a campground or boondocking spot, we hooked up the hose to the bucket and we had a portable grey tank.  Pretty neat trick.
Raising and Lowering Grandby
Another obvious difference between our Adventurer hard-side camper and the pop-up Four Wheel Camper was the pop-up roof.  Mounted on the Dodge truck, Grandby's roof was about seven feet tall.  Already I was thinking about all the places we could go where we wouldn't have to worry about the height of the rig.
Tom Hanagan, President of Four Wheel Campers, came over to talk to us about raising and lowering Grandby's pop-up roof.  On the outside of the rig, Tom showed us the latches, and said in a stern Principal-like tone, "There are SIX latches.  Don't forget to undo all SIX latches."  Throughout the entire trip, Gordon and I were counting from one to six each and every time we raised and lowered the pop-up roof.  We didn't want to go to detention, or worse, if we forgot.
With all SIX latches unlatched, Tom showed us how to go inside the camper to pop-up the roof.  First, you disconnect the rear bungee cord that spans the rear width of the camper helping to pull in the soft wall.  Then you unlatch the rear barrel bolt that holds the rear lift mechanism in place during travel.  Tom explained to us that it's best to push up just a little on the lift mechanism to release the tension when unlatching the barrel bolt.
When the lift mechanism is released, you then place your hand on the rear roof and push gently but firmly upwards.  The optional gas struts on the Grandby helped to lift the rear roof into its up position.  With the rear roof up, the lift mechanism is secured with a black strap that wraps around a brass knob and snaps into place.
Next, you turn towards the front of the camper and unhook the front bungee cord.  Then put one hand on the roof and one hand on the bar that operates the front lift mechanism.  With one smooth motion, you push up on the roof and push forward on the front lift mechanism until the roof and lift mechanism are fully extended.  Once the front roof is up, the bar is secured to the roof with another black strap and snap.
All of this is much more difficult to write about than it is to actually do it.  After practicing a couple of times at the Four Wheel Camper factory, we were able to raise or lower the Grandby roof in a couple of minutes.  The lift mechanism is very refined and works so well, it's actually fun to use.  Just don't forget the SIX latches.
Grandby's Missing Parts
Before we got Grandby, Tom and Chicali, Four Wheel Camper's Foreman, took off Grandby's mechanical Rieco-Titan jacks.  Tom explained that removing the jacks made the camper lighter, gave the rig more side-to-side and bottom clearance, and improved visibility.  Of course, it also meant that we couldn't remove the camper, but that wasn't in the plans.
Before we left, I noticed that something else was missing.  Where were the turnbuckles?  Little did I know that Four Wheel Campers uses aluminum turnbuckles that bolt into the truck inside the truck bed.  Since the turnbuckles are inside the bed, you can't see them from the outside of the rig; they're invisible!  Four Wheel Campers have access doors that allow you to tighten or loosen these turnbuckles from inside of the camper.
No jacks and invisible turnbuckles?  The differences between our Adventurer hard-side and the Four Wheel Grandby kept piling up.
Low Clearance in Fun Places
Ever since we met Joyce and Ben, the owners of our local UPS Store in Pennsylvania, they have been telling us about In-N-Out Burger.  Joyce and Ben used to live in California and told us again and again that we had to go to this amazing fast food restaurant.  When we finally drove by an In-N-Out Burger in Napa, California, we just had to go.
First, we ate dinner outside at their circle tables.  And yes Joyce and Ben, it was delicious. Then we wanted chocolate milkshakes and I suggested that we go through the drive-through with Grandby.  Heidi and I drove up to the drive-through window while Gordon and Tom, acting like paparazzi, took photos of us inch by inch as we drove through to get our chocolate fix.  This is definitely something you could never do in a hard-side camper.
Speaking of things you could never do in a hard-side camper, we also took the rig through the Tunnel Log in Sequoia National Park.  In the Giant Forest area of the park, there is a drive-through tree, called the Tunnel Log, where people drive their cars through a fallen tree.  You heard me right; they drive their cars through.  It's an auto tree.  Not a truck tree or a truck camper tree.  And we took Grandby, by the skin of his aluminum, through the tree.  How cool it was to have Grandby at that moment.  Even the bears were impressed.
Maneuverability of A Pop-Up Camper

ABOVE: If you look carefully at the middle and right photos, you'll see that we spotted a deer on a trail and another Four Wheel Camper as we explored Sequoia National Park.
With a nine-foot-long, twelve-foot high, hard-side truck camper, we are able to maneuver in and out of tight parking lots, through crowded gas stations, and make U-turns at traffic lights, which is way more than most RVs can do.  Naturally, we were able to do all of these things in the Four Wheel Camper as well.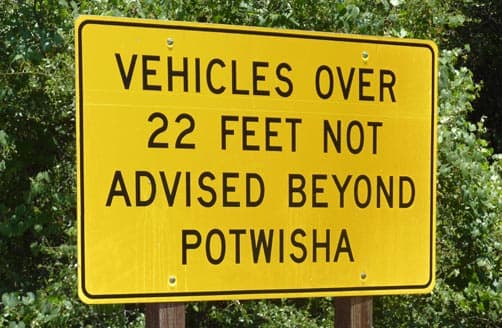 With the pop-up camper, we found that we could do even more.  For example, on the way to Crystal Cave in Sequoia National Park, there was a sign that said, "Vehicles over twenty-two feet not advised beyond Potwisha".  The rangers had told us about the extremely twisty and steep roads that would descend 2,000 feet in elevation.
Our hard-side camper rig is just over twenty-two feet so we might have had a problem.  With the significantly lower clearance, lower center of gravity, and lighter weight, the Four Wheel Camper rig drives like a car.  By that point, I didn't even think about it.  On the return trip up and out of the cave area, climbing in elevation was easy.
By the time our adventure with the Four Wheel Camper was over, we were talking about all the off-road places a pop-up rig like that could go.  The new possibilities were very exciting.
Everyday Life in Grandby
Most of all of the major systems of Grandby worked the same as any other truck camper we've used.  The hot water heated up in a hot water heater.  The two-way RV refrigerator kept our food and drinks cold.  And the 12-volt water pump moved water through the faucets.  These systems and appliances were familiar to us and easy to use.
There were a few ways we used the Four Wheel Camper that were different.  For example, we would often use the camper with the top down if we weren't staying in a place for very long.  The roof was low, but the camper was still surprisingly usable.  When we were in Napa Valley exploring vineyards, it was Father's Day.  Gordon went into the camper with the pop-up down, sat in the dinette, and called his dad.  It's not exactly ideal to do all the time, but we realized that we could function with the pop-up down sitting in the dinette area.
Sleeping in Grandby was also different.  The sleeping configuration of the bed was east-to-west instead of north-to-south.  You can extend the bed to queen size like our hard-side camper, but we kept the bed at its non-extended full-size.  Keeping the bed at full-size allowed me to get down easier and keep the dinette table intact.  It also allowed us to keep the bed made all the time.
Storage is limited.  But, even with limited storage, Gordon and I were able to bring a fair amount of clothes, food, toiletries, computers, and things we needed for a week.  Four Wheel Campers has made it so that there are a lot of tucked-away areas to put your things.  One of these tucked places that we found was under one of the dinette cushions.  There was a huge amount of storage there for us to stack our jeans and t-shirts.
Wrapping the Week Up
Truck Camper Magazine's tagline is, "Go Anywhere.  Camp Anywhere.  Tow Anything."  There is no doubt that the pop-up camper took us to a whole new level of Go Anywhere.  It has given us a whole different and broader view of truck camping.  I can definitely see us camping in a pop-up again in the near future.  We're hooked.
After making it through the In-N-Out Burger drive-through and the Tunnel Log at Sequoia National Park, we're ready to take on off-road destinations like the trails around Ouray, Colorado, and Vermillion Cliffs, Utah.
We may never want to go on a multi-month cross-country trip in a pop-up camper, but we're certainly ready for some multi-week off-road adventures in one.  And who knows what opportunities a longer experience in a pop-up would bring.  Maybe long-distance travel in a pop-up camper is in our future.  Never say never.
With the help of the Four Wheel Camper team, we returned Grandby to his pedestal.  If you want to see him, stop by Woodland, California, and visit him in the Four Wheel Camper showroom.  Thank you for the adventure Grandby.  You'll always be our first pop-up camper.
To visit the Four Wheel website, go to fourwheelcampers.com. Click here for a free Four Wheel brochure.