TCM gets unrestricted access to the new Four Wheel Camper factory and finds itself at the wrong end of a flying forklift.  Welcome to the 2015 TCM "Never Seen That" Tour.
It all started about a month ago when Angela said, "We haven't been to the new Four Wheel Camper building.  They've been in there almost five years."
"You're right" I replied, "We've never seen that."
Angela continued, "You've been wanting to see the Eagle Cap production line now that it's at Adventurer.  We've never seen that."
Seeing where this was going, I added, "Torklift International has a new factory.  We've never seen that."
Then it snowballed.
Angela: "How about Northern Lite?  They've got fresh digs in Canada.  We've never seen that."
Me: "We should go see Little Guy and the Cirrus.  We've never seen that."
This is how trouble brews at TCM HQ.  One of us says something, the other gets fired up, and suddenly we're packing the rig, grabbing the cat, and driving 3,000 miles to California.  Does this kind of thing happen at your house?  Maybe it's a "Go Anywhere. Camp Anywhere." truck camper thing.  Or maybe, as my great grandmother used to say, Angela and I just have itchy feet.
The first official stop on our impromptu "Never Seen That" Tour was Lance Campers, but we can't reveal that "never seen" item just yet.  Do you know how to keep TCM readers in suspense?  I'll tell you later.
100,000 Square Feet For FWC
Our next tour stop was Four Wheel Campers new factory.  I say "new" but they actually moved into their current 100,000 square foot facility almost five years ago.  We toured their previous factory in 2010, but had not returned since.  We were long overdue.
What follows is a photographic walk-though of the new building, production areas, and production line.  The focus of our visit was to check out the new building, and get a grip on how the significantly larger facility affected the company and product.
There's a fun irony in Four Wheel Campers – manufacturers of some of the smallest and lightest truck campers on Earth – having one of the largest truck
Looking at their new factory from the outside, the words monolithic and gargantuan come to mind.  Thankfully, there are twin palm trees and a big Four Wheel Camper logo inviting you to the entrance.  Let's go inside.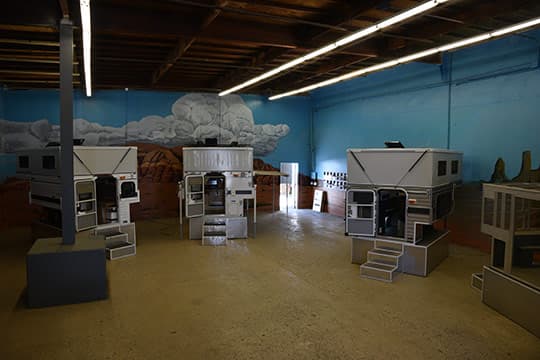 For customers who stop by, the new building has an indoor showroom where you can check out their various models and get a brochure.  The mural on the wall was painted by a local artist and helps give this area an outdoor feel.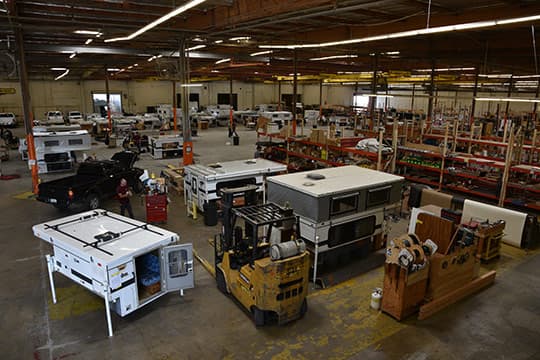 A few steps from the showroom is the service area.  Here is where Four Wheel Campers performs warranty work, repairs, and upgrades for customers.  It's not unusual for the service department to service and refurbish ten, twenty, and even thirty year old Four Wheel Campers.