TCM gets unrestricted access to the new Four Wheel Camper factory and finds itself at the wrong end of a flying forklift.  Welcome to the TCM "Never Seen That" Tour.
It all started about a month ago when Angela said, "We haven't been to the new Four Wheel Camper building.  They've been in there almost five years."
"You're right," I replied, "We've never seen that."
Angela continued, "You've been wanting to see the Eagle Cap production line now that it's at Adventurer.  We've never seen that."
Seeing where this was going, I added, "Torklift International has a new factory.  We've never seen that."
Then it snowballed.
Angela: "How about Northern Lite?  They've got fresh digs in Canada.  We've never seen that."
Me: "We should go see Little Guy and the Cirrus.  We've never seen that."
This is how trouble brews at TCM HQ.  One of us says something, the other gets fired up, and suddenly we're packing the rig, grabbing the cat, and driving 3,000 miles to California.  Does this kind of thing happen at your house?  Maybe it's a "Go Anywhere, Camp Anywhere" truck camper thing.  Or maybe, as my great-grandmother used to say, Angela and I just have itchy feet.
The first official stop on our impromptu "Never Seen That" Tour was Lance Campers, but we can't reveal that "never seen" item just yet.  Do you know how to keep TCM readers in suspense?  I'll tell you later.
100,000 Square Feet For FWC
Our next tour stop was Four Wheel Campers' new factory.  I say "new" but they actually moved into their current 100,000 square foot facility almost five years ago.  We toured their previous factory in 2010 but had not returned since.  We were long overdue.
What follows is a photographic walk-through of the new building, production areas, and production line.  The focus of our visit was to check out the new building and get a grip on how the significantly larger facility impacted the company and the product.
There's a fun irony in that Four Wheel Campers manufactures some of the smallest and lightest truck campers on Earth and has one of the largest truck camper factories.
Looking at their new factory from the outside, the words monolithic and gargantuan come to mind.  Thankfully, there are twin palm trees and a big Four Wheel Camper logo inviting you to the entrance.  Let's go inside.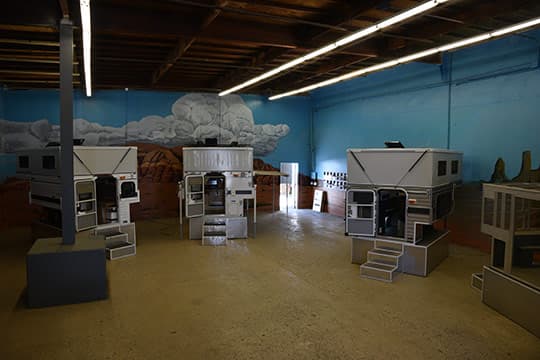 For customers who stop by, the new building has an indoor showroom where you can check out their various models and get a brochure.  The mural on the wall was painted by a local artist and helps give this area an outdoor feel.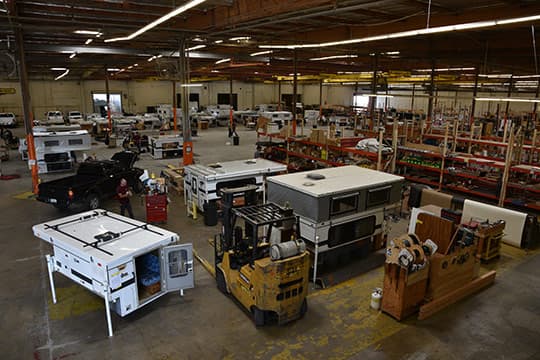 A few steps from the showroom is the service area.  Here is where Four Wheel Campers performs warranty work, repairs, and upgrades for customers.  It's not unusual for the service department to service and refurbish ten, twenty, and even thirty-year-old Four Wheel Campers.
Newer campers sometimes come in for options and upgrades keeping the service department quite busy.  Of course, the bulk of service is done by their dealer network.
Speaking of dealers, Four Wheel Campers has successfully transitioned from direct sales to dealer sales over the past decade.  In those ten years, Four Wheel Campers has opened dealers in northern California, southern California, Oregon, Arizona, Utah, Colorado, Wyoming, Texas, Wisconsin, Pennsylvania, western Canada, Germany, Zimbali, Australia, Brazil, Chile, Peru, and Taiwan, and Japan.
These dealerships, and their increasing demand for inventory, were a major reason Four Wheel Campers moved to a significantly larger facility.  Every dealer has a showroom with at least four Four Wheel Campers on display.  These include the most popular floor plans with the most popular options.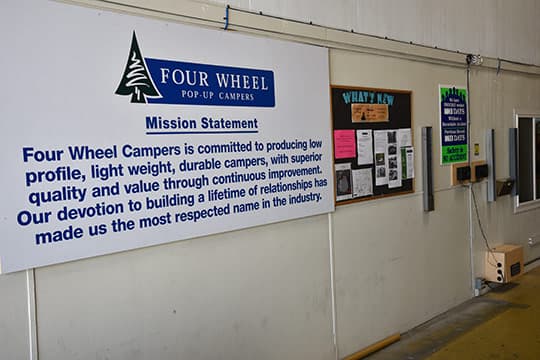 Next to where the Four Wheel Camper manufacturing team checks the bulletin board and clocks in and out for the day is the company mission statement.  As mission statements go, this one's on the mark keeping the FWC production and office team focused.  We were particularly drawn to the idea of "continuous improvement" with a product that was originally introduced in 1972.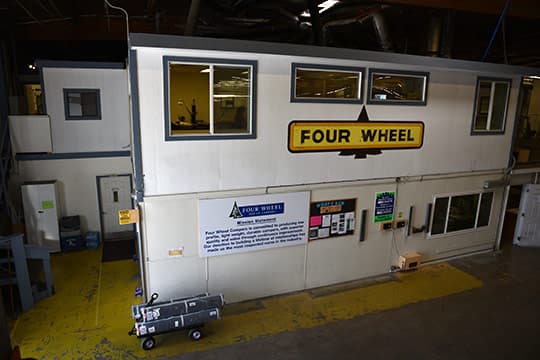 Sewing, purchasing, service, and the foreman offices are contained in a building within the main building.  Behind this building in a building are the sales, management, and administrative offices.  I took this photograph from yet another building within the main building.  That building holds a large boardroom overlooking production, and the engineering department.
Are you starting to get an idea of the scale of this place?  It's huge and as multi-faceted as any truck camper manufacturing facility we've seen.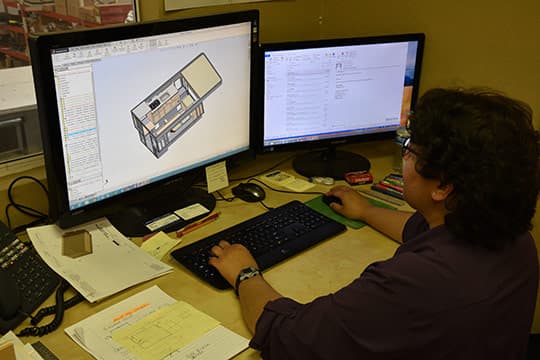 Up the set of stairs, I used to take the previous office image is where the Four Wheel Camper engineering team resides.  In this photograph, Reena Obediah, a degreed Engineer with SolidWorks certification, works on a three-dimensional layered Four Wheel Camper model.
Engineering currently has two SolidWorks computer stations responsible for generating the CAD drawings needed for the welding, cabinetry, and assembly lines.  Behind this station are at least a dozen binders full of detailed CAD drawings of every Four Wheel Camper.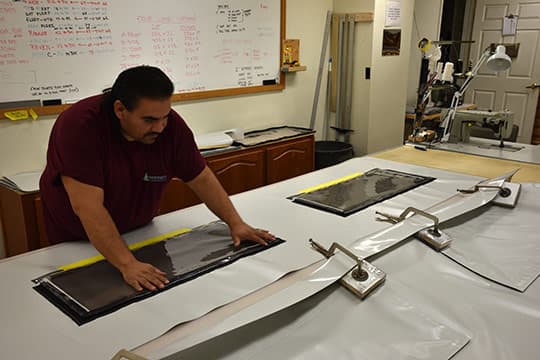 Now I've gone across the service area and up another set of stairs to the stitching department,  Here the pop-up soft walls and cushions are manufactured in house.  This has always been true, but now the sewing department has many times the square footage available allowing for more sewing stations and the ability to keep more materials and fabric templates close by.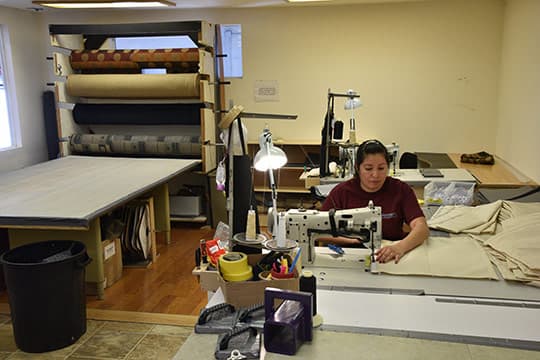 Four Wheel Campers upgraded the soft wall fabric in 2011 after Tom Hanagan, President of Four Wheel Campers, visited a manufacturer in Germany and was extremely impressed with the quality and consistency of their coated soft-wall material.  He explained that it's virtually the same material used by Zodiac to build their inflatable boats.
Celeste Hanagan, Vice President for Four Wheel Campers, shared an interesting story about a recent efficiency change in the stitching department.  She told us that there is a small detailed fabric corner piece that once took a Four Wheel Camper team member an hour to carefully cut 24 pieces.  An outside vendor with a CNC water jet table now cuts 2,800 in 40 minutes.  The best part?  The fabric team hated cutting those little pieces.
On both sides of the main production floor are storage areas large enough to house truck camper production lines of their own.  I wasn't kidding when I suggested to the Four Wheel Camper leadership team that they could have another whole truck camper line in each of these wings.  They could at least open a few bowling lanes or an indoor football field.
In these areas, Four Wheel Campers keeps everything from pallets of doors, to Dometic appliances, to small items like hardware and adhesives.  This additional space allows purchasing to buy in higher volume, pushing down cost, and ensuring there are no slow downs on the production line waiting for parts or materials.
There is also plenty of additional storage inside the main production area.  The pallets of plywood shown above are actually stored immediately next to the cabinet shop.  This allows the cabinetry team to have fast access to material, and keep an eye on the level of their wood inventory.
At their core, Four Wheel Campers are welded aluminum frame pop-up truck campers.  Naturally, that means the company utilizes a high volume of aluminum.
The aluminum shown above is ready to be fed into the aluminum cutting station on the opposite side of where this image was taken.  Again, the new building allows Four Wheel Campers to hold more aluminum and keep it closer to where production needs it.
As a side note, we found recycling bins in almost every department including cardboard, aluminum, steel, and plastic recycling.  Even the used pallets and wood scraps go to the local co-generation plant.  Foreman Chicali Segoviano can be credited with the idea.
With the additional elbow room, Four Wheel Campers has set up the new factory for peak efficiency.  For example, aluminum is pulled directly off the storage racks shown above, cut, and assembled into carefully labeled production-ready bundles.  Notice the yellow tape and labeling.  As you are about to see, organization is way of life at Four Wheel Campers.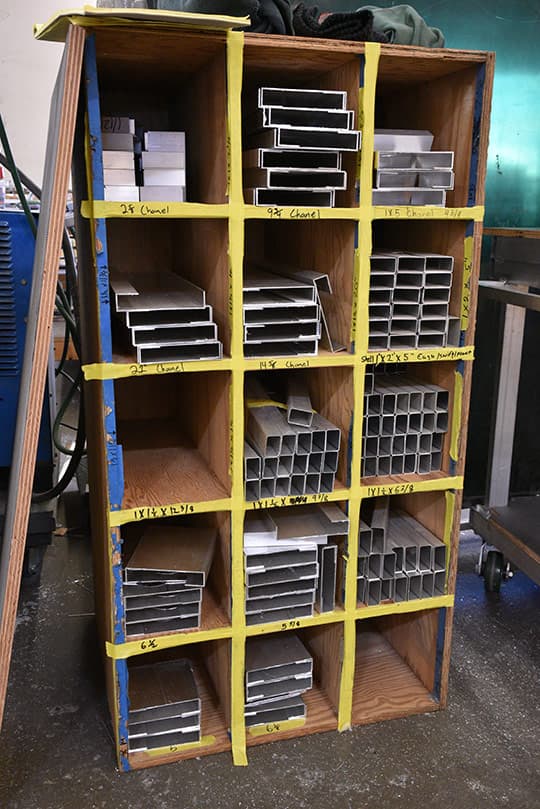 To further speed the welding process, common aluminum pieces are pre-cut and kept in well organized bins for fast and accurate sourcing.
The welding shop is literally four times as big as it was in the old plant.  In 2013, Four Wheel Campers added more MIG and TIG welding stations to meet increased demand.
Just to the side of the welding department, Four Wheel Campers keeps the frame jigs for every model they manufacture.  For anyone who enjoys assembling a well-made puzzle, inserting the pre-cut aluminum in the clearly labeled jigs would be a straightforward activity.  Heck, it might even be fun, at least once.
Note that the jigs shown above are often double-sided with more than one model or one frame assembly on each side.  This allows for even more efficient storage.  We also noted the frames for international trucks, including a Taiwan model, and the Europe-only Volkswagen Amarok.  I want one of those!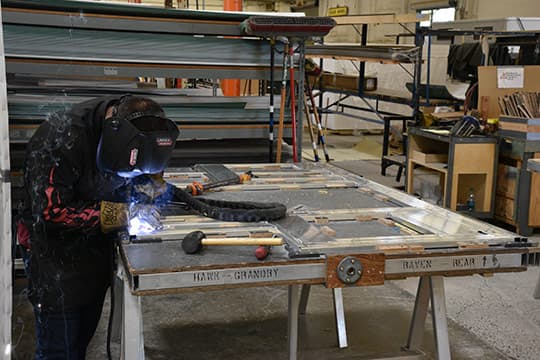 In this photograph, you see a welder who has assembled a frame in a jig and is now welding that frame together inside the jig.  Once he is done welding the frame, he can lift the frame directly out of the jig.  Using this method, the same jig can make thousands of truck camper frames.
One major advantage of the larger welding shop is the ability to keep the more popular jigs permanently out and ready to go.  When it's time to build a Fleet or Hawk, the jig is there, the materials are cut, and the welding team can get right to work.
Today 40% of production is for the Toyota Tacoma (Fleet model).  Another 40% is for short bed full-size trucks (Hawk model).  The remaining 20% runs the gamut, including specialized exports for Europe, South America, and Asia.  You better believe the Fleet and Hawk jigs are out and the crew is welding aluminum camper frames every single work day, Monday through Saturday.
With the additional space, Four Wheel Campers has more stations, with more welders, who have the space to work more efficiently without the possibility of sending a hot welding spark down the next guy's pants.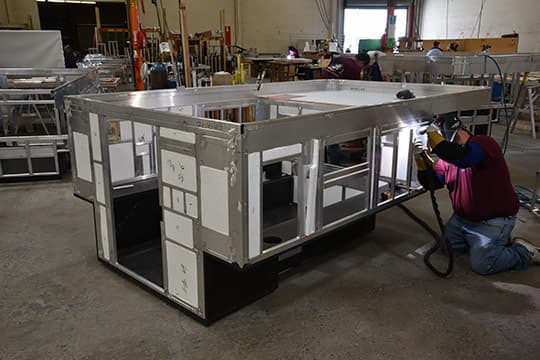 The addition of staging areas was another welcome addition afforded by the new factory.  This camper frame is still in the welding shop and has already been stuffed with closed-cell insulation.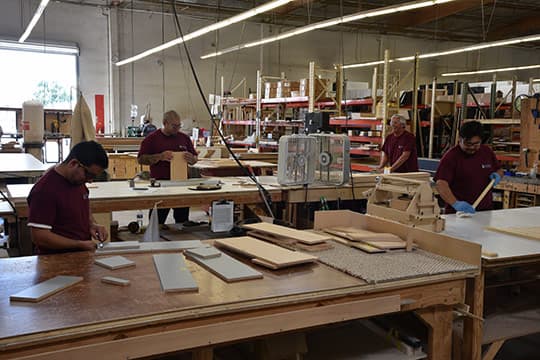 The wood shop increased in size by a factor of three and, again, the theme of more space, more stations, and more team members repeats itself.  Like the welders, each cabinet team member has plenty of space to work, and room to place the materials and completed pieces they're working on.
Even with that massive increase, there are plans to grow the wood shop further by restructuring how materials and inventory are stored.  Even now, there is space around the wood shop where expansion could be realized quickly.  When they're ready, more space is on tap and ready to go.
Remember how the aluminum was carefully pre-cut, and bundled for production?  Well, the same methodical approach carries over into the cabinetry shop.  In the photos above you'll see bundled and labeled piles ready for the next manufacturing step, and another bin full of pre-cut parts ready to go.
We also noticed that the labeled pieces went into labeled parts.  The labeled parts often stated the exact camper and order they were for, with arrows to designate the up position.  If only IKEA furniture was this well labeled I would have a few less, "I nearly IKEA'd myself building that" stories.  You know what I mean.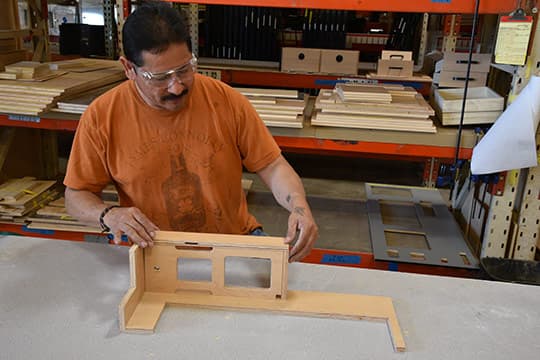 What we did not see, despite some extremely intricate pieces and assemblies (see above), is a CNC machine.  Four Wheel Campers has begun to outsource some of their more detailed pieces to local CNC vendors.  Rather than purchase the expensive CNC hardware directly, they are challenging local vendors to help them find opportunities where CNC technology can save production time while improving quality.  This is ongoing, and an area where the leadership at Four Wheel Campers is excited to push further.
When pressed on this subject, Tom explained that local vendors could CNC cut more complex and time-intensive pieces from wood, composites, and even fabric (water jets) saving the in-house production team enormous amounts of time while improving the tolerances and part-to-part consistency of those pieces.  The CNC vendors can even pre-drill holes and eliminate other time-absorbing detail work.
We asked if the employees were threatened by this approach.  According to Tom, they welcomed the change as the pieces in question slow their productivity down.  More production means the factory is more profitable giving the workers the opportunity to make more money.  Besides, who likes annoying repetitive tasks that slow them down?  Maybe we can outsource Harley's litter box.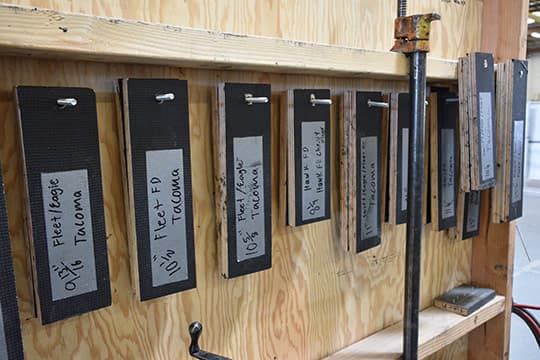 This is a scene that we discovered throughout the factory; labeled jigs lined up and clearly marked right where the workers need them.  In an era where everyone uses buzz words like Lean Manufacturing (aka the Toyota method), Four Wheel Campers' production team is using common sense and organizational discipline.  Seeing their factory, made us think about how we can better organize our work practices.  It's infectious!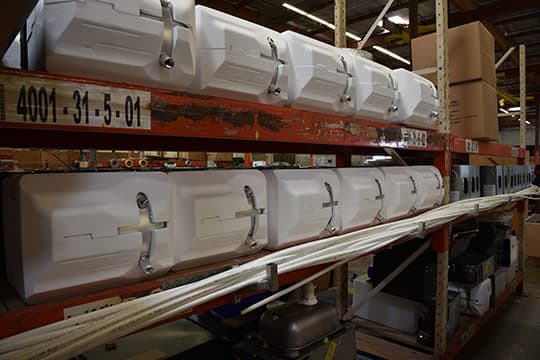 For the conspiracy theorists among you (and we know who you are) Four Wheel Campers only had a few days warning before we arrived and these hot water heaters were down an aisle no one visiting the factory would probably ever see.  But there they were, lined up water heaters for goodness sake!  And look at how neatly they store the PVC underneath.  It's too much!
Perhaps nowhere did we see the direct benefit of more space than in the roofing department.  There are now four roof assembly tables, plus the lift panel system jig.  This change easily doubles the roof capacity over the previous Four Wheel Camper factory, if not more.
Four Wheel Camper lift panels had been made from Indonesian mahogany.  The new fiberglass-reinforced resin panels are not only more environmentally friendly but are also stronger, impervious to rot, and precision cut via CNC machine by an outside vendor to significantly higher tolerances.  Tom told us that the new lift panels are four times as expensive, but are much better quality.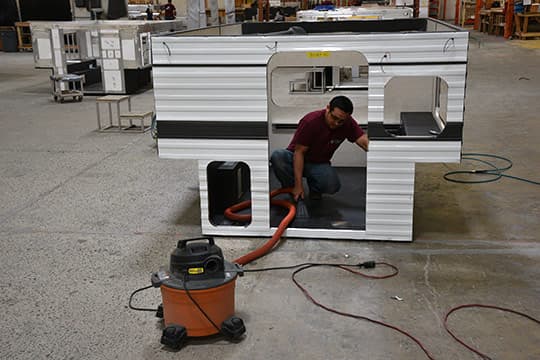 Look at all of the photographs in this article and you will notice how incredibly clean the Four Wheel Camper factory is.  Even the units are vacuum cleaned during the manufacturing process.  This helps to avoid the usual piles of wood and aluminum shavings many of us discover throughout our truck campers, sometimes years after the purchase.
Here's something we didn't see during our last factory walk-through; their custom plumbing, electrical, and gas systems testing cart.  Before entering final finishing, every Four Wheel Camper is tested at this station.
After leaving final finishing, every Four Wheel Camper is weighed on an Intercomp SW500 E-Z scale system by the service department.  This is the same scale system used by many truck camper manufacturers and dealerships.  We applaud Four Wheel Campers for having the Intercomp SW500 E-Z scale system and using it for every manufactured unit.
The actual weight is marked on the Certificate of Origin included with each camper.  We suggested that the actual weight should be also marked on the back of the camper, a suggestion Tom is considering.  Of course, this is a suggestion we promote to the entire truck camper industry, not just Four Wheel Campers.
Over the years we have tested the Intercomp SW500 E-Z scale system on multiple occasions and found it to be extremely accurate.  In our opinion, every truck camper dealership should have an Intercomp SW500 E-Z scale system on hand and ready to go for customers.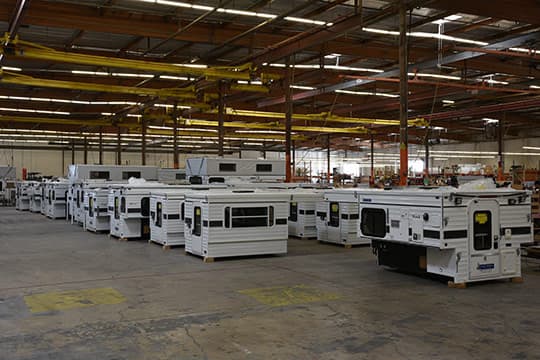 On the far left side of the production plant are the results of their new facility – increased material storage, larger production areas, and additional team members.  About two dozen finished campers wait ready to be shipped to dealers all over the world.
Note the small units in the first row.  Those are uniquely designed Four Wheel Campers that are shipped to Taiwan for a type of truck available there.  Evidently, about one container of Four Wheel Campers also goes to Japan every month.  That's right, Four Wheel Campers are a hit in Japan!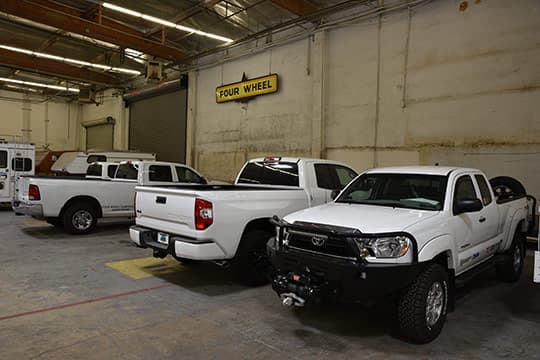 If you needed one more sign that Four Wheel Campers has plenty of room in their facility, here are three.  Inside the factory near the finished units, they keep their show and delivery trucks.  These vehicles are used for events and delivering units to dealers.  The tricked-out truck on the far right belongs to Tom Hanagan and has been seen at Overland Expo East and West.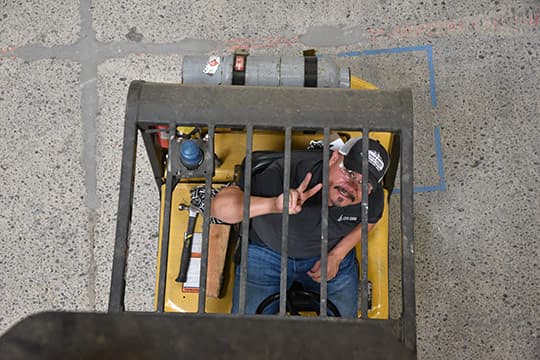 Still not satisfied that we showed just how big and well organized the new Four Wheel Camper facility is, we asked Chicali Segoviano, Foreman, to hoist us up on a forklift to take some "aerial" photography.  From this vantage point, the scale and flow of the plant are immediately more apparent.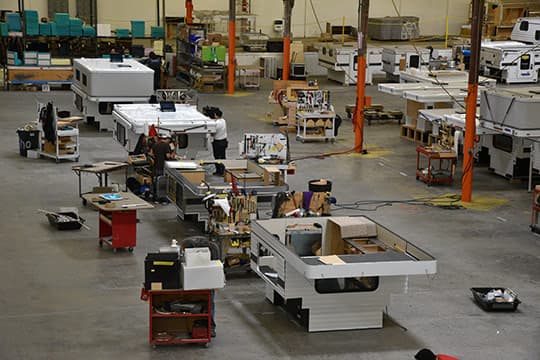 "Wow, it's wide open.  And look at all the room to grow."
These are the phrases that raced through my mind as I peered down at the Four Wheel Camper factory and production line.  Tom later told us that keeping the facility spread out helps to improve worker safety and quality control.
As Tom explained it, employees don't need to worry about bumping into one another, and the campers are much less likely to get damaged when there's so much working space around them.  Tom also emphasized how the increased space has made working at Four Wheel a better experience for everybody.
We could see how the production teams now have ample elbow room and personal space to focus on their work.  Tom added that the improvements in safety and quality have been profound.
Four Wheel Campers is now producing twelve truck campers a week.  That's in line with many of the major hard side manufacturers.
The challenge for Four Wheel Campers will be maintaining this open atmosphere as production volume and intensity increase.  That said, even a casual observer can see plenty of room for a third production line.  This plant is ready for the future.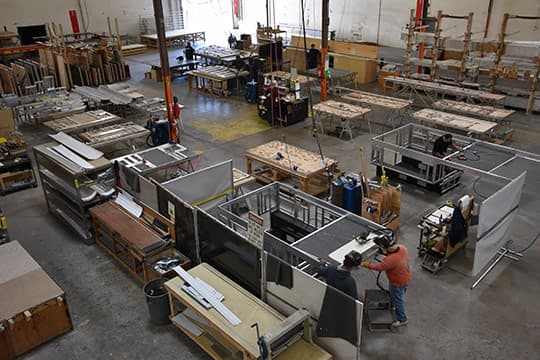 From altitude, you can see the approximately twelve set-up work stations, jigs, and in-production units in the welding shop.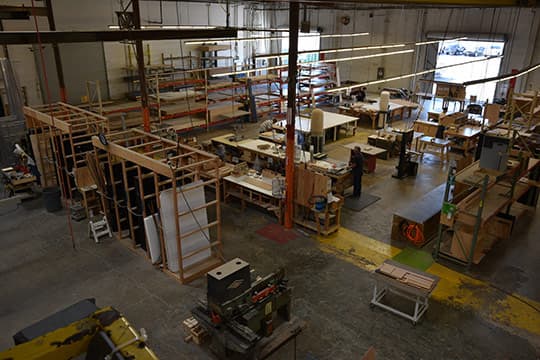 Next we rolled over to the wood shop.  Check out the wide open space and another dozen or so stations for cutting, routing, batching, and finishing work.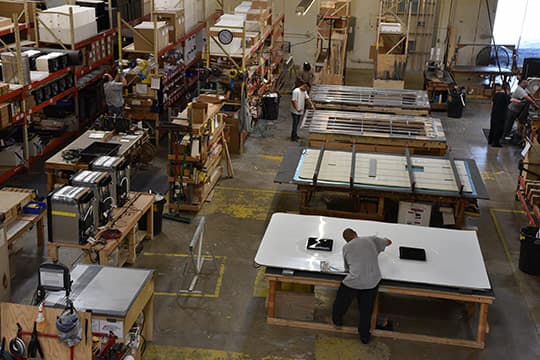 It's easy to see all four roof stations from up here.  In this photograph, you can see the progression of this line from aluminum frame (top) to finished roof (bottom).  Okay Chicali, let me down.  Chicali?  Don't leave me here!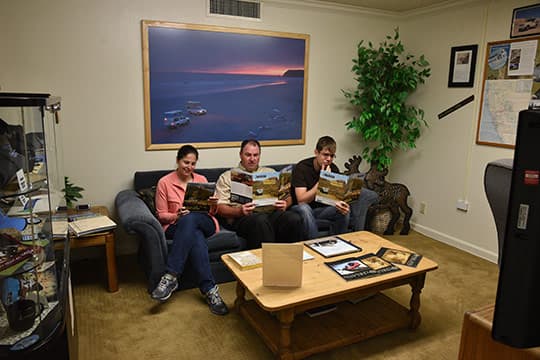 Left to right is Angela White, Stan Kennedy, and yours truly warming up the comfy sofa in the waiting room.  Here you can watch TV, soak in some WIFI, read Overland Journal, or check out the many letters sent in by happy Four Wheel Camper customers that adorn the side walls.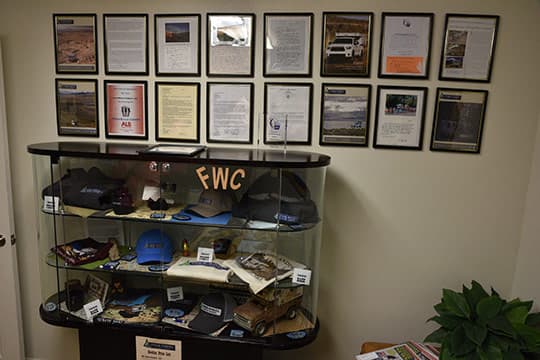 The display cabinet showcases Four Wheel Camper merchandise.  It goes without saying that any self-respecting Four Wheel Camper customer needs a Four Wheel Camper baseball hat.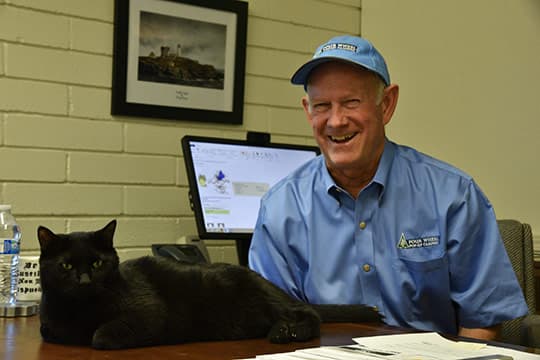 If there's one thing that hasn't changed at Four Wheel Campers, it's the management's love of cats.  Here Tom Hanagan, President of Four Wheel Campers, poses with Fozzie.  For the moment, Fozzie has graciously decided to let Tom sit at his own desk.
As the photograph clearly shows, Fozzie shows no concern for Tom's top-dog title and demands constant attention.  Talking on the phone to an important customer?  Fozzie does not care and demands petting.  Reading a proposal from a critical vendor?  Fozzie does not care and demands petting.  Posing for a picture for Truck Camper Magazine that will be seen by tens of thousands all over the world?  Fozzie does not care.  Pet him now, or else.
Wrap It Up
So there you have it.  The company making some of the smallest truck campers on Earth has one of the largest truck camper factories on the planet.  With their new factory, Four Wheel Campers has the room to run, and play, with the big boys.
Once we got past the much bigger facility, the other macro themes we gathered from Four Wheel Campers were their continuous push towards organization, ergonomics, and improving production.  Spend an hour at their facility and you will see exactly what I mean.
Add to this their growing interest in outsourcing CNC manufactured parts and you have a recipe for more growth.  Growth while maintaining quality will always be the challenge for any quality-oriented company that's experiencing surging sales.  Based on the organizational structure and discipline on display in every corner of Four Wheel Campers' new building, we have no doubt they will meet this challenge, and exceed it.
To visit the Four Wheel website, go to fourwheelcampers.com. Click here for a free Four Wheel brochure.