Another customer wanted a free standing table and chairs.  They were ex-fifth wheel owners.  If they remove our modular dinette, they would have two exterior compartment doors that open to the inside of the camper, but no storage.  There will be some give and take.  How a customer finishes off the exterior storage might be a learning curve.  This is the first step to moving forward and thinking out of the box.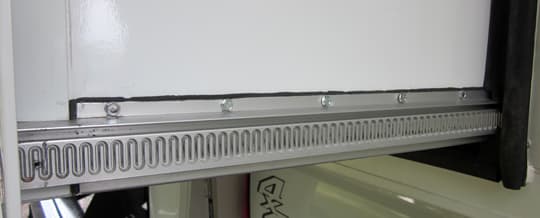 Above: For 2015, Eagle Cap is using only Schwintek slide mechanisms
TCM: For 2015, Eagle Cap is changing all slide mechanisms to Schwintek slide mechanisms.  Why is Eagle Cap making this change?
Greg: We've been testing the Schwintek slide mechanisms for three or four years.  When we first installed the Schwintek systems, we had lots of issues.  There were problems with installation instructions, problems with the motors, problems with the motor sequencing, and the system needed rollers to support the weight of the slide rooms.
All of these issues have now been addressed.  Since working with the company last year, we have had zero Schwintek slide mechanism problems.  The motor has been changed, the install is solved, and the sequencing and programing of the brain has been fixed.
By using Schwintek slide mechanisms, we are further reducing the weight of our campers and lowering the interior profile of our slide rooms.  The Schwinteks also draw less power from your batteries, which is great for dry camping.  We also like the way Schwintek slides seal and self adjust.  The Schwintek slide mechanisms are more expensive, but it was time to make the change for our 2015 Eagle Cap models.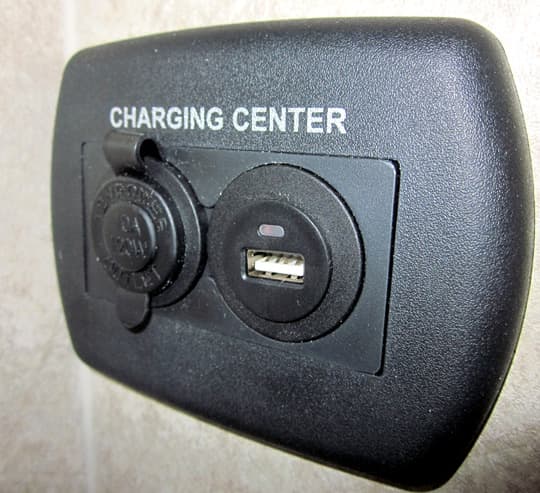 Above: The new 12-volt USB charging station ports
TCM: Tell us about the new 12-volt USB charging station ports.
Greg: The 12-volt USB charging station ports are another customer driven request.  We look carefully at the annual Truck Camper Magazine reader surveys.  From those surveys, and our own customer and dealer feedback, it was clear that we needed to add more 12-volt and USB charging places in our truck campers.
To keep within RVIA safety codes, we have a 12-volt on one side of the overcab and a 110-volt outlet on the other side.  The dinette has the USB power center, so people can charge their devices when they're in the dinette.  Customers have asked for that many times.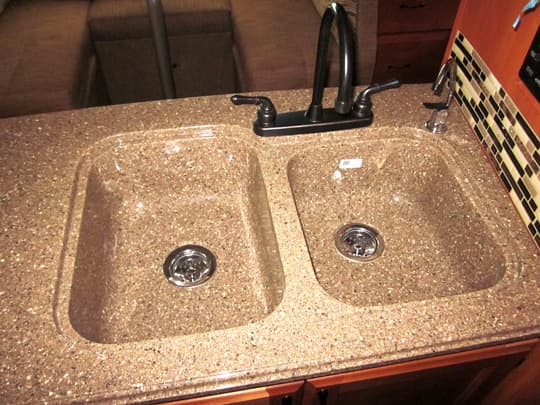 Above: One-piece molded sinks
TCM: Tell us about the new one-piece molded sinks Eagle Cap is announcing for 2015.
Greg: For 2015 we had new one-piece sink and counter top molds made for every Eagle Cap model.  We started with one-piece molded sink and counters in the 1165 last year and it was very well received.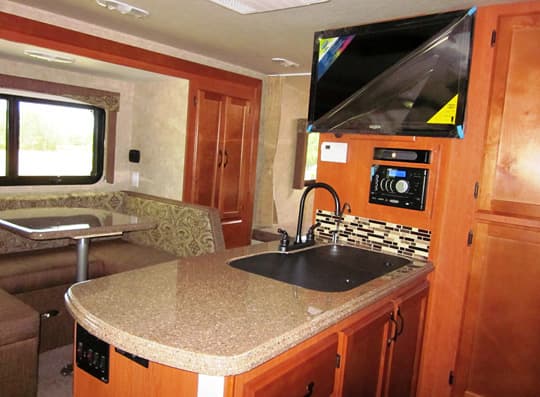 Above: The one-piece molded sink in the Eagle Cap 1165
TCM: Eagle Cap is changing to low-profile 13,500 BTU air conditioners for 2015.  Will the new air conditioners run off a portable 2,000 watt generator like a Honda EU2000i?
Greg: Yes, they will, although they will not run on a portable 2,000 watt generator at high elevations.  This is another customer driven request that we have heard.  The lower profile air conditioners are more money, but we can order in volume so the price comes down.