TCM takes an up close look at the 2013 Eagle Cap 1165 triple-slide truck camper, the first camper with a kitchen peninsula.  It's a triple-slide sofa camper, to go!

You would have thought a alien space craft had landed when people first caught a glimpse of the Eagle Cap 1165 at the Austin RV Expo this past February.  "Wow!  That's a truck camper?" folks would exclaim, eyes wide open in amazement.
"Yes, it is." we would answer.
The next statement was so predictable it became comedy.
"You must need a big truck!"
"Yes, you do."  More on that later.
There can be little doubt of what the show attendees were responding to at the show.  From any perspective, the 1165 camper is an all-out assault on the state-of-the-art in luxury multi-slide truck campers.  For those attending the Austin RV Expo who had never seen a modern truck camper, it's no wonder that the 1165 triple-slide was quite a shock.
After the Expo, Angela and I headed to Princess Craft Campers in Round Rock, Texas to see their new dealership and inventory for a few days.  There we found not one, but three Eagle Cap 1165 triple-slide truck campers on hand.
Contact Eagle Cap about the 1165.

The front roof-to-bottom wrap-around molded-fiberglass front cap has been a signature feature for Eagle Cap campers since the beginning.  Even now, the large molded fiberglass cap is impressive.  On several occasions I took show attendees to the front of the 1165 to show them this key component and explain its weather seal benefits.
Speaking of which, I made sure to practice saying, "front roof-to-bottom wrap-around molded-fiberglass front cap" three times fast before entering the show each morning so I wouldn't embarrass myself with customers.  Try it, it's not easy.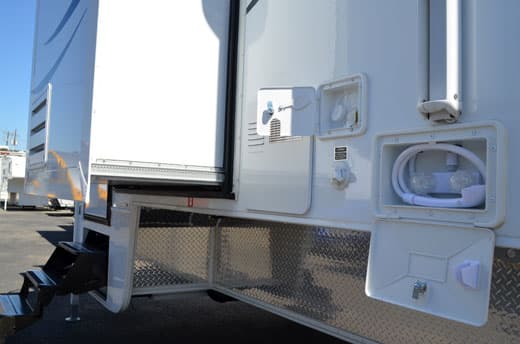 The passenger side of the 2013 Eagle Cap 1165 features an outside shower, water fill for the 75 gallon fresh water tank, city water connection, and hot water heater panel.
Wait a minute!  Did I just write, "75 gallon fresh water tank"?  Does anyone in their right mind really need a 75 gallon fresh water tank in a truck camper?  I know there's someone out there shouting, "I do!  I do!".  There's always one in every bunch.  To that guy, please keep in mind that 75 gallons of water weighs 625.5 pounds, and then watch this video: http://www.youtube.com/watch?v=hkowSvletoE
Of course there's no law that says you have to fill your fresh water tank.  My advice would be to only fill this monstrous tank when you're planing to boondock for a week, or more.  Otherwise, half-way full is still a stupid plenty 37.5 gallons of water.
I'll take this point one step further by saying that I would want a more accurate SeeLevel RV Gauge on this fresh water tank so I didn't accidentally fill more than half the tank.  Maybe Eagle Cap could add a SeeLevel to their option list or at least install one if you custom ordered your 1165 from the factory.  The folks we know with SeeLevel gauges love them.
Another important feature to notice in the photograph above is the Schwintek in-wall slide mechanism on the kitchen slide-out.  Greg Tucknies, Sales and Marketing Manager for Adventurer Manufacturing, explained to us at Louisville in 2011 that the Schwintek in-wall slide was used for the kitchen slide-out because it offered more flexibility in the 1165's kitchen design.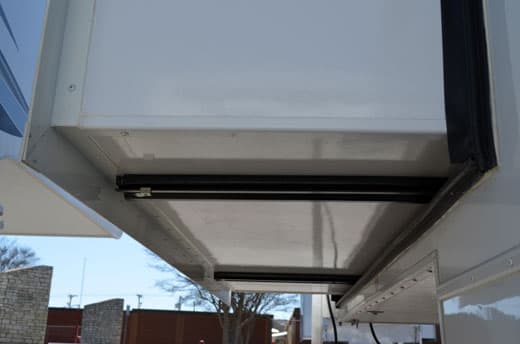 This photograph shows the more traditional Lippert floor slide mechanisms Adventurer Manufacturing chose for the dinette slide-out (shown) and rear sofa slide-out.