TCM takes an up close look at the 2013 Eagle Cap 1165 triple-slide truck camper, the first camper with a kitchen peninsula.  It's a triple-slide sofa camper, to go!

You would have thought a alien space craft had landed when people first caught a glimpse of the Eagle Cap 1165 at the Austin RV Expo this past February.  "Wow!  That's a truck camper?" folks would exclaim, eyes wide open in amazement.
"Yes, it is." we would answer.
The next statement was so predictable it became comedy.
"You must need a big truck!"
"Yes, you do."  More on that later.
There can be little doubt of what the show attendees were responding to at the show.  From any perspective, the 1165 camper is an all-out assault on the state-of-the-art in luxury multi-slide truck campers.  For those attending the Austin RV Expo who had never seen a modern truck camper, it's no wonder that the 1165 triple-slide was quite a shock.
After the Expo, Angela and I headed to Princess Craft Campers in Round Rock, Texas to see their new dealership and inventory for a few days.  There we found not one, but three Eagle Cap 1165 triple-slide truck campers on hand.
Contact Eagle Cap about the 1165.

The front roof-to-bottom wrap-around molded-fiberglass front cap has been a signature feature for Eagle Cap campers since the beginning.  Even now, the large molded fiberglass cap is impressive.  On several occasions I took show attendees to the front of the 1165 to show them this key component and explain its weather seal benefits.
Speaking of which, I made sure to practice saying, "front roof-to-bottom wrap-around molded-fiberglass front cap" three times fast before entering the show each morning so I wouldn't embarrass myself with customers.  Try it, it's not easy.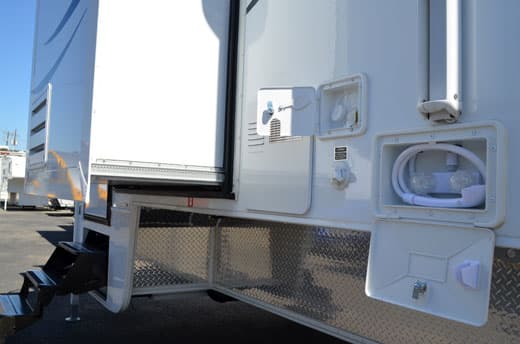 The passenger side of the 2013 Eagle Cap 1165 features an outside shower, water fill for the 75 gallon fresh water tank, city water connection, and hot water heater panel.
Wait a minute!  Did I just write, "75 gallon fresh water tank"?  Does anyone in their right mind really need a 75 gallon fresh water tank in a truck camper?  I know there's someone out there shouting, "I do!  I do!".  There's always one in every bunch.  To that guy, please keep in mind that 75 gallons of water weighs 625.5 pounds, and then watch this video: http://www.youtube.com/watch?v=hkowSvletoE
Of course there's no law that says you have to fill your fresh water tank.  My advice would be to only fill this monstrous tank when you're planing to boondock for a week, or more.  Otherwise, half-way full is still a stupid plenty 37.5 gallons of water.
I'll take this point one step further by saying that I would want a more accurate SeeLevel RV Gauge on this fresh water tank so I didn't accidentally fill more than half the tank.  Maybe Eagle Cap could add a SeeLevel to their option list or at least install one if you custom ordered your 1165 from the factory.  The folks we know with SeeLevel gauges love them.
Another important feature to notice in the photograph above is the Schwintek in-wall slide mechanism on the kitchen slide-out.  Greg Tucknies, Sales and Marketing Manager for Adventurer Manufacturing, explained to us at Louisville in 2011 that the Schwintek in-wall slide was used for the kitchen slide-out because it offered more flexibility in the 1165's kitchen design.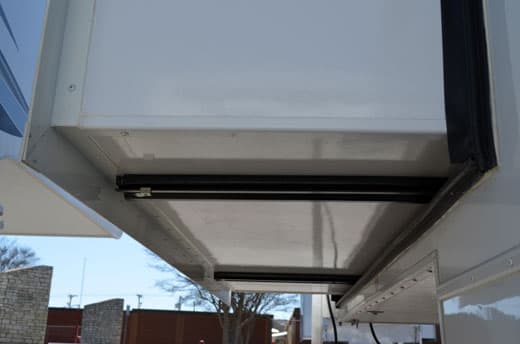 This photograph shows the more traditional Lippert floor slide mechanisms Adventurer Manufacturing chose for the dinette slide-out (shown) and rear sofa slide-out.
This hybrid approach to slide mechanisms in the 1165 is in-line with Adventurer Manufacturing's long standing, "right tool for the job" design culture.  For example, some of Adventurer Manufacturing's campers use a hybrid of wood and aluminum framing, depending on which material offers the best performance (strength to weight) for a particular part of the frame.
The Eagle Cap 1165 features an all-aluminum frame as the Adventurer Manufacturing design team believes aluminum was the right material for their triple-slide.
We appreciate Adventurer Manufacturing's objective, "right tool for the job" approach to materials, design, and components.  Too often we find design cultures that don't allow deviation from the, "this-material-is-always-better-than-that-material" or "this-slide-system-is-always-better-than-that-slide-system" mindset.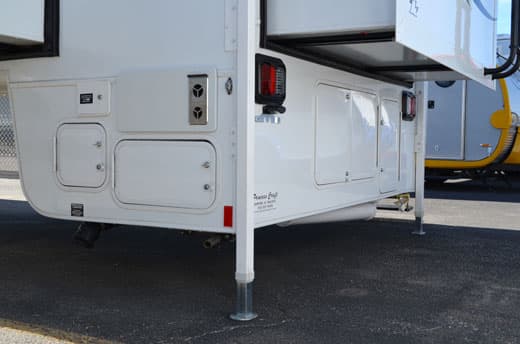 The rear skirt on the 1165 contains a Swiss Army knife of compartments, utilities, access panels, exhaust vents, and storage.

Under the rear soft slide-out are two compartments; the basement and the propane compartment with two 30-pound propane tanks.  Under these compartments to the underside of the camper is a PVC dump hose container.  We are pleased to see the dump hose container close to the dump valves and facilities (see below).
We're not wild about the PVC dump hose containers as the end cap can be tricky to thread, but we're not sure what would make for a better solution.  The 1165 does not have a rear bumper where the hose could be stored, nor are we that fond of the shallow sewer hose compartments that require the hose to be condensed, spilling down the side of the camper.  Okay, the PVC dump hose is probably the best solution, but how about a better cap system?  I know, nit-pic, nit-pic.
The exterior of the 1165 features all-LED lighting.  The clear LED marker lights are particularly cool giving the camper an even more modern aesthetic.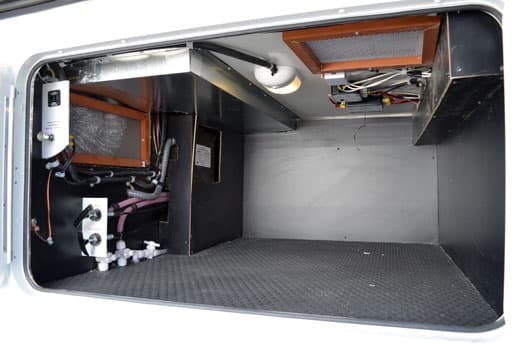 The rear of the 1165 features a gigantic basement storage area with convenient access to the black and grey dump valves, battery disconnect switch, Lippert and Schwintek slide controllers, and low drain points.  Just be sure whatever you store in this basement space is secure so it won't rub or break the exposed PEX plumbing and dump valves.

The driver's side rear skirt contains an optional Cummins Onan RV QG 2500 LP propane generator, a battery compartment that can hold two Group 27 batteries (possibly more depending on the exterior dimensions of the batteries), an attached shore power cord, and the propane heater vent.
You may have noticed that the fresh water features and connections are on the passenger's side and the electric and battery features and connections are on the driver's side.  This means you may need an extra long city water hose or electric extension cord depending on the campground.
For anyone who just fainted, yes, some of us stay at campgrounds.  Truck campers may be able to, "Go Anywhere" and "Camp Anywhere", but sometimes that means camping at a KOA or some other commercial campground.  It's not a sin my boondocking friends.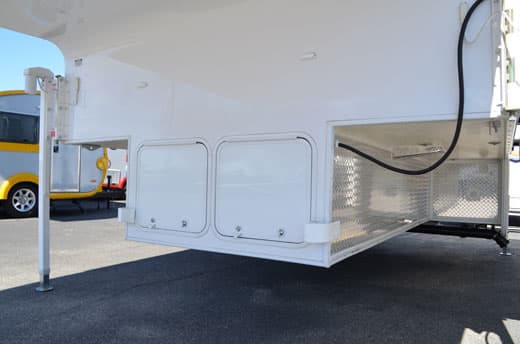 There has been a growing trend with multi-slide camper design to put large battery compartments or system access doors on the lower front wall of truck campers.  On the Eagle Cap 1165 there are two large access doors that reveal the holding tanks and water pump.
These compartments will allow the owner to check and maintain the the tanks, tank sensors, plumbing lines, and water pump.  Any time a manufacturer can give us easier access to things that could need maintenance, we are thrilled.  Thank you Adventurer Manufacturing.
There are five stickers worth pointing out on the exterior of the Eagle Cap 1165.  The "EC-MAX" sticker designates that the 1165 is insulated for four-season use.  More specifically, Adventurer claims insulation R-values of R-17 in the ceiling, R-11 in the side walls, and R-22+ for the basement/floor.  The windows on EC-MAX labeled units are thermal pane.
Directly underneath the EC-MAX sticker is a RVIA Seal from the Recreational Vehicle Industry Association.  The RVIA Seal certifies that Adventurer Manufacturing complies with the 500 safety specifications for electrical, plumbing, heating, and fire safety established by the National Fire Protection Association (NFPA) Standard for RVs.
The next sticker is the exterior weight sticker, which we suggest you completely ignore in favor of the excellent dry weight with options sticker posted on the inside of the unit (see photo below).
In general, exterior weight stickers aren't worth a hoot as they represent the lightest possible version of the camper, without options.  Following this sticker on any truck camper is almost always a guaranteed way to under estimate the true weight of your camper by hundreds of pounds, or more.
We actually get excited when we see red and white center of gravity stickers on a truck camper (see top right corner of the top right photo).  These arrows clearly show where the center of gravity is on the camper, a point that should always be in front of the rear axle.
It's been said before and it needs to be said again, Adventurer Manufacturing is to be commended for clearly marking the center of gravity and the dry weight with options (see inside sticker below) on their campers.  Absolutely every truck camper manufacturer should follow this practice.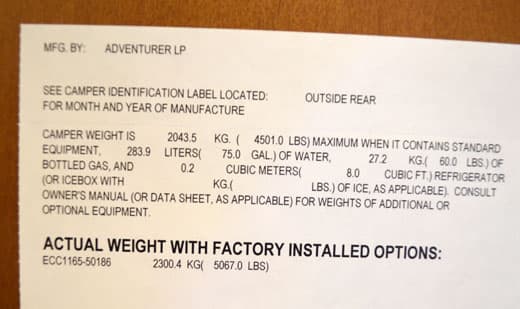 Adventurer Manufacturing individually weighs every truck camper before it leaves their factory and puts the dry with options weight on an inside cabinet door.  The Eagle Cap 1165 in this review weighed 5,067 pounds dry, with options.  When we put this dry weight in to the Truck Camper Magazine wet weight formula, you get the following:
Eagle Cap 1165: dry weight, 5,067 pounds + 75 gallons fresh, 625.5 pounds + 6 gallon full hot water heater, 50 pounds + 2x 30-pound full propane tanks, 54 pounds + 2 batteries, 130 pounds + stuff, 500 pounds = 6,426.5 pounds
To be fair, 6,426.5 pounds includes a lot of options, 500 pounds for you and your stuff, and a full 75-gallon water tank.  If you pack reasonably, and only fill the tank half way, you should be able to keep that weight a little closer to 6,000 pounds.
And let's not forget that this is a 11'6" a triple-slide truck camper built above the rails with two-inch walls, a front roof-to-bottom wrap-around molded-fiberglass front cap, and just about every luxury option the market has to offer.  This was never going to be a light weight truck camper.
What the camper weight of 1165 means is the same thing the camper weight means for any truck and camper rig.  You need to carefully match this camper to a truck with a payload equal or greater than the weight of the camper.  For the 1165, that means you need a truck with at least 6,000 pounds of payload.
The good news is that one-ton trucks with over 6,000 pounds of payload are available from Ford and Chevy/GMC.  You will probably have to special order a truck to get this kind of payload, just as we did when we special ordered our 2013 Chevy Silverado 3500.

The 1165 features Happijac 4800 remote control electric jacks.  This was a surprise to us as we had never heard of the 4800 series jacks at the time we reviewed the camper.  We will be following up with Happijac for more information on the 4800 jacks.
The front wall of the Eagle Cap 1165 features Adventurer Manufacturing's camper guides.  These unique guides are designed to aid camper loading and avoid possible damage should the camper come into contract with the inside wheel wells and act as bump stops against the front of the pickup bed.
The underside sidewalls of the 1165 are protected by diamond plate.  The top right image also shows the rail-height basement that is in the 1165.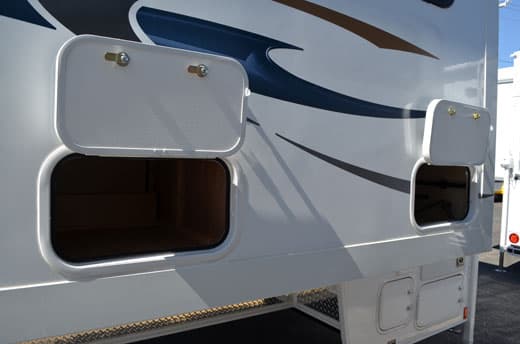 The driver's side slide-out has two exterior storage compartments.  Exterior compartments are always a plus, however an owner will need to be careful not to dirty the carpeting inside these compartments.  Ideally, these compartments would feature linoleum floors, but that could create production challenges.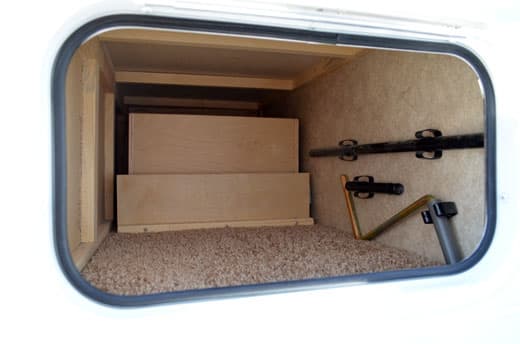 PJ Buerger, Owner of Princess Craft Campers, helped us to identify the items in the rear driver's side compartment; cranks for manually bringing in the dinette slide and rear sofa slide.  We really appreciated how these tools are neatly and securely fastened to the side wall of the compartment.  Nice touch.
Deeper into the compartment you can see the inside drawer that's under the dinette seat.  The fit and finish on display in this compartment is excellent.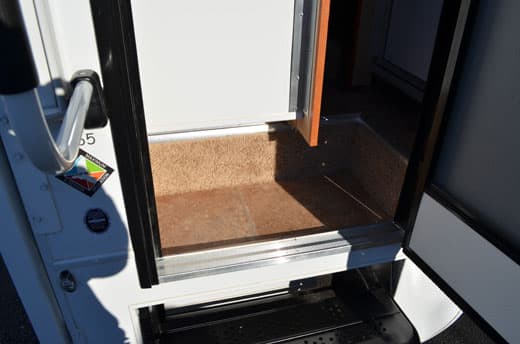 Now we need to answer the, "Can you get to the bathroom without putting the slide-outs out" question.  The answer is no.  Unless you're Spiderman, or just enjoy climbing up and over things, there's no way to access the bathroom in the 1165 with the slide-outs in.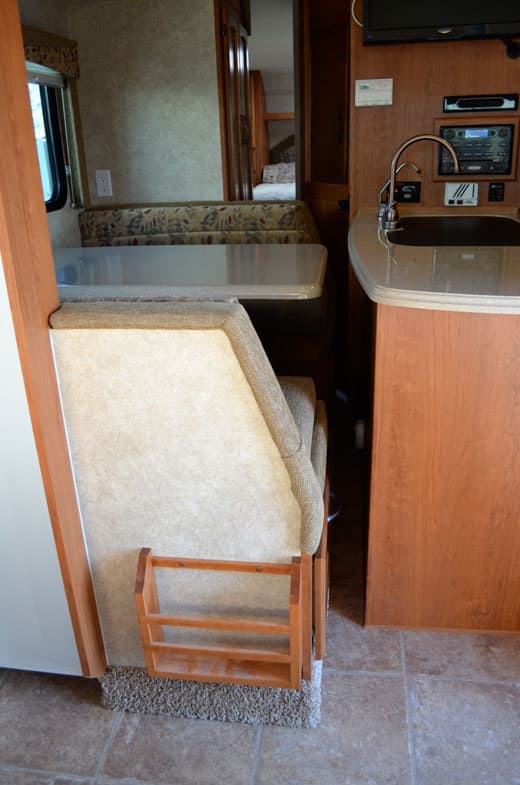 Even with the rear slide-out pushed out, getting to the bathroom is still blocked by the dinette slide.  The kitchen slide can stay in, but the rear sofa slide and dinette slide have to go out to access the bathroom.
Then again, you can start singing, "Spiderman, Spiderman.  Goes anywhere a spider can." and go for it!  If I still had my Spiderman Underoos, I would.  "Look out!  Here comes the Spiderman!"

The first thing you're going to need to do when you open the side door on the 1165 is put out the slides.  To do this, there is a panel of nine switches just inside the door, five of which control the three slide-outs, three are for lights, and one is for an electric awning.  If you have read any of my previous reviews featuring electric awnings (like the 2013 Adventurer 89RB review), you already know how I feel about them; they rock!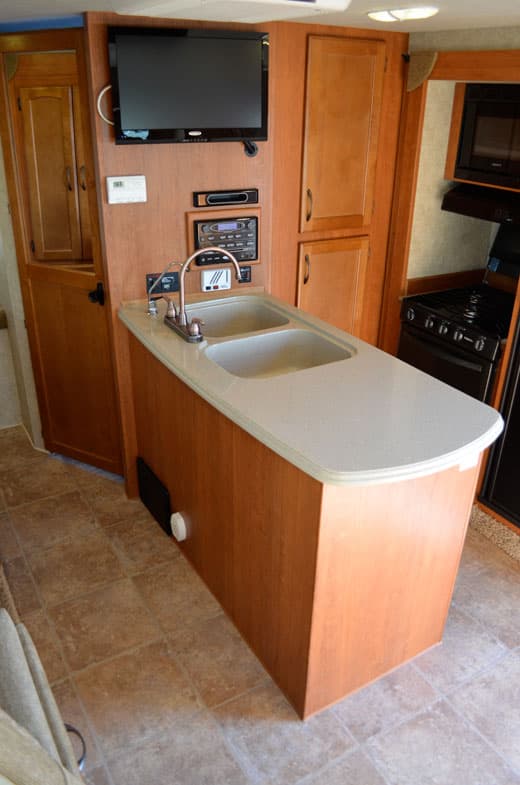 The kitchen peninsula floor plan looks and feels more like a small fifth wheel, or apartment for that matter, than a truck camper.  It's stunning.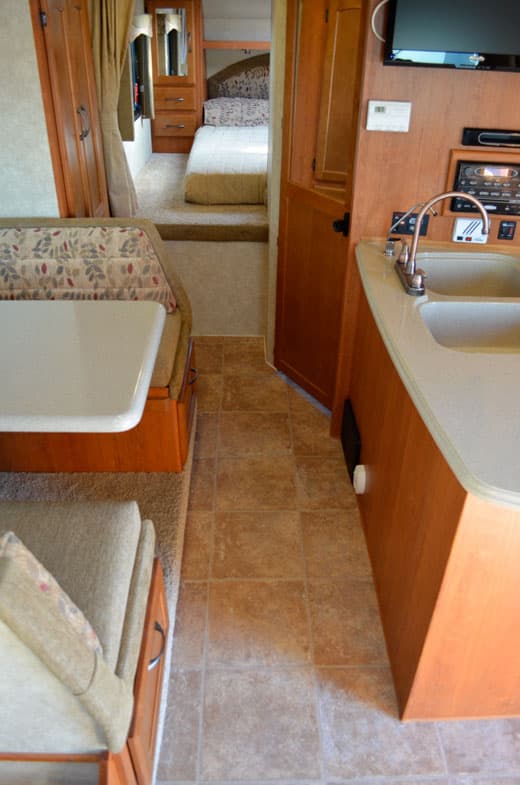 With the peninsula design, the Eagle Cap team chose to maximize the use, function, and storage opportunities afforded by three slides rather than just have a big open "dance floor" in the middle.  With all three slides out, there's still plenty of room for two adults to pass one another, but the kitchen peninsula definitely dominates the center of the space.
We like this approach to multi-slide design and have often wondered about the usefulness of a wide-open floor after of the initial, "Wow, look at the wide-open floor" moment.  Of course there's something to be said for the feeling of space in a more traditional triple-slide floor plan.  For some this is the whole point of a triple-slide.  For others, the added function and storage of a peninsula makes more sense.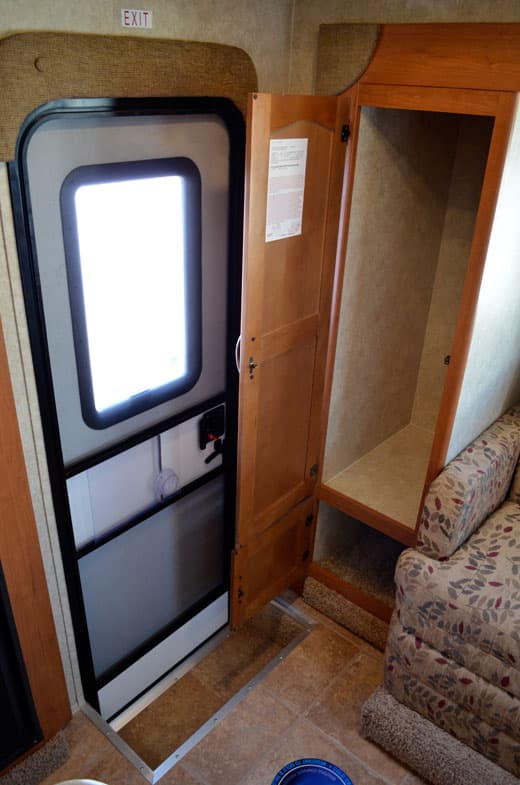 That's an honest to goodness coat closet right next to the entry door in the 1165.  And look, a nook underneath for your shoes.  Of course the next guy will say, "There's a place to put my lava lamps and inflatable chinchilla collection".  Hey, to each their own.
The door step well is not as deep as we have seen in some competing multi-slide units.  This is a, "pitfall" of other designs that Eagle Cap has somehow escaped.  On the 1165 it's possible to access the above mentioned closet and storage nook on the main floor of the camper without stepping into the door step well.

Once again we're looking at a multi-slide truck camper that will be bought as much for its sofa as any other feature or benefit.  That's right, the 1165 is a sofa camper.
Decked out in Eagle Cap's Cedar decor, the sofa in the 1165 looks good, is comfortable to sit on, and had more than enough room for two adults, and a cat.
The sofa in the 1165 is not a half-recliner like we've seen on other models, but it does convert into a small bed and has a rather large pull-out storage drawer underneath.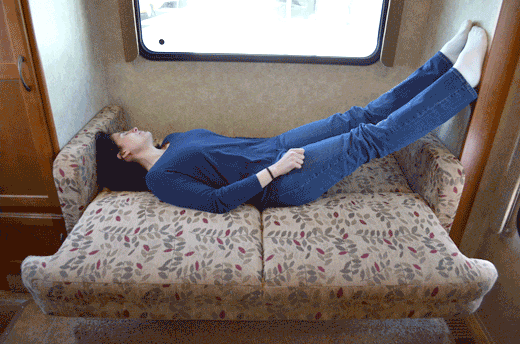 The sofa bed in the 1165 is better suited to small children and pets than most full-size adults.  To illustrate this point, I asked Angela to see if she could get comfortable on the sofa bed.  As you can see, she gave it her best!

The Eagle Cap 1165 features a dream dinette with a molded granite coat fiberglass table (another Eagle Cap signature) that looks and feels like a solid surface material, without the weight.  While some folks may prefer a U-shape dinette, the full booth offers room for four adults in traditional face-to-face seating arrangement and has more table space than possible in a U-shape dinette.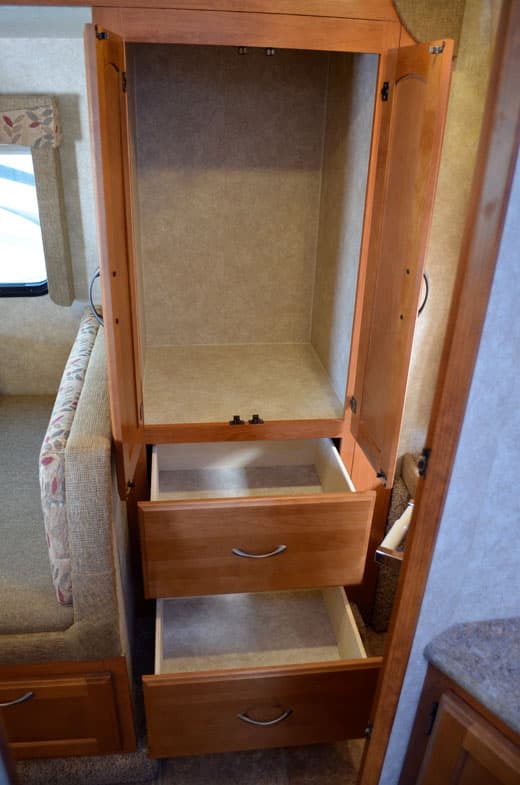 Under both sides of the full-booth dinette are two large pull-out drawers.  We saw the other side of these drawers inside the driver's side exterior storage compartments.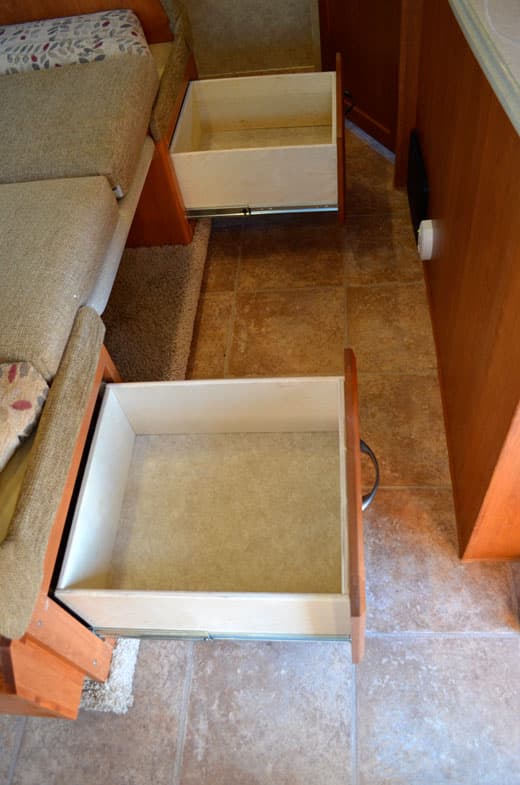 Behind the dinette walking towards the overcab is even more storage including a half closet and two more large drawers.  If anyone complains about storage in the 1165, they seriously need to look up the word, "purge" in the dictionary.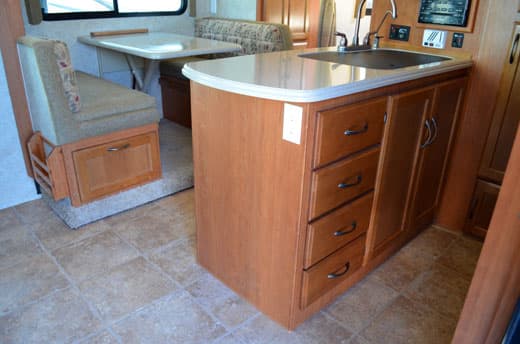 Okay Eagle Cap, let's talk geography.  Your website and literature says the kitchen in the 1165 features an, "island".  For the kitchen in the 1165 to be an island, it needs to be surrounded by open space on all four sides.  What we have in the 1165 is clearly a peninsula as it's open only on three sides.  Can you tell my dad's a school teacher?  Class dismissed.
Before conducting this review, Angela and I went back and forth quite a bit on the kitchen peninsula in the 1165.  At first blush, we thought it made the kitchen too tight and wondered why they didn't make it a true walk-around island.  In theory, a true island would have really opened up the kitchen and improved the walking flow of the camper.
Then we spent a half-day really looking at the 1165 in person and wrestled with this unique and daring design up close.  When we finally pulled out the four kitchen drawers, we had an, "ah-ha" moment.
Had the peninsula been a true island, the storage in the peninsula would have been cut in half, or worse.  Yes, the peninsula closes-in the kitchen area a little, but it also makes these impressive drawers possible, not to mention more counter space.  This is probably the best kitchen storage ever seen in a truck camper.  The peninsula makes that possible.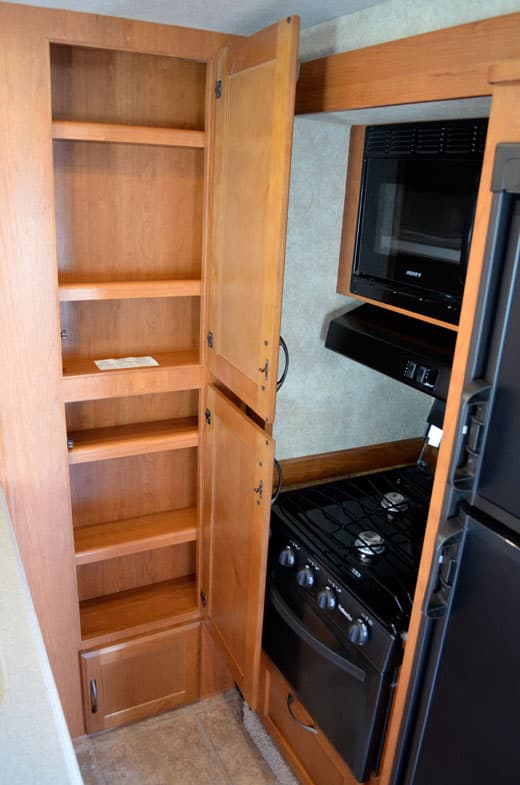 I've seen residential kitchens with less functional kitchen pantry space than this; simply incredible.  Angela also liked that the pantry isn't too deep so you can quickly find anything you're looking for.  Even better, the quality, fit, and finish of the cabinetry in the 1165 is right up there with the best we have ever seen in any RV.  It's beautiful too.  Wow, wow, and wow.

The lower kitchen area also has a few surprises worth mentioning.  First, under the sink offers some additional storage including enough room for a small trash can (look closely at photo on right).  Second, there's yet another deep drawer under the oven.  And third, there's a cabinet front that pulls completely off to reveal the hot water heater bypass and winterizing access.  Everywhere you look it's clear that a lot of thought has gone into the design of the 1165.  The more we looked, the more we were impressed.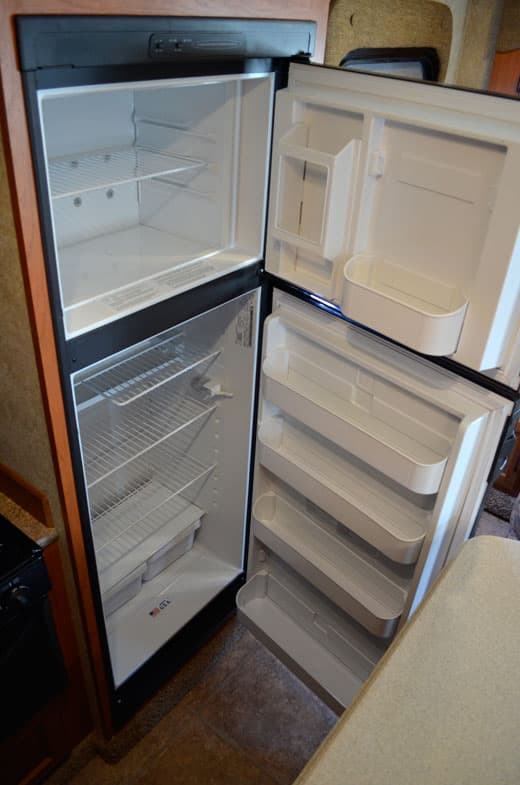 Here's another, "Wow!" in the 1165.  That's a Dometic eight cubic foot two-way refrigerator folks.  That means more Yuengling beer.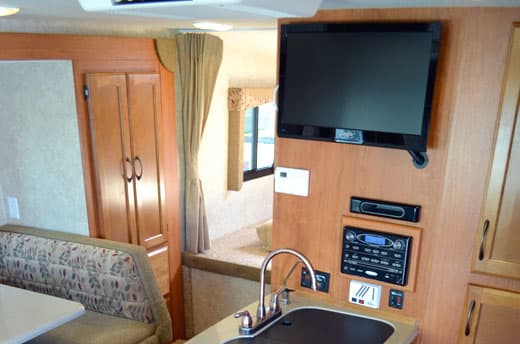 Let's see, we have a nice sofa, lots of beer in the fridge, and now a 24-inch 12-volt HDTV.  It's a man cave, on wheels!
Depending on where you turn the swing-out arm for the HDTV in the kitchen, it's clearly visible from the kitchen, rear sofa, and dinette.  What we appreciated is the fact that you can leave the swing-out arm and HDTV in its travel position against the wall an see it from the kitchen, sofa, and forward facing side of the dinette.  Some folks may never see a need to move it form its secure position.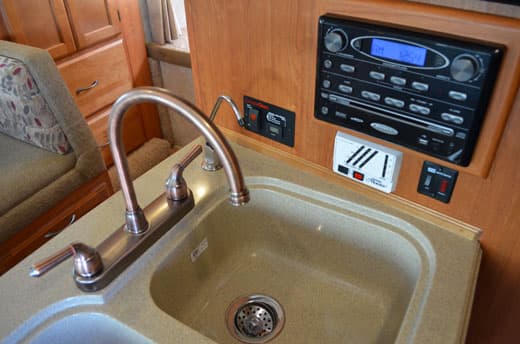 In our house we have a small flat-panel television about 14" from our kitchen sink.  It doesn't appear to be too close to the sink, but our overly exuberant dish rinsing techniques are such that water sometimes lands on the TV screen.
With that in mind, I have concerns about the proximity of the kitchen sink in the 1165 to the tank sensor, hot water heater switch, generator switch, and stereo system.  For those who refrain from the kind dishwashing enthusiasm we enjoy, this proximity should not be an issue.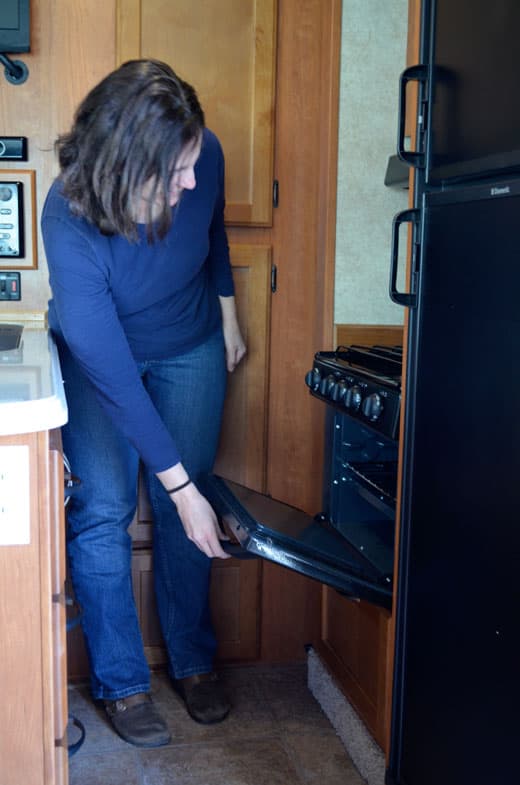 After getting over our own, "holy cannoli" shock from seeing an early 1165 for the first time at Louisville in 2011, our attention quickly turned to the ergonomics of the kitchen.  Specifically, we had questions about the space between the oven and the center peninsula.  To put it nicely, the kitchen looked tight.
To explore this question, I asked Angela to pretend she was cooking her famous boondock brownies.  Could she comfortably fully open the oven door, light the oven, and bake her delicious dessert?
Angela sprung into action and quickly put our confection cooking concerns to ease.  Yes, this is a relatively tight kitchen space, but Angela had no problems getting to the oven, opening the door, and using it as intended.  Anyone considering the 1165 who likes to cook should give the kitchen the same test.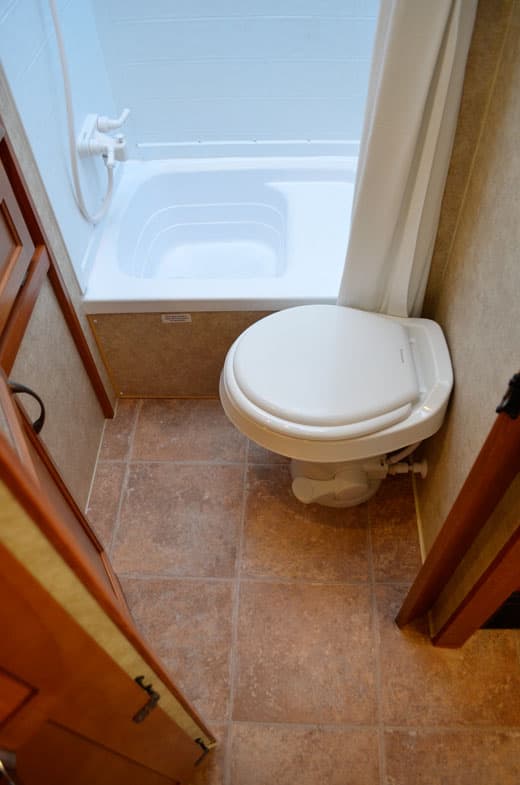 One trick you'll see those of us who work RV shows do is lead you to a camper dinette to sit and talk.  You might think this is a well practiced closing strategy, but it's really just a good excuse to get off our feet.  Concrete floors are evil.
At the Austin RV Expo, I had the, "opportunity" to sit in the 1165 sofa on a number of occasions.  There I was able to interact with customers and listen to their reactions to the camper.  Perhaps my favorite part of these interactions were the, "Would you look at that!" and, "You've got to be kidding me!" and, "Great googly moogly!" exclamations when people first saw the enormous dry bath in the 1165.  It's a genuine show stopper.

That's real counter space in the 1165 bathroom folks.  Look at that.  There's actual room for a razor and shaving cream, or a makeup kit and brush, or cat shampoo and a towel.
In the future it would be nice to see Eagle Cap do a molded fiberglass bathroom counter top and inset sink, but boy am I nit-picking now.  This is a first class multi-slide truck camper bathroom all the way.  Oh look, there's even ducted heat under the sink.
The pull out compartment under the counter top reveals water lines that run to the sink.  If you've ever winterized a truck camper you know it's good to be able to see the pink anti-freeze in the lines.  This compartment is also a good place to put towels, bathroom supplies, or a copy of War and Peace.
The shower stall in the 1165 features a sky light and is just tall enough for me to stand.  There is a certain irony that the wet bath in Eagle Cap's smallest truck camper, the 850, gives significantly more elbow room for showering than the dry bath in the 1165.  That's an advantage of a modern wet bath design.  Then again, the wet bath in the 850 will never have the domestic feel or beauty of the dry bath in the 1165.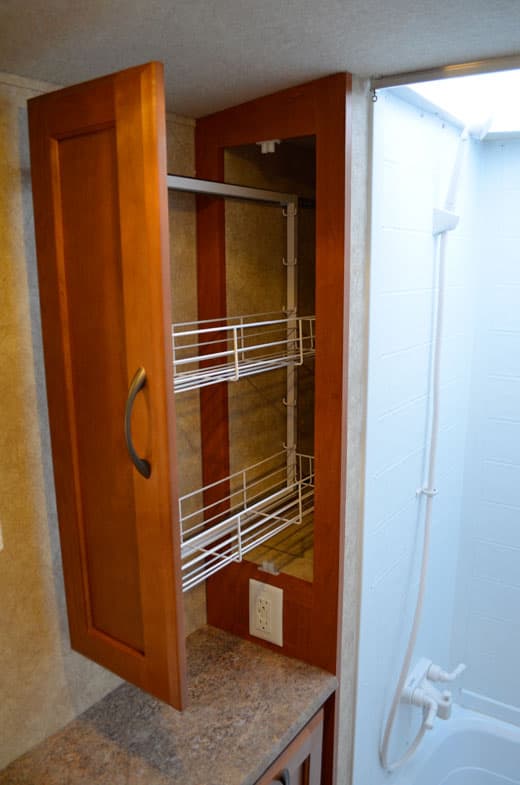 We were delighted that there was a pull-out pantry style storage opportunity in the bathroom of all places.  You can even move the rack heights to accommodate the items you need to store in this space.  This pantry is addition to the (not pictured) medicine cabinet above the sink.  Honestly I don't know what people are going to do with all the storage in this camper.  It's insane!
Another important detail to notice in this photograph is the fact that the shower water is turned on and off not in the sink (as in most truck camper bathrooms) but rather in the shower with its own set of faucet controls.  The shower also features an honest to goodness tub big enough to wash adult feet, small children, and pets.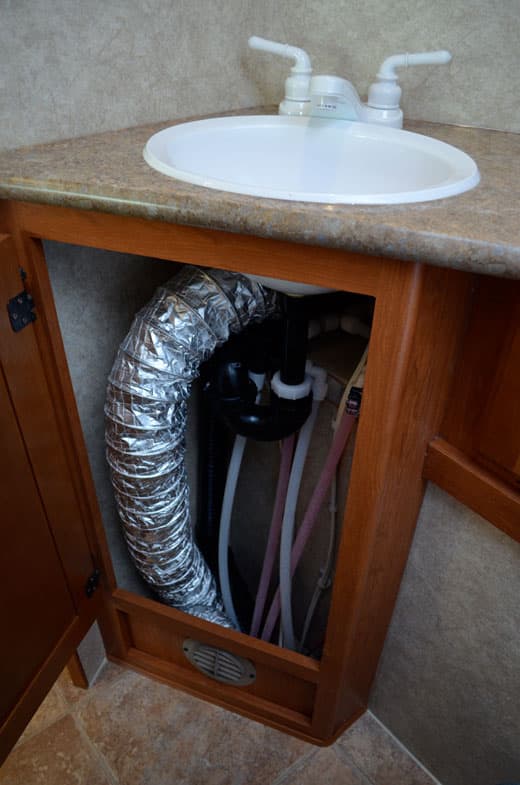 The cabinet under the sink is not for storage, but gives access to the bathroom heating duct and PEX plumbing.

The large Heki skylight is a welcome addition to the overcab in the 1165, especially since there is no window on the passenger's side of the overcab.  Together with the mirrored wardrobe that reflects the driver's side window, and the light ceiling and wall colors, the overcab in the 1165 manages to feel light and airy, if not quite as open as campers with a passenger's side window and less cabinetry.
This next statement may be heresy, but I would give up the storage of the mirrored wardrobe for a passenger side window and a more normal overcab hamper and cabinet storage combination.  I know there is a contingent that prefers less windows in the overcab for better cold weather insulation, but my personal preference is for windows, openness, and light.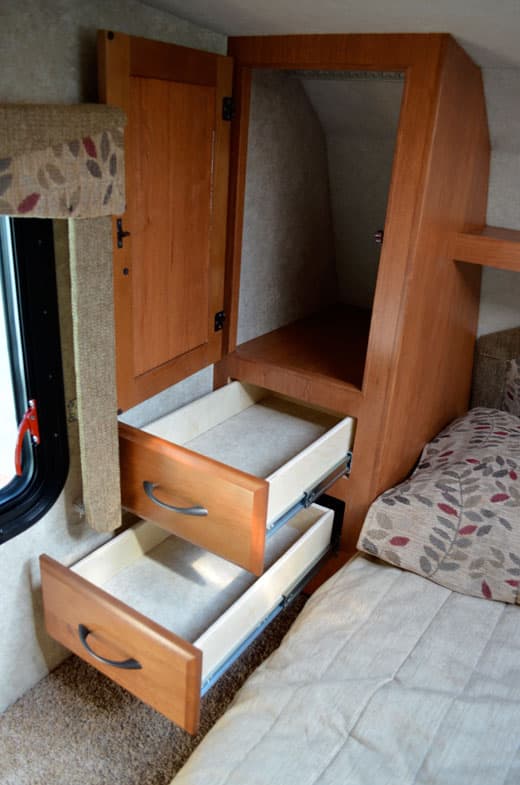 In the industry they call these forward overcab storage nooks, "penguins".  When they're not yet installed in a camper they kinda look like a penguin.  Or maybe it's some kind of industry humor I have yet to fully appreciate.  Heck knows the industry is still getting used to my humor, so it's only fair.
I really like the storage on the driver's side.  The two drawers are perfect for socks and underwear and the upper cabinet is ready to go for pants and shirts.  A single shelf would take the usefulness to the next level, but that's ripe for an easy user mod.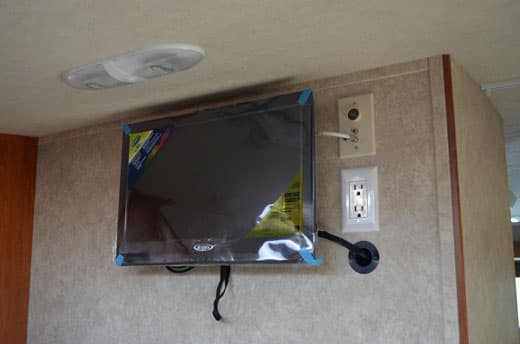 The optional HDTV in the overcab is a 19-inch 12-volt LCD on a swing-out bracket.  There's actually plenty of room for a larger panel including the 24-inch model in the kitchen.  It may even be possible to go for a 32-inch television here, but I would recommend checking with Eagle Cap first.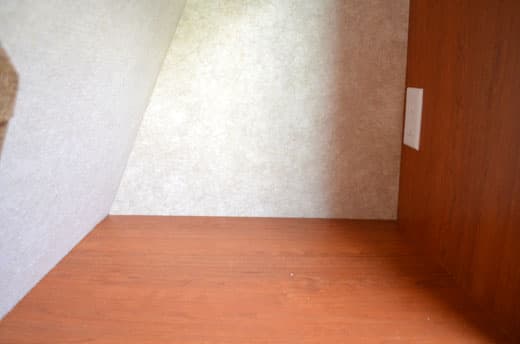 I was going to use this photograph to show the lack of a window on the passenger side of the overcab and the convenient addition of an outlet for overnight charging of electronic devices.  Upon closer inspection, I realized what's not in the photograph is at least as important as what is.  Two words; no gimp!  The fit, finish, and tolerances in this camper are exemplary.  I don't think Eagle Cap is using CNC, but it sure looks like they are.  Very, very impressive.
Wrap It Up
There is one word that kept coming to mind when we were looking at the 2013 Eagle Cap 1165, quality.  The camper looks and feels like a million bucks inside and out.  The interior and exterior fit and finish on display are truly exceptional.  The tolerances are tight and the materials solid and beautiful.  If that sounds like a rave, it should.
On balance, there was another word that kept coming to mind when we were looking at the 2013 Eagle Cap 1165, weight.  This is a big and heavy truck camper.  There are folks out there who are thinking, "Yeah, my one-ton dually can handle it".  That may be true, but don't make the mistake of not running the numbers first.  Match this camper with the right truck, and it will be a modern marvel, a true vision of what a truck camper rig can be in 2013.  Match it wrong, and it could be a very uncomfortable experience.
One thing is for sure, the Eagle Cap 1165 is staking its claim to not only the multi-slide marketplace, but also the no-holds-barred high-end luxury camper marketplace.  We were extremely impressed and hope to one day take this camper, or its 1160 double-slide cousin, for a spin on a properly matched truck.  Then, and only then, would we be able to completely embrace these big campers.  But based on everything we saw, we had better be careful what we wish for.  We might really like it.
Quality, Customer Service, and Long-Term Reliability
Truck Camper Magazine inspects all reviewed truck campers for design, material, and quality issues and reports what we find. However, since Truck Camper Magazine reviews only brand new truck campers, our reviews do not address long-term quality, customer service, or reliability.
To learn about a brand's long-term quality, customer service, and reliability, Truck Camper Magazine recommends talking directly with truck camper owners at truck camper rallies and online via truck camper forums and truck camper owners groups.
Please be sure to balance your gathered feedback across multiple sources including direct correspondence with the truck camper manufacturers and your closest truck camper dealers.
If you are new to truck campers, start here.
Contact Eagle Cap about the 1165.