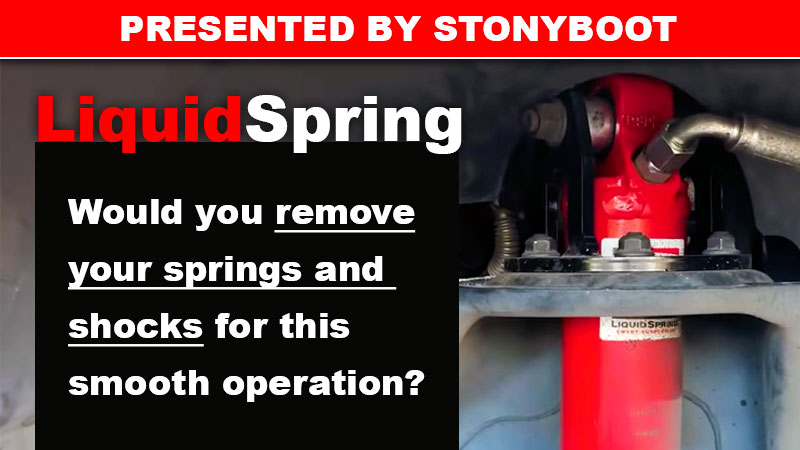 Scott Gregson of Stonyboot recently crossed paths with a fellow truck camper, Jared Sund, to check out the LiquidSpring suspension on his Ram 5500. LiquidSpring replaces a truck's entire suspension system with a computer-controlled active-dynamic hydraulic suspension system.
Yes, all of the factory springs and shocks are removed prior to installing the LiquidSpring system. There's actually a shot showing the amputated components in the video. Hang on to that for a moment.
Some of the stand-out benefits of the LiquidSpring system include automatic leveling, adjustable ride settings, a smoother more comfortable ride, and the ability to drop the truck up to 4-inches. That means a LiquidSpring equipped rig could go from an off-road-ready high position to a campsite comfortable low-ride position at the push of a button. That's awesome.
As cool as the benefits are, our jury is still out on this system for a few reasons. First, the required removal of every factory truck suspension component. Obviously, shocks, springs, and leaf spring packs are an important part of the OEM formula for a truck's payload capacity. So, after this system is installed, what is the official payload capacity of your truck?
Second, the LiquidSpring system adds a considerable amount of weight. LiquidSpring talks about adding up to 400-pounds, even after the weight of the other components are removed. In the video, Jared reports only 50-pounds on the rear axle and 300-pounds on the front. That's no sweat on a Ram 5500, but could be an issue for a one-ton set-up.
Third, we are always a bit hesitant about adding computer-controlled systems. Traditional shocks, springs, and leaf spring packs do not fail over a software issue, electrical short or a fried fuse. For all their shortcomings, these components are set and forget – at least until they wear out.
Finally, the cost is quite high. I don't have a hard number to quote, but I believe it's north of $15K for an installed LiquidSpring system. That's a lot of cheddar.
Thank you, Scott and Jared, for bringing this fascinating system to our attention. Charlie Coushaine also tapped our shoulder about the system about the same time this video debuted. It seems LiquidSpring has folks talking.
Check out Stonyboot's Instagram and YouTube channels.