Donald: The first change everyone is going to notice are the bold new graphics and Wolf Creek logo on the exterior.  Our team has given the 2014 Wolf Creek line a significant contemporary look.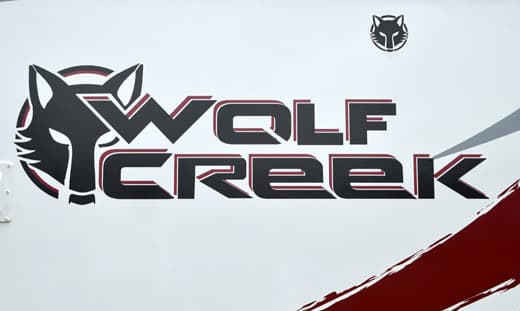 Above: The exterior graphics on a 2014 Wolf Creek 850
The lone wolf logo embodies Wolf Creek's "Roam Where You Dare" tagline.  I think our Wolf Creek customers are going to love it.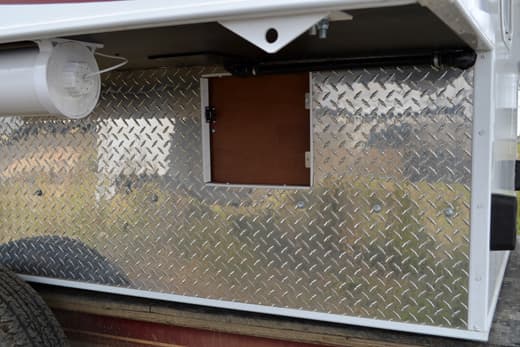 Above: Knee wall armor on a 2014 Wolf Creek 850
TCM: Are there any exterior material changes for the 2014 Wolf Creek line?
Donald: Yes, the knee wall armor is now silver aluminum diamond plate.  The knee wall is the area of the camper between the wheel wells on the underside exterior of the camper.
This is an area that can sometimes make contact with the truck during loading and unloading.  The diamond plate protects the camper and matches the bold new graphics.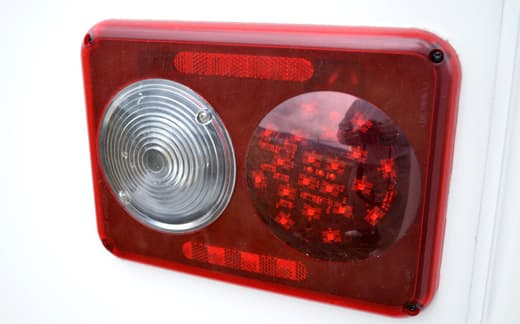 Above: All exterior 2014 Wolf Creek lighting is LED
TCM: Northwood upgraded Arctic Fox to all-LED interior and exterior utility lighting for 2014.  Did Wolf Creek also get this upgrade?
Donald: Every light on the exterior of Wolf Creek campers are LED.  On the interior, Wolf Creek has all-LED utility lighting for 2014.  In fact all Northwood products, across the board, are now all-LED utility lighting.  That's part of our Absolute Northwood concept.  All the traditional, utility-style lights are the double and single pancake lights as well as the puck lights.  Decorative lights, or atmosphere lights include the reading lights, sconce lights and designer dinette lights.  Our research shows that customers still prefer the warmer glow of a traditional incandescent light in these applications.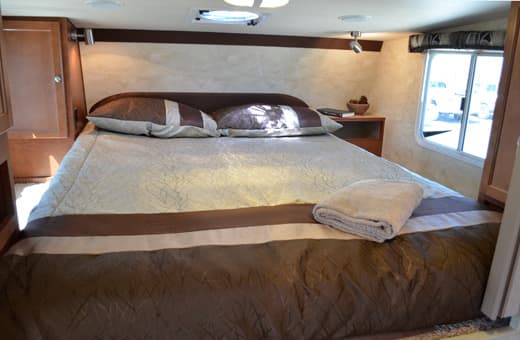 Above: The cabover in the 2014 Wolf Creek 850 has LED utility lighting and decorative lighting
TCM: Are the LED lights and fixtures in the Wolf Creek line the same as what's installed on the Arctic Fox line?
Donald: Yes, they are exactly the same LED lights and fixtures.  We carefully chose LED lights and fixtures that evenly spread their light and had the most appealing light color and quality possible.
The energy savings from using all-LED lighting is very impressive and will be a big plus for our customers.  In some cases, LED lights use about one-tenth the amp draw as the traditional incandescents they replace.  We are very excited about the change to all-LED lighting in 2014.  It's an important update our customers are sure to appreciate long after the sale.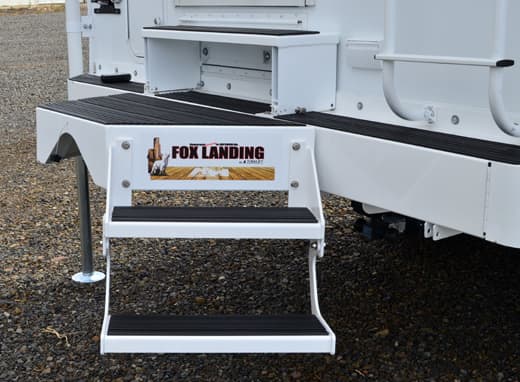 Above: The Fox Landing is now available on 2014 Wolf Creek campers