Northwood Manufacturing announces huge 2024 standard updates for Arctic Fox and Wolf Creek truck campers including fiberglass nose caps, 400-watts of solar, thermal pane windows and 8-cubic foot 12-volt compressor refrigerators. You read that right – all standard! Oh, and there's a new roof…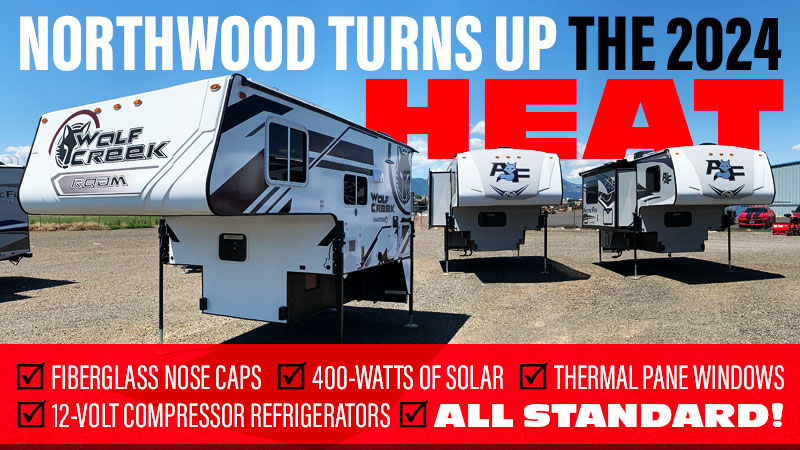 I had to read the 2024 Northwood Manufacturing standard update list twice to believe it. Even then it seemed impossible that the La Grande, Oregon company was leap-frogging the production truck camper world in so many areas.
To be clear, nobody is offering 400-watts of solar standard. And very few camper manufacturers are offering 12-volt compressor refrigerators standard, much 8 cubic foot models. On top of that, Northwood is matching or exceeding its premium competition with new fiberglass nose caps and thermal pane windows – again, all standard for 2024.
It's one thing to imagine the already luxury-appointed Arctic Fox line adding these features, but Northwood is also adding fiberglass front nose caps, 400-watts of solar, thermal pane windows and – holy moley – 8-cubic foot refrigerators to the Wolf Creek 850 and 890. This is where my brain says, "Not just wow, but how are they doing that?"
Things got more interesting when I learned that Northwood is also offering an optional 600-watt solar panel system on their Arctic Fox and Wolf Creek lines, made significant changes to their roofs, and managed to add more storage in their cabovers.
Lucky for us, we were heading toward the Northwest when Northwood contacted us about the 2024 updates. With a few adjustments to our schedule, we visited Northwood in La Grande, Oregon to see the changes for ourselves.
Folks, it's legit. Northwood is already in production with one of the most significant model year updates we've seen since starting Truck Camper Magazine in 2007.
Prior to our arrival, we talked to Lance Rinker, Director of Materials and Marketing, and Tony Carman, Draftsman for Northwood Manufacturing about the updates.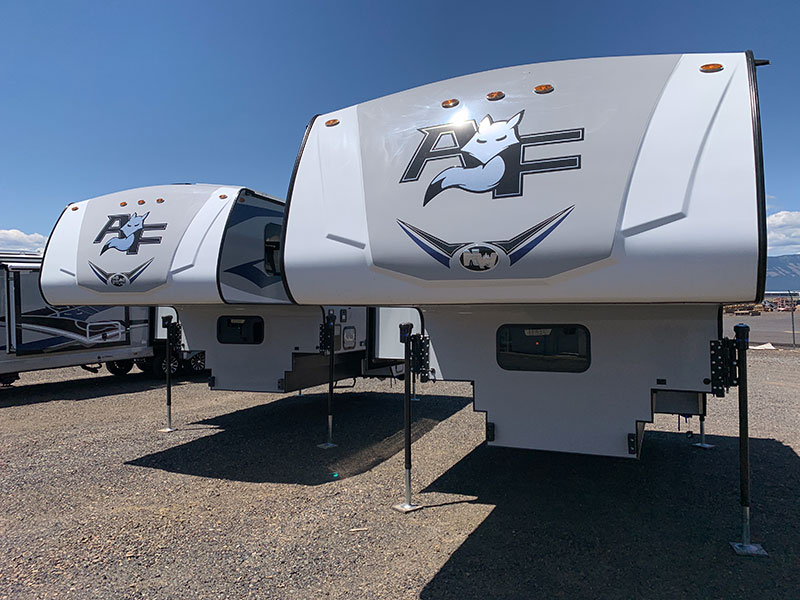 Above: Two 2024 Arctic Fox 1140 campers with the new front nose caps
One of the stand-out headlines for 2024 is the new front nose caps. Front nose caps on truck campers have been around for some time. Why is Northwood coming out with a front nose cap now?
Lance: We didn't enter into front nose caps lightly. We watched other manufacturers and studied issues people had with the different designs and installations. There have been well-known issues with previous front nose caps holding moisture and oil canning. None of that speaks to what Northwood wants to do.
From a product development perspective, we knew front nose caps could be done well and provide significant advantages to the end consumer. A full fiberglass front nose cap, with extra matting to prevent oil canning, and design angles to maximize moisture runoff and aerodynamics was the clear direction.
The timing was right to do a front nose cap the right way for our 2024 product line. We are introducing front nose caps for both our Arctic Fox and Wolf Creek truck camper lines.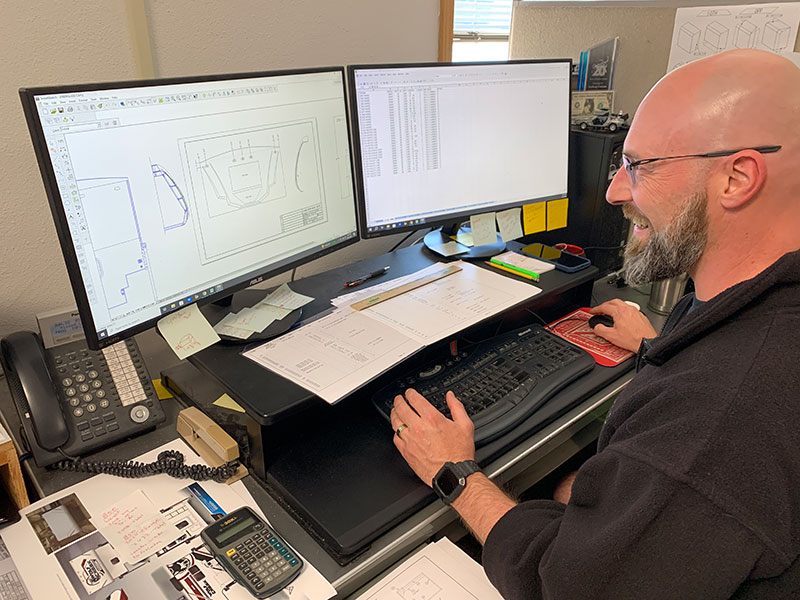 Above: Tony Carman showing us the 2D mock-up of the new front nose caps
Tell us about the design and development process of the new nose caps.
Tony: We started with the digital design prints for the Arctic Fox and Wolf Creek truck campers and made a front nose cap mock-up in 2D. Once we had a successful design, we went to 3D computer models and made sure everything would work the way it needed to. We focused on the cap seal, aerodynamics, overall aesthetics, and installation before taking the new nose cap to production.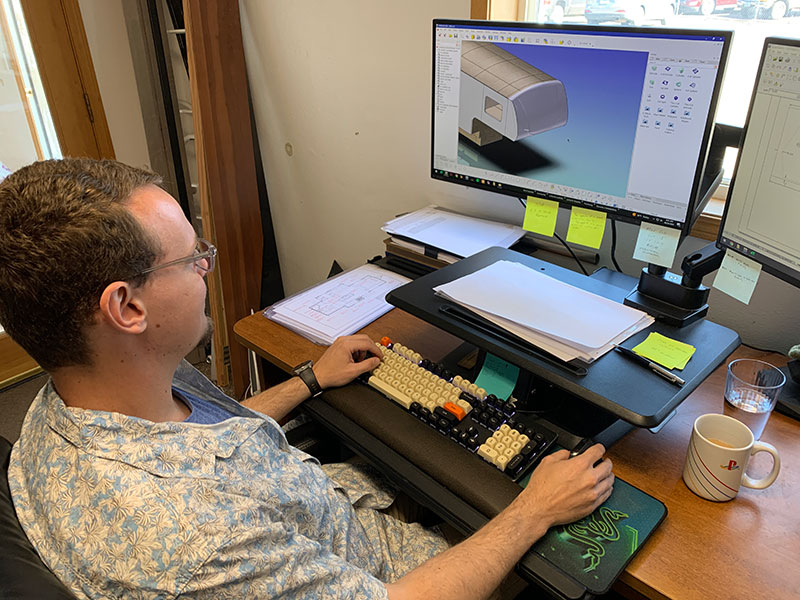 Above: Saje Marvin showing us the 3D computer models of the Arctic Fox and Wolf Creek front caps
How did you go about making the front nose cap more aerodynamic?
Tony: Aerodynamics is shape manipulation. With our previous radius front nose, we've always had a certain amount of aerodynamics. The new front nose cap continues the aerodynamics further up the units. Instead of flattening at the top, the nose cap continues into the arched ceilings seamlessly. That's where we made the most improvement to aerodynamics.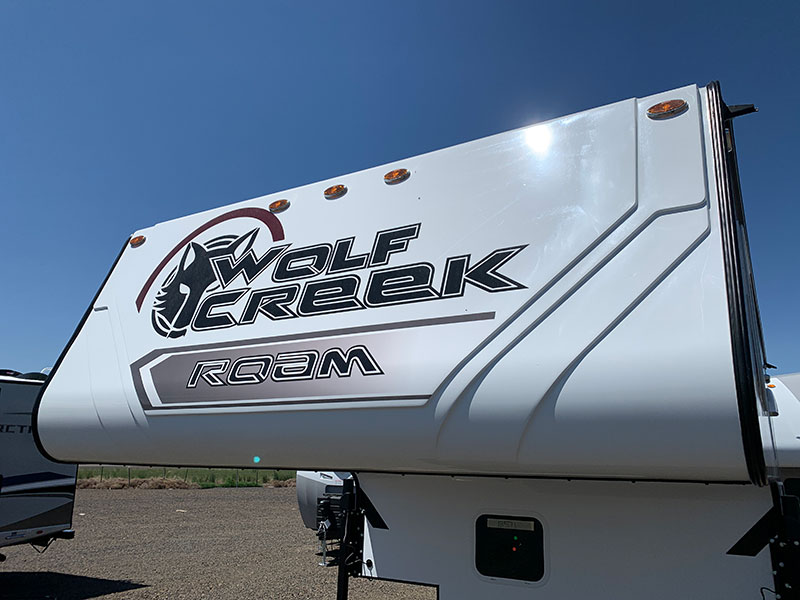 Why not make the new nose cap a wrap-around design?
Lance: Wrap-around nose caps suffer from seal issues around the edges as the material contracts and expands. By not making returns or wrap-arounds, our nose cap also avoids points of tension and cracking.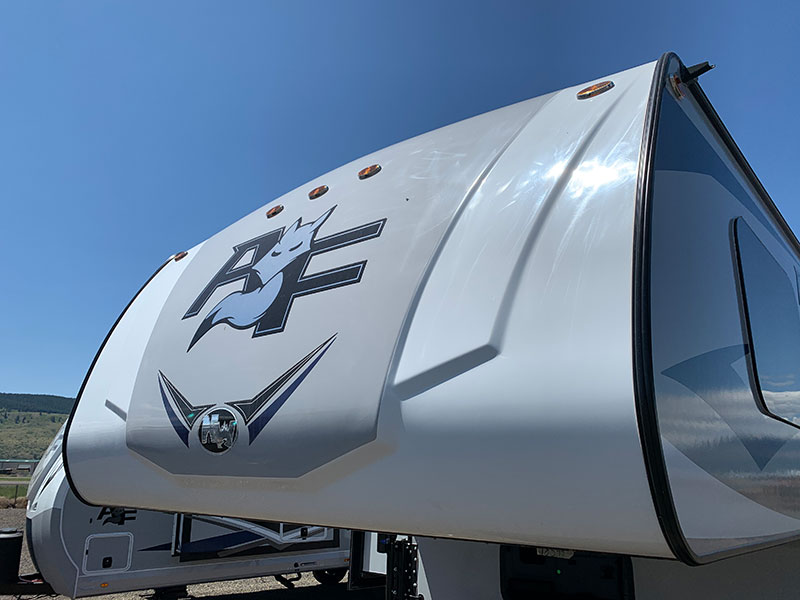 What material are the front nose caps made from?
Lance: It's a fiberglass front nose cap. We avoided TPO plastic due to its notorious oil canning.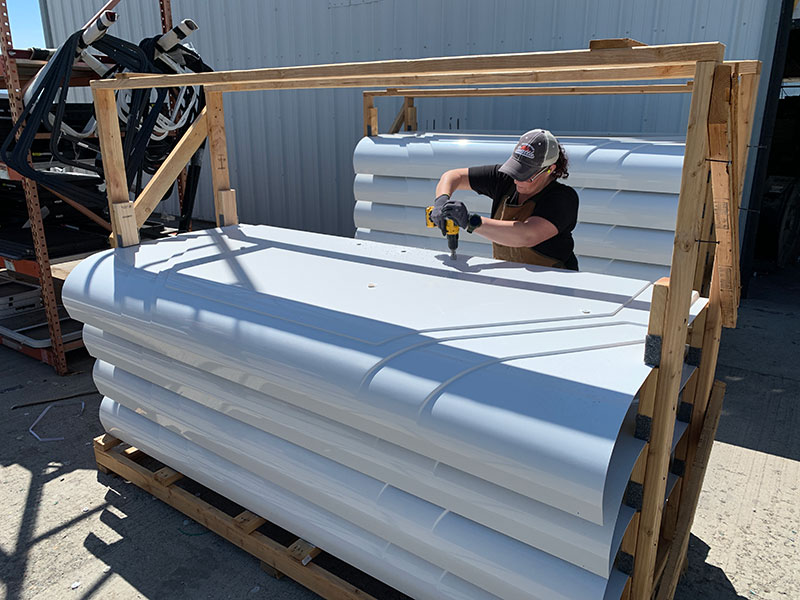 Above: Chrissy Hays preparing a Wolf Creek nose cap for installation
Where is the nose cap manufactured?
Lance: Our front nose caps are made by McClarin Composites in Yakima, Washington. We get all of our fiberglass caps for Northwood fifth wheels and trailers from McClarin Composites. McClarin Composites also makes military spec products and the housing employed by Genie Lift. They make high-quality products and have been great partners.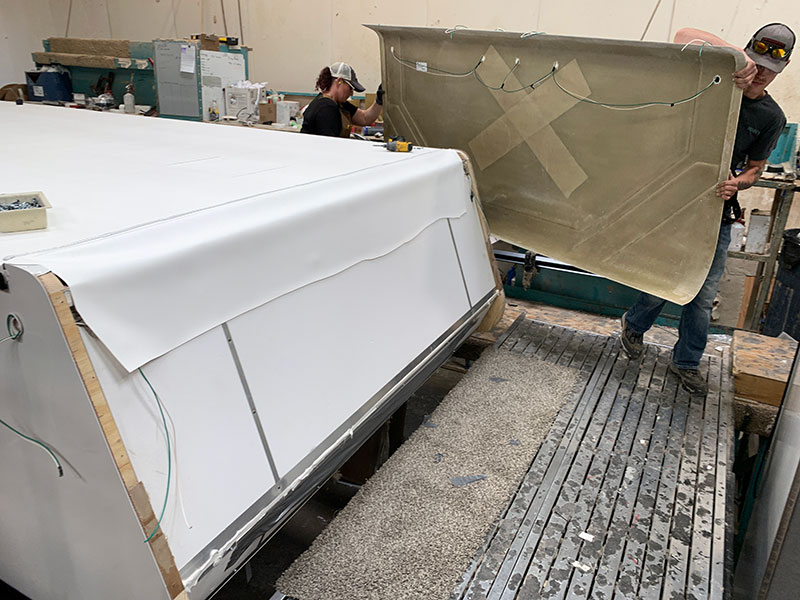 Above: Chrissy Hays and Tony Bashibuykyan-Pyers carry a new Wolf Creek nose cap
How are the front nose caps installed on a Northwood truck camper?
Tony: The nose caps are installed starting from the top of the front nose of the unit and sealed with Dicor roof sealant.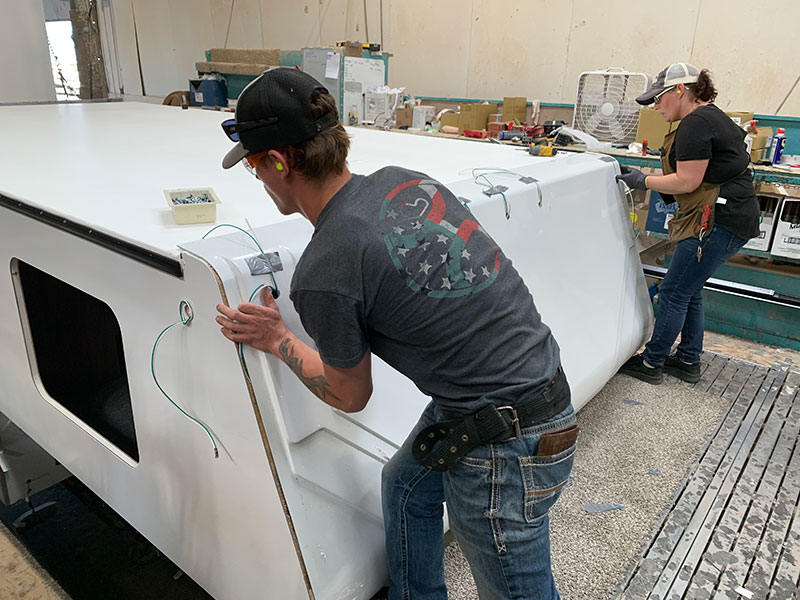 Above: Tony and Chrissy aligning the nose cap
Then it is molded in place with screws and butyl on the top and bottom. This is the same way fiberglass caps are installed on our trailer and fifth wheel line. It holds firm.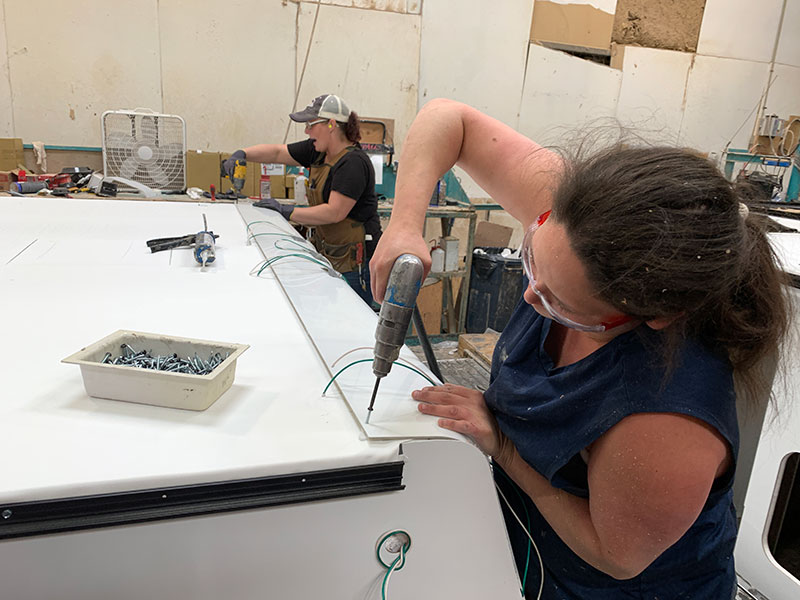 Above: Candise Gibson and Chrissy Hays fastening the nose cap in place
The space behind the nose cap on the Arctic Fox Campers is filled with R11 fiberglass batt insulation. This is in addition to the closed-cell foam insulation that's already in the front nose.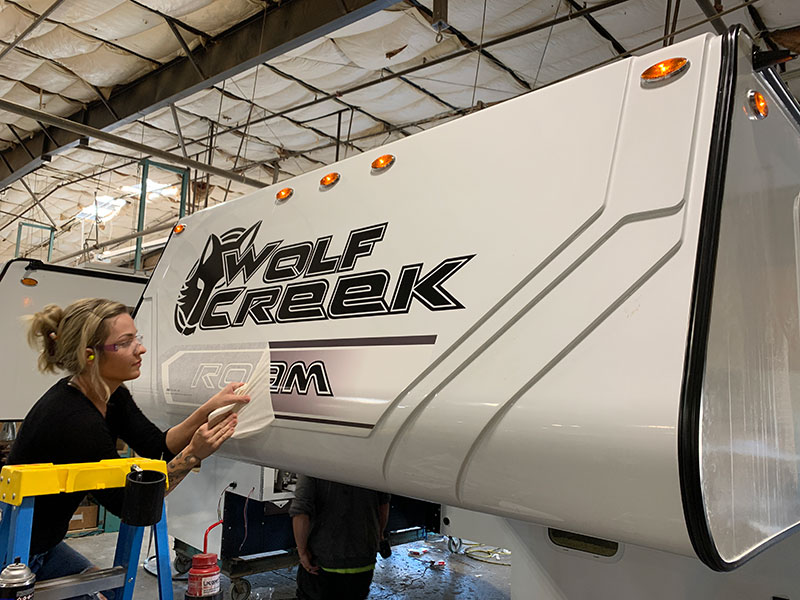 Above: Brooke Cline adheres the decals on the Arctic Fox and Wolf Creek campers
Do the new fiberglass front nose caps add weight to the 2024 Arctic Fox and Wolf Creek campers?
Tony: It took a considerable amount of wood, trusses, fiberglass with substrate, and adhesives to get the previous front nose to hold its shape. With the material we were able to remove from the previous build, the weight of the new fiberglass front nose cap is essentially a wash. The new nose cap also needs fewer adhesives because it only needs to attach to the top, bottom, and front.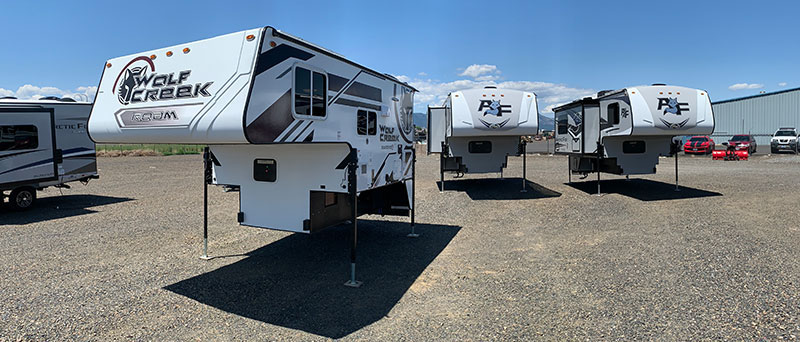 Above: The Wolf Creek 850 and two Arctic Fox 1140 campers
All of the new updates combined had to add some weight to the campers.
Tony: Yes. When we weighed a 2024 Wolf Creek 850 with all of the new standard features, it weighed 22 pounds more than a 2023 model. We have not weighed the other 2024 models side-by-side with 2023, but we expect a similarly minimal weight increase.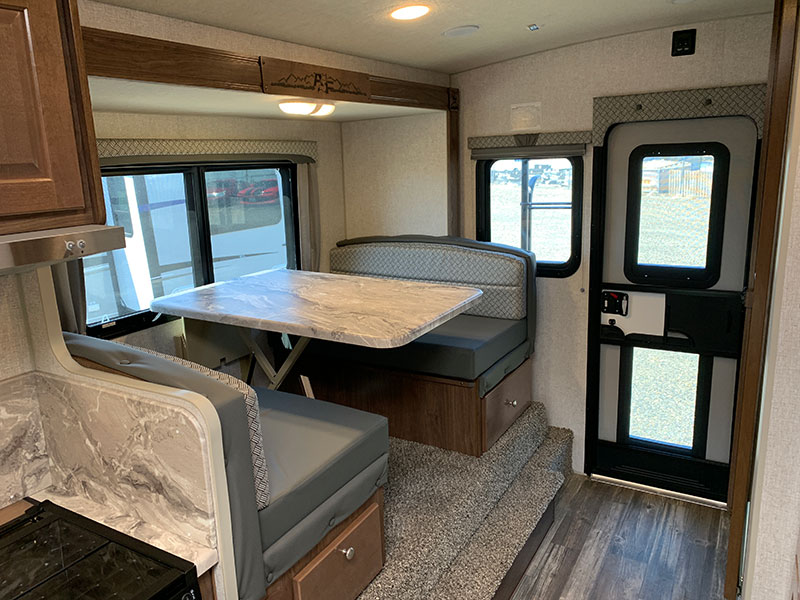 Above: Arctic Fox 1140 with the Carbon decor
For 2024, there are three decors: Moonstone, Carbon, and Windswept. Are these decors new for 2024?
Lance: Carbon and Moonstone are new for 2024. Windswept is from last year. We typically debut two new decors and hold onto one the dealers and consumers like the best. This year it was Windswept.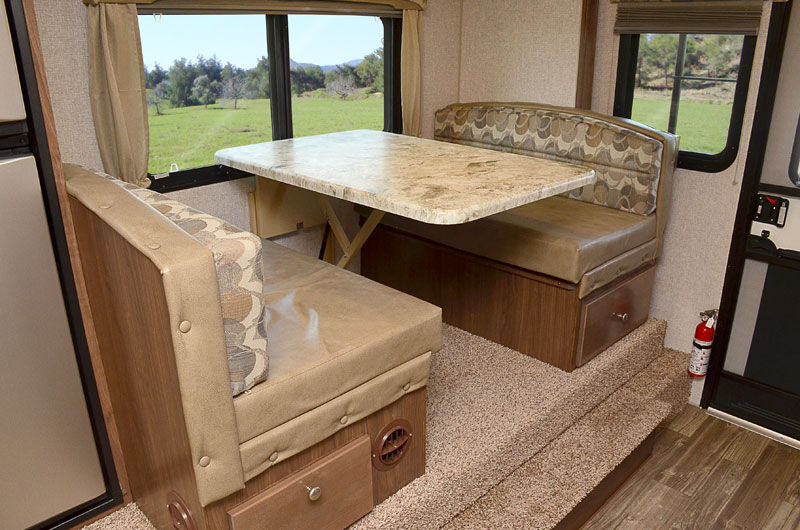 Above: Arctic Fox 1150 with the Windswept decor
How are the new decors developed at Northwood?
Lance: We research trends in the greater RV and residential marketplaces. Right now, we're seeing more greys and off-whites. Then our vendors present us with palettes which we take to the product development team. The point person on the design side is a woman that monitors and tracks current style trends in the RV and residential industries. We also include men and women from the plant to get a spectrum of opinions. From there we prototype selected interiors, share them with dealers and make final decisions.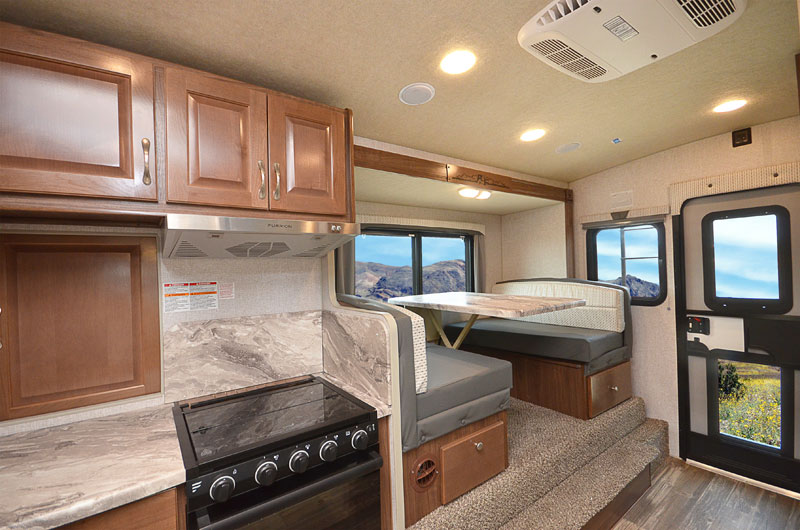 Above: Arctic Fox 1140 with the Moonstone decor
Are there any other interior decor changes for 2024?
Lance: Other decor changes include a new leatherette that's pebble-toned; off-white with a slightly grey tint. The cabinetry is also more contemporary and pleasing to the majority of consumers. The linoleum and carpet are also new for 2024.
Soon we'll be introducing a new wood grain in Arctic Fox and Wolf Creek truck campers. It's called Wiley Oak and it is more grey-toned. That change will happen in the next few months.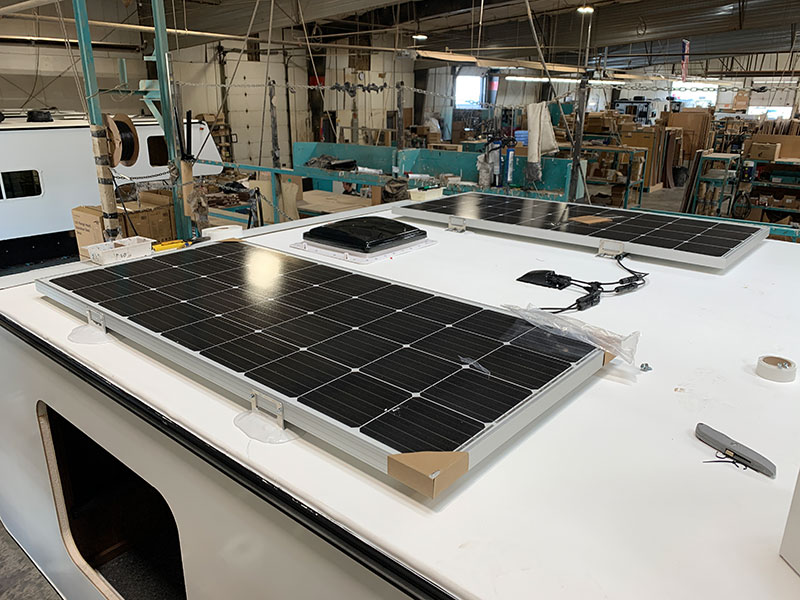 Above: The standard 400-watts of solar (two 200-watt panels) installed on the production line
Tell us how the solar partnership with Future Solutions came to be.
Lance: Certainly as much if not more than our other product lines, truck campers enjoy an off-grid lifestyle. For this reason, we went standard with 45-watts of solar five or six years ago. That feature became an Absolute Northwood feature across all of our product lines.
For 2024, we wanted to take things much further. After considerable research, we connected with Josh Atwood at Future Solutions. In our conversations with Josh, we realized that 300-watts of solar would be the bare minimum needed for what we wanted to do in terms of employing 12-volt refrigeration standard. For 2024, we will have 400-watts of solar standard on everything we build. That includes Arctic Fox and Wolf Creek truck campers.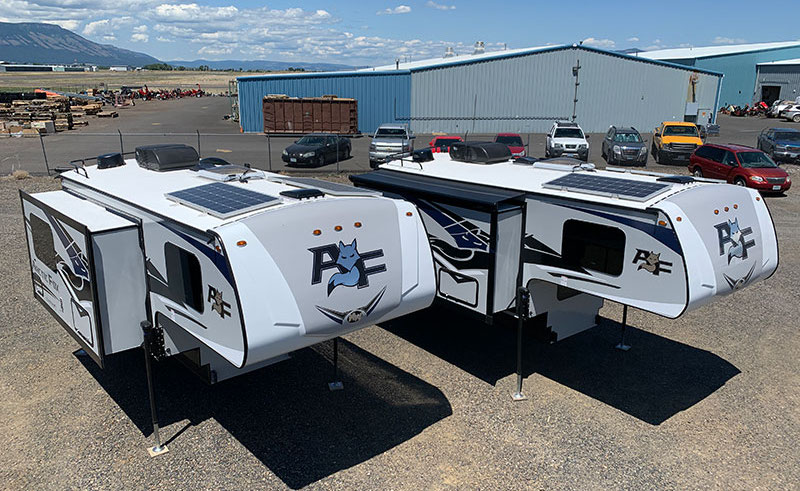 Above: 2024 Arctic Fox campers with 400-watts of solar panels standard
That's incredible. Tell us about the panels and solar controller you're using.
Lance: The solar panels we're using are cutting-edge with high efficiency, high transmission glass, and under 10 percent power decrease over 10 years; which is amazing. The panels are also aluminum framed for high strength, have three mounting holes for easy installation, and fit well on the available real estate on our campers.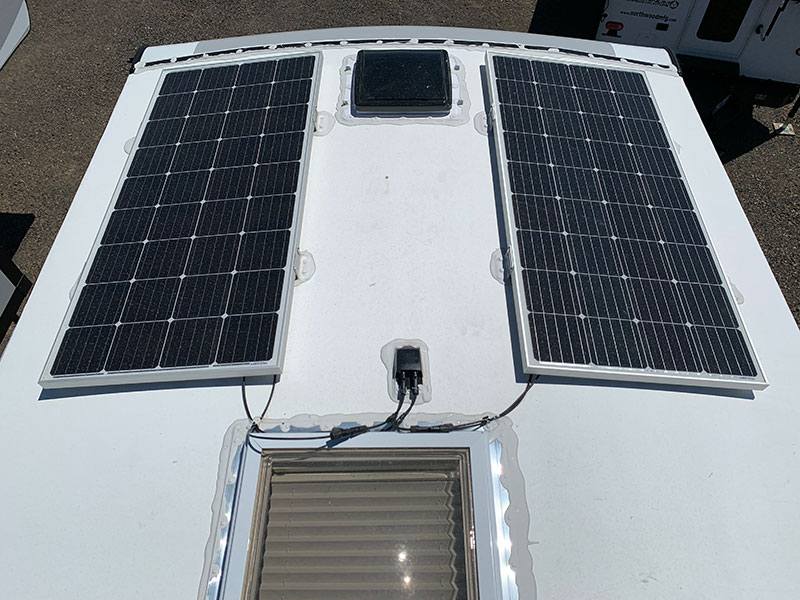 Above: 400-watts of solar on an Arctic Fox 1140
The corresponding junction boxes are high quality and weatherproof. The panels and junction boxes are high impact resistant for high winds, rain, snow and hail. The components are also moisture-proof and corrosion-resistant. It's a really solid modular solar package.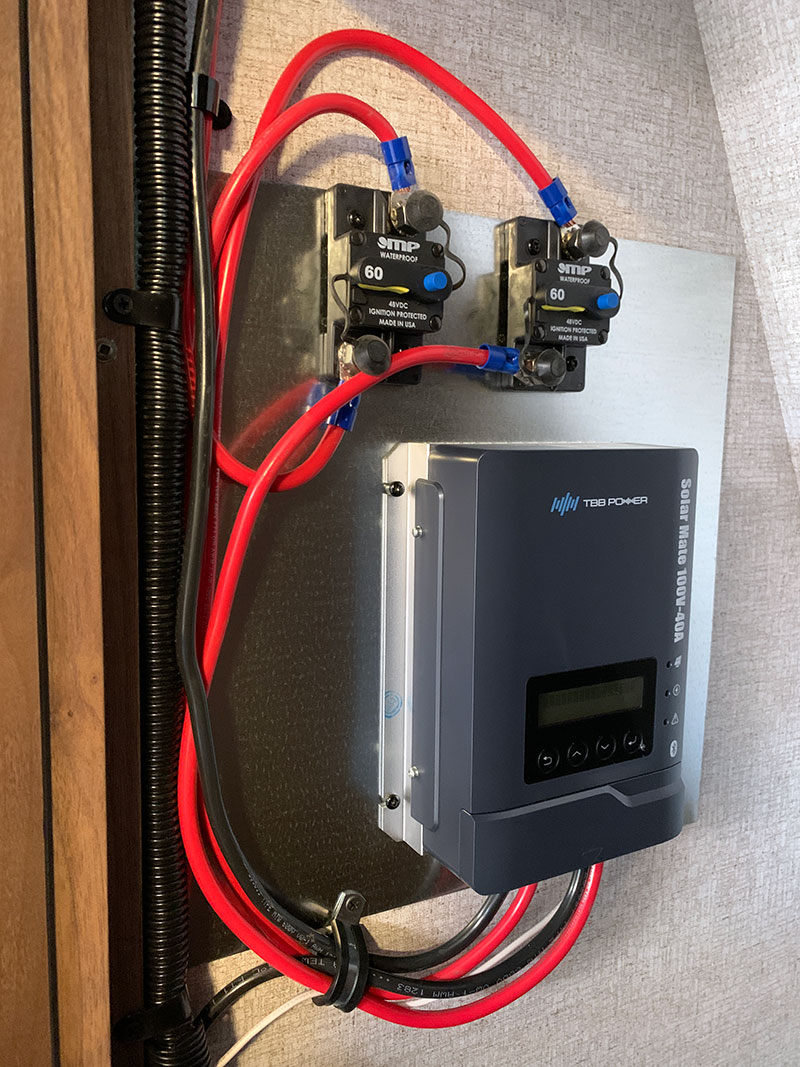 Above: The Sol X4 system solar controller installed in a 2024 Arctic Fox
The standard Sol X4 solar controller handles the 400-watts of standard panels. Customers can also upgrade to the Sol X6 with an additional 200-watts of solar.
Years ago we moved to all LED lighting and the 45-watt solar panels. This is another huge leap forward. The system even includes easy maintenance and upgradability. It's very user-friendly.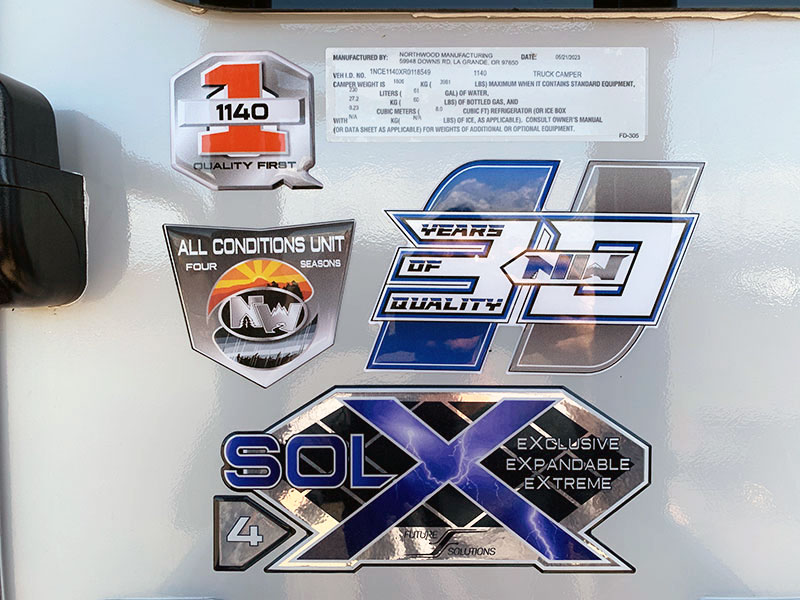 Above and below: The number 4 next to the SOL X above (bottom left) shows that there's 400-watts of solar and the number 6 (see below) designates the SOL X 6 with 600-watts of solar on the roof

Does an additional solar panel fit on every Arctic Fox and Wolf Creek model?
Tony: Yes, we can fit three 200-watt solar panels on all Arctic Fox and Wolf Creek models. That's another benefit of the new fiberglass front nose caps. We also changed the shape of our roofs to accommodate the new solar panel options. The shape of the front roofs has been adapted for the nose cap and panels.
Above: 600-watts of solar (SOL X 6) on a 2024 Wolf Creek 850
Lance: Our roofs have multiple radii; side-to-side and front-to-back. The traditional fiberglass lay-up front required us to flatten out the roof to ensure a proper fit as the fiberglass panel can only bend one direction or the other without buckling. This new fiberglass cap enabled it to continue the roof out to the nose, incorporating both radii. Maintaining this profile led to increased headroom in the cabover as well.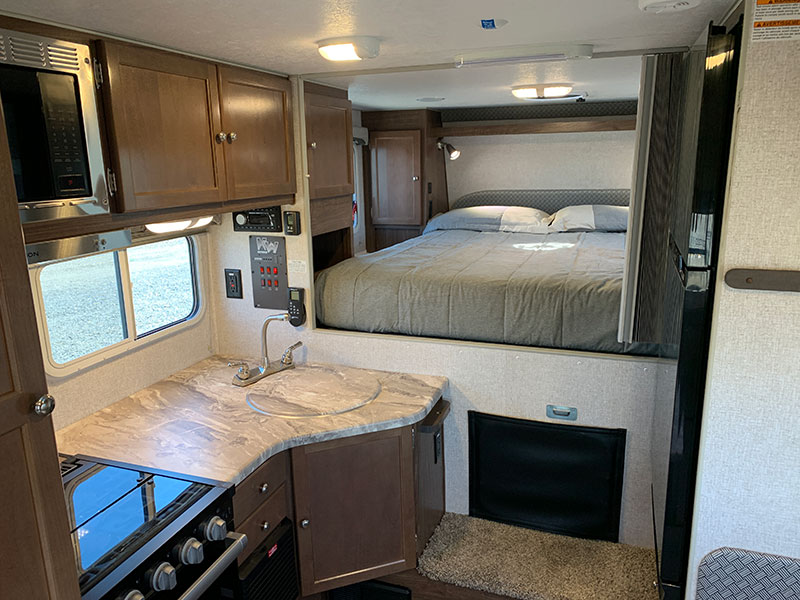 Above: The kitchen and cabover of a 2024 Wolf Creek 850
Did you need to make changes to the interiors to accommodate the new nose cap and roof design?
Tony: Yes. The new roof not only accepts more solar panels but it's also made additional headroom in the cabover sleeping area.
Lance: It also allowed us to add an additional storage shelf in the front of the Wolf Creek cabover. This new shelf is useful for charging phones, placing a book down, and more.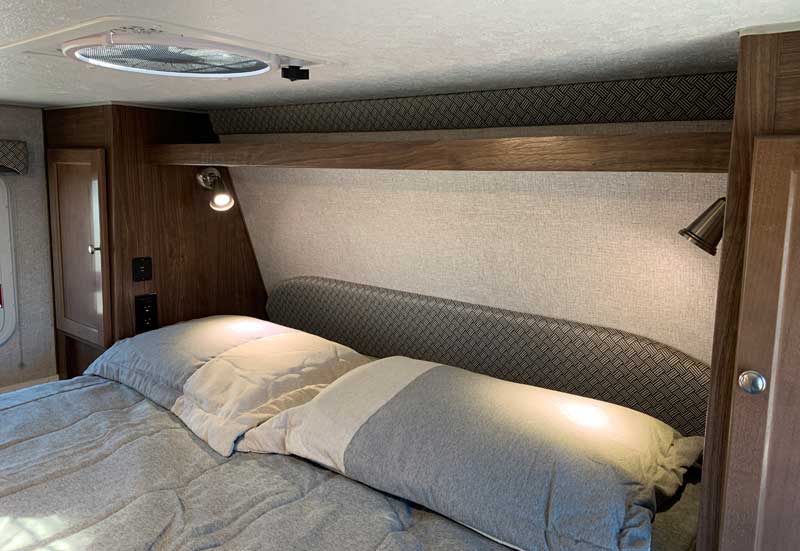 Above: The additional storage shelf on a 2024 Wolf Creek 850
For 2024, Northwood is going to thermal pane insulated windows as standard. Why did you make this change?
Tony: Post Covid, people are going to more remote locations. Thermal pane windows keep a camper cooler in the summer and warmer in the winter. With this in mind, we decided to make thermal pane windows an Absolute Northwood feature.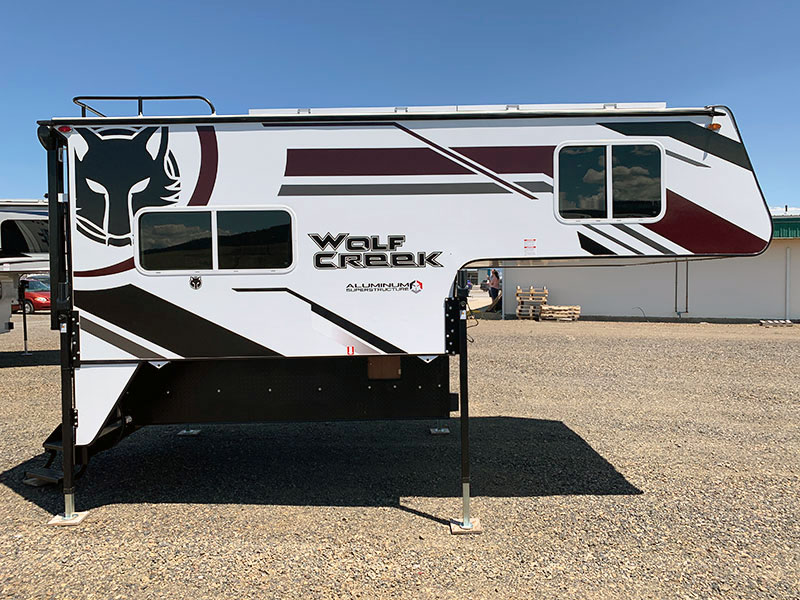 Above: Framed and insulated slider windows on 2024 Wolf Creek campers
Insulated windows can add a substantial amount of weight to a camper. Was that a consideration?
Lance: With all of the other changes – including the front nose cap – the weight difference was negligible. We also recognized that our customers were ordering campers with thermal pane windows more often than not. People want thermal pane windows. From there, we have to balance cost and weight considerations to keep our campers' price and weight competitive. We believe this change and the others we are making for 2024 have made our campers an even better value in terms of utility.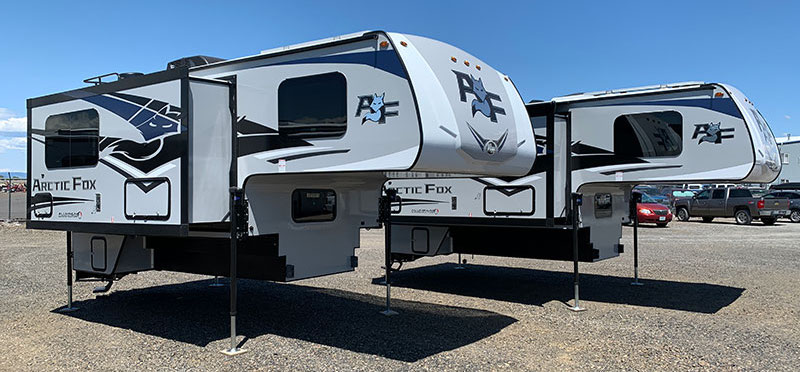 Above: The insulated frameless crank-out windows on 2024 Arctic Fox campers
Are the thermal pane windows the same on the Arctic Fox and Wolf Creek lines?
Tony: Arctic Fox is getting frameless crank-out windows. Wolf Creek is getting framed slider windows. The difference is due to how each of the lines is constructed.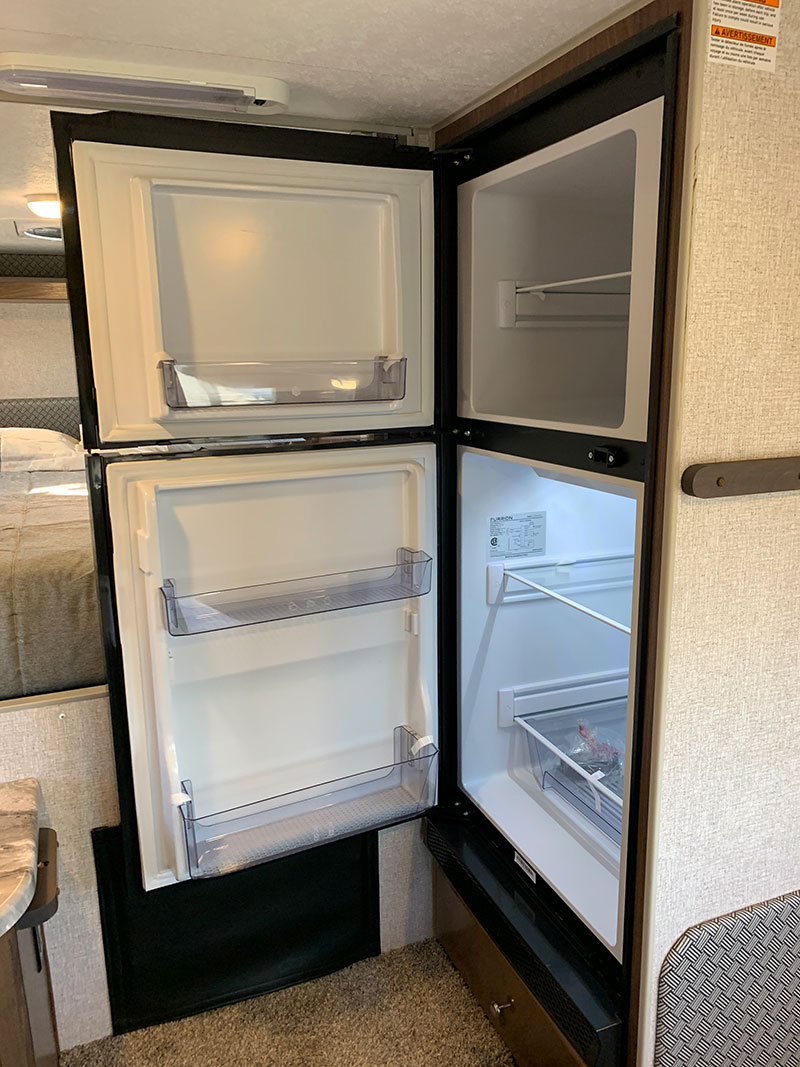 Above: The Furrion 12-volt refrigerator and freezer in a 2024 Wolf Creek 850
For 2024, Northwood is going with 12-volt refrigerators standard. That's another huge leap. Why did Northwood decide to go with 12-volt refrigerators as standard for 2024?
Lance: No more propane refrigerators. When we compared propane refrigerators to Furrion's 12-volt compressor models it was no contest. The 12-volt models offered superior cooling, lower energy consumption, and 33-percent more storage when comparing apples-to-apples. That reduces the burden on the onboard battery and electrical systems. And with 400-watts of solar, a 12-volt refrigerator is a natural fit for off-grid camping adventures.
What led Northwood to the Furrion brand of 12-volt refrigerators?
Lance: Furrion offered a more rugged, off-road-ready build quality than competing brands. Their vibration-damping system and the door latch are designed for bumpy roads. Their refrigerators also have features that help with extreme weather conditions. Their insulation was also better. That means less energy use and helps keep your food fresh if there's a power outage. Finally, Furrion freezers can also reach -11 degrees Fahrenheit.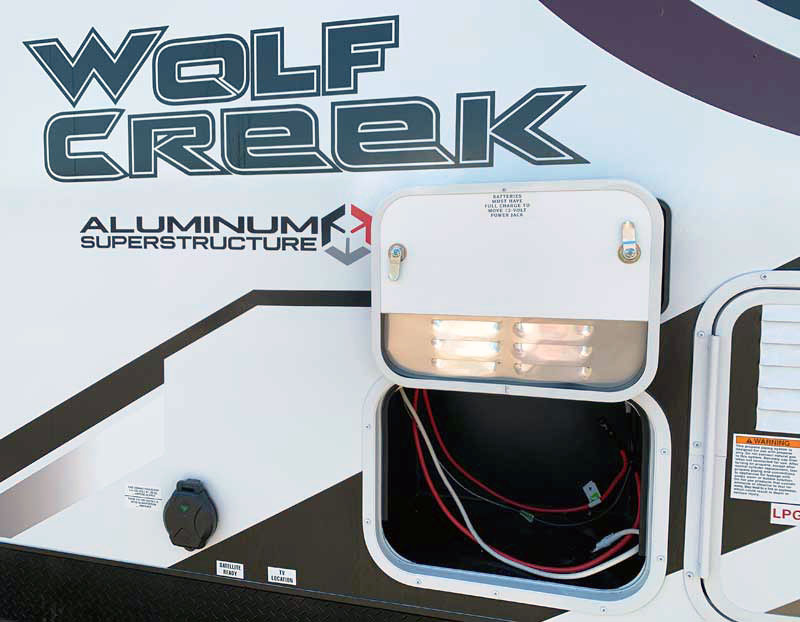 Above: The battery compartment in a 2024 Wolf Creek 850
Typically we see 12-volt refrigerators in campers that also feature lithium battery banks. Will the 2024 Arctic Fox and Wolf Creek campers be lithium compatible?
Tony: Yes. The Sol X systems are lithium compatible. And our solar controllers have a switch to accept lead acid, AGM, or lithium batteries. The Sol X systems also have Bluetooth to monitor and interact with the system.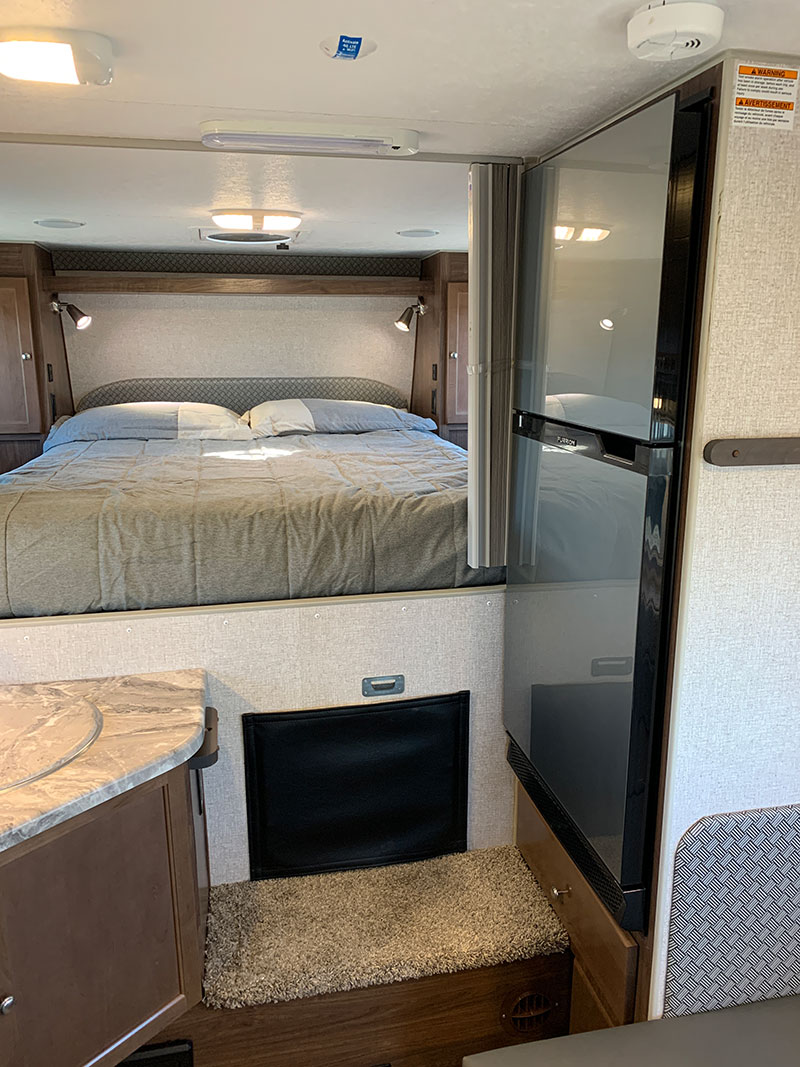 Above: The standard 8-cubic foot 12-volt refrigerator a 2024 Wolf Creek 850
Furrion's smallest 12-volt refrigerator is 8-cubic feet. Are the Wolf Creek models now getting 8-cubic foot refrigerators?
Tony: Yes. The Wolf Creek 850 previously had a 5-cubic foot refrigerator. It was a massive redesign. We had to take the furnace and put it on the other side of the unit under the galley instead of under the refrigerator. We also had to adjust some drawers. The small drawer under the range was replaced with a small drawer under the refrigerator.
Lance: Every Arctic Fox and Wolf Creek model now has an 8-foot refrigerator, except for the Arctic Fox 1140 which now has a 10-cubic foot refrigerator.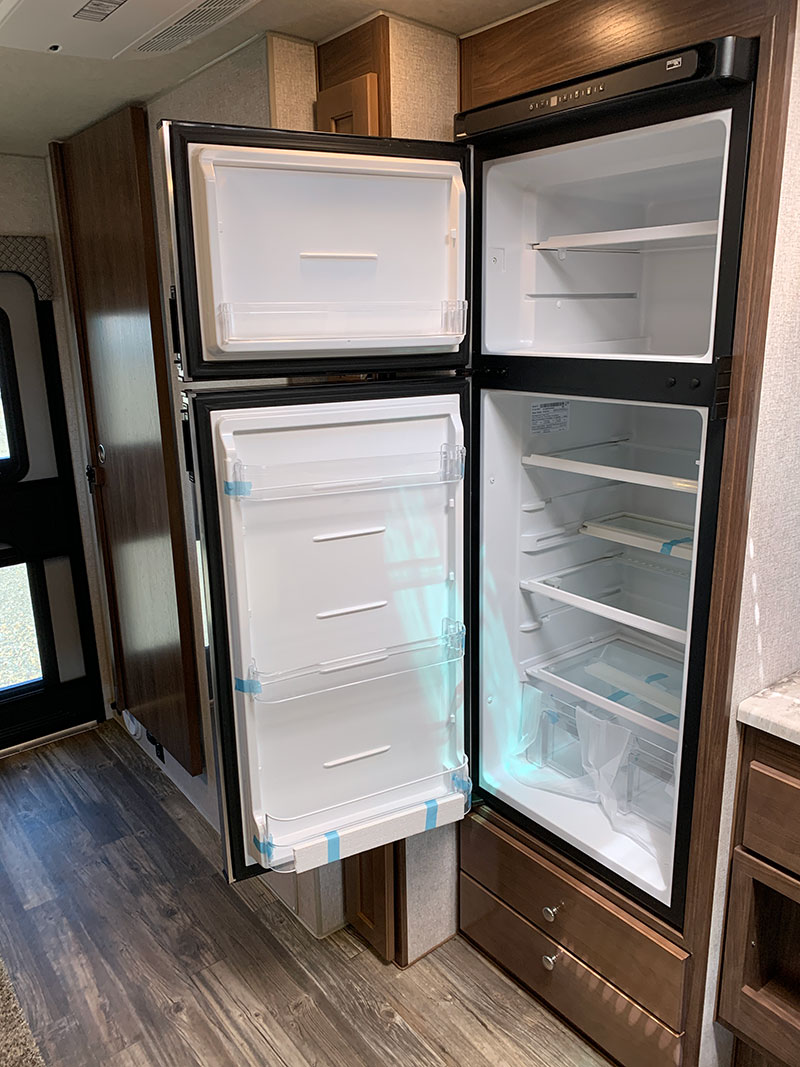 Above: The 10-cubic foot 12-volt refrigerator in a 2024 Arctic Fox 1140
That's insane. Did the Arctic Fox models require adjustment to fit the new refrigerators?
Tony: Not much. In fact, the 12-volt refrigerators have no venting requirements eliminating extra baffles and have a much simpler electrical set up. In many ways, the new 12-volt refrigerators are simpler to install.
Lance: There were a lot of, "ah-ha" moments when implementing the 12-volt refrigerators. They're a huge advance over propane refrigerators and offer enormous advantages to design, manufacturing, energy consumption and the customer experience.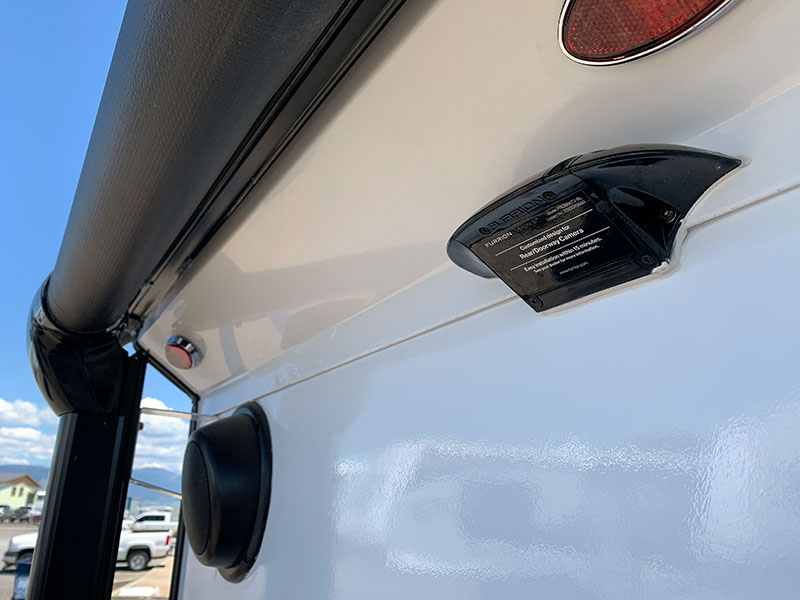 Above: Furrion rearview camera ready
For 2024, Northwood is wiring every camper to be rear-view camera ready. For folks who purchase their Northwood campers without the rearview camera, where will this wiring be?
Tony: The Vision S rearview camera is another Furrion product. It comes with a self-contained housing that includes the camera wire. You can install or replace the wireless camera. It all fits right there. The rearview monitor is in your pickup truck and plugs into the cigarette lighter. The camera and monitor connect wirelessly. It's a 580P camera with no lag.
Lance: The 12-volt wire is there along with a baseplate and shark fin. Simply back out the screws, connect the wires and it's ready to go. You may never want the backup camera, but it's as user-friendly as possible if you do. The Furrion Vision S camera also offers wide-angle viewing, night vision, motion detection, and an auto-wake function. If the motion detector goes off, the camera wakes up.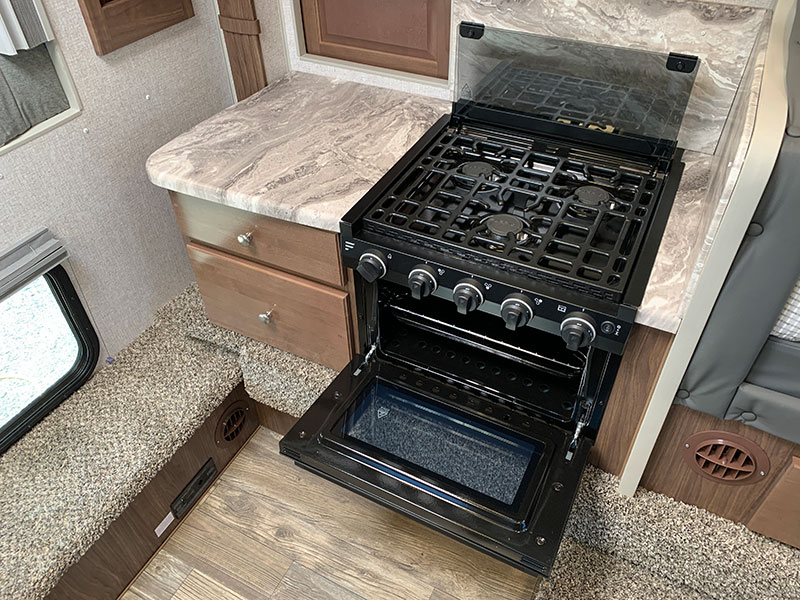 Above: Furrion range and oven in a 2024 Arctic Fox 1140
Have there been any other rolling changes made on the 2023 and 2024 models? Changes in design, materials, etc.
Lance: Over time we've changed to thermoformed countertops, stainless steel sinks, and Furrion ranges with LED knobs. We make rolling changes for value, utility, and quality control all the time.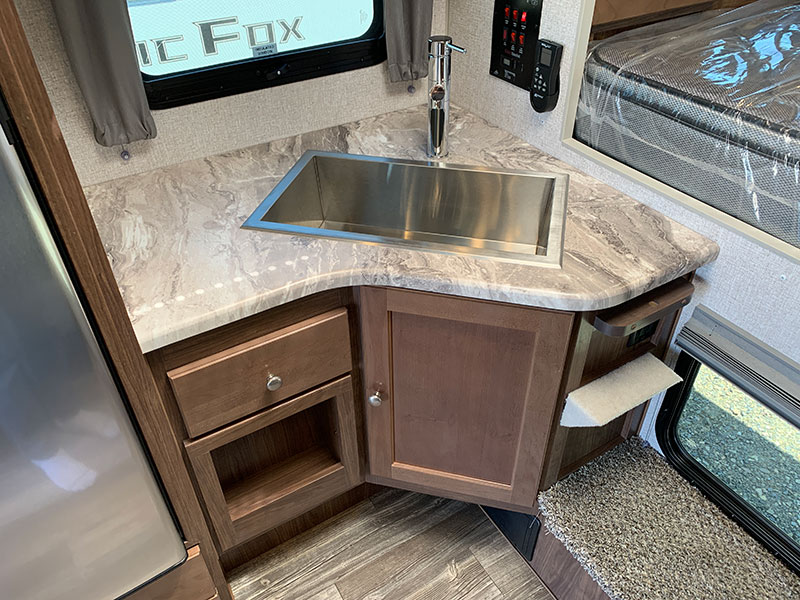 Above: Stainless steel sink and thermoformed countertops in a 2024 Arctic Fox 1140
Is there anything else you'd like to add about Northwood's 2024 updates?
Lance: We want to keep innovating. For 2024, we want our customers and dealers to be excited about our products. The RV industry is cyclical. We want our customers and dealers to know that we are not resting on our laurels. The RV industry as a whole is definitely slowing down, but we're still, "Steady Eddie" and continue to enjoy a solid order position.
We weathered the Covid storm with long hours and weekends. We never shut down due to a lack of materials or sacrificed quality. It was quite a roller coaster ride and now we're on the other side of it. Northwood Manufacturing and our sister company, Outdoors RV, stayed steady with production and sales. Industry-wide, the segments doing the best are Class B motorhomes and truck campers.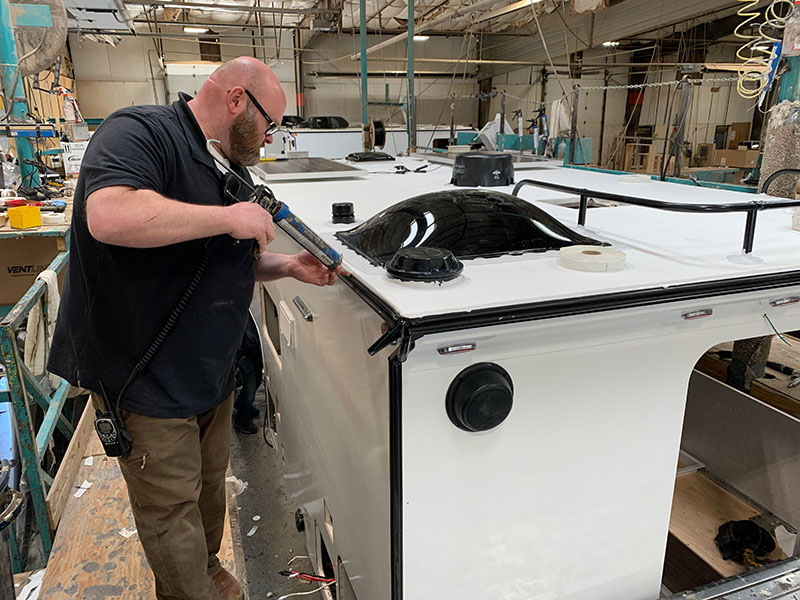 Above: Dave Murie, Assistant Production Manager, tending to details on the truck camper line
One of the things that makes Northwood special is that we've been a family-run business for so long. There's always a belief that we'll get through, whether we're facing the Great Recession of 2008, or Covid. We keep our collective eye on the ball and produce campers people want to buy. We're blessed to be in a place that supports that and puts together the best possible products we can.
Above: Click the image above for a 3D tour of a 2024 Arctic Fox 1140
Above: Click the image above for a 3D tour of a 2024 Wolf Creek 850
Additional comments from Donald Cochran, CSO
During our Northwood factory visit, we also spoke with Donald Cochran, Chief Sales Officer (CSO) of Northwood Manufacturing, about his perspectives on the 2024 updates. His comments are below.
Donald: The new fiberglass front nose cap gives our 2024 Arctic Fox and Wolf Creek lines a fresh look. And I want your readership to know we've been working on this new fiberglass cap for some time. There are several designs and prototypes that didn't pass the Northwood quality cut.
It's also important to state that the front nose cap has added to the proven structural integrity and foam insulation of our Arctic Fox and Wolf Creek nose designs. It's not just a new look. It's a stronger and better-insulated front nose.
We understand that truck camper enthusiasts are motivated by the 'beyond the pavement' and off-grid 'extended stays' capabilities truck campers are known for. That's why we have led the truck camper marketplace with holding tank capacities for years. Northwood Manufacturing was also the first to introduce a full-wall slide in a truck camper, the first to introduce a refrigerator on a truck camper slide-out, the first to go all-LED for interior and exterior lighting, and the first to make 45-watt solar panels standard across all our products.
Once again, we are leading the competition for 2024 with a 400-watt standard solar power package and an optional 600-watt solar power package. A 2024 Northwood truck camper will allow you to camp off-road and off-grid as long as possible!
There are other important factors that made the new 400-watt standard solar package possible for 2024. First, solar panels and components have come down in price. And second, we found a vendor who offered us the quality and consistency we demand in a Northwood product. Quality, quality control, and value are of the utmost importance to everything we do here at Northwood Manufacturing.
For more information on Arctic Fox and Wolf Creek campers, visit their website at northwoodmfg.com/truck-campers.  Click here for a free Arctic Fox brochure and/or Wolf Creek brochure.