Donald Cochran, Director of Sales for Northwood Manufacturing, announces an all-new 2014 Wolf Creek model and gives us the inside scoop on Wolf Creek's 2014 truck camper updates.

In 2011, Northwood Manufacturing debuted Wolf Creek, a new truck camper line primarily targeting heavy duty half-ton and three-quarter ton trucks.  Wolf Creek truck campers would be hard-side, non-slide truck campers built on the same assembly line by the same production team as Northwood's popular Arctic Fox truck campers.
To drive down cost and weight, Northwood made a series of careful design and material choices.  For example, Wolf Creek campers would feature one-inch aluminum framed laminated walls instead of the two-inch aluminum laminated walls in the Arctic Fox line.
After adjusting the frame, Northwood adjusted just about every design element and material variable in the Wolf Creek line to save a few pounds here, and a little cost there.  Cabinetry became flat panel versus raised.  Exterior access doors went from one inch to a half inch.  Refrigerators went from five or six cubic feet to three, and so on down the line.
The initial result of this effort was the Wolf Creek 850, a camper that weighed in at just over 2,000 pounds dry, or just over 3,000 pounds wet using Truck Camper Magazine's own wet weight calculations.  To put that weight into perspective, the next lightest Northwood truck camper in production at that time was 1,500 pounds more than the Wolf Creek 850.  Clearly the Wolf Creek line was blazing a new path at Northwood.
Nearly three years later, Northwood is announcing the most aggressive set of changes to Wolf Creek since the brand's introduction.  To get the low down on the 2014 Wolf Creek line and updates, we talked to Donald Cochran, Director of Sales for Northwood Manufacturing.

Above: 2014 Wolf Creek campers ready to be shipped at Northwood Manufacturing
TCM: Are there any Wolf Creek models being discontinued or announced for 2014?
Donald: The Wolf Creek line has stayed pretty much the same since its introduction in 2011, but we're making some significant changes and updates for 2014.
We are retaining the two Wolf Creek models currently in production, the Wolf Creek 816 and the Wolf Creek 850.  In addition, we are very excited to announce the all-new Wolf Creek 840 at the California RV Show in Pomona this October.
Of course we'll give Truck Camper Magazine the exclusive announcement including floor plan, photography, and specifications as soon as the Wolf Creek 840 is ready.
TCM: Can you give us a hint about this new camper?
Donald: We're always talking to our customers and dealers about what they want in our Wolf Creek truck camper line.  Specifically, we want to know what features and options customers are looking for.  The 840 is a direct result of these conversations.  We're confident that it's going to be a big hit.
TCM: That's it?  Any specifics?
Donald: It's an eight-foot non-slide hard-side truck camper with a mid wet bath.  In our research, this is the floor plan that repeatedly came up over and over again as what our customers wanted to see next in the Wolf Creek line up.  Production is putting the finishing touches on the prototype as we speak.  It's that hot off the presses!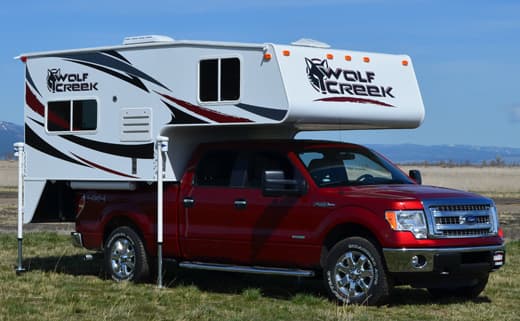 Above: A 2014 Wolf Creek 850 with the new graphics
TCM: We can't wait to see and hear more.  Tell us about Northwood's 2014 updates to the Wolf Creek line.