If there's anything truck campers often like more than their campers, it's their pets.  Stephn Lewis and his wife, Lee, give us their pointers on truck camping with pets.

When we hit the road in 2007 with our cat Harley, we were not sure how it was going to work out.  After a rough beginning, everything went well and Harley turned into the international truck camping cat he is today.  To be honest, Harley seems to be much happier on the road than at home.  Go figure.
Take a look around any truck camper rally and you quickly realize that we're not the only folks truck camping with pets.  Sometimes we wonder if there are more pets truck camping than people.  We even see a few other truck camping cats now and then, but somehow there never seems to be a cutest cat contest.  Clearly there's a dog bias among the truck camping elite.
Speaking of truck camping with pets, Stephn Lewis and his wife, Lee, have been truck camping with their cats for many years.  In the following article, the Lewis's share their pet camping pointers including many tips that would be relevant to both dog and cat owners.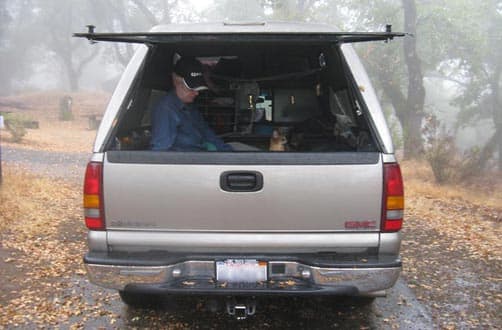 Above: Stephn and Lee's beginning days of camping with truck and shell
TCM: How did you get into camping and then into truck camping?
Stephn: I never camped as a kid, but thought the idea was good.  My wife and I discovered each other and found we had a mutual interest in camping.  I knew nothing about it, but she had camped for years.  So we bought a truck and put a shell on it with a platform on the back and a futon.  That's how we started.  We still have the same truck.  It's evolved with us as we've gone from a shell to a Four Wheel Camper.  Camping is much more comfortable with the Four Wheel Camper.
TCM: Why do you have a pop-up camper?
Stephn: We actually got our pop-up camper from Linda, our cat breeder.  There's a short sad story there.  Our cat breeder's husband bought it as he was becoming ill.  It fulfilled his dreams.  He did the shopping, the research, bought it, and then passed.  We did our best to be supportive through that sad process.
Two years later, Linda got in touch with us.  She told us that she had this camper, had no use for it, knew that we went cat camping, and asked if we would like to have it.  We arranged a price and payment schedule.  We are using his camper, and that means a lot to us.  It was also important to her that we have his camper.
TCM: If you got your camper from Linda, how do you know Stan Kennedy at Four Wheel?
Stephn: I got a hold of Stan when we lived in Oakland.  The Four Wheel Camper factory was close.  I went there and said, "Okay, I own this thing.  Now how do I use it?"  I needed to know how everything worked.  He was really nice to us and we got to look in the factory.  We've done some off-roading and I don't worry about it.  This is a well built camper.
Above: Their trip to Oregon in 2009
TCM: Where do you like to go camping in your Hawk?
Stephn: We have a yearly family get together on Trinity Lake in July.  Other than that, there are road trips.  We will choose a state on the West coast, pick an area, and head out.  We usually only spend one night in a given place and drive the next day.  While we're on the road, we may hear about a museum, a car show, or a concert and go in that direction.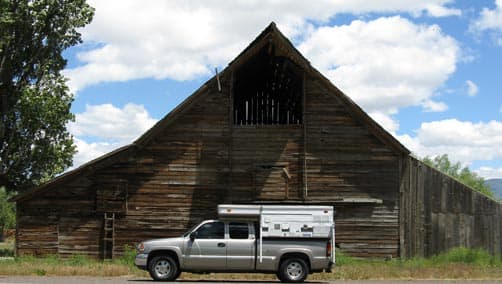 Above: Highway 447 in Nevada on the way to Burney Falls
I love the desolation of Nevada where I'm on a two lane road and I don't even know how far I'm looking.  There is a good chance that I won't see a car for forty-five minutes.  It's just magical.  The Valley of Fire in Nevada is one of my favorite places.  We also went to some of the ghost town areas; the views out there are incredible and the ghost town stories are great.