Above: Bryan takes it slow at the Lower Meadows of the Firehole River Yellowstone National Park, Wyoming
A full-time RVer is going to have periods of changing weather, including cold, rain, and snow, that will keep them indoors.  Cooking, sleeping, reading, paying bills, working on the computer, watching TV or just hanging out also keep a full-timer RVer inside their camper.  Every day will not be like being on a two week vacation, maximizing every minute for fun, adventure, or relaxation.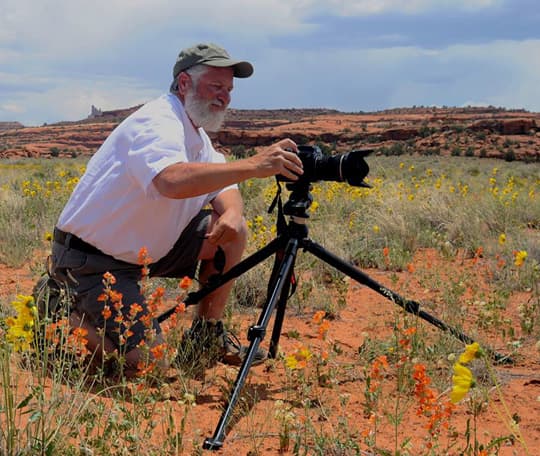 Above: Byran taking pictures of desert wildflowers in Canyonlands National Park, Utah
Above: Samples of Bryan's wildflower photography.  Click to enlarge.
I have a passion for wildflowers, always have.  Traveling in my truck camper I am often in an area that I can pursue that passion.  You can take it a lot slower and enjoy the flowers along the way.  One of the things full-time RVers realize is that they don't have to leave someplace when they find something interesting.  They can now take additional days to explore.

Above: An abandonded farm on the high prairie of western Kansas
Other than my kids, one of my longest passions is photography.  Being able to travel, I am able to pursue this passion much more often and in many different locations and themes.
Above: A hot air balloon soaring over Nevada
If you are a planner and feel comfortable running on a schedule, then go ahead.  Me?  I prefer to live a more spontaneous life.  I had a hot air balloon company set up for a flight, right next to me, in a meadow where I was camping.  I walked over and started talking to him and helping him and his chase person.  He then told me their day's client canceled so, if I wanted to go, I could go in their place as they had already paid.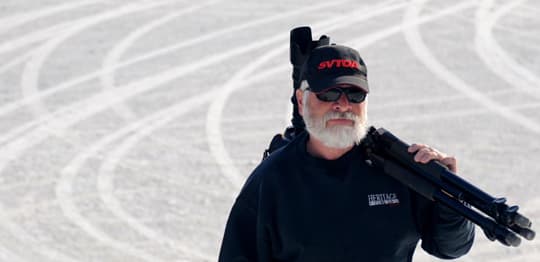 Above: Photographing White Sands National Park, New Mexico
Do I want to go?  Heck Yeah!  It pays to have a lifestyle that can be interrupted for the unexpected.
Read more about Bryan as he takes us through the design and build of his ultimate full-time truck camping rig, tells more tales of extreme boondocking, and warns us of the dreaded TP factor.  Click here to read, "Extreme Boondocking and the TP Factor".
Are you living on the road full-time?  We'd love to hear from you!  Please share your story.