Bryan Appleby takes us through the design, build, and trials of a unique truck and camper rig developed, from the ground up, for full-time living off-road, and off-the-grid extreme boondocking.
This article is continued from "Full-Time Truck Campers Must Be Crazy".
Extreme Boondocking and the TP Factor
by Byran Appleby
After much consideration, I ended up ordering a large hard-side 2009 Lance 1191 truck camper.  There were a lot of options to consider, but I ended up deleting more than optioning.  I did option the factory installed Onan Generator, two-speed high B.T.U. furnace, and roof-mounted air conditioner.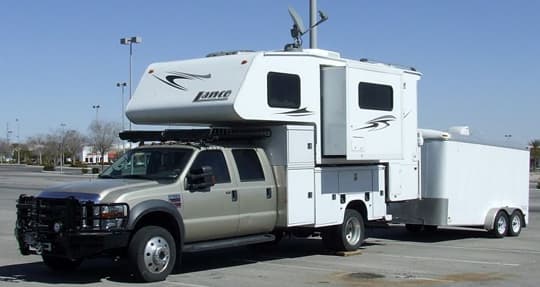 Above: Bryan's 2009 Lance 1191; a single-slide, dry bath truck camper
I opted out of the factory microwave choosing instead to install my own $30 unit.  With my plans to be in remote locations, I knew that Burger King would not be an easy take-out, so I opted for the oven and stove option.
I supplement my indoor cooking with an auxiliary propane grill and separate Weber charcoal grill.  This is an example in how users of truck campers vary.  Some will prepare meals and bring these for their trip.  Others simply eat out for every meal.  My routine is more like a backpacker; I need to plan and bring bulk items to prepare and cook.
Picking the right camper is important.  For me, I zeroed in on a hard side truck camper with a slide.  I love the extra room of a slide-out and can't wait until I'm in a location I can put out the slide.  But, with stealth camping, cold weather, and dust/sand storms, I have learned how important it is to choose a truck camper that can be used with the slide-out(s) in.
While I will always dream of full-time RVing in a short-bed pop-up truck camper and a lifted four-wheel drive truck, the reality is that I made the right choice.  As a four season truck camper, I needed a hard-side.
Also, I wanted my truck camper to last for fifteen to twenty years.  The abuse of four-wheeling up logging roads and literally scrambling eggs in the fridge was not something I wanted to do.  But, getting down dirt and forest roads was a priority.  Planning the next part was important, if not critical for my future as a full-time extreme boondocking truck camper.
Ford F-550 Hauling a Camper
My first choice was to purchase a new 2008 Ford F-550, 6.4L diesel, 4.30 LSA, 17,950 pound GVWR, crew cab, extended frame truck.  I opted for skid plates, a block heater, spare tire and wheel, heavy duty front suspension, the low deflection package, heated seats, and auxiliary fuel reserves.  The truck has been impressively problem free, since delivery.
I installed Firestone air bags to level out my truck camper when camping.  The Ford F-550 does not come with a hitch from the factory.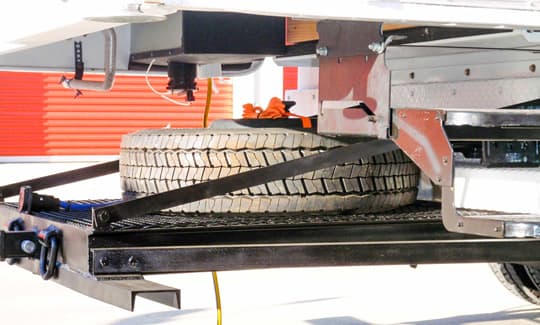 Above: The rear platform for spare tires.  The two trailer tires (not pictured) are stacked right on top of the truck spare.  The trailer tires fit into the void of the Lance overhang.
The same group that installed my service body, installed my Class VII hitch and rear platform to extend the stinger beyond the rear overhang of my Lance 1191.  On this platform are three spare tires for my F-550 and trailer.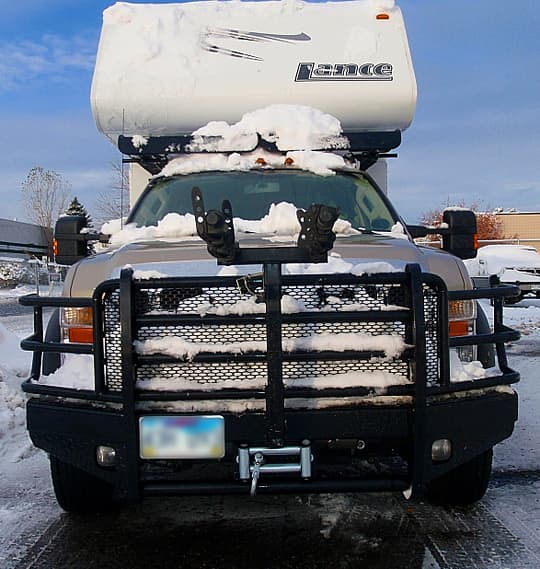 Above: Ranch Hand bumper with winch and front hitch
A Ranch Hand bumper with winch and front hitch option was installed, including a Warn 16.5 winch.  I also installed two KC Daylighter II auxiliary lights.