Sixteen months ago, Ray and Kay Fox sold their farm to full-time in a Four Wheel Camper.  Except for a nearly disastrous snow storm, they've been living their dreams ever since.

What if the ticket to living your dreams was giving up almost everything you own; your house, your car, your furniture, and most of your worldly possessions?
Imagine that your dream is to travel in a truck camper.  You want to see the United States and Canada from coast-to-coast, and experience every national park they offer.  Great dream, right?
Then it hits you.  If you sold everything – and I mean everything – and lived simply – and I mean simply – the dream might be possible, right now.
Believe it or not, some folks not only find this idea exciting, but they have the all out emotional and physical fortitude to actually do it.  By selling everything, and living simply, they see a real path to freedom and opportunity, and take the leap.
Perhaps more than any couple we've ever interviewed, Ray and Kay Fox embody this brave lifestyle.  They literally sold their farm to live, full-time, in a Four Wheel Camper with no bathroom, minimal amenities, and relatively limited storage.  If their farm was a novel, their Four Wheel Camper is Haiku poem.
But has life after the leap been poetry?  Do they regret ridding their worldly possessions?  Have they been able to make life in a pop-up truck camper work?  Ray and Kay's answers, and an amazing Death Valley snow storm story, are something you need to read.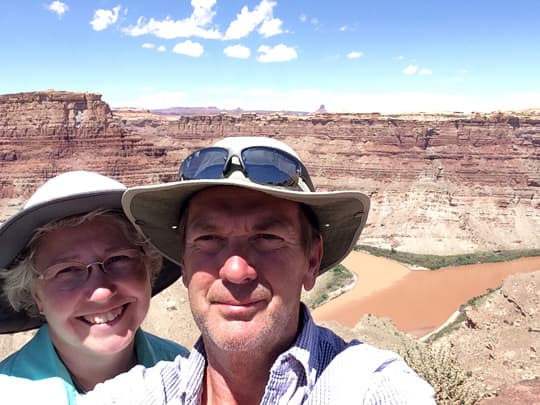 Above: Kay and Ray Fox at the confluence of the mighty Colorado and Green Rivers
TCM: Before we get into your current full-time lifestyle, tell us about how you got into truck camping.
Kay: I actually have no prior RVing experience or truck camping experience.  I started tent camping in my thirties as a member of a camera club.  Then I started backpacking once Ray and I were married.
Ray: Growing up in Ohio, I tent camped most summers, or just slept under the stars in a sleeping bag.  There were lots of farm ponds to fish.  In the hills of Kentucky, we camped under cliffs and basically ran wild with my cousins.  We were rarely indoors.
My first experience with truck camping was on a deer scouting trip to the Virginia mountains with my uncles and cousins.  After walking up mountains looking for deer and bear signs all day, we would sit around a fire and listen to the uncles tell bear stories.  Needless to say, we didn't sleep too well in our tents afterwards as we listened to every sound thinking it was a bear.  The uncles retired to the truck camper.  That's when I knew that some day I would own a truck camper.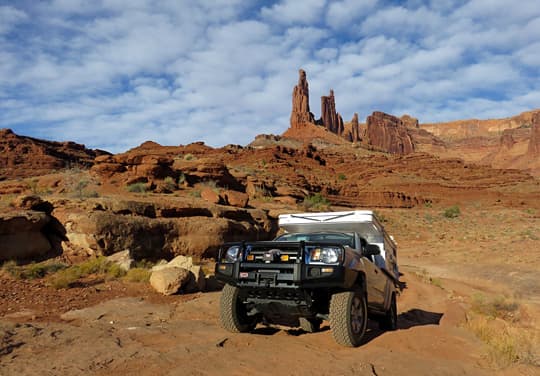 Above: White Rim Trail, Canyonlands National Park, Utah
TCM: What finally led you to a truck camper?
Ray: The most effective way for us to explore the backcountry and backroads of the United States and Canada was to have a four-wheel drive truck, and a camper built to handle the demands of off-road use.
We knew we were looking for a rig that would be our home for at least a year.  To stay comfortable, we needed to store clothing and gear for all kinds of weather.  During our research, we looked at lots of set-ups including SUVs, off-road trailers, and roof-top tents.
Attending Overland Expo West near Flagstaff, Arizona was very helpful.  There we were able to see just about every kind of camping set-up imaginable.  We got into these set-ups, sat down, tried the chairs, and laid on the beds of every one we could.  After three days of looking and learning, we kept coming back to Four Wheel Campers.