Sixteen months ago, Ray and Kay Fox sold their farm to full-time in a Four Wheel Camper.  Except for a nearly disastrous snowstorm, they've been living their dreams ever since.

What if the ticket to living your dreams was giving up almost everything you own; your house, your car, your furniture, and most of your worldly possessions?
Imagine that your dream is to travel in a truck camper.  You want to see the United States and Canada from coast-to-coast, and experience every national park they offer.  Great dream, right?
Then it hits you.  If you sold everything – and I mean everything – and lived simply – and I mean simply – the dream might be possible, right now.
Believe it or not, some folks not only find this idea exciting, but they have the all-out emotional and physical fortitude to actually do it.  By selling everything, and living simply, they see a real path to freedom and opportunity and take the leap.
Perhaps more than any couple we've ever interviewed, Ray and Kay Fox embody this brave lifestyle.  They literally sold their farm to live, full-time, in a Four Wheel Camper with no bathroom, minimal amenities, and relatively limited storage.  If their farm was a novel, their Four Wheel Camper is Haiku poem.
But has life after the leap been poetry?  Do they regret ridding their worldly possessions?  Have they been able to make life in a pop-up truck camper work?  Ray and Kay's answers, and an amazing Death Valley snowstorm story, are something you need to read.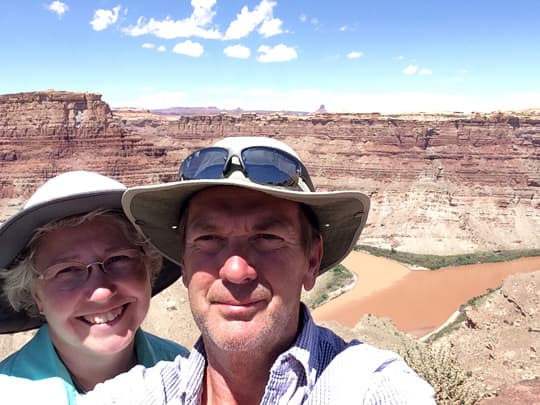 Above: Kay and Ray Fox at the confluence of the mighty Colorado and Green Rivers
TCM: Before we get into your current full-time lifestyle, tell us about how you got into truck camping.
Kay: I actually have no prior RVing experience or truck camping experience.  I started tent camping in my thirties as a member of a camera club.  Then I started backpacking once Ray and I were married.
Ray: Growing up in Ohio, I tent camped most summers, or just slept under the stars in a sleeping bag.  There were lots of farm ponds to fish.  In the hills of Kentucky, we camped under cliffs and basically ran wild with my cousins.  We were rarely indoors.
My first experience with truck camping was on a deer scouting trip to the Virginia mountains with my uncles and cousins.  After walking up mountains looking for deer and bear signs all day, we would sit around a fire and listen to the uncles tell bear stories.  Needless to say, we didn't sleep too well in our tents afterward as we listened to every sound thinking it was a bear.  The uncles retired to the truck camper.  That's when I knew that someday I would own a truck camper.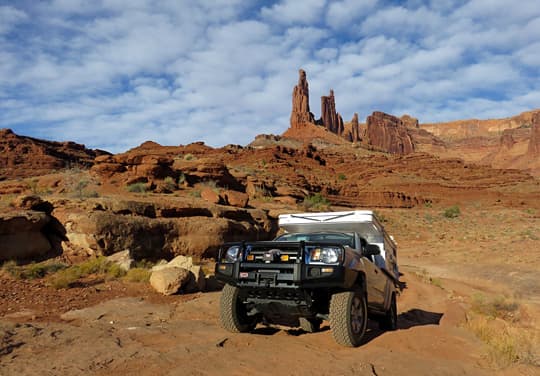 Above: White Rim Trail, Canyonlands National Park, Utah
TCM: What finally led you to a truck camper?
Ray: The most effective way for us to explore the backcountry and backroads of the United States and Canada was to have a four-wheel drive truck, and a camper built to handle the demands of off-road use.
We knew we were looking for a rig that would be our home for at least a year.  To stay comfortable, we needed to store clothing and gear for all kinds of weather.  During our research, we looked at lots of set-ups including SUVs, off-road trailers, and roof-top tents.
Attending Overland Expo West near Flagstaff, Arizona was very helpful.  There we were able to see just about every kind of camping set-up imaginable.  We got into these set-ups, sat down, tried the chairs, and laid on the beds of everyone we could.  After three days of looking and learning, we kept coming back to Four Wheel Campers.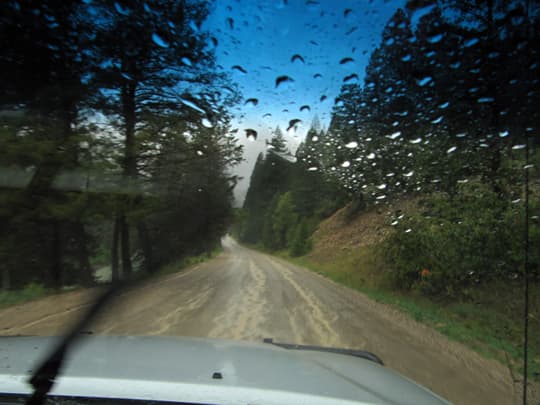 Above: Traveling on Grey's River Road Loop, Wyoming
We liked the pop-up truck camper concept for the lower center of gravity, and lower overall height for off-road travel.  The lower profile also helps with fuel mileage.  To sum it up, a Four Wheel Camper pop-up is a streamlined package solution.
After a couple of years of comparing the different models, and phone consultations with Four Wheel Campers, we visited the factory and purchased their Eagle model.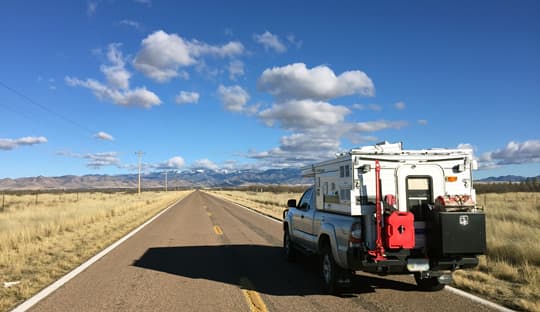 Above: Their Four Wheel Eagle with additional rear bumper storage and fuel storage
TCM: Once you had your rig together, did you modify the truck or camper?
Ray: We installed heavier shocks and added airbags for better stability and ride.  We also added an ARB protective front bumper with a winch and a rear CBI Off Road Fab steel bumper.
The rear bumper features swing-out arms so that we can haul extra fuel.  We have an Aluminess storage box for recovery gear and outside items.  I have used the four gallons of extra fuel several times.  It helps that you can buy fuel when it's cheaper, but really it's more about being way out somewhere and not having enough fuel.
Before we got the extended rear bumper, I backed into a tree and did some damage to the camper.  The bumper now gives us extra protection.  Overall, the extra protection and fuel give us peace of mind.  We've never used the winch, but we came close once.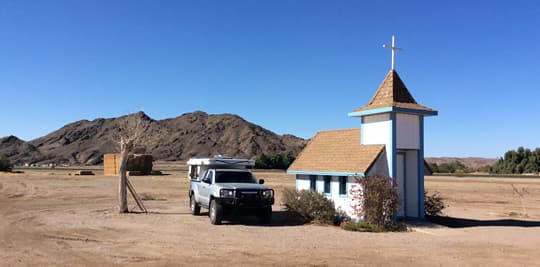 Above: Hobbit Church in Arizona
TCM: Came close?
Ray: Around the first of March last year we drove up to Mahogany Flat Campground, a four-wheel drive primitive campground, at about 8,100 feet.  There's a two-mile road going up there from Charcoal Kilns on a four-wheel drive steep road.  We were going to hike to Telescope Peak, the highest peak in Death Valley, at 11,000 feet.
Above: Pictures from day 2 of being stuck in the snow
The next morning we woke up to snow and winds approaching 50 miles per hour.  We were stuck up there, and the temperatures were in the 20s.  The wind was so bad it sounded like we were inside a paper bag and someone was shaking it.  It was an unexpected snowstorm.
The storm produced a foot of snow.  We were trapped and couldn't come back down.  That's when we anticipated using the winch.
Kay: We checked the weather forecast when we went up on Thursday, and they were calling for rain on Friday.  The storm came early.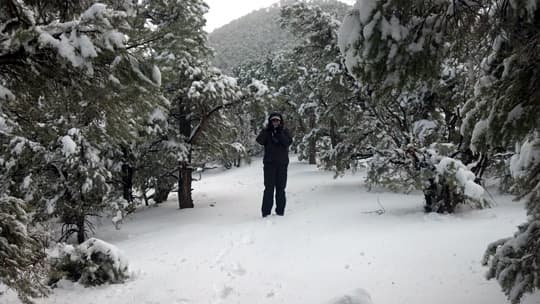 Above: Taking pictures of each other in the snow
Ray: The snow continued for two to three days.  Fortunately, we were in the rig and warm.   There was a concrete outhouse with a vault toilet at Mahogany Flat Campground.  We considered sleeping in there because the winds were blowing so hard, but we didn't.
Our furnace wanted to run constantly even when we put it on the lowest setting.  We turned it on and off as needed to conserve propane.  The furnace is big enough for the camper and kept us warm.  We just didn't want to use up all the propane.  We didn't know when we were getting out.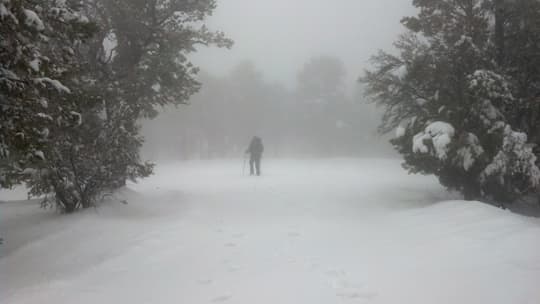 Above: And the snow continued…
Another challenge during the storm was keeping the snow off the roof and solar panel.  Even though it was cloudy most of the time, we wanted to keep the solar panel clear to collect as much daylight solar power as possible.  Since we don't carry a generator, we also ran the truck for power.
At one point I covered the roof with a tarp, let it snow a few inches, and then pulled the tarp off with the snow.  That worked well and was much easier than pushing the snow off a slippery roof.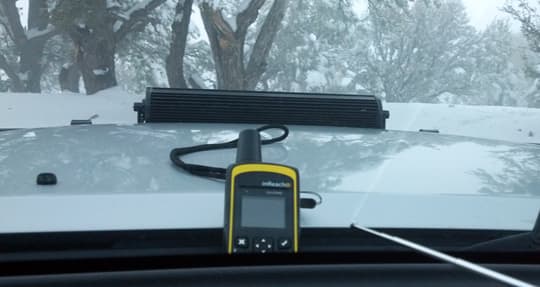 Above: The Delorme inReach satellite communicator was used because they had no cell service.  They reached the park service and made arrangements to meet below the snow line in two days
We stayed in the camper for six days and then decided to reach out using our Delorme inReach satellite communicator.  The Delorme saved our butts up there.  We got in touch with a dispatcher at Death Valley National Park and arranged for a ranger to pick us up at Charcoal Kilns.  Thanks to the Delorme inReach, we walked two miles to Charcoal Kilns instead of thirty-five miles back to civilization.
The ranger gave us a ride to Furnace Creek where the owner gave us a break on the rental of an otherwise expensive Jeep.  From there, we headed to Las Vegas to buy an extra 100-foot winch rope and tire chains.  In Vegas, we rented a Jeep Compass for a week and returned the expensive Jeep rental from Furnace Creek.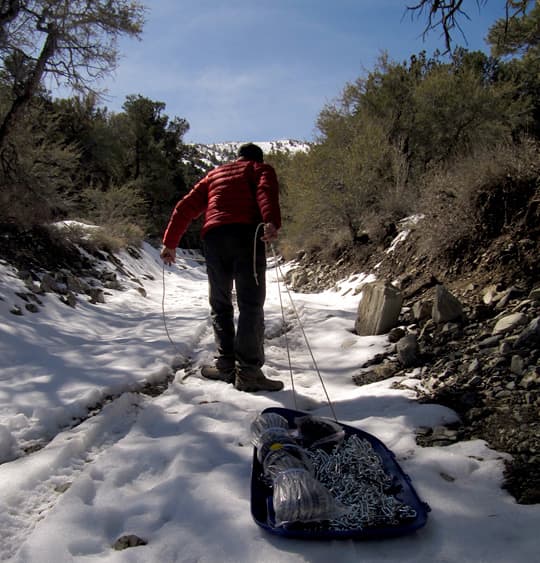 Above: On the way back to the camper, hauling chains, and a winch rope for two miles
Resupplied, we went back to the camper and prepared to winch ourselves down the mountain if we had to.  After waiting for the snow to meltdown, we put tire chains on our truck and drove it down on its own power.
Kay: Our rig was up there for a total of nine days.  Once we got down the mountain, some of the roads were washed out from the rain they received while we were getting snow.
Ray: You just don't think of Death Valley as getting snow, but it does.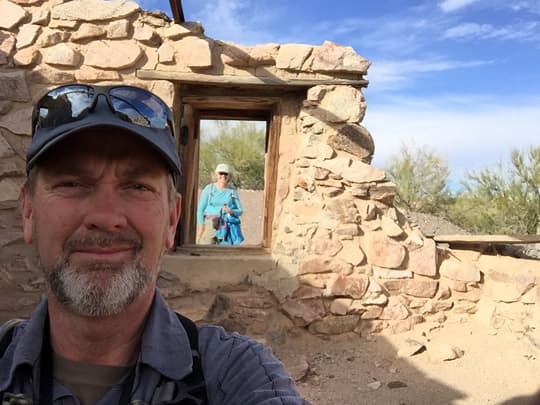 Above: Kay and Ray at the Victoria Mine Ruins, Organ Pipe Cactus National Park, Arizona
TCM: That's an incredible story, and an experience I bet you don't want to repeat.  All in all, it sounds like you guys were pretty lucky.  Tell us how you came to live, full-time, in a Four Wheel Camper.
Ray: We are in our early 50s.  We're not retired.  We had a farm in Kentucky, sold the farm, and bought the camper.  We live in the camper full-time, and hope to be on tour for two years, or more.  So far, it's been sixteen months.
Kay: The Four Wheel Camper is our home.  We wanted to do while this while we are young and healthy enough to do it, instead of waiting until we retired.  It's more like a sabbatical from work, for now.  We will be going back to work, but we don't have a restart date.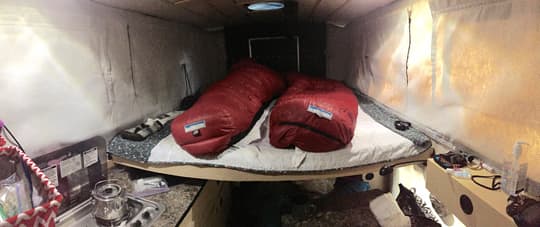 Above: Everything has a dual purpose in their camper – the sleeping bags are used for bedding in the camper and for backpacking adventures
TCM: Will you go back to a normal house when you're done?
Kay: A tiny house sounds more appealing to us after all this time on the road.  The secret is learning how much and what you actually need, and what you don't need.  We don't need a whole lot, just the basics.
Ray: We each have two pairs of shoes, hiking boots and tennis shoes, plus our shower shoes.  We each have one duffle bag of clothes with summer and winter clothes in it.  Our long johns, pants, and shirts are in that bag.
We have a separate duffle with coats. My bath towel is a pack towel that's 12" by 24".  Our gear is all dual-purpose.  We backpack when we have the chance, so we use the same sleeping bags we use to backpack in our camper.  We have dual-usage items for everything possible.  You have to have a backpacking mentality to live like this.
TCM: After living in a Four Wheel Camper for sixteen months, what do you think of life on the road versus life in a house?
Kay: We love living on the road.  Someday, way in the future, we may have a house again.  I don't want something huge.  I'm not saying I want a 100 square foot house, but a small house.  That is the way we need to live.  Living small and simple frees us up to hike, or canoe, or whatever.
Even before we sold our farm, we started the process of getting rid of our stuff.  We were donating it to Goodwill or giving it away to family.  The stuff owned us, instead of us owning the stuff.  With our lifestyle now, we are free to do the things that are important to us.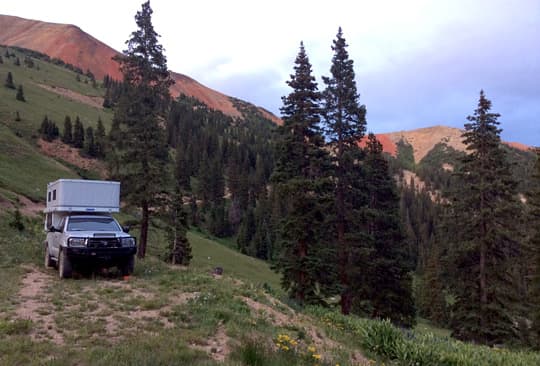 Above: Camping at 11,000 feet in Colorado
TCM: Is everything you own in your Four Wheel Camper?
Kay: I have some furniture Dad made me in storage.  We also have some clothes there but, when we get back, the clothes will probably go to family members, friends, or Goodwill.  I don't need them.
Living full-time in a pop-up truck camper, you learn how much you need to get by.  We wash the clothes we have instead of having lots of clothes taking up space.  We wash our clothes correctly and take care of them so they last longer.
Ray: I bought three pairs of Eddie Bauer hiking pants, and they are still in good shape after a year and a half.  I have three pairs of shorts, and that's too much.  I need to pare down.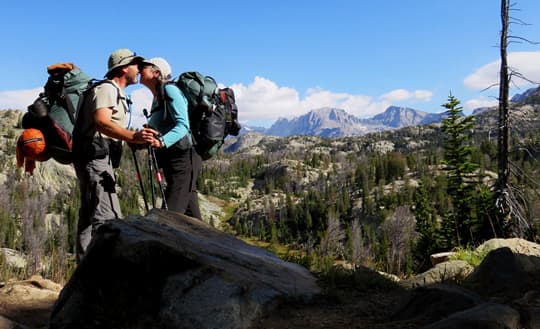 Above: Wind River Range, Wyoming
TCM: You mentioned hiking and canoeing.  Tell us more about what you enjoy doing while you're on the road truck camping.
Kay: The main reason we got the truck camper was so we could go to all the places we've dreamed about hiking and exploring.  As a benefit, we've gotten to explore lots of national and state parks and hone our photography skills.  Our setup is a vessel to take us to amazing places to hike, photograph, and experience nature.
Above left to right: Mormon Row in Wyoming, footprints in the desert of California, and Crested Butte, Colorado
TCM: Your photography is gorgeous.  I especially like the footprint photograph, the barn and rainbow photograph, and the photograph with the seemingly endless road.  For me, that image really captures the feeling of being free on the road.
Above left to right: Condor at Pinnacles National Park, Organ Pipe National Monument, and the California Coastline
Kay: I'm an amateur photographer.  I want my photographs to convey the beauty of God's world to other people.  I'm not the next Georgia O'Keefe, but I can produce a good photograph.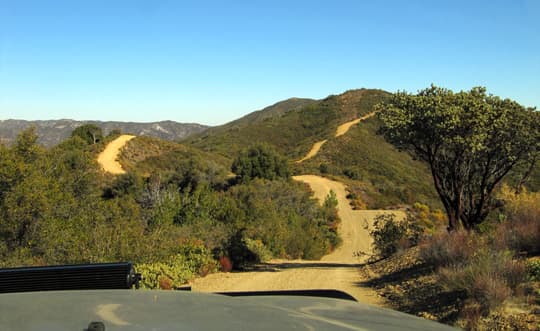 Above: Nacimiento Ferguson Road, Central Coast of California
Ray: For me, photography is my journal.  I am not disciplined enough to keep a written journal, so I take photographs.  I have no previous experience with photography really, other than as a personal hobby.  The photos I shared with you are mostly iPhone photos.
Kay: I have a Canon PowerShot HS-series camera.  I also have a Canon Rebel, but the PowerShot does a great job so I use that most of the time.  A professional photographer once told me it's not the camera, but the person taking the photo.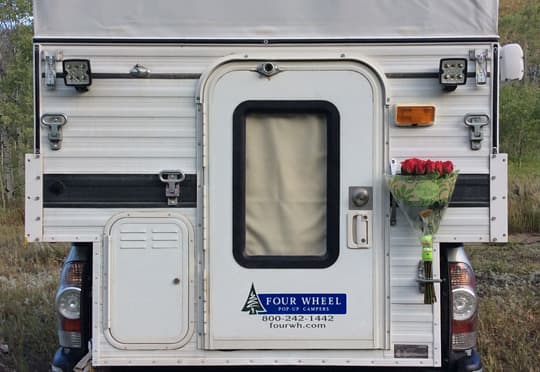 Above: Ray surprised Kay with roses on the road
TCM: What's the story behind the photograph of the roses on the back of the camper?
Kay: We had just bought supplies from a grocery store and Ray said, "Wait a minute".  He went back in the store and came out with flowers for me.
Ray: Just because you're on the road doesn't mean you shouldn't do what you would do at home.  I put the flowers on the back of the camper.  That was in Jackson Hole, Wyoming.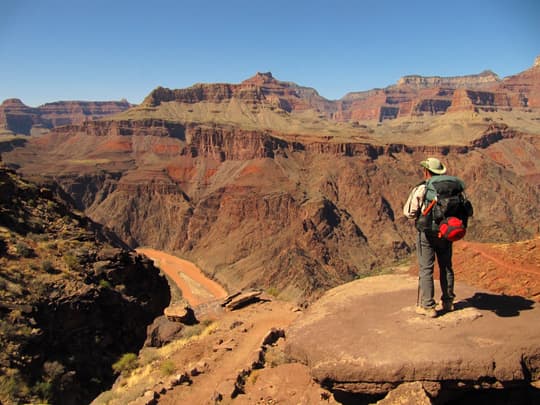 Above: Ray on the South Kailbab Trail overlooking the Colorado River
TCM: Is there anywhere you would recommend our readers go with a truck camper?
Ray: Any of the national parks would be great, but if you enjoy getting off-road, go anywhere in the entire western half of the country.  They all have either national forest or BLM land.  In Idaho, near Stanley and Challis, was the most stunning.
We do backcountry camp in national forests and on BLM land as much as possible.  Since we have solar power and twenty-six gallons of fresh water, we can stay off-grid for about a week.  If we're conservative with our water, we can stretch it a few more days.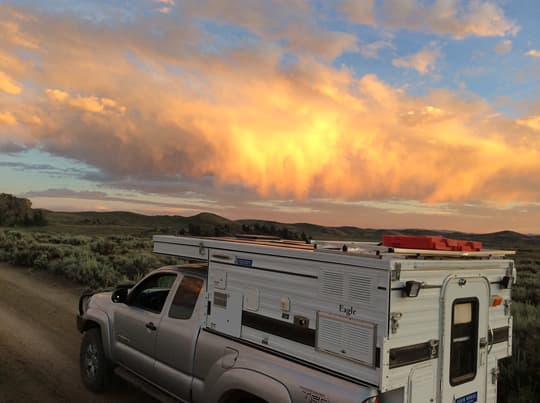 Above: Traveling on a backcountry road in Colorado
It's best to stop in a Forest Service or BLM office.  They'll tell you where the dispersed camping is located.  It really helps that we buy the Gazetteers for each state we go visit.  You can spot the national forest areas very quickly on those maps.  For the most part, most areas have dispersed camping of some kind.  Some do restrict you to campgrounds.
Kay: Also check with the Forest Service or BLM office for the rules.  For example, some want you to bring a fire ring and some don't allow fires at all.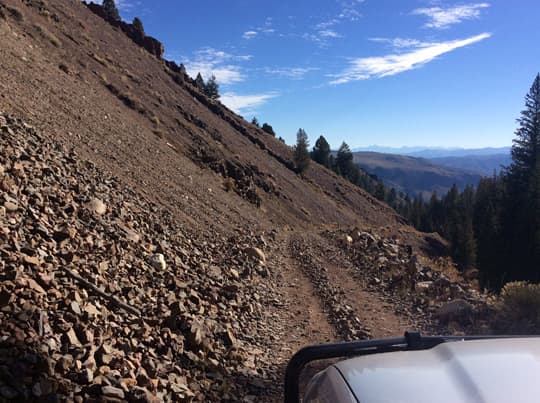 Above: A drive through the White Cloud Mountains in Idaho
TCM: You guys have pushed much further off-road than we have.  In fact, it looks like the road could end at any minute in some of your photographs.  How do you stay safe in those situations?
Ray: We've had to go in reverse on some roads.  Kay has also had to spot me because all I can see is the sky.  She'll get out and tell me which way to turn.  There are trail books you can get that are helpful.  Most western state trail books will tell you the difficulty of the backroads and describe them to you.
We have to limit how many things we have with us, so we ship the books back to my Mom in Florida.  I have a box behind the front driver's seat that carries six or eight Gazetteers and a couple of trail books.  We do use our iPad a lot.  We have the Delorme Topos on the iPad.  We do a lot of research on backroads before going on them.
I worked on a farm with tractors, so I'm pretty in tune with dirt.  Kay's not.  She's gotten out and walked a few times because of steep ledges.  She doesn't like the shelf roads.  She'll sit close to me as I drive.  One guy told her, "If the rig goes over, you're all going anyway.  There's no use sitting in his lap".
The picture I sent was from Railroad Pass in Idaho.  At the ranger station, the girl tried to talk us out of it.  She told us that there was nothing really to see.  She told us about a hike up a road that is really beautiful.  Her supervisor came out and gave me a look.  Well, I decided that's the road I want to go on.  It wound up being one of the most beautiful spots we've ever been on.  It was just amazing.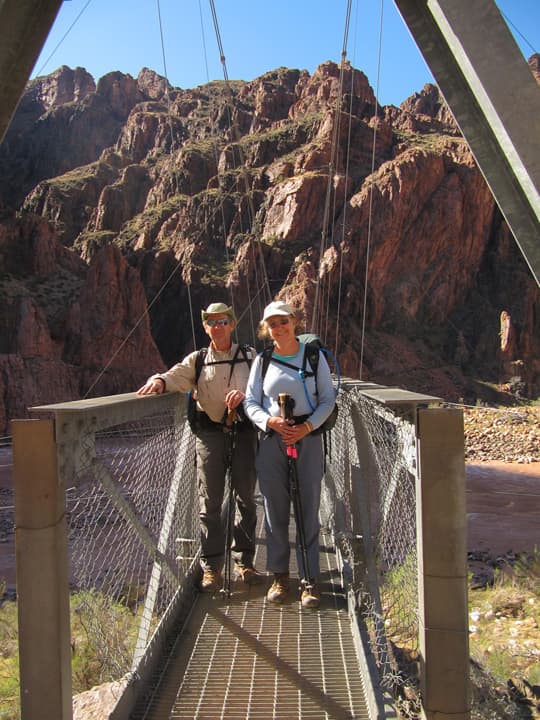 Above: Crossing the Colorado at the bottom of the Grand Canyon near Phantom Ranch on a backpacking trip
TCM: That must have been some look from the supervisor.  What is your goal for this trip you're on now?  What's this really all about?
Ray: To see amazing places and to be able to get to those places by vehicle or foot.  We want to see the most awesome sites in America.  A lot of times a vehicle will get you very close, but then you have to do some walking.
Also, our national parks are ours and they are beautiful.  Americans aren't using them enough, and they should see them.  Kay and I see a lot of internationals in the national parks.
Kay: We have an attitude of gratitude that we have this wonderful opportunity.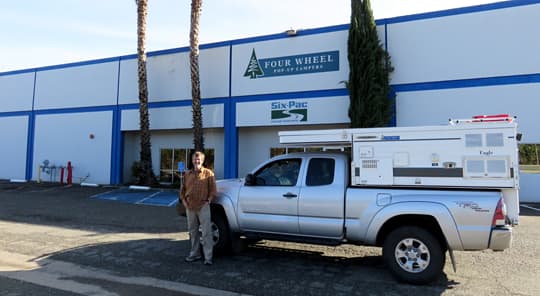 Above: Visiting the Four Wheel Factory in Woodland, California
TCM: We certainly share your attitude, and agree that everyone should go see the national parks.  They're incredible.  Is there anything else that you'd like to share?
Ray: We'd like to commend Tom Hanagan and the team at Four Wheel Campers.  He runs a good company and is a wonderful person.  We are so pleased with our Four Wheel Camper.  It is so well built.  We also had help from Jonathan Hanson from the Overland Expo.  And thanks to Tacoma guru Ronnie Pullen in Kentucky for his help.
Kay: Lord willing, we will get to go to Alaska later this year.  We hope to be able to hike in Denali and see as much of Alaska as possible.
After traveling for the past sixteen months in our Four Wheel Camper, it has made us realize that we don't need as much space or as many belongings as we previously thought.  The more you know, the less you need.
To visit the Four Wheel website, go to fourwheelcampers.com. Click here for a free Four Wheel brochure.
Rig Information
Truck: 2009 Toyota Tacoma, Extended Cab, Long Bed, Single Rear Wheel, 4×4, Gasoline
Camper: 2013 Four Wheel Camper Eagle
Tie-Downs and Turnbuckles: Four Wheel Camper factory installed
Suspension: OME rear springs and shocks, Fox front coil overs, Firestone airbags
Gear: Awning, Roof Rack, ARB onboard air compressor
Do you full-time travel with your truck camper like Ray and Kay Fox do?  If you are a full-time truck camper, please share your story.