Truck Camper Magazine reviews a 2018 Bigfoot 25C10.4, a hard side, non-slide, dry bath, long bed, two-piece fiberglass truck camper.  Is this flagship non-slide fiberglass truck camper worth its premium price?

Click here to read Bigfoot's response to this review.
"We just shipped a 2018 Bigfoot 25C10.4 to A&M Services in North Carolina.  It should be there in less than a week.  It has everything you're looking for."
The voice on the phone was Grant Bilodeau, President of Bigfoot Industries.  We were eager to review a Bigfoot truck camper featuring the new 2018 Bigfoot updates Grant was about to debut in Truck Camper Magazine.  The timing and location of the 25C10.4's arrival at A&M Services was perfect – at least for us.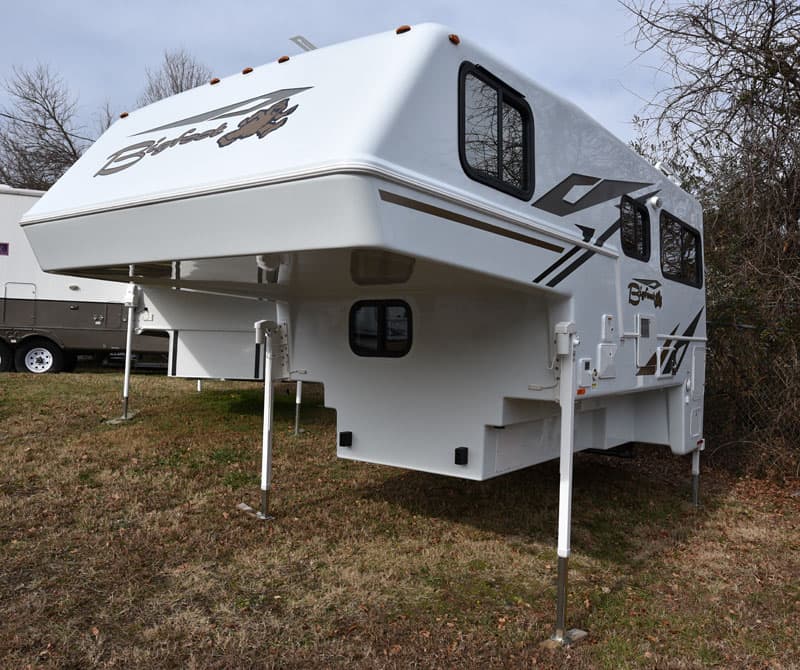 "Hello, Mark?  It's Gordon White from Truck Camper Magazine.  Would it be possible for us to visit A&M Services the day before New Years Eve and get access to the Bigfoot 25C10.4?"  I felt really bad about this request, but the opportunity to review a factory-fresh Bigfoot was too good not to try.
"We can make that happen.  I'll have my son, Ben, come in."
Poor Ben.  He was a trooper meeting us that Saturday, opening the gate, getting us into the Bigfoot, and making sure we had everything we needed.  Thank you, Mark and Ben!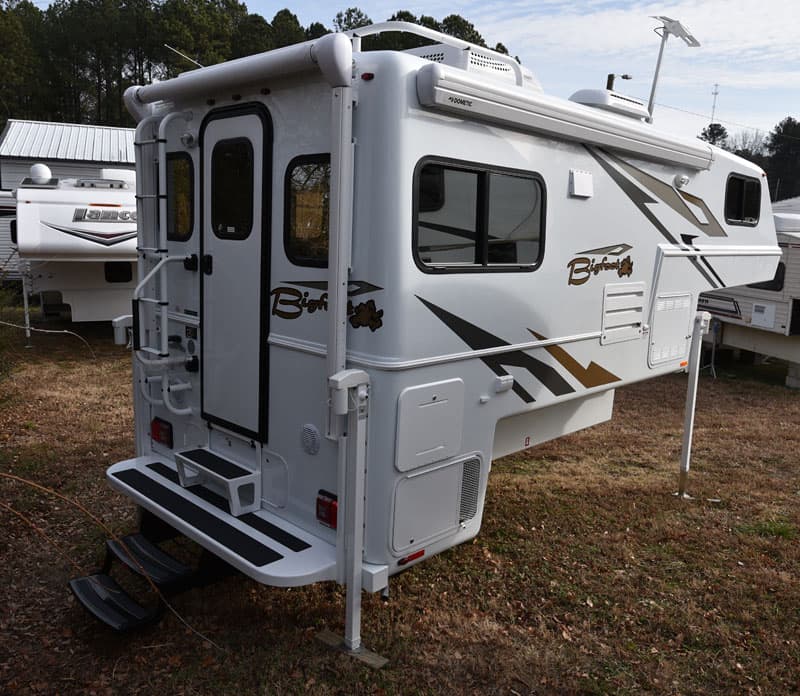 It's been almost ten years to the day since we first published a Bigfoot truck camper review.  In April of 2008, Jeff Johnston – a 30-plus year veteran of RV journalism – reviewed a Bigfoot 2500-series 25C9.4 truck camper for Truck Camper Magazine.  I vividly remember reading and re-reading that review and absorbing the language and overall presentation Jeff brought to the task.  Suffice it to say there were a lot of people pulling for our young start-up back then, and Jeff was a stand out.
Jeff's review left no question about his admiration for Bigfoot's quality.  In conclusion about the 25C9.4, he wrote, "It looks good outside, has functional living spaces inside, and displays the kind of quality control that gives the buyer a feeling that it's a good long-term investment. You can't ask for much more than that."  For those of you who know Jeff and his writing, that's very high praise indeed.
Ten years after Jeff's review, how would a 2018 Bigfoot 2500-series compare?  Has Bigfoot's legendary build quality and quality control stood the test of time?  The proof is always in the camper.  Let's dig in.
NEXT – Bigfoot 10.4 Floor Plan Evaluation  |  VERDICT – Bigfoot 10.4 Pros and Cons