How does one man end up buying two of the exact same truck camper? The first time was the charm. The second was a homecoming. Here's proof that sometimes you need more than one Bigfoot.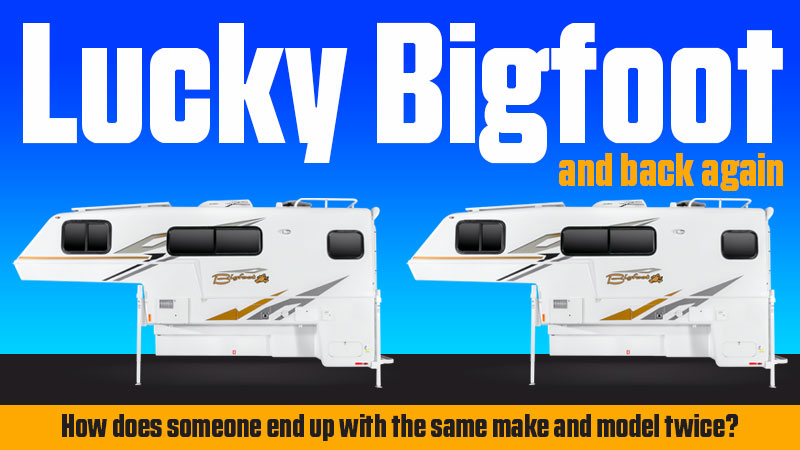 One of the remarkable benefits of publishing Truck Camper Magazine are the emails from fellow truck campers that come in from all over the world. On a regular basis, we get messages from people building their own campers, planning their dream cross-country excursion, or recommending an amazing place they just went camping. We can't always reply to all these emails, but we read every single one.
Every once in a while, we get a note that's too fun not to share. When Bob Frazier explained how he ended up with not one but two Bigfoot 10-6 campers, we had a winner. Thank you for sending your story, Bob!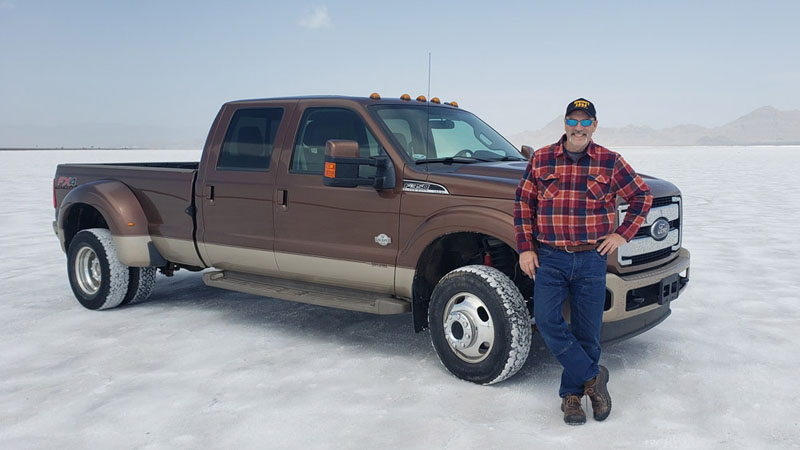 Above: Bob with his current Ford F-35o truck at Bonneville Salt Flats
Lucky Bigfoot And Back Again
by Bob Frazier
My parents had truck campers, and my grandparents had a truck camper that they took to Alaska in their golden years. I remember riding in the back of our Caveman Camper in the seventies. Caveman Campers were made in Grants Pass, Oregon near where I grew up. You hardly see one anymore, but they were affordable and comfortable enough at the time. Looking out the front camper window was like flying. Yeah, we kids did that stuff back then.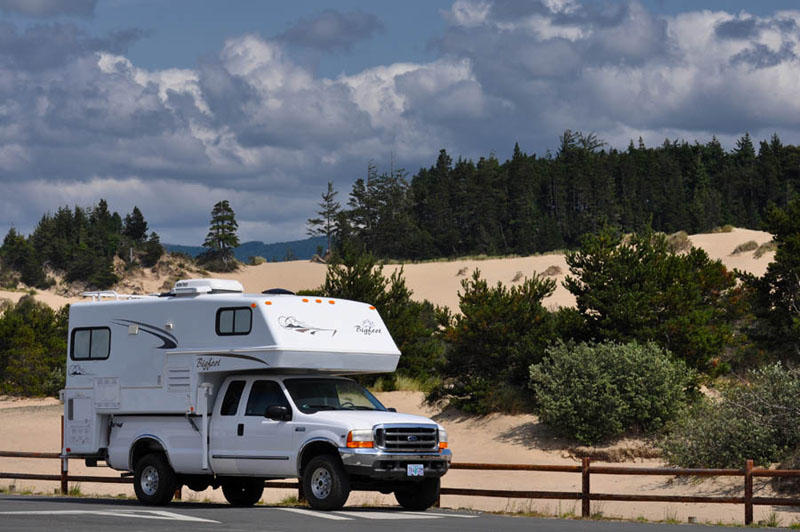 Above: The Frazier's first Bigfoot rig at North Spit, Coos Bay, Oregon
We've had four truck campers including two Bigfoot 10-6 models. We acquired our first Bigfoot with some strange luck; at least for us. The 2008 financial meltdown was was particularly tough on the RV marketplace. Many RV dealerships went out of business stranding brand-new RVs and truck campers in the hands of banks. As incredible as it sounds, we bought our then-new Bigfoot 10-6 from Bank of America in 2009 for about $20,000.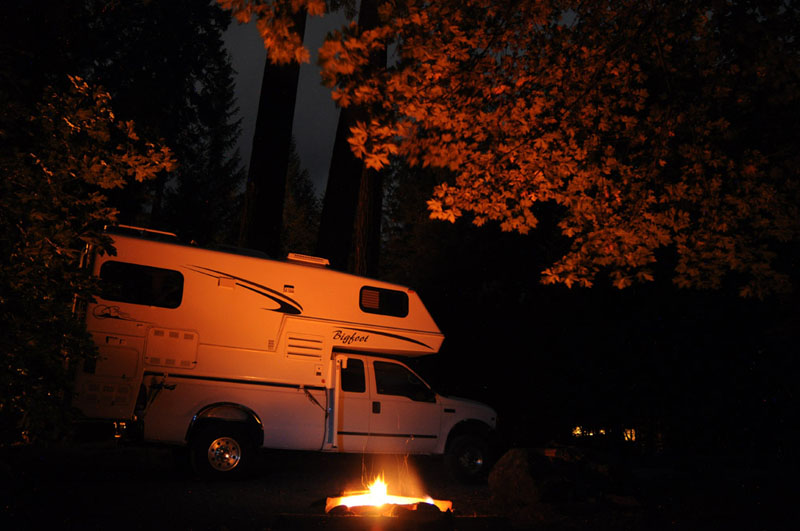 Oh, how we loved that camper. We camped for about 200 nights in it. That doesn't sound like a lot now, but it was a good amount when we were still working. At some point, we decided we had seen just about everything we could within a day or two of our Oregon Coast home and sold the Bigfoot. The buyers drove all the way from Montana and were just as thrilled as we had been to buy it.
Our first Bigfoot ended up selling for more than we'd paid for it. In essence, we were paid to camp. That's hard to believe, but that's exactly what happened.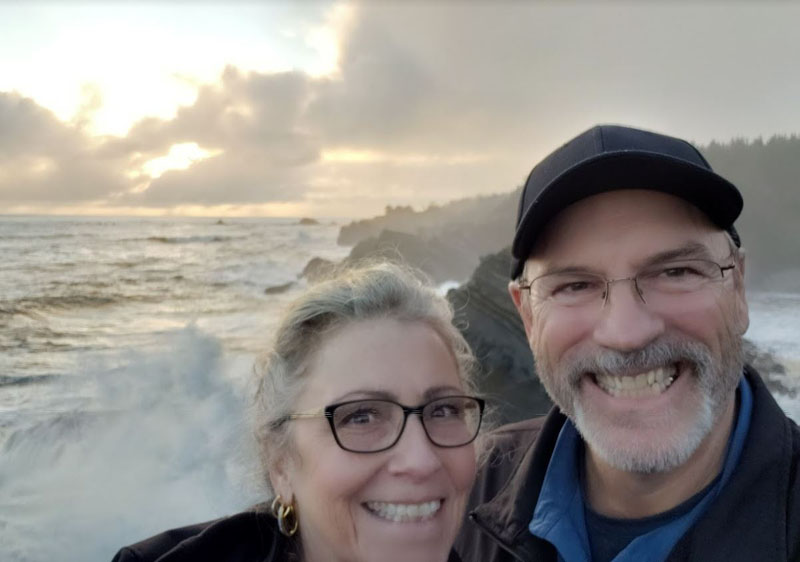 Above: Sue and Bob Frazier at Shore Acres, Oregon
After we retired, we bought a triple-slide Class C motorhome and quickly realized it wasn't right for us. I took that Class C into some wicked rough places that I never should have. We're fortunate that we're still not stuck somewhere.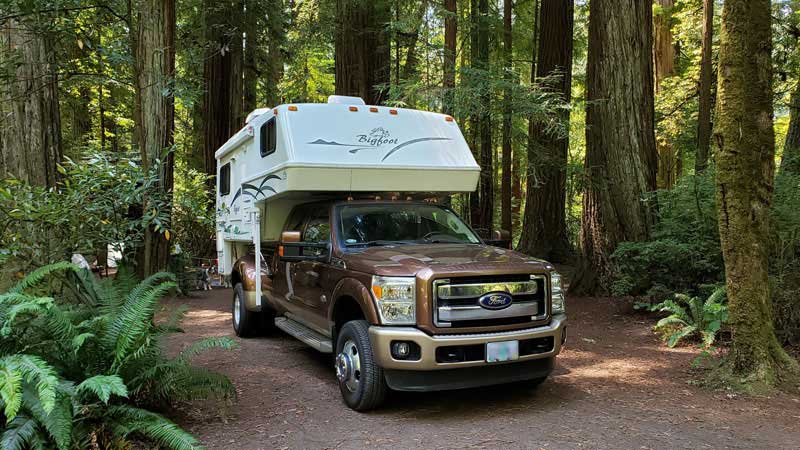 Above: The Frazier's second Bigfoot 10-6 rig camped at Jedediah Smith State Park
As we traveled in our Class C, we kept thinking, "We miss that Bigfoot!" When I saw one for sale about 15 miles away, we had to have a look. And that's how we ended up with our second Bigfoot 10-6.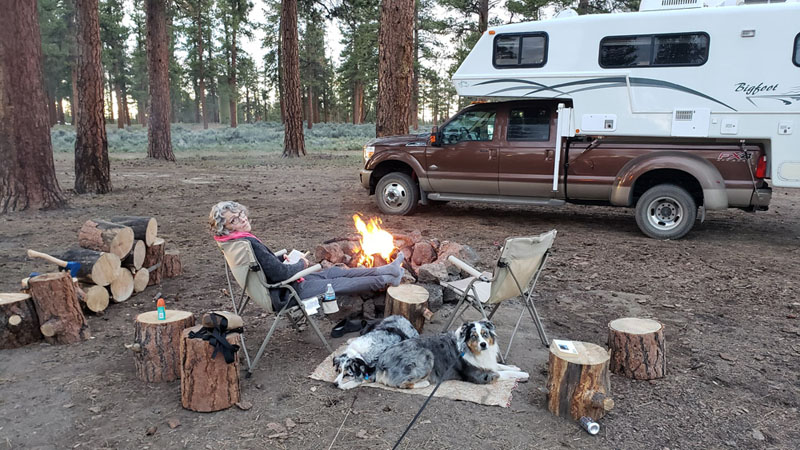 Above: Camping in the Ochoco Mountains, Oregon
It's an older 2001, but all the Bigfoot quality is there and everything still works. I have a feeling we'll come close to breaking even when we finally need to sell our second Bigfoot. They're such amazing campers.

Above: Their 22-year-old Bigfoot's 'hard-as-nails' gel coat takes a brilliant shine using a buffer and polish. Bob found it super rewarding to bring it back to a factory-like shine.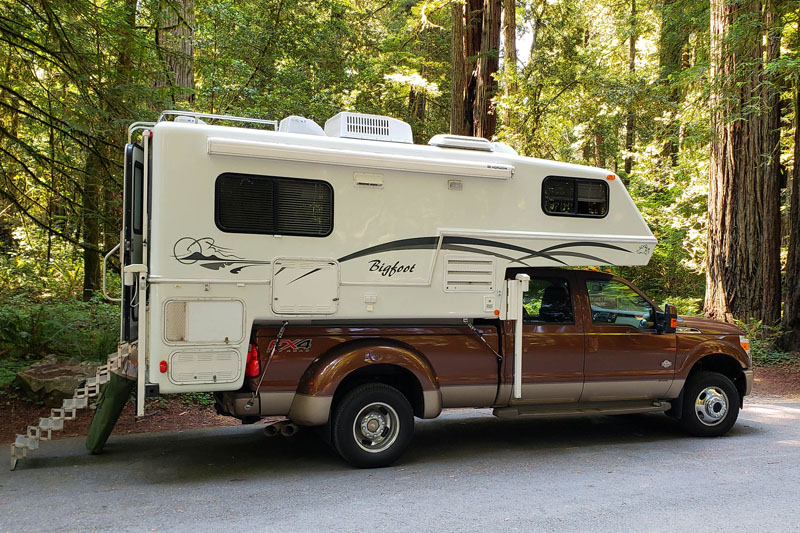 Above: The Frazier's 2012 Ford F-350 King Ranch with the 6.7 diesel and camper package
Since then we've enjoyed making it our own including mods from TCM and other sources. It's been a fun project. Of course, the biggest mod we've done so far is building taller barn doors to keep our new-to-us rig inside when we're not traveling. Having it inside is a huge relief.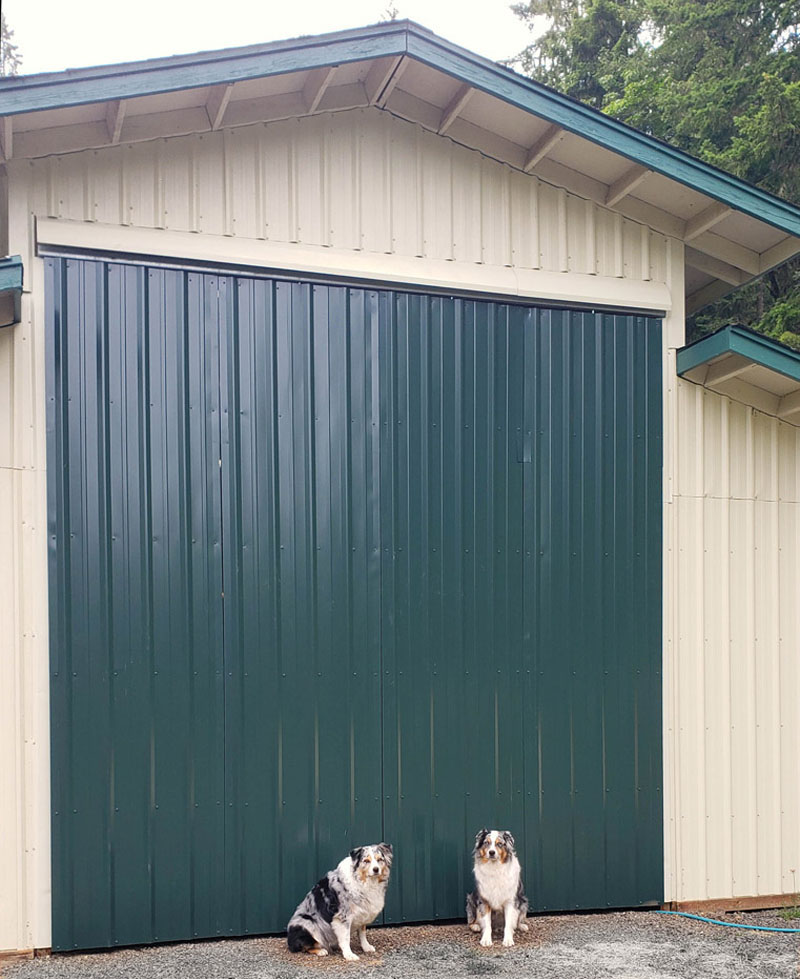 Above: Buddy and Emma in front of the barn doors that houses the Bigfoot camper
The West is really made for campers. Find a pretty spot, pull off, and make yourself at home. Some of that is vanishing, but there's still so much open land in The West that it makes truck campers a favorite choice for us. We can't imagine doing it any other way.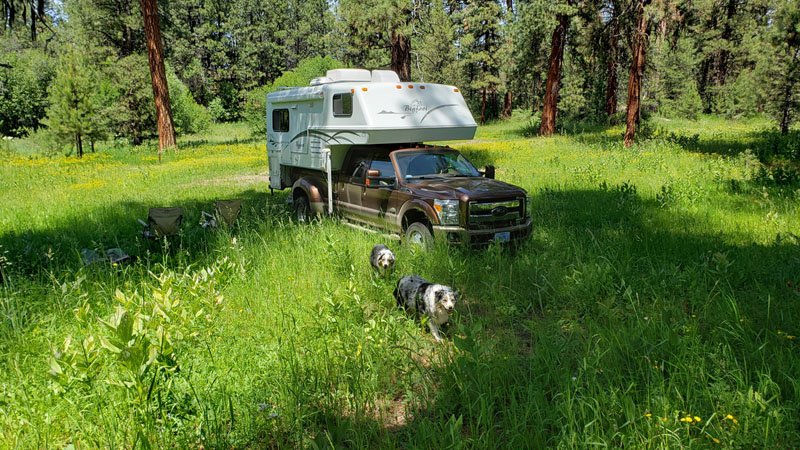 Above: Boondocking in Central Oregon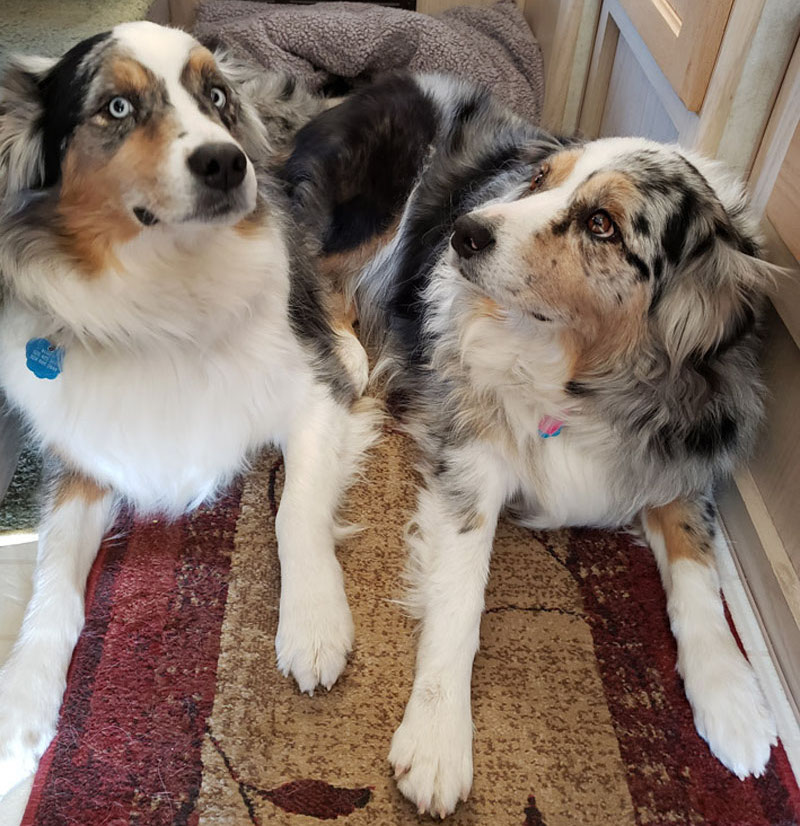 Above: Buddy And Emma, the Frazier's 'Go Anywhere' dogs
What I have learned through dumb luck and experience is that, if you buy right – typically used but quality – it's almost a money placeholder; use it, sell it, and there's most if not all of your money back. Not so with $900,000 Class As of course!