Rob Sampson tows a tugboat behind his Toyota Tundra and Four Wheel Camper Raven Rig.  At his side, Winnie the Pug is ready for adventure, by land, or by sea.

When we say, "Tow Anything" in our Truck Camper Magazine tagline, we're not just whistling Dixie.  We're also not just talking about utility trailers, ATVs, Jeeps, jet skis, snow mobiles, and horse trailers.  According to our annual reader survey, over sixty percent of truck campers tow one of those items.
What we're actually getting at with the word "Anything", is a bit more out there.  Try antique tractors, barbecue smokers, sailplanes (that's an airplane folks), and even one reproduction Civil War reproduction Parrott rifle.  For those who aren't inclined with antique artillery, that's a cannon!
Naturally, we have learned to not be surprised by what our readers tow.  Then again, we almost fell out of our chairs when Rob Sampson sent us a photograph showing his Four Wheel Camper rig towing a tugboat.  A tugboat?  How does that work, and why?
Without question, we wanted the whole story.  Upping the ante, Rob travels the roadways and waterways with his trusty Pug, Winnie.  Rob, Winnie, a Four Wheel Camper, and a tug boat named Mud Hen.  It's time to meet a few more colorful characters from our incredible truck camping community of adventurers.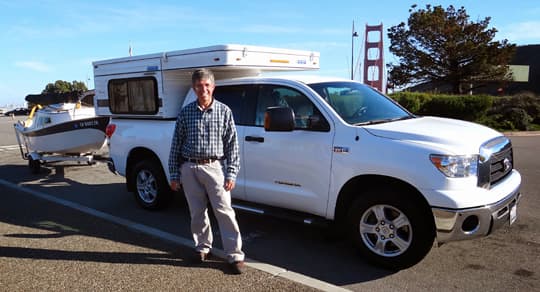 Above: Rob Sampson in San Francisco with his 2012 Four Wheel Raven, 2007 Toyota Tundra, and West Wight Potter sailboat
TCM: How did you get into truck camping?
Rob: My family went on a lot of camping trips in a Class C motorhome when I was young.  On one trip we traveled across the United States, then drove north into Canada, and then came back across Canada to the West Coast.  That was a long trip.  We also went to Mexico City and back from California.  I remember those trips with fondness.
We used the Class C when I was a kid and I inherited it as an adult.  It was getting old and we eventually had to get rid of it.
After that, I went tent camping.  Tenting is great when the weather is nice but, if it's windy and cold, it is nice to go inside.  It also takes a lot of time to set up a tent.  Tent camping planted the seed about how nice it would be to have a truck camper.
When I got the tugboat, I realized I needed a better tow vehicle and bought a Toyota Tundra.  I wanted something to go camping with and still be able to tow my boat, so a truck camper seemed like a logical choice.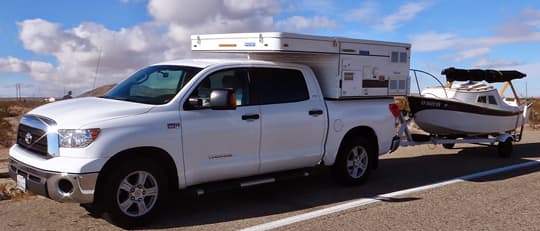 Above: In the Mojave Desert on the way to Lake Havasu, Arizona
TCM: What led you to Four Wheel Campers?
Rob: I was worried about too much weight in the bed of my truck.  My Tundra is only a half ton.  I looked at the Four Wheel website, and I was familiar with their brand.  They had just come out with the Raven model, which is made for crew cab trucks with 5.5 foot short beds.
It's a simple camper.  It has a porta-potty, a two burner stove, a sink, a three-way refrigerator, a little dinette that turns into a bed, a double bed in the cabover, and an outside shower that I've occasionally used.
I'm an architect, so small spaces and how small spaces work is fascinating to me.  I'm always looking at small campers and boats and how they utilize space.  It's really amazing how much bigger my camper feels inside than it looks on the outside.  When I take it off the truck at home, the truck bed looks so small.  Four Wheel Campers gets a lot of camper on a short bed truck.
When I went to the Four Wheel Camper factory to pick up the Raven, I was able to go on a tour.  It is neat that they make Four Wheel Campers in California.  Very few things are made in the USA anymore, but these truck campers are.  They are made by hand, and they are made with a lot of care.  I find it fascinating that Four Wheel Campers exports their products to Japan, Taiwan, and all over Europe.