Rob Sampson tows a tugboat behind his Toyota Tundra and Four Wheel Camper Raven rig.  At his side, Winnie the Pug is ready for adventure, by land, or by sea.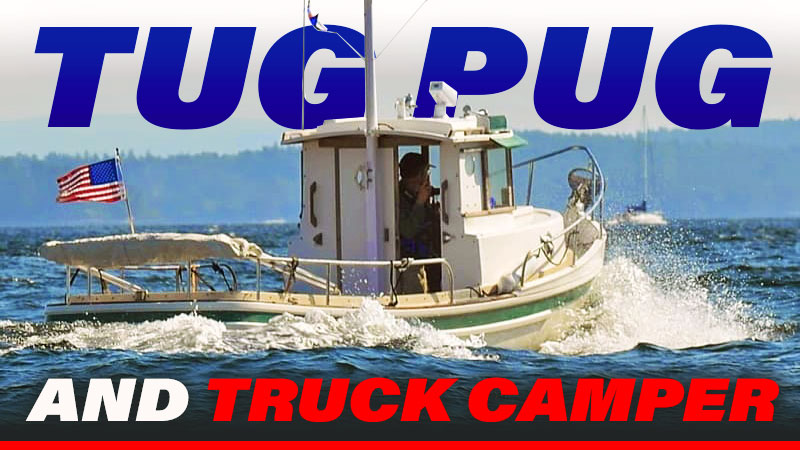 When we say, "Tow Anything" in our Truck Camper Magazine tagline, we're not just whistling Dixie.  We're also not just talking about utility trailers, ATVs, Jeeps, jet skis, snowmobiles, and horse trailers.  According to our reader survey, over 60-percent of truck campers tow one of those items.
What we're actually getting at with the word "Anything", is a bit more out there.  Try antique tractors, barbecue smokers, sailplanes (that's an airplane folks), and even one reproduction Civil War reproduction Parrott rifle.  For those who aren't inclined with antique artillery, that's a cannon!
Naturally, we have learned to not be surprised by what our readers tow.  Then again, we almost fell out of our chairs when Rob Sampson sent us a photograph showing his Four Wheel Camper rig towing a tugboat.  A tugboat?  Without question, we wanted the whole story.
Above: Rob's fellow truck camper and tugboat mate, Winnie the Pug
Upping the ante, Rob travels the roadways and waterways with his trusty Pug, Winnie.  Rob, Winnie, a Four Wheel Camper, and a tug boat named Mud Hen.  It's time to meet a few more colorful characters from our incredible truck camping community of adventurers.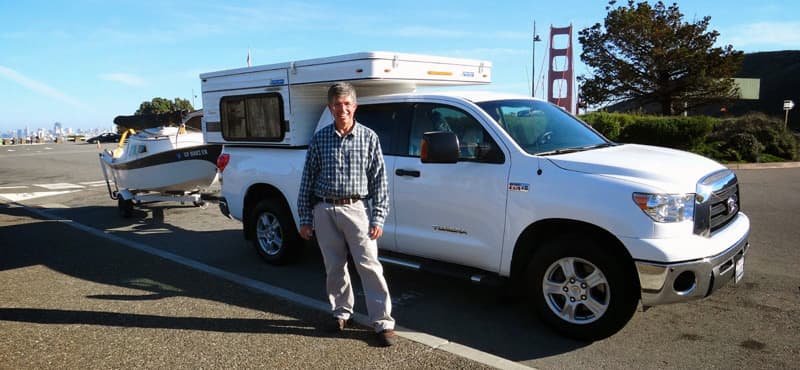 Above: Rob Sampson in San Francisco with his Four Wheel Raven, Toyota Tundra, and West Wight Potter sailboat
How did you get into truck camping?
My family went on a lot of camping trips in a Class C motorhome when I was young.  On one trip we traveled across the United States, then drove north into Canada, and then came back across Canada to the West Coast.  That was a long trip.  We also went to Mexico City and back from California.  I remember those trips with fondness.
We used the Class C when I was a kid and I inherited it as an adult.  It was getting old and we eventually had to get rid of it.
After that, I went tent camping.  Tenting is great when the weather is nice but, if it's windy and cold, it is nice to go inside.  It also takes a lot of time to set up a tent.  Tent camping planted the seed about how nice it would be to have a truck camper.
When I got the tugboat, I realized I needed a better tow vehicle and bought a Toyota Tundra.  I wanted something to go camping with and still be able to tow my boat, so a truck camper seemed like a logical choice.
"I wanted something to go camping with and still be able to tow my boat, so a truck camper seemed like a logical choice."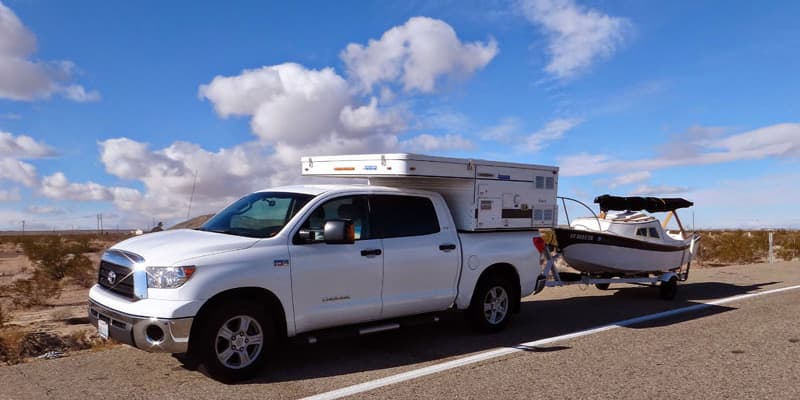 Above: In the Mojave Desert on the way to Lake Havasu, Arizona
What led you to Four Wheel Campers?
I was worried about too much weight in the bed of my truck.  My Tundra is only a half-ton.  I looked at the Four Wheel website, and I was familiar with their brand.  They had just come out with the Raven model, which is made for crew cab trucks with 5.5 foot short beds.
It's a simple camper.  It has a porta-potty, a two-burner stove, a sink, a three-way refrigerator, a little dinette that turns into a bed, a double bed in the cabover, and an outside shower that I've occasionally used.
I'm an architect, so small spaces and how small spaces work is fascinating to me.  I'm always looking at small campers and boats and how they utilize space.  It's really amazing how much bigger my camper feels inside than it looks on the outside.  When I take it off the truck at home, the truck bed looks so small.  Four Wheel Campers gets a lot of camper on a short bed truck.
When I went to the Four Wheel Camper factory to pick up the Raven, I was able to go on a tour.  It is neat that they make Four Wheel Campers in California.  Very few things are made in the USA anymore, but these truck campers are.  They are made by hand, and they are made with a lot of care.  I find it fascinating that Four Wheel Campers exports their products to Japan, Taiwan, and all over Europe.
"Very few things are made in the USA anymore, but these truck campers are.  They are made by hand, and they are made with a lot of care."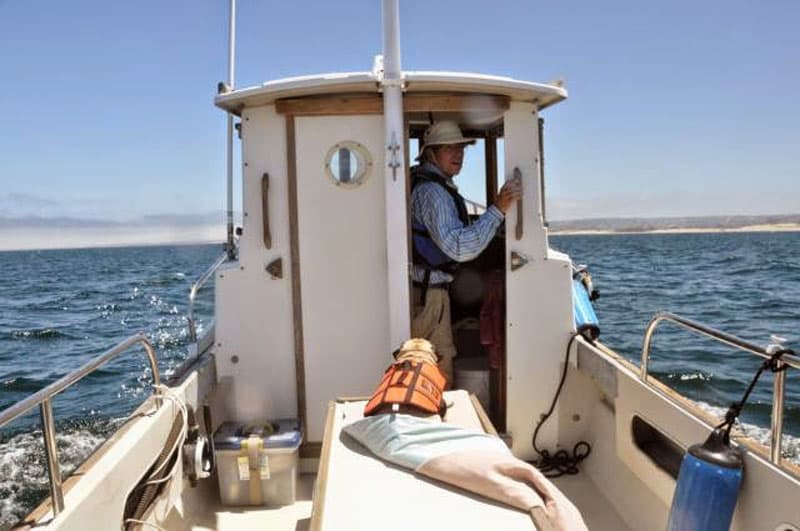 You mentioned your tugboat.  Is it a real tugboat?
My tugboat is a pleasure boat.  It's modeled after a shrunken tug or fishing boat, but it's really just a pleasure boat.  Inside there's a pilot house area with a two-burner stove and a porta-potty.  Under the dash, there's a birth where you can sleep.
For power, it has a twenty-seven horsepower diesel engine.  That engine gives the tugboat about seven to eight knots maximum speed.  It's made for slow cruising and exploring.  I'm not a fisherman, but it would be a good fishing boat.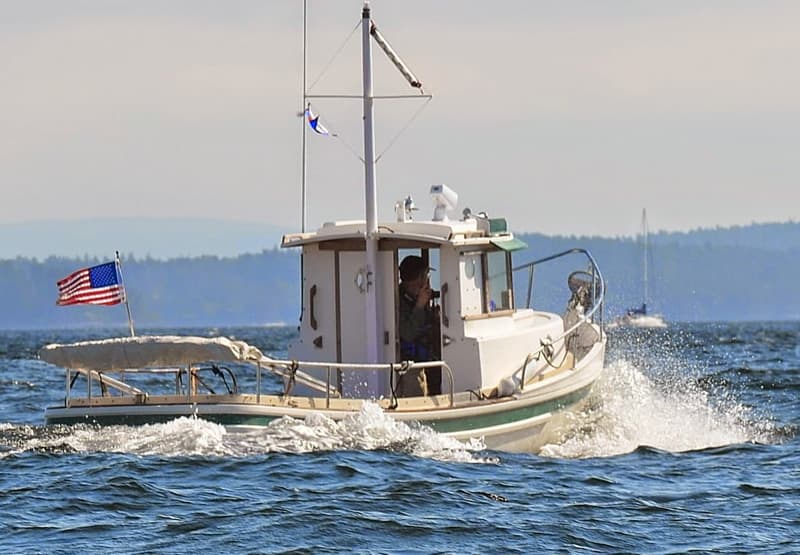 Above: Rob's tugboat, Mud Hen, San Juan Islands in Washington State (photo by Don Person)
Sometimes I go boating on multi-day cruises.  I like to be at the launch ramp early.  I like extra time in the morning to launch and rig the boat, so I'll camp with the Four Wheel Camper at the boat launch ramps.  Sometimes I'll make my trips a double vacation.  I'll spend a day or two camping near the boating destination and then a couple more days boat camping.  I'll camp at Bodega Bay and then go boating at Tomales Bay, just north of San Francisco.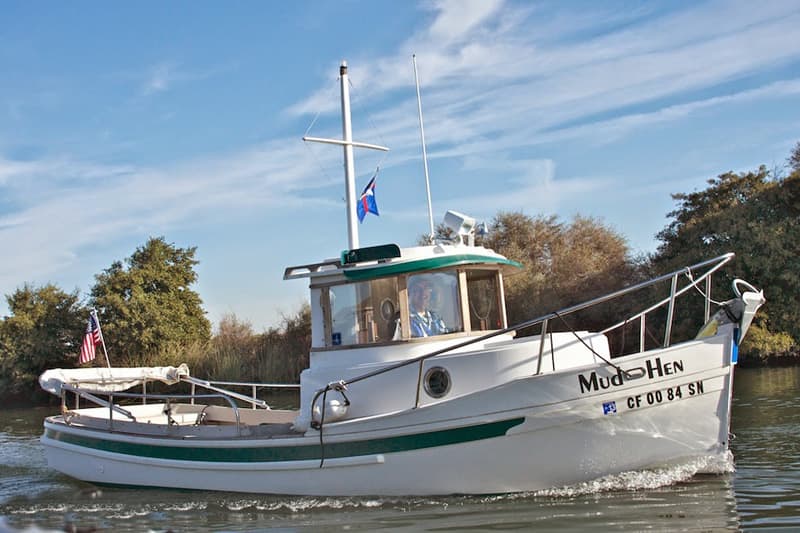 Above: Mud Hen, Sacramento–San Joaquin River Delta (photo by Don Person)
What is boat camping?
Boat camping is when I anchor out somewhere on a river or bay.  I'll also hop around marinas and stay at a guest slip in my boat at the marina.  In a marina, I have access to their shower facilities and restaurants close by.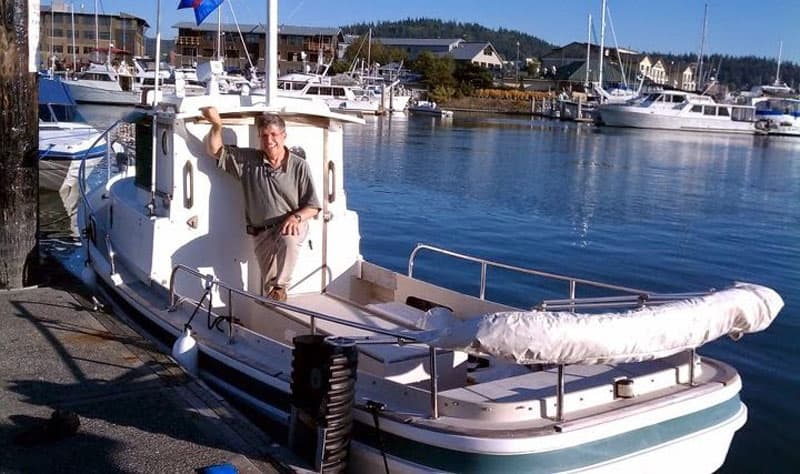 I actually have three boats.  I have two sailboats and a little tugboat.  I can tow all three behind the Four Wheel Camper, but not at the same time.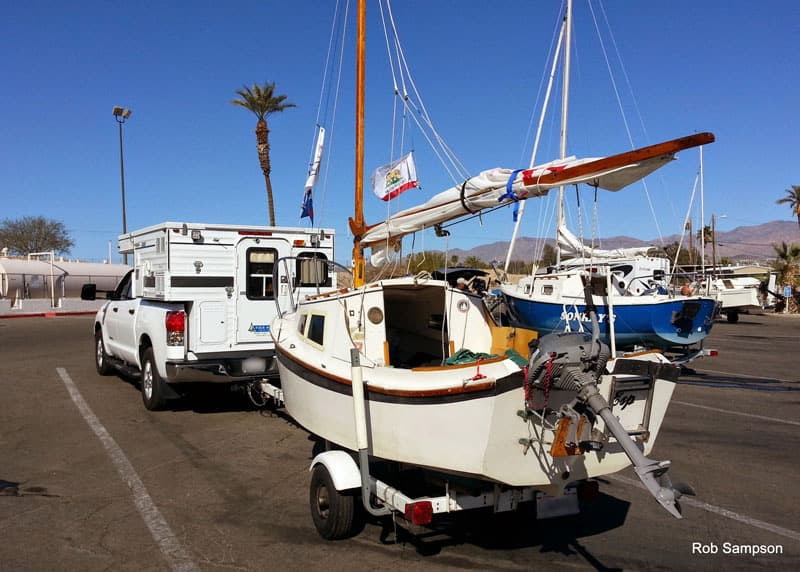 Above: Towing his sailboat, Lake Havasu, Arizona
Before I got the truck camper, I towed the tugboat to northern Washington three times.  Two times I went to Bellingham and once to Olympia where I launched the boat.  I went around the San Juan Islands and the Canadian Gulf Islands.  Those were ten-day trips, going from marina to marina.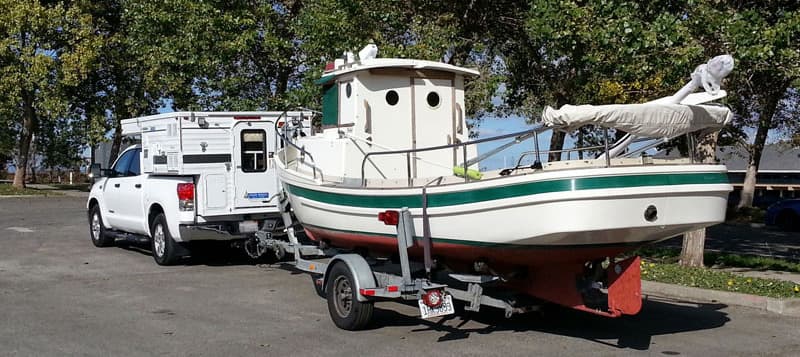 Above: Redwood City, California
Since I didn't have the truck camper, I was staying in motels at night as I was pulling the trailer for two to three days to get up there.  Now that I have the Four Wheel Camper, I have the option to camp, or pull over and rest.
I travel around a lot with a group of sailboat people even when using my tugboat.  If one of their boats has a problem, I can tow them.  The tugboat is a good support boat for those smaller sailboats, especially when we're traveling in a group.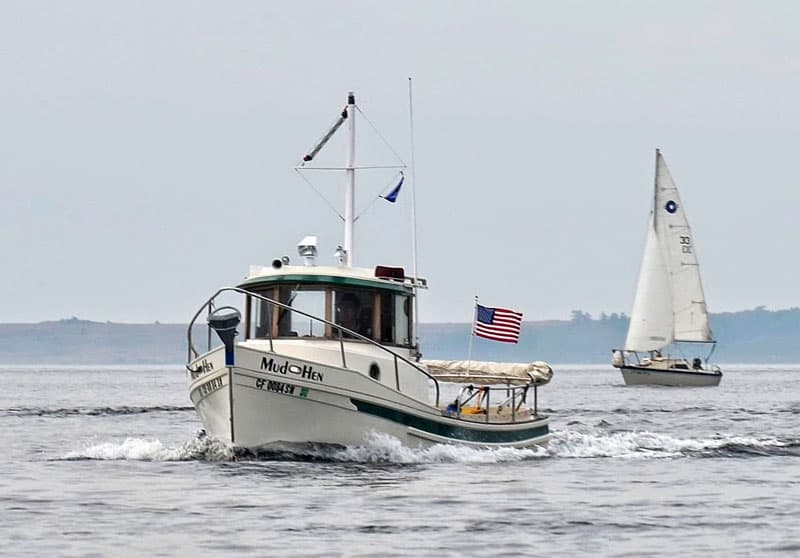 Above: Mud Hen out with the sailboats, San Juan Islands (photo by Don Person)
What group are you with?
I'm involved with a sailboat group called the Potter Yachters.  I also have a small sailboat called a West Wight Potter; potter meaning puttering around.  I have been involved with that club, here in the Bay area, for a while.  There are about eighty boats and over one hundred people in the group.
Everyone in the group has their own trailerable boat.  The group does a lot of trips around to different places.  Each boat in the club has some sort of sleeping facility, so we go on overnight trips.  That's the group I hang around with.  They are accepting of me when I have my motorboat because it doesn't go that fast.  The club has one or two meet-ups a month.  Here in California, the season is long because we don't have snow in the winter.  We go out just about all year round.  There's a lot of stuff happening.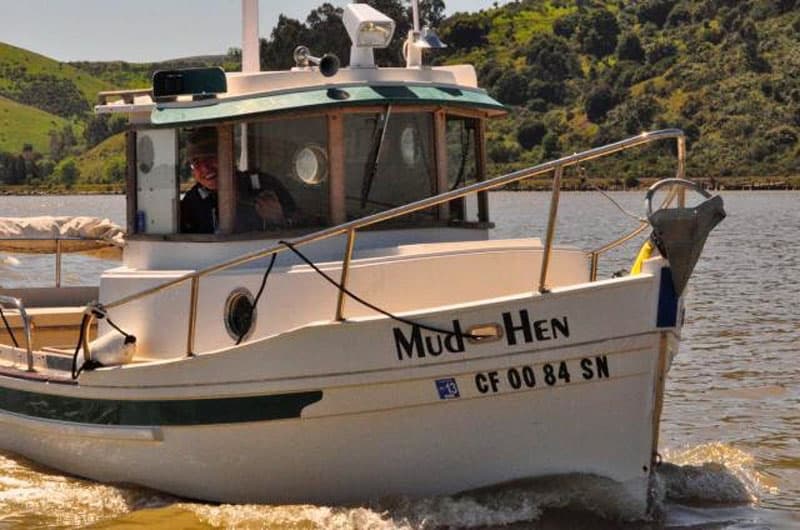 Above: Carquinez Strait Benecia, California

It sounds like a fun group.  How far offshore can you go with the tugboat?
I don't go too far from shore.  When I was in the San Juan Islands, between the mainland and Vancouver Island, I went up the inland sea, hopping between islands.  I was usually in sight of the next place I was going.  Overall, we go 180 to 200 miles during a ten-day trip in our boats.  Each day we're going twenty to thirty miles.  Most of the time, during those ten-day trips, I'm staying in marinas overnight.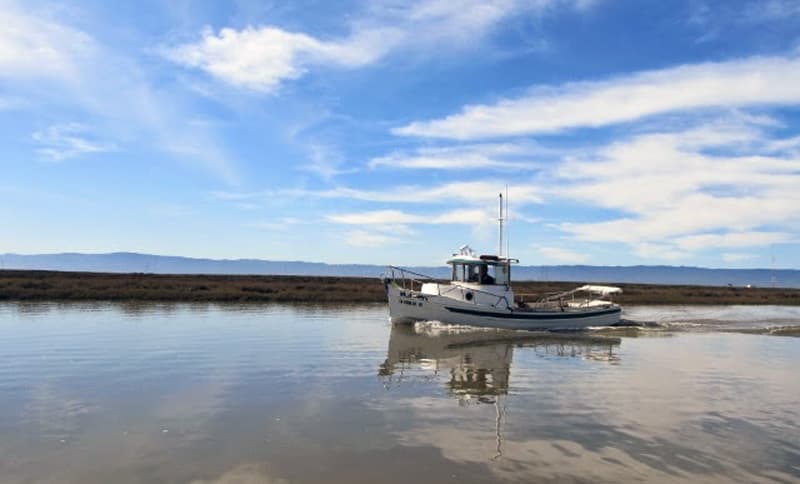 Above: Newark Slough, San Francisco Bay, California
We also go sailing.  When we go out in the Pacific Ocean in Monterey, with our little sailboats.  It's fun sailing in the ocean because we see whales, dolphins, and sea lions.  I've also taken the small sailboat to Lake Havasu in Arizona.  I crossed California and went into Arizona for my friend's sailing convention.  I camped in the Four Wheel Camper for a night at Lake Havasu before I launched the boat the next morning.  A truck camper is a good support base for boats because it has additional facilities.
"A truck camper is a good support base for boats because it has additional facilities."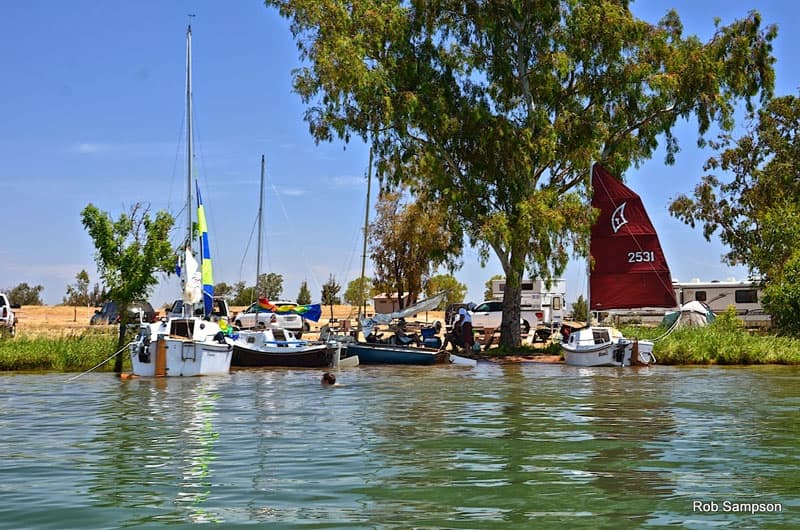 Above: The camper is always close by for supplies. Woodward Reservoir Regional Park, Oakdale, California (Photo by Don Person)
On the last trip, I went sailing at Woodward Reservoir, which is in the central valley near the Sierra foothills.  At Woodward Reservoir there's a county park where you can camp on the shores.  I launched the boat and went day sailing.  Then I pulled my boat up on the shore at night and camped in the camper.  That's a nice way to use the boat and camp in one place.
I haven't done it yet, but I could use the boat as extra sleeping space.  It's kind of like a travel trailer with a bed in it.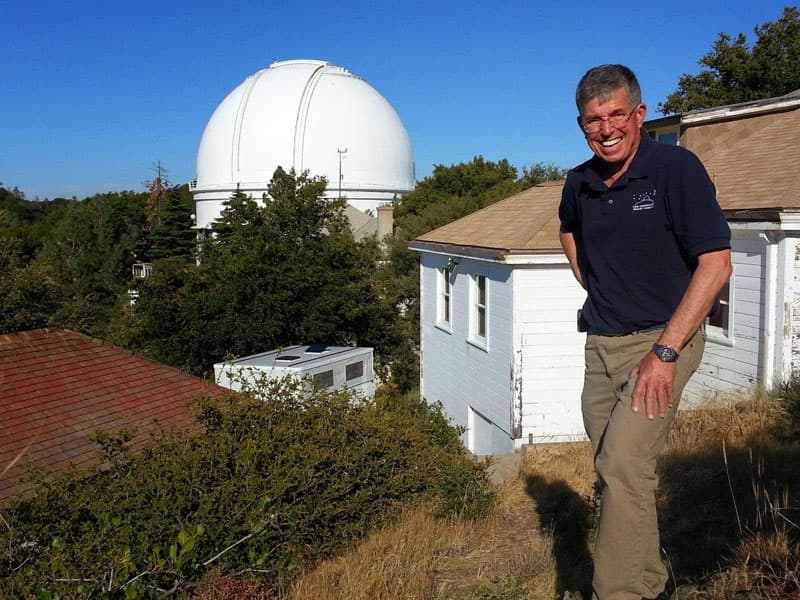 Above: Rob at Lick Observatory, on top of Mount Hamilton, California
Do you use the camper for anything other than boating?
I have family that lives about an hour away.  We have family get-togethers for Christmas and Thanksgiving.  I'll take the truck camper and camp in their driveway because they don't have bed space for everybody.  With the camper, I stay at their house for the weekend.
Another time I was able to use the camper was when I helped my son move from southern California.  He just finished college there.  Originally I was thinking that I'd take the truck camper off and put the load in the back of the truck, but I wanted my truck camper with me, so I just rented a U-haul trailer.  I had my truck camper facilities with me there and back, as well as the ability to move all his stuff.
I am a volunteer for the summer visitors program at Lick Observatory, which is on top of Mount Hamilton in the Bay area.  I take the truck camper to the observatory and camp on top of the mountain.  They have a guest house for the volunteers, but I would rather stay in the camper.  I pull my truck camper in the driveway and stay there.  The program may not be over until 2:00am.  At that point, I don't want to drive forty miles down a hill.  Plus, it's a neat place to hang out overnight.  I've done that for several years, and I'll be doing that again this year.
Lick Observatory is part of the University of California.  They have active scientific research telescopes, as well as some older original telescopes that visitors can look through.  There's one there that was built in the 1890s.  It's a fourteen-ton telescope and was the biggest one in the world when it was built.  They have programs, concerts, a summer visitor's program, and Science lectures.  It's also a chance for people to look at objects in the sky through some very big telescopes.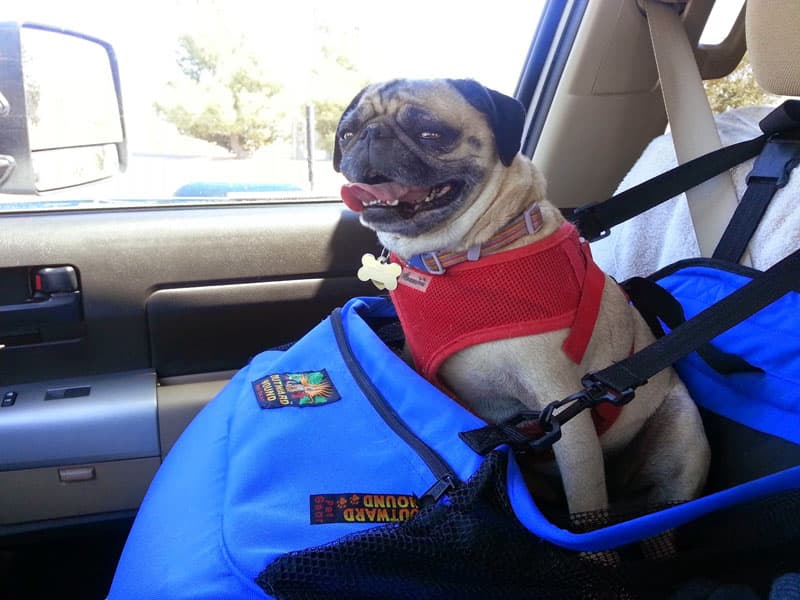 Above: Winnie, Rob's traveling pug, travels, camps, and goes boating
Tell us about your traveling companion, Winnie.
My dog, Winnie, is a pug.  She goes with me most of the time.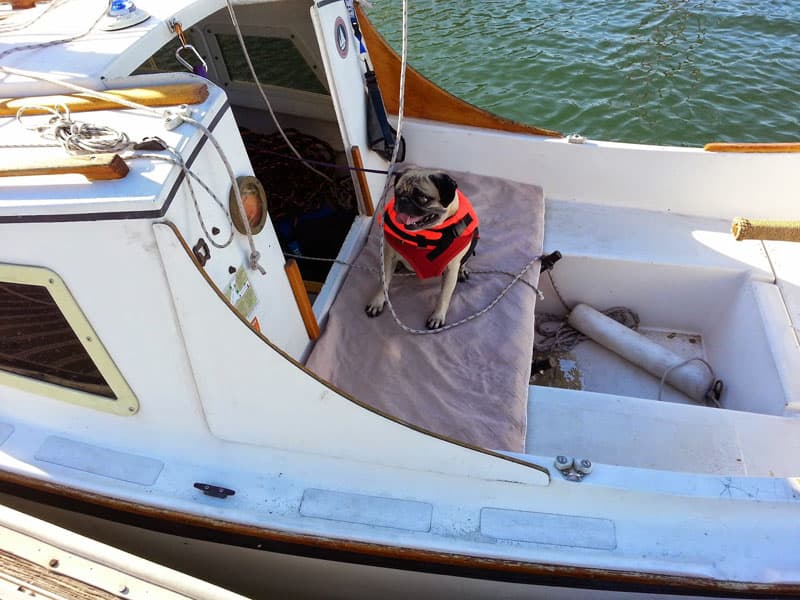 She'll go on the boat with me, too. Pugs aren't natural boating dogs, but she's getting better at it.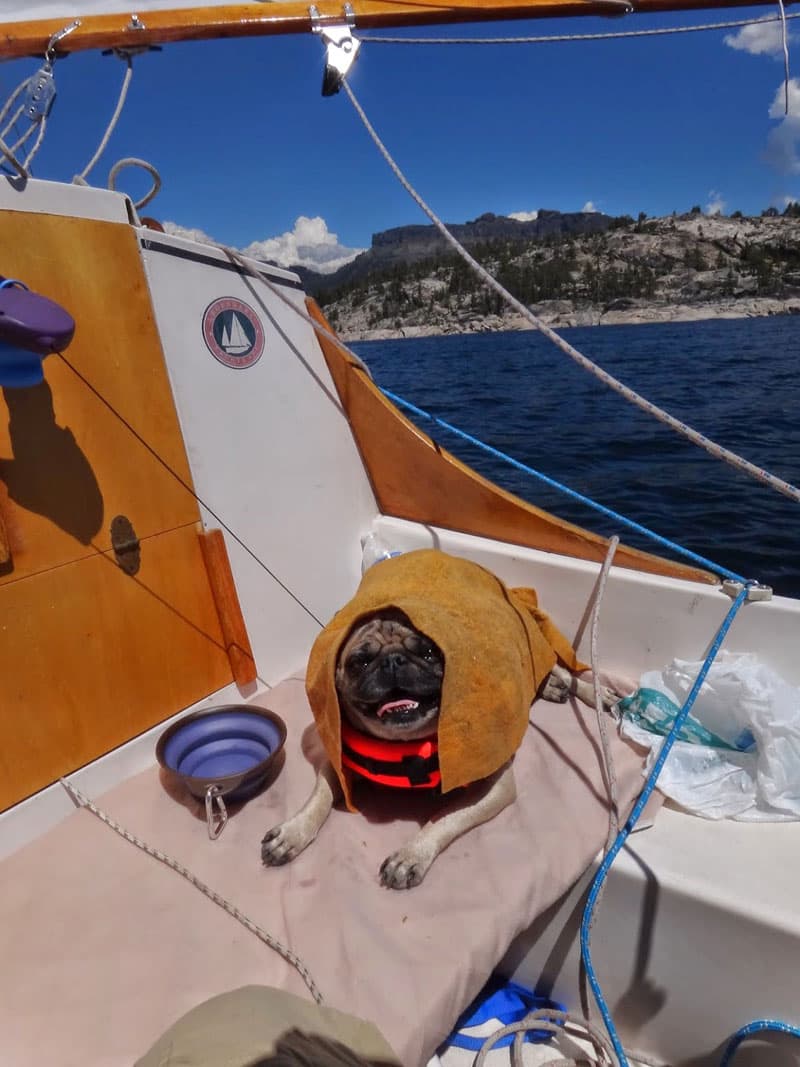 She looks like she's having fun in the photos.  It sounds like you've got a pretty cool truck camping and boating lifestyle.
The vision I had when I got the camper was to have it as a support vehicle for boating as well as having the option to go camping with it.  I like the flexibility to have something to go camping in as well as towing my boats.
It's been better than what I envisioned truck camping would be.  Even if I go someplace with facilities, I'll still fire up the refrigerator and have access to extra food and ice.  I'm always ready to use it.  I can pop the top and cook dinner wherever I am.  Even in places where I don't think I'll need the camper, I have the extra facilities.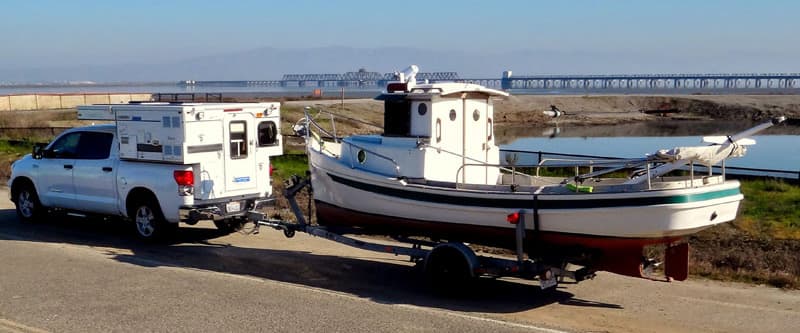 Boating and truck camping are compatible lifestyles.  It's just that one uses the roads, and the other uses the water.
Truck: 2007 Toyota Tundra, crew cab, short bed 5.5 feet, single rear wheel, 4×2, gas
Camper: 2012 Four Wheel Raven
Tie-downs/Turnbuckles: Internal turnbuckles
Suspension: Airbags
Do you tow a boat behind your rig like Rob Sampson does?  We'd love to hear from you.  Please share your story.
To visit the Four Wheel website,  go to fourwheelcampers.com.  Click here for a free Four Wheel brochure.