Tom Hanagan, President of Four Wheel Campers, and Stan Kennedy, Sales Manager, debut the Raven and give us the skinny on new developments at Four Wheel Camper.

After last month's 2012 Dream Truck Survey, it would be easy to assume that everyone wants a Ford F-350, diesel, crew cab, long bed, automatic, four-wheel drive, dual rear wheel truck.  While our survey results clearly point to a trend in that direction within the truck camper community, the overall truck market is quickly shifting towards smaller more fuel efficient trucks.  For example, Ford has widely reported that their F-150 V6 EcoBoost is setting sales records.
Short beds are also becoming increasingly popular in the truck marketplace.  And why not as most people don't need a long bed or 5,000 pounds of payload.  In the real world, a half-ton, gas, crew cab, short bed, automatic, four-wheel drive, single rear wheel truck is more than enough.  Throw in highway fuel mileage north of twenty miles per gallon and you have Ford's new EcoBoost recipe for success.
The pop-up truck camper manufacturers obviously love this trend as their campers work well with the relatively limited payload of these fuel efficient short bed trucks.  Of course nothing is easy anymore and a short bed is no longer a short bed.  It's not unusual to see five and six foot short beds depending on a truck's make, model, and configuration.  Unfortunately, this is a trend that we're seeing with short and long bed trucks; different bed lengths, rail heights, and cabover heights for every truck make, every truck model, every year.
Before this turns into an all-out rant for the major truck manufacturers, let's bring it back to the subject of today's story; the 2012 Four Wheel Camper Raven.  To accommodate the increasing number of five foot short beds, Four Wheel Campers has built a new model that fits five foot short beds beautifully.  And that's not all the news that's fit for print at Four Wheel Campers.
2012 Four Wheel Camper Raven Specifications:
The 2012 Four Wheel Camper Raven is a pop-up truck camper made for short bed trucks with five foot beds.  The interior floor length of the 2012 Four Wheel Camper Raven is 70″ and the interior height is 6'6″.  Four Wheel Campers is reporting the dry weight of the Four Wheel Camper Raven at 695 pounds with standard features.  The Raven has a 22 gallon fresh tank, can accommodate one or two batteries, and has two ten-pound propane tanks.  The MSRP for the Four Wheel Camper Raven is $12,095.
At the time of publication, a floorplan of the the 2012 Four Wheel Camper Raven was not yet available.  Check out the Four Wheel Camper Buyers Guide for current campers.
The following is an interview with Tom Hanagan, President of Four Wheel Campers, and Stan Kennedy, Sales Manager, about the 2012 Four Wheel Camper Raven.

TCM: Tell us about the 2012 Four Wheel Camper Raven and why Four Wheel Campers developed it.
Tom: We're seeing more and more customers with five and six foot full-size short bed trucks from Ford, Chevy, and Toyota.  We debuted the Finch model in 2008 to accommodate the five foot full-size short bed trucks.  Our Hawk model works well with six foot full-size short bed trucks, but extends just barely past the rear bumper.
The new Raven is designed to fit five foot full-size short bed trucks.  Essentially, it's a 70" version of the Hawk.
TCM: Are you seeing an overall shift towards short bed trucks?
Tom: Yes.  Long bed trucks are becoming less predominant and short bed trucks are what our customers are going for.
Stan: With fluctuating fuel prices, our customers are focusing more on half-ton trucks like the Ford EcoBoost.  They are also opting for four doors to get the larger back seats.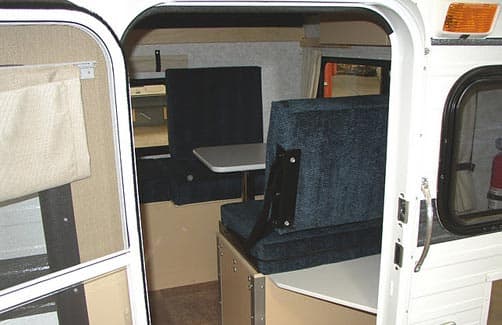 TCM: Were you able to just change some measurements here and there, or is the Raven a whole new camper design?
Tom: We shortened the length of the floor and redesigned the kitchen.  The dinette seating is the same as our Finch model, and there's still room for the porta potti.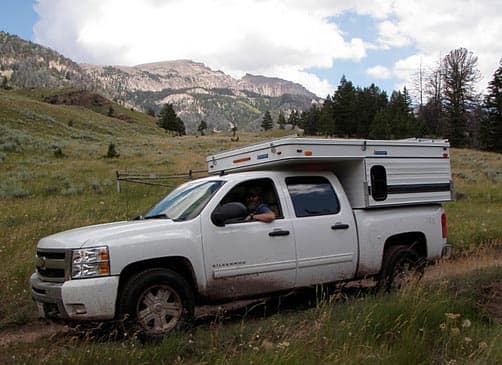 TCM: Would the casual observer be able to tell the Raven and Hawk models apart at twenty paces?
Tom: Probably not.  The difference between the models is very subtle.
Stan: That's true, but the difference between the two campers is clear as day when the campers are loaded on six foot short bed trucks.
Almost all of the half ton crew cab trucks have a 5'8" bed and the customers don't want the Hawk sticking out past the rear bumper.  When you see both the Hawk and Raven side-by-side on the trucks, your mind will be made up right away.  Compared to the Hawk, the Raven looks better, drives better, and is less weight.
TCM: What are the battery, propane, and tank sizes for the Raven?
Tom: The Raven has identical capacities to the Hawk including a twenty-two gallon fresh tank and one or two batteries depending on the ordered configuration.  The Raven has the two ten pound vertical tanks we have been using instead of a twenty pound horizontal tank to give more flexibility to the user.
The floor plan and interior height is also identical to the Hawk, but there's a little less storage in the kitchen.  We've taken only ten inches out of the footprint to make the Raven fit the six foot beds better.
Above: The kitchen in the Four Wheel Camper Raven
TCM: What refrigerators are available for the Raven?
Tom: Again, we offer the same refrigerator choices as the Hawk including two three way Dometic units or three Waeco 12-volt compressor models.  The Waeco refrigerator is a German design that we have found to be reliable, low power consumption, and exceptionally quiet.
Above: Overcab bed area of the Four Wheel Camper Raven 
TCM: What are the typical options ordered by your customers for the Hawk that are likely to be popular for the Raven?
Stan: A typical Hawk is ordered with a sink, stove, propane, water, refrigerator, furnace, hot water with outside shower, auxiliary battery or batteries, and jacks.  That's a pretty good set-up.
Tom: Solar panels are becoming more prevalent, too.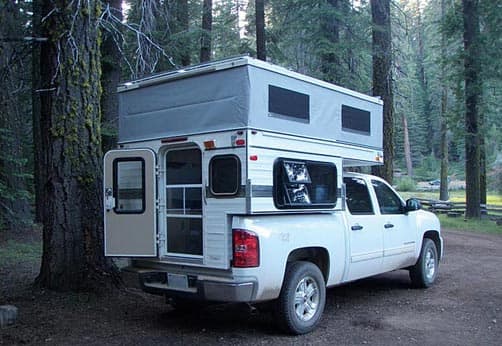 TCM: Other than the ability to fit six foot short bed trucks, is there anything that makes the Raven unique in the Four Wheel Camper model line-up?
Tom: Because the Raven is shorter for a more exact fit to the short bed trucks, you are going to have an even better center of gravity and overall balance.  Four Wheel Campers in general are extremely light and have little impact on driveability, but having the Raven's center of gravity even further forward of the rear axle makes it even more perfectly matched to both the five and six foot short bed trucks.
A lot of customers want to tow ATVs, boats, jet skis, snowmobiles, motorcycles, and more.  With the Raven being a better fit for the five foot short bed, it's even easier to trailer.
Above: Four Wheel's fiberglass filon siding on a Four Wheel Camper Hawk

TCM: Four Wheel Campers is now offering fiberglass Filon siding on its campers.  What are the advantages of fiberglass in comparison to aluminum siding?
Tom: The primary reason we are installing filon siding is customer demand.  Some customers like the cleaner more streamlined appearance of filon over aluminum siding.  It's a preference and a new option at Four Wheel Campers.
Most people prefer aluminum siding because it's lighter weight, increased durability, and the ease of maintenance and repair.  Aluminum siding will continue to come standard.
TCM: It seems counter intuitive to offer an option that compromises the core strengths of Four Wheel Campers.  As you listed them; light weight, durability, and ease of maintenance.
Tom: That's a good point, but we have been experimenting and testing filon siding for Four Wheel Campers for years and are confident that it works very well with our campers.  It is mostly a cosmetic difference but it really does give a Four Wheel Camper a more modern aesthetic.  We believe it has slightly more temperature insulating properties as well.  We are currently setting up a separate assembly area in the factory for the filon siding because it is becoming a more popular option.  Plus, in our new factory we have the room to do it.
TCM: Does the fiberglass siding option add to the cost?
Tom: Fiberglass siding is a $650 option.
TCM: And how much does the fiberglass option add over the standard aluminum siding?
Tom: It adds about thirty-seven pounds to the weight of the siding.  Given that our Four Wheel Campers are the lightest in the industry, this is not a significant increase in weight.
Above: A one-piece aluminum roof on a Four Wheel Camper
TCM: Four Wheel Campers has been making some changes to the materials used on the campers in the past year or so starting with the one-piece aluminum roof.  Now you're announcing fiberglass sides available for all Four Wheel Camper models.  What's behind these changes in materials and are we likely to see more?
Tom: We're looking at lighter weight materials like lighter weight plywood for our cabinetry.  We're also looking at the use of composites in the camper to increase the strength and decrease weight.  Even though our products last for decades, with the increased overland use, we want an even longer term, more durable product.  We are constantly striving to make a better product.
TCM: About a year ago, Four Wheel Campers started to use SolidWorks to design new products.  How integrated has SolidWorks become with your design and production?
Tom: SolidWorks has totally changed the way we approach design and modifications to our current designs, as well as assembly considerations.  All of our designs are now done in SolidWorks.
Jason Bahr, our staff designer and engineer, is marvelous in SolidWorks.  Using SolidWorks, Jason works closely with our production manager, Chicali, to make improvements in our factory production process and products.  As a result of SolidWorks and this collaboration, there will be new camper designs and models that come to fruition in the next year or so.  It's very exciting.
TCM: SolidWorks has a tendency to impact a company well beyond product design.  Is that what you're experiencing at Four Wheel Campers?
Tom: Absolutely.  With SolidWorks, we have made improvements with the work flow in our sewing and welding shops.  We can look at how we assemble frames and the work flow through our carpenter shop.  We can standardize more pieces and improve the quality of those components.  SolidWorks has brought an all encompassing change and dramatic improvement to how we make our campers.
We have also used SolidWorks to study our aluminum frame.  Through that analysis, we found opportunities to make our frames more efficiently while increasing the strength of our frames.  We can also try ideas out in SolidWorks and see what a change will have on the overall structure.
TCM: At this point, it seems like there's a Four Wheel Camper for just about any size pickup truck.  Is that essentially the case?
Tom: We're pretty much there.  We don't have anything for the Honda Ridgeline, but most everything else we can put a Four Wheel Camper camper on, even a Landrover Defender.  We even have campers for flatbed trucks and most of the trucks available in Australia, Germany, Japan, England, Taiwan, South Africa, and New Zealand.
Above: Side and rear LED lights on Four Wheel Campers
TCM: There have been a small number of other changes to Four Wheel Camper models of late including new exterior LED marker lights.  Are LED marker lights an option?
Tom: No, they are mandatory on 80" or wider campers, but we now offer a slim-profile LED exterior lighting package as part of our continuous effort to design campers for the harsh overland environments our customers experience.  The LED exterior lighting package also includes slim-profile LED side and down lights to help our customers see what's around them at night.
TCM: How did the side light option come to be?
Tom: On a camping trip I took a few months ago, I discovered that a side mounted ground light would be a major benefit.  Customers have been asking for side illumination for some time, but we have not been confident on the durability of available lights until now.  We also now offer LED floodlights for the rear of the camper to illuminate a large area.
For the future, we're looking at different options such as heating units, and we have just developed a rear awning.  Jason has put a lot of effort into designing the awning and we are working on a new version of this design now.  I will be testing the awning this weekend while I'm out camping.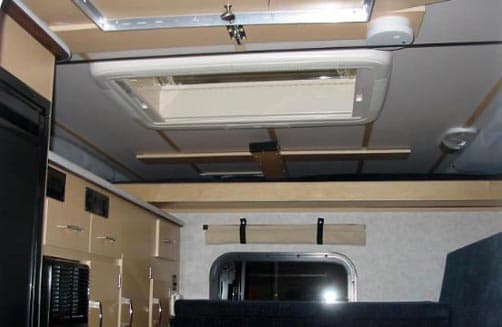 Above: A Heki skylight in the central area of a Four Wheel Camper
TCM: In pictures posted recently on the Four Wheel Campers Facebook page, there's a Hawk model featuring the new fiberglass sides, one-piece aluminum roof, and a Heki skylight.  Are Heki skylights now available on Four Wheel Campers?
Tom: Yes they are.  That camper was delivered this past week.  The customer is an avid amateur photographer and he wanted the Heki so he could open the skylight and take pictures.  He ordered a MidiHeki in the central area of the camper.
TCM: Are you also considering making the European style thermoplastic windows available.  They are known to be lighter in weight and well insulated.
Tom: Good question, but we're not going to offer thermoplastic windows because they scratch too easily and the latches are prone to failure.  You also have to open the screen in order to close an open thermoplastic window exposing the camper to mosquitoes and other bugs.
Our campers are designed for overlanding and need to offer extreme durability.  The glass torque windows we use are proven in harsh overland situations and do not require you to open your screen when you open and close it.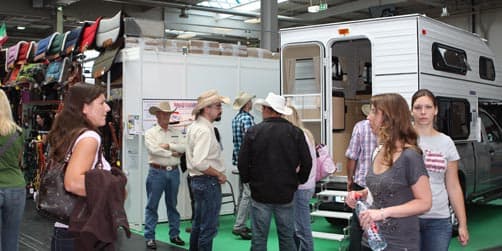 Above: Four Wheel Campers at the Dusseldorf RV Show in Germany
TCM: You recently returned from a trip to Europe to see the Dusseldorf RV Show.  Tell us about what you found in Dusseldorf and your trip to Europe.
Tom: The Dusseldorf show, which I try to attend every couple years, is an inspiration.  It's great to see what other manufacturers are doing.  The European campers are very upscale.  I go to learn design characteristics, see their appliances, their hardware, and what ever else is on display.  This year I went to look at new heating systems as well as hardware items.  It was a constructive trip and it provided me with ideas for new designs and finessing our current designs.

TCM: It's been eight months since Four Wheel Campers announced the move to the new factory.  Can you give us an update as to how the new factory is running?
Tom: It's running incredibly well.  We have increased the size of our production floor by almost four times.  It has had an astonishing effect on productivity and our people out in the plant have more room to work, which makes it easier on them.  We have increased productivity 70% as a result of the move.  We already added one production line and we're adding two more lines in the next two months, plus we've hired and trained more people.
The new plant is also more comfortable, efficient, and cooler in the summer as it gets pretty hot out here.  The woodworking and welding shops have increased to be three times as large as our old plant and our other operating shops are larger, too.
TCM: Clearly a lot is changing at Four Wheel Campers.  Thanks for giving us some insights into everything that's going on.  Please keep us in the loop with the new developments.
Tom: I certainly will.