I enjoy sailing because the wind is free.  I'm not into racing, and just love the relaxing feel of the wind in the sails.  My wife thinks it takes too long to set up and take down and waiting for the wind to kick up, but that's all part of the adventure.  I mostly go sailing by myself.  With the camper I have a very comfortable place to stay.
I have sailed so many beautiful lakes in the Northwest – Timothy Lake, Detroit Lake, Merwin and Yale Lakes, Priest Lake, Coeur d' Alene Lake, and Lake Pend Oreille." – Roger Odahl, 2008 Dodge Ram 3500, 2004 Eagle Cap 950, 1984 Montgomery 15
"We tow a Lund SV-18 open aluminum utility boat with a 60 horsepower Yamaha outboard motor.  The tongue weight is quite low so I use a twenty-four inch extension with the factory hitch.
Our boat gets used for lots of things.  My wife is a rower and I find that rowing is a terrible spectator sport.  I offered to bring my boat and run officials on the rowing course so my days start early and end late.
You can't beat time spent in a boat!  Besides rowing, we use the boat for fishing and camp cruising remote areas on Lake Superior as well as water sports with the kids and grandkids at the cabin." – Dave Miller, 2015 Ford F350, 2003 Bigfoot 10.6E, 1994 Lund SV-18

"I tow an 18-foot flats boat that is towed with a class five hitch and a four foot extension bar.  The only problem is when the trailer gets a flat, it is very hard to notice it.  I have a camera on the back of the camper.  But, I can't see the tires so I added yet another camera under the truck to face back toward the tires.  That works okay.
The other issue is trailer tires don't last.  Radial tires are the worst for blowing out.  My boat is heavy.  I use a 15″ 225/15 load range D tire.  I started with a 13″ tire which I only got twelve months out of and then a 14" tire which suffered a similar result.  A 15" tire is what cured it.  I use bias ply tires only.
My boat is used for fishing, scalloping, and lobstering.  I live in the Florida Keys so it gets used all year long when I'm not camping.  Having lived on a yacht for eight years I can't imagine not having one for daily use.  Happy camping everyone." – Gary Raymond, 2014 Ram 3500, 2006 Lance 1191, 1998 Hoog Flats boat

"I have a 15-fishing boat on a single axle trailer.  I tow to homesteads off road in the north of Western Australia for fishing and diving for family holidays." – Toby Curtis, 2014 Ford Ranger XLS, 2015 home built custom camper, 2008 Quintrex 448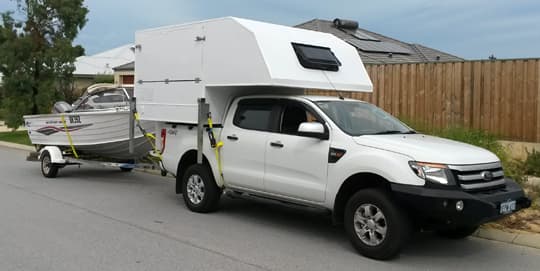 "I'm using a 42-inch Torklift SuperTruss to pull the boat.  I go out for fishing and pleasure." – Ken Colvin, 2011 Ram 3500, 2011 Palomino Real Lite, 2009 Starcraft Super Fisherman 1850
"I tow either of my two boats with a ball mount hitch.  I also have the pickup camper on the truck to sleep and cook in.  I use the fifteen foot boat for weekend fishing trips in Minnesota and Wisconsin, usually by myself.  I use the twenty-two foot pontoon when taking a week or two vacation at a big lake, like Lake Vermillion in Northern Minnesota, with my kids and their families." – Rag, 2003 Chevrolet Silverado, 1980 Sportsman 8SD, 1994 Belvadier 15 foot tri-hull and 22 foot Suntracker Pontoon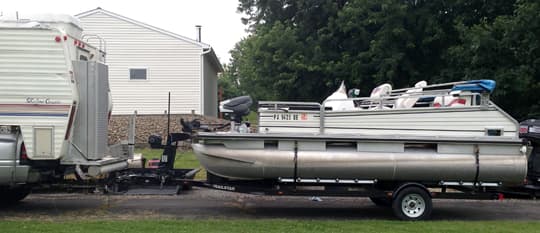 "I have a 19-foot pontoon boat on a trailer with a weight distribution hitch installed and electric brakes to make stopping smoother.  We scuba dive, fish, swim, and everything else we can think of." – Eric and Linda Anderson, 2001 Dodge 3500, 2013 Arctic Fox Milestone 990, 1996 Tracker 19-foot pontoon
"I tow a ProCraft Fish and Ski Combo.  I have an extended tow bar that my brother built that extends the ball out beyond the back side of the camper.  This gives me more latitude when backing the boat down to the launch ramp, and also more radius when turning so the boat doesn't hit the camper.  It has worked out very well!   We fish, pleasure cruise and do just about anything else that you can do with a boat!" – Doug Bennett, 2008 Ford F250, 1998 Shadow Cruiser, 1998 ProCraft 19 foot Fish and Ski Combo

"We are tournament water skiers.  We travel to all the local tournaments in the Pacific Northwest and our Ski Nautique is used as an official tow boat for these tournaments.  We have eighteen tournaments this year.  We also manage to go camping with our horses a few weekends a year." – Nick Sullivan, 2014 Ram 3500, 2015 Arctic Fox 1150, 2015 Ski Nautique 200 Tournament Promo Boat
"I tow the boat right off the rear bumper, using a seven pin electrical connector.  The trailer has breaks.  My main purpose is fishing northern Wisconsin." – Thomas Bender, 2011 Ford F250, 2009 Sun Valley Apache Chief 8.65 WS, 2012 Ranger Z118