There is a clear consensus among truck campers about how to safely launch a boat with a loaded camper.  The repeated formula is (1) take your time, (2) use your mirrors, and (3) have a spotter.
We give this same exact advice to folks learning how to load and unload a truck camper.  Angela and I have loaded dozens of truck campers hundreds of times and wouldn't even consider loading or unloading without time, mirrors, and a spotter.
Another wide piece of advice shared by multiple readers is to practice backing up before reaching the boat ramp.  One idea would be to hook up your boat and take it to a local school or corporate parking lot on the weekend.  Then you can practice backing up with your mirrors and spotter without fear of hitting anything or drowning your rig.
At least half of the responses report using a backup camera for increased visibility.  Others add a front hitch so they can put a boat in the water with a direct view.  These are both excellent suggestions for your pre-launch research.
In addition to asking how truck camper owners launch their boats, we conducted a poll to see how many unload their campers before launching their boats.  Here are the results.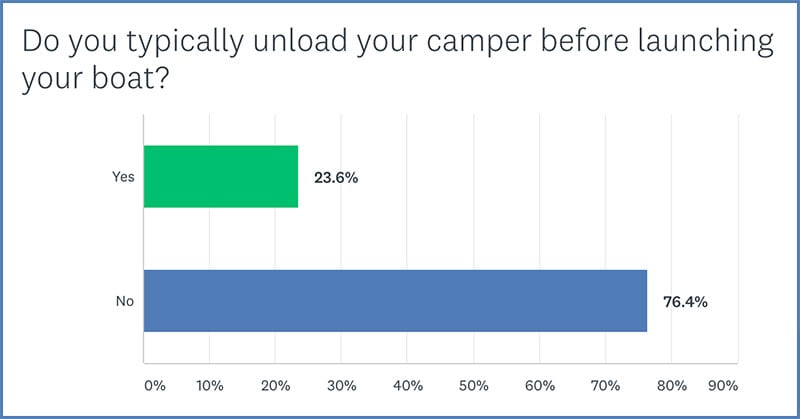 As you can see, more than three-quarters of truck camper owners launch their boats with their campers loaded.   That's impressive!  Now let's find out exactly how they do it.
This week's Question of the Week was, "How do you see around a loaded truck camper when launching a boat?"
"Having been raised on a farm backing wagons and trailers, I'm fairly quick at boat ramps. I do find it easier to have the dock on the truck's driver side for the best visibility. I will do that unless wind or traffic dictates otherwise." – Bob Claycomb, 2007 Dodge 2500, 2019 Northstar Laredo, 2001 Alumacraft Trophysport 175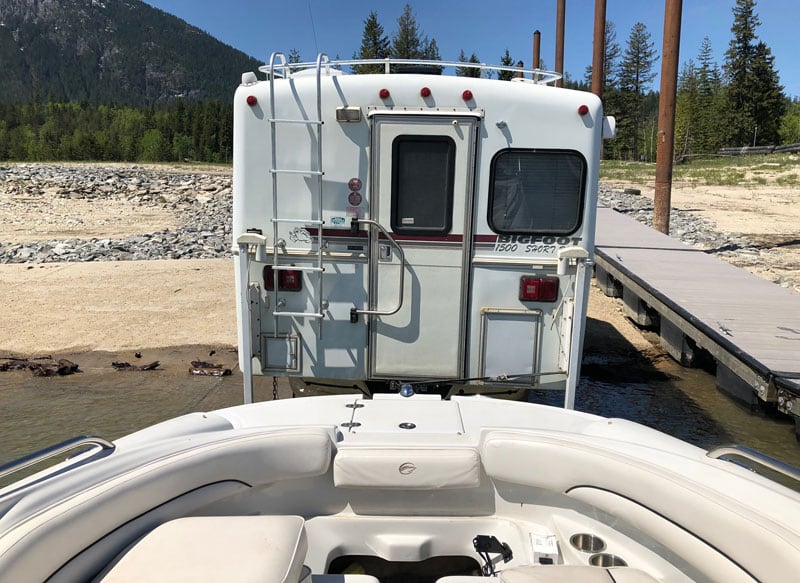 "Use the mirrors. Our boat is big enough that if I slightly see the trailer on one side or the other, then it's not going straight. We keep the process slow and we don't get into trouble. Of course a spotter is a must!
We also have a 12-foot aluminum boat and a trailer with a quad. It's much narrower than our big boat and much harder to back up without a spotter. By the time you see the trailer in the mirrors it's time to stop, go ahead, and straighten out. Again a spotter is a must, but I certainly wouldn't unload the camper just to launch the boat." – Brian Lecompte, 2013 Ram 3500, 1999 Bigfoot, 2008 22.5 Crownline with Tandem Axle EZ Loader Trailer
"I mounted an Optix camera on the back of my camper over the entry door. This works great unless I'm in bright sunlight where the image washes out.
The camera image feeds into the MFD in my truck. I think I've solved the wash out problem by making a sun shield to cover the camera and by covering the area on the back wall that reflects light back onto the camera lens." – Steve Timmings, 2003 Ford F350, 2013 Four Wheel Hawk SC, 2011 Devlin Pelicano 18

"Get the trailer straight behind you and use your mirrors. I put my hand at the bottom of steering wheel for the direction of the trailer." – George Collett, 2017 Ram 3500, 2018 Northern Lite 10-2EX CDSE, 2005 Cobalt 226
"We added a hitch to the front of the truck. We can push the boat in without worrying about getting the camper wet. With the hitch weight in the front of the truck, it's also easier to get out of the water. And the front hitch gives us a place for the bike rack that doesn't interfere with the boat trailer." – Nanette Fliesser, 2013 Chevy Silverado, 2014 Host Mammoth, 2017 Lund Crossover 1775

"We are lucky. We can see the trailer's wheels and even the boat itself in each mirror when our mirrors are extended all the way out.
The biggest boat launching tip I have is to take your time. The places we launch are not too busy so we just take our time and be sure the spotter is able to be seen and heard.
First 1 2 3 ... Next → Last Read Entire Article