Truck Camper Magazine readers reveal the back-up cameras they use on their truck campers.
This week's Question of the Week was, "Do you use a rear view camera and – if you do – what make and model do you use, and do you like it?"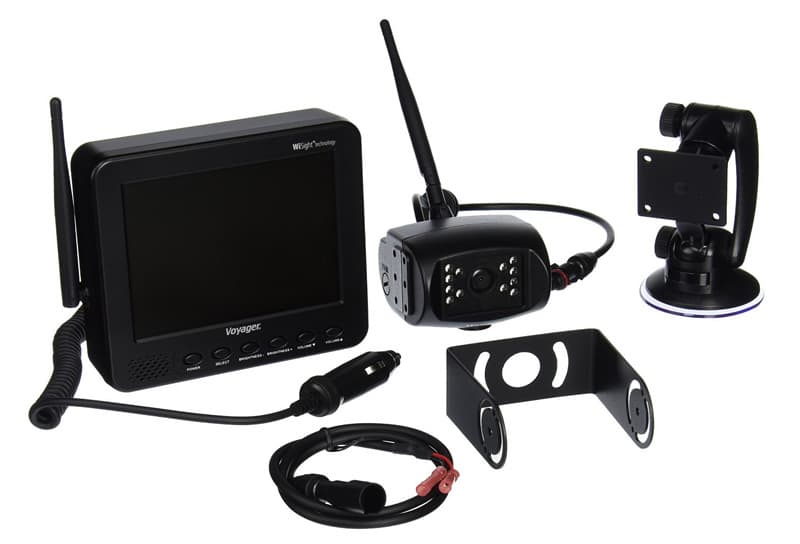 "I actually use two different back-up cameras on my Lance 992.  The first system I bought aftermarket was a Voyager Digital Wireless (#WVOS511).  The power for the camera comes from the running lights above the camper entry door.  The monitor plugs into a 12-volt convenience outlet on the dash.  This unit is used when backing up to park/camp and to monitor my boat when traveling.  It comes in very handy when backing up to my garage at home to load or unload.  I no longer need my bride to help with this task to prevent running into and crushing the gutters (it has happened, twice).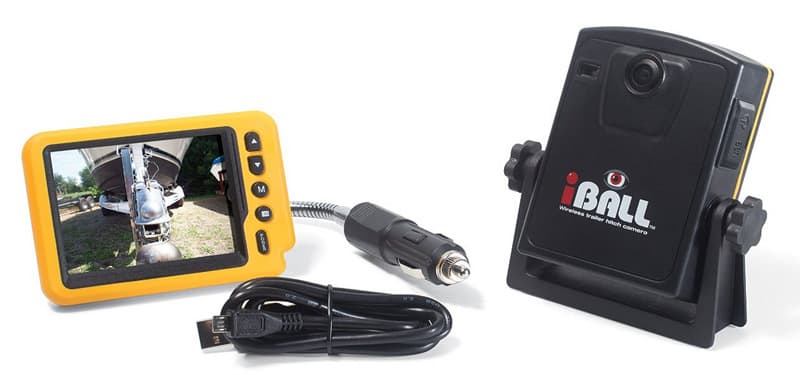 My second system is an iBall camera that I use for backing up to any of my trailers.  The camera is a magnetic mount that sits on top of the hitch ball mount.  The monitor is on a flexible semi-rigid stalk that plugs into a dash convenience outlet.  It allows me to see the trailer tongue and to back the ball directly under it perfectly each and every time I try.  It's way better than having a spotter.  It even works at night as the truck lights provide enough light to see the trailer tongue.
The Voyager cost about $700 and the iBall was $150.  Both are wireless and worth the price." – Robert Lee Hicks, 2008 Chevrolet 3500HD, 2011 Lance 992
"We use a Todi Brothers camera.  It is a wireless camera with a small screen mounted with velcro on our dashboard.  The camera is mounted at the top rear of the camper.
Do we like it?  You bet!  It is a huge safety advantage, particularly when backing into a parking place, when we're on the highway to spot vehicles passing to the left or right, or when changing lanes.  The side mounted mirrors are never quite enough.
The camera and screen have been flawless, apart from very occasional electrical interference from passing vehicles (trucks, mostly) when the screen will momentarily go blank or flash interesting colors.
The camera needs an occasional cleaning, and rain on it makes for a kaleidoscope view.  We have concluded that we will never again be without a backup camera.  We might add that Todi Brothers were great as a vendor, and for answering our few follow-up questions.  Kudos to them!" – Parker Maddux, 2008 GMC 2500 HD, Hallmark 2013 Ute-Everest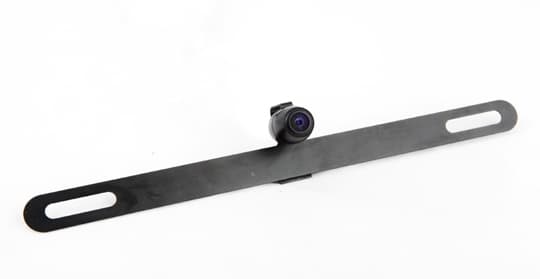 Above: The Crimestopper SV-5340.II license plate mount camera with a hide-away bracket
"I use a rear view camera where the bracket mounts behind the license plate.  It is a Crimestopper SV-5340.II license plate mount camera with a hide-away bracket.  

I've tried other cameras, but they didn't last long and required drilling to mount.  This Crimestopper model mounts easier, has a great field of view, and has stood the test of time.  It connects easy to my double DIN stereo in the dash.  Instead of activating the camera with reverse lights, I wired it to one of the factory up-fitter switches so I can turn the camera on and off at will.
The main use of the camera is to hitch up to something, but I've found it useful to keep an eye on things such as the bike rack or a towed vehicle.  It saved me from losing a bike once when the hold down clamp came loose.  Now I use a ratchet strap to secure the bikes. 

My Travel Lite 890SBRX has a diamond shaped see through window on the bottom of the door, and it is somewhat useful as I can see if a small car is behind me.  I like having it better than not having it, but the downside is, at night, light will shine in, so I had to make cover for it." – Keith Fromme, 2006 Ford F250, 2014 Travel Lite 890SBRX
"My truck came with a camera mounted in the tailgate but, with the camper on the truck, the tailgate is removed.  I would like to find a camera that would plug into the factory plug and be mounted on the camper.  Anyone know of any options?
We can see through our camper.  I really like being able to see if something is amiss in the camper while we are on the road.  I can also see the boat.  Great question!" – Dave Miller, 2015 Ford F350, 2003 Bigfoot 10.6E
"We have the Lance 1030 with the through-the-camper window view that works great, so no need for a camera." – Barry Schoenwetter, 2006 GMC Sierra 2500HD, 2005 Lance 1030
"I think my Lance 1050 is virtually the same floor plan as your Lance 1030.  It has the see-through windows with the fresnel lens.  I like this setup.  I have never used a rear view camera, so I can't say which I would prefer.  Based on my experience, I think I prefer the see through option.
If I forget to open either of the privacy curtains on the see-through windows when leaving a campground, I stop as soon as I can to open them. That is how much I depend on being able to see what is behind me." – Eldon Rhodes, 2008 Chevy 3500HD, 2011 Lance 1050

"We installed a rear view camera as soon as we got the camper and we use it all the time.  We installed a color, wireless day/night camera and a seven-inch color monitor in the cab of the truck.  It's worth its weight in gold.  This is truly a don't leave home without it item." – Don Pryor, 2011 Ford F350, 2009 Arctic Fox 1150
"My Tundra has a tailgate backup camera.  I remove the tailgate when using the camper so I bought an OEM Toyota camera and mounted it next to the rear license plate.  I can then just plug into the existing wiring harness and use the interior display.  When driving, I rely on the extended tow mirrors." – Paul Turner, 2014 Toyota Tundra, 2014 Adventurer 80GS