Truck Camper Magazine readers reveal the back-up cameras they use on their truck campers.
This week's Question of the Week was, "Do you use a rear view camera and – if you do – what make and model do you use, and do you like it?"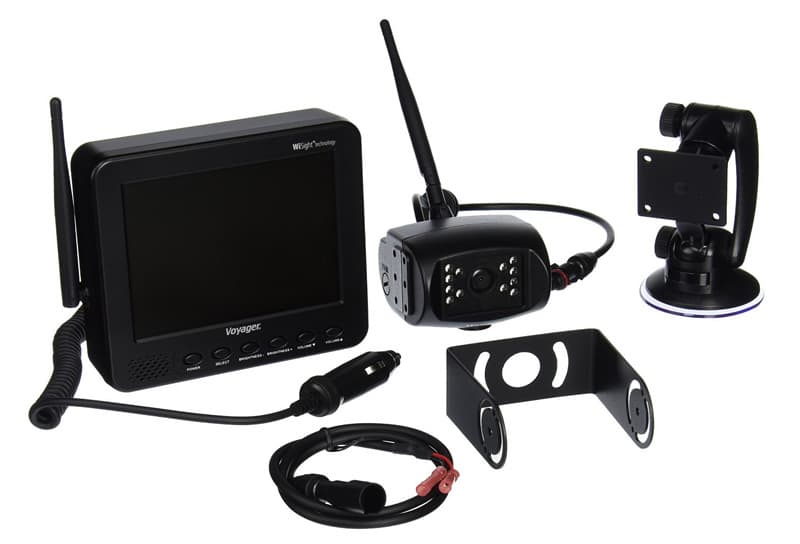 "I actually use two different back-up cameras on my Lance 992.  The first system I bought aftermarket was a Voyager Digital Wireless (#WVOS511).  The power for the camera comes from the running lights above the camper entry door.  The monitor plugs into a 12-volt convenience outlet on the dash.  This unit is used when backing up to park/camp and to monitor my boat when traveling.  It comes in very handy when backing up to my garage at home to load or unload.  I no longer need my bride to help with this task to prevent running into and crushing the gutters (it has happened, twice).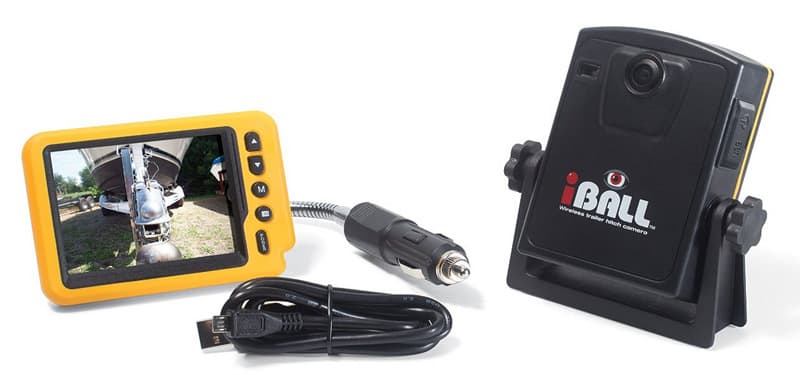 My second system is an iBall camera that I use for backing up to any of my trailers.  The camera is a magnetic mount that sits on top of the hitch ball mount.  The monitor is on a flexible semi-rigid stalk that plugs into a dash convenience outlet.  It allows me to see the trailer tongue and to back the ball directly under it perfectly each and every time I try.  It's way better than having a spotter.  It even works at night as the truck lights provide enough light to see the trailer tongue.
The Voyager cost about $700 and the iBall was $150.  Both are wireless and worth the price." – Robert Lee Hicks, 2008 Chevrolet 3500HD, 2011 Lance 992
"We use a Todi Brothers camera.  It is a wireless camera with a small screen mounted with velcro on our dashboard.  The camera is mounted at the top rear of the camper.
Do we like it?  You bet!  It is a huge safety advantage, particularly when backing into a parking place, when we're on the highway to spot vehicles passing to the left or right, or when changing lanes.  The side mounted mirrors are never quite enough.
The camera and screen have been flawless, apart from very occasional electrical interference from passing vehicles (trucks, mostly) when the screen will momentarily go blank or flash interesting colors.
The camera needs an occasional cleaning, and rain on it makes for a kaleidoscope view.  We have concluded that we will never again be without a backup camera.  We might add that Todi Brothers were great as a vendor, and for answering our few follow-up questions.  Kudos to them!" – Parker Maddux, 2008 GMC 2500 HD, Hallmark 2013 Ute-Everest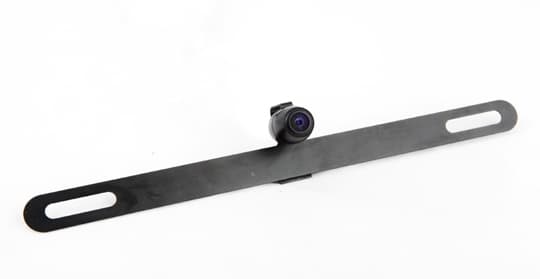 Above: The Crimestopper SV-5340.II license plate mount camera with a hide-away bracket
"I use a rear view camera where the bracket mounts behind the license plate.  It is a Crimestopper SV-5340.II license plate mount camera with a hide-away bracket.  

I've tried other cameras, but they didn't last long and required drilling to mount.  This Crimestopper model mounts easier, has a great field of view, and has stood the test of time.  It connects easy to my double DIN stereo in the dash.  Instead of activating the camera with reverse lights, I wired it to one of the factory up-fitter switches so I can turn the camera on and off at will.
The main use of the camera is to hitch up to something, but I've found it useful to keep an eye on things such as the bike rack or a towed vehicle.  It saved me from losing a bike once when the hold down clamp came loose.  Now I use a ratchet strap to secure the bikes. 

My Travel Lite 890SBRX has a diamond shaped see through window on the bottom of the door, and it is somewhat useful as I can see if a small car is behind me.  I like having it better than not having it, but the downside is, at night, light will shine in, so I had to make cover for it." – Keith Fromme, 2006 Ford F250, 2014 Travel Lite 890SBRX
"My truck came with a camera mounted in the tailgate but, with the camper on the truck, the tailgate is removed.  I would like to find a camera that would plug into the factory plug and be mounted on the camper.  Anyone know of any options?
We can see through our camper.  I really like being able to see if something is amiss in the camper while we are on the road.  I can also see the boat.  Great question!" – Dave Miller, 2015 Ford F350, 2003 Bigfoot 10.6E
"We have the Lance 1030 with the through-the-camper window view that works great, so no need for a camera." – Barry Schoenwetter, 2006 GMC Sierra 2500HD, 2005 Lance 1030
"I think my Lance 1050 is virtually the same floor plan as your Lance 1030.  It has the see-through windows with the fresnel lens.  I like this setup.  I have never used a rear view camera, so I can't say which I would prefer.  Based on my experience, I think I prefer the see through option.
If I forget to open either of the privacy curtains on the see-through windows when leaving a campground, I stop as soon as I can to open them. That is how much I depend on being able to see what is behind me." – Eldon Rhodes, 2008 Chevy 3500HD, 2011 Lance 1050

"We installed a rear view camera as soon as we got the camper and we use it all the time.  We installed a color, wireless day/night camera and a seven-inch color monitor in the cab of the truck.  It's worth its weight in gold.  This is truly a don't leave home without it item." – Don Pryor, 2011 Ford F350, 2009 Arctic Fox 1150
"My Tundra has a tailgate backup camera.  I remove the tailgate when using the camper so I bought an OEM Toyota camera and mounted it next to the rear license plate.  I can then just plug into the existing wiring harness and use the interior display.  When driving, I rely on the extended tow mirrors." – Paul Turner, 2014 Toyota Tundra, 2014 Adventurer 80GS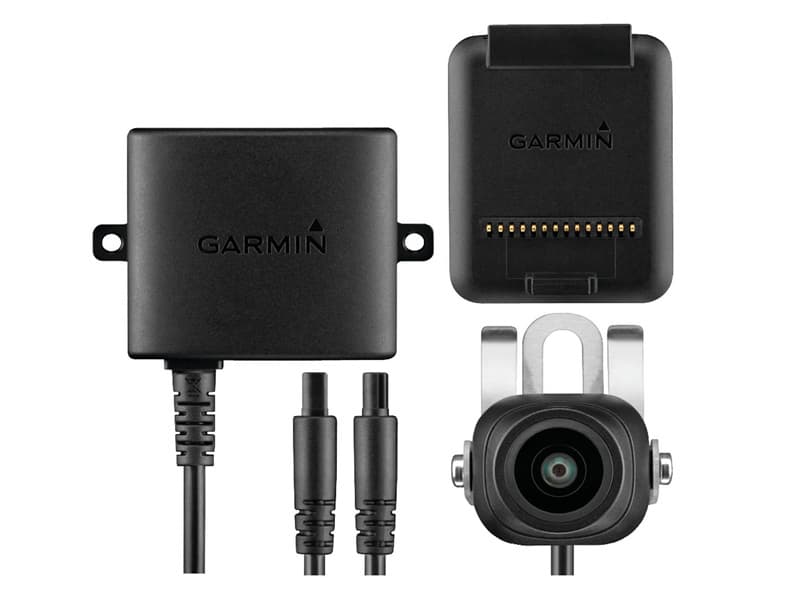 "I have a Garmin BC20 that goes through my Garmin RV 760 LMT.  Instead of powering through my backup circuit, I wired a separate on/off switch so it can be used at any time.  I use it for not only backing up, but also to monitor a trailer when towing.  Works well." – Darrell Watson, 2012 Ram 2500HD, 2007 Lance 815
"I use the Digital Wireless Quad Camera System with cigarette lighter adaptor." – Jeffrey Nihart, 2008 Chevy, home built camper
"Since I lost use of the rear view camera that came standard with my Silverado by removing the tailgate to install my Four Wheel Camper Hawk, I needed to come up with some alternative.  Also, the camera display in the rear view mirror is not designed to be on for extended lengths of time, nor did I want to get into messing with factory wiring while it was under warranty.  A dedicated hardwired system would be problematic as I remove the camper when it's not in use.
Most wireless systems were too expensive.  I found this W-One unit on Ebay, which transmits over WiFi to any Android device.  I use an Android tablet as my GPS, so this is be perfect.  The camera is unobtrusively mounted by the door with a slight angle downward, and wiring is hidden in the kitchen cabinet.
I wanted to be able to switch it on and off from the truck cab, so I have it wired into the vehicle's and camper's running lights from a new plug I installed.  The new plug also gave me the option of adding a third brake light on the camper.  This plugs into the standard trailer plug on the Silverado.

The signal strength is okay, so I plan to add a little better directional antenna.  The picture quality is very good." – Bill and Francine Peters, 2013 Chevy Silverado, 2013 Four Wheel Camper Hawk
"I have a backup camera that toggles on and off through my Garmin GPS.  It is energized off the lights.  To use it, the lights have to be on.  Of course, that is no big deal.  It's ideal for backing into a campsite, but not so ideal for use on the road since the camera has an extremely wide-angle lens.  Because of that vehicles in back of you can be pretty close before you see them.  I still have the little window to look through to see what is in back of me." – Al Stebbins, 2006 GMC 2500 HD, Northern Lite 8′ 11" Queen Classic
"I have three variants in this category.  First, I can see through the 1055 rear window and, although it's offset slightly from center, I get to see if something is right behind me. Part of my driving ritual is to glance frequently in my mirrors.  It helps a lot to see something in the mirror.  My last camper was annoying as I'd habitually glance, but only see the camper's interior.
Second, I tow with a forty-eight inch Torklift hitch extension.  I have mounted a CubbyCam bumper mount camera that uses the OEM wiring plugs there for the OEM tailgate camera.  It came with longer wiring so I could mount it out near the end of the hitch extension.  I use that for hooking up the trailer and watching for jackknifing when backing in tight spots.
Third, I tow a thirty-foot enclosed car hauler and use a Voyager seven inch Auto-Pairing Wireless System.  The camera on the back of the trailer is wired to a digital wireless transceiver mounted on the front of the trailer.  The seven inch monitor is windshield mounted in the cab and has a small antenna to connect to the trailer.  It works great.  The picture is crystal clear and I've only lost the connection a few times.  That was only for fifteen to thirty seconds when it happened.
I wired a trailer camera into my last motorhome/trailer combination with a disconnect cable at the hitch.  I had way more trouble with that wired connection than I've had with this wireless one.  It was ten years ago when I wired that up and the only wireless systems I could find at the time didn't work well.
The main point I'd make from this for TCM is that I would use this same digital wireless technology (perhaps in a different form factor) in a heartbeat if I needed a rear view camera on my camper, but I really don't with my current set-up and usage." – Fred Mottashed, 2012 Chevy 3500, 2008 Lance 1055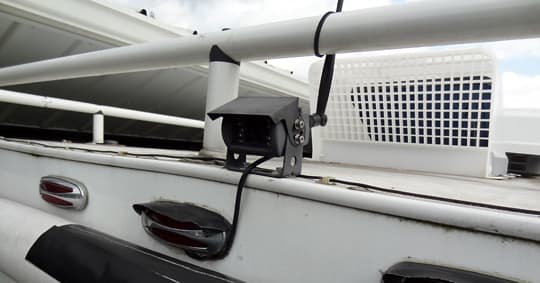 Above: Wireless camera powered by marker lights, black Gorilla Tape on awning and markers decreases marker light camera flare during nighttime use.
"I have a seven inch Chinese-made wireless camera that we purchased from our truck camper dealer on his recommendation.  I have made a number of modifications to the unit to make it perform the way I want, including resealing faulty waterproofing on the camera and disabling the annoying auto-dimming feature.  It is an analog camera, meaning it's subject to interference from some Bluetooth signals, traffic cameras, motion sensors, and some radio signals.

Above Left: Driver's eye view, rocker switch on headliner console powers monitor, Middle: Monitor holders fabbed from smart-phone visor clamps allow quick conversion to normal truck mirror, Right: Sensor for annoying auto-dimming function defeated with black tape
Above: External monitor antenna improves reception
But, one plus with the system is that the monitor is multi-channel, allowing it to be used with the very handy Swift Hitch camera, which I use to hook up a trailer when the camper is on board.  It attaches magnetically (or with a suction cup) temporarily to the back of the camper and makes hooking up the otherwise-invisible trailer an absolute breeze.  A touch of the channel selector allows me to change camera views at will.
If I were to buy a new digital wireless backup camera today, my short list would include the Voyager Digital Wireless system (quite pricey), or the digital camera that pairs with the Garmin RV 760 LMT GPS unit.  But since the digital systems can only pair with one camera at a time, I'd lose that extra functionality I enjoy with the SwiftHitch, and would have to use its own smaller handheld monitor.  No biggie.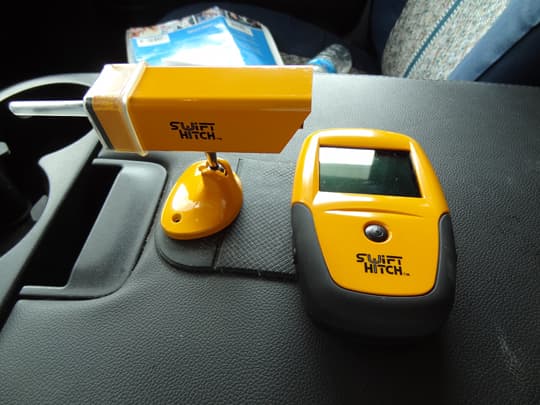 Above: Swift Hitch is a lifesaver when hooking up a trailer
There is a special purpose rear view camera that is worth its weight in gold if you ever hook a trailer to your truck and camper.  The Swift Hitch quick-detachable rear view camera (or Marriage Saver as I like to call it) attaches to the back of your truck camper via it's magnetic base, or on an included suction cup mount for non-steel surfaces.
If you've ever tried to hitch your trailer alone, you've found it's quite hit and miss, usually with more hits than misses.  And if you've tried to rely on hand signals from the missus, you've discovered a new source of marital friction.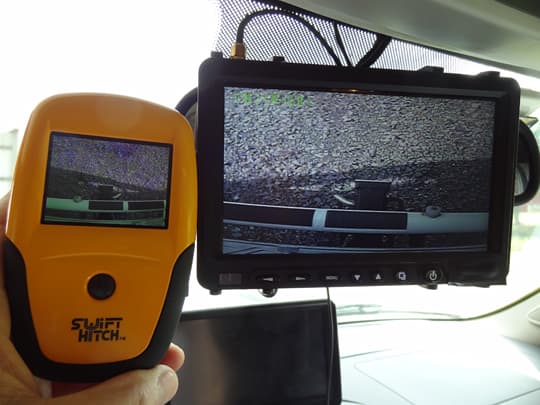 Above: An unused channel on the monitor really gives the big picture from the Swift Hitch
Enter the Swift Hitch.  This little gem lets you feast your eyes precisely on the trailer hitch with its included handheld wireless monitor, and see well enough to get the trailer hitch on the ball first time, every time.  Both camera and monitor contain rechargeable batteries, with a 12-volt charger included.  The old right tool for the right job principle strikes again!" – John and Marylou Wells, 2011 Chevy Duramax 3500HD, 2012 Chalet Ascent S100F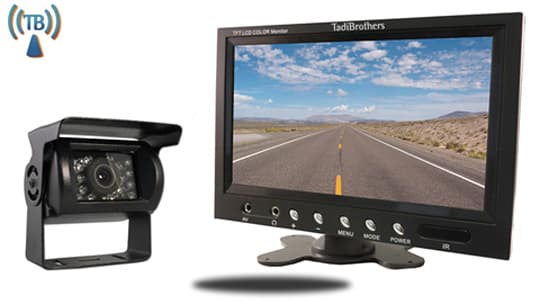 Above: Tadi Brothers' wireless back-up camera, photo taken from Tadi Brothers' website
"I bought my system from TadiBrothers.com out of Los Angeles, California.  I had a lot of problems with the wireless part.  I could not receive a constant signal in the pickup.  After two calls to Tadi Brothers' customer service department, they sent me a new transmitter and receiver.
The second set they sent works a lot better.  They were very helpful in trying to solve my problem.  The camera seems to be of fairly good quality, but the monitor not so much.  All in all, the system works.  These new large campers have a very large blind spot behind them, so the backup system is almost a must.  I also sometimes pull a car or a boat behind, and this system helps me keep an eye on them." – David Donovan, 2007 Chevy 3500, 2012 Chalet TS116
"We've been exploring this issue.  We really like the backup camera in the Ford F350, but since it is integral to the tailgate, we can't use it with the truck camper.  We don't like the idea of having three displays in the cabin (Ford dash display for controls, GPS, and backup camera display) so we bought the RV Garmin GPS with a wireless camera.  It has pretty good reviews but we haven't been able to install or test it yet.
If we are not happy with these results, then we will try a custom modification that we have seen using a Ford camera assembly and wiring harness.  We will mount that under the truck or on the camper.  We're getting really close to being real truck camper owners and contributors!" – Bruce Tinkler, 2013, Ford F-350, Soon to be a new 2013 Lance 1181

Above: The Veise seven inch rear view camera
"I would not be comfortable driving a Chalet truck camper without a rear view camera.  It's a big camper and drivers tend to tuck themselves right into the no view spot, even with big truck mirrors.  We just installed a Veise seven inch rear view camera.  The picture is digital and vastly improved from the previous Tadi Brothers wireless system we tried.  Eventually we had to have the the Tadi Brothers hard wired as the wireless was so poor.  The Veise is rock solid, full color, and easily adjustable for what you see in the rear.  As the dashboard of the F450 is full, we placed the monitor over the existing rear view mirror.  We also didn't want seven inches of a screen sticking up straight from the dashboard as it blocked the road view for me, since I'm a lot shorter than Joe.
Parking lights or full headlights power the camera.  There is no danger of battery drain, unless you walk away and leave your lights on.  Anyone at the Gettysburg rally coming up in two weeks is welcome to drop by our site and take a look." – Anne and Joe Brown, Ford F450, Chalet
"I removed the stock back up camera from the tailgate, fabricated a holder, and bolted it below the camper.  It has been on eighteen months and works great." – Jim Massopust, 2013 Toyota Tacoma, 2012 Four Wheel Camper Eagle
"I want to know where I can get a rear view camera with the monitor that will not cost me a second mortgage.  I have checked on the internet only to find that I could almost buy a new truck camper for the cost of the rear view camera.  Just kidding, however they are very costly." – Bob Vea, 2003 Chevrolet Silverado 3500, 2003 Arctic Fox
"I use and recommend a rear view camera.  I ordered the camera with the new camper.  I find the camera to be very useful both during maneuvering and highway operations.  I did not order the camper with a pass-through window or a rear view window in the door.  With a crew cab truck, these windows are of little use.  I also have a Lance 1985 travel trailer and I added the wireless camera to that rig too.  It really comes in handy when backing and traveling.
I use the Voyager five inch wireless cameras in both rigs.  The picture and transmission has been flawless.  Don't forget about the audio.  It works great to listen for instructions while backing up." – Scott Park, 2011 GMC 2500 HD, 2014 Lance 865
"We are new to truck camping.  In fact, we just got it and have only slept in it while parked in our backyard for one night.  After traveling five hours bringing the camper home without a camera, the very first modification we installed was a Voyager Digital Wireless Camera from Camping World.  Once installed, we took the rig out for a test ride and were overjoyed with the improved safety the camera provided." – Mike and Paula Bostic, 1999 Ford F350, 2012 Chalet S95R
"I can still see through my Lance via the Fresnel lens in the rear window." – Wade and Becky Johnson, 2004 Ford F350, 2003 Lance 1161
"I use the Jensen/Voyager color wireless backup camera.  It works great and I would never not have one.  We have used it for a year.  I will re-mount the camera on an extension so I can view a more directly down on the tongue/coupler area of the trailers.  

The factory mounted the wireless camera on the roof and not the back of the rear slide so the rear slide awning gets in the way for a clear view." – Rick Christensen, 2002 GMC 3500, 2013 Eagle Cap 1165
"I can see straight through on this model of Lance.  My side mirrors do most of the work.  I do on occasion find small cars tailgating behind me.  And having the see-through option is great for backing in the tighter spots.  I am very comfortable with this set up, so there is no need for the camera and another screen on my dash." – Scott Young, 2014 Ford F250, 2014 Lance 855
"I use a Swift Hitch portable wireless camera, not just for the camper, but for backing the horse trailer into the barn.  With the Swift Hitch, I don't hit anything behind the rig.  I use it for hooking up trailers, seeing behind the truck camper, and even inspecting rain gutters without using a ladder (it came with a long handle for said purpose).  I find the portable type very useful." – Robert Lee, 2008 Toyota Tacoma, 2013 Travel Lite 690FD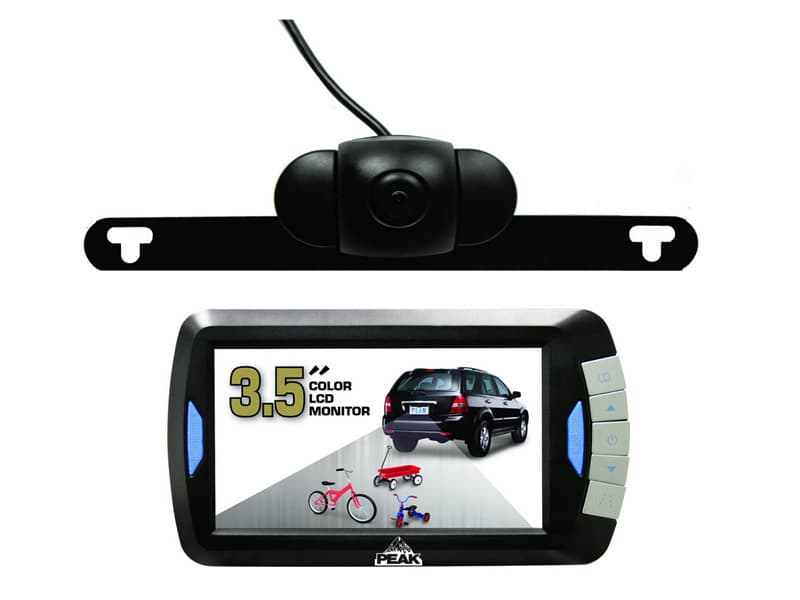 "I use a Peak model PKCORB wireless back up camera.  I purchased it at Pep Boys for about $90.  It works well, but the screen is a little small.  I wired both the camera and receiver with on/off switches.  I am happy with it and have used it over four years with no problems." – Tom Emerick, 2011 Chevy Silverado 3500, 2012 Arctic Fox 990
"Our camera is an option that came with the Garmin 760, which is a GPS made for RVs.  The image shows up on the GPS screen.  It works okay.  The resolution is poor, but good enough.  I like not having a second screen on the dash." – Charles LaGreca, 2014 Ford F350, Lance 1171
"We ordered the camper with the back up camera installed.  It is a Voyager WVOS511 wireless observation system, and cost almost a thousand dollars.  We are not pleased with the system, as the picture shown in the monitor is not overly clear, and everything seems to be so far away.
The first trip we made with it, I almost backed the left rear upper corner into an overhanging limb that was ten to twelve inches in diameter.  It was not showing in the picture, and had I not stopped to get out and check things, we would have done extensive damage to the camper.  Wish I had my money back on the item." – Dewey Lackey, 2003 Silverado, Lance 1172
"Yes, I have one, but it was a waste of money.  Dash cams now have a second rear camera and will show its view on the dash camera screen. Higher resolution and longer focus means you can see the car overtaking you at high speed in the lane you are pulling into.  So back up only cameras are now obsolete." – Tom Rives, 2000 Dodge Dakota, Phoenix pop-up

Above: The Voyager AOC 78 back-up camera system installed
"The first rule of Italian driving is, "What's behind doesn't count".  Where upon the driver rips off his rear view mirror and throws it out of the car as he speeds away.  At least that's how I remember the movie.  In real life, however, we use a Voyager AOC 78 and have it mounted just below the roof line and down towards my rear hitch and twenty five feet past my camper.  I mounted the screen on my cup rack and it looks factory fit.  It is easily viewable and not in the way.
We are currently running only one camera through this unit, but it can handle up to three cameras with additional side mounts.  They can be wired into the turn signals and the viewing screen can be split when activated to check traffic before changing lanes.  The camera system is very helpful and I don't believe I would be as comfortable driving my rig without it.  I also use it for watching my bikes in the rear bike rack, backing up into a camping space, parking lots, etc." – Randy Plowe, 2002 GMC 3500, 2005 Lance 1191
"The truck has a built-in camera that's about two feet from where the tailgate wiring fits into the frame of the truck.  We installed a special six-way plug that we can pull through the hole in the back of the truck, disconnecting the camera wire that goes to the tailgate.  That wire just hangs out about six inches.
Then, we installed an aftermarket rear view camera on the camper, running the wire down the inside.  We made a plug to mate with the six-way plug that was installed two feet from the truck to the wire that is hanging down about six inches.
We also purchased a cheap camera with a ninety-degree angle, and put a small round magnet on it with a long cord that stretches to the back of the truck.  To the camera we attached two quick disconnect plugs.  We put the camera/magnet on the front of the bed, just below the sliding rear window.
Then another six-way plug was installed on the end of this wire.  It also plugs into the six inch long wire from the original truck camera.
So, to load the camper, we use the cheap ninety-degree camera.  When the camper is about two feet from the front of the bed of the truck, we reach in through the sliding rear window, grab this camera, and disconnect it from the wiring.  The wiring falls to the bed of the truck.  Then we go to the back of camper (still raised above the bed an inch or two) and pull the wiring.  We unplug this wiring and plug in the wiring from the camper.
I love the camera in the bed because I can see the camper and the sides of the truck when loading.  And I love the camera on the back of the camper because it really helps to see behind me when I am connecting a trailer or just backing up.
Now what I would like is a way to switch the back-up cameras on when I am driving.  I would love to have a way to see the trailer and/or road as I am traveling.  Any ideas?  I can figure it how to do it on an aftermarket camera, but not with the original equipment." – Alan Crawford, 2015 Chevy 3500, 2013 Arctic Fox 990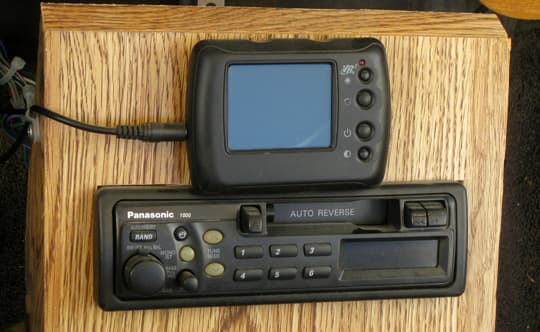 Above: The VR3 Model VRBCS300W (top), wireless back-up camera system
"We have a small rear view camera in our camper.  It is a VR3 model: VR BCS 300W.  It is adequate for our needs and was easy to install.  It is wireless so there is no need to run wires.  The screen is small at 2.5" and comes with different mounting options and a 12-volt male plug.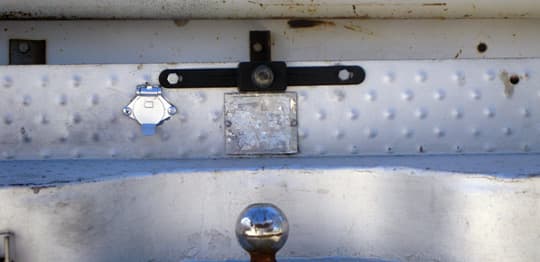 The camera mounts on the license plate.  I mounted it on the rear step bumper.  We have a pass-through which I really like and a rear door with a window and curtain.  The camera only works when backing up.  When traveling, we tie the curtain back and use the rear view mirror.  I use the rear view camera when backing into or out of places to see how close things are behind me." – Jack and Joann Purdy, 1969 Ford F-250 Camper Special, 1970 Roll-A-Long Sportster 9.5
"We do use our rear view camera and find it very useful.  We use it to back-up, of course.  I like to glace at it to see what's passing me.  Is it an eighteen wheeler, or a small compact car?  I find it nice to know what size vehicle is beside me, especially since the big wheelers push so much wind in front of them.  We tow a small Honda car and I can watch the car as well with the rear view camera." – Mike Chiles, 2013 Lance 1050S
"I use My Rear View Safety wired cameras all the time!  I have one center top rear-facing for traffic behind me, one looking forward strapped to the ladder rack to see my overhead clearance, and one on the front of the bed.  I attach it with strong magnets to hold it in place while loading the truck camper.  After loading I move the camera to my SuperHitch to help me hook up my boat trailer." – Ken Colvin, 2011 Ram 3500, 2011 Real Lite 1810
"We use a rear view camera.  I found a Ford camera on kijiji that someone had bought thinking he could hook it up to his truck but could not.  I purchased it for $160 a great deal and made a wiring harness for it to plug into the existing plug where my tailgate camera plugs in.  I then mounted it on the camper where the factory one is installed using an old cell phone mount and PVC electrical junction box.  That way I can adjust the angle.  The camera only works in reverse as does the standard camera and the image appears in the rear view mirror.  It works great for backing up on campsites and in parking lots and for hooking up the boat that we tow." – Andrew Williams, 2009 Ford F350, 2006 Lance 861