With over forty-two percent of our readership who tow boats, we should have known.  Our Question of the Week on towing a boat literally opened the flood gates.  Here come the watercraft. … … …

Like Babe Ruth pointing to the stands from home plate, we think we know which stories will be a home run, and which are just a single or double.  We'll say, "This article is going to be very popular" or, "This Question of the Week will get a ton of responses".  If only we were that clever.
The next morning we'll check our readership analytics and get the facts.  After pointing to the stands, sometimes we hear crickets.  What we thought would be a big story, a real blockbuster, a no-brainer rocket ship to the moon, ends up being just another day.  No big deal, nothing to see here.  Yawn.
On other days we practically wince as we publish something we think isn't all that exciting.  Then the analytics come back the next morning.  "What!" I'll shout at 7:05am.  "What?" Angela will yawn back.  "Yesterday's story went to the Moon!" I'll answer.  "What!"
Fortunately, we are trainable.  When a story goes ape, we listen.  When it goes nowhere, we listen.
From the high water response to last week's Question of the Week, we clearly need to do more stories featuring boats towed by truck campers.  This is fantastic news as we're thrilled to learn more about boating, and meeting more truck campers who tow boats.  Let's go boating.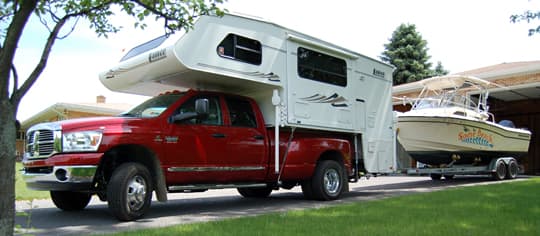 "Our boat is a 22-foot fiberglass deep V with a 225HP Yamaha outboard.  The trailer is a Loadrite with a GVWR of 7,000 pounds.
Since our Lance 1161 has an approximately 46-inch overhang on the back, it requires us to use a 48-inch extension.  Before we upgraded to this boat we told the boat dealer we had to make sure we could properly equip the truck for this kind of load.  He was of no help on this.  About a week was spent on various forums and looking at what various vendors had to offer to handle this kind of load.
With the weight and that long of an extension, the only manufacturer at that time that had a hitch system that would work was Torklift.  We purchased the Torklift SuperHitch with their SuperTruss extension featuring 12,000 pound GVWR, and 1,200 pound tongue.  We have had this setup going on ten years and it has worked great.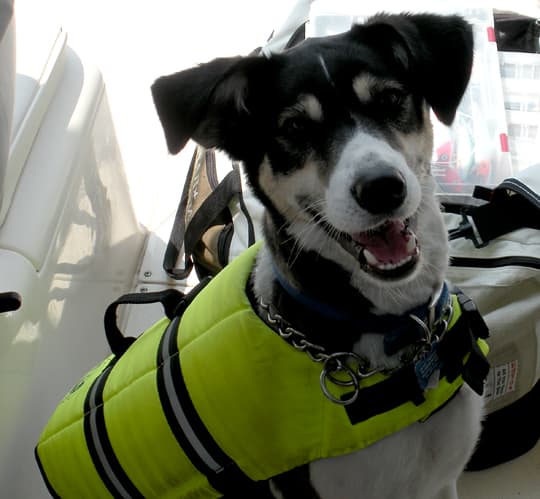 We primary use our boat for family fun; fishing, tubing, skiing, and just plain boating.  We haul the boat one or two times a year from southwestern Pennsylvania to Delaware with the camper and use the boat locally, within an hour or two from the house without the camper for day trips.  The farthest we have hauled her with the camper to this date has been Santee Cooper Lake in South Carolina." – Lanny and Mickey Vrooman, 2009 Dodge Ram 3500, 2005 Lance Model 1161, 2004 Grady-White Seafarer 228G Walkaround Cuddy Cabin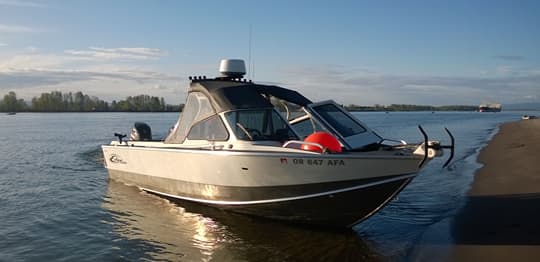 "My boat is 25-foot and made out of aluminum.  It's got a 300hp Suzuki outboard and 9.9hp kicker motor (for trolling).  It has a twenty degree V for larger waters and the ocean.  I tow it behind my truck to various areas.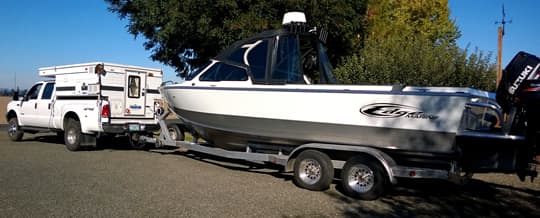 My boat is used primarily used for fishing for salmon, kokanee, tuna, and halibut in the various rivers, lakes, and ocean in Oregon." – Rich Spofford, 2000 Ford F350, 2005 Four Wheel Camper Grandby, 2013 Edge Marine 25 offshore
"I have a 16.5-foot fishing boat, behind the camper.  I built and modified a heavy duty class five trailer hitch to accommodate the extended length and the multiplication of tongue weight related to extension.  I like to pleasure fish with my wife." – Jerry Broullire, 2008 Ram 3500, 1999 Lance 1120, 1993 Mirrocraft Aggressor
"I tow a 2001 Ski Centurion Inboard.  I've always towed it using the hitch mounted at the rear of the truck and the coupler that is mounted at the front (bow end) of the bot trailer. I find I make better time this way. It's very hard to drive long distances using the front mounted hitch.
I drag friends and family around the lake on some sort of towable toy.  We also float in a quiet area, listen to music, and play in the water.  We swim, float, talk, relax, and apply sunscreen multiple times a day.  A day on the lake is better then the best day at work." – Dan Walinsky, 2012 Ford F350, 2015 Arctic Fox 990, 2001 Ski Centuion Eclipse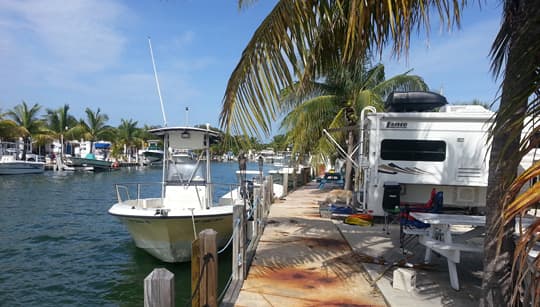 "It's a 21-foot center console.  I have SuperSprings and a Torklift SuperTruss with a 40-inch extension.

It's a fishing boat by trade and we do fish.  But, it also gives us hours and hours of pleasure cruising." – Nik Rende, 2011 Ram 3500, 2001 Lance 1121, 2004 Hydra Sports 212 Lightning
"I have a 18×50 Gator Trax or a Mastercraft Proscar with an extended hitch.  The only reason I bought the camper was that hotels and lodges do not want my Lab inside.  The only reason I travel is to hunt, so if I could not take the dog why go.  So, I got a $20K dog house that he let's me sleep in and I tow the boat." – Jeb Becker, 2011 Chevy 2500, 2011 Lance 855, 2009 GatorTrax
"I tow a ski boat.  I have a tow extension that attaches to the camper bumper.  We water ski, and pull a large tube." – Paul Roberson, 2014 Ford F350, 1988 Lance 930, 1995 Cobalt 220

"We tow a C-Dory Angler 22 using an extended hitch.  We purchased our C-Dory Angler 22 the year before we got our Lance Camper.  In fact, the boat inspired the camper!
In the summer of 2009, we hitched up the boat and undertook a forty-three day road trip from Sacramento, California to Alaska.  The C-Dory has a cuddy cabin that sleeps two comfortably.  In campgrounds, parks, turn-outs and on Alaska's oceans, we slept aboard the boat forty-one nights that summer and cooked most of our meals on a trusty Coleman stove.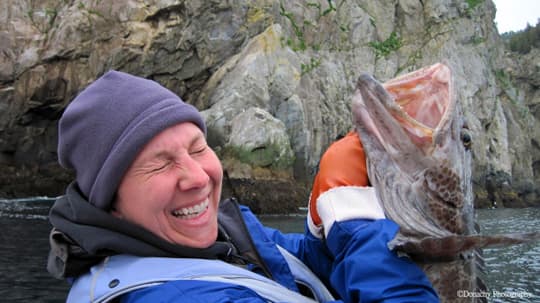 We caught lots of fish, feasted on Dungeness crab, Alaska shrimp, and wild berries.  We saw over thirty bears, experienced places we'd long dreamed of visiting, and fell in love with the lifestyle.  When we returned to California, we started looking for jobs in Alaska, and started shopping for truck campers and a beefier truck.
We use our boat for nature viewing (watching glaciers calve, for example), photographing whales and other marine animals, and fishing for salmon, rockfish, ling cod and halibut).  It's been the perfect vessel for rivers, lakes and ocean coastal cruising." – Jack and Barbra Donachy, 2007 Chevy Silverado, 2009 Lance 845, 2008 C-Dory Angler 22
"We tow a 16-foot run about on a venture trailer with a standard hitch.  The boat follows the truck nicely and doesn't affect mileage too much.
We like to pleasure cruise in different bodies of water.  Last summer we went to four different lakes and rivers in one week tour through North Carolina.  The family likes to kneeboard as a water sport. The variety of sightseeing, wildlife and vegetation really enhances the outdoor experience and ads to the pleasure of our camping trips." – James Hamre, 1993 Ford F250, 1988 Sunlite Eagle, 1995 Invade, Alpha 150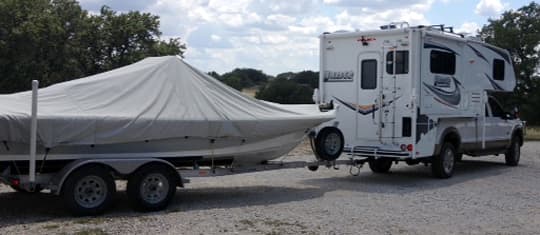 "We have a Bay Boat with tandem axle aluminum trailer.  I use a Reece extension with turnbuckles and chains.  We go to our local lakes in Texas and go to the Texas Coast.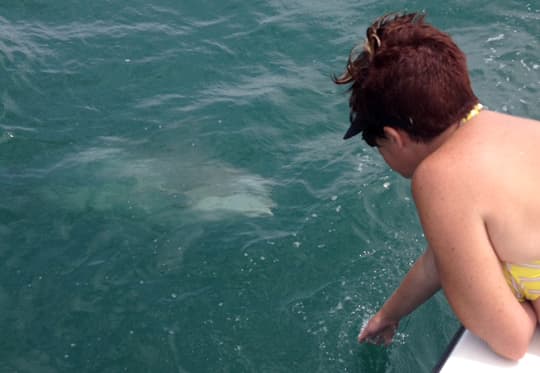 We mainly fish and pleasure boat." – Jeff Wallin, 2013 Ford F350, 2013 Lance 1050S, 2010 Frontier Center Console Bay Boat 21-foot
"We have a Bow Rider on a tandem trailer.  When our kids were young, it was used for fishing, cruising, wake boarding, and water skiing.  Now it's used for mostly fishing and cruising in the lakes and salt chucks here in our local British Columbia waters.  We also have a 14-foot aluminum boat that we tow in a cargo trailer with our ATVs to fish the little inland lakes." – Ken and Jenn Burton, 2012 GMC 3500, 2012 Arctic Fox 992, 1995 Regal 21 foot Bow Rider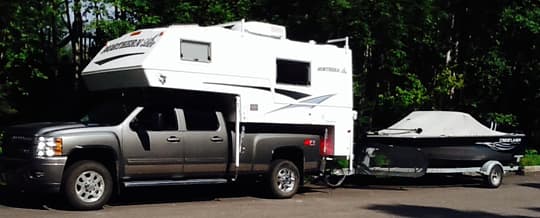 "We tow a 17-foot Crestiner fishing boat behind our truck and camper.  We are avid sport fishing fans and travel to different lakes throughout Alberta, Saskatchewan, and British Columbia.  Our main reason for purchasing a truck and camper was so that we could tow our boat.
Once at our destination we park the boat and trailer and off load our camper.  This frees up our truck to easily launch and load our boat.  When the kids come out we also do some tubing.
Retirement is not far off so trips to Alaska, the Yukon, and the United States are in our future.  We very much enjoy the truck camping lifestyle!" – Diane and Roger Geisinger, 2013 Chevy 3500, 2013 Northern Lite 10-2 CD Special Edition, 2011 Crestliner Superhawk, 17-foot c/w 125 hp motor
"I tow a 20-foot pontoon boat.  We pleasure cruise with a bit of fishing, but mostly relaxing on the water in the small bay.  We cook delicious food, and just love it.  We go to Montreal, Canada." – Paul, 2012 Silverado, 2011 Lance 830, 2012 Legend 20 feet pontoon

"I use an 18-inch extension to connect to our boat trailer.  This gives me adequate clearance to open the camper door, and provides plenty of clearance between camper and boat when backing into a boat launch.
Our boat is an open bow runabout.  Primary activities are cruising, waterskiing, and hanging out in a quiet cove with a bucket of chicken." – Thomas Wilson, 2015 Chevy 3500, 2003 Lance 815, 1987 Four Winns Horizon 195
"I have an open bow family boat.  We just take the family camping and boating." – Tom Bushman, 2015 Ford F350, 2009 Lance 1040, 1996 Reinell 21-foot
"We tow a 16-foot fishing boat with the stock setup.  The trailer has a swing away tongue so there's plenty of clearance.  We fish the Great Lakes area from Lake Erie to Lake Gogebic in the Upper Peninsula.  We're looking for walleye." – Bruce Fik, 2004 Ford F250, 2014 Lance 865, 2011 Lund 1625 XL SS
"My Crestliner is set up for fishing, but can serve double duty as a family cruiser and water ski boat.  It's powered by a Mercruiser 4.3 sterndrive.  I tow it on a single axle trailer set up with a swing away tongue and hydraulic surge disc brakes.  I primary use it for weekend fishing and the occasional walleye tournament." – William C. Steger, 2005 GMC 2500HD, 1995 Kodiak SC83, 2007 Crestliner Sportfish 1800

"I tow a wide beam 22-foot welded aluminum Northwest Jet boat that is powered by a 375 horsepower 8.1 liter GM Vortec engine coupled to a Hamilton 212 pump.  I tow it with a 2015 Chevrolet Silverado dually equipped with a Torklift SuperHitch Magnum 30K hitch, 36-inch SuperTruss hitch extension, and Equalizer weight distribution system.  Because the boat and trailer weigh in at just under 8,000 pounds with a tongue weight of 800 pounds, the Equalizer is a necessity.
This boat is a very versatile craft with a design and propulsion system that is made for running shallow water and whitewater rapids in places like Hells Canyon, but is equally at home in any lake or river with water enough to run the boat.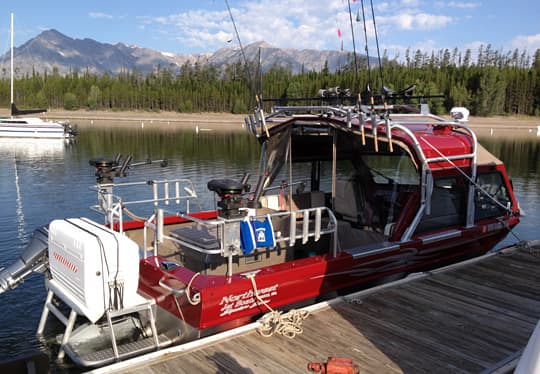 We use the boat mostly for fishing in large lakes and rivers through out the northwestern and western United States.  Although fishing is the main purpose, we have slept on the boat, used it to haul our camping gear to boat-in campgrounds, taken up to twelve people out for a leisurely boat ride, locked through dams, watched the sun set on a lake, hauled kayaks on a custom designed rack, barbecued hamburgers and steaks, had picnic lunches, gone swimming, pulled a water toy, and watched the 4th of July fireworks.  And as often as not, we do two or more of these activities each time we go out with the boat.
The Host camper gives us the ability to haul the boat to many different places and enjoy the RV as well as the boat.  Both are a real joy to use." – Dave Riddle, 2015 Chevrolet Silverado 3500, 2006 Host Tahoe, 2010 Northwest Jet Boat, Signature Series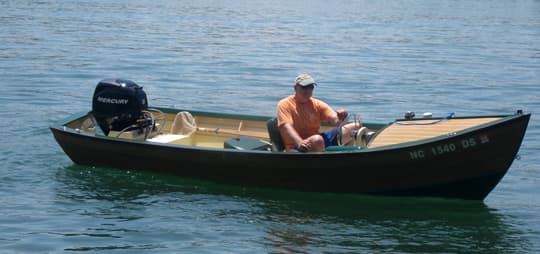 "Mr. T.N. Simmons designed and built skiffs in the 1960s that were great for running the inlets along the southeast North Carolina coast.  I grew up seeing fishermen running up and down the waterway and envied them.
I bought plans from the Cape Fear Museum in Wilmington, North Carolina and built my Simmons Sea Skiff.  She is 19-feet long and weighs less than 900 pounds fully loaded.  I have an extension similar to the Torklift SuperTruss (also homemade) that works great.
So far fishing the coast of North Carolina has been my excitement, but I think that will expand to other regions.  I wonder if anyone has fished in all lower forty-eight states while traveling in a truck camper." – Mike Bostic, 1999 Ford F350, 2012 Chalet Ascent S95, 2009 Simmons Sea Skiff (home built replica)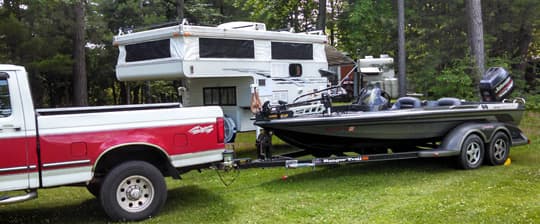 "I have a Ranger 487VS 20-foot bass boat.  I have an 18-inch hitch extension that I use when towing with the Northstar in the truck bed.  I fish alone and with family for fun.  I also go to bass tournaments from New Hampshire to New York and travel south to Maryland." – Kevin Jenckes, 1996 Ford F250, 2006 Northstar 850SC, 1997 Ranger 487VS
"I have a A V-16 Tracker with deck, steering console, and moveable seating.  The 25HP mercury four stroke is perfect for slow trowl'n lures along the bank, and gravel points on the lake.  If I pick up a lot of fish on the fish finder, I will drop anchor and still fish.
Since I have the short bed with the 855S Lance camper, I use a 34-inch Reese hitch extension to clear the camper bumper.
We enjoy mountain lake fishing for trout.  The truck camper is a perfect platform for camping and fishing.  There's nothing like fresh trout on the camp fire for breakfast.
Our second favorite thing to do is hooking up the Can Am Commander 1000 on the trailer to the truck and camper and head to the beach to camp and enjoy the many miles of dunes and beaches to ride on.  We enjoy metal detecting so this and beach fishing for ocean perch will be a few new experiences for us this year." – Mick and Andrea Vancas, 2012 Chevy Silverado HD 2500, 2013 Lance 855S, 2002 Tracker V16 25HP Mercury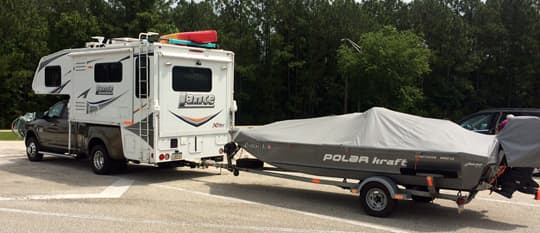 "I tow my boat using a 2015 Torklift SuperHitch and 48-inch SuperTruss extension.  I tow it behind the camper watching it with a backup rear mounted camera.
The key is to have good radial tires (13″ or larger), the means to remove the trailer lug nuts, which are different from the truck, and a spare tire.  This is especially critical on long hauls from Pennsylvania to Florida.
I keep the axle wheel bearings greased and protected from salt water.  I also insure the lights are all working.  I place florescent orange tape on lower unit of engine and on side of my fenders on the trailer.  I wash the boat, trailer, and flush the engine often.  We think having a custom cover on the boat is critical to keep items dry and secure.
I do a lot of Florida flats fishing in the St. Petersburg area during the winter months, and freshwater fishing in the summer months.  We on occasion venture onto sand bars in the Gulf to do shell collecting and simply relax during the winter months.
We are camp hosting at Fort Desoto, a Pinellas County Park outside of St. Petersburg, Florida.  The boat opens up a lot of opportunity for us during our stay in Florida while it is snowing and nasty in Pennsylvania." – Steve English, 2014 Dodge Ram 3500, 2013 Lance 1172, 2010 Polar Kraft 18-foot with 90HP Evinrude Jet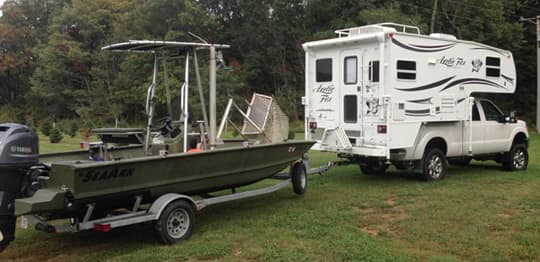 "This year I willI tow my SeaArk 1860 with my F350 dually.  I love crabbing the Chesapeake Bay.  Last year I did mostly one day trips, but this year I plan on multi-day trips and staying at campgrounds such as Dana Point Marina in southern Maryland.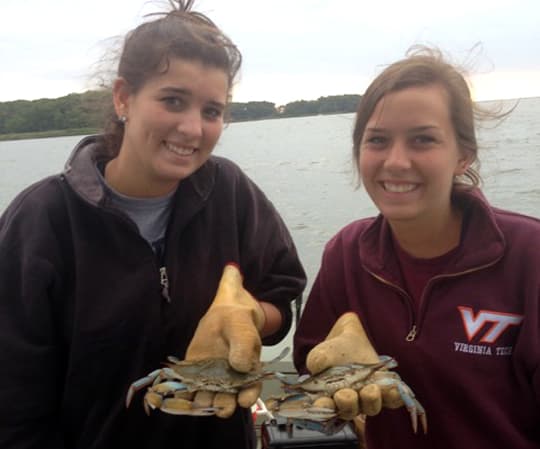 I use what is called a 1,200 trotline and a auto-dipper.  The trotline is placed in the water then I use the auto-dipper to hopefully scoop up the crabs.  There is a bait placed every six feet on the trotline.  I have about 200 baits." – Jim Sobota, 2015 F350, 2014 Arctic Fox 865, SeaArk 1860 18-foot 70 hp Yamaha
"I have a 14-foot fishing boat with the factory hitch and an eighteen inch extension bar.  We use it mostly for sport fishing.  Once in a while I'll let someone drive the boat and she'll try to run it into the dock." – Thomas Emerick, 2011 Chevy 3500, 2012 Arctic Fox, 1996 Sivan sport troller
Publishers Note: We have on good word that she, in fact, did not hit the dock.  A devastatingly handsome gentleman was there to bravely push the boat away from the protruding object in question.  Not that we know anything about this matter.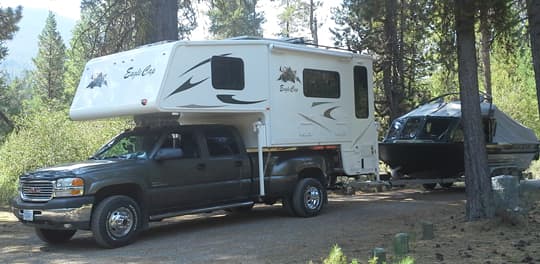 "I tow my boat with a 48-inch Torklift SuperHitch setup.  It tows great.  The boat is used to wake-board the girls and their friends, salmon fishing, and pleasure boating; finding a beach to set up the shorty lawn chairs, the coolers, and just relax." – Rick Christensen, 2002 GMC 3500, 2013 Eagle Cap 1165, Custom Weld 22′ Storm Inboard Whitewater Jet Boat
"I have a 23 Deck Boat with a jet drive.  The trailer has a really long folding tongue so it clears the camper with plenty of room with no need for special hitch.
Mainly I use it for pleasure, just cruising around and doing some fishing and swimming." – Steven Knaus, 2012 Ford F350, 2012 Palomino Real-Lite SS-1610, 2008 Sea Doo Islandia
"I have a 20-foot aluminum boat.  I have a Torklift receiver hitch with Torklift Fastguns.  I go lake fishing in Oregon for kokanee.  I fish the Pacific Ocean and the Columbia River for salmon." – Kelvin Kohanes, 2003 Ford F350, 1994 Cariboo, 2006 Boulton 20-foot

"We have a high performance competition ski boat, which is great for all water sports.  We love hitting new waterways and skiing, bare footing, wake boarding, or surfing with new scenery.  I love the ability to set up camp, drop the camper, use the truck to launch, and still get around the area to see stuff.  We can launch with the camper on as well." – Kim and Larry Fine, 2012 Ford F450, 2008 Host Everest, 2003 Malibu RXi 335hp
"I have a welded aluminum jet sled with a Reese class five receiver with 3-foot extension.  I go on rivers and lakes fishing for salmon, steelhead, sturgeon, walleye, trout, bass, and whatever." – Rob Mallery, 1998 Dodge Ram 2500, 1996 Shadow Cruiser 851, 1994 Blue Water Aluminum 18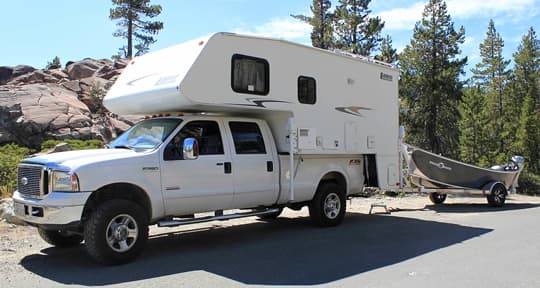 "We tow an 18-foot diamond plate aluminum Willie Drift Boat.  The boat and trailer are both fairly light (maybe 1,500 pounds total).  We use a Torklift SuperHitch and 48-inch Torklift SuperTruss to clear the back of our Lance 1055.  It tows like a dream and the SuperHitch system has worked out perfectly.  I would absolutely do it all the same if had to do over.
We fly fish every chance we get in Northern California, Nevada, Big Sky Country or the Pacific Northwest.  Having the ability to tow our boat behind our cabover has been so rewarding." – Kevin and Laura Eliseo, 2006 Ford F350, 2006 Lance 1055, 2013 Willie Drift Boat
"Our aluminum skiff is rather long at 16 feet.  We had to shop for quite a while until we found such a big craft.  We tow it on a single axle trailer with 14-inch wheels.  To extend our hitch,we used the Torklift SuperTruss.  We've had no problems with this setup.
The only problem I've encountered was launching the boat with such a long wheelbase truck.  The turning circle of an F350, long bed, crew cab is almost 59-feet!  Remote single launch ramps often don't have the space to easily maneuver my rig.  I end up jack knifing the trailer to launch.
We go camping and fishing in the boat." – Rex N., 2005 Ford F350, 2000 Alpenlite 11.5, 1958 Lund skiff
"I tow a 20-foot Crownline and just hook it up to the hitch and go!  I camp all over Land Between The Lake.  I have access to both Kentucky and Barkley Lake.  We ski, fish, swim, and camp.  It's all for pleasure." – Douglas Boyd, 2009, Ford F150, 2014 CampLite 5.7, 1994 Crownline V hull

"I put air bags on the truck to level it out, and smooth the ride.  I use a 42-inch Class V, 2.5-inch hitch extension to reach the back of the camper.  The boat and trailer, with all the equipment, tackle and motors weighs in at approximately 4,800-5,000 pounds.
We regularly travel northern Wisconsin and the Upper Peninsula of Michigan.  We also make an annual trip to Caribou Lake, up by Armstrong in Ontario.  We did take it to the end of the road 150 miles north of Pickle Lake Ontario one year.  That's as far north as you can drive in Ontario on actual (not ice) roads.  That road (used to be 808) is now what they call the Northern Resource Road.  It's actually the beginning, (first 150 miles) of what becomes the ice road leading to all the Native villages north of there.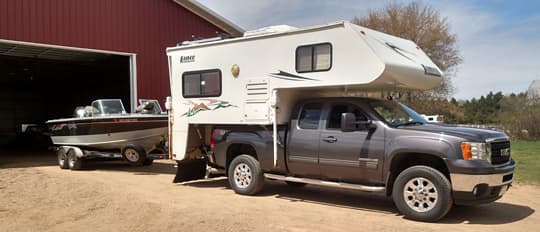 I mostly pleasure fish for Walleye, with the occasional Salmon, Lake Trout outing on Lake Superior.  This coming weekend (Saturday, May 2nd) is the inland fishing season opener in Wisconsin, and we'll be in the camper, pulling the boat in northern Wisconsin.  The Upper Peninsula of Michigan opener in May 15th, and we'll up there for that also.  Come Wednesday May 27th, we'll be leaving for Canada.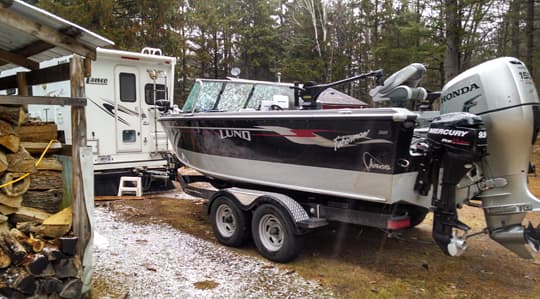 I might add that we also have horses at home.  We have a Living Quarters gooseneck horse trailer, which my wife usually pulls with her 2500 HD.  But quite often we use my truck and the camper to pull an extra horse trailer, and as additional sleeping space for other horse campers." – Bob Dobbe, 2011 GMC Sierra 2500 HD, 2009 Lance 9SC, 2004 Lund Fisherman 2000
"I have a Sage 17 pocket cruiser, which was the Sail Magazine boat of the year in 2013.  My Ford Ranger has Roadmaster Active Suspension on the rear axle.  I ordered the Ranger, in 2005, with a towing package which has a frame 2-inch receiver hitch.
I tow the Sage 17 to regattas and for cruising.  I also deliver Sage 17s to owners as I am the builder.  Since 2011, I've traveled over 130,000 miles towing the boat and camping on the way." – Dave Scobie, 2005 Ford Ranger, 1998 Romain' Chariot, and a 2007 Toyota Tundra, 2014 Outfitter Caribou Lite 6.5, 2011 Sage 17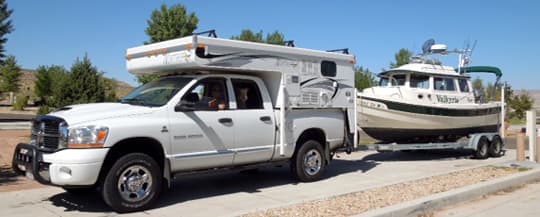 "We have a 2005 C-Dory 22 and just use a standard draw bar.  Our camper does not extend beyond the bumper.  We use our C-Dory, Valkyreie for both fishing and cruising.
We have fished all of the Great Lakes, the Chesapeake, and Lake Powell.  We have also fished as far as thirty to forty miles offshore in South Carolina and the Florida Keys.
In addition, we have cruised the Erie Canal, the ICW from the Chesapeake to Key West, across Florida via the St. Lucie Canal, Lake Okeechobee and the Calooahatchie River and down the west coast of Florida to Key West.  We especially enjoy cruising and fishing Lake Powell, in Arizona and Utah, which is like a flooded Grand Canyon.
Our C-Dory is a well-appointed small cruiser that is ideal for two people.  In addition, it is also very sea-worthy, comfortable and easy to tow." – Nick and Marcia Rukavina, 2006 Dodge Ram 2500, 2012 Northstar TC 650, 2005 C-Dory 22 Cruiser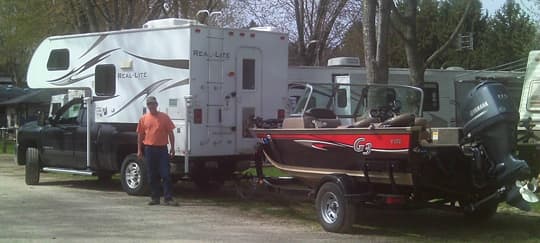 "Our boat is a G3 Angler V172F fishing boat with a 115 Yamaha motor.  Andy had to make an extended ball hitch for the boat trailer to have enough clearance from the truck camper on turns.  Our 2009 Chevy Silverado 2500 HD tows the boat and carries our 2011 Palomino Real Lite 1806 truck camper.
We use our boat primarily for pleasure fishing.  We will disconnect the boat first and take the camper off the truck.  Then we launch the boat if space is available to do so.  If not, the boat gets launched when we are ready to go fishing.
Most places where we camp have an area for trailers at the campsite.  On good days you will find us in the boat most of the day, taking time out to come back to our camp, have lunch, and clean fish.
We are a team, he fillets and I package.  At the end of the day, with a warm campfire and the comforts of our truck camper, there is nothing better.  The love of camping and fishing are a great combination for our weekend getaways together." – Andy and Nancy Grunfelder, 2009 Chevy Silverado 2500HD, 2011 Palomino Real Lite 1806, 2012 G3 Angler V172F and Yamaha F115 motor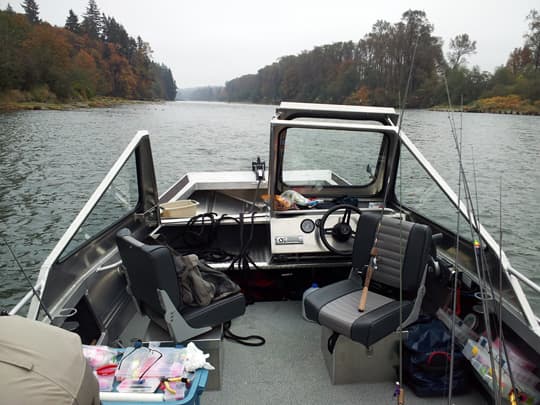 I have a Wooldridge 20-foot Alaskan, 200 hp boat that I tow with just a short 18-inch extension hitch.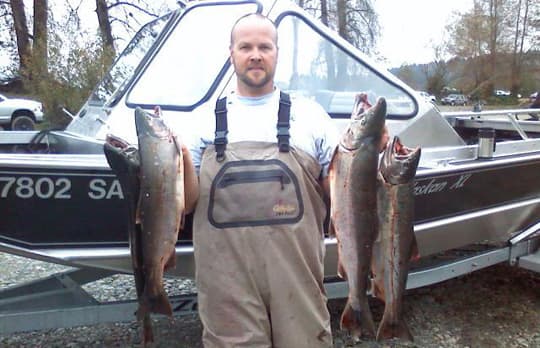 I go fishing, boat access only camping, vacationing, and did I mention fishing?" – Shane Young, 2012 Chevy 3500, Northern Lite 10.2 SE, 2012 Wooldridge Alaskan
"I have both a 2004 Bass Buggy (patio boat) and 2014 Hobi 14-foot kayak. Needless to say, I only tow the patio boat.  The other I put on a small flat bed trailer.  I use a 24-inch hitch extension.  I'm in it for the pleasure of being on the water and for fishing." – Steven Cilenti, 1999 Ford F350, 2012 Arctic Fox 990, 2004 Bass Buggy (patio boat)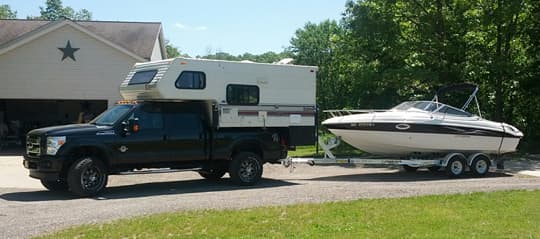 "I have a mini cruiser.  I had a trailer made with an extended tongue.  I take day trips on inland lakes or trips for a few days on the Great Lakes.  Then, come back to the camper." – Chris Denault, 2011 Ford F350, 1985 Elkhorn 9-foot, 2013 Stingray 225CR
"I have a fishing deck boat, towed with four and a half foot tow extension to allow for the camper's overhang.  I fish for stripers, white bass, crappie, and catfish." – Gene Miller, 2008 Ford F350, 2012 Eagle Cap 1165, 2005 Carolina Skiff Fishing Deck boat 22-foot
"Each of the sailboats has a dedicated trailer.  I also turned a utility trailer into a custom rig that will haul two kayaks and/or a canoe.  We sail for fun." – Don Norris, 2003 Chevrolet Silverado K2500HD, 2005 Travel Lite 800SB, Hobie 16 or Hobie Wave
"I have a 1998 Excel 20-foot Open Bow.  We use it for family cruising, wake boarding, skiing, etc." – Brad Mello, 2002 GMC Sierra Denali, 2003 Lance 815, 1998 Excel 20′ Open Bow

"We tow our ski boat with a 12-inch extension on the hitch.  We use it for family skiing, tubing, and just playing on the lakes." – David Powell, 2014 Ford F350, 2012 Palomino Maverick, 2010 Yamaha SX210
"I have a wake boarding boat that's towed using a Torklift SuperHitch.  We wake board, wake surf, and just float around." – K. Smith, 2007 Dodge Ram 3500, 2011 Lance 950s, 2007 MB Sport

"I tow a wake boarding boat.  The boat is connected to the truck via Torklift 48-inch extension.  We use the boat all year round.  Mostly we use the boat for wake boarding and relaxing." – Clinton Hull, 2012 GMC 2500, 2012 Arctic Fox 811, 2002 Correct Craft, Super Air Nautique
"My boat is a custom aluminum forward helm fishing boat made to target walleye and salmon.  It is 23-foot long powered by a 200hp outboard all on a custom built aluminum trailer.  I do lots of fishing and sight seeing.  Although my past boat was a white water jet boat for the rogue river." – Tom Smith, 2006 Chevrolet 3500, 2015 Lance 1181, 2015 Edge Marine Sport SE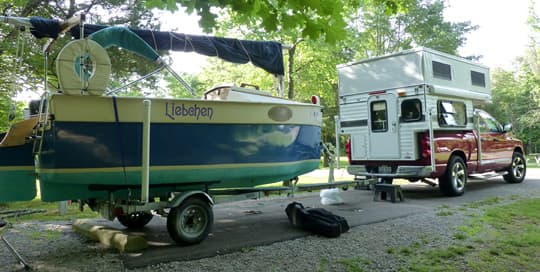 "We tow a 14-foot sailboat on a trailer.  This is a smaller sailboat that has just a main sail and is extremely easy to rig for just a day sailing excursion.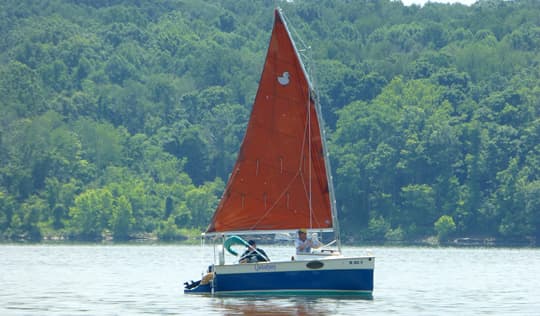 We sail for pleasure!  We can take this boat anywhere and put it in and out easily due to the design of the sailboat.  We can even camp on the boat, but we seldom do that because we have our truck camper." – John and Diane Grefer, 2008 Dodge Ram, 2013 Four Wheel Hawk, 1986 Florida Bay Peep Hen
"I tow a 16-foot center console that's towed dead weight with a 4-inch drop hitch.  We pleasure cruise, go family fishing, and travel to lunch spots on the water." – Reggie Fox, 2002 Chevy 2500 HD, 2006 Sun Valley 8′ pop-up, 2002 Key Largo 160
"I have owned the boat since new.  It was made in Maine and built for Waterfowl hunting.  I have a 32-inch extension for my truck receiver when hauling the camper.
It is mostly used for waterfowl hunting.  However, it is a very stable platform for fresh or salt water fishing.  My wife likes to go out motoring around in the summer time exploring the islands in and around Boston Harbor.  I also tow an inflatable behind it with the kids." – Tom Orlowski, 2000 Chevrolet 2500, 2015 Adventurer 89RB, 1994 TDB 17
"We have a welding shop stinger hitch.  I put it in the water and use lots of gas and electricity looking for fish." – Lloyd White, 2011 Ford F350, 2004 Lance 1210, Old 14', Alum. 25Hp Gas, 40# Minikota
"We go fishing, skiing, and tubing." – Dexter Whaley, 2004 Ford F550, 1999 Lance Lite 915, 1989 Procraft 19.5FS

"I have a bass boat towed using a Reese 48-inch hitch extension.  We go family fishing and tournament fishing." – Robert Fenton, 2004 Ford F250, 2015 Lance 1050S, 1998 Skeeter ZX185
Click here to go on to, "Truck Campers Go Boating: Part 2".