With over forty-two percent of our readership who tow boats, we should have known.  Our Question of the Week on towing a boat literally opened the flood gates.  Here come the watercraft. … … …

Like Babe Ruth pointing to the stands from home plate, we think we know which stories will be a home run, and which are just a single or double.  We'll say, "This article is going to be very popular" or, "This Question of the Week will get a ton of responses".  If only we were that clever.
The next morning we'll check our readership analytics and get the facts.  After pointing to the stands, sometimes we hear crickets.  What we thought would be a big story, a real blockbuster, a no-brainer rocket ship to the moon, ends up being just another day.  No big deal, nothing to see here.  Yawn.
On other days we practically wince as we publish something we think isn't all that exciting.  Then the analytics come back the next morning.  "What!" I'll shout at 7:05am.  "What?" Angela will yawn back.  "Yesterday's story went to the Moon!" I'll answer.  "What!"
Fortunately, we are trainable.  When a story goes ape, we listen.  When it goes nowhere, we listen.
From the high water response to last week's Question of the Week, we clearly need to do more stories featuring boats towed by truck campers.  This is fantastic news as we're thrilled to learn more about boating, and meeting more truck campers who tow boats.  Let's go boating.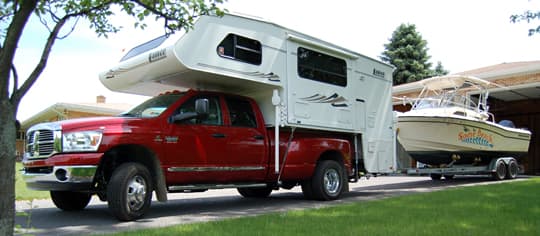 "Our boat is a 22-foot fiberglass deep V with a 225HP Yamaha outboard.  The trailer is a Loadrite with a GVWR of 7,000 pounds.
Since our Lance 1161 has an approximately 46-inch overhang on the back, it requires us to use a 48-inch extension.  Before we upgraded to this boat we told the boat dealer we had to make sure we could properly equip the truck for this kind of load.  He was of no help on this.  About a week was spent on various forums and looking at what various vendors had to offer to handle this kind of load.
With the weight and that long of an extension, the only manufacturer at that time that had a hitch system that would work was Torklift.  We purchased the Torklift SuperHitch with their SuperTruss extension featuring 12,000 pound GVWR, and 1,200 pound tongue.  We have had this setup going on ten years and it has worked great.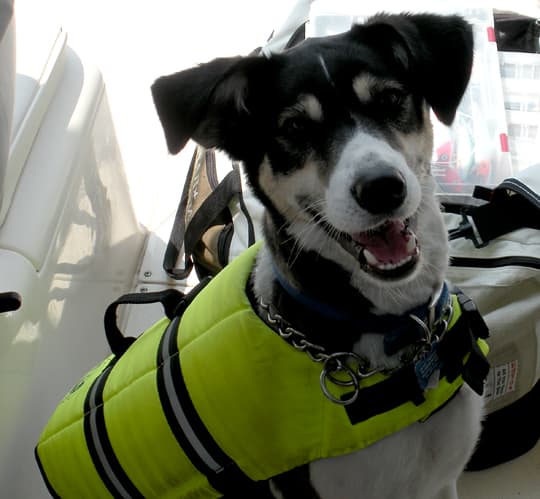 We primary use our boat for family fun; fishing, tubing, skiing, and just plain boating.  We haul the boat one or two times a year from southwestern Pennsylvania to Delaware with the camper and use the boat locally, within an hour or two from the house without the camper for day trips.  The farthest we have hauled her with the camper to this date has been Santee Cooper Lake in South Carolina." – Lanny and Mickey Vrooman, 2009 Dodge Ram 3500, 2005 Lance Model 1161, 2004 Grady-White Seafarer 228G Walkaround Cuddy Cabin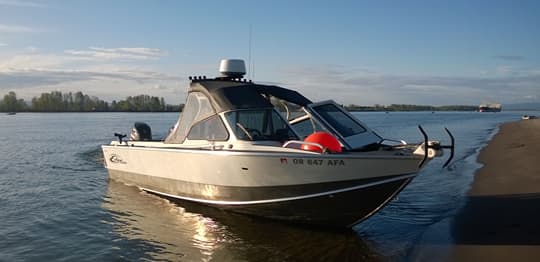 "My boat is 25-foot and made out of aluminum.  It's got a 300hp Suzuki outboard and 9.9hp kicker motor (for trolling).  It has a twenty degree V for larger waters and the ocean.  I tow it behind my truck to various areas.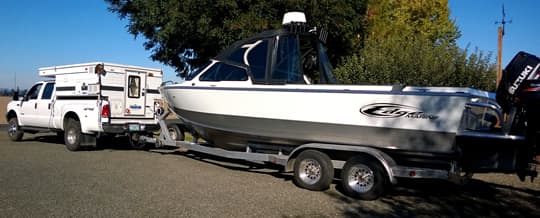 My boat is used primarily used for fishing for salmon, kokanee, tuna, and halibut in the various rivers, lakes, and ocean in Oregon." – Rich Spofford, 2000 Ford F350, 2005 Four Wheel Camper Grandby, 2013 Edge Marine 25 offshore
"I have a 16.5-foot fishing boat, behind the camper.  I built and modified a heavy duty class five trailer hitch to accommodate the extended length and the multiplication of tongue weight related to extension.  I like to pleasure fish with my wife." – Jerry Broullire, 2008 Ram 3500, 1999 Lance 1120, 1993 Mirrocraft Aggressor
"I tow a 2001 Ski Centurion Inboard.  I've always towed it using the hitch mounted at the rear of the truck and the coupler that is mounted at the front (bow end) of the bot trailer. I find I make better time this way. It's very hard to drive long distances using the front mounted hitch.
I drag friends and family around the lake on some sort of towable toy.  We also float in a quiet area, listen to music, and play in the water.  We swim, float, talk, relax, and apply sunscreen multiple times a day.  A day on the lake is better then the best day at work." – Dan Walinsky, 2012 Ford F350, 2015 Arctic Fox 990, 2001 Ski Centuion Eclipse