Fifty additional truck, camper, and towed boat rigs revealed.  Don't miss Redneck Bob's ultimate truck camper and boat solution at the end.  No truck necessary?

Fifty more truck campers.  Fifty more boats.  Fifty more fantastic truck camping and boating destinations.  Fifty more amazing stories of what folks do with the magic combination of a pickup truck, a truck camper, and a trailerable boat.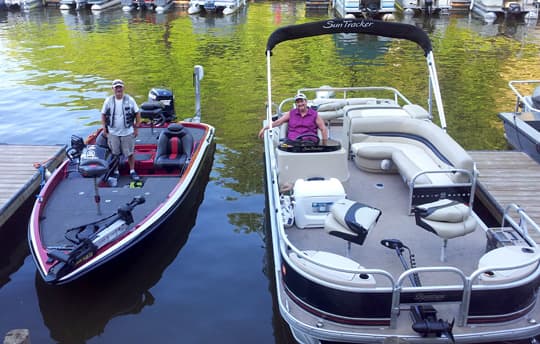 "We just recently went from a little pop-up truck camper to a much larger hard side.  The additional length of the new camper presented new challenges.  We need to extend the hitch two feet so we upgraded to the Torklift SuperHitch with the SuperTruss extension.
Of course, then I realized we had to get new rear tie-down brackets to fit the beefier hitch – more money to Torklift!  Top that off with a full set of new Torklift FastGuns and locks.
Our adventure into truck camping started because we participate in fishing tournaments.  Usually these are local, within two hours of home.  We like to go to the lake to practice a day or two before.  Rather than blow money on frequently nasty hotel rooms, I found a used pop-up truck camper to see if we liked that approach better.
I was never fond of tent camping, but truck camping is so much better.  We have met wonderful people and have had a great time.  Our most recent trip was for eight days at Lake Guntersville in Alabama – heaven!
I find it interesting that more and more of the professional fishermen are starting to travel with truck campers.  Some, such as Brett Hite, are even sponsored by Lance Campers.  They have found truck campers to be an efficient and comfortable way to travel the country while towing a boat.  I agree.

We also have a pontoon boat for family fun.  With the pontoon boat, the family joins us for the day at whatever lake while we camp.  We usually try to camp where we can just pull the pontoon up on the shore near the campsite.  The farthest we have towed the pontoon is probably Kentucky Lake about seven hours away.  There we hooked-up with my husband's daughters and families.
My sons were never into the camping thing, so I am going to start taking the grandkids.  I look forward to a full summer of camping, fishing and boating!" – Lisa Harless, 2012 F250, 2010 Northstar Adventurer, 2010 Z518 Ranger bass boat, and 2011 22-foot Suntracker pontoon boat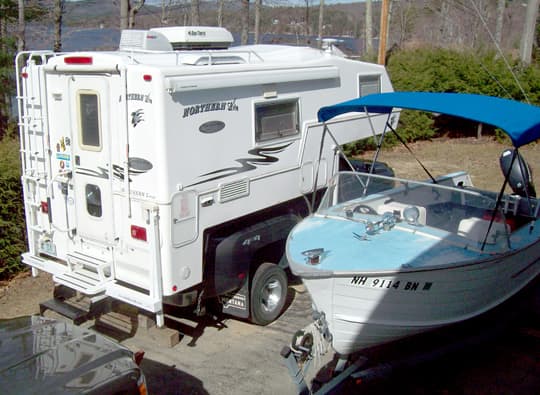 "I tow the old 18-foot aluminum fishing boat on a 2-inch ball with an 18-inch hitch extension.  Another 8-inch extension would let me swing a little sharper backing up.  We use it on our trips to northern New Hampshire on the Canadian border.  It tows well.  I don't even know it's there.
My fishing buddies and I sport fish the Connecticut Lakes and Lake Francis for salmon, lake trout, and brookies." – Dennis Thorell, 2010 Chevy 3500, 2009 Northern Lite 10'2″ Special Edition, 1964 Starcraft 18-foot Holiday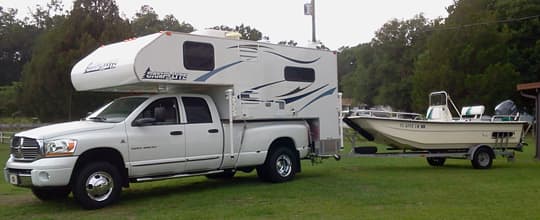 "We tow a 18-foot skiff using a Torklift SuperHitch and SuperTruss.  We fish.  Here in Florida we have the best of both worlds, freshwater and saltwater." – Linda Pruitt, 2006 Dodge 3500, 2013 CampLite 10.0, 2003 Carolina Skiff
"I have an old small 14-foot all-aluminum outboard boat.  It is still in great shape.  I ride around lakes, and go fishing." – Robert Johnson, 1988 Chevy 1500, 1999 Dove
"I use my fishing boat mainly for panfish.  I use a 2-foot Reese hitch extension. I mainly take family and friends fishing or on boat rides." – Jeff Baker, 2004 Ford F250, 2000 Lance 820, 2000 Crestliner Angler 14.5 SC
"I have a 16.5 Ft aluminum V hall fishing boat.  I have an extended hitch from a 2″ receiver.  I go fishing with my wife and dog." – Steve Evans, 2011 Ram 1500, 2012 Lance 825, 2010 SmokerCraft Big Fish