Fifty additional truck, camper, and towed boat rigs revealed.  Don't miss Redneck Bob's ultimate truck camper and boat solution at the end.  No truck necessary?

Fifty more truck campers.  Fifty more boats.  Fifty more fantastic truck camping and boating destinations.  Fifty more amazing stories of what folks do with the magic combination of a pickup truck, a truck camper, and a trailerable boat.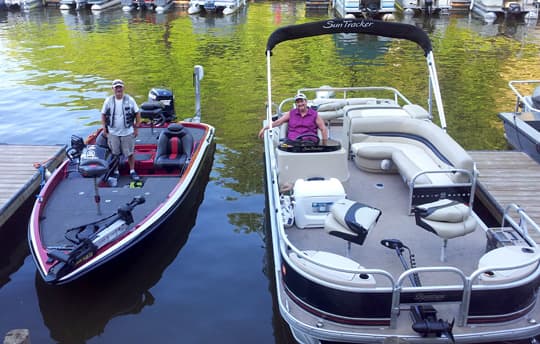 "We just recently went from a little pop-up truck camper to a much larger hard side.  The additional length of the new camper presented new challenges.  We need to extend the hitch two feet so we upgraded to the Torklift SuperHitch with the SuperTruss extension.
Of course, then I realized we had to get new rear tie-down brackets to fit the beefier hitch – more money to Torklift!  Top that off with a full set of new Torklift FastGuns and locks.
Our adventure into truck camping started because we participate in fishing tournaments.  Usually these are local, within two hours of home.  We like to go to the lake to practice a day or two before.  Rather than blow money on frequently nasty hotel rooms, I found a used pop-up truck camper to see if we liked that approach better.
I was never fond of tent camping, but truck camping is so much better.  We have met wonderful people and have had a great time.  Our most recent trip was for eight days at Lake Guntersville in Alabama – heaven!
I find it interesting that more and more of the professional fishermen are starting to travel with truck campers.  Some, such as Brett Hite, are even sponsored by Lance Campers.  They have found truck campers to be an efficient and comfortable way to travel the country while towing a boat.  I agree.

We also have a pontoon boat for family fun.  With the pontoon boat, the family joins us for the day at whatever lake while we camp.  We usually try to camp where we can just pull the pontoon up on the shore near the campsite.  The farthest we have towed the pontoon is probably Kentucky Lake about seven hours away.  There we hooked-up with my husband's daughters and families.
My sons were never into the camping thing, so I am going to start taking the grandkids.  I look forward to a full summer of camping, fishing and boating!" – Lisa Harless, 2012 F250, 2010 Northstar Adventurer, 2010 Z518 Ranger bass boat, and 2011 22-foot Suntracker pontoon boat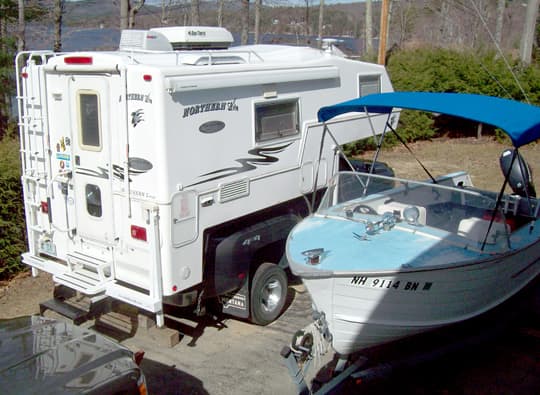 "I tow the old 18-foot aluminum fishing boat on a 2-inch ball with an 18-inch hitch extension.  Another 8-inch extension would let me swing a little sharper backing up.  We use it on our trips to northern New Hampshire on the Canadian border.  It tows well.  I don't even know it's there.
My fishing buddies and I sport fish the Connecticut Lakes and Lake Francis for salmon, lake trout, and brookies." – Dennis Thorell, 2010 Chevy 3500, 2009 Northern Lite 10'2″ Special Edition, 1964 Starcraft 18-foot Holiday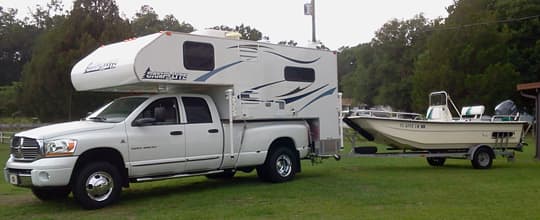 "We tow a 18-foot skiff using a Torklift SuperHitch and SuperTruss.  We fish.  Here in Florida we have the best of both worlds, freshwater and saltwater." – Linda Pruitt, 2006 Dodge 3500, 2013 CampLite 10.0, 2003 Carolina Skiff
"I have an old small 14-foot all-aluminum outboard boat.  It is still in great shape.  I ride around lakes, and go fishing." – Robert Johnson, 1988 Chevy 1500, 1999 Dove
"I use my fishing boat mainly for panfish.  I use a 2-foot Reese hitch extension. I mainly take family and friends fishing or on boat rides." – Jeff Baker, 2004 Ford F250, 2000 Lance 820, 2000 Crestliner Angler 14.5 SC
"I have a 16.5 Ft aluminum V hall fishing boat.  I have an extended hitch from a 2″ receiver.  I go fishing with my wife and dog." – Steve Evans, 2011 Ram 1500, 2012 Lance 825, 2010 SmokerCraft Big Fish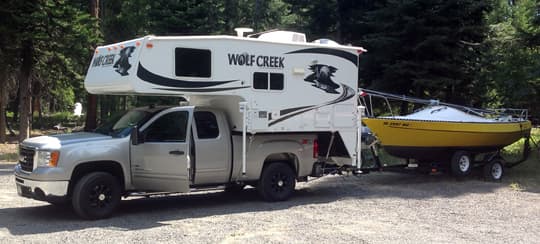 "After towing a larger boat to the San Juan Islands near Seattle for many years, we sold the boat and got a camper and a day sailer.  The camper is very similar to our larger boat in size and amenities and fits our needs very well.  We got a Torklift SuperHitch that works great for anything we want to tow.  This combination allows us to enjoy sailing the many mountain lakes in Idaho and Oregon." – Bryce Dillree, 2007 GMC 2500HD, 2013 Wolf Creek 850, 1972 Ranger 20
"I tow a Ranger RT188.  My truck has the towing package, so it tows the boat without effort.  I fish all over Ohio, Kentucky, Tennessee, South Carolina, and Florida in the early spring and fall." – Gary L. Young, 2004 Chevy Silverado 3500HD, 2013 Northstar 850SC, 2014 Ranger RT188
"The Hewescraft is a fishing boat.  As the 835 camper is a 8.5-foot camper, I only need to use a standard hitch to tow the boat.  I do not have brakes on the trailer.  The 2015 F250 Super Duty comes with an air brake feature and tow/haul functionality which aids in the downhill descents.
I am an avid troller.  That means I fish for salmon, trout, kokanee, striper, and steelhead.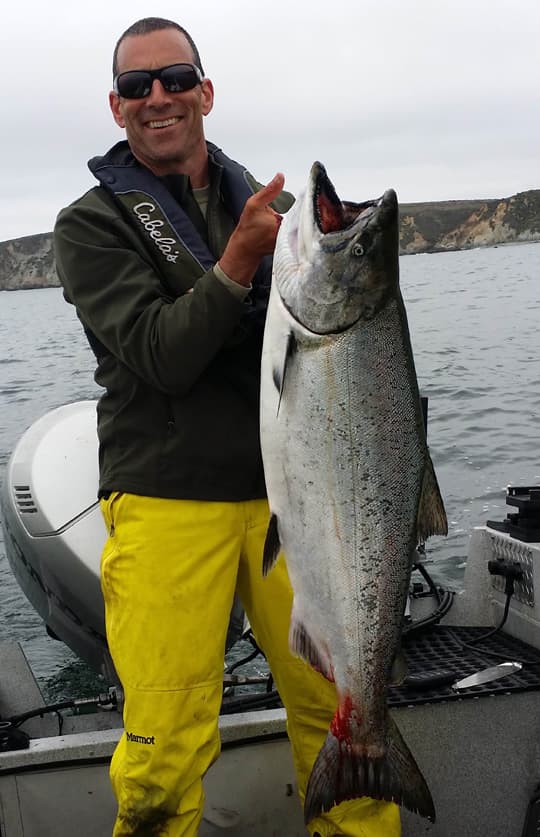 I primarily fish on lakes in northern California and southern Oregon.  I fish year-round, and prefer the early Fall through early Spring.  This is a time when most people tuck their boats away, but the fishing becomes excellent." – David Goodman, 2015 Ford F250, 2009 Lance 835, 2004 Hewescraft Sportsman
"We tow a 2003 Boston Whaler 150 Sport powered by a 60 EFI Four Stoke Mercury. Whaler is the legendary non-sinkable boat because it's foam filed.  The boat has a custom made aluminum trailer by Rolls Axle.  We added a Class V hitch and a 48-inch Reese extension to the truck.
We do almost everything in our boat.  We are located in south Florida so the Atlantic Ocean is our playground.  We typically trailer the boat down to the Keys (Key Largo is two hours away) and fish, snorkel, tube and cruise to the restaurants." – Peter Biron, 2012 Ram 3500, 2006 Lance 881, 2003 Boston Whaler 150 Sport

"I tow a twenty-five foot aluminum jet sled with a hard top.  The jet sled weighs over 10,000 pounds on the trailer.  I have a Torklift Superhitch Magnum with a custom 36-inch trussed extension on my F450 pickup.  It tows like a dream, even weighing in at 23,200 pounds.
I use my boat to fish for salmon, sturgeon, and some other species of fish.  I also run shallow rivers and whitewater in places like the Rogue River and the Snake River in Hells Canyon." – Cameron Stanyk, 2011 Ford F450, 2012 Lance 992, 2008 Custom 25 foot Jet Sled
"I have a 16-foot open bow runabout, outboard, on a trailer.  It's a pleasure boat.  My wife and I are by ourselves most of the time, so I don't tow people behind it much." – Eric Berg, 2007 Sierra 2500HD, 1980s S&S, 1960s Starcraft Capri
"I had a 24-inch extension box made and tow straight off the truck.  I fish, tube, ski, wakeboard, and kneeboard." – Mike Herring, 2010 Chevy 2500HD, 2003 Elkhorn 8R, 2002 Starcraft 1809 with 150hp Mercury outboard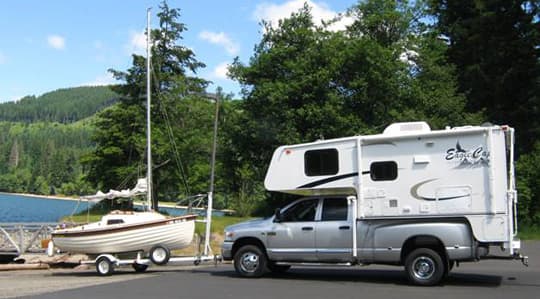 "My Montgomery 15 is a sailboat with a small cabin and room to sleep two and has a porta-potti and space for a battery, which is good for the reading lamps and powers my electric motor.  I also use a Yamaha 4hp motor.
The boat and trailer weigh about 1,600 pounds, so it tows quite easily behind the camper.  It takes less than hour to set up the boat for sailing.  To alleviate the problem of backing down a boat ramp, I added a front trailer hitch to push the boat down the ramp.
I also have a 10-foot Zodiac which has its own trailer.  I use the Yamaha 4hp motor for this boat and it's also set up to use the electric Minn-Kota.  It's great for fishing or crabbing and weighs less than 200 pounds, making it great for towing.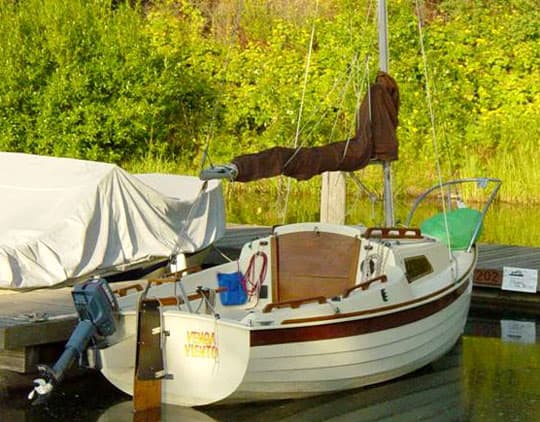 The Montgomery 15 I have owned since 1994 and it's mostly used only for sailing.  I sometimes fish from it, so that's where the electric motor comes in handy for trolling.
I enjoy sailing because the wind is free.  I'm not into racing, and just love the relaxing feel of the wind in the sails.  My wife thinks it takes too long to set up and take down and waiting for the wind to kick up, but that's all part of the adventure.  I mostly go sailing by myself.  With the camper I have a very comfortable place to stay.
I have sailed so many beautiful lakes in the Northwest – Timothy Lake, Detroit Lake, Merwin and Yale Lakes, Priest Lake, Coeur d' Alene Lake, and Lake Pend Oreille." – Roger Odahl, 2008 Dodge Ram 3500, 2004 Eagle Cap 950, 1984 Montgomery 15
"We tow a Lund SV-18 open aluminum utility boat with a 60 horsepower Yamaha outboard motor.  The tongue weight is quite low so I use a twenty-four inch extension with the factory hitch.
Our boat gets used for lots of things.  My wife is a rower and I find that rowing is a terrible spectator sport.  I offered to bring my boat and run officials on the rowing course so my days start early and end late.
You can't beat time spent in a boat!  Besides rowing, we use the boat for fishing and camp cruising remote areas on Lake Superior as well as water sports with the kids and grandkids at the cabin." – Dave Miller, 2015 Ford F350, 2003 Bigfoot 10.6E, 1994 Lund SV-18

"I tow an 18-foot flats boat that is towed with a class five hitch and a four foot extension bar.  The only problem is when the trailer gets a flat, it is very hard to notice it.  I have a camera on the back of the camper.  But, I can't see the tires so I added yet another camera under the truck to face back toward the tires.  That works okay.
The other issue is trailer tires don't last.  Radial tires are the worst for blowing out.  My boat is heavy.  I use a 15″ 225/15 load range D tire.  I started with a 13″ tire which I only got twelve months out of and then a 14" tire which suffered a similar result.  A 15" tire is what cured it.  I use bias ply tires only.
My boat is used for fishing, scalloping, and lobstering.  I live in the Florida Keys so it gets used all year long when I'm not camping.  Having lived on a yacht for eight years I can't imagine not having one for daily use.  Happy camping everyone." – Gary Raymond, 2014 Ram 3500, 2006 Lance 1191, 1998 Hoog Flats boat

"I have a 15-fishing boat on a single axle trailer.  I tow to homesteads off road in the north of Western Australia for fishing and diving for family holidays." – Toby Curtis, 2014 Ford Ranger XLS, 2015 home built custom camper, 2008 Quintrex 448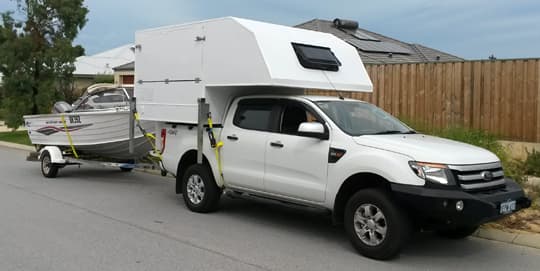 "I'm using a 42-inch Torklift SuperTruss to pull the boat.  I go out for fishing and pleasure." – Ken Colvin, 2011 Ram 3500, 2011 Palomino Real Lite, 2009 Starcraft Super Fisherman 1850
"I tow either of my two boats with a ball mount hitch.  I also have the pickup camper on the truck to sleep and cook in.  I use the fifteen foot boat for weekend fishing trips in Minnesota and Wisconsin, usually by myself.  I use the twenty-two foot pontoon when taking a week or two vacation at a big lake, like Lake Vermillion in Northern Minnesota, with my kids and their families." – Rag, 2003 Chevrolet Silverado, 1980 Sportsman 8SD, 1994 Belvadier 15 foot tri-hull and 22 foot Suntracker Pontoon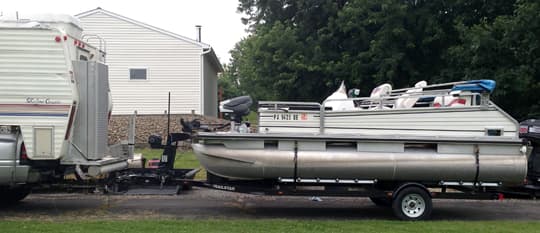 "I have a 19-foot pontoon boat on a trailer with a weight distribution hitch installed and electric brakes to make stopping smoother.  We scuba dive, fish, swim, and everything else we can think of." – Eric and Linda Anderson, 2001 Dodge 3500, 2013 Arctic Fox Milestone 990, 1996 Tracker 19-foot pontoon
"I tow a ProCraft Fish and Ski Combo.  I have an extended tow bar that my brother built that extends the ball out beyond the back side of the camper.  This gives me more latitude when backing the boat down to the launch ramp, and also more radius when turning so the boat doesn't hit the camper.  It has worked out very well!   We fish, pleasure cruise and do just about anything else that you can do with a boat!" – Doug Bennett, 2008 Ford F250, 1998 Shadow Cruiser, 1998 ProCraft 19 foot Fish and Ski Combo

"We are tournament water skiers.  We travel to all the local tournaments in the Pacific Northwest and our Ski Nautique is used as an official tow boat for these tournaments.  We have eighteen tournaments this year.  We also manage to go camping with our horses a few weekends a year." – Nick Sullivan, 2014 Ram 3500, 2015 Arctic Fox 1150, 2015 Ski Nautique 200 Tournament Promo Boat
"I tow the boat right off the rear bumper, using a seven pin electrical connector.  The trailer has breaks.  My main purpose is fishing northern Wisconsin." – Thomas Bender, 2011 Ford F250, 2009 Sun Valley Apache Chief 8.65 WS, 2012 Ranger Z118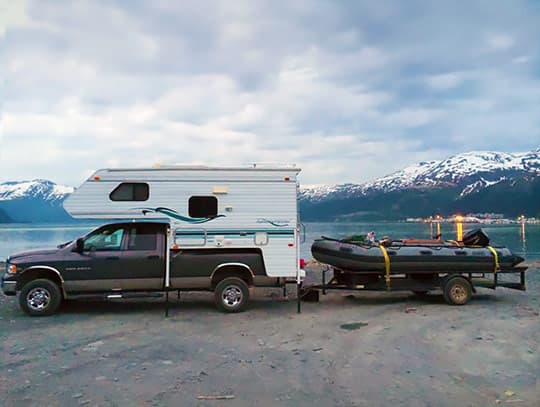 "We have a 2013 JP Marine that tows just fine behind this rig.  We camp all over the Kenai Peninsula, Alaska (Whittier, Seward, Homer) and explore, look at glaciers, look for whales and, of course, fish for salmon, halibut, and rockfish. " – Michael Miller, 2004 Dodge Ram 2500, 2001 Summerwind, 2013 JP Marine/50 Hp Tohatsu 17-foot
"I tow our Lund Pro Angler 17-foot.  I extended the trailer tongue about thirty inches.  I put in a breakaway hitch to get it in my garage.  It hooks directly to the ball on the truck with no extensions.  I had to put on a wiring harness extension, which is available at any Walmart or parts store.  I just put a walking platform on the extension.
I don't tow that much with the camper on.  I bring the boat to Potholes Reservoir in eastern Washington and leave it for the summer.  When we do pull it with the camper on, all seems to go well.  One advantage is, when the lake water is low, the extra length is nice." – Jim Furubotten, 2006 F350, 2014 Northern Lite 10-2 CDSE, 1999 Lund 17 or Angler

"My boat is a custom aluminum forward helm fishing boat made to target walleye and salmon.  It is 23-feet long powered by a 200hp outboard, all on a custom built aluminum trailer.  I do lots of fishing and sight seeing, although my past boat was a white water jet boat for the Rogue river." – Tom Smith, 2006 Chevrolet 3500, 2015 Lance 1181, 2015 Edge Marine Sport SE
"I have a 16 foot fishing boat.  We use a full Torklift SuperHitch set up, with a 36 inch Torklift extension, their extended bump stops which work amazing, air bags, and load E tires.  I would not use any other hitch or set up for towing with my camper.  It is a really solid set up and I am confident that it will not fail on me.
The Smokercraft is a good size to take to local rivers and lakes to fish or crab.  We live in Oregon and have several choices for water recreation.  We had a much larger new twenty-two foot fishing boat that we also towed behind with our camper with ease.  We towed the big boat with camper across our fine state and back with no issues.
We really enjoy bringing our smaller Smokercraft with us when we have the opportunity to bring it along.  Get out and see something!" – Brent and Patti Portschy, 2005 Dodge, Ram 3500, 2006 Host Tahoe 10.5, 2001 Smokercraft Millentia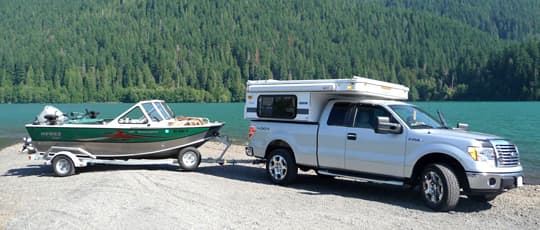 "Here are a couple truck and camper boat pictures with Four Wheel Campers." – Stan Kennedy, Marketing Director Four Wheel Campers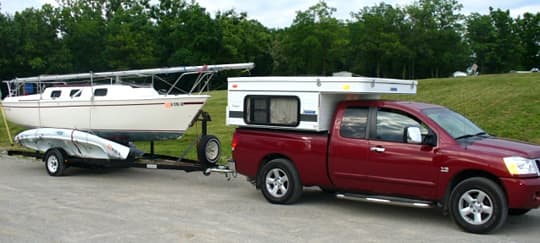 "We tow a ski boat using the Torklift SuperHitch and 48″ extension.  We go on pleasure cruises, water skiing, tubing, wake boarding, and wake surfing on Lake Powell." – Alex Golebiewski, 2006 Ford F-350, 2005 Lance 1030, 1994 Mastercraft Prostar 205
"I have an aluminum fishing boat, powered by a 1997 90HP Honda OB and a 2008 Yamaha T8 kicker OB.  My Torklift receiver hitch with a 42″ extension tows the 2500 pound boat and trailer nicely.  Sometimes I use my Curt front receiver with a riser insert to launch and retrieve the boat on a poor or narrow ramp.  I fish for pleasure and have fresh fish meals." – Philip Tron, 2009 Chevy 3500, 2012 Lance 1050, 1984 Alumacraft Trophy 175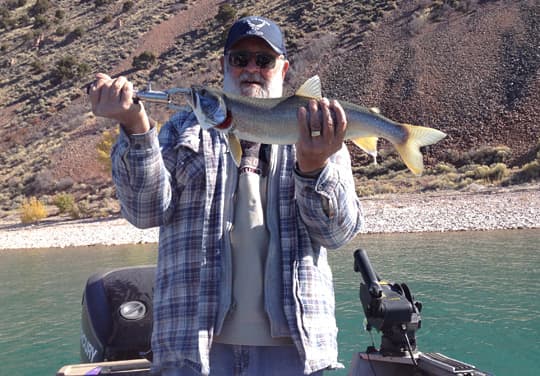 "My boat is a 16-foot Tracker Varga with a 75 horsepower Mercury Optimax.  My boat is a fishing boat and has over 800 hours of trolling logged in its computer.  I fish for pleasure and enjoyment and to stock the pantry and freezer with some very fine meat products.  I vacuum seal some, smoke some, and can some.  My smoked and canned perch and bluegills are to die for; and the smoked and canned salmon ain't too shabby either.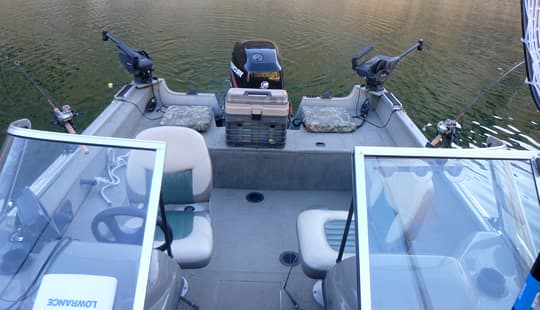 My boat has never pulled a skier behind it and never will as far as I'm concerned.  I fish with family, friends, and by myself.  The boat hits the water every year in May and is put up for the year sometime in November.  It is usually in the water from one to three times every week during this period.  I fish for trout, salmon, wipers, walleyes, catfish, crappie, bass, and perch.  Life is definitely good." – Robert Lee Hicks, 2010 Chevy 2500HD, 2011 Lance 992, 2004 Tracker Varga DeepV16
"We have a 24-foot offshore fishing boat that we use to chase salmon, halibut, and tuna off the California coast.  We use the Torklift SuperTruss 36-inch model to handle the 600 pound tongue weight of our trailer.
We live in the San Francisco Bay Area but like to fish and dive the entire California coast.  It is not uncommon to boondock in the launch ramp parking lots to beat the traffic and early morning launch crowds.  We stay at Memorial Park in Monterey (with the boat), Santa Cruz, Half Moon Bay, Bodega Bay and Fort Bragg Marinas.
We are one of the people that traded our 24-foot trailer for the ability to tow a boat.  Since we upgraded to a truck camper, one of our diver/fisherman friends has joined in and acquired a truck camper as well.  Now we camp, dive, and fish together more than ever." – Erik Russell, 2006 Dodge Ram 3500, 2001 Lance 1010, 1987 Skipjack 24 Open Diesel I/O

"I have a 17-foot center console.  I go fishing at campgrounds." – Bill Cox, 2009 Chevy 3500, 2009 Lance 1040, 2006 Boston Whaler 17 foot Montauk
"We used to pull a small 16-foot pontoon boat on a regular basis.  We pulled it last with a 2000 Chevy 3500 dually, crew cab, long bed, 4×4 truck.  We also hauled a 1998 2500 series Bigfoot 10.6, so we were fully self-contained for our weekend boating trips. We had other trucks and campers before this combination, doing the same thing.
It was mainly used for pleasure cruising on inland lakes.  We took it out on Lake Ontario, in the 1,000 Island area, a few times as well.  It's very relaxing and enjoyable!" – Maaja Sutak, 2012 GMC 2500, 2015 Northstar Liberty, 1990 Pricecraft pontoon boat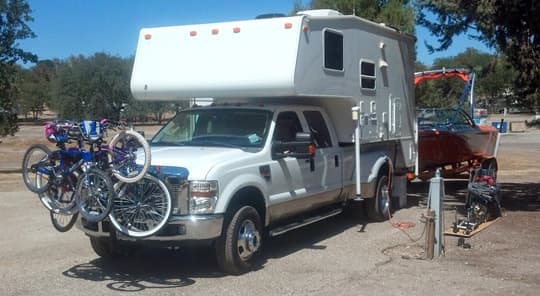 "I tow a boat or an enclosed trailer.  The boat is a 2008 Supreme ski boat that seats eleven.  The trailer and boat weigh in at 6,000 pounds.  We place all wood, ten cases of water, chairs, and anything else we can inside the boat when towing.
I also have an enclosed twenty foot trailer carries a 4×4 2015 Polaris Rzr four seater, three quads, a fifty-five gallon barrel of water, wood, and chairs.
I have a Tow Beast receiver with a 23-inch extension.  Air bags with Torklift suspension parts on the rear is all I use with very little bouncing or sway.  This set up has been phenomenal.  I have never had an issue in seven years.
We ski or tube with the boat, and off road with the enclosed trailer toys." – Ed Lardner, 2008 Ford F350, 2008 Arctic Fox 990, 2008 Supreme 21'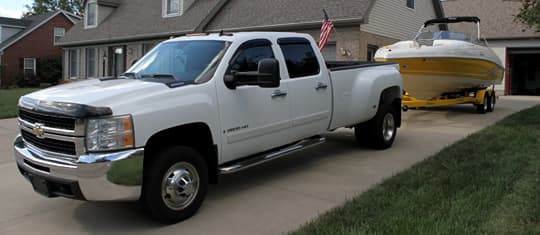 "We tow our 2005 Rinker 232 Captiva with your 2008 Chevy Silverado 3500HD crew cab Duramax dually.
We're a family of four including our two daughters who are ages 9 and 11.  We frequent Kentucky Lake which is about a two hour drive for us.  Kentucky Lake is a very large man-made lake (160,000+ acres) that was built by the Army Corps of Engineers back in the 1940s.
At the same time this lake was created, Lake Barkley (57,000+ acres) was also created.  The two lakes are separated by Land Between the Lakes National Recreation Area.  The land is part of the Federal Forest system and offers over 171,000 acres and an abundant list of activities for visitors.
While we're at the lake we enjoy water skiing, tubing, wake boarding, swimming, cruising and just hanging out.  As you might guess, there are ample marinas, restaurants, and other business around the lake, so it has become a family tradition to stop at one of them after a long, hot day in the sun for some hand scooped ice cream.
We were actually boaters long before we were truck campers.  After years of hotels and tent camping, we realized that a truck camper could offer us the best of both worlds while spending the weekend at the lake.  Being part of the Federal Forest System, Land Between the Lakes offers several area that are designated as back country areas, which are perfect for truck camping!" – Russ Parker, 2008 Chevy Silverado 3500, 1997 Real Lite, 2005 Rinker 232 Captiva

"I have a Bass Boat and tow with a Beast Class V Hitch with a Reese extension bar.  I go tournament fishing, and I'm a wanna be bass pro." – Walt Bowen, 2007 Chevrolet Silverado 2500HD, 2009 Northern Lite 8'11" Queen Classic, 2010 Triton 20 XSHD
"Towing my Pelicano is a snap because it's a small size and light weight.  Launching, on the other hand, can be tricky because the boat is narrow.  The camper isn't very wide, but even with the mirrors extended the boat is almost totally blocked from view.  You don't see that you are going astray until you are really going astray.
I tow the boat the usual way, but sometimes I use the front hitch when doing some tight maneuvering.  I realize that's cheating but it works.
I use the boat for fishing, crabbing, shrimping, and just general puttering around.  Here in Washington we call it gunkholing." – Steve Timmings, 2003 Ford F350, 2013 Four Wheel Camper Hawk SC, 2011 Devlin Pelicano 18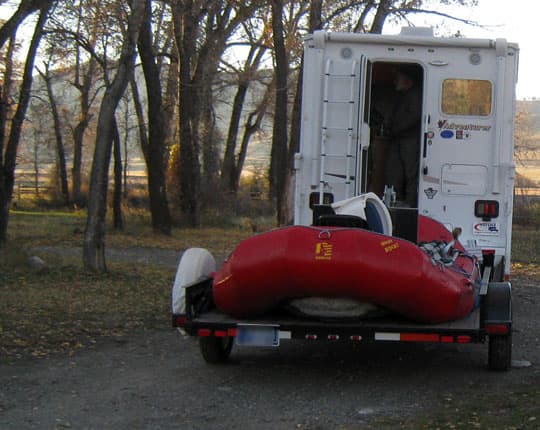 "We have a Whitewater raft.  We go on whitewater camping trips, day fishing trips, awkward lake rowing to a good fishing, or a fireworks watching spot.  We're about half way through our goal of floating the Yellowstone River." – Bonnie and Mike Pascucci, 2011 Chevy K3500, 2012 Adventurer 86fb, 2002 Maravia New Wave 2
"I have a 20-foot pontoon boat behind my camper.  I pleasure cruise around the lake, snorkel, scuba dive, and occasionally go fishing." – Rodger Greene, 2004 GMC 2500HD, 2010 Palomino Maverick 8801, 2004 G3 Suncatcher 20-foot pontoon

"Here is a picture of where I was in Pennsylvania on my way home to California.  The truck is a 1996 Dodge 2500 and the camper is a 2009 Outfitter Apex 9.5." – Steve Standefer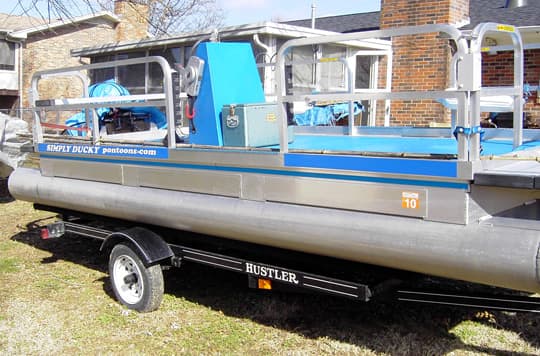 "I have a 16-foot pontoon boat.  I removed my steps from the 2-inch hitch mount, put them on the boat, and attached a 2-foot ball mount on the boat.  I just pleasure fish with the better half, and she out catches me.  Does anyone have a remedy for that?" – Ken Wright, 2006 Dodge 2500HD, 2011 Travel Lite 890, 2008 Simply Ducky XVI
"We have a 20-foot Legend extreme and we tow it on a boat trailer behind our truck and camper.  We enjoy fishing for walleye and lake trout.  We use the Legend primarily for summer fishing where we camp." – Michael White, 2012 Chevy Silverado 3500, 2014 Palomino Backpack Edition 2910, 2013 Legend Extreme 20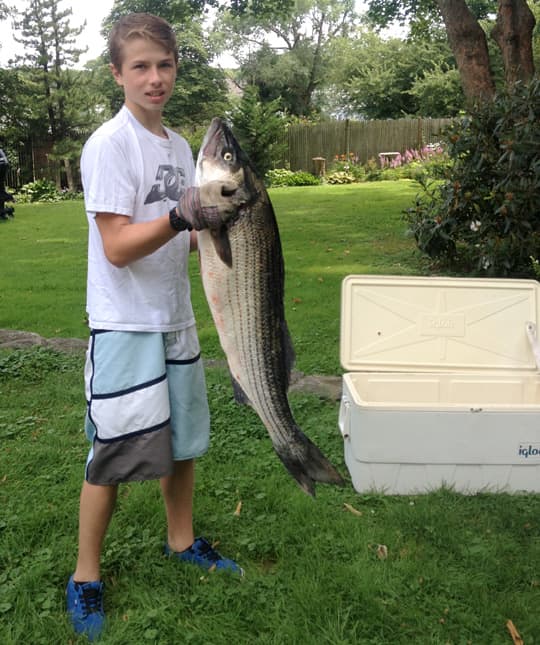 "We have a 1976 Classic Whaler, which is the first year of the smirk hull design.  I currently have it on an oversized (extended tongue) trailer.
We primarily fish for Striped Bass in southern New England, but also take the kids tubing, or go out to the islands for clamming, or just hanging on the beach and exploring." – Bill Tex, 2006 Chevy, 2013 Eagle Cap 850, 1976 Boston Whaler Montauk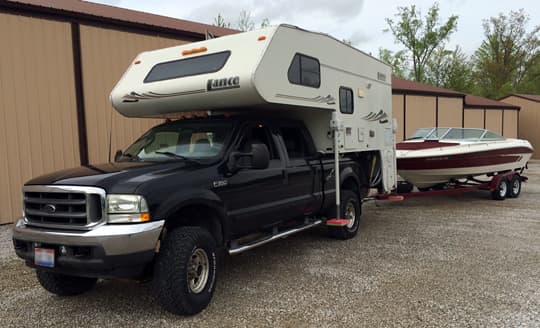 "We tow our open bow pleasure boat with our truck.  We pleasure cruise." – Judy Merritt, 2003 Ford F-350, 2004 Lance 821, 1994 Searay BR200
"We tow a bass boat with a 24-inch extended hitch.  I've wanted a truck camper for as long as I can remember.  Until recently, we double pulled a 32-foot travel trailer, with my wife pulling the boat with her GMC Acadia.
Now, we can go in one complete unit, and go wherever we want.  We leave this Saturday for Kentucky Lake, and we can't wait!
Primarily we go to tournament fishing, Bass Opens, and FLW Rayovacs.  But we also use it for church outings, vacations, and flea market fairs." – Jason Baggett, 2015 GMC 2500HD, 2015 Lance 825, 2014 BassCat Puma FTD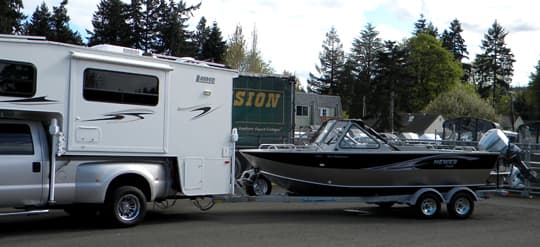 "I have a fishing boat.  I use the Reese stinger hitch.  I go pleasure cruise and fishing." – Dennis De Ville, 2008 Ford F350, 2008 Lance 1191, 2012 Hewes Craft 200 Sea Runner
"I tow a white water raft.  I tow it on a trailer.  I run white water and fish with my raft for fun." – Bruce Norring, 2003 Ford F250, 2003 Hallmark Guanella, 2010 Down River Pro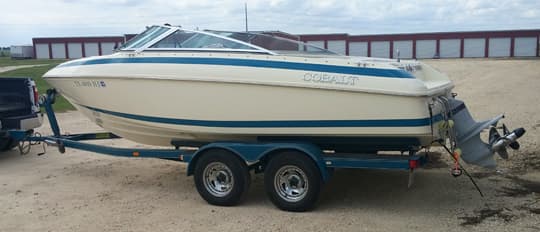 "I have a ski boat towed with four foot stinger.  We pleasure cruise and ski, and tow the grandkids in a large tube." – Paul Roberson, 2014 Ford F350, 1988 Lance 930, 1995 Cobalt 20 ft ski boat
"We tow a Com-Pac 16 sailboat behind our Sun Valley Sun-Lite truck camper.  We spend winters in Rockport, Texas surrounded by Gulf waters living in a fifth wheel, sailing our 1975 Com-Pac 16 MK 1 in the Gulf Coast waters as often as weather permits.  At the end of April we store that sailboat in Texas and head for our lake home in Northern Minnesota.
Last year we bought our first truck camper, a gently used 2004 Sun Valley Sun Lite 955 SD, replacing a small twenty-one foot towable trailer we rarely used in the summer.  The idea was to be able to do more camping and sailing on the bigger lakes in the northern regions of Minnesota, Wisconsin, and the Upper Peninsula of Michigan.
The truck camper now allows us to tow our newer model 1980 Com-Pac 16 MK 2 on our camping trips, something we couldn't do with the 36 foot fifth wheel and didn't want to try with the small towable trailer.  Yes, we like Com-Pacs and have one in Texas and one in Minnesota.  They both have the same name, "Tomfoolery".
The truck camper also allows us to visit family and friends and attend events that require an overnight stay in the Twin Cities, which are 180 miles away from our home. We have a dog and I am allergic to cats so sleeping in the camper parked off the street in our own bed works very nicely.
Our first major trip with our Sun Valley towing our sailboat was to Crystal Falls in the Upper Peninsula of Michigan.  We spent a week there in the municipal campground, towing the sailboat to a nearby reservoir.  It's wonderful sailing on water dotted with small islands and very little development of the shoreline.
Sailing on lakes, many which have bays and channels that change the direction and intensity of the wind, becomes the challenge.  We day sail and rarely spend the night preferring to sleep in the slightly larger, more comfortable truck camper.
The Com-Pac is a very sturdy, shoal draft boat.  It's comfortable to sail in all wind conditions. It has 450 pounds of ballast, needs eighteen inches of water to float and has a small cabin that can sleep two.  In the past we sailed smaller, open boats but they required constant attention to sail adjustment and balancing in higher winds.  Once the winds started gusting over 18 mph it became tricky and we would often get wet.  Now I just reef the main and/or pull down the jib and have sailed in 20 mph winds with gusts to 30 or more.
The Sun Valley is a hard side without slide-outs, just what we wanted.  The truck being a one ton dually handles it and the boat with no issues.  In fact, on the trip to Michigan, we went through a few miles of bumpy road construction.  A few miles down the road I looked in the side mirrors and could not see the sailboat!
I looked through the door of the truck camper using the rear view mirror and my wife, Joy, looked using her side mirror but neither of us could see the sailboat!  In a panic, we quickly pulled over wondering where we lost the sailboat and if it had caused an accident.
It was still there.  Since we were heading straight down the road directly into the sun we couldn't see a shadow and the boat and trailer weighing around 1,300 pounds isn't very noticeable when being towed.  We now have a rearview camera system that we will install this summer!
As others have indicated, we were sailors first, but our truck camper now allows for an expansion of that hobby and comes with additional benefits we didn't always have with our towable trailers." – Tom Julkowski, 2005 Ford F350, 2004 Sun Valley Sun-Lite 955 SD, 1980 Com-Pac 16 MK 2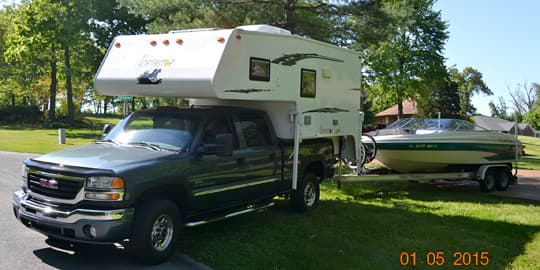 "I tow a 2003 Glastron GX 205 placed on a custom all-aluminum dual axle (Kodiak disk brakes) trailer, with a total weight around 5500 pounds.  Due to my long trailer tongue I do not need an extension, however I removed my factory hitch and installed a Tow Beast just for peace of mind.  There are threads online about cracking on the GM factory hitches when towing at your upper limits.  I installed airbags and sway bar on my truck to add stability.  My Happijac tie-downs are used as a carry over from previously owned 1999 Sun Lite pop-up.
We have been stationed all over the United States with the military.  We enjoy skiing, tubing, fishing and fellowship with new friends on our boat.  Best of all, when we PCS (permanent change of station), our rig allows us to hit lakes and campgrounds that we otherwise might never visit." – Jason Franz, 2007 GMC 2500HD, 2010 Northstar 8.5 Arrow, 2003 Glastron GX20.5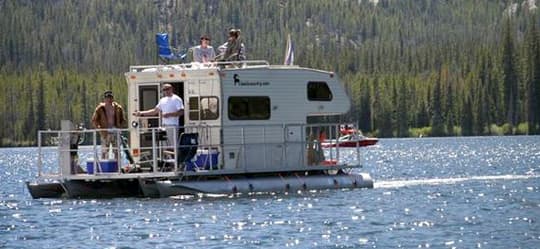 "I pulled this picture off Google because I'm a smart-ass and this is the first thing that popped into my brain when I read the question." – Redneck Bob