John and Diane Grefer have made their cross-country travel dreams come true in a Four Wheel Camper; just two Cuckoos in a Tardis, and a sailboat named Liebchen.

After purchasing a 2008 Ram 1500, John and Diane Grefer decided to get a truck camper.  During their initial research, they quickly realized their truck choice severely limited the size and weight of truck camper their truck could safely carry.
Fortunately, John and Diane had no interest in a hard side truck camper.  As backpackers, they just wanted something lightweight, simple, and well built.  When John discovered pop-up truck campers, the path forward seemed clear.
There were multiple priorities for their pop-up truck camper choice.  Not only did their camper need to match the limited payload capacity of their 2008 Ram 1500, but it also needed to accommodate towing their 14-foot sailboat, handle the rigors of off-road travel, and offer a king-size bed.
Had anyone contacted us with this wish list, we would have listened until the words, "king-size bed" were uttered, after which we would have done everything possible not to laugh.  Well, evidently we don't know everything about truck campers.
John and Diane purchased a 2013 Four Wheel Camper Hawk, a camper that fit all of their requirements, including a pull-out king-size bed that you have to see to believe.  With their new rig assembled, they were ready to sail local lakes, and explore the national parks and forest lands of the west.  Put another way, their travel and sailing dreams were about to come true.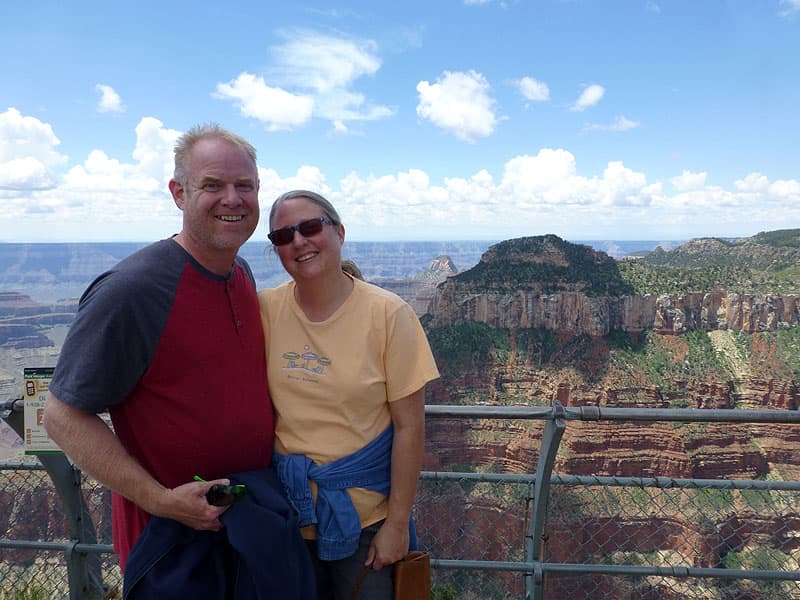 Above:  John and Diane at the North Rim of the Grand Canyon
TCM: How did you get into truck camping?
John: We have gone backpacking and car camping in the past, but this was the first RV for both of us.  We had talked about getting a small RV and dreamed of traveling cross country with it.
Then Diane's mother passed away in 2012 and Diane received a small inheritance.  We decided to get a truck camper and travel in honor of our mom.  Now we have access without ownership.
Diane: John did extensive research and found Four Wheel Campers.  We visited the dealer in Wisconsin to see one and we fell in love with it.  We wanted a light weight camper and a Four Wheel Camper fit the bill.  The quality is fantastic.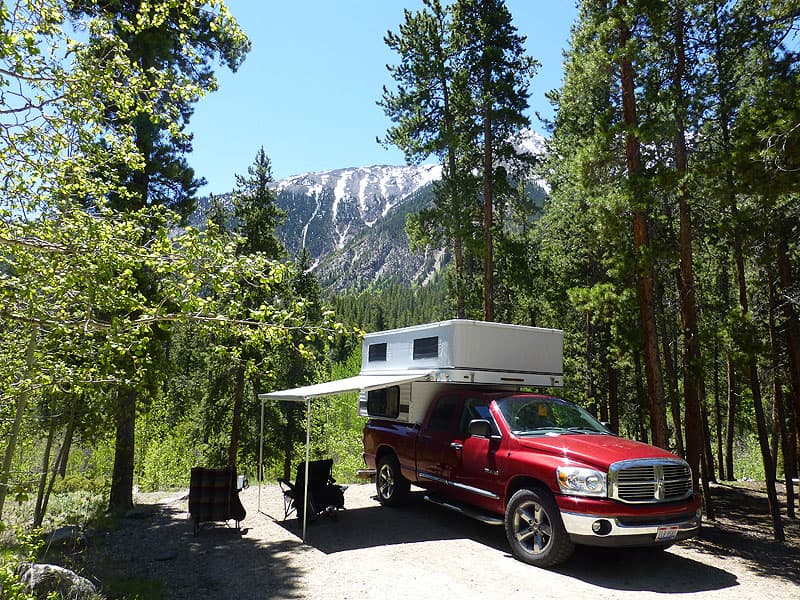 Above: Twin Lakes Campsite, Colorado Rockies
TCM: Why did you decide on a light weight pop-up truck camper?
John: When I started my research on truck campers we had to make sure it fit our Ram 1500 pickup truck.  When we bought the truck years earlier, we were not thinking about a truck camper.
Looking at truck campers, I quickly realized that my Ram 1500 did not have the capacity for most of the truck campers out there.  From that point forward, I searched the web for lightweight campers and found pop-ups were the ideal lightweight solution.
TCM: Is that what led you to Four Wheel Campers?
John: Yes.  Four Wheel Campers had a good reputation for being sturdy and high quality.   They hold up to rough roads and can handle just about anything you throw at them.  Everything I read about the Four Wheel Camper brand was favorable.