John and Diane Grefer have made their cross-country travel dreams come true in a Four Wheel Camper; just two Cuckoos in a Tardis, and a sailboat named Liebchen.

After purchasing a 2008 Ram 1500, John and Diane Grefer decided to get a truck camper.  During their initial research, they quickly realized their truck choice severely limited the size and weight of truck camper their truck could safely carry.
Fortunately, John and Diane had no interest in a hard side truck camper.  As backpackers, they just wanted something lightweight, simple, and well built.  When John discovered pop-up truck campers, the path forward seemed clear.
There were multiple priorities for their pop-up truck camper choice.  Not only did their camper need to match the limited payload capacity of their 2008 Ram 1500, but it also needed to accommodate towing their 14-foot sailboat, handle the rigors of off-road travel, and offer a king-size bed.
Had anyone contacted us with this wish list, we would have listened until the words, "king-size bed" were uttered, after which we would have done everything possible not to laugh.  Well, evidently we don't know everything about truck campers.
John and Diane purchased a Four Wheel Camper Hawk, a camper that fit all of their requirements, including a pull-out king-size bed that you have to see to believe.  With their new rig assembled, they were ready to sail local lakes, and explore the national parks and forest lands of the west.  Put another way, their travel and sailing dreams were about to come true.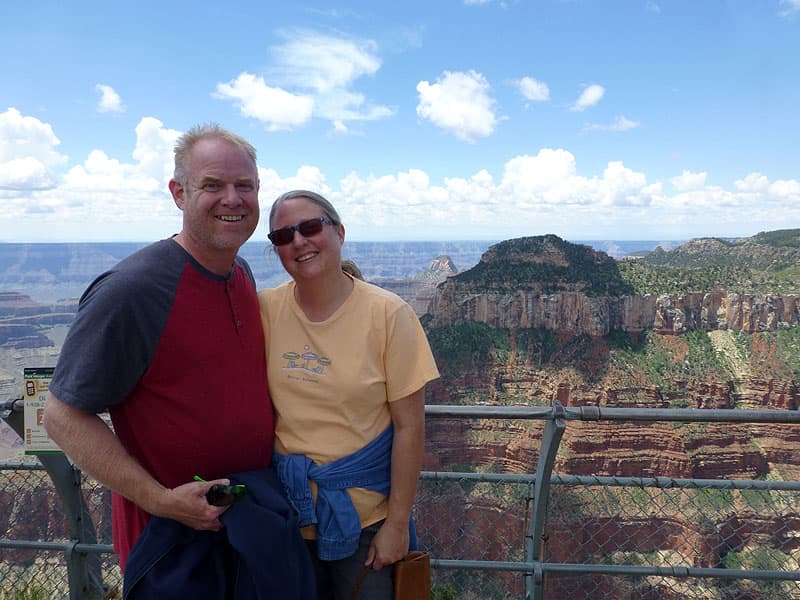 Above:  John and Diane at the North Rim of the Grand Canyon
TCM: How did you get into truck camping?
John: We have gone backpacking and car camping in the past, but this was the first RV for both of us.  We had talked about getting a small RV and dreamed of traveling cross country with it.
Then Diane's mother passed away in 2012 and Diane received a small inheritance.  We decided to get a truck camper and travel in honor of our mom.  Now we have access without ownership.
Diane: John did extensive research and found Four Wheel Campers.  We visited the dealer in Wisconsin to see one and we fell in love with it.  We wanted a lightweight camper and a Four Wheel Camper fit the bill.  The quality is fantastic.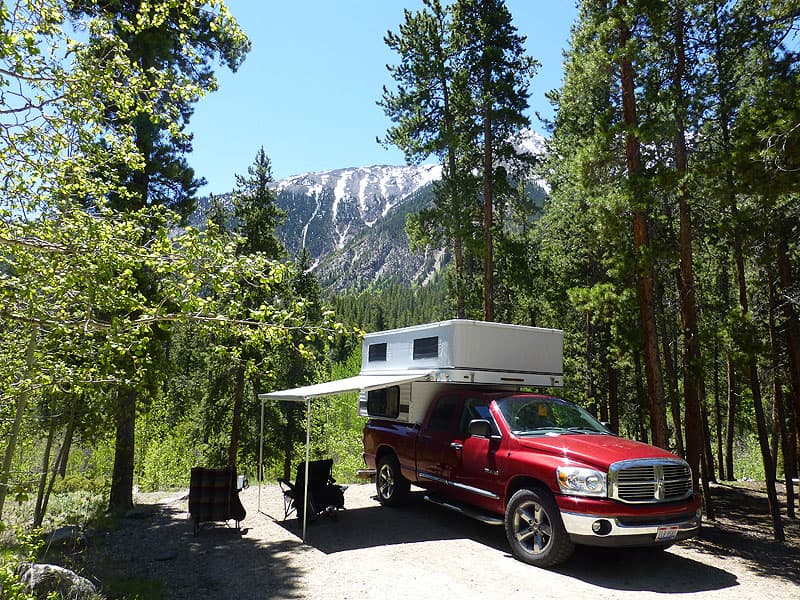 Above: Twin Lakes Campsite, Colorado Rockies
TCM: Why did you decide on a lightweight pop-up truck camper?
John: When I started my research on truck campers we had to make sure it fit our Ram 1500 pickup truck.  When we bought the truck years earlier, we were not thinking about a truck camper.
Looking at truck campers, I quickly realized that my Ram 1500 did not have the capacity for most of the truck campers out there.  From that point forward, I searched the web for lightweight campers and found pop-ups were the ideal lightweight solution.
TCM: Is that what led you to Four Wheel Campers?
John: Yes.  Four Wheel Campers had a good reputation for being sturdy and high quality.   They hold up to rough roads and can handle just about anything you throw at them.  Everything I read about the Four Wheel Camper brand was favorable.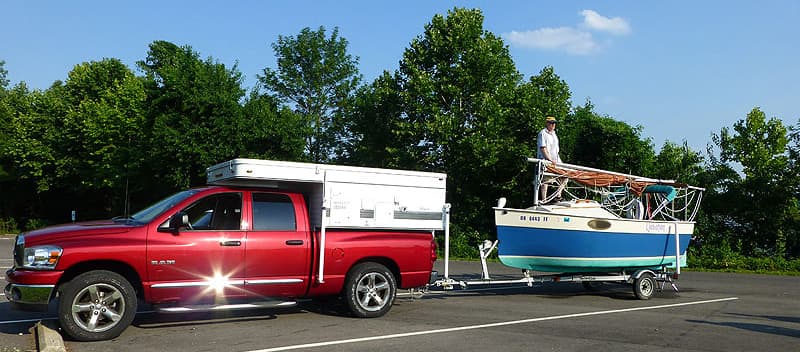 The footprint of a Four Wheel Camper also allows access for a receiver hitch so I could tow our boat behind the truck.  That was an important feature for us.
TCM: Other than easy towing, were there any other features you were looking for?
Diane: I wanted a king-sized bed.
Above: King size bed (left) and full-size bed (right)
TCM: How do you have a king-size bed in a Four Wheel Camper?
Diane: When you walk into the camper, the cabover bed looks like a full-size bed.  Then a shelf pulls out creating a king-size platform.  Then we arrange the cushions to create the king-size bed in our Four Wheel Camper.  The bed takes up most of the interior room when it's pulled out to a king.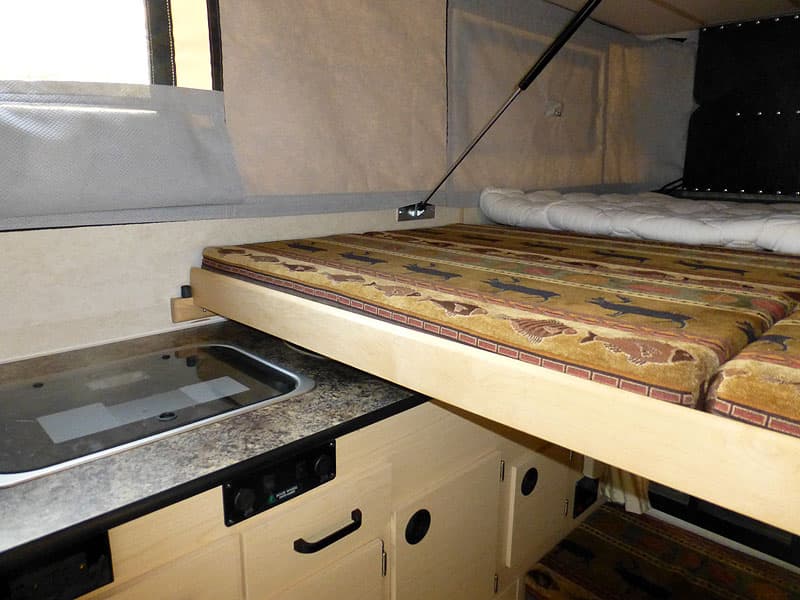 Above: When the king bed is made, it overlaps the counter a little
John: I really like the pull-out king-size bed as it allows for north-south sleeping.  It's good to be able to get out of bed without crawling over one another.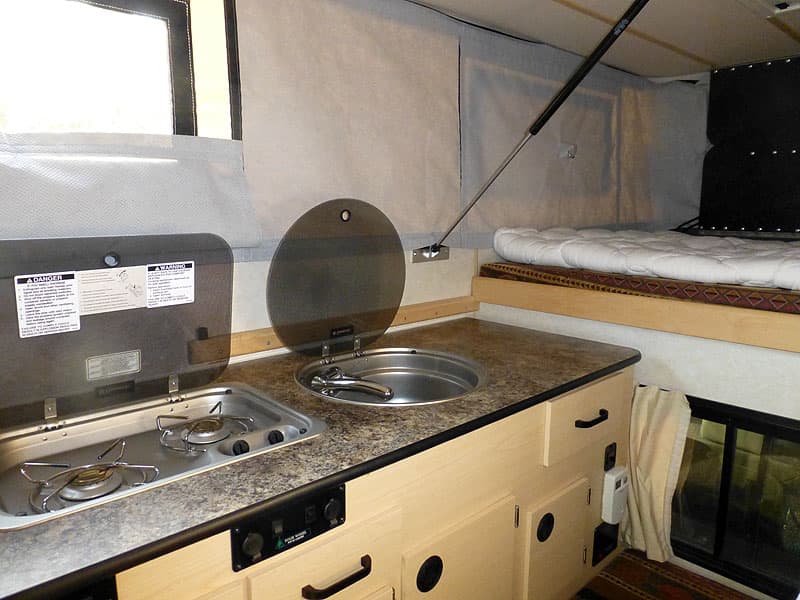 TCM: That's amazing.  Did you have any other feature requirements?
Diane: Beyond that, we just wanted the basics.  We did not want a big fancy camper with a flush toilet.  We didn't like the idea of dumping waste.  We have backpacked, so we know how to use the facilities we find.
We ended up with more features and comfort in the Four Wheel Camper than we thought we would.  Our dealer gave us good suggestions including adding an awning and a heater to take the chill off.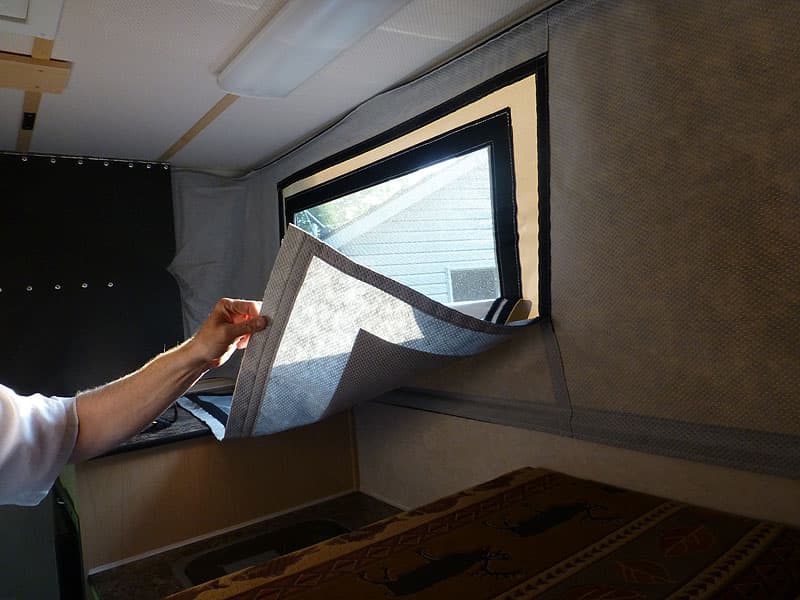 We did not get the Arctic Pack that Four Wheel offers when we bought our camper, but we wish we had.  Last summer we went to the Four Wheel Camper factory and had it installed.
John: We ordered our camper with a refrigerator, water heater, and an outside shower hookup.  It was great to add these features to our camper.  We also got a rear screen door and solar pre-wire.  I got one battery with the camper, but I added an additional battery later.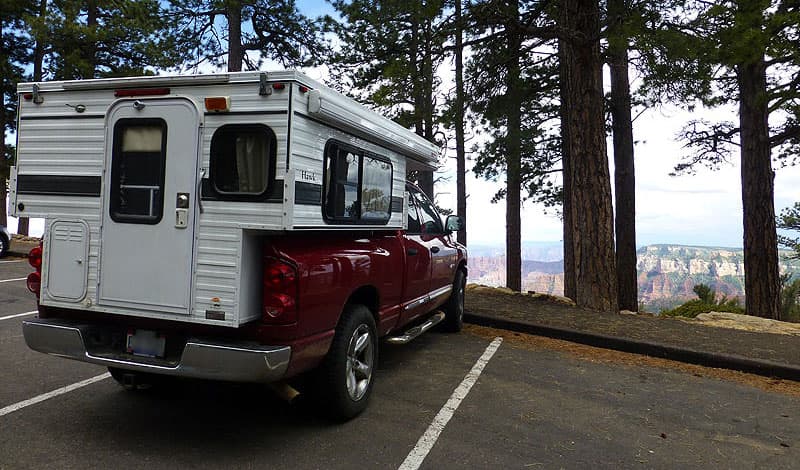 Above: Parking in a normal parking spot is easy, Grand Canyon, North Rim, Point Royale, Arizona
TCM: Earlier you said that this was your first RV.  Now that your truck camper rig is complete and you've had the opportunity to use it, what do you think of pop-up truck campers?
John: One thing I like about the pop-up is that you can pull into a McDonalds and go through the drive-through.  We can go anywhere anyone can go with a truck.  Recently when we were traveling on the Upper Peninsula of Michigan we pulled our rig over on a road next to Lake Michigan and just popped the roof up.  We made lunch and ate under the awning with a stunning view of the lake.  We can also park anywhere a truck can park.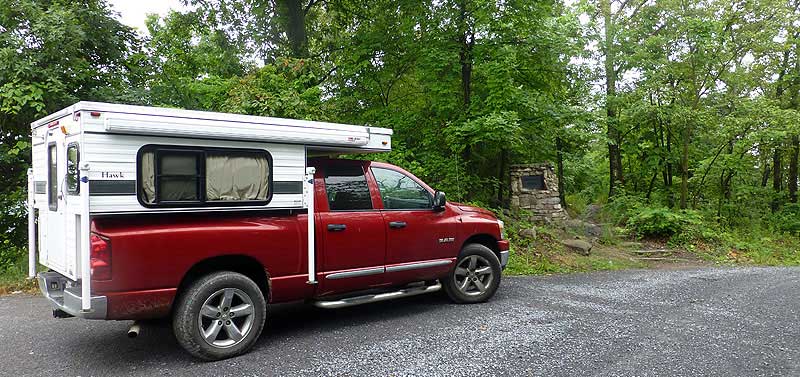 Above: George Washington National Forest look-out tower, Virginia
In June we went through the Appalachian mountains in Virginia and drove a dirt road with switchbacks and never felt like we were going to topple over.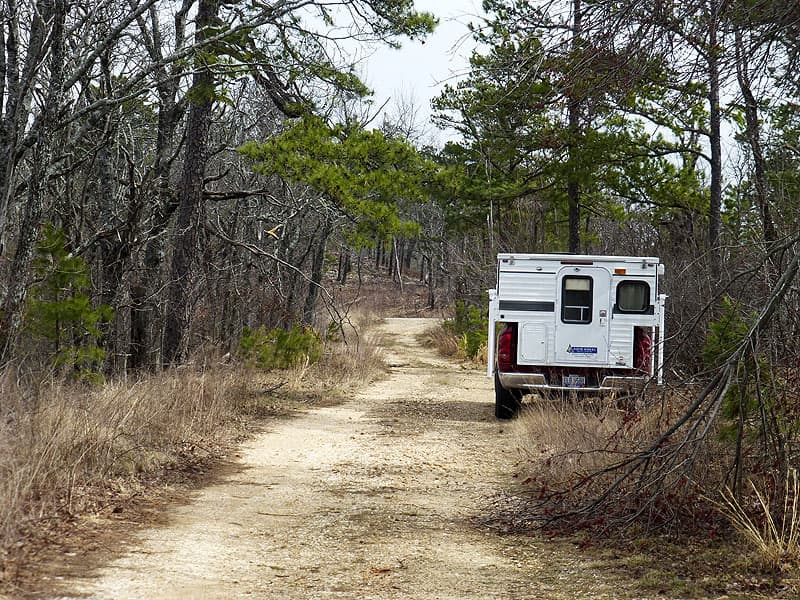 Above: Ouachita National Forest in Arkansas
With no difficulties, we put the truck into four-wheel drive, plowed up the road, and got to the "off the beaten path" campsites at the top of the mountain.  Our rig can go almost anywhere.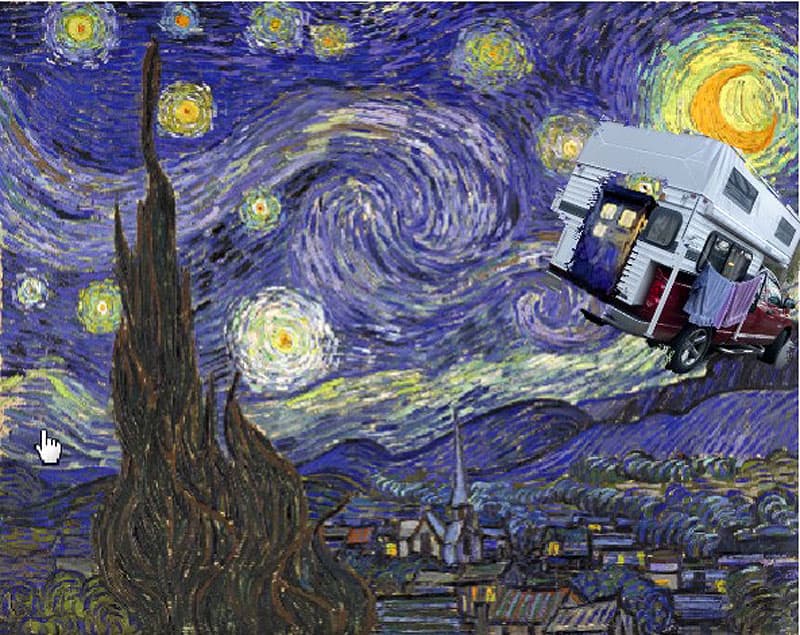 Above: Their Four Wheel Camper is like their Tardis
Diane: If you're familiar with Dr. Who, he has a time machine spaceship in a London police box called the Tardis.  When you open the door of the Tardis, it's huge inside; much bigger than the possible dimensions of a police box (about the size of a large US phone booth).  We say our camper is like a Tardis!  It allows us to go anywhere we want to go, and it feels much bigger inside than it looks outside.  There's so much room when the roof is popped up.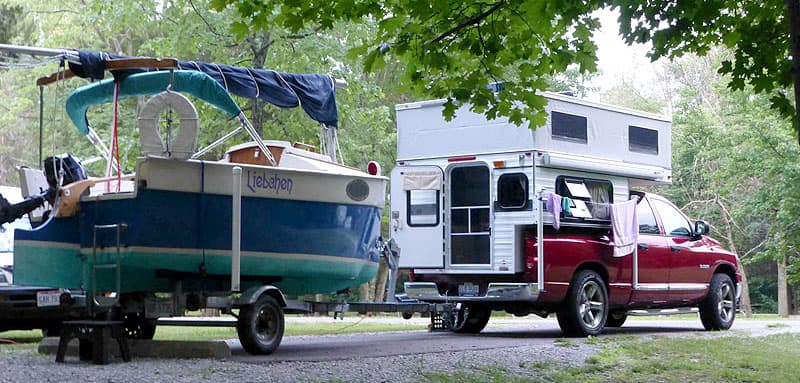 John: We named our truck camper the Cuckoo's Nest.  We're the Cuckoos.
TCM: Two Cuckoos in the Tardis?  That's funny!  Tell us about your towed sailboat.
Diane: It's a 1986 Florida Bay Peep Hen, 14-foot sailboat.  It's a gaff-rigged catboat.  We tow our sailboat when we are going to a park with a good sailing lake.  It's a small sailboat with just a mainsail making it extremely easy to rig for a day of sailing.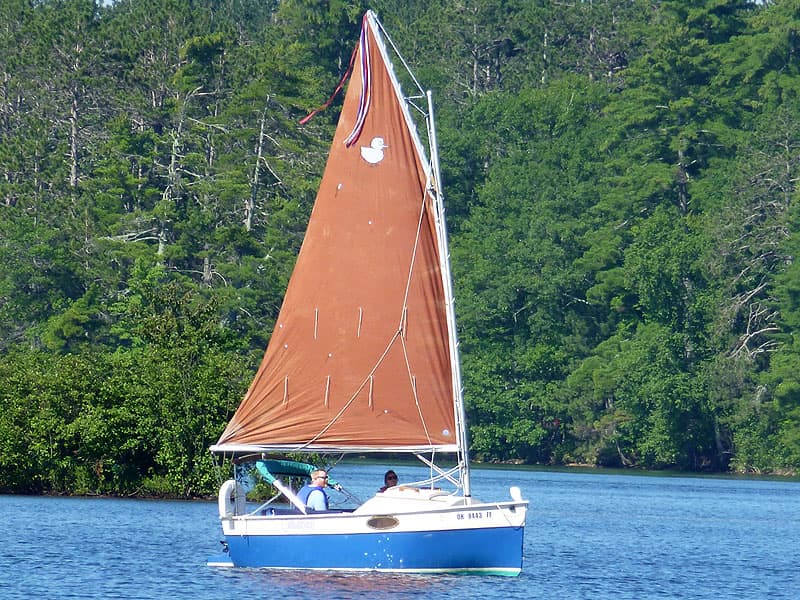 We sail strictly for pleasure.  We can tow the boat with our rig anywhere and put it in and out of the water easily due to the design of the boat.  We can even camp in the boat, but we seldom do that now because we have our truck camper.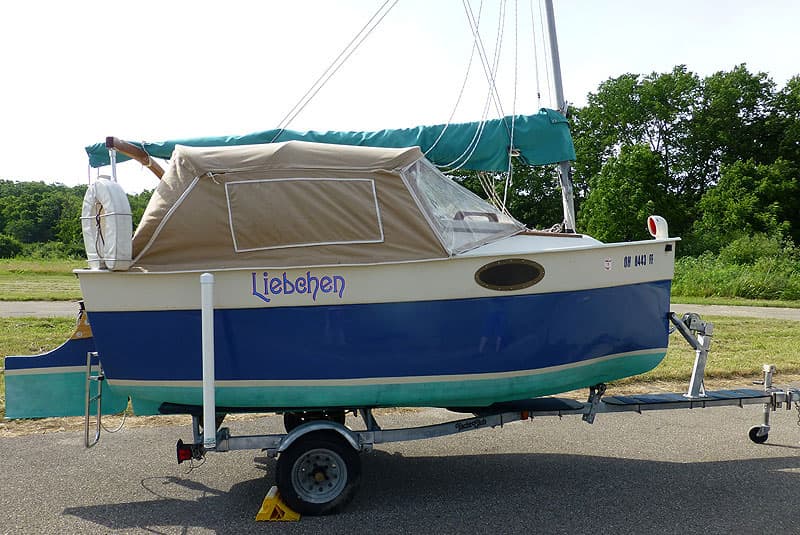 John: The Peep Hen is a lightweight boat, even though it looks big.  It's less than 1,000 pounds.  Inside it has two relatively roomy sleeping births.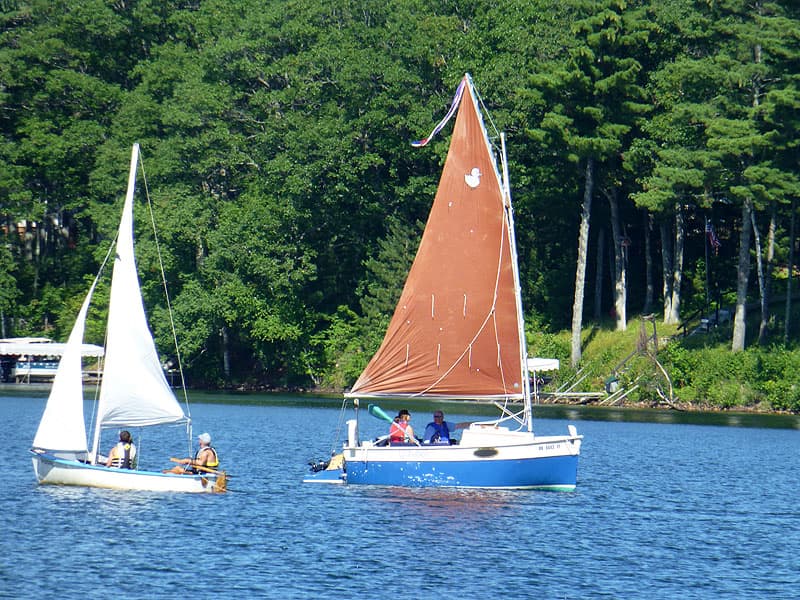 The Peep Hen is designed for shallow inland lakes.  It can be launched into water that is 13 inches deep and can be put on any boat launch.  It's easy to set up and takedown.  I specifically got this boat because the previous boat I had was the opposite.  This one is easy.  The whole setup can be put up in 20 minutes and in water in a half-hour.
We named the boat Liebchen which means "little darling" in German.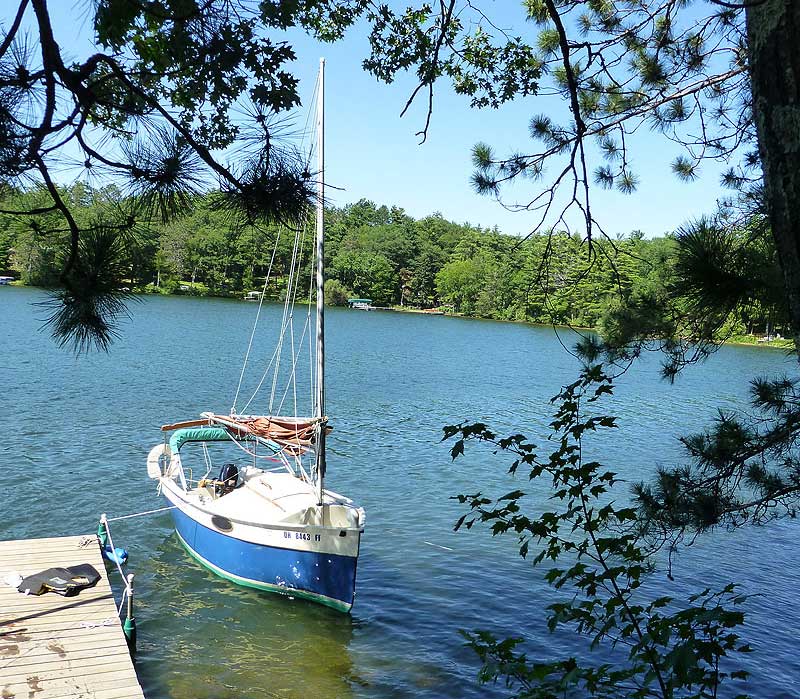 TCM: When did you get into sailing?
John: A friend in Wisconsin got me interested in sailing about 16-years ago.  She taught me to sail with a little Sunfish sailboat.  I have been hooked ever since.

TCM: Is it challenging to tow your sailboat behind your truck camper rig?
John: You need to pay attention, but it's not a difficult tow.  With the trailer, is boat is 20-feet.  The truck, camper, and towed boat rig are maybe 35-feet long.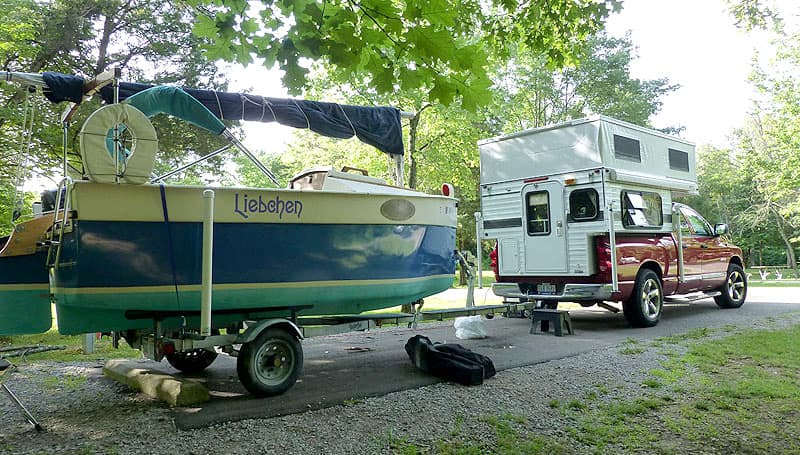 TCM: I see you have your sailboat at your campsite with you.  Is that ever a problem?
John: There are campgrounds with boat camping.  At these campgrounds, you can put your boat in the water and use their docks.
Diane: At 35-feet long, we do need larger campsites when we tow the sailboat.  And we lose a lot of the go-anywhere, park anywhere capability of the rig by itself. With our truck camper and boat, we have figured that we could sleep seven people if we needed to.  The boat can have four people, and the camper can have three to maybe four people.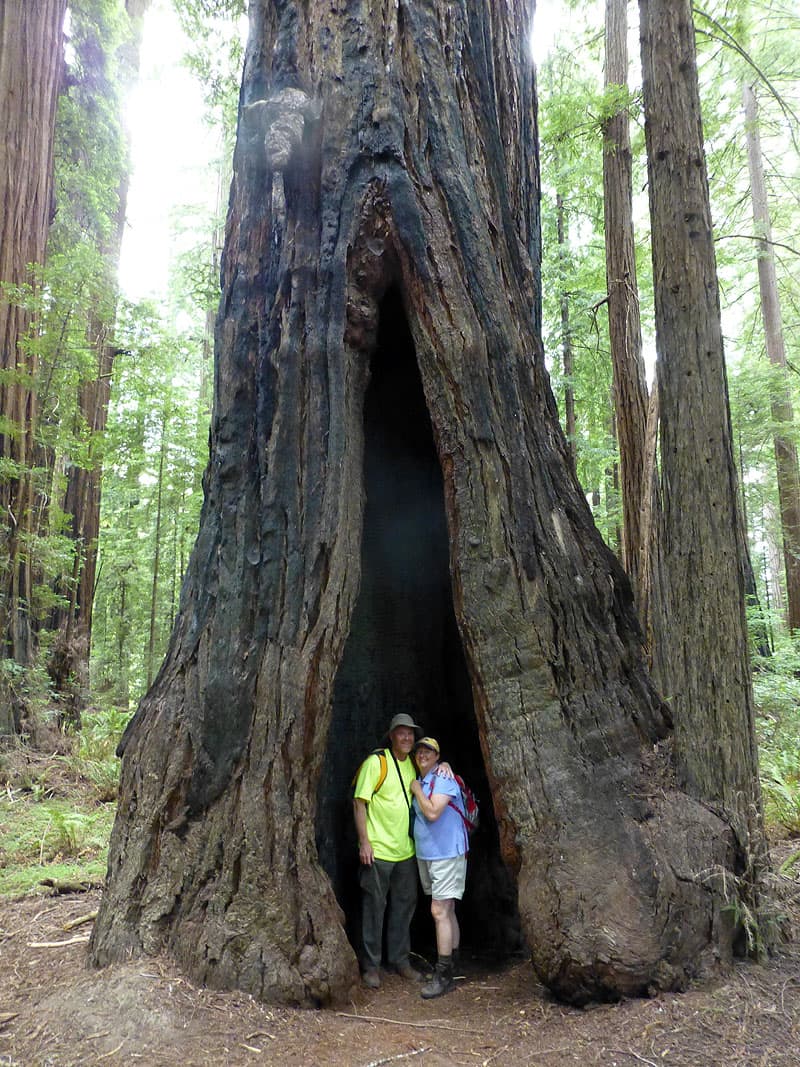 Above: King's Canyon National Park, California
TCM: We could fit up to five in our camper; two in the cabover, two in the dinette, and one in the bunk above the dinette – but they better all be friendly!  Other than sailing, what do you enjoy doing while truck camping?
Diane: We like to explore national parks and national forests.  We especially like to stay in the national forest land and small campgrounds.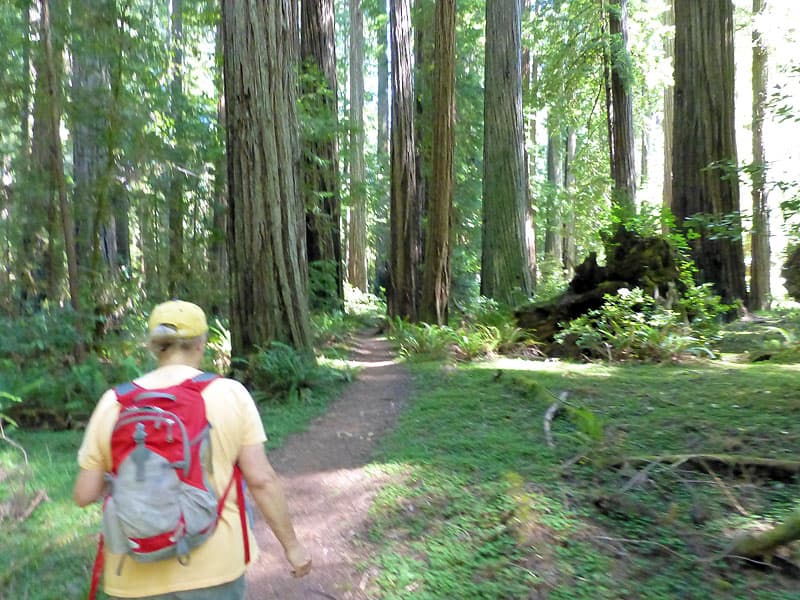 Above: The Redwoods, Founders Grove hike
Hiking is the main hobby we enjoy, and we love to take photographs.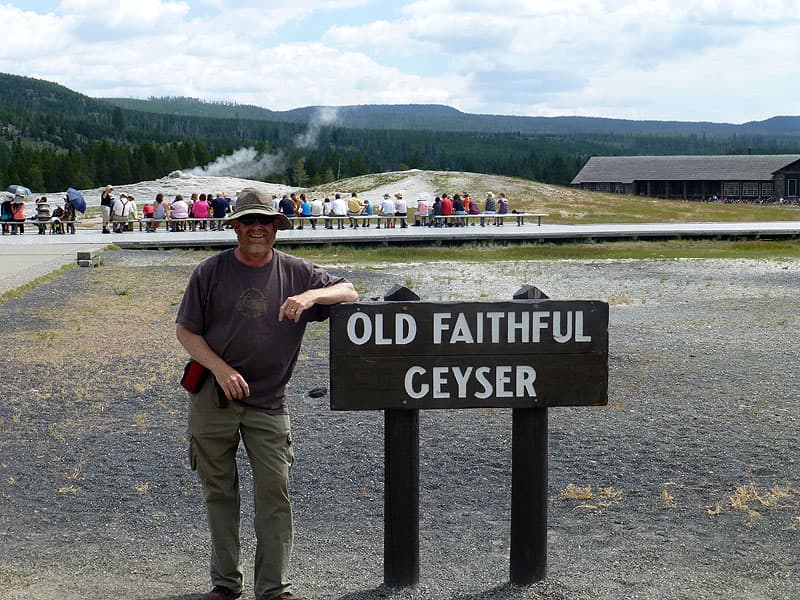 Above: Yellowstone National Park, Wyoming
We have been to many US national parks including Hot Springs, Grand Canyon, Bryce Canyon, Rocky Mountain, Kings Canyon, Grand Tetons, and Yellowstone.  We have also been to a good number of Ohio state parks.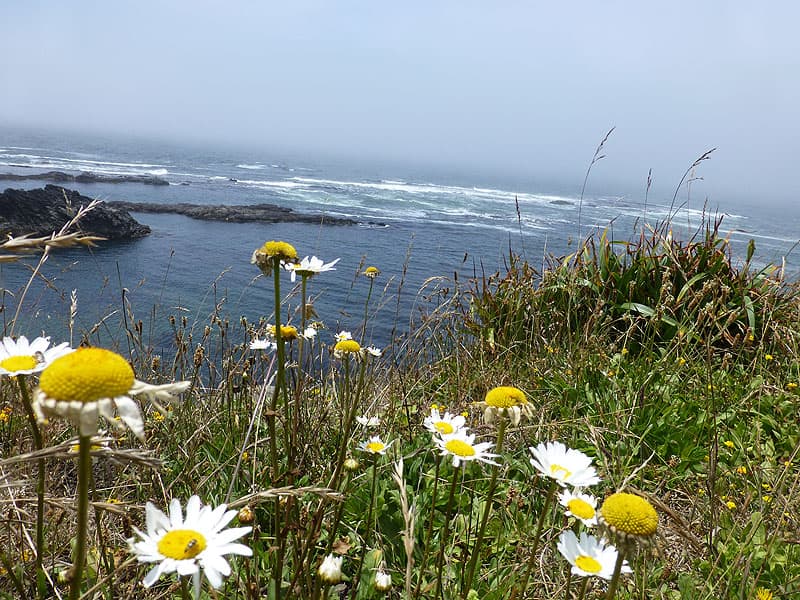 Above: The California Coast
TCM: Last year you went on a big truck camping trip out west.  Tell us about that trip, and any advice you have for fellow truck campers.
Diane: We went from Ohio to California, up the west coast, and returned home.  Along the way, we went to seven national parks and explored a good number of national forests.
It was 7500 miles of wonderful experiences.  It was the first time we had ever done this type of trip.  We went for 30 days and did not make reservations.  Sometimes that worked out well, and sometimes it didn't.  For example, we did not get a campsite at the Grand Canyon but camped in the national forest just outside.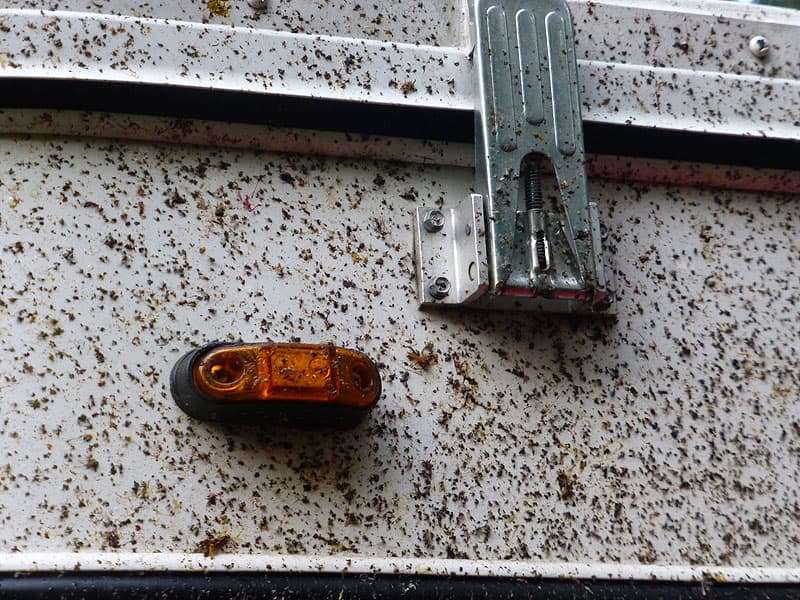 Above: The bugs on their camper after their 30-day trip
John: Reservations for the national park campsites are a good idea to ensure that you get a campsite.  We were willing to be turned away, which happened at the Grand Canyon.  We went all the way down into the campground, and the person just before us got the last campsite.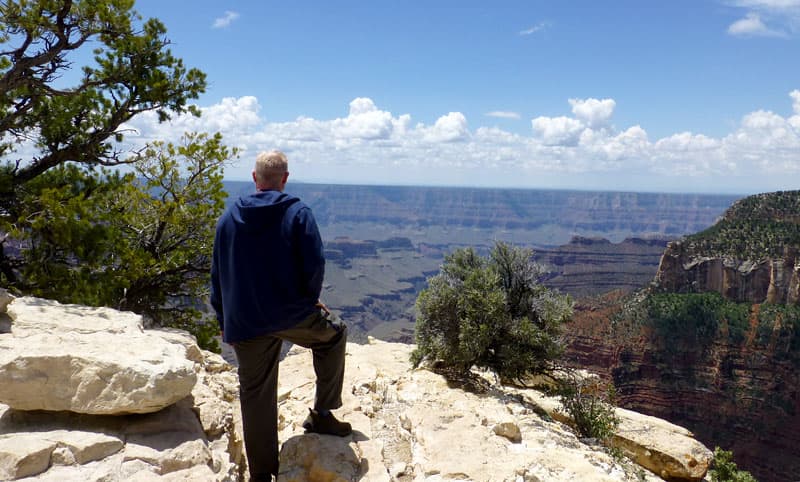 Above:  John and Diane at the North Rim, Grand Canyon
Fortunately, just outside the park is a national forest, and we got the last site there.  If those had been full, we could have gone to a dispersed camping area.  In the national forests, you can camp alongside logging roads.  It's free there.  Since we don't have a toilet in our camper, we prefer campgrounds.
Diane: We should note that the national forest campground areas are often rugged and remote.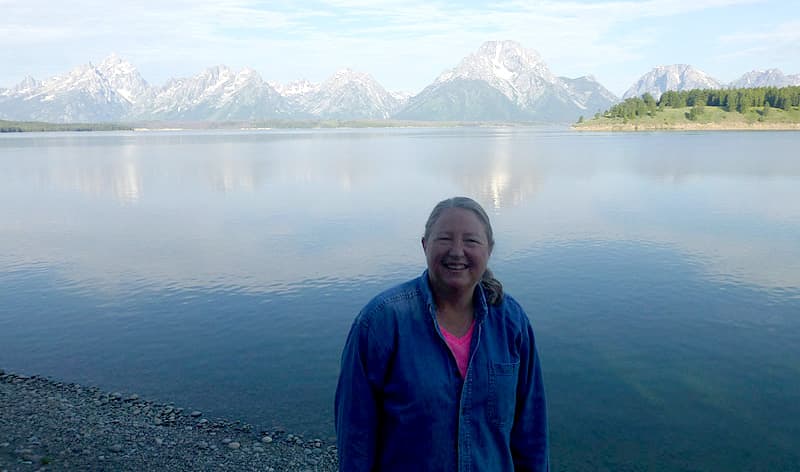 Above: Diane at Jenny Lake in Grand Teton National Park
John: When we went to Grand Teton National Park, we camped in the national forest just outside the night before.  Very early the next morning, we got a campsite from the daily shuffle of people leaving.  If you're just showing up at a national park without a reservation, you need to get there early in the morning.  Then you can usually get a good spot as people leave.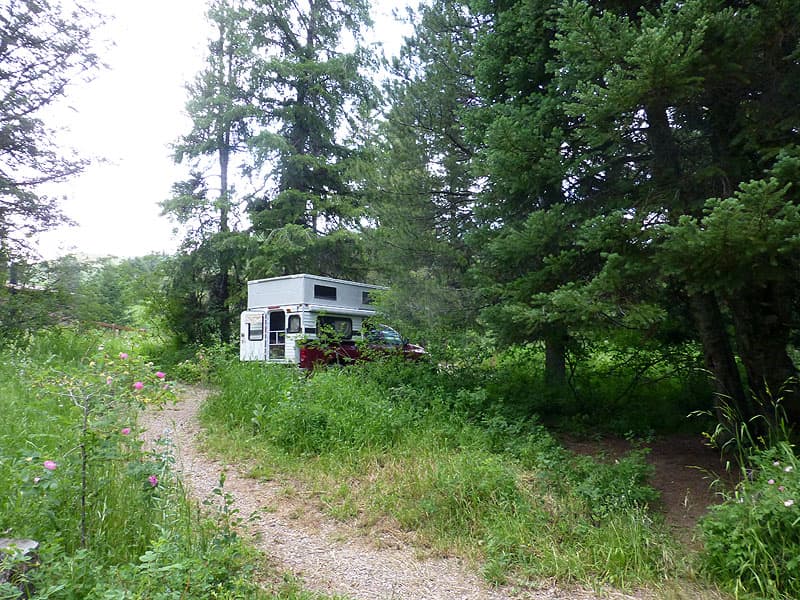 Above: National forest camping outside Grand Teton National Park
Diane: Sometimes people walk around the campsites asking if you're leaving.  You can also look at the campsite posts to see if there's a reservation the next day, or for three days from now.  Sometimes you can find good spots that are open.
John: If you're only staying a night or two, you could be in luck.
Diane: We prefer to not make reservations because we don't want to be forced to be somewhere on a particular date.  For instance, we hadn't planned on going to Yellowstone or the Grand Tetons but were able to because we were flexible about where we camped, got there early, and were only staying a night or two.  This flexibility is an important part of truck camping for us.  It's wonderful.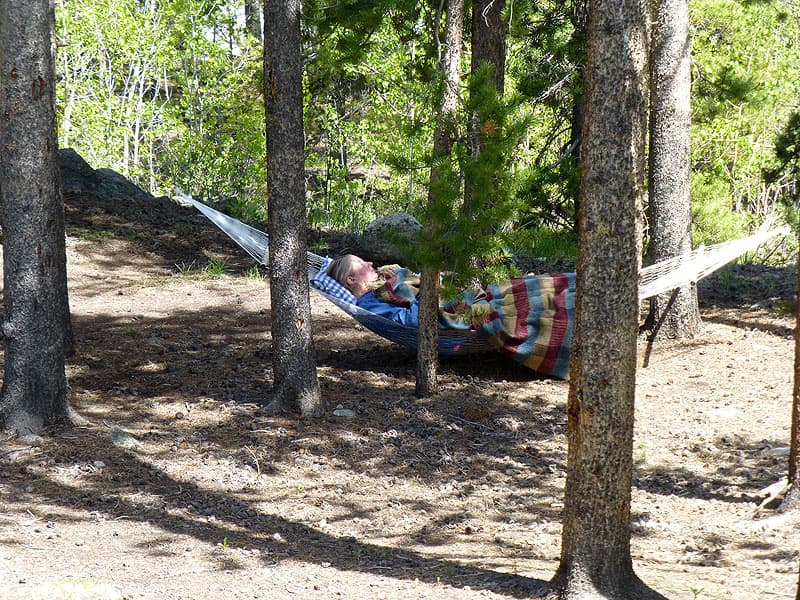 Above: Colorado Rockies, nap time in the hammock
John: I'm a school teacher, so my time off has to be in the summer.  My preference is to go in early June to July as those times are less busy than late summer.  Both of us also prefer cooler weather.  When it gets hot, we go north and seek out a nice breeze near a lake.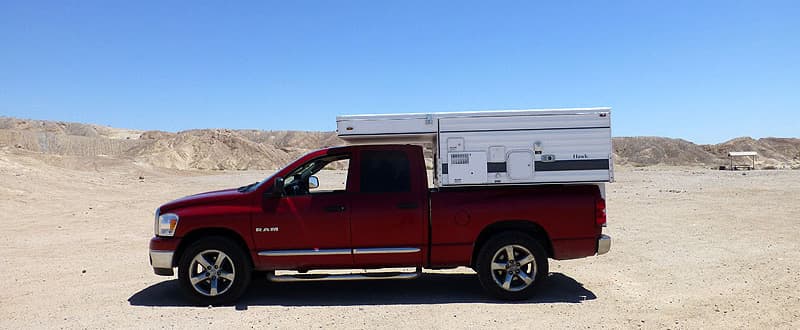 Last year it was 108 degrees in the Mojave desert.  I looked at Diane and I said,  "I'm not stopping until it's 82 degrees, or less".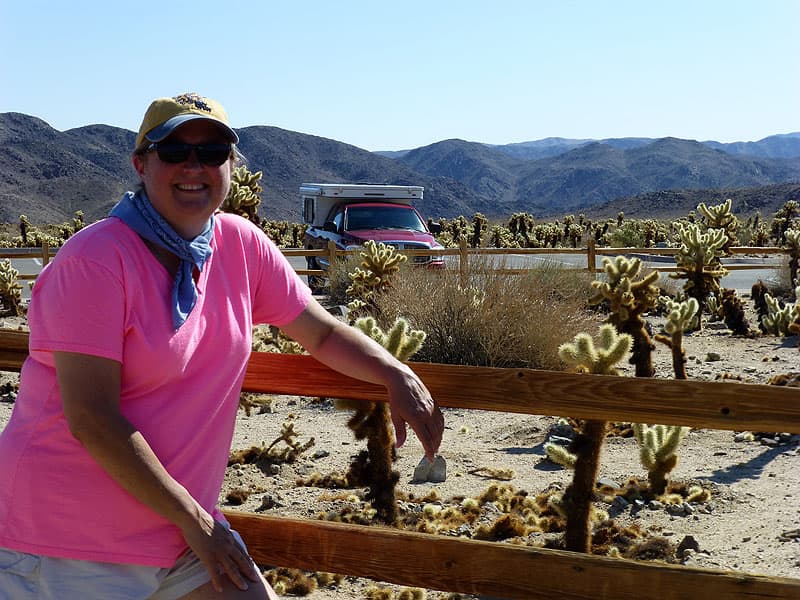 Above: Diane in Joshua Tree National Park, California
Finally, we got to Joshua Tree National Park in California.  As we climbed in elevation, the temperature kept dropping.  That night it was a cool and comfortable 78 degrees.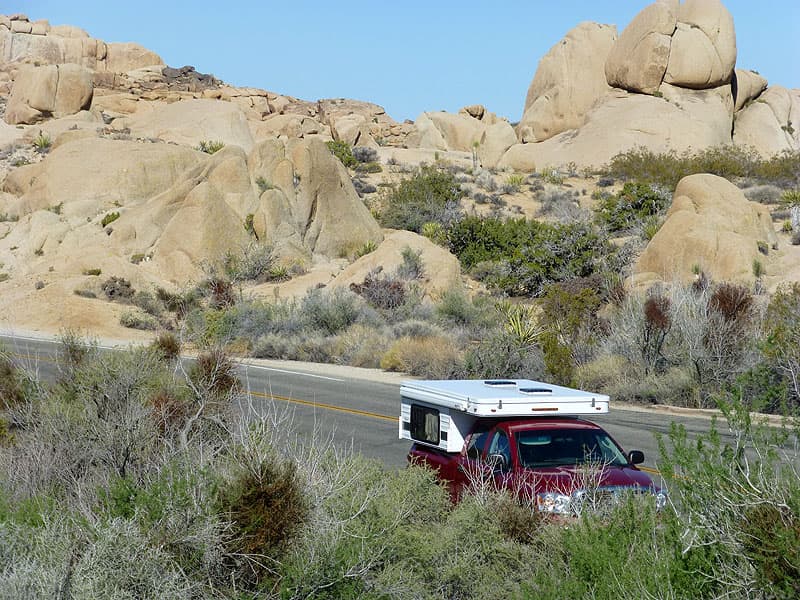 Above: Joshua Tree National Park, California
TCM: Do you mostly dry camp, or do you prefer being hooked up to power and water at a campsite?
Diane: We prefer camping off-the-grid.  We are particularly fond of national forest land.  We don't have a bathroom so we are used to going natural.  We hardly ever hook up to electric or water.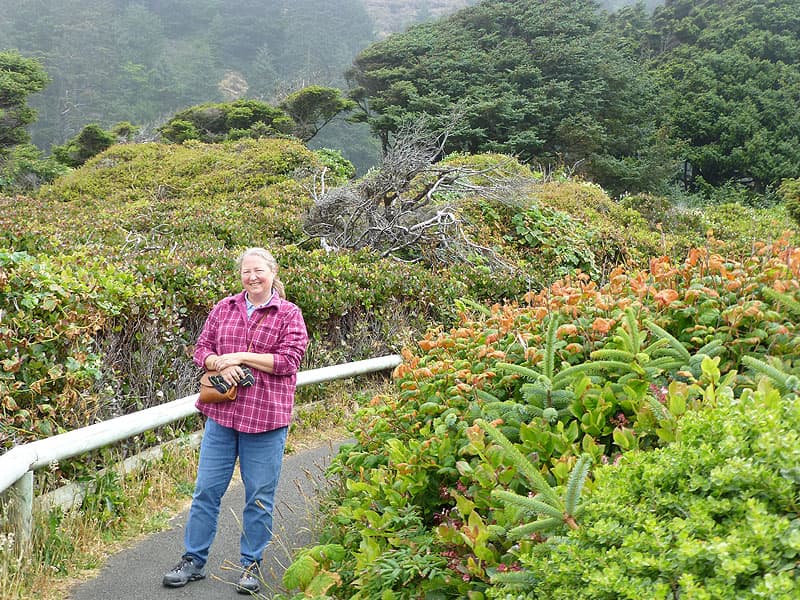 Above: Diane on a trail on the Oregon coast
TCM: How do you find places to camp on national forest land?
John: Just the other week we were driving through eastern Ohio trying to access a national forest, but access was blocked by private property and we ended up staying at a Walmart.  Part of finding good national forest campsites is trial and error.
Diane: In Virginia, we went up a mountain with switchbacks.  John had a detailed Gazetteer since we don't trust our GPS for off-road situations. When we went to Arkansas, we got on a back road that was amazing!  Again we did not trust the GPS and relied on old-fashioned maps.
John: Gazetteers show campsites.  Another great resources are park rangers.  They will often help you find dispersed camping sites.  They will also fill you in on bad areas. We like to stop in the ranger stations in the national forests.  Each national forest has a ranger station that we can find with our smartphone or GPS.  They have off-road maps available too.
TCM: You said that you've camped at Walmart in your pop-up camper.  Walmart parking lots are very public places.  Are you comfortable camping at Walmart in your pop-up?
John: In my opinion, the pop-top is not that much more vulnerable than a hard side.  You would have to have a ladder handy to get in.  It would be easier to break through the entry door.  I sleep with a baseball bat and bear spray.
There are a lot of Walmarts near recreational areas.  You'll usually find a group of RVers parked there.  Safety in numbers is good.  That's one reason why we prefer campgrounds versus Walmart or dispersed camping.
Diane: We recently discovered that you can park overnight at Cracker Barrels and casinos.  We had no clue you could stay at casinos.  We don't ever want to go to a Walmart, Cracker Barrel, or casino as a first choice, but they're an option if we're passing through.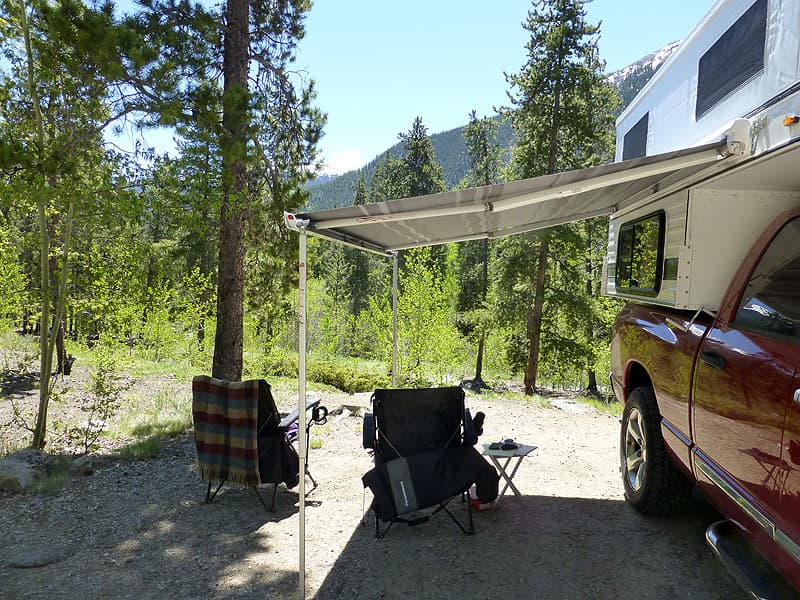 Above: Colorado Rockies, Twin Lakes Campground
Our first choice is a campsite with a campfire ring.  We don't stay inside our camper.  We like to cook over a campfire.  When we were at Bryce, everyone stayed inside their RVs and campers.  That's not camping to us.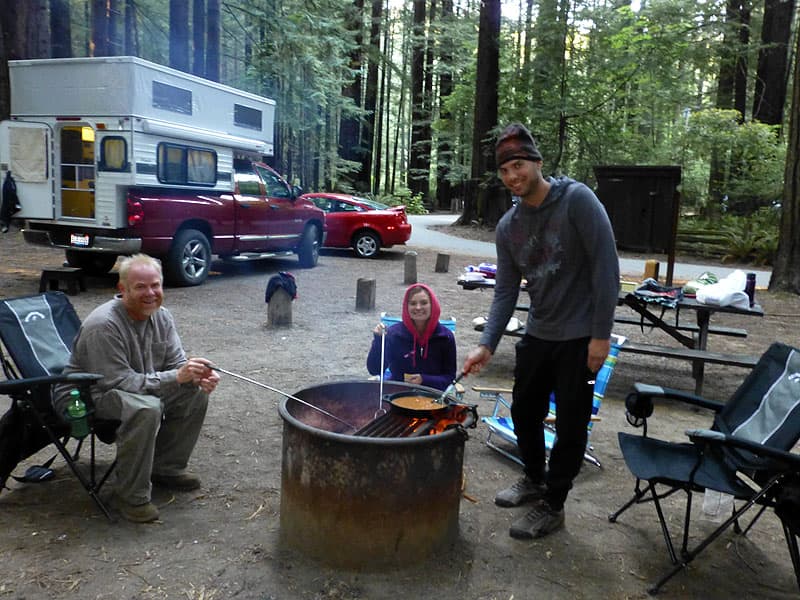 Above: Diane and John use the bear boxes when they are provided, Humboldt State Park, California
TCM: Many of the national parks you listed are deep inside bear country.  Was that a concern with your pop-up truck camper?
John: That was a big concern before we left on our big trip last year.  Being from Ohio, we have no experience with bears.  If there's a bear in Ohio, it's lost. As we traveled, we talked to the rangers about the bears.  Their recommendation was to use the bear boxes at the campsites and to keep all other food items inside the refrigerator.  That was their best advice.
When we were in the Tetons there was a bear in the campground, but it didn't bother us.  We took advantage of the bear boxes when they were available.  We kept all of our non-refrigerated dry food in the cab of the truck.  If a bear took interest in our rig, the bear would go into the truck instead of the camper.  I didn't feel vulnerable once I got used to the idea.
TCM: Does anyone travel with you?
Diane: We don't have anyone stay in our camper, but we did have our adult children join us on a trip along the California coast in 2015.  We have had friends join us with their tents.
TCM: What are your truck camping plans for the future?
Diane: We want to hike and take photos in Glacier National Park, Olympic National Park, Acadia National Park, the Adirondacks in New York, Alaska, Key West, and drive around Lake Superior.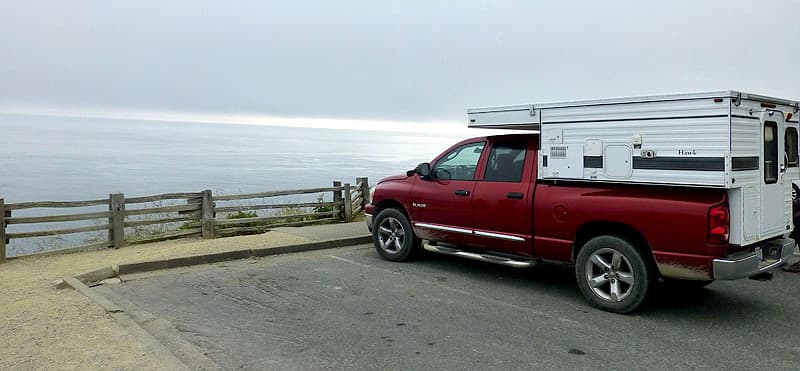 Above: Modifications include upgraded springs and tires
TCM: That sounds like a lot of fun.  Have you made any modifications to your truck or camper since you got the rig together?
John: Yes, we have made two modifications.  First, we got Firestone Work Rite springs to address a little rear sag.  They helped to stiffen the rear suspension.
Additionally, we upgraded to a higher-load range tire.  When we were on the four-wheel drive roads in Arkansas, we wound up with a flat tire.  When I got back, I selected a higher-load range tire to prevent that from happening again.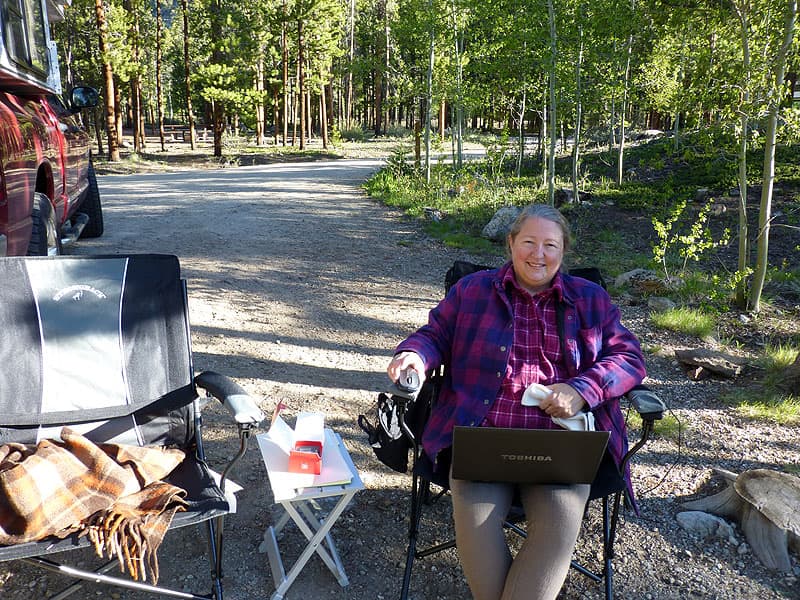 Above: Diane works while they travel
TCM: Diane, tell us about working from the road.
Diane: I work from home.  Using cellular internet, I am able to work from the camper. During our trip last year, I worked every other day.  We have a JetPack from Verizon.  It worked perfectly in several national park campgrounds.  That gave us tremendous flexibility.
John: With two batteries in the camper, Diane was able to work all day long.  We have an inverter for when she needs to plug-in or charge her laptop, but mostly she worked without being plugged in.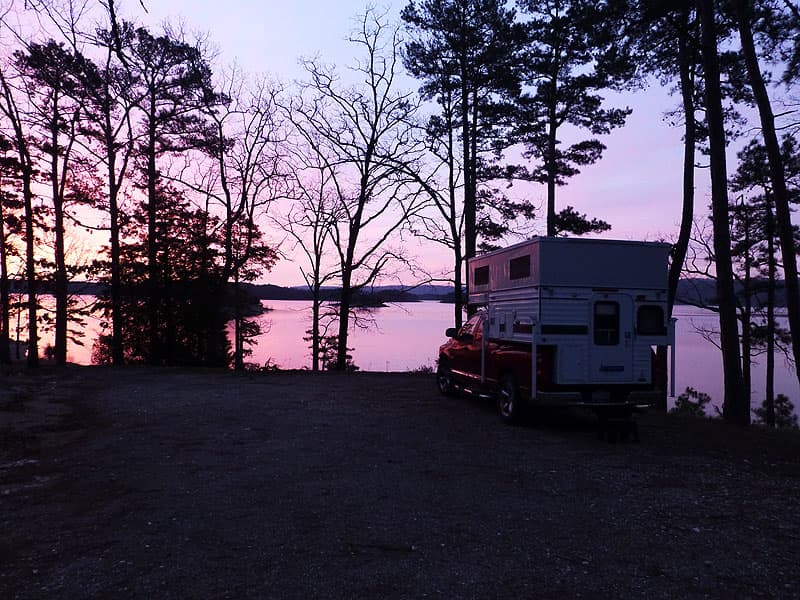 Above: Lake Ouachita near Hot Springs, Arkansas
TCM: We often work from the road and also use a Verizon hot spot.  The coast-to-coast phone and internet coverage we've enjoyed over the years is simply incredible.  Any other tips for our readers?
Diane: The national forests have metal boxes to deposit your campsite reservation and payment.  These metal iron rangers require cash, and we were running low here and there.  Like most of society, we use credit cards.  So make sure you have cash for campsites, laundry, and pay showers.
John: We camped at an excellent Corp of Engineers campground in Arkansas the week before the kids in Arkansas kids went on Spring Break.  We practically had the whole campground to ourselves.  That's the way to do it. We do our best to follow the weather.  That's why we went to Arkansas as the rest of the eastern United States was clogged with snow and rain.  We looked at the weather forecast and Arkansas was going to have good weather.  We love that flexibility.
Diane and John's Rig
Truck: 2008 Dodge Ram 1500, Extended Cab, 4×4, Gasoline, Single Rear Wheel, Short Bed
Camper: 2013 Four Wheel Hawk
Tie-Downs/Turnbuckes: Bolted in truck bed
Suspension: Firestone Firestone Work Rite springs
Gear: None
To visit the Four Wheel website, go to fourwheelcampers.com. Click here for a free Four Wheel brochure.