Gerald Kato challenges the hobbies per truck camper-foot record with mountain biking, windsurfing, fly fishing, fiercely competitive pickle ball, and more.  He also reveals his real world experiences with the Alde hydronic heating system.

Cirrus exploded onto the truck camping scene in mid-2015 with a truck camper bristling with state-of-the-art features never before seen in a truck camper.  By far the most interesting of these features was the Alde Compact 3010, a hydronic heating system that replaced both the furnace and the hot water heater.
When we learned that long time Truck Camper Magazine reader Gerald Kato had (a) finally returned to his senses and bought a truck camper again and (b) purchased not one but two Cirrus truck campers, we had to ask him the big question; what did he think of the Alde system?
Well, that one question led to another, and then another, and then something happened.  Before we knew it, we were talking about folding mountain bikes, windsurfing in the mid-1980s, remote fly fishing in Montana, and something called the USAPA, aka the United States Pickleball Association.
You see, Gerald is one of those people who veraciously pursues life to the fullest and stops at nothing when he discovers something that captures his attention.  You can't just ask him about the heating system in his camper without tripping into topics as fun and far flung as fly fishing and pickle ball.  Sound inspiring?  He is.
So put on a bike helmet, pick up that surfboard, cast a line, and get ready to serve.  It's time to mountain surf the fishing pickle with Gerald Kato.  First stop, the Alde system.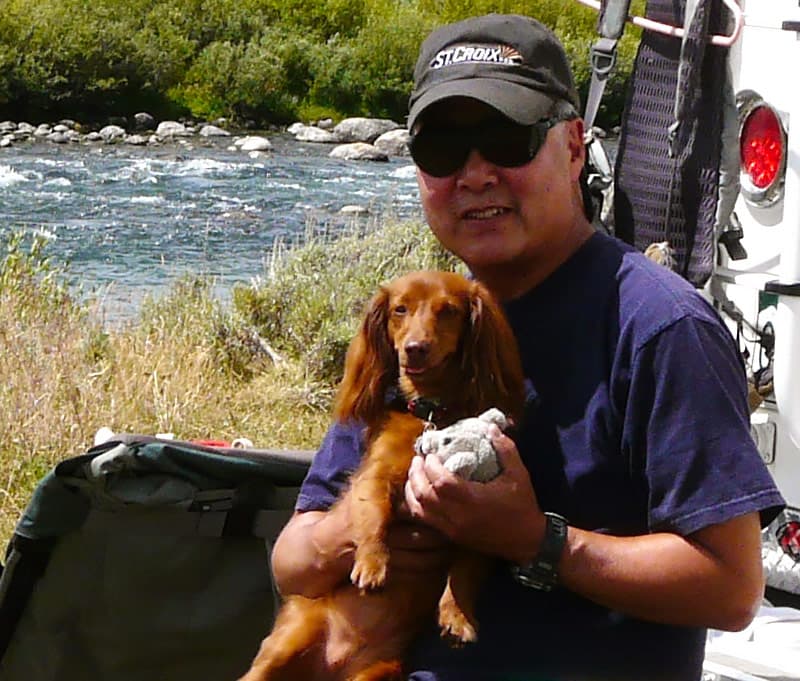 Above: Mati and Gerald Kato
TCM: You have owned a great number of RVs and RV types.  Talk to us about the different RVs you've owned, and why.
Gerald: I grew up in the Seattle area of the Pacific Northwest.  My parents took us camping every weekend.  The kids slept in an old Army tent and my parents slept in the station wagon.
All through high school and college, I camped in my pickup truck and topper.  When I later moved to Vail, Colorado, I did a lot of backpacking and tent camping.
I bought my first truck camper back in the 70s and put it on a half-ton Chevy K1500.  My second truck camper was a fishing hut that was made in Colorado.  Both campers had three-point hand-crank jacks.
After the fishing hut, I owned many RVs; pop-up trailers, a partial pop-up hard wall Sunlite, three Class B vans, a VW camper van, and a Class C.  Along the way, I remembered the great times I had in my old truck campers, and the freedom to go anywhere.
I finally returned to truck campers in 2005.  I had an Arctic Fox 860, but found it too cumbersome to reach the places I love to fly fish.  Many of the roads to these spots are unpaved, narrow, and have overhanging steep cliffs.

Above: Gerald's Hallmark pop-up camper
A pop-up camper was the obvious answer.  I bought an Outfitter Apex, and then traded up to a Hallmark Ute XS.  The Hallmark was excellent, but my wife and dog wanted more space.  My next camper was a Lance 845.
From 2009 to 2016 I owned several Lance travel trailers, but once again missed the freedom of a truck camper.  As a Truck Camper Magazine reader since 2007, I was constantly reminded of this.
Then, in 2015, I saw the Truck Camper Magazine announcement for the Cirrus 800 truck camper.  I was sold on the forward thinking and modern design including the new to America Alde heating system and Froli bed system.
I immediately contacted my local truck camper dealer, Holiday RV in Poncha Springs, and learned they were picking up the Cirrus line.  When Holiday RV got a Cirrus 800 in stock, I purchased it.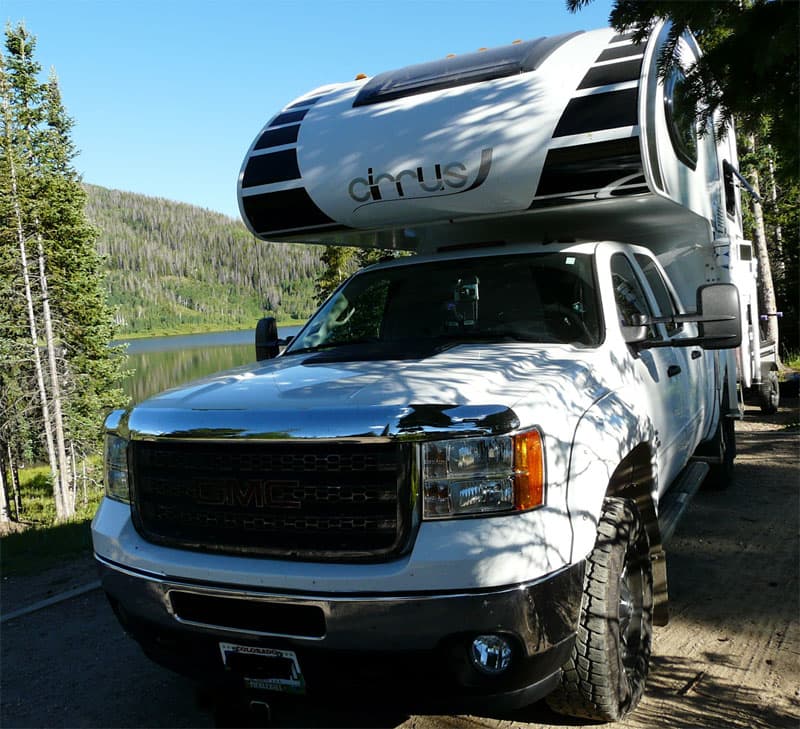 Above: Gerald's Cirrus 820 at Molas Lake, Million Dollar Highway, Silverton, Colorado
TCM: Glad we were able to reel you back in.  You now own a Cirrus 820.  What led you to upgrade to the newer Cirrus model?
Gerald: After I got the Cirrus 800, I contacted nuCamp and had several conversations with their design and marketing teams about what I liked and did not like about the Cirrus 800.  Specifically, the capacities were too small.  The camper needed larger holding tanks, dual batteries, and dual propane tanks.  The location of the Alde system was also an issue as it consumed nearly all of the lower kitchen storage space.
Fortunately, nuCamp was already working on the Cirrus 820, a new model that addressed most of my concerns.  When the Cirrus 820 was completed, I traded in the 800 for the much improved 820.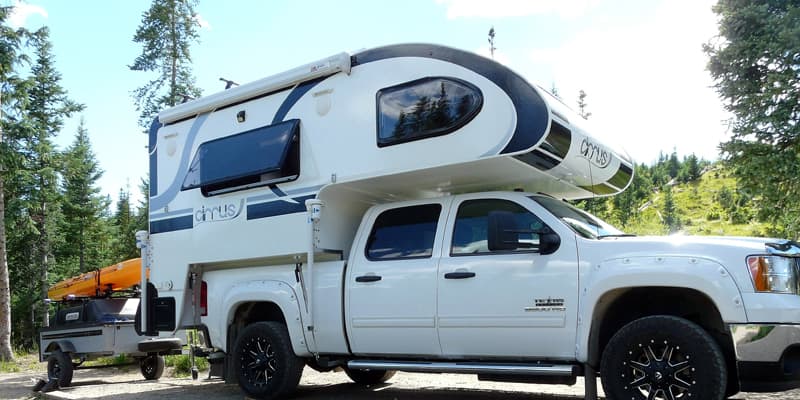 Above: Camping in Pear Lake, Colorado
Since I had been involved in the feedback for the 820, I arranged to purchase the very first 820 off the nuCamp production line.  As a special situation, I was able to pickup my camper at the nuCamp factory in Sugar Creek, Ohio.
NuCamp is one of the best run companies I have ever run across.  Their facility and product line is extensive, but their teamwork philosophy and culture is like a family run business.  The plant is clean and well organized.  You could literally have a picnic on the floor anywhere in the plant, as long as you didn't interrupt production.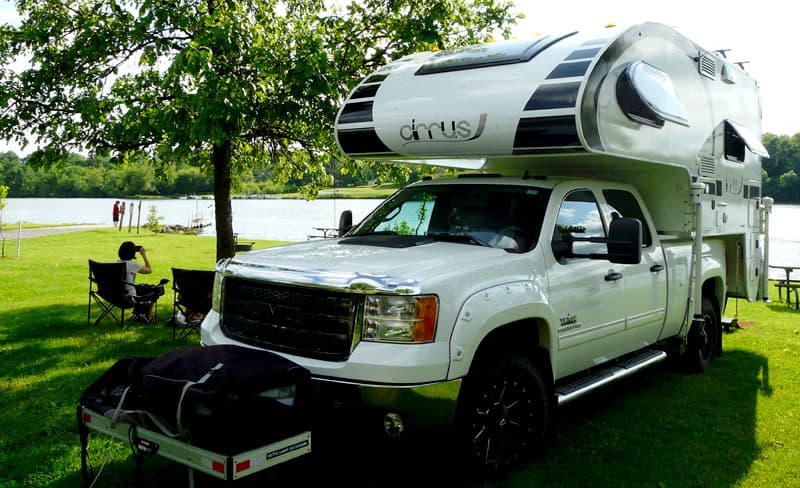 Above: Camping on a lake in Kearney, Nebraska
TCM: We were also impressed with nuCamp during our factory tour in 2016.  You have the unique perspective of having owned both the Cirrus 800 and 820.  What are your impressions of the 820 now that you've had it for a while?
Gerald: Your factory tour article was so thorough.  Even though I had been to the factory I learned things about Cirrus campers.  Anyone interested in a Cirrus should read it.
The list of things I like about the 820 is extensive; double pane insulated windows, front insulated window above the bed, larger holding tank sizes, two batteries, two propane tanks, one-piece no-maintenance seamless aluminum roof, rear aluminum porch and bumper, and the significantly improved interior storage throughout.
They kept everything I liked about the 800, and nailed everything on my wish list.  More importantly, the workmanship is the best I have seen in any RV.  This is backed by nuCamp's top-notch customer service.  They really are dedicated to building the best truck camper in the marketplace.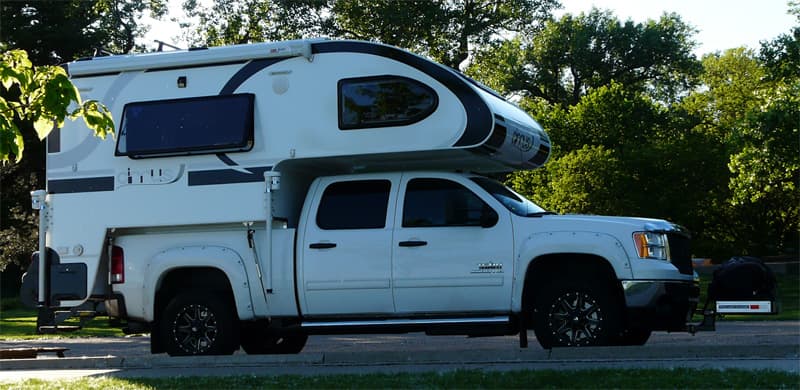 Above: The Cirrus 820 is for a short bed truck, Mohican State Park, Ohio
TCM: How about the size of the 820?  Has a short bed, hard side, non-slide truck camper been big enough for your needs?
Gerald: The size of the 820, even without a slide, is perfect for the two of us and our dog.  A slide-out would open up the floor space, but I prefer not having to worry about mechanical failures.
Like the 800, the 820 is a great truck camper for a short bed, single rear wheel truck.  You need at least 3,500 pounds of payload capacity, but that's very doable in a late model three-quarter ton or one-ton short bed.
TCM: Tell us about truck camping with the Alde hydronic heating system.  What's it like to use the Alde system day to day?
Gerald: The Alde heat system is like magic.  It's totally silent and efficient.  I have run the system 24 hours a day and it uses very little propane.  The radiant heat is the same in every part of the camper including the floor, walls, and bed.  With the Froli bed system, the heat is underneath the bed, and there is no condensation.
The system incorporates the water heater with almost instant hot water and instant recovery.  That's been fantastic.
The Alde takes a bit longer to heat the camper when first turned on but, again, it's more efficient, totally silent, and heats evenly throughout the camper.  If it's cold out, we leave it on all the time.  The Alde system is probably the most innovative part of the camper.
TCM: How is it different than the forced air systems you've had in your previous RVs?
Gerald: The gas furnaces in RVs have uneven heat throughout the camper.  In a couple of my truck campers there were sections in the camper where the temperature was different.  For example, the dinette would be hot and the bedroom would be cold.
With the forced air furnaces, I would set the camper at 55 at night and I would go through a 20-pound propane tank in three days.
When we were in Pagosa Springs, Colorado with our Cirrus last spring, I had the refrigerator on, used the stove, and ran the Alde heat 24-hours a day for five days.  I was still on the first tank and it was still in the green.  It was like the Alde system wasn't even using the propane.
The Alde system also uses less amperage than a forced air heating system.  As you know, the fan in a forced air heating system consumes a lot of amp hours.
With the Alde system, my batteries never dip below 12.7 or 12.8 at night.  Within 45 minutes in the morning, my solar panels have the batteries back at full charge.  Since owning the Cirrus, we have had zero concerns about the heater and the power it's using.  I am more concerned about the television's amp draw.
My only concern about a closed, hydronic system is with the heat convectors and plumbing located behind the kitchen walls and nose of the unit.  I wonder what would happen if something that needs to be fixed.  The Europeans have been using Alde systems in their RVs for a long time, so I'm really not that concerned about it.  The Alde system has worked perfect.  I think Airstream has gone to the Alde system in their flagship camper.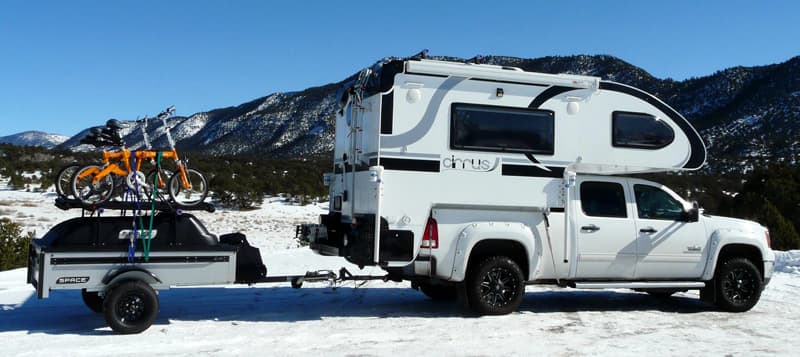 TCM: Tell us about your utility trailer and what you tow with it.
Gerald: Ever since we've had truck campers, I've had a utility trailer.   Once I spent an entire winter building a waterproof trailer for fly fishing and storage.
I started researching utility trailers when I needed one for the Cirrus.  During my research I came across Space Trailers.  They've been out a few years.  The brother of the owner moved to Denver and opened up a shop.  I went and talked to him and examined how they are made.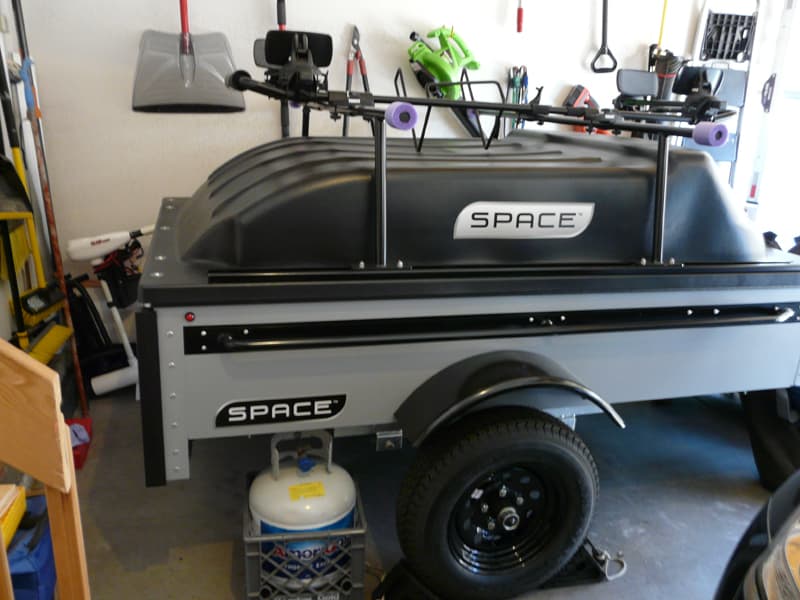 My 7-foot long neck Space Trailer can hold up to 1,000 pounds of gear.  I got the long neck extension so I can turn 90-degrees and not bump into the camper.
The footprint is 7-feet by 4-feet, and the raised fiberglass top can hold over 300 pounds.  You can open the lid with all the toys on top.  It has struts so it opens with one hand.  It's also 100% waterproof.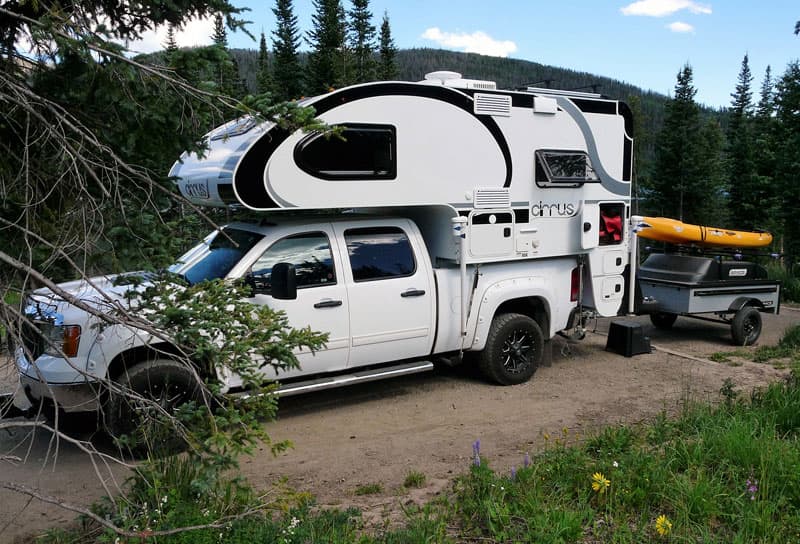 Above: Pearl Lake near Steamboat Springs, Colorado
One of our previous RVs was a 24-foot Lance trailer.  My truck had a fiberglass cap in the back, so we'd put in extra gear in there.  I'd put the kayaks on top of the truck and the lawn chairs, barbecue, and fly fishing equipment went inside the bed.
With this new Space Trailer, I can bring more than I could bring with the trailer and truck cap.  Now we can put things in and on top of the Space Trailer.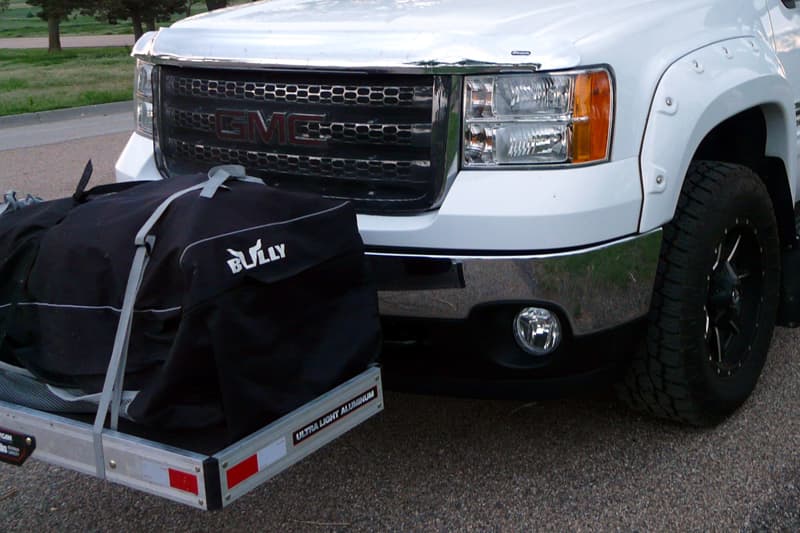 TCM: What other modifications have you done to your Cirrus rig?
Gerald: With my previous truck campers, I had a Ram truck and 19.5 wheels.  It was hard to access and remove the 19.5 spare, so I added a heavy duty front hitch and spare tire mount.  That worked well.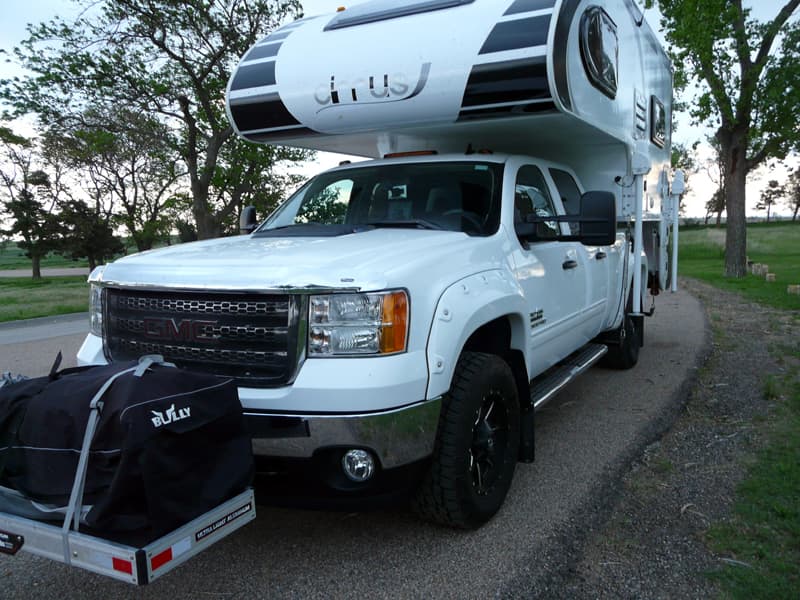 With the Cirrus 820 I can easily get to the spare tire.  So now I use the front hitch to hold an aluminum cargo tray.  Sometimes I'll store our inflatable kayak and gear there.  Our folding chairs are also stored there along with some dry goods.  It's a multi-purpose front hitch and tray.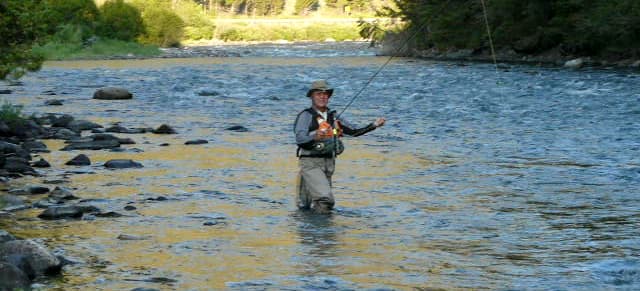 Above: Flyfishing on the Madison River in Yellowstone National Park, Wyoming
TCM: What do you enjoy doing while truck camping.  You already hinted at fly fishing.
Gerald: Yes, my first passion is fly fishing in Colorado, Wyoming, Montana, Washington, and Oregon.  Most everyone has seen the movie, A River Runs Through It and has probably seen fly fishing in action.  For me, it's about being outdoors.
Half of my fly fishing is at high mountain lakes.  To reach these spots, I have to go down dirt roads that I wouldn't dare attempt with a travel trailer.  With a truck camper, I can reach places people can't take normal RVs.  Every time I have strayed away from truck camping, I yearn for places that I can only reach in a truck camper.
I've fished almost every major river in Colorado and enjoy trophy water fly fishing rivers in Colorado, Montana, and Wyoming.  I just love camping and fly fishing at the same time.  We generally like the big lakes where we can get the truck camper right up against the water.  There's nothing better than boondocking along the lake and being part of nature.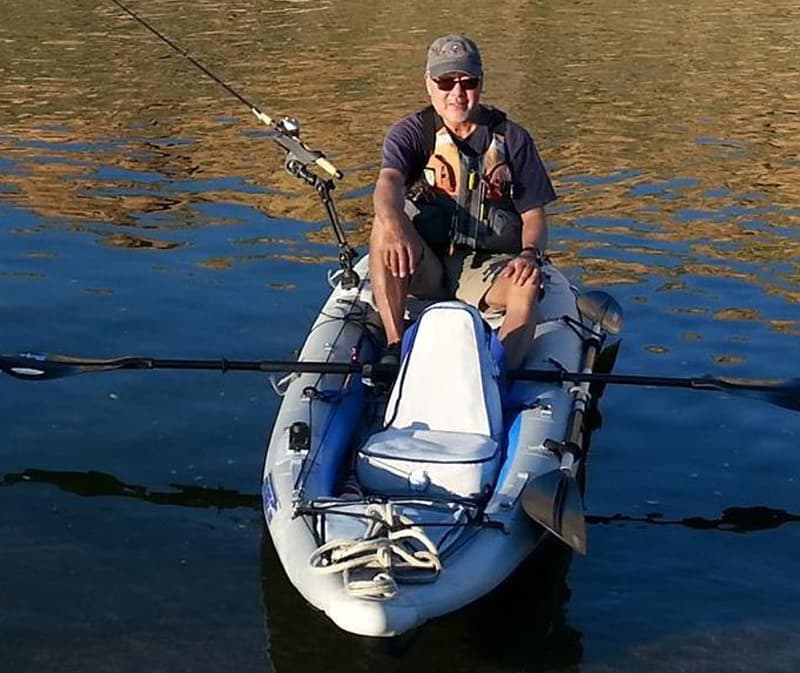 TCM: You also take inflatable kayaks.  Are they stable?
Gerald: I own a Sea Eagle 385 Fast Track with an electric motor.  The Sea Eagle is very durable.  The bottom is practically bullet proof.  My Sea Eagle kayak can hold 600 pounds, so I can take two people and my dog.
Sea Eagle has come up with drop stitch construction.  They have a honeycomb inflatable material in the floors and side walls.  The kayaks are as hard as a piece of wood.  I actually believe that they are more stable than a plastic or fiberglass kayak.

TCM: Could you puncture it with a fish hook?
Gerald: You could puncture it if you're not careful.  With inflatable kayaks, you get what you pay for.  There are some that cost $200, and some that are $2,000.  The less expensive ones are much less durable.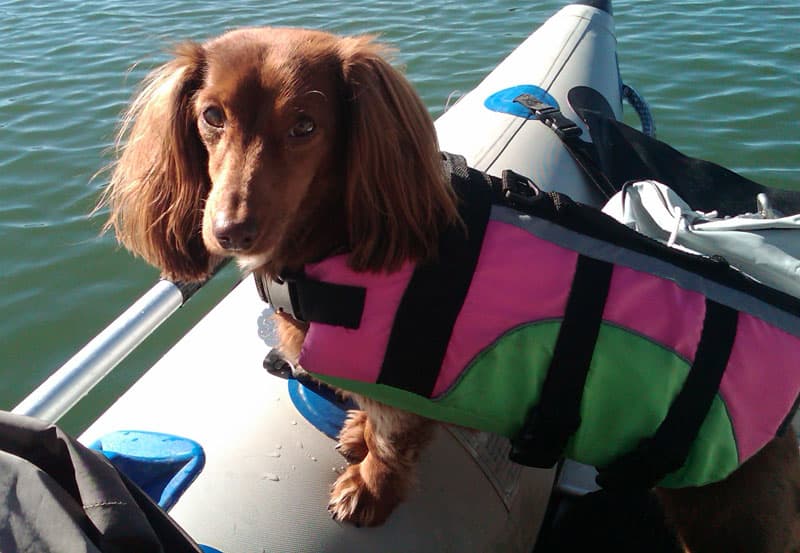 Above: Mati on the Sea Eagle kayak
TCM: How do you inflate the kayaks?
Gerald: If you get an electric pump, you can inflate a kayak in five to ten minutes.  When deflated, it folds up into a suitcase that's 34" x 17" x 12".  It's 42 pounds, so I can put it over my shoulder and carry it to a river or lake.  The portability is unbeatable.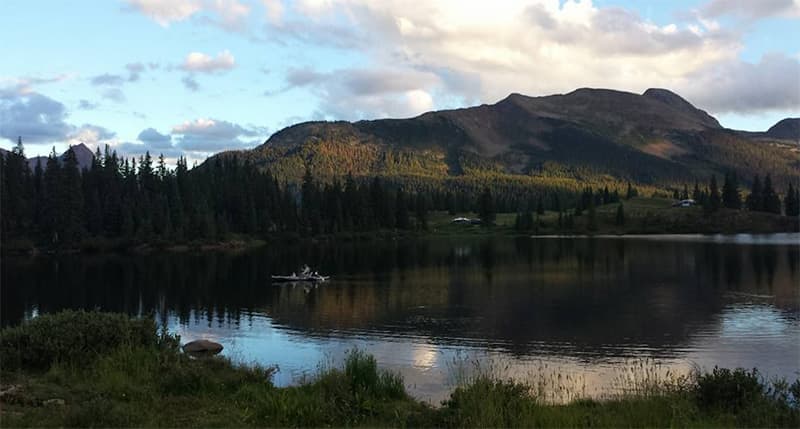 Above: Using the Sea Eagle with the electric motor
Sea Eagle makes four different kayaks that are equal to a hard shell kayak.  They even outperform hard shell kayaks as far as speed, stability, and going in a straight line.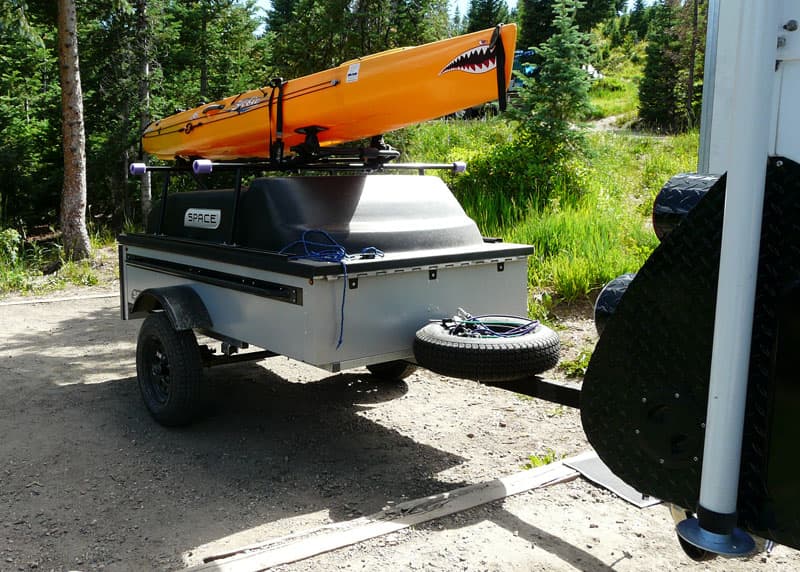 Above: One of the Hobie Mirage pedal kayaks
TCM: You also own two Hobie Mirage pedal kayaks.  Why would you bring your Hobie Mirage kayaks along when you have the Sea Eagle?
Gerald: For fly fishing I need my hands and arms free.  With the Hobie Mirage kayak I can still fly fish.  When you think about running, how far can you run with your legs?  When you think about kayaking, how far can you row with your arms?  It's basically, how far can you bicycle versus how far can you run.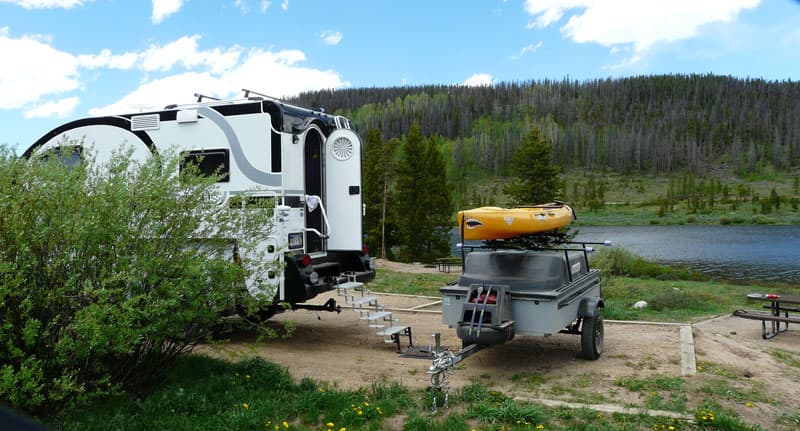 Above: Gerald's Hobie Mirage pedal kayak on his trailer at Northern Michigan Lake, Colorado
I can do 10 to 12 miles with my pedal kayak.  It's like pedaling a bicycle on level ground.  When we visit Padre Island, we have gone 17 to 18 miles down the Laguna Madre to the remote islands, had lunch, and come back without feeling it.  You couldn't do that paddling.   The Hobie Mirage kayaks are not cheap, but they're worth it.
I also have a sail kit, so I can sail the Hobie Mirage like a sailboat as well.  It's the most versatile kayak on the market.  I have an electric motor for both the inflatable and the pedal kayaks.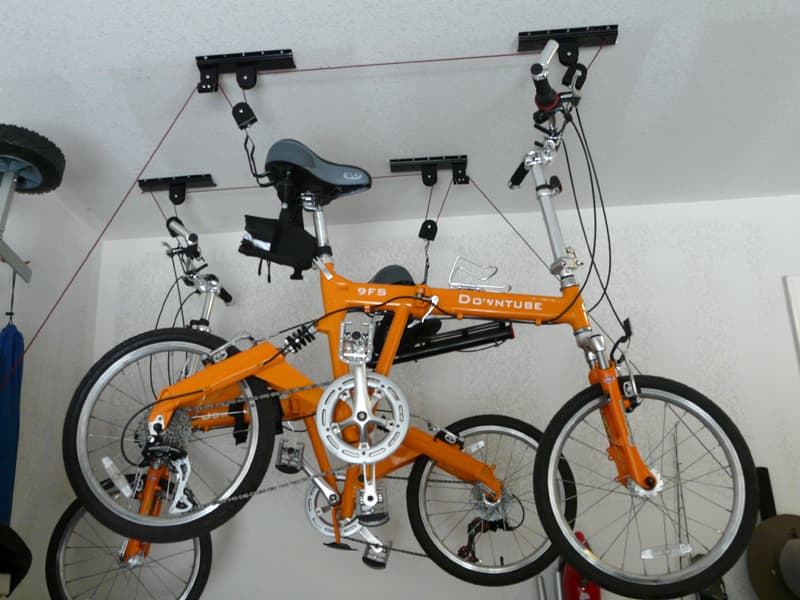 TCM: Tell us about your folding bikes and where you store them.
Gerald: For the last 25 to 30 years, I've been into mountain biking.  I've had lots of expensive bikes.  I've bicycled through Moab and throughout Colorado.
I'm at an age now where I don't want to fall off a mountain bike and not be able to recover.  I still like to bicycle, but I don't want a 50 pound bike.
I researched for about a year and decided to get two fold-up Down Tube mountain bikes because they make smaller eight-speed folding bikes.  Ours have 21 to 22-inch wheels and shocks in the front and back.
They are like a miniature mountain bike and are very stable.  We have taken them on dirt roads and we can pedal them as far as a regular bike.
They fold up and come with a carrying case.  I can put the carrying case and bike in the cab of the truck, on the front rack of the truck, or on the bike mounts on our Space Trailer.
Everyone wants to try them out.  The handlebars are high and the seat is low, so you are not straining your neck or back.  They are very comfortable.  We have Cloud 9 seats on them, so they are very soft.  We're all about comfort.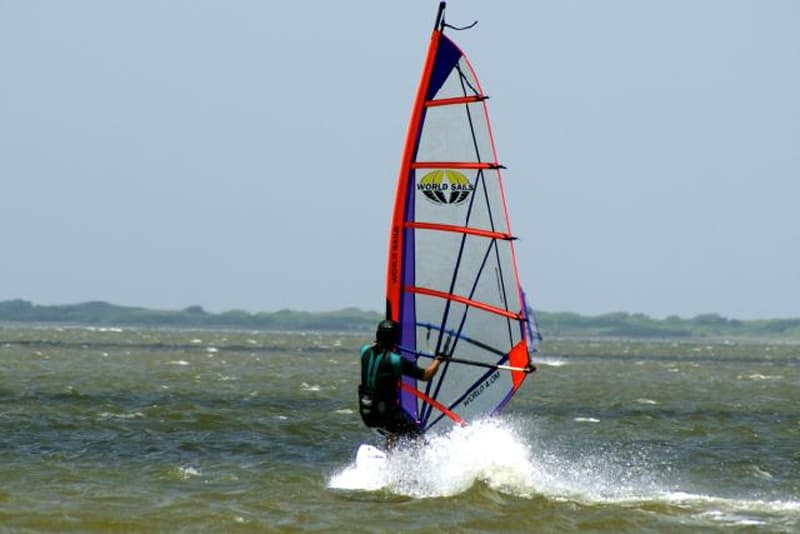 TCM: You also go windsurfing!  How did you learn to do that?
Gerald: We go windsurfing on the Hood River in Oregon and Padre Island in Texas.
I have actually been windsurfing since they invented the sport.
The first time I saw someone windsurfing was in the early 80s.  We were sitting in restaurant in Sausalito, California on an outside deck and saw a little sail close to the Oakland bridge.  It looked like it was going 30 miles per hour.
There was a guy standing on a surfboard with a sail.  It was fascinating!  I went back home and researched it.  Windsurfing had been invented by guy in California.  I started windsurfing in 1984 – shortly after it was invented – and have been windsurfing ever since.
TCM: Was it hard to learn?
Gerald: It is a hard sport to learn, and it's exhilarating.  They are the fastest things on the water under sail power, and can get close to 40 miles per hour.  If you get up to 30 miles per hour, it's very exciting.
It's also expensive.  You need masts, wet suits, five to ten sails, and different boards for different wind conditions and speeds.  When people ask about windsurfing, I tell them not to get into it because of the equipment costs.  If you can rent the equipment, it's better.  Just be warned; once you're addicted, it's hard to quit.
The new craze now is kite sailing on the water.  It's like water skiing, but you're being pulled by a sail.  50-percent of windsurfers have gone to kite sailing.  It's cheaper and requires less equipment.  It's as much fun, if not more fun, but more dangerous.  Kite sailing takes you off the water.
The Hood River in Oregon is a great place to wind surf.  It has high winds, but you're on the river.  It will take you in one direction.  Normally when you're wind surfing you have to turn around and go back.  On the Hood River, you may go two miles at 30 miles per hour, but the current is 14 miles per hour and it takes you back in the direction you started.  Then, you can turn around.
North Padre Island near Corpus Christie has Laguna Madre.  The water is warm and shallow and there's good wind there.  We have met a lot of wind surfers there in the spring.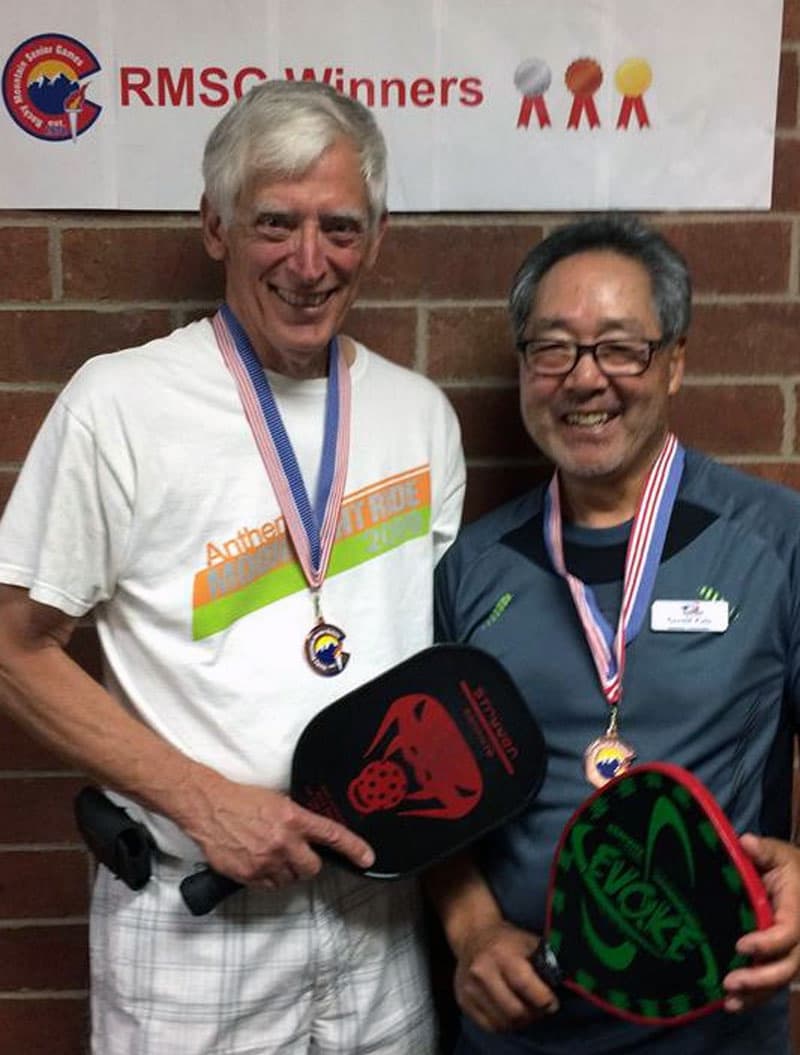 Above: Pickleball winners, Gerald is on the right
TCM: There's one more portable hobby on your list; pickleball.  What is pickleball and how did you get into it?
Gerald: Fifteen years ago we were down in Padre Island wind surfing.  It was raining and the weather was terrible.  Everyone ran back to their RVs.
Our friends from California were going into town to play pickleball.  I've been a competitive tennis player since high school, but foot and ankle injuries made it so I couldn't play it anymore.
Well, pickleball is played on a smaller tennis court.  It still uses the net, but it's lower.  It uses a paddle like a ping-pong paddle and a ball like a wiffle ball.  It's the fastest growing sport in the world.
I've become an ambassador for USAPA, United States Pickleball Association.  They had their first US Open last year in Naples, Florida.  There are tournaments all around the country.  I've been competitive with it and like to play in about one tournament a month.
I go to pickleball tournaments using our truck camper as my hotel and rest spot in between games.  I can play two or three games.  Then, during the two to three hours in between matches, I go to my camper to have a cold drink, take a short nap, and sit in the air conditioning – right in the parking lot.  Other people are out in the hot sun.
The tournaments go for two to three days.  All my friends ask which hotel I'm in for $250 a night, but I am staying in a local RV park in my camper.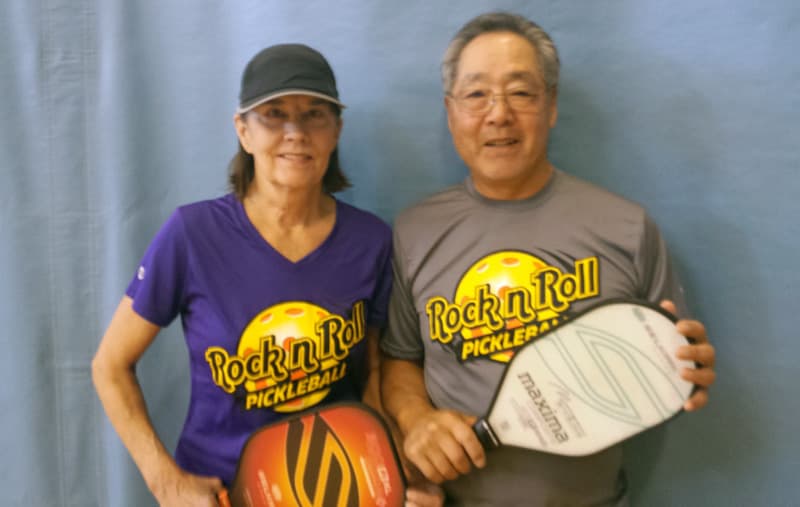 Above: Gerald and his wife, Sandi, help disabled vets play pickleball with an organization called Rock n Roll Pickleball
I am also a pickleball instructor in Colorado and play four days a week.   It's day camp for adults!
TCM: When you get into something, you really get into it.  Where have you been with your truck camper that you would recommend to other truck campers?
Gerald: We have been to all of the national parks in Utah and lots of Colorado lakes and rivers.  We've also been to all the major rivers in Ridgeway, Lake City, Gunnison, Silverton, Western Slope, and the Flat top area.  We've also been to Rocky Mountain National Park.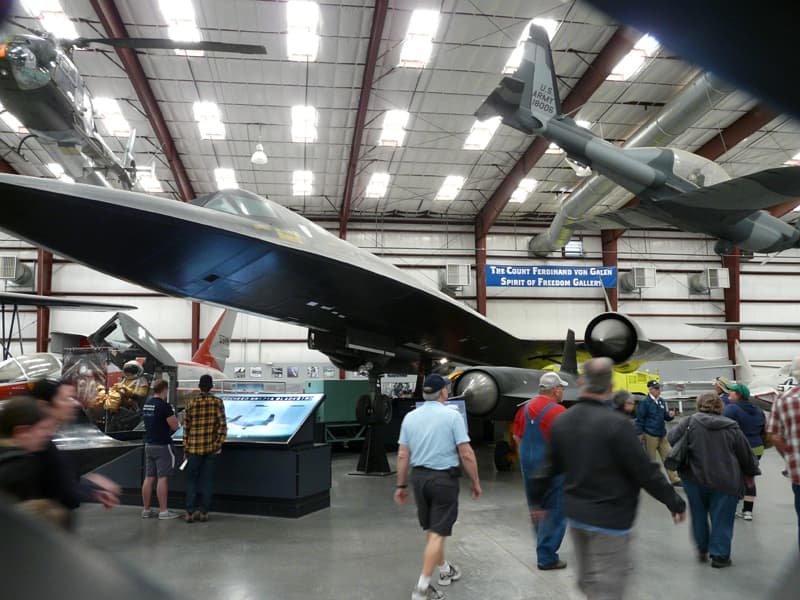 Above: Pima Air Museum, Tucson, Arizona
In Arizona we like Saguaro National Park, the Pima Air Museum, and the Apache Trail.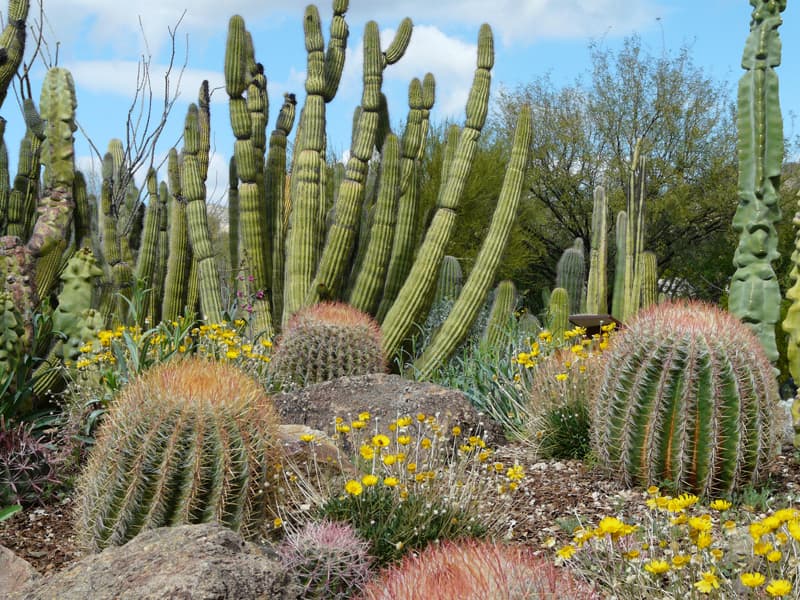 Above: Saguaro National Park, Arizona
In Texas we've been to Padre Island and the north Padre National Seashore.
We've also driven the Pacific Northwest Highway 101 from Northern California to Washington.  We've gone to the Olympic Peninsula and rain forest.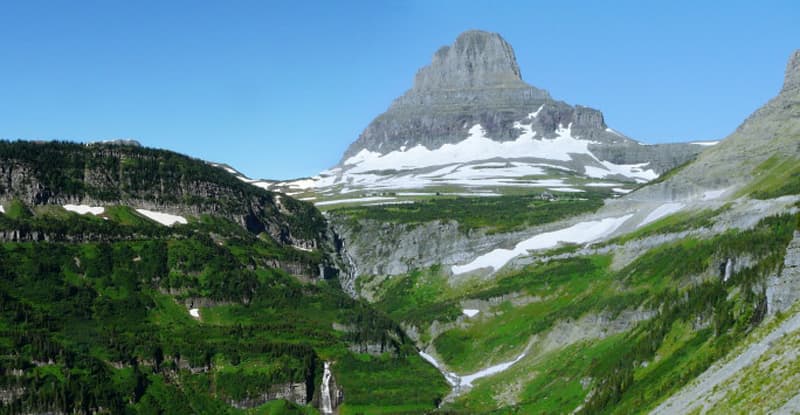 Above: Glacier National Park, Montana
In Wyoming and Montana we've visited Yellowstone, Glacier, the Snake River.  We've also been to the Petrified Forest in New Mexico.
There are too many places to mention.  We like rivers, lakes, mountains, spectacular scenery, small cultural towns with history, museums, ancient indian ruins, and some great small town restaurants.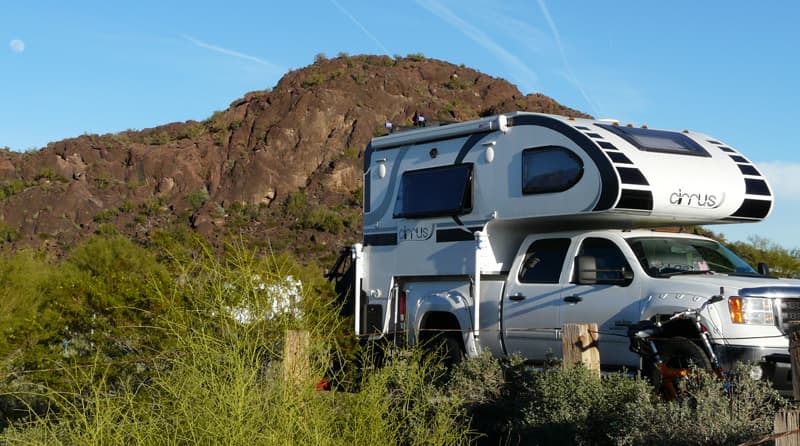 Above: White Tank Mountains, Arizona
TCM: Tell me about snowbirding in Arizona.  You mention some of the destinations you visit, but do you have favorite camping spots?
Gerald: We currently spend most of our winters in Arizona.  We love Canyon Lake, the Arizona Trail area, and the Salt River area.  We also enjoy camping around Tucson and the White Tank Mountains near Surprise, Arizona.
Going to Arizona is not all for pickleball.  Last year we went from Phoenix down to Tucson and visited the national parks, restaurants, and museums.  The outdoor activities in Arizona are a tremendous draw for us.
We have a lot of buddies who flew planes in Vietnam.  One of my friends has the plane that he flew in the Pima Air Museum.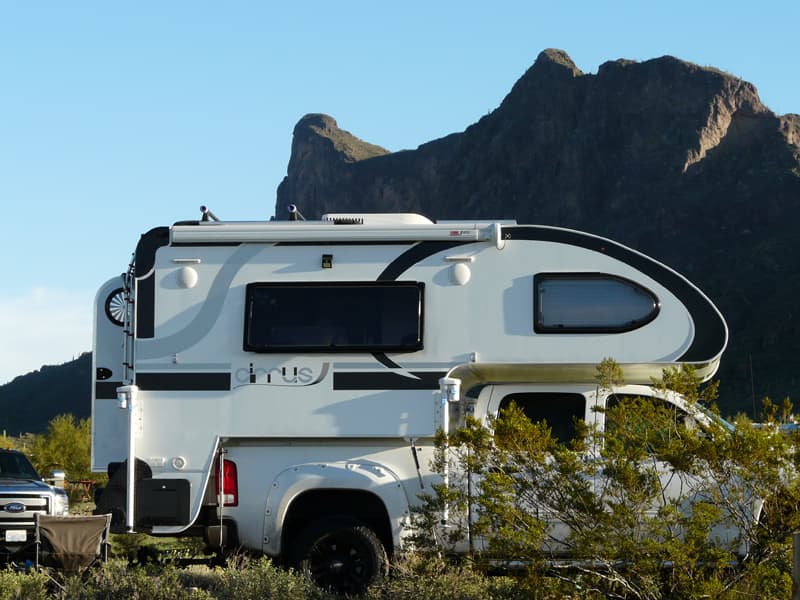 Above: Picacho Peak RV Park, Arizona
We also found an RV park in an area in called Picacho Peak.  We bought a park model there last year.  Next year we'll take the camper out for a week at a time, but now we have the park model as a base.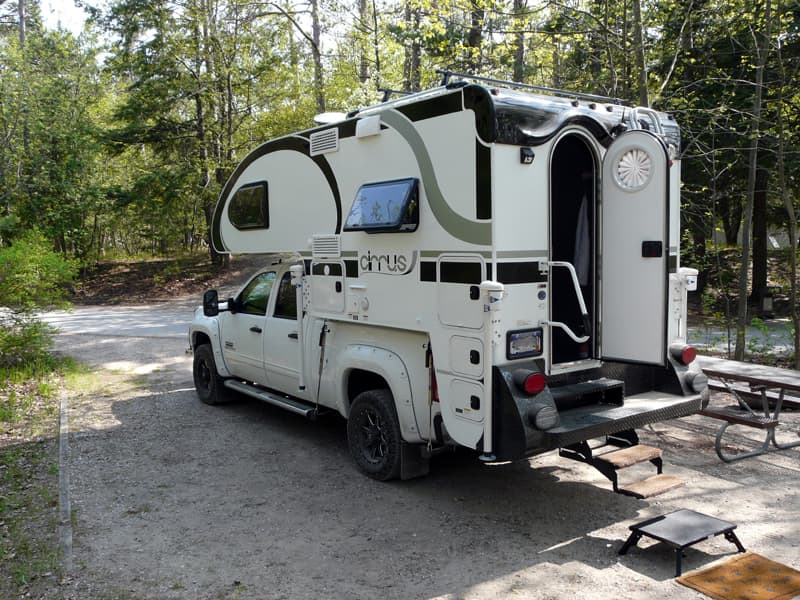 Above: Upper Peninsula of Lake Michigan by the Sand Dunes
TCM: What are your truck camping plans for the future?
Gerald: We are planning a Canadian Rockies trip for next year, and possibly Alaska.  We are researching Newfoundland and Nova Scotia.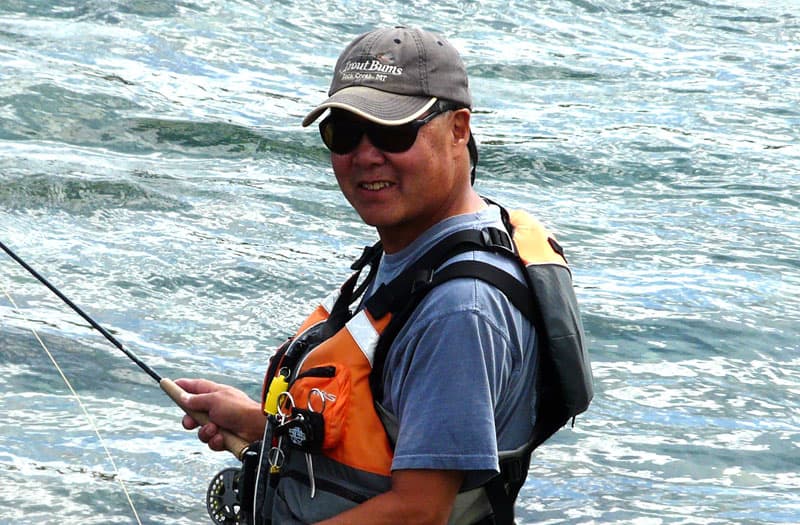 TCM: We want to go on a truck camping trip to Newfoundland and Nova Scotia as well.  Is there anything else you'd like to share about your truck camping?
Gerald: For me, the truck camping lifestyle is about being outside and doing the things I want to do.  It would be nice to take expensive vacations, go on cruises with five meals a day, and fly around the world, but we prefer spending our time with people who have common interests, including truck camping.
As far as our Cirrus 820 goes, I can't say enough good things about the quality and people who run nuCamp.  The work ethic and culture there is something to behold.  NuCamp is company to watch.  I could not be happier with quality, fit, and finish of our camper.
With the Cirrus 820, we have more people looking and asking questions at rest areas, campgrounds, and stores than any RV that I have ever owned.  It's a head turner.
Gerald Kato's Rig
Truck: 2012 GMC 2500HD Texas Edition, Crew Cab, 4×4, Diesel, Single Rear Wheel, Short Bed
Camper: 2017 Cirrus 820
Tie-Downs/Turnbuckles: Torklift frame mounted tie-downs, and Torklift FastGuns with locks
Suspension: Sumo Springs, Torklift Stable loads rear, Timbren bump stops front, HD shocks (Rancho 9000XL to be installed)
Custom leather interior, rubber Diamond plate flooring, Custom Fuel 18 Wheels with Toyo Open Country tires, Duramax Gas module, Custom MBRP exhaust
Gear: Tow a 2016 Space Kayak/gear trailer with kayak rack and bike racks, Truck has HD Front mounted hitch and aluminum cargo carrier, Voyager Rear View camera on Cirrus, 18″ Class 4 rear hitch extension, Cirrus has roof rack, Zamp 160W solar system, 2 AGM series 24 batteries, Torklift Glow steps with swing up bracket