Gerald Kato challenges the hobbies per truck camper-foot record with mountain biking, windsurfing, fly fishing, fiercely competitive pickle ball, and more.  He also reveals his real world experiences with the Alde hydronic heating system.

Cirrus exploded onto the truck camping scene in mid-2015 with a truck camper bristling with state-of-the-art features never before seen in a truck camper.  By far the most interesting of these features was the Alde Compact 3010, a hydronic heating system that replaced both the furnace and the hot water heater.
When we learned that long time Truck Camper Magazine reader Gerald Kato had (a) finally returned to his senses and bought a truck camper again and (b) purchased not one but two Cirrus truck campers, we had to ask him the big question; what did he think of the Alde system?
Well, that one question led to another, and then another, and then something happened.  Before we knew it, we were talking about folding mountain bikes, windsurfing in the mid-1980s, remote fly fishing in Montana, and something called the USAPA, aka the United States Pickleball Association.
You see, Gerald is one of those people who veraciously pursues life to the fullest and stops at nothing when he discovers something that captures his attention.  You can't just ask him about the heating system in his camper without tripping into topics as fun and far flung as fly fishing and pickle ball.  Sound inspiring?  He is.
So put on a bike helmet, pick up that surfboard, cast a line, and get ready to serve.  It's time to mountain surf the fishing pickle with Gerald Kato.  First stop, the Alde system.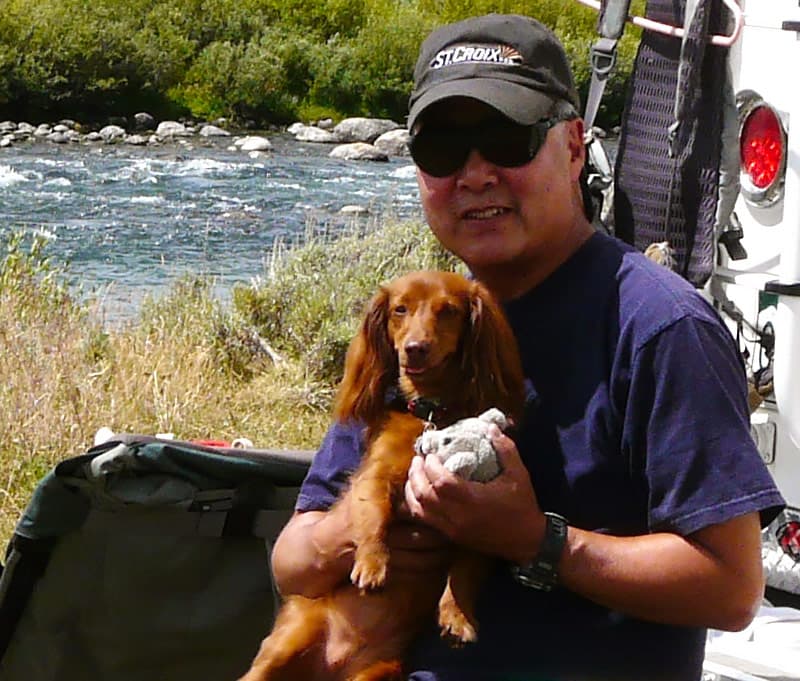 Above: Mati and Gerald Kato
TCM: You have owned a great number of RVs and RV types.  Talk to us about the different RVs you've owned, and why.
Gerald: I grew up in the Seattle area of the Pacific Northwest.  My parents took us camping every weekend.  The kids slept in an old Army tent and my parents slept in the station wagon.
All through high school and college, I camped in my pickup truck and topper.  When I later moved to Vail, Colorado, I did a lot of backpacking and tent camping.
I bought my first truck camper back in the 70s and put it on a half-ton Chevy K1500.  My second truck camper was a fishing hut that was made in Colorado.  Both campers had three-point hand-crank jacks.
After the fishing hut, I owned many RVs; pop-up trailers, a partial pop-up hard wall Sunlite, three Class B vans, a VW camper van, and a Class C.  Along the way, I remembered the great times I had in my old truck campers, and the freedom to go anywhere.
I finally returned to truck campers in 2005.  I had an Arctic Fox 860, but found it too cumbersome to reach the places I love to fly fish.  Many of the roads to these spots are unpaved, narrow, and have overhanging steep cliffs.

Above: Gerald's Hallmark pop-up camper
A pop-up camper was the obvious answer.  I bought an Outfitter Apex, and then traded up to a Hallmark Ute XS.  The Hallmark was excellent, but my wife and dog wanted more space.  My next camper was a Lance 845.
From 2009 to 2016 I owned several Lance travel trailers, but once again missed the freedom of a truck camper.  As a Truck Camper Magazine reader since 2007, I was constantly reminded of this.
Then, in 2015, I saw the Truck Camper Magazine announcement for the Cirrus 800 truck camper.  I was sold on the forward thinking and modern design including the new to America Alde heating system and Froli bed system.