Little Guy launches the 2016 Cirrus 800, a non-slide, hard side short bed truck camper with an opening front window, heated floors, seamless aluminum roof, Froli system, and much more.

It's not every day that we get to announce a completely new truck camper brand and model.  To make things even more interesting, Little Guy is bringing a truly fresh design, material, and manufacturing approach to the truck camper marketplace.
Want an example?  How about an insulated front window system, that opens.  Yes, the 2016 Cirrus 800 truck camper has an opening front window system.  Are they nuts, or brilliant?
It goes on from there.  We honestly had a difficult time keeping the questions for this interview to less than ten pages.  In fact, it got so ridiculous that we cut the interview in half – Jim Belushi Samurai style.  This is actually part two.  If you missed part one, "Little Guy Announces Cirrus Truck Campers", please start there, and then come back.
To dive into the 2016 Cirrus 800, we talked with Scott Hubble, CEO of Little Guy, and Allen Miller, Director of Research and Development for Pleasant Valley Trailers.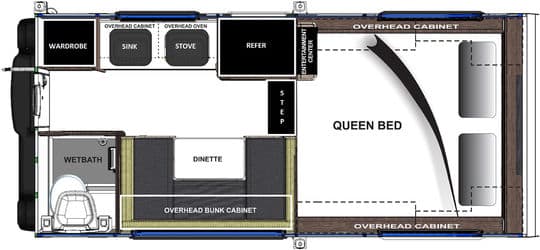 Above: The 2016 Cirrus 800 floor plan – click to enlarge
2016 Cirrus 800 Specifications:
The Cirrus 800 is a hard side, non-slide, wet bath truck camper for short bed trucks.  The interior floor length of the Cirrus 800 is 8'3″ and the interior height is 6'5″.  Little Guy Worldwide is reporting the base dry weight of the Cirrus 800 at 1,955 pounds and 2,490 pounds with standard features.  It has a 26 gallon fresh water tank, a 16 gallon grey tank, and a 19 gallon black tank.  The camper accommodates two batteries and one twenty-pound propane tank.  The base price MSRP for the Cirrus 800 is $27,405.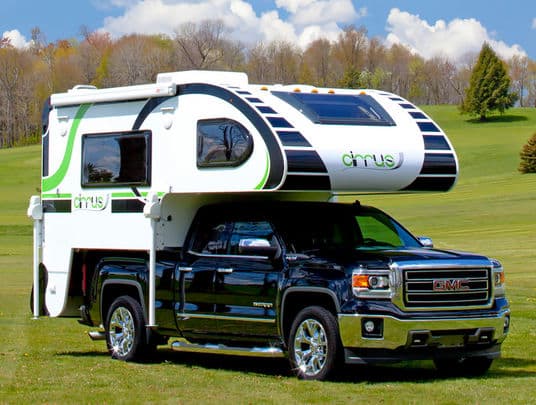 Above: The 2016 Cirrus 800 – click to enlarge
TCM: This is the first time we've had a chance to talk with you Allen.  Tell us how you got into the RV industry.
Allen: I am the Director of Research and Development for Pleasant Valley Trailers.  Before working at Pleasant Valley, I worked in the furniture industry designing Colonial, Shaker, and Contemporary style furniture.  Then I worked in what I call underground furniture; hard wood caskets.  After that I started working at Pleasant Valley Trailers designing teardrop trailers.

Above: Exterior views of the 2016 Cirrus 800 – click to enlarge
TCM: Did you say you designed caskets?
Allen: Yes, I designed caskets.  You know, one major benefit of designing caskets is that they have a very low return rate.  We actually never had one brought back by an end user.
TCM: That's funny, in a slightly morbid kind of way.  The 2016 Cirrus 800 is a hard side, non-slide model.  Why is the first Cirrus truck camper a hard side, non-slide model?
Scott: We specialize in hard side, non-slide, light weight products with our teardrop trailers.  We don't currently build things with movable parts, so that precluded a slide-out.  We will keep our options open, but right now we are focused on light-weight campers.
I would be more interested in a smaller truck camper targeting the GMC Canyon.  That would be a more logical direction for us after the 800.