Little Guy blows the doors off with an all-new truck camper line featuring an exhaustive list of cutting-edge innovations in design, materials, and appliances.  Introducing Cirrus Campers.

In the RV industry, product changes are almost always evolutionary.  Every year, the established manufacturers study what's selling, consider dealer and customer feedback, measure their own experience and intuition, and then make careful product updates.
This approach ensures the boat isn't rocked too much, and the resulting products have the highest probability of selling.  Isn't that, after all, the smart business approach?
Enter the disruptor, the RV manufacturer with no dog in the fight, who brings a Grizzly Bear.
While the established manufacturers attempt to determine if they should pay attention, the disruptor shows the public an all-new product designed from the ground to change the game.
The question is, will it?
There's more to changing the game than an impressive breakthrough product.  The disruptor has to deliver that product to the marketplace on time, in quantity, with the quality and customer service demanded by dealers and customers.  The risks and rewards for the disruptor are enormous, as they should be.  True entrepreneurs wouldn't have it any other way.
We are very excited to introduce you to Scott Hubble, CEO of Little Guy Worldwide, and the propelling force behind Cirrus, a brand new truck camper brand that may indeed change the game.  After launching Little Guy and reinvigorating the teardrop phenomenon thirteen years ago, they are ready to take on the truck camper market.
As you're about to see, Cirrus was no afterthought.  It's a bear.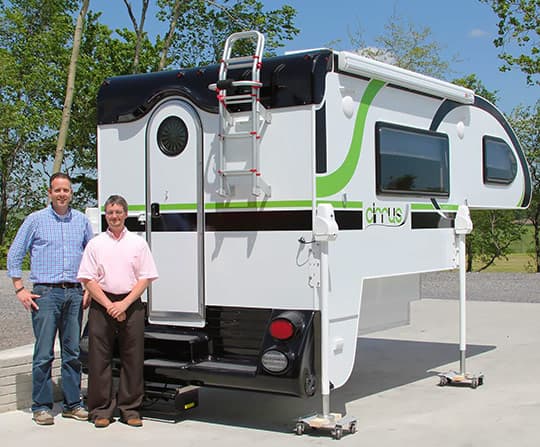 Above: Scott Hubble, CEO, and Allen Miller, Director of Research and Development
To find out why Little Guy is entering the truck camper marketplace, and what they bring to the truck camper table, we talked to Scott Hubble, CEO of Little Guy Worldwide.
TCM: Before we get to Little Guy and the new Cirrus truck camper line, tell us how you got into the RV business.
Scott: In the early 2000s, a friend and I ran a marketing consultant firm that helped companies drive internet traffic and become more visible online.  Little Guy Worldwide was a client opportunity my business partner found.
Well, one thing led to another and Little Guy asked us to do more and more.  Eventually they asked me to come on board full-time.  I started with Little Guy in 2007.  My responsibilities initially revolved around marketing, collateral materials, and web content but eventually expanded into custom sales, infrastructure, and pricing.
In 2010, Little Guy partnered with Pleasant Valley Trailers in Sugarcreek, Ohio.  Today, the two companies, Little Guy Worldwide and Pleasant Valley Trailers, effectively act as one organization.  Pleasant Valley Trailers is the principal designer and manufacturer for Little Guy Worldwide.  Little Guy World Wide is the exclusive distributor for the product lines Pleasant Valley Trailers manufactures.
TCM: What's the Little Guy start-up story?
Scott: Little Guy Worldwide was founded in 2002.  Like any grass-roots start-up, Little Guy may have sold twenty teardrop trailers that year.  Through the early 2000s, production ticked up.  By the time I joined the company in 2007, Little Guy was selling 350 to 400 teardrop trailers per year.  Obviously we were serving a micro-sliver of the overall RV industry.
Then the recession hit and our business started accelerating.  As the general RV market dipped, we experienced a boom.  Anyone could hook up our teardrop trailers to their current car and continue camping and enjoying the outdoor lifestyle, all without the significant investment of a motorhome or a truck.  Since 2009, we've enjoyed a 50% increase each year.  Last year we sold approximately 2,500 units.