Little Guy blows the doors off with an all-new truck camper line featuring an exhaustive list of cutting-edge innovations in design, materials, and appliances.  Introducing Cirrus Campers.

In the RV industry, product changes are almost always evolutionary.  Every year, the established manufacturers study what's selling, consider dealer and customer feedback, measure their own experience and intuition, and then make careful product updates.
This approach ensures the boat isn't rocked too much, and the resulting products have the highest probability of selling.  Isn't that, after all, the smart business approach?
Enter the disruptor, the RV manufacturer with no dog in the fight, who brings a Grizzly Bear.
While the established manufacturers attempt to determine if they should pay attention, the disruptor shows the public an all-new product designed from the ground to change the game.
The question is, will it?
There's more to changing the game than an impressive breakthrough product.  The disruptor has to deliver that product to the marketplace on time, in quantity, with the quality and customer service demanded by dealers and customers.  The risks and rewards for the disruptor are enormous, as they should be.  True entrepreneurs wouldn't have it any other way.
We are very excited to introduce you to Scott Hubble, CEO of Little Guy Worldwide, and the propelling force behind Cirrus, a brand new truck camper brand that may indeed change the game.  After launching Little Guy and reinvigorating the teardrop phenomenon thirteen years ago, they are ready to take on the truck camper market.
As you're about to see, Cirrus was no afterthought.  It's a bear.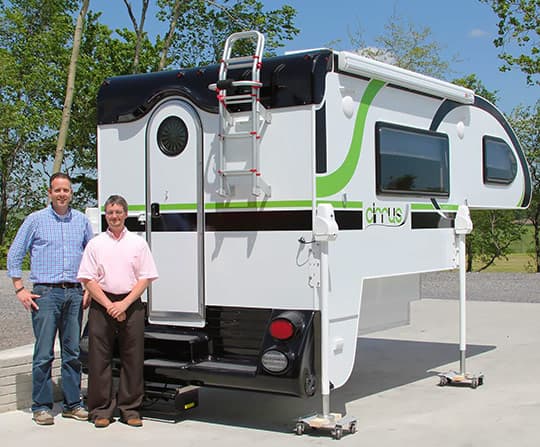 Above: Scott Hubble, CEO, and Allen Miller, Director of Research and Development
To find out why Little Guy is entering the truck camper marketplace, and what they bring to the truck camper table, we talked to Scott Hubble, CEO of Little Guy Worldwide.
TCM: Before we get to Little Guy and the new Cirrus truck camper line, tell us how you got into the RV business.
Scott: In the early 2000s, a friend and I ran a marketing consultant firm that helped companies drive internet traffic and become more visible online.  Little Guy Worldwide was a client opportunity my business partner found.
Well, one thing led to another and Little Guy asked us to do more and more.  Eventually they asked me to come on board full-time.  I started with Little Guy in 2007.  My responsibilities initially revolved around marketing, collateral materials, and web content but eventually expanded into custom sales, infrastructure, and pricing.
In 2010, Little Guy partnered with Pleasant Valley Trailers in Sugarcreek, Ohio.  Today, the two companies, Little Guy Worldwide and Pleasant Valley Trailers, effectively act as one organization.  Pleasant Valley Trailers is the principal designer and manufacturer for Little Guy Worldwide.  Little Guy World Wide is the exclusive distributor for the product lines Pleasant Valley Trailers manufactures.
TCM: What's the Little Guy start-up story?
Scott: Little Guy Worldwide was founded in 2002.  Like any grass-roots start-up, Little Guy may have sold twenty teardrop trailers that year.  Through the early 2000s, production ticked up.  By the time I joined the company in 2007, Little Guy was selling 350 to 400 teardrop trailers per year.  Obviously we were serving a micro-sliver of the overall RV industry.
Then the recession hit and our business started accelerating.  As the general RV market dipped, we experienced a boom.  Anyone could hook up our teardrop trailers to their current car and continue camping and enjoying the outdoor lifestyle, all without the significant investment of a motorhome or a truck.  Since 2009, we've enjoyed a 50% increase each year.  Last year we sold approximately 2,500 units.
An important game-changer for us was when Pleasant Valley Trailers purchased T@B trailer line from Dutchman in 2011.  For Little Guy Worldwide, that helped open the doors to RV dealers across the country.
TCM: That's an incredible story, especially the part about the recession being a catalyst for Little Guy products.  Who owns these two companies; Little Guy Worldwide and Pleasant Valley Trailers?
Scott: Joe Kicos owns Little Guy Worldwide.  Joe Mullet owns Pleasant Valley Trailers.  I serve as the CEO.  Again, the two companies effectively act as one.  Pleasant Valley Trailers designs and manufactures the campers, and Little Guy Worldwide markets and distributes them.
TCM: Why is Little Guy Worldwide entering the truck camper marketplace?
Scott: We needed to do something new and different.  We decided on truck campers for a number of reasons.  First, when we assessed the truck camper market, we saw an opportunity to sell more units.  Truck campers are an underserved market that isn't anywhere near reaching its retail threshold.
Second, our Little Guy brand and culture is a strong match for the truck camper market.  Teardrop owners are a very active and outdoor-oriented community.  They don't feel like they're part of the greater RV industry.  They frequently identify themselves as belonging to a group and enjoy gathering at rallies.  We see many of the same traits in the truck camper community.
Third, we knew we could bring something new and different to the truck camper market.  We use modern European materials and appliances, and produce forward-thinking designs.  We believe in smart things in small places.  Truck campers are also just a little larger than our largest teardrop trailers now.  The truck camper product is a perfect space for us to grow into.
Finally, Joe Mullet, Owner of Pleasant Valley Trailers, had experience with designing and manufacturing truck campers.  He had produced a line of truck campers in 2008.  Of course those campers don't look like what we're building now, but it gave us a foundation in how truck campers are built, and what was important structurally.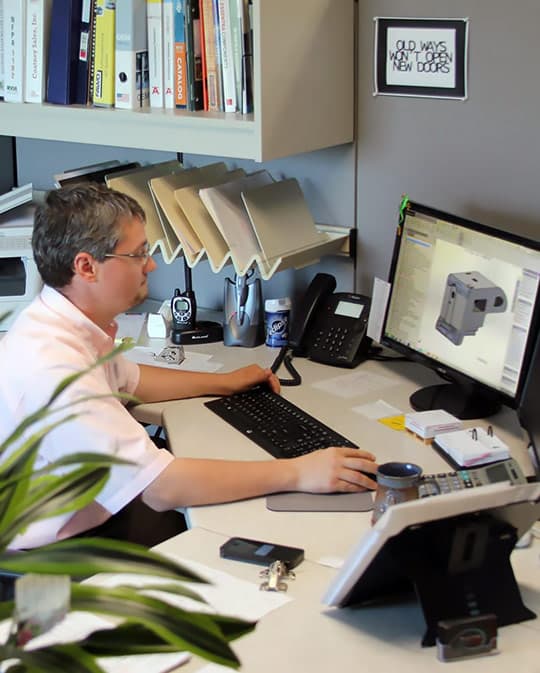 Above: Allen Miller, Director of Research and Development working on the first Cirrus truck camper
TCM: What does Little Guy bring to the truck camper marketplace?
Scott: We will bring a unique flair, design, and a level of quality that's not currently available in the truck camper market.  We are using European materials and appliances that almost no one else uses.  For example, the Alde central heat and hot water system heats the subfloor and runs off 110-volt or LP.  Nobody else is using it in the trailer market, and we're going to use it in the Cirrus truck camper.  That's just for starters.
I also believe we're going to grow the market.  Current T@B trailer owners have already told us that they will buy our truck camper as their next RV.  None of these folks had considered a truck camper before.  I think the Cirrus will bring a lot of new customers to the truck camper marketplace.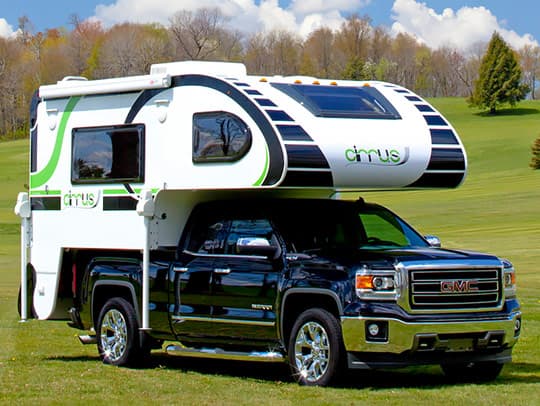 Above: The 2016 Cirrus 800.  Full photography and specifications will be published in Truck Camper Magazine next Tuesday.
TCM: In general, will Cirrus truck campers be priced as entry level, mid-market, or high-end?
Scott: From the beginning, we have approached the Cirrus truck camper line as a high-end product.  Everything about this camper from the materials, to the appliances, to the fit and finish is top of the line.  We did not cut corners.
When we started the Cirrus project, I told Allen Miller, our Director of Research and Development, to not consider price.  I told him, "Give me your recommendations for the best of everything".  I wanted to build something similar to our T@B Max that comes with the best of everything.  When you get it, you've got it.  There's no material or appliance that needs to be upgraded.  It's already top-of-the-line, the best of what's available.
When we had the design for the Cirrus in SolidWorks, we also brought in industry veterans with experience in the truck camper marketplace and got their feedback on the design, construction approach, and what the end consumer would want.  That gave us a lot of information.  They told us that if we constructed the Cirrus as well as we constructed our teardrop trailers, they would buy it all day long.  They also told us not to worry about price.
Then we surveyed our current Little Guy dealer base and asked them for their interest in the Cirrus truck camper.  Specifically, we asked if they would bring it in, sight unseen.  The response was overwhelmingly positive.  Based on their experience with our trailer line, they knew we would build a very high quality truck camper.
TCM: We'll have to get the final MSRP for the Cirrus when you announce the camper.  Will Cirrus truck campers be built at the same factory, on the same production line, with the same production team as Little Guy teardrop trailers?
Scott: Yes and no.  We have moved into a brand new building with a new production line specifically for the Cirrus truck campers.  Cirrus has a dedicated production line.
I've also increased our workforce and production by 50% in the past five months.  The Cirrus production line is initially being run by several employees with years of experience producing Little Guy products.  They are training the new hires and know how to set the quality bar high.
In our first year our goal is to produce 300 Cirrus truck campers.  We're getting a late start, but we still think that's possible.  Then we will ramp up Cirrus production into next year.
TCM: Tell us about the construction approach of Cirrus truck campers.
Scott: The Cirrus truck camper is wood-free, except for the interior cabinetry.  The floor, walls, and roof are all aluminum framed.  The wall laminations are Azdel composite, closed cell foam insulation, and Lamilux fiberglass.
The roof is a seamless aluminum roof.  We believe aluminum is a superior material choice for roofs and gives the best possible appearance and quality.  I'll get into more specifics when we formally announce the Cirrus.
TCM: Will Little Guy be marking center of gravity on Cirrus truck campers?
Scott: Yes.
TCM: What is your approach and philosophy to quality control at Little Guy?
Scott: Great question.  At the end of the day, we pride ourselves in having an extremely low warranty claim rate.  With respect to RV industry standards, we're less than one-quarter what the market typically bears.
One way we have maintained high standards of quality control during our rapid growth is by creating and adhering to a quality control manual.  Our quality control manual also helps us to comply with different state standards and certifications.  Furthermore, we have a series of quality control tests during the construction process.  After the units are completed they're retested.
If you ask our dealers and customers to describe our campers, one word you would hear is quality.  That response is a goal we want for all of our dealers and end users.  If you talk to our dealers and customers they would testify that our campers give them an extremely low rate of problems or issues.  We take a methodical approach to getting our products manufactured and only turn the production faucet as high as that level of quality control can handle.
Just yesterday, Joe and Jesse Mullet randomly selected a trailer off the line, put their inspection lenses on, and went through it.  No one in the factory knew which trailer they were going to choose for this inspection.  They do that at least once a month.  As a result, we see less and less issues from our production lines.  Every month we see less warranty claims.  To steal Ford's motto, quality is job number one here.
TCM: One Cirrus truck camper is set to debut.  Will you be debuting more hard side truck camper models in 2015?
Scott: At this time, there are no plans to produce another truck camper model this year.  I would like to produce another floor plan, but our R&D team is already booked.  Look for additional floor plans in 2016.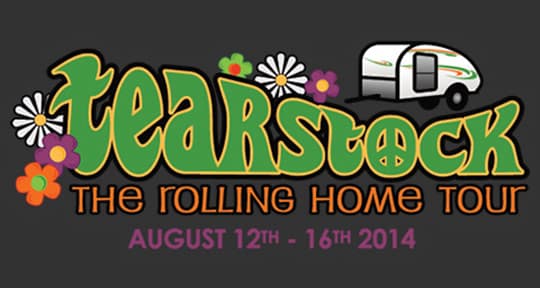 Above: Tearstock is an annual gathering of campers and trailers
TCM: Little Guy hosts an annual gathering and rally for its customers called Tearstock.  Will truck campers be invited to this event in the future?
Scott: Yes, we would absolutely love to have truck campers attend Tearstock.  Tearstock is a week-long rally at a local park for our customers and their guests.  We have events, dinners, and games.  Best of all, we hang out and get to know our fellow owners.
When we first got involved with the teardrop trailer community, we quickly realized that owning a teardrop trailer is not enough.  We discovered the heartbeat of the teardrop community by attending the teardrop rallies.  That's how we got in tune with how the community is wired.
TCM: You're certainly invited to camp with us at a truck camper rally.  Bring a Cirrus and you'll get an earful of feedback.  What's your vision for Cirrus truck campers over the next few years?
Scott: My vision is to establish Cirrus in the truck camper industry and community, and grow the truck camper marketplace.  As a manufacturer, I want to get established with the truck camping community, and listen to the community for ideas and feedback.  Finally, I want to take truck campers to the same quality level we have taken the teardrop trailer market.
For more information on the Cirrus 800, visit their website at nucamprv.com.