Don and Lucy watched in horror as a flat bed tow truck dragged their camper across the pavement.  This sparked the need for a new camper.  At the end of the article, Don and Lucy also share great Florida camping advice.

What happened to Don and Lucy Seijas has to be one of the most dramatic truck camper disaster stories we've ever heard.  No, it's not nearly as intense as what happened to Rose and Gary Kindon, but it's close.  Let's just say what happened to Don and Lucy dragged out a bit, and then some.
The good news is that Don and Lucy didn't let their bad luck get the best of them.  They got back on the proverbial truck camping horse, and charged forward to further adventures.  Having had a few experiences ourselves on the road, the message we got from Don and Lucy Seijas is clear; things happen, don't let them stop you.  In fact, don't let anything stop you from your dreams.  You will never get the time back.
For anyone on the planet that doesn't find the above two paragraphs enough of a reason to read this amazing article, there's more.  Don and Lucy also offer some fantastic advice on where to go truck camping in their home state of Florida.  We're looking forward to trying a few of Don and Lucy's Florida hot spots ourselves.  Hope to see you there, no matter what.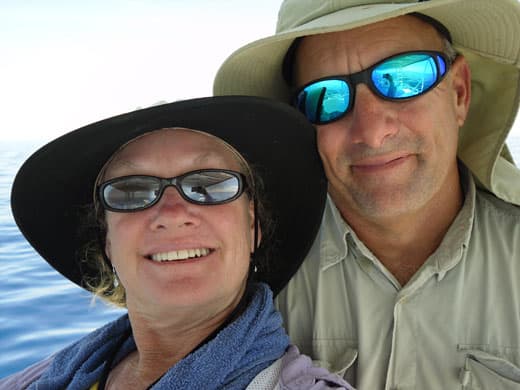 Above: Lucy and Don Seijas
TCM: Take us back to how you got into camping.
Lucy: When we were dating as teenagers, the two of us went tent camping with my sister, and another friend.  After we got married and had children, we went tent camping and then bought a Class C motorhome.  We had the Class C for a few years and then gave up camping when our kids where adolescents.
Don: When I had my twenty-fifth anniversary at work, they gave me a camping package as a gift with a lantern, cook stove, and tent.  With our new gear, we went camping on Cayo Costa State Park on an island.  After that experience, we started looking for truck campers.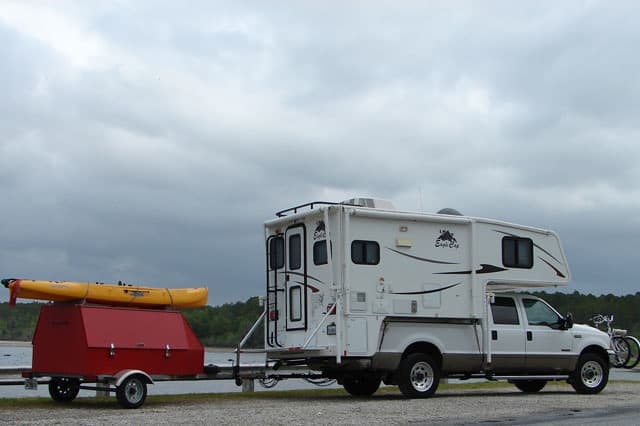 Above: 2004 Ford and 2010 Eagle Cap 995 
TCM: What led you to want a truck camper?
Lucy: We are water oriented and always pulled a boat when we went camping.  We even launched a boat with our motorhome, but it was a pain.  A truck camper was a much better solution.
Don: It's also more versatile and cost effective to have one vehicle.
TCM: You can get a truck maintained or repaired almost anywhere.  A motorhome is much more difficult to have serviced, not to mention more expensive, especially since you need a tall bay just to get the motorhome in the shop.  What year did you get your truck camper?
Lucy: We bought our first truck camper in 2008.  That was a 2003 Elkhorn.  2003 was the last year that Fleetwood made the truck campers.
When we got that camper, we looked all over the country.  At the time, finding truck campers in Florida was difficult.  Then Donnie's brother saw one about forty miles away on the side of the road.  We didn't buy that camper, but we did go look at it.  The owner's brother also had a truck camper, and that was the Elkhorn that we bought used.  My sister bought the first brother's fifth wheel that they were also selling.
Don: It was definitely interesting bringing our camper home for the first time.  I remember being very nervous and getting used to driving with the movement in the truck.
Lucy: That's when we went with the Torklift tie-downs and turnbuckles.  The Torklifts made us more comfortable and didn't have us worried that the camper was going to fall off the truck.