Don and Lucy watched in horror as a flat bed tow truck dragged their camper across the pavement.  This sparked the need for a new camper.  At the end of the article, Don and Lucy also share great Florida camping advice.

What happened to Don and Lucy Seijas has to be one of the most dramatic truck camper disaster stories we've ever heard.  No, it's not nearly as intense as what happened to Rose and Gary Kindon, but it's close.  Let's just say what happened to Don and Lucy dragged out a bit, and then some.
The good news is that Don and Lucy didn't let their bad luck get the best of them.  They got back on the proverbial truck camping horse, and charged forward to further adventures.  Having had a few experiences ourselves on the road, the message we got from Don and Lucy Seijas is clear; things happen, don't let them stop you.  In fact, don't let anything stop you from your dreams.  You will never get the time back.
For anyone on the planet that doesn't find the above two paragraphs enough of a reason to read this amazing article, there's more.  Don and Lucy also offer some fantastic advice on where to go truck camping in their home state of Florida.  We're looking forward to trying a few of Don and Lucy's Florida hot spots ourselves.  Hope to see you there, no matter what.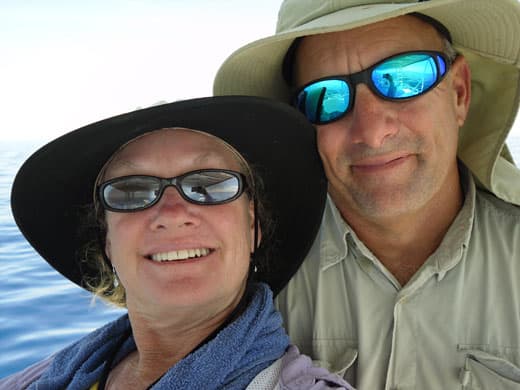 Above: Lucy and Don Seijas
TCM: Take us back to how you got into camping.
Lucy: When we were dating as teenagers, the two of us went tent camping with my sister, and another friend.  After we got married and had children, we went tent camping and then bought a Class C motorhome.  We had the Class C for a few years and then gave up camping when our kids where adolescents.
Don: When I had my twenty-fifth anniversary at work, they gave me a camping package as a gift with a lantern, cook stove, and tent.  With our new gear, we went camping on Cayo Costa State Park on an island.  After that experience, we started looking for truck campers.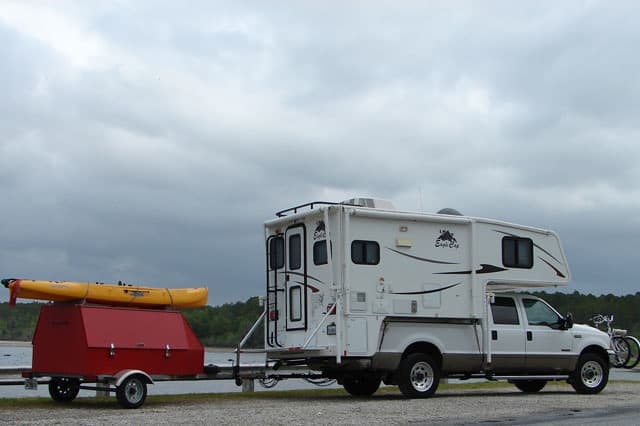 Above: 2004 Ford and 2010 Eagle Cap 995 
TCM: What led you to want a truck camper?
Lucy: We are water oriented and always pulled a boat when we went camping.  We even launched a boat with our motorhome, but it was a pain.  A truck camper was a much better solution.
Don: It's also more versatile and cost effective to have one vehicle.
TCM: You can get a truck maintained or repaired almost anywhere.  A motorhome is much more difficult to have serviced, not to mention more expensive, especially since you need a tall bay just to get the motorhome in the shop.  What year did you get your truck camper?
Lucy: We bought our first truck camper in 2008.  That was a 2003 Elkhorn.  2003 was the last year that Fleetwood made the truck campers.
When we got that camper, we looked all over the country.  At the time, finding truck campers in Florida was difficult.  Then Donnie's brother saw one about forty miles away on the side of the road.  We didn't buy that camper, but we did go look at it.  The owner's brother also had a truck camper, and that was the Elkhorn that we bought used.  My sister bought the first brother's fifth wheel that they were also selling.
Don: It was definitely interesting bringing our camper home for the first time.  I remember being very nervous and getting used to driving with the movement in the truck.
Lucy: That's when we went with the Torklift tie-downs and turnbuckles.  The Torklifts made us more comfortable and didn't have us worried that the camper was going to fall off the truck.
Don: Then we upgraded the camper jacks after feeling unstable.  We put a Stable-Lift system on it.
TCM: What happened with your Elkhorn camper?
Don: We were on our way to the Mid-Atlantic Truck Camper Rally last year and we were taking our time driving north.  It took us a week to get up to Virginia.  The previous time we went we had rushed up to the Mid-Atlantic and back.  This time we took our time driving five to six hours a day at the most.  We stopped in Georgia and visited friends.  Then we got to Virginia and stayed at an U.S. Army Corp of Engineers park.
The Tuesday before the truck camper rally, we missed a turn.  When I made a U-turn  our truck just died.  Luckily, I pulled into the turn lane out of traffic.  We had a high pressure oil leak, and the truck wouldn't start.  We called AAA and starting describing our truck camper to them.
Lucy: They kept asking us how many wheels the camper had.
Don: They said, "We don't understand, can we put it on a dolly?"
Left to right: Camping the night before the breakdown, a road mark left by a certain camper, and the damaged Elkhorn waiting for the truck repair

Lucy: Then a tow service arrived to tow our camper.  We had never had a break down before with our truck camper, and did not know the right way and wrong way to tow the rig.
The tow service guy put our truck and camper on a flat bed tow truck.  When he was pulling it up the ramp, the rig was at a steep angle and the rear of the camper dragged a one and a half inch gouge in the road.  That's when I started to take pictures.  I knew that amount of force couldn't be good for our camper.  It was a nightmare.
Don: When we were towing the rig, the tow truck driver took a turn and we both thought we were going to tip over.  We could see people staring and pointing at our rig.
Lucy: I said to Donny, look we're going to tip over,and he said to me, "I don't want to look".  I thought for sure the entire tow truck was going to tip over.  It was so scary.
TCM: That's insane!  What was that tow truck driver thinking?  What happened to the camper after being dragged down the road?
Don: Have you seen Titanic?  It was like that.  With the ship nose down in the water and the back end out, the ship tore itself in half.  That's what the damage reminded me of.
Unfortunately, the tow truck driver did not want to lose the business and that's why he towed it with their flat bed.  The closest Ford dealer was sixty miles away, which was too far to drive as he could only go about five miles an hour with the camper loaded.  He took us to his gas station.
It took two and a half days and $3,000 to fix the truck at the Ford dealer.  We rented a car and stayed in the camper at the tow truck driver's shop.  He gave us electric and water, so we were okay.
AAA told us that we had to get the tow service's insurance company to pay for the damage to our camper.  We also filed a claim with our insurance, after Mike at Xtreme Campers gave us an estimate of the repair cost for the insurance company.  We stopped by Mike's shop on the way back to Florida.  He was great, he knew exactly what needed to be done to fix our camper without having to tear in to the walls of our rig.
Our insurance wanted another estimate, and it took eleven weeks to get thing's moving with the insurance adjustor.  Basically, they held us hostage for eleven weeks.  It was a terrible experience.
Lucy: The insurance company decided to total the camper.  Mike's estimate would have saved them close to ten thousand dollars, but they didn't want to go with that.  The repair shop in Florida also charged a daily fee for our camper to sit at their shop for eleven weeks.
Don: The RV repair shop said that we had to keep our camper there so they could give us an estimate.  We should have kept the camper all that time.  Finally the insurance company said the repairs would be a lot more money than they thought, and totaled it.  They kept our camper hostage all Spring and into the Summer only to total it eleven weeks later. But at least we got some reimbursement from our insurance.
TCM: That was truly a nightmare.  We published some wonderful advice on how to properly have your camper towed by Donna Bitcon and Ed Amato.  We should get your feedback on this important subject in the near future.  What did you do with the insurance money?
Don: We bought an Eagle Cap.  But before we tell you about that camper, we need to tell you that we had already committed to hosting our own rally, the South East Truck Camper Rally in Cedar Key, Florida.  The rally was only four months away when our camper was totaled by the insurance company and we had no camper!
TCM: You can't hold a truck camper rally without a camper!
Don: That's right.  After eleven weeks they finally told us that the camper would be totaled and how much we would get for it.  Then we started shopping.
Obviously, we had to find a camper quickly.  Lucky for us, we have a truck camper dealer near us.  That's where we found our Eagle Cap.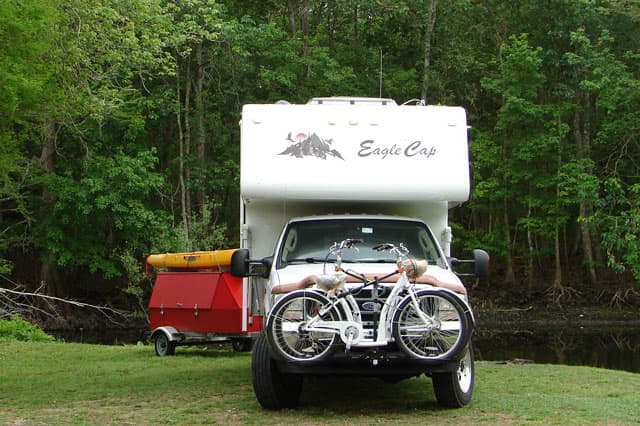 Above: Their rig with bikes in the front and their trailer in the back
Lucy: We love the quality of the Eagle Cap, and we love the slide-out.  It's wonderful.
Don: Our Eagle Cap 995 is a foot and a half shorter than our old Elkhorn, and the shower is bigger.  We bought a 2010 model that was a year old.  It was a new leftover 2010 model and we got it at a very good price.
TCM: You had an incredible experience with Good Sam Club and their policy with truck campers.  Can you share that with us?
Lucy: About a week before the Mid-Atlantic Truck Camper last year, we signed up for the Good Sam Club.  After that, we got all this postal mail from Good Sam trying to sell us insurance and extended warranties.
After we bought our Eagle Cap, I asked our current providers about full replacement costs for a truck camper.  My auto insurance would not cover full replacement for a truck camper.  So I called Good Sam, and they gave me a good quote on all of my vehicles.  When I asked for full replacement coverage for our truck camper, they told me they offered full replacement coverage for Class A and Class C motorhomes, travel trailers, fifth wheels, and basically everything else, but not for truck campers.  I was blown away!
I had just finished reading the new Highways Magazine they send out and there was a letter from the CEO who just took over.  In the magazine he said that he wanted to meet  the needs of their members.
I was fired up and typed up a wonderfully worded email and sent it to the CEO at Good Sam.  I told him that Good Sam was discriminating against truck campers.  I put in the letter that a lot of insurance companies misunderstand what a truck camper is and that the cost of my truck camper is three times the cost of some travel trailers.  We pay more for our campers, yet we can't get replacement coverage.
The very next day I got an email message back.  The CEO got my email and was going to look into it.  A couple of days later, I got a phone call from the original insurance person to discuss their policy.
I told him that I sent the CEO an email.  He said that the CEO told him to make it happen, so we were the first people with full replacement costs for a truck camper as evidenced in their new policy.  Let me make it clear that they did have coverage for truck campers, just not full replacement.  It's a great story for truck campers out there.
I'm now saving $800 a year and the policy covers all of our vehicles.  Unfortunately they don't insure homes in Florida.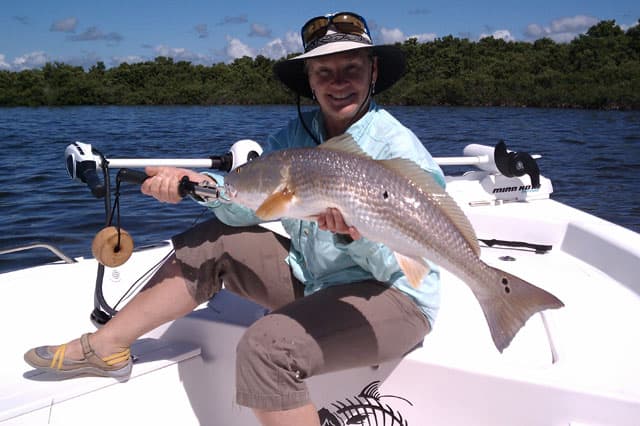 Above: Lucy on the Crystal River in Florida

TCM: And you had a camper for your rally.  Your truck camping lifestyle is quite active.  It looks like you kayak and fish quite a bit.
Don: We like to go to wooded state parks to go kayak fishing.  Unfortunately, we sold our boat last year, and we're regretting it a little bit.
Every year in May we go south to the Florida Keys for two weeks to go fishing, but we also do a lot of weekend stuff to get away.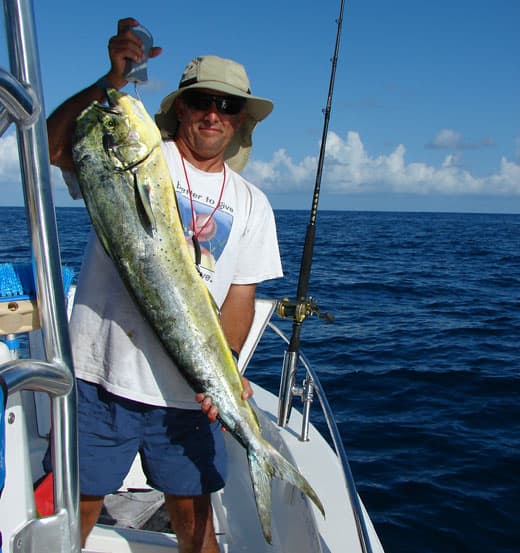 Above: Don in the Florida Keys catching a MahiMahi
Lucy: Once a month, we plan to get away.  We both work four days a week, ten hour days, and have three day weekends.  In our real life when we're not playing, Donnie works for Progress Energy at the Crystal River Nuclear Power Plant as a Project Manager, and I work for the State at the County Health Department as a Certified Nurse Midwife.
We go out with our other friends who also own a truck camper, and this week we're going out with friends who have a travel trailer.  We like meeting up with friends to go kayaking.
TCM: Where do you recommend fellow truck camper enthusiasts go to camp in Florida?
Don: Tomoka State Park on East Coast is nice.  It's wooded, not crowded, and right on the St. John's river.  Just don't go near Daytona during bike week.
St. Augustine State Park is also nice.  We like Fort DeSoto Park in St. Petersburg, where one of our daughters lives.  There are hundreds of state parks in Florida.
Lucy: Another park I like is St. Joseph State Park.  It's got nice dunes along the beaches and it's in the panhandle.  It's deserted, so not very many people go there.
We have a map on our wall with push pins of Florida State Parks that we've been to.  We currently have twenty-one state parks with push pins on the map that we have camped at.
Flamingo Campground in the Everglades is great.  You definitely don't want to go in the summer.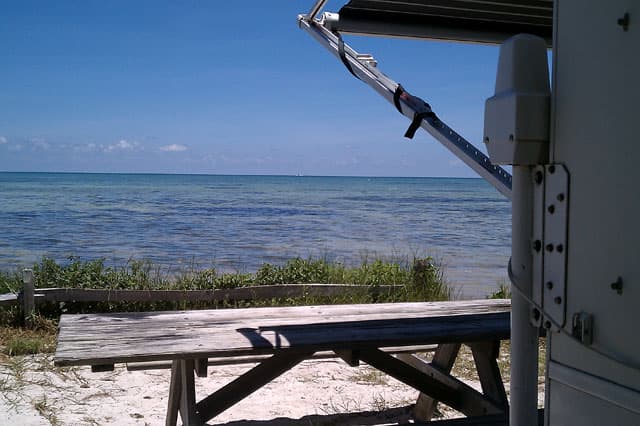 Above: Long Key State Park, Florida
Our other favorite place is Big Pine Key, mile marker 32 in the Keys.  It's about forty-five minutes from Key West.  We go to a private family owned campground there.  It's not shaded, which is typical for the Keys, but it's great if you love being near the water.
Last month I went to a farmer's fruit market in front of the Walmart in Homosassa.  I noticed a truck camper there at the fruit market, so went by to see who they were.  As I was driving up to them, they were leaving the market and getting in their rig.  They were from Washington State on the eastern side of Cascades, and driving down the west coast of Florida.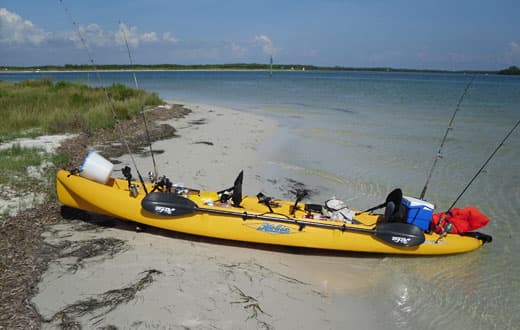 Above: Ft. DeSoto in Florida
I told them about Fort DeSoto County Park and gave them my contact information.  About three to four hours later, I got a call.  He went to the KOA in St. Pete's where it is seventy dollars a night.  He was horrified at the price of KOA, so he refused and went to Fort DeSoto.  He had to call and tell me how great it was.  They got there in time to see the sunset.  He told me that he had never had anyone come up to him and give him a tip like that before.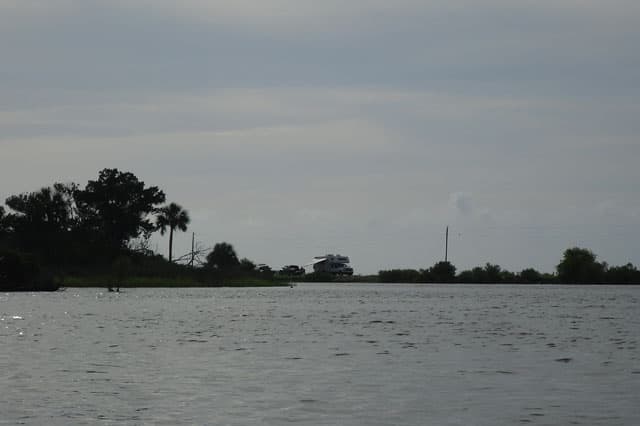 Above: Yankeetown, Florida boondocking, their camper is in the distance
TCM: That's wonderful.  We have had the pleasure of giving and receiving wonderful tips like that on the road.  What about boondocking in Florida?
Lucy: There are very few places we have found to go boondocking in Florida.  It's not like it is out West.  I love to go boondocking, but there aren't very many places that it's allowed.  A lot of places have signs saying no overnight camping.
Don: There is great boondocking in Yankeetown.  It's a road that goes to the Gulf of Mexico with a boat ramp at the end of it.  We parked there for two nights.  At 2:00 am one night, the locals had a party, so we fired up the generator and never heard them.  Crackerbarrels are also a good place to go boondocking in Florida.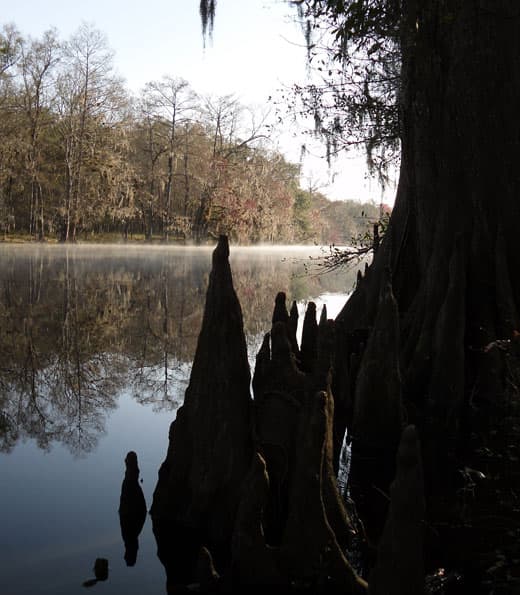 Above: One of Don and Lucy's favorite spots, the Sante Fe River in Florida
TCM: Many people think Florida is over crowded with snowbirds during the winter months.  Since you can't boondock very much, is it difficult to find campground sites in the winter without reservations made long in advance?
Lucy: It can be, especially in the Keys.  Usually you can pick up walk-in sites mid-week, but plan to be flexible.
Don: Holidays are very hard to get into places in Florida.
TCM: Thank you for your interview.  I can't tell you how sorry I am about your accident.  What a drag, literally.  It's great that you're truck camping again with the Eagle Cap.  Is there anything that you would like to add to your interview?
Lucy: I don't know how many women cook in their campers, but I can prepare a Thanksgiving or Christmas dinner in my truck camper.  I can not go without an oven.  I also bake in my camper.  At the rally, I put our brand new camper kitchen through the paces.  It worked great.  That Eagle Cap 995 kitchen is so much more versatile than our old Elkhorn.
TCM: I'm impressed.  Remind me to camp next to you.
Don: The versatility of being able to have my truck camper and be able to pull something is so appropriate for our lifestyle.  I will always have a truck, as I like to make and build things.  I used to be in construction.  We had the opportunity to get a travel trailer, but we wanted another truck camper.
TCM: Thank you Don and Lucy.  Keep your Eagle Cap horizontal!
Don and Lucy: We will.
DON AND LUCY SEIJAS'S TRUCK CAMPER RIG
Truck: 2004 Ford super duty, crew cab, single rear wheel, long bed, 4×4, diesel
Camper: 2010 Eagle Cap 995
Tie-downs and Turnbuckles: Torklift Fastguns, Torklift Tie-Downs
Suspension Enhancements: Rickson Wheels, Airbags, Hellwig sway bars, Torklift StableLoads
Gear: Back porch, Added stairs, Cabover struts