After renting a truck and camper three times, Rose and Gary Kindon finally bought their first truck camper.  Then disaster struck.  Phone pole, meet camper.

Before we get to this amazing truck and camper meets truck and phone pole story, I have a rant to share with you.
Why on earth can't we rent truck campers in the United States?  Sure you can rent a truck and camper in Alaska, but what about Alabama, Arizona, or Arkansas, or the other forty-six states that don't begin with the letter A?
It's darn un-American that some company hasn't figured out how to rent Americans a truck and camper in America!  We want to roam this land of the free, home of the brave, and we want to do our roaming in a proper truck and camper.  How hard is that?
I've heard every insurance, liability, theft, and cost-benefit excuse there is.  I'm not interested in those excuses any more.  Figure it out.  We need truck campers for rent here in the United States.  Opportunity awaits.  Make it happen.
This was half of my reaction after reading the inspirational, then tragic, and then inspirational again story of Rose and Gary Kindon.  The other half was pure horror.
Consider this a warning.  What happens to the Kindon's camper a few paragraphs from now isn't for the squeamish.  If there are any children in the room, or grown men who are prone to tears if they rub a branch with their camper, have them leave the vicinity of your computer now.  That said, I promise that this story, as gut wrenching as it is, has a happy ending.
TCM: You have an interesting story of how you got into truck camping.  Could you share that with our readers?
Rose: It all started when we decided to go to Alaska.  We were researching ways to see Alaska and read about renting a camper in Frommer's Alaska book.  With that information, we found a recommended camper rental company and made our plans.
We flew to Anchorage and picked up our truck and camper from a rental company.  In two weeks we drove 1,500 miles.  We loved the experience of having a truck camper.  We could go anywhere and it was so doable, especially when gas was so expensive at $2.00 a gallon (at the time that was expensive).
Gary: We already were campers, but we didn't have a truck camper.  We have used pull behinds and pop-ups for years and years.  We wanted to go to Alaska and only had two weeks off since we were both working.  Traveling from New Jersey, we wanted to have quality time in Alaska, so we rented a truck camper.
Rose: Because we had a truck camper, we were able to go in to see places we wouldn't have otherwise seen.  It was a wonderful time.  For people not as experienced with big motorhomes or trailers, a rental truck camper is very comfortable experience.
Gary: The reason I wanted the truck camper was that it was just the two of us.  We don't need a lot of room.  We don't need three beds and two baths.  We just needed enough room for us.  Plus, smaller is better for gas mileage.
Rose: From my perspective, renting a truck camper gave us so many more opportunities.  We covered so much territory.  It was also good for our budget.  We stayed at state parks and national parks and saw so much.
TCM: After your Alaska adventure, you flew to California and rented another truck camper.  Tell us about that trip.
Rose: We flew into San Francisco and drove to Yosemite National Park and traveled up the California Coast.  Then we went into California's wine country and explored the Pacific Coast Highway.  Once again, we had the experience of being able to see much more than if we had gone to one place or rented a car and had to stay in hotels.
Gary: If we wanted to explore a city, we didn't worry about not finding a place big enough to park the rig.  Driving the truck camper was like driving my pick-up truck at home.
Rose: That was a major consideration for us.  Going over the Golden Gate and through little California towns, it was much easier and more flexible than having a larger RV.
TCM: How did you pack when you flew in and camped?
Rose: The rental places provided linens, pots, and pans.  All we brought was our clothing.  The rental experience was turn key.  Unfortunately, the company in California that we rented from no longer rents truck campers.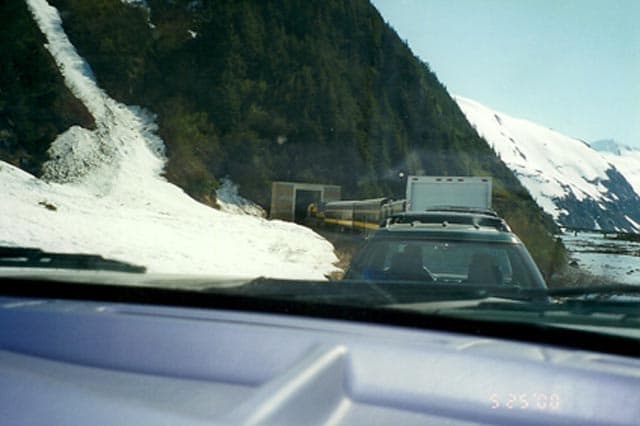 Above: On the way to Whittier, Alaska, there was a train tunnel the Kindons put their rig on
TCM: There is practically nowhere in the United States outside of Alaska where you can rent a truck camper.  That's something I've been bugging the industry about for years.  I saw in your pictures where you took your rental camper on a train.  I have never heard of that before.  And you stayed in your camper?  I've been on a ferry with our truck camper before, but never on a train.  What was that experience like?
Gary: That was on our first truck camper rental adventure in Alaska.  We were going from Kenai to Valdez and we had to get on a ferry in Whittier to cross over Prince Edward Sound.  To get to Whittier, there's a tunnel and the only way to get through at that time was to put your vehicle on the train.  There was even a Greyhound bus atop another flatbed car.
That was the last week they were taking vehicles by train.  Because of the money Alaska had received from the oil spill, they completed a highway through the tunnel for vehicles to drive through.
Rose: We were on a flatbed train car in a dark tunnel going through the mountain.
Gary: It was amazing!
Rose: We then took a ferry from Whittier to Valdez.  On our trip to Canada, I think we took four or five ferries from the mainland to Vancouver Island and back.  This past summer we went on the Cape May ferry.  When you're traveling by ferry, they are going to charge you by the length of your vehicle.  With a truck camper you are more compact than a trailer, so you pay less on the ferries than longer motorhomes and towables.
Above: Renting a truck camper and traveling to Vancouver Island

TCM: On your third fly in and rent a truck camper adventure, you went to Vancouver Island.  What was Vancouver Island like?  We've never been there.
Rose: Gorgeous!
Gary: It's worth the trip.  Best of all, Victoria is a very quaint, British town.  It's really nice with old time hotels.  The thing I liked the most of all was Butchart Gardens.  It's unbelievable!  It's one woman who made it.  Her husband owned a quarry.  The quarry was used up and she turned the whole thing into a garden.
Then we went over to Pacific Rim National Park, which is on the edge of Vancouver Island on the Pacific side.  It's not very built up, but they have fishing villages and whale watch trips available.  We were going from one end of the island to the other, and stopped in the middle to see a black bear and two cubs who we happened to cross paths with.
Rose: For that trip, we flew to Vancouver, picked up the camper on Gibson Island, and went to Vancouver Island.  From there we went north on Vancouver Island, traveled back to the mainland on the ferry, and returned to the main coast.  We stay in campgrounds all the time.  We don't necessarily need all of the amenities, so we usually stay at a state park, national park, or provincial park.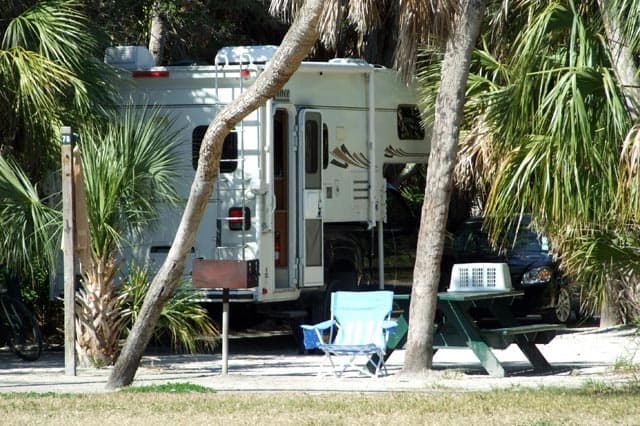 Above: Fort De Soto Park, a county park near St. Petersburg, Florida
TCM: When we met you, you had lost your first truck camper to a terrible accident and were shopping for a new one.  How did that happen?
Rose: After renting three truck campers, we finally bought our used Lance 1161 as I was reaching retirement.  I think we might have taken it out for a day or two in the summer with the idea that we would be traveling as much as possible once I retired.  In February of 2010, I retired and we went to Florida and came back in March.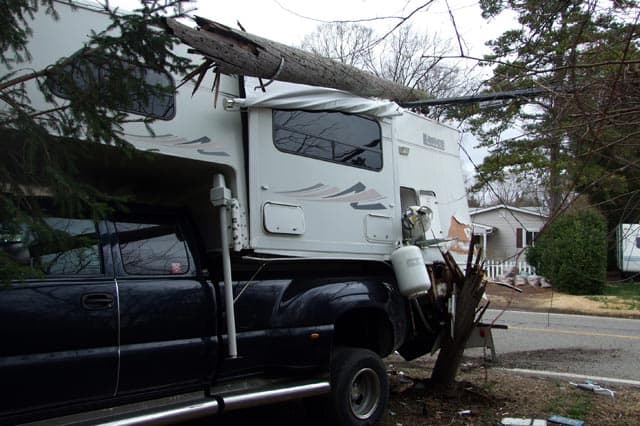 Gary: We had recently returned from the trip and the truck and camper was sitting in the driveway. 
Rose: Someone from down the street lost control of his pick-up and backed up into our camper with tremendous speed.  He hit our camper dead on and destroyed it.  He actually pushed the whole rig into a telephone pole that broke on top of our camper.  There were live wires hanging over the camper with two propane tanks and gasoline in the truck.  The firemen told us that if the live wires had touched our camper the whole thing would have gone up.
A passenger in the truck that hit ours was taken to the hospital.  Gary was inside the house.  I was away.  We didn't lose power until the electric company came to turn it off at the pole.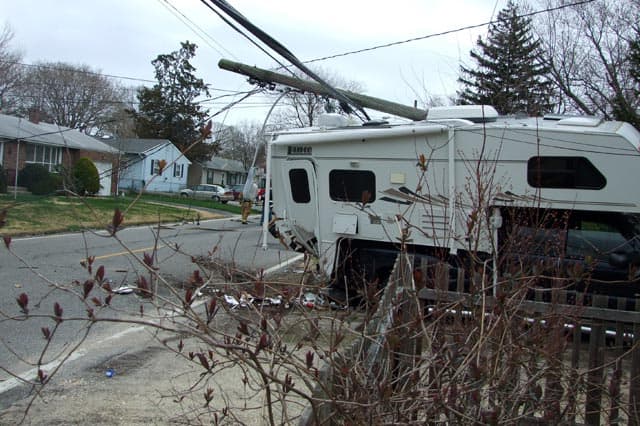 The truck camper was ruined and no one from either insurance company said they could fix it.  Lucky for us, we had extra insurance on it.  The Lance 1161 was great and had a slide-out, dry bath, and a generator that we didn't get to use.  It was spotless and really nice.
When we got the insurance check, we debated pocketing the check.  Eventually we decided to buy another camper.  That's when we met you both at Truck Camper Warehouse in New Hampshire.  We saw the Lance 950 that Bill Penney had on the lot which was a left over brand new.  It's a great camper for us.
Above: Enjoying their new Lance 950 during last summer's camping trip.

TCM: That's a tough story with a happy ending.  I can only imagine your reaction when you heard the crash and saw your camper with a telephone pole on it.  Where do you like to camp on the East Coast?
Gary: One of my favorite camping destinations is Ohiopyle State Park, in southwest Pennsylvania.  White water rapids run through it, and they have hiking and bike trails that go from Pittsburgh south to Washington DC.
We also like Assateague National Seashore in Maryland where you can camp out on the beach.  We didn't camp with our truck camper, but you can.  There's a campground we enjoy in Lewes, Delaware called Cape Henlopen State Park.  You get off the ferry, turn left, and you're there in a beautiful state park with lots to do on the beach.
Above: Beech Fork State Park, West Virginia – for most of their trip, the Kindons stayed at state or national parks and they said that this was one of the best
Rose: Delaware has a lot of nice state parks and so does New York.  One of my favorites on the East Coast is Acadia National Park in Maine.  It's just gorgeous.
Gary: I also like the White Mountains in New Hampshire.  Another nice place in the Fall is Cape Cod.  It's beautiful, but you don't want to be there for the summer crowds.
Above: Photos from Rose and Gary Kindon's 2011 trip out west with their Lance 950
TCM: Is there anything you'd like to add to your interview?
Rose: Renting a truck and camper was the experience we needed before we bought our truck and camper.  Renting and then buying was a great experience and really helped us to make the right choices.  I found what I liked and disliked.  For example, I found that I didn't like the east-west sleeping arrangement in some campers.  By renting, you can experience what you need and don't need in a camper.  Renting gave us a good background before we bought.  I highly recommend it.
TCM: I wish we had more opportunities to rent truck campers in the lower-48, but renting truck campers in Western Canada and Alaska is an excellent suggestion.  We may do that ourselves one of these days.  Thank you Rose and Gary.
Rose and Gary: You're welcome.
Truck: 2005 Chevy Silverado 3500, extended cab, dually, long bed, 4×2, gas
Camper: 2007 Lance 950
Tie-downs and Turnbuckles: Happijac
Suspension Enhancements: Airbags
Gear: N/A