Truck Camper Magazine readers reveal, after significant back end research, the most comfortable camping chairs known to truck camping kind.  Bring out the comfy chairs!

What is the best camping chair?
Just like a camper mattress, it really depends on personal preference.  From good back support to lightweight chairs to rockers, readers share their personal real world experiences while out camping.  The Strongback Elite with lumbar support definitely rose to the top!
THE BEST: Strongback Elite
"Without a doubt, the best folding camp chair is the Strongback Elite with lumbar support.  They are expensive but, in my opinion, are worth every penny.  The only problem is if anyone pirates your chair it will be a while before you get it back.  They are that comfortable.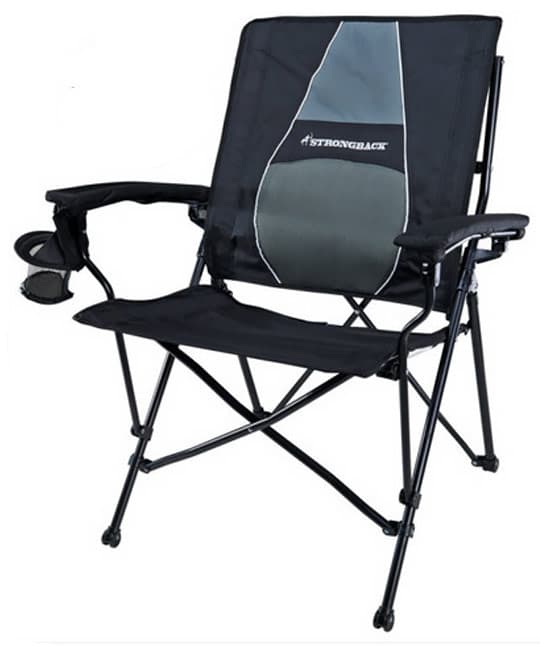 The Strongback Elite chairs come in a great travel bag with shoulder straps that make it convenient to transport to a remote location.  I carry mine in the travel bag standing up behind me in the back seat of the truck." – Eldon Rhodes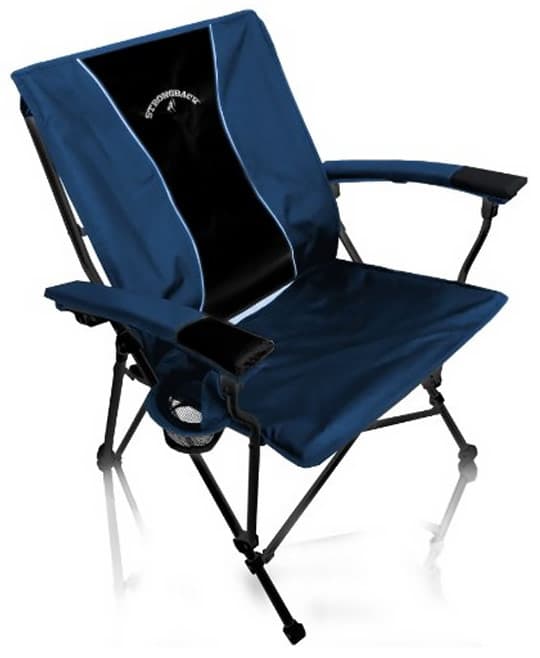 "After thirty-five years in the Army, I have a lot of problems with my back.  Most lawn chairs just leave my back in pain.  My wife, Amy, looked online and found Strongback Chairs.  I was skeptical, but we bit the bullet and paid the money to have two shipped to us; a tall back, and lower back.
The tall back Elite model was out of this world!  It costs a lot more than cheap chairs, but the lower back support was a life saver.  The lower back chair, not so much.  So we sent back the lower and got another Elite shipped to us.
These are the only chairs we took on our forty-day trip following my grandmother's journey this summer.  For forty days, 8,926 miles, and sixteen states, I had no back issues with this chair.  We love them!  Strongly recommend!" – Mark Dyvig
Once you're done checking out the most comfortable camping chairs, take a look at the best camping tables that are used by truck camper owners.
Cheap Camping Chairs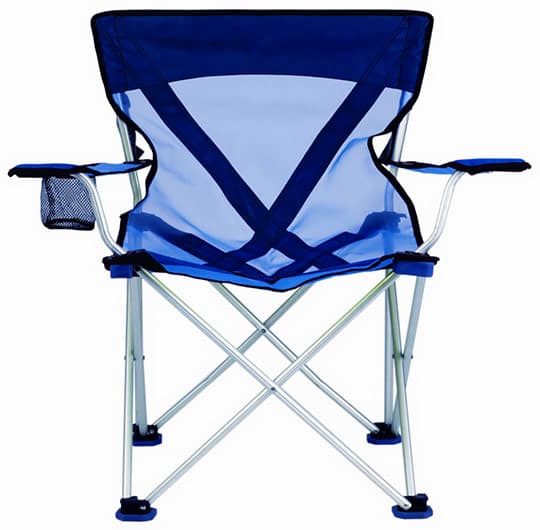 "The Travel Chair Teddy is a good collapsible chair. River Rafting is tough on gear.  I've owned and trashed a lot of those cheap camp chairs over the years.  The Travel Chair is the one that holds up.
The Travel Chair Teddy is my go to chair whether I'm truck camping, rafting, or going to a concert.  It's the one that gets used.  The seat is made of a mesh material so it dries quickly.  That's important so you don't have to wait hours after a rain to use it.  It is stored on the floor in the back of my cab." – Bruce Norring
Light And Easily Foldable Camping Chairs
"I'm still looking for the perfect chair.  I like the Costco Timber Ridge chair, but it's too big to pack in my Four Wheel Camper.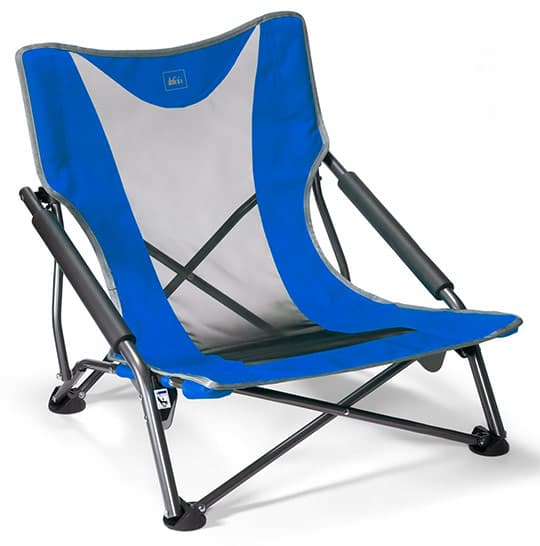 I'm trying the REI Stowaway folding chair on our trip next week to Glacier National Park.  It folds small, but it's made of steel, so it's heavy.   I'm looking forward to reading about what is the best chair." – Bill Harr
Camping Chair Rockers
"Well, I know that the most comfortable camping chair that Angela really enjoyed sitting in was Bruce's fancy rocker chair.  It has the nice thick padded material, and it's a rocker!  It has a high back to support the head and is the most comfortable chair ever.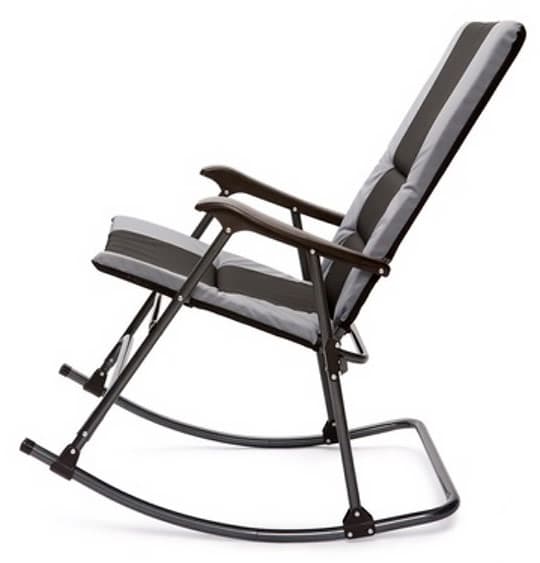 We also have a lower-back rocking chair that we also got from Camping World.
Our camp chairs are folding rocking chairs.  We like them because they offer some lower back support, they rock and recline, they are insulated/padded, which is very comfortable for winter camping.  We like our fires in the snow.
One drawback is they do not like sand.  The act of opening and closing becomes more difficult until grains of sand get out of the places they shouldn't be.
When traveling, these chairs find a home either in the trailer, if we are taking one, or on our bed until we arrive.  These chairs are padded, so they take more time to dry out than non-padded chairs.
They weigh more than a bag chair, at 16 and 18 pounds each, and they also do not fold as small.   I would buy these again or recommend them to a friend – absolutely!
Good luck on your chair purchases as there are a ton of chairs out there to review!" – Bruce and Kim Scott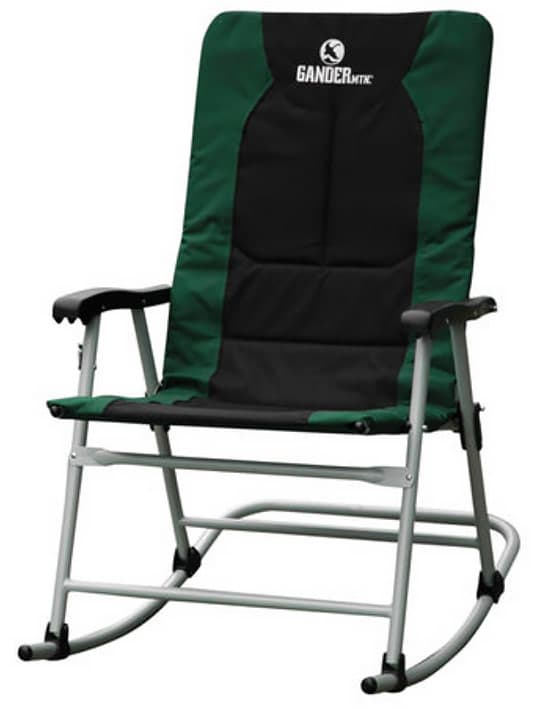 "It has to be a rocker.  I bought Gander Mountains $80 rocking chairs when they were on a two-for-one sale.  I add a small pillow for more lumbar support, and it's nap time." – Philip Tron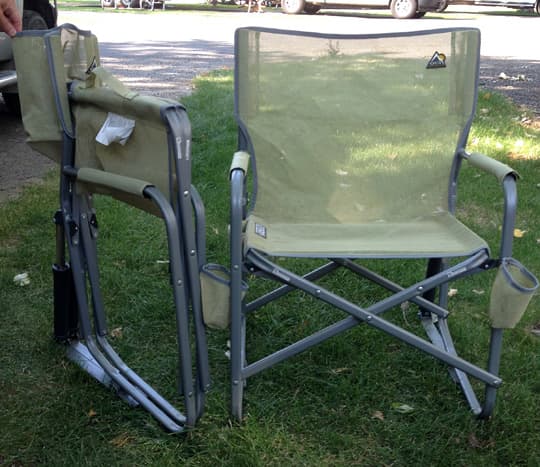 "Currently we travel with two EasyFold chairs bought at a large box chain camping store.  We chose this particular chair because it is a rocker.  The base of the chair frame allows one to sit and rock whether the ground is smooth or uneven.
While these chairs do not fold down at compactly as standard camp chairs, they do fold flat easily with the pull of a strap.  The chairs have solid arm rests and a cupholder.  When we travel, we carry the EasyFold chairs strapped in the back seat area of our crew cab truck." – Chuck and Jodie Ramsey
Camping Chairs With Good Back Support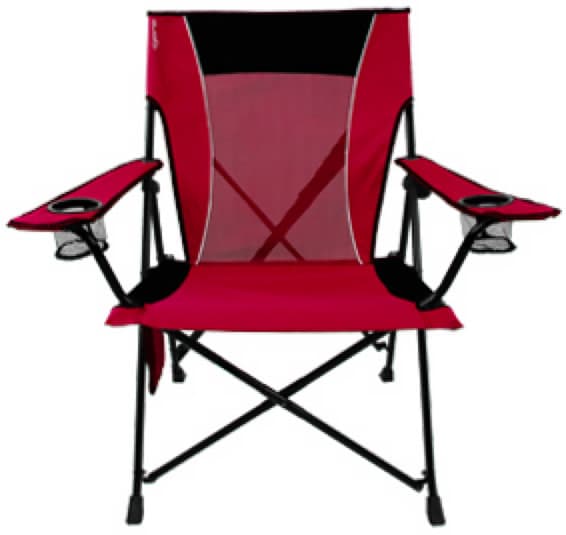 "I have a Kijaro dual lock chair.  They have a stiffer seat than other camp chairs.  They lock closed and open.  We stack the chairs in the back seat floor board when traveling." – Mary Sue Miller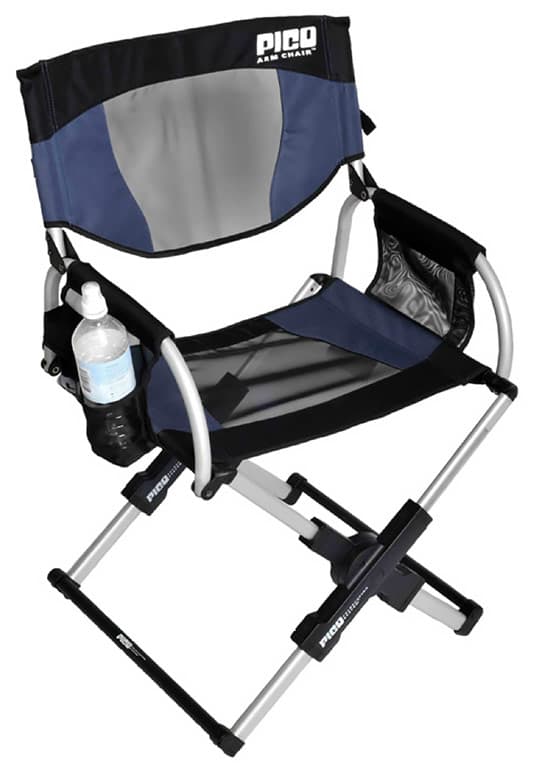 "The chairs we bought after numerous tries are the telescoping Pico arm chairs.  They are the only ones that do not give you a back ache after an hour.  They do not have a sling construction like the five pairs we had before." – Tilly Maddux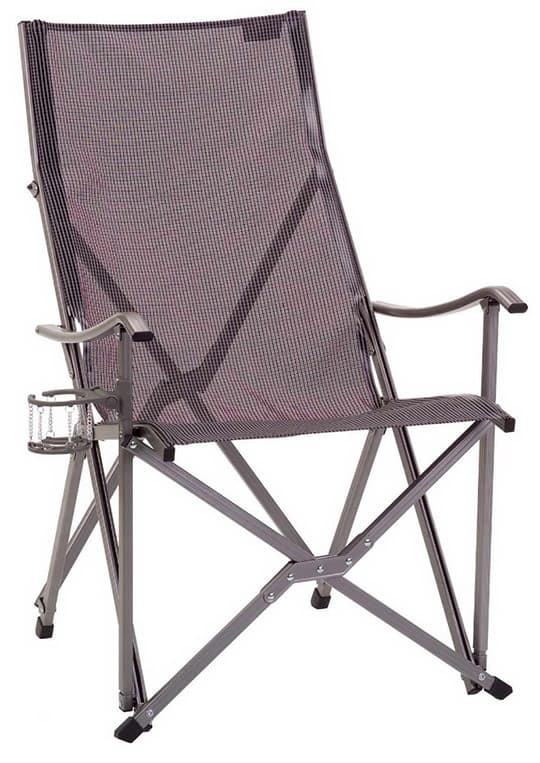 "For upright chairs, we love our Coleman Sling Chairs.  They were about $55 each.  We sat in every chair in every store for ages until we found these. They are very comfortable and fold up and store easily.
We store the chairs on one side of the bed in their covers when traveling.  They have solid arms that you can use to push yourself up and out of the chair, which is more necessary with every passing year.
Paula says she is too old for the old folding chairs that sort of suck you down into them so that you have to climb out.  We look for the right angle on our backs, not too much or too little and the right height from the ground.  These are "Goldilocks" chairs – not too high, not too low; not too soft, not too hard and generally, just right." – Mike and Paula Bostic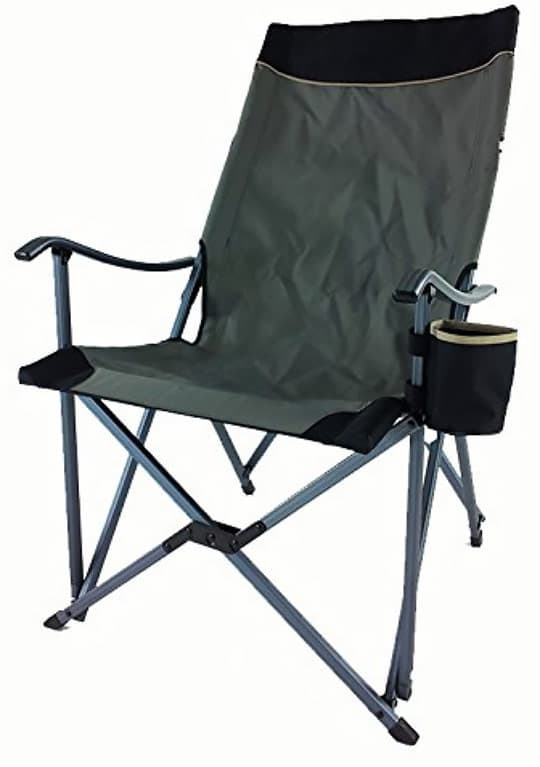 "I have World Outdoor Products Prime Time Iridium graphite gray portable folding lawn chair with a drink holder.  They are well made chairs; more comfortable, and longer lasting then any umbrella chair I have ever owned.  They are $69, and well worth it." – Gary Goyette
Small Camping Chairs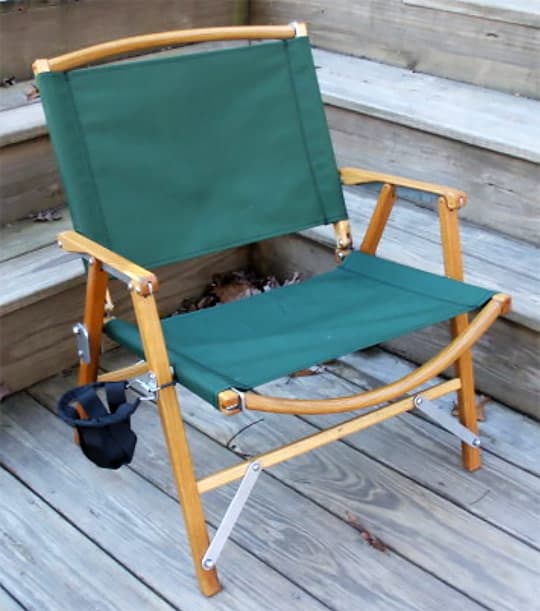 "I have a Kermit's Camping Chair.  They are also bought by thousands of motorcyclists.  If it breaks, they repair it free of charge." – Tav Walraven
More TCM Reader Recommended Products:
Water Filtration Systems  |  Surge Protectors For Campers
Zero Gravity Lounger Camping Chairs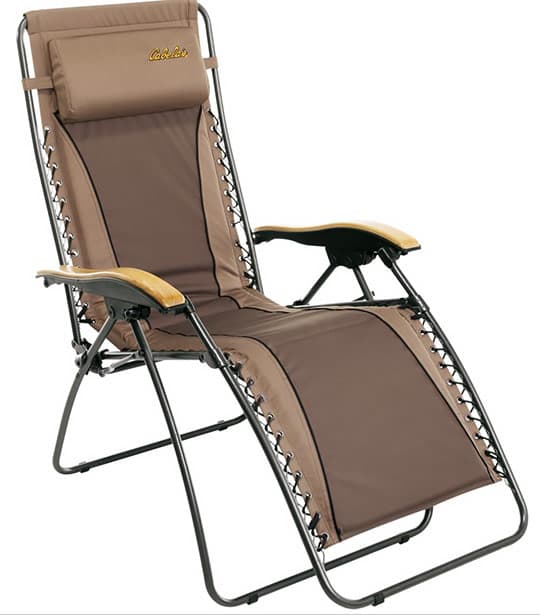 "I have Cabela's Zero Gravity standard padded lounger.  The tray attachment from Amazon is a must have and works on all of our camp chairs.
We store our camp chairs right in the back of the camper along with all the other gear. It's among the first things out and one of the last things to be put away." – Neal Haymore
"We faced the same issue with finding the right camp chairs.  After sitting in a couple of the Zero Gravity chairs at Camping World, we were immediately sold.
Since then we have purchased a ladder rack for the roof ladder and now carry them there.  With a few bungee cords, they stay securely attached and we have had no problems with them.  They are very comfortable chairs!  My favorite part is being able to lock the chair in any reclined position." – Hugh Redmon
More TCM Reader Recommended Products:
The 50 Best Flashlights and Lanterns  |  The Best Maps, Apps, and GPS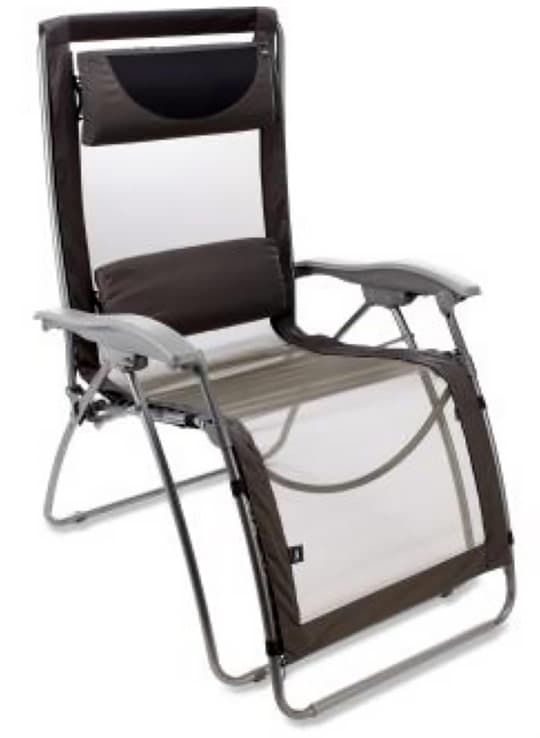 "For lounging, we love our REI Comfort Lounger XL Chairs.  They are a type of zero-gravity lounger, wide and roomy and extremely comfortable camping chairs for that all-important afternoon nap.  In them, we are like those old fashioned china dolls – we sit down in these loungers and as we lay back to a flat position, our eyelids close (and the snoring begins).  We carry these on a rack on our rear camper ladder.
Both chairs have mesh fabric in the seat and back that allows them to breathe and keeps you quite comfortable.  Best of luck finding that "just right" chair, Goldilocks!" – Mike and Paula Bostic
Once you're done checking out the most comfortable camping chairs, take a look at essential hiking gear for camping.
Director Style Camping Chairs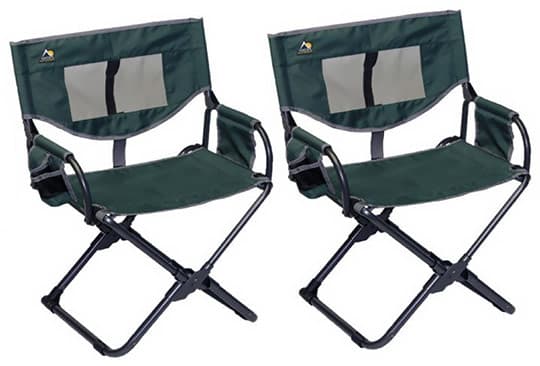 "We have the GCI Xpress lounger director chair that fellow truck campers recommended to us.  We bought them on Amazon." – Susan Goll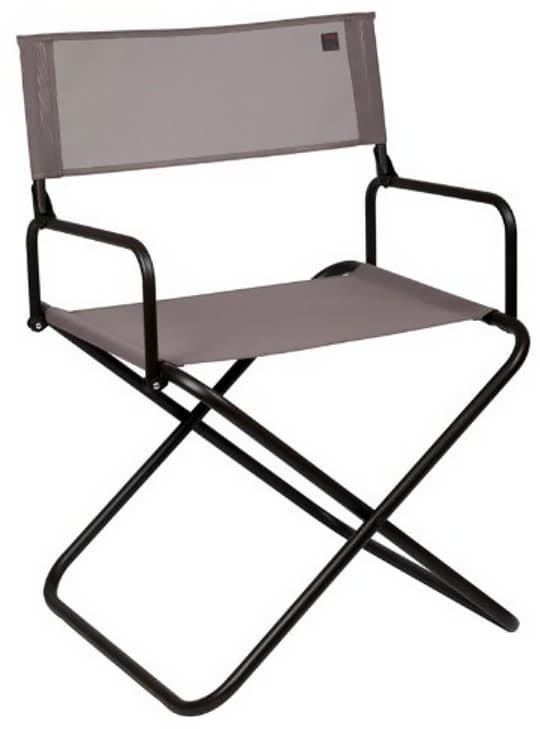 "I have a LaFuma FGX XL Folding Director's Chair.  I keep it behind the dinette seat-back.  It fits nicely with the Walmart aluminum 18″ x 20″ camping table, and secures with bungee net." – Mitch Johnson
Tall Back Camping Chairs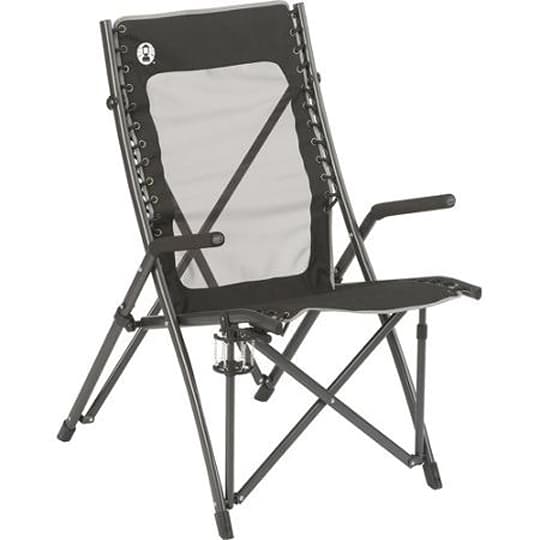 "We have a Coleman Comfort Smart Suspension chairs.  We like large size chairs with a tall, mesh back.  This gives the best back support of the many, many chairs we sat in to try.  This chair does not cut into either of our under-thighs.
We dislike large chairs that are too bulky to store.  We don't like the chintzy cupholders made out of dangling chain.  We're thinking of replacing the chain with nylon cording.
Reviews say the rivets break easy, but we haven't had that happen and the chairs are on their second summer with pretty frequent use.  Since the bags are black, they are sometimes hard to find without the chairs in them.
We store the chairs on the floor of the back seat area making the floor nearly a platform for Molly, our dog.  If she can't sit between us, she likes to at least have her head on the console." – Bonnie Pascucci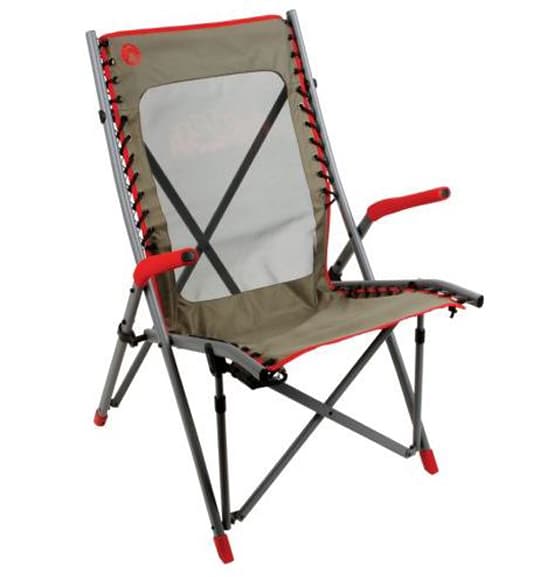 "I have the Legacy Comfortsmart Chair from Coleman which delivers "Zero Gravity" comfort.  It has integrated drink holder that keeps cans, bottles, and even wine glasses secure and within reach.  The steel frame folds for convenient storage and easy transport.  The nylon mesh allows cooling air to reach your back on hot days.  I am a large person and this chair supports my weight.  Over the last fifty plus years of camping, I have owned and destroyed many different camp chairs.  This chair is by far one of the most comfortable camping chairs I have ever owned." – Jim Bennett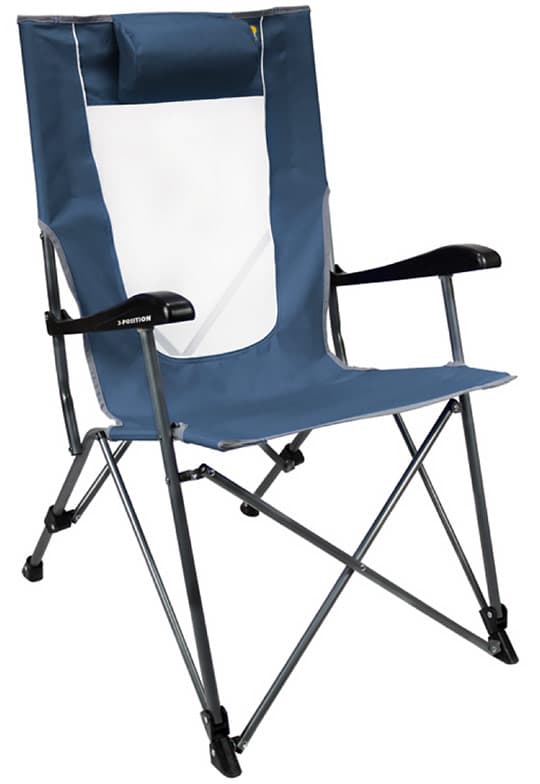 "I use a GCI Outdoor Recliner.  It a comfortable camping chair and very compact, which given the space considerations in a truck camper, makes it really useful." – Al Stebbins
Homemade Camping Chairs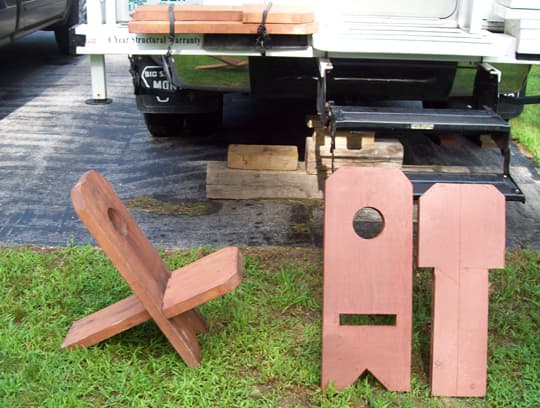 "I have a homemade camper chair made out of 2×12 wood.  We can sit on it, level the truck with it, throw it under the truck if we get stuck, or cut and split it if we get short on wood.  I strap it to the rear bumper.  It's very easy to make!" – Dennis Thorell
More TCM Reader Recommended Products:
Collapsible Storage Solutions  |  Binoculars for Birds, Bear, and Buffalo