After revealing some of our more colorful hiking blunders, surprises, and lessons, we asked TCM readers what they bring on a hike, and why.
Reading through the responses, we are completely blown away by the depth and breadth of what folks take on a hike.
In a single pack, people bring what they need survive an injury or an unintended overnight.  As many of the respondents state, this preparation could mean the difference between life and death.
The good news – for hiking novices like Angela and I – is that there's a clear pattern to what people are packing.  Of course knowing how and when to use these items is at least as important as having them.  That comes with reading, training, and experience.
This week's Question of the Week was, "Based on a hiking experience, what do you now bring on a hike, and why?"
Get out a pen and paper and get ready to make a hike preparation shopping list.  We just added a few more items to our next Amazon order.
"The old basic bible of hiking is the 10 essentials; (1) a map of the area, (2) a compass (and knowledge of how to use it), (3) sunglasses, (4) sunscreen, (5) extra clothing, (6) headlamp or flashlight, (6) a first aid kit, (7) fire starter, (8) matches, (9) knife, and (10) extra food.  Don't leave home without them.  They will save your life!" – Jim Furubotten, 2006 Ford F350, 2014 Northern Lite 10-2

Above: A Morphie battery pack to extend smartphone battery life
"Hiking almost exclusively in Alaska, I carry a daypack with rain gear, an extra layer of fleece, hats, and gloves.  These items never leave my pack, even on warmer summer days.  In Alaska, it can be sunny and beautiful one minute and literally be snowing the next.
I carry water and food for both my wife and I.  We also carry a small first aid kit and a small tarp.  I use motion-X GPS app to track our whereabouts.  We can download a map at home to ensure we have a map.  I also carry a Mophie battery pack to provide extra juice for the phone." – John Hood, 2012 Ford F350, 2008 Arctic Fox 1140
"We learned 44 years ago, when Mary was an Army nurse at Fort Hood, Texas, to carry a frozen canteen each when hiking in the desert.  Once in Big Bend Park our canteens likely saved someone's poorly prepared grandmother from heat exhaustion or heat stroke.
Now that we travel in Alaska, British Columbia, Alberta, Manitoba, Montana, Minnesota, Wisconsin, etc., we don't leave the lot without bear spray (that includes anywhere in national forests).
I actually carried a loaded 45-70 rifle in Montana's Ross Cedars State Park because the black bear had a bad reputation, even among game wardens.  Doing so was advised by our fishing guide.  In Ross Cedars Park it was worth carrying cameras, bear spray, and the rifle.
Now that we're old and broken down, we don't go anywhere that doesn't have decent cell service.  One misstep can result in needing ambulance service." – Philip Tron, 2009 Chevy 3500, 2012 Lance 1050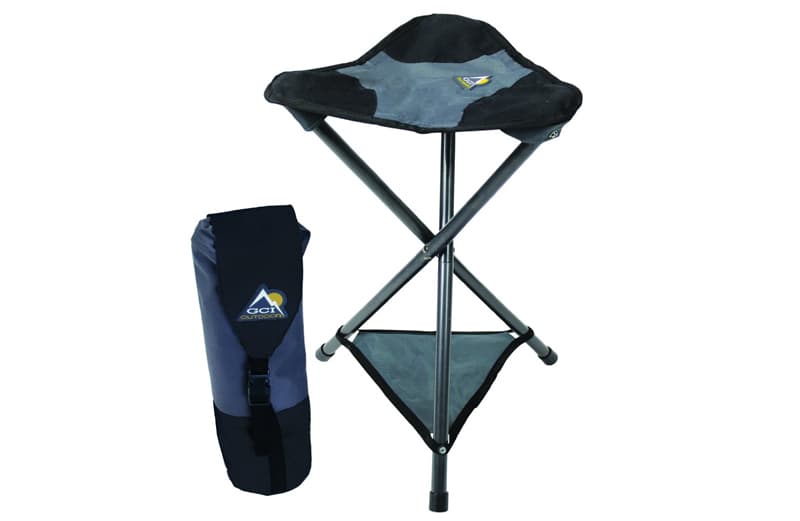 Above: Lightweight folding hiking stools
"I take lots of water, but also a small can of Coke or a small thermos of coffee because, when I'm feeling overwhelmed, faint, or chilled, caffeine helps.  I also take a compass, folding knife, toilet paper, baggies (to carry out toilet paper), first aid, emergency blankets, plastic travel rain ponchos big enough to also cover a knapsack, and a cell phone with downloaded maps in case there is no reception.
I'll bring along a topographical map if available.  I also bring a pencil and paper because, when I have to decide on a direction that may be iffy, I like to write down the time and compass reading and any markers.  I find this easier than using the cell phone to make notes, especially since I carry the cell phone turned off.