After revealing some of our more colorful hiking blunders, surprises, and lessons, we asked TCM readers what they bring on a hike, and why.
Reading through the responses, we are completely blown away by the depth and breadth of what folks take on a hike.
In a single pack, people bring what they need survive an injury or an unintended overnight.  As many of the respondents state, this preparation could mean the difference between life and death.
The good news – for hiking novices like Angela and I – is that there's a clear pattern to what people are packing.  Of course knowing how and when to use these items is at least as important as having them.  That comes with reading, training, and experience.
This week's Question of the Week was, "Based on a hiking experience, what do you now bring on a hike, and why?"
Get out a pen and paper and get ready to make a hike preparation shopping list.  We just added a few more items to our next Amazon order.
"The old basic bible of hiking is the 10 essentials; (1) a map of the area, (2) a compass (and knowledge of how to use it), (3) sunglasses, (4) sunscreen, (5) extra clothing, (6) headlamp or flashlight, (6) a first aid kit, (7) fire starter, (8) matches, (9) knife, and (10) extra food.  Don't leave home without them.  They will save your life!" – Jim Furubotten, 2006 Ford F350, 2014 Northern Lite 10-2

Above: A Morphie battery pack to extend smartphone battery life
"Hiking almost exclusively in Alaska, I carry a daypack with rain gear, an extra layer of fleece, hats, and gloves.  These items never leave my pack, even on warmer summer days.  In Alaska, it can be sunny and beautiful one minute and literally be snowing the next.
I carry water and food for both my wife and I.  We also carry a small first aid kit and a small tarp.  I use motion-X GPS app to track our whereabouts.  We can download a map at home to ensure we have a map.  I also carry a Mophie battery pack to provide extra juice for the phone." – John Hood, 2012 Ford F350, 2008 Arctic Fox 1140
"We learned 44 years ago, when Mary was an Army nurse at Fort Hood, Texas, to carry a frozen canteen each when hiking in the desert.  Once in Big Bend Park our canteens likely saved someone's poorly prepared grandmother from heat exhaustion or heat stroke.
Now that we travel in Alaska, British Columbia, Alberta, Manitoba, Montana, Minnesota, Wisconsin, etc., we don't leave the lot without bear spray (that includes anywhere in national forests).
I actually carried a loaded 45-70 rifle in Montana's Ross Cedars State Park because the black bear had a bad reputation, even among game wardens.  Doing so was advised by our fishing guide.  In Ross Cedars Park it was worth carrying cameras, bear spray, and the rifle.
Now that we're old and broken down, we don't go anywhere that doesn't have decent cell service.  One misstep can result in needing ambulance service." – Philip Tron, 2009 Chevy 3500, 2012 Lance 1050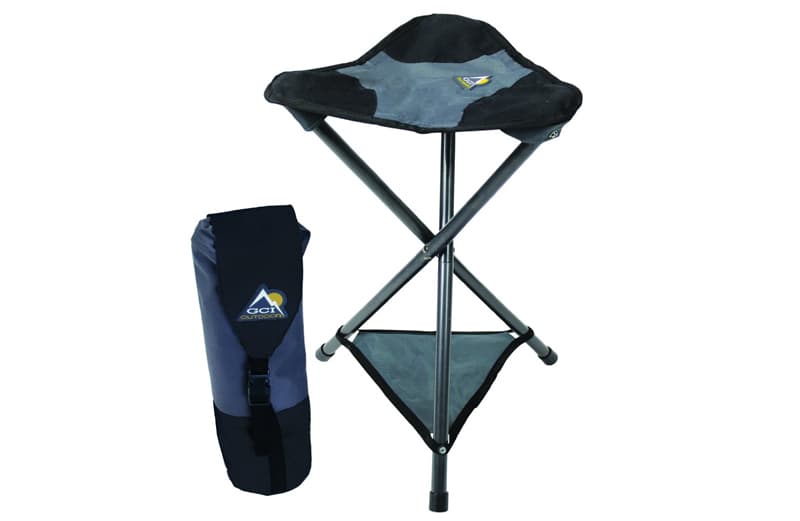 Above: Lightweight folding hiking stools
"I take lots of water, but also a small can of Coke or a small thermos of coffee because, when I'm feeling overwhelmed, faint, or chilled, caffeine helps.  I also take a compass, folding knife, toilet paper, baggies (to carry out toilet paper), first aid, emergency blankets, plastic travel rain ponchos big enough to also cover a knapsack, and a cell phone with downloaded maps in case there is no reception.
I'll bring along a topographical map if available.  I also bring a pencil and paper because, when I have to decide on a direction that may be iffy, I like to write down the time and compass reading and any markers.  I find this easier than using the cell phone to make notes, especially since I carry the cell phone turned off.
I always carry several days worth of medications.  I've done that ever since I broke my ankle on a hike and had to deal with not only that painful emergency, but also symptoms of a chronic disease flaring.  I always pack the next meal even if we intend to be out by then, plus snacks such as nuts, dry sausage, bars, or dried fruit.  All of these I keep constantly in the pack as they keep indefinitely.  It sounds like a lot, but it all actually fits into a small backpack.
Plus, I take my trusty hiking friend who carries the pack and knows how to survive in the wilderness through his many previous adventures.  On each side of the pack we strap light folding hiking stools because sitting on the ground is to be avoided both due to our age and due to ticks.  I learned this the hard way when I sat on a log to rest and was infested with dozens of ticks which ended up on my scalp – very icky!" – Michele McLeod, 2013 Ford F150, 2000 Travel Hawk 9.5
"We take the usual stuff that is not really unique enough to require a detailed description – backpack with sunscreen, disposable rain coat, food, water, etc.
But I have a question that maybe someone in this great audience might have experience with.  I have a 9mm pistol with conceal carry permit and have heard on the rare occasion when a bear does not run away, but starts walking toward a hiker even as one is waving his hands to shoo him off, that a shot to the skin discourages him and he will turn away and leave.
My permit is good in 29 states – except a few places like New York and Massachusetts.  Does anyone have any experience and might know if it does discourage the bear or makes him even madder and more determined?" – Fred Patterson, 2013 Ford F350, 2002 Lance 1161
Editor's Note: According to the US Fish & Wildlife Service, bear spray is not only more effective at deterring a bear attack, but shooting a bear only increases the likelihood that you will be seriously injured by a bear.  See the PDF report here: http://above.nasa.gov/safety/documents/Bear/bearspray_vs_bullets.pdf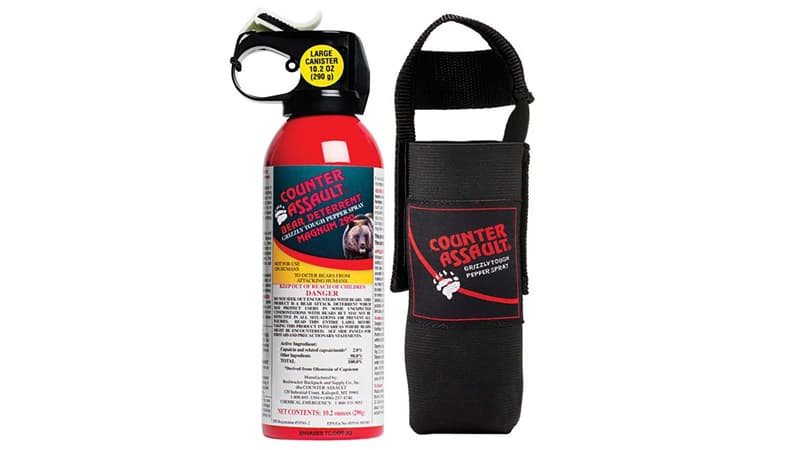 "Here are some items on my check list: (1) Water.  The quantity depends on length of hike, outside temperature, etc.  (2) Snacks like energy bars.  The quantity of food depends on the length of the hike, and how hungry I might get.
(3) I also carry bear spray in bear country, (4) a small, but loud air horn, (5) a small well organized first aid kit, (6) a rain jacket, (7) a map and/or a good fully charged Garmin, (7) a fully charged cell phone, (8) a Swiss Army knife, (9) insect repellant, (10) sun screen, (11) compass, (12) waterproof matches, (13) space blanket, (14) gloves, (15) camera with fully charged battery and/or spare battery, (16) sunglasses, (17) whistle, (18) toilet paper, (19) a jacket (the type depends on the weather and temperatures, and (20) candy M&Ms." – Fred Stanley, 2012 Ford F350, 2015 Northern Lite 8'11" Q Classic Sportsman
"We take water, GPS, phone, camera, reading glasses and tweezers (lots of prickly pear near us and it sticks in our dog), antihistamine (wasps), wipes, band aids, hiking poles, and bear spray if needed." – Orian Hartviksen, Ford F-350, Northern Lite 8-11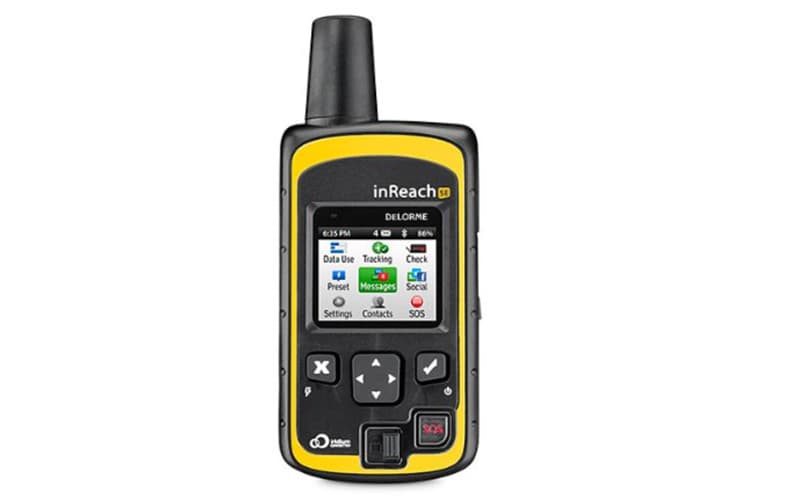 "First off, when I hike, it is not two hundred yards out with a turn around.  My average hike is ten plus miles.
My pack items include a three liter water bladder, a map of the area, Delorme inReach with sat coms, a compass, two hiking poles that can be used for many things, and a first aid kit – and I do not mean band aids.
I also bring an emergency shelter, emergency blanket, food for two days,100 feet para cord, knife, fire starters, no less than three sources of fire for fire, paper towels, two flash lights and batteries, duct tape wrapped around a pencil, bear spray, small sewing kit, multi-tool like a Leatherman, a dry pair of socks, shirt, and jacket – because no matter what the temperature is, it can get cold in the desert.   This all fits in a small backpack and it's very easy to carry." – Eric Anderson, 2001 Dodge 3500, 2013 Arctic Fox 990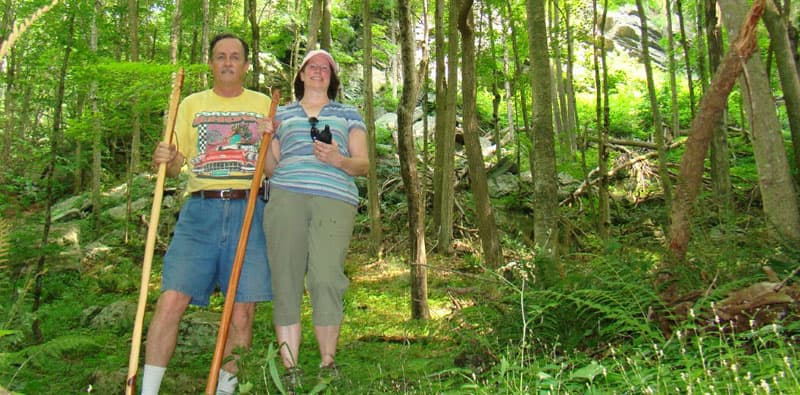 "We love to go geocaching (a treasure hunting game) which usually takes us on quite long hikes through the woods, over rail trails, etc.  Besides a good GPS, we also take along a compass, hats, and walking sticks.
The walking sticks we found to be immensely helpful on uneven terrain or hopping rivers, but more importantly, to hold in front of your face as you walk through some wooded trails to catch spider webs!  We learned this the hard way… ugh!" – Charles Coushaine, 2001 Ford F350, 2012 Chalet DS116RB
"This could be a very long answer, but to keep it brief, I take enough equipment to allow me to comfortably stay out overnight if necessary as well as some emergency equipment.  I keep a pack pre-loaded with all of the non-perishables in my truck.  Then I only need to add water and food.
A partial list of what's always in the pack includes a high quality fixed blade knife, water purification tablets, first aid kit, compass, map of the local area, whistle for signaling, raincoat, packable down coat, gloves, waterproof matches and fire starter, couple days worth of dehydrated food, small aluminum pan to cook in or scoop up water, emergency shelter (I use a space blanket), fishing line and hooks in a small plastic bottle, 50 feet of paracord, small LED flashlight and couple extra batteries, and sunscreen.
The raincoat, down coat, and space blanket are bright colors so that they're easily seen. After adding water and fresh food for the day, everything usually weight under fifteen pounds and, in a good pack, can be carried easily.  I have stayed out overnight a couple of times – once when it got too dark to easily get back to camp safely, and once when I came upon a couple of people who had gotten their vehicle stuck." – Phil Rodacy, 2012 GMC 3500, 2006 Okanagan 90W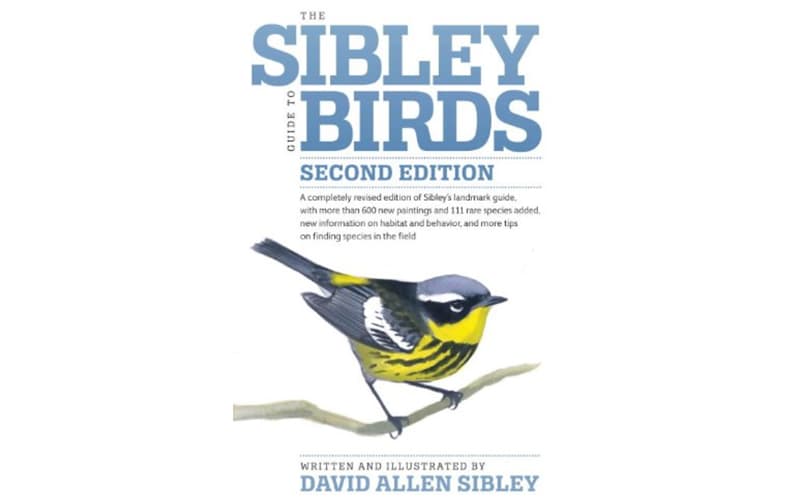 "It varies from hike to hike, depending on location and local weather conditions.  We bring a light backpack, camera, The Sibley Guide to Birds (eBook), 2 to 4 quarts of water, mosquito netting, hiking sticks, insect repellent, hats/caps/mittens, a jacket/coat, rain gear, cell phone, iPad, maps, and snack foods/fruit (Audrey is diabetic)." – Jon and Audrey Hunstock, 2008 Ford F250, 2014 Northstar Arrow U
"Toilet paper.  One doesn't expect nature to call at 2:00pm, but it happens!  We take snacks and extra fluids because hikes take longer than expected.  We also carry field guides.  When one does not bring them that's when one sees/finds unusual flora and fauna." – Jim Carpenter, 2009 Ford F150, 2005 Starcraft Pine Mountain pop-up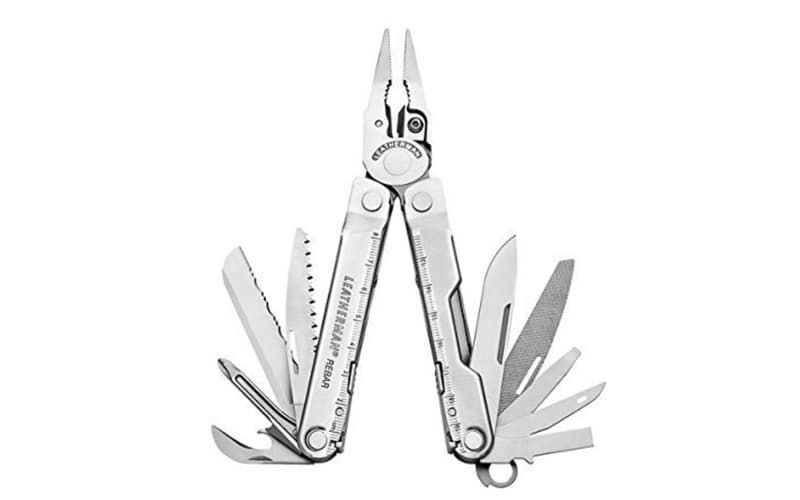 "The item that is first on my hiking list, and something I always remember now, is my Leatherman tool.  It's the best tool for cactus spines, wood slivers, and a general all around tool for most everything." – Dan Guptill, 2015 Ram 3500, 2008 Bigfoot
"We bought our truck camper in order for us to have the ability to get further out and enjoy some great hikes.  Most of our hikes are in the four to eight mile range.
In my backpack I carry two water bottles, a small first aid kit, a topo map, and either a light rain jacket or fleece.  I also carry some form of personal protection and my cell phone and GPS.  Depending on the hike we will also take some food as well.
The most important thing, for me is a good pair of hiking boots.  It makes those long hikes bearable!" – Eddie Fort, 2006 Ford F350, 2016 Hallmark Everest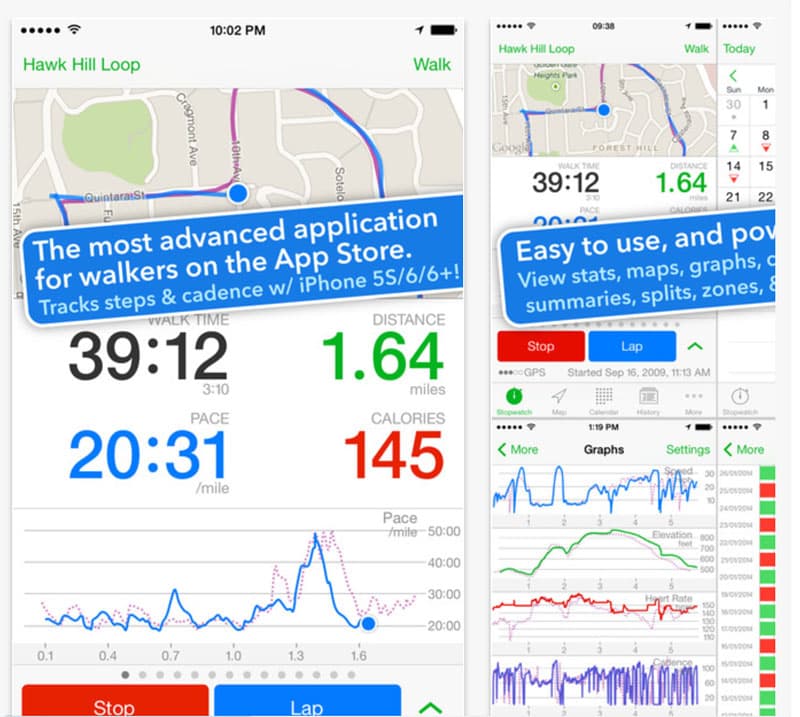 Above: Screens from the Walkmeter app
"An App called Walkmeter not only records real time distance, but it also creates a map. You don't have to have cellular coverage for it to work.  It works with GPS." – Dave Crouch, 2016 Ford F250, 2016 Four Wheel Hawk
"I went out hiking with some friends, and we said to ourselves, "We're only going a few miles, we don't need to bring a first aid kit!".   Sure enough, after just a mile, a friend fell and gashed his hand badly against a sharp rock, and we didn't have a first aid kit.  Fortunately, some other hikers came along the trail, and they did have a kit.
So, ever since then, no matter how short the hike, I bring a first aid kit with bandages and a tourniquet." – Tom B., no camper yet, but I will!
"Having been a Scoutmaster for 23 years, (and a Vietnam veteran) the compass and first aid kit are always along.  I also carry a fire starter in my pocket, a neckerchief (splints), a pocket knife (many uses), and a hat – not a baseball hat, but a brimmed hat for rain/sun protection.  There's also a small flashlight (obvious after dark use), moleskin (for blisters), compact rain jacket, and water goes without saying.
A trusty walking stick acts as a source of warding off pesky varmints if necessary.  Of course it's a nice balance assist for us oldsters compared to the boys I've hiked with, plus it can be used for splints/stretchers.  These are minimums." – Steven F Franz, 2007 GMC 3500, 2014 Lance 1191
"Between the two of us, we bring a GPS, compass and map (got turned around once), matches and other fire starter (which I have not had to use yet), flashlight (have not had to use yet either), good first aid kit (scratches and blisters), water in stainless bottles and purification drops (always get thirsty), snacks (have not had to use in an emergency yet), rain gear (got caught in several thunder storms and one snow storm), and a waterproof camera.
We each carry a small day pack.  We spent two weeks day hiking in Glacier last year and two weeks in Canadian Rockies this year." – Don Norris, 2003 Chevy K2500HD, Travel Lite 800SB
"I had a similar experience to Gordon and Angela's experience in the Bisti Wilderness.  I randomly wandered and explored all day working the wonderful photographic opportunities of the unique landscape and didn't start out until after sunset on a moonless night.
I did have a compass and knew which way to go to intersect the road, but was drifting north from the parking lot as darkness made it impossible to see any land marks.
Fortunately there was a German couple with a great GPS.  I adjusted course south and intercepted them to walk out together.  Needless to say, we shared beer when we got back.  They saved me several hours or so by steering me directly home.

Above: Backcountry Navigator app logo
So, in addition to my regular day pack of rain-gear/coat, first aid kit, head lamp, compass water, knife, and small survival kit, I now I use my Android phone and the Back Country Navigator app to load maps, make traces of my route, set way points etc.  Even without a map downloaded to it, I can always retrace my steps.  Keeping the phone in airplane mode saves the battery.  The reception may not be as good as a dedicated GPS, but even in deep East Coast forests I get good enough reception." – David Kiel, 2007 Toyota Tundra, 2012 Phoenix
"Some years ago I owned a small airplane (Piper Cherokee).  One day, while flying over the Cascade Mountains, it dawned on me that if I went down (and survived the crash), I would probably die of exposure or thirst or starvation.
So I built myself a survival kit (named an Oh S__t kit) just in case.  It consisted of a small day pack containing a first aid kit, spare clothing (appropriate to the area and weather), food (trail mix and power bars), water (at least one liter and usually two), sunglasses, sunscreen, a compass and/or a hand held GPS, rain jacket, a space blanket, and various other items that I deemed appropriate.
To this day I keep these items in my vehicle ready to go for those impromptu hikes.  In the Pacific Northwest and elsewhere, there are many horror stories about people (many highly experienced) who stepped onto the trail for a quick jaunt and never came back. For some guidelines on what to take, go to The Mountaineers website and look up the ten essentials." – Steve Timmings, 2003 Ford F350, 2013 FWC Hawk SC
"A lot of people die in the Utah backcountry every year, so I think it's a good idea to be prepared, or preferably over-prepared.
I keep my lightweight hiking daypack permanently stocked with an emergency overnight kit containing a compass, fire-lighting supplies, small multi tool, mini flashlight, small amount of duct tape, featherweight wind jacket, and emergency blanket.

Also, I have bear spray, a lightweight first aid kit primarily for blisters, cuts and stings, a Lifestraw water filter, a bandana, and toilet kit with plastic bags, paper and hand wipes.  All of this plus the pack weighs only four pounds.
For day hikes I add a Waka-Waka solar light/phone charger and USB cable, a couple of packages of dry emergency food such as nuts and Belvita, water, my lunch, a map, and a small camera.
My final pack weight depends on the amount of water I bring, of course, and whether extra clothing such as rain gear is needed.  I don't think my pack has ever weighed more than eight pounds.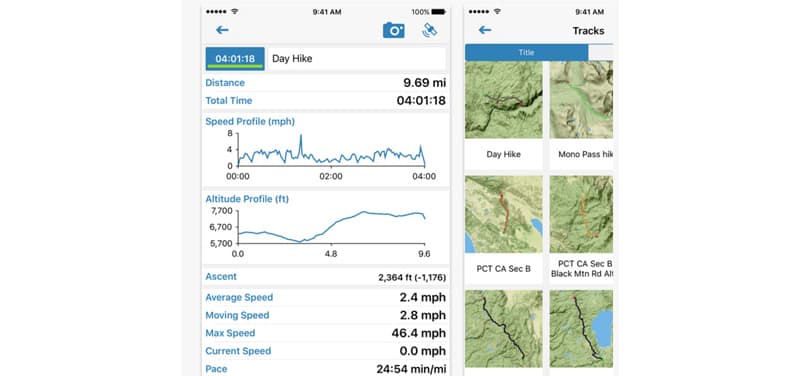 On my smartphone I use the Gaia app to record my track and tell me where I am and how to get back.
All this may seem like overkill, but on my last day hike we ended up needing my compass, first aid supplies, and food.  I might be carrying a couple of extra pounds in my pack, but if things go wrong I hope not to be the one with regrets.  I've had those before, which is how I accumulated all this stuff in my pack!" – Christine Dyer, 2012 Chevy Silverado, 2016 Four Wheel Camper Hawk Shell
"Never skimp on sleeping gear.  It's tough when you cannot get good sleep.  Bring a nylon tarp, pillow pad, and a quality bag." – Eric Williams, 2016 Ford F350, 2017 Alaskan

"I always have in my backpack: water, first aid kit, whistle, a couple snack bars, a bit of toilet paper, matches, two rain ponchos, two hunter safety vest, extra pair of socks, and a handheld GPS.  In bear country I bring bear spray and a recent addition is a Spot Gen 3 personal GPS tracking device.
Why?  I carry enough things that if I were to be stuck overnight, I could get through it.  During colder months I bring more and warmer clothes.  The Spot Gen 3 is a fantastic addition for me when I am hiking alone in areas with no cell reception.  I can still reach out to those I have selected, sending a message that I am okay.  There is also the button that can be pushed to send a message that I need help right away." – Rich Bain, 2004 Dodge 3500, 2010 Adventurer 810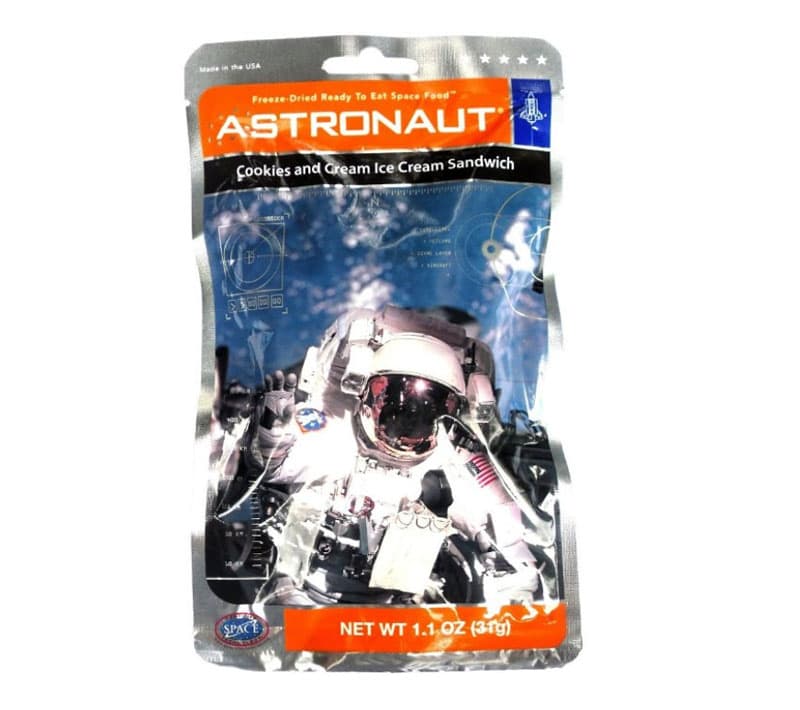 "We carry a backpack with Astronaut Ice Cream bars.  They are refreshing and light.  We also carry binoculars, two rain ponchos, a water filter or iodine pills in a empty clean reusable water bottle, two reusable water bottles, hats, an emergency kit, two long ace bandages, bandanas, and two hiking poles.
Know where the trail goes.  Yes, 3.4 miles to the window may be 3.4 miles going down, way down, and you must come back up, way up.  In Texas we say, "turn around, don't drown".  It can be translated many ways.  Have fun, be good, and be safe." – Jake and Sylvie Mathis, 1994 Dodge Ram, 2003 Northern Lite 9C Q
"I live in the desert so I bring a wide brimmed hat, long sleeve shirt, convertible pants/shorts, synthetic underwear, non-cotton socks, and good hiking boots.
I also bring a gear; a backpack with a two liter camelback, hiking stick, first aid kit, Leatherman/Gerber multipurpose tool, toilet paper, small digging shovel, snacks, map, headlamp, and PLB (personal locator beacon)." – Mike Wolf, 2005 Dodge Ram 2500, 2014 Adventurer 86FB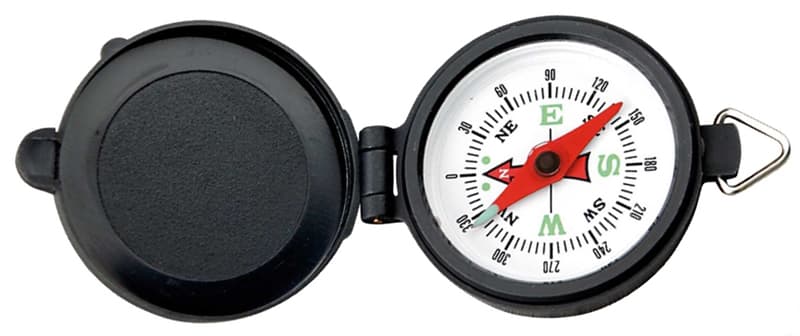 "As a 38 year Army veteran and traveler to foreign countries, I would never assume anything.  If you are familiar with your home area, you will likely be unfamiliar with new areas.  Always tell someone where you are going, review the hiking terrain, and weather.  Be in physical shape in accordance with the difficulty of the hike.  In a foreign country, take a passport.
Take water and small purifier filter, waterproof matches, compass (non electric), pieces of fat wood, tissue in a baggy, protein bars, hiking quality shoes, trail map, appropriate clothes, high lumen flashlight with extra batteries, pocket knife, piece of parachute cord 25-feet long, required meds for hiking time, a good tested backpack to carry your gear (keep it packed and ready to go).  Also take your cell phone and battery pack, if usable." – Steve English, 2014 Dodge Ram 3500, 2013 Lance 1172
"First, I take my dog, water, compass, cell phone, and small first aid kit.  I also keep a eye on the weather.  If bad weather is coming, I take a short hike.  Common sense goes a long way." – Charlie Young, 2013 Chevy 2500HD, Truck Topper Camper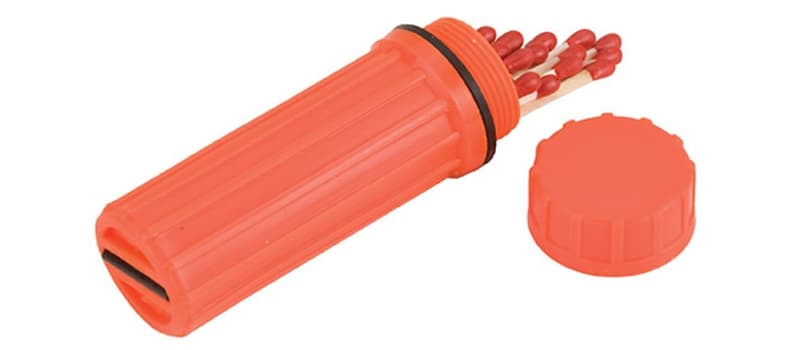 Above: Matches in a waterproof container
"Summer or winter, my pack always contains the following: toque and gloves, Gortex coat and pants, water bottle or bladder, first aid kit, bear spray, compass with mirror, whistle, bug spray, sun lotion, sun hat, toilet paper, granola bars, binoculars, knife, duct tape, extra boot laces, handheld mini-saw, reflective blanket (winter only), candle, matches in a waterproof container, umbrella, maps of the local area, multi-tool, plasticized plant, bird and tree identifier pamphlets, and lunch with some extra food just in case.
No matter what we are doing I want to be prepared to spend the night in the bush or look after injuries if they happen.  Also, the old army saying of 'one person, one kit' applies.  If you are hiking along with us you need to carry your own stuff." – Steven Gasser, 2013 Ram 3500, 2003 Adventurer 90FWS

"As an Eagle Scout and avid hiker I always keep a backpack in the back loaded with everything I need; a first aid kit, bug spray, sun screen, hats, bandanas, collapsible bowl for the dog's water, sundry bag with a space blanket, knife, fire-starter, battery, headlamp, duct tape and waterproof matches.  The pack also holds my water bladder.  All this (sans water) weighs about two pounds.  We add water, power bars, and dog treats as needed to keep them fresh." – Karl Sault
"First off, take your common sense.  Be focused on where you are and where you are going and how to get back. People take off on a trail or cross country without orienting themselves to where they are and their destination. Consequently they get lost, injured, or both.  It doesn't take much and it's very unnerving.  I also strongly suggest letting someone know your destination, route and expected return if you are traveling solo.  I have a Delorme InReach SAT communicator for emergencies.  At a minimum I would take the 10 essentials noted below:
(1) navigation (map and compass), (2) sun protection (sunglasses and sunscreen), (3) insulation (extra clothing) (4) illumination (headlamp/flashlight), (5) first-aid supplies, (6) fire (waterproof matches/lighter/candles), (7) repair kit and tools, (8) nutrition (extra food), (9) hydration (extra water), and (10) emergency shelter." – Rick Stolz, 1997 Ford F250SD, 2002 Four Wheel Camper Grandby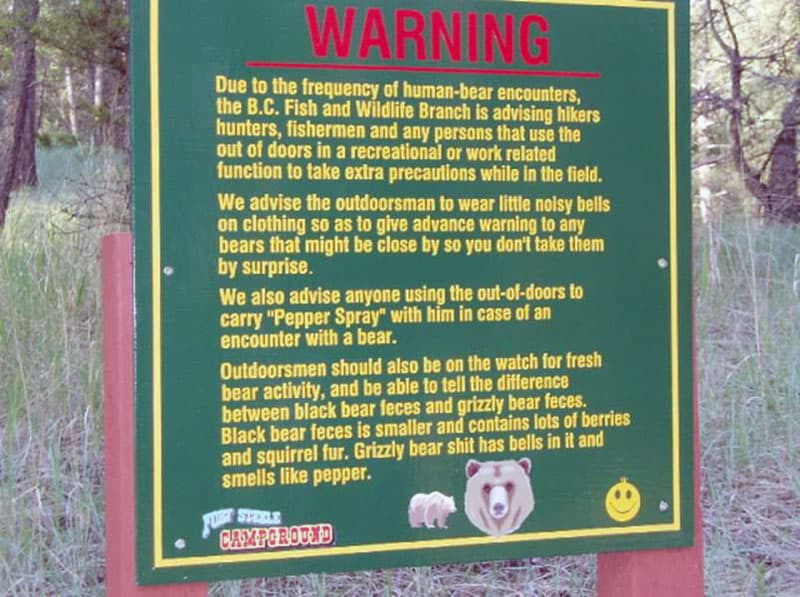 "On the topic of hiking gear, be prepared and watch out for bears.  Years ago I found this picture on the internet of a sign about being in bear country.  I think it is still the best information on the bear topic I have seen." – Ivan Hass
"When we go hiking in our backpack we take cell phone(s), two meter (battery operated) ham radios, two waters each, a compass, small binoculars, tarp, and solar blankets.  We also take several power bars, crackers etc, and an aluminum camp cooking kit (to boil water).  We bring rope, fire starter (matches, lighter, etc), folding tree saw, first aid kit, (boy scout or Red Cross first aid book), extra socks, extra clothing, (raincoat, sweat shirt, etc) knife, and 22 cal. and/or a weapon of choice." – R J, 2007 Dodge 2500, 2003 Palomino Maverick 1000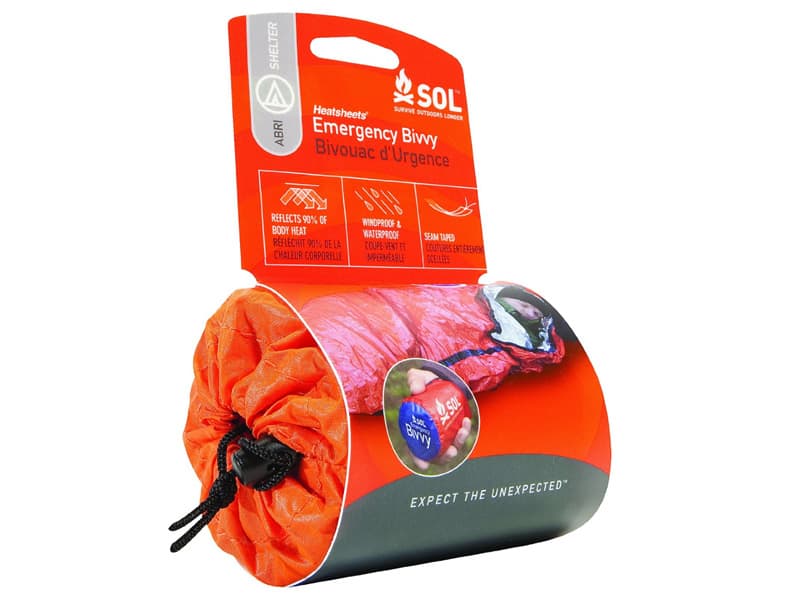 "I carry a Survive Outdoors Longer Survival Bivy instead of just an emergency blanket, especially if there is a possibility of getting wet." – Constance Condit