At a recent truck camper gathering, we were struck by how everyone not only had a favorite camping chair, but also a favorite camping table.  Even more amazing was how many different camping chairs and tables were on display, and how passionate some of the folks were about their particular camping chair and table choices.
If you bring the subject up around a campfire, folks will tell you stories about how they discovered the perfect camping chair and table.  They'll even insist that you try their chair and table and say, "Isn't that chair comfy?  And isn't this table nifty?"
We have already addressed the most comfortable camping chair question in a previous Question of the Week, but what about camping tables?
This week's Question of the Week was, "What is your favorite portable camping table?" As a bonus, we also asked readers for their favorite beer.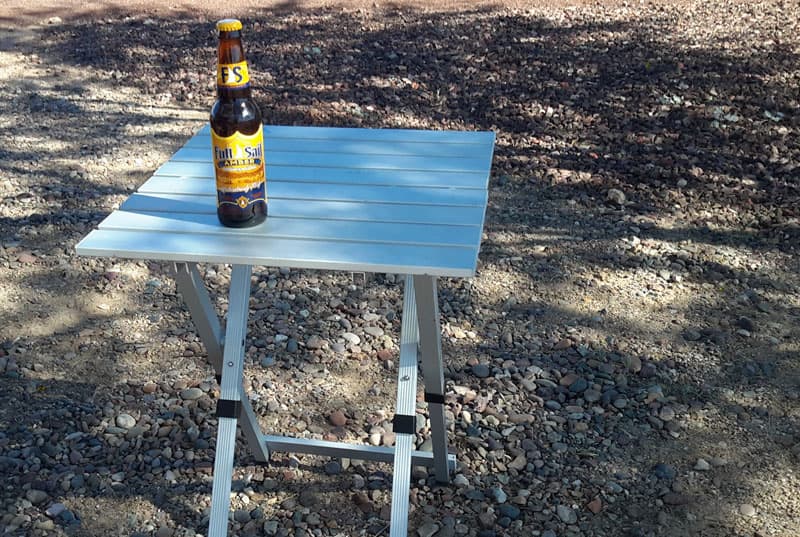 "I've had numerous plastic folding tables, like the kind you find at Camping World.  They're not real sturdy and end up scratched and dingy looking.
I found an aluminum table at REI called the Rio Adventure.  It's very lightweight, has extendable locking legs and when it's folded the bottom support brace becomes the carry handle.  I store it under my dinette table next to the wall with my Weber BBQ.  The BBQ fits perfectly on the table.  The table is also a good resting place for my favorite beer.
Favorite beer: I have tried many different beers.  My wife likes to surprise me at Christmas with a six pack of a different brand of ale.  I always gravitate back to Full Sail Amber.  It's brewed in Hood River, Oregon by Full Sail Brewing Company.  It is, as they say, Ridiculously Tasty!" – Roger Odahl, 2008 Dodge Ram 3500, 2004 Eagle Cap 950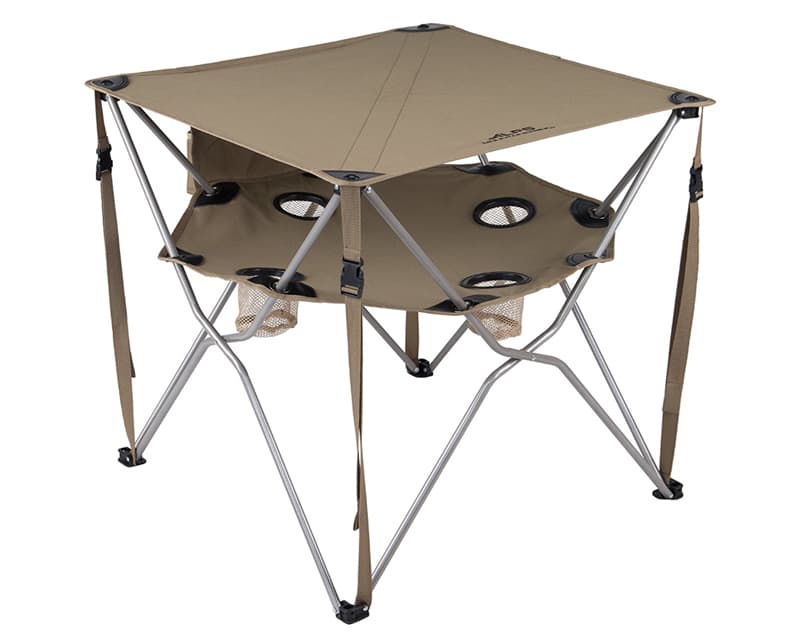 "The ALPS Mountaineering Eclipse Table wins the prize for portability.
It folds up and stows in a sack smaller than most camp chairs.  However, the table is not rigid.  It's more like a stiff trampoline, so it would not be a good idea to sit beverages or spill-ables on top unless you've got a desire to be baptized with your beverage of choice (you know who you are).
Fortunately, this two-level table has four beverage holders on the basement level, as well as extra storage space.  Handy, and definitely hip!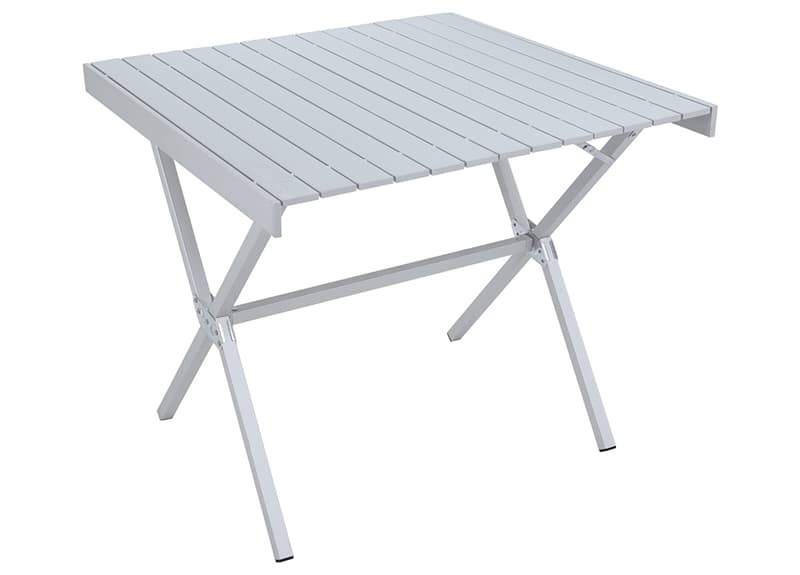 For an engineering feat that yields a table strong and rigid enough to eat a four-course meal with beverages, ALPS Mountaineering comes to the rescue once again with their dining table.
This aluminum marvel is available in three sizes, and each one folds into a 5″ x 7″ package, with length determined by the table length (31″, 43″, or 55").  The largest one only weighs 14 pounds, with the others weighing proportionately less.  Reviews recorded are strongly positive.  This one's a gem for storing and utility.  If the Starship Enterprise had folding tables, they'd look like these.
Favorite beer: Free beer!" – John and Marylou Wells, 2011 Chevy 3500, 2012 Chalet Ascent S100F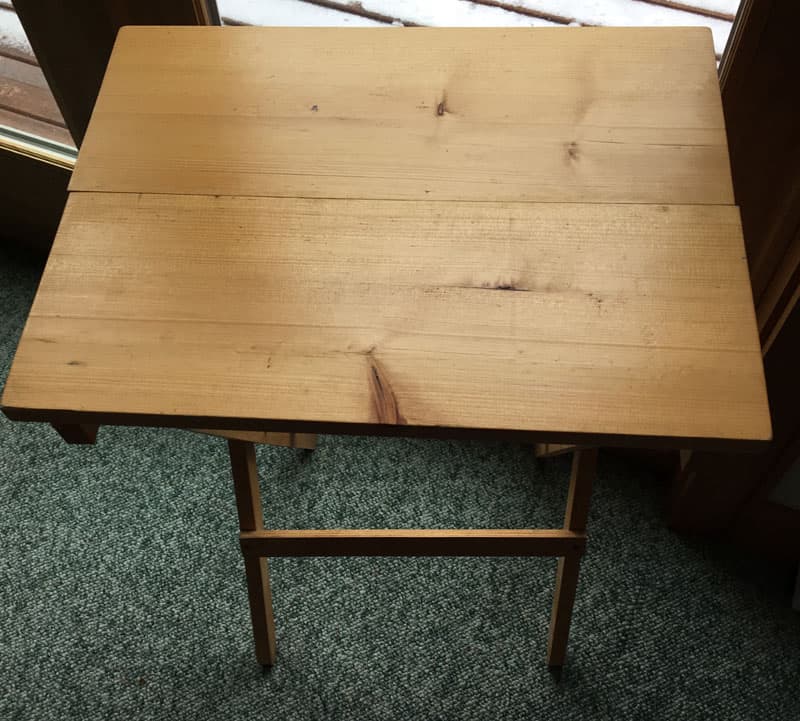 "Our portable camping table is one that my husband custom made.  It is tray table size, but folds differently.  It will hold our grill.  I also have an ironing surface that is framed to fit on the table.
Favorite beer: I like root beer." – Sue Graf, 2008 Ford F350, 2013 Arctic Fox 865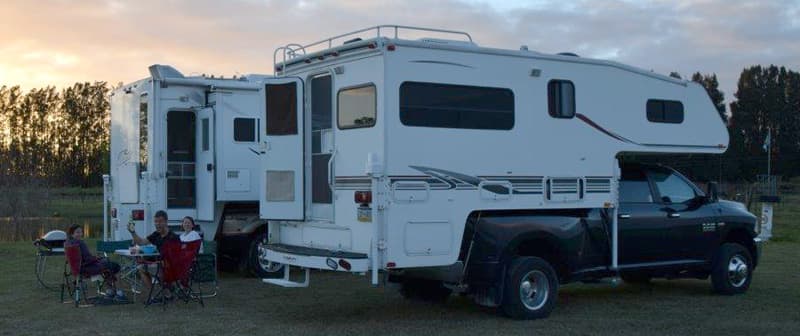 "Our favorite foldable camping table is the Coleman Outdoor Compact Table found on Amazon.
The Coleman table is the perfect size for up to four people to sit around and have cocktails or dinner.  It also folds up very compactly to fit into a storage compartment without being too bulky or heavy.  Highly recommended!
Favorite beer: This has changed over the years, but currently its Michelob Ultra for its low carbs!" – Charles Coushaine, 2001 Ford F350, 2012 Chalet DS116RB
"Our go-to table on all truck camper and Jeep outings is the Camping World Compact Expandable Table #54593 for $65.99.
It's a slatted aluminum table top that seats four.  The frame also expands to use the additional (included) slatted top insert to seat six.  A telescoping table leg adjusts for uneven ground.
The table is 48" L x 27.5" W x 27.5" H and supports 60 pounds.  It stows in a fabric carry bag.  It's also an easy to set up, versatile, and hip camp table." – Fred Pausch, 1997 Ford F250HD, 1991 S&S 8.5'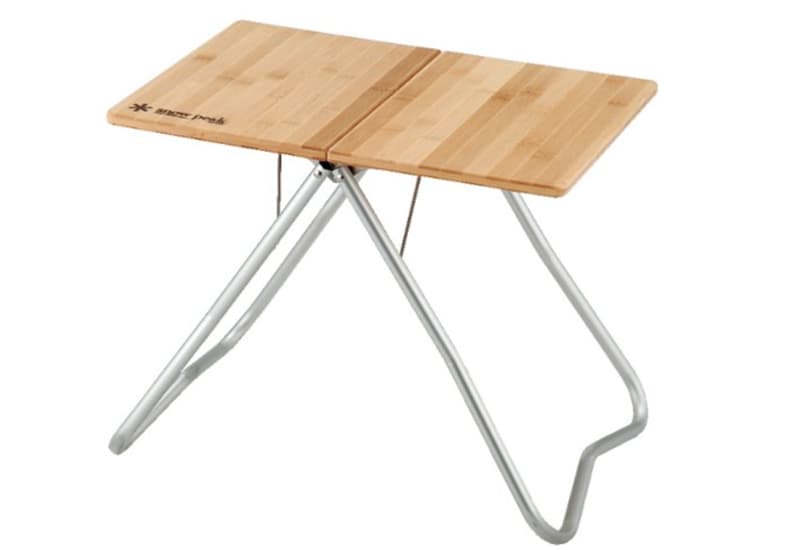 "I have the REI Snow Peak Bamboo table.
Favorite beer: I like Brewing Lair – Ambush IPA, Knee Deep – Breaking Bud IPA, and Fall River – Hexagenia IPA." – Kevin Eliseo, 2006 Ford F-350, 2017 Lance 1062
"I have been through a few tables over the years.  The four footers always work best for my camp.  This year I have a Lifetime four-foot barbecue table.  Half is a normal table for food prep, and the other half has a metal grate for a barbecue, a Weber Smokey Joe, or the stock grill.  I don't remember model of the table, but it was on sale at Walmart for $24.88.
Favorite beer: I like Pacifico at home or Coors Light while camping out in the desert.  There are no glass bottles allowed in Johnson Valley." – Winston Gotte, 2003 GMC Sierra 1500HD, 2016 Four Wheel Camper Hawk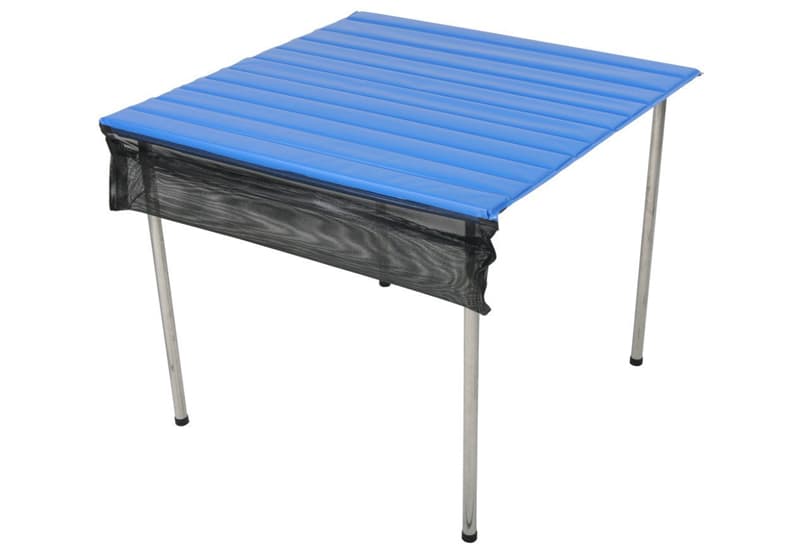 "We have the NRS Roll-A-Table.  I'm not sure how hip the NRS is, but it's a good size, sturdy, and rolls away for easy storage so it's at least useful.
Favorite beer: Ahhhh, beer.  Current favorites are O'Dell's 5-Barrel Pale Ale, Lefthand Sawtooth, New Belgium Fat Tire or Ranger IPA, or whatever we home brewed last." – Sandy Schmidt, 2006 Toyota Tundra, 2015 Four Wheel Camper Hawk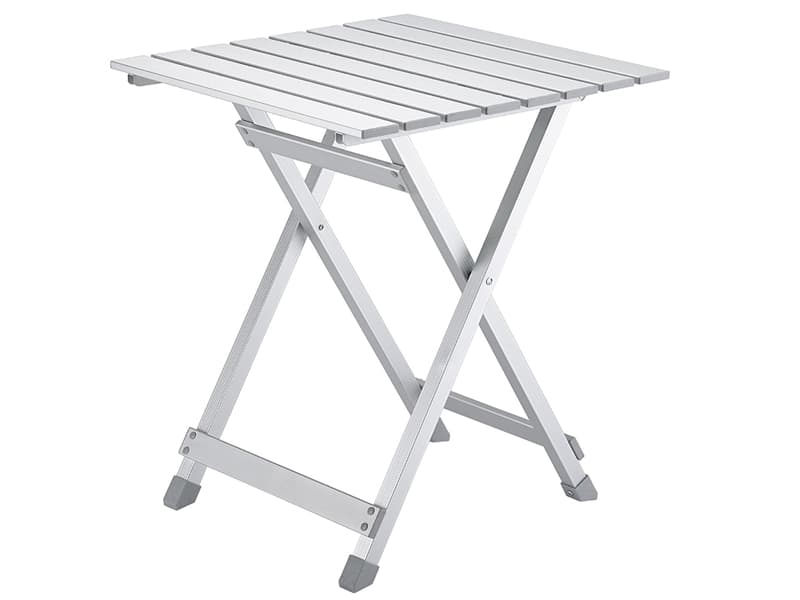 "Our favorite is the Ozark Trail Aluminum Roll Top Camp Table.  This is from Walmart for the whopping price of $24.  They open and fold up quickly and are very light.  We have two and store them under our mattress and have never noticed them being there.
Our beer does not result in any cost, need for refrigeration, DUI's, headaches or hangovers or injuries from falling down.  It's low in calories, and generally results in others offering or insisting that we have some of theirs.  Some folks get uncomfortable around us when we don't accept their offers." – Skip Matthies, Ford F350, 2014 Arctic Fox 990
"I have a Rio Adventure Roll Top Table.  It's a 32-inch table.
Favorite beer: Alaskan Amber is the only alcohol I drink.  Otherwise, I drink water and coffee." – Roger Wareing, 2013 Chevy 3500HD, 2016 Arctic Fox 990
"I made a base from 2x4s and pedestal table leg.  I made portable round cone base without a leg for about $7.  Now I can use my camper table outside just by lifting it off the camper base and moving it to my portable base.
Favorite beer: I like many beers.  Mostly craft beers.  It is hard to beat several of the Sierra Nevada IPAs." – Michael Scott, 2011 Chevy K-3500, 2013 Lance 1191
"Fortunately our Four Wheel Grandby came with a portable table.  The inside table is not fastened in place so it is easy to take it outside.  We also have an aluminum roll up table that stores in a bag like a folding chair.  I don't know the make or model, but I think we got it at Camping World.
I don't drink beer." – Jim Norman, 2001 Dodge Ram 2500, Four Wheel Grandby
"I took out the inside table and bought a fold up table that came from Camping World.  I also have a small white plastic fold out table.  They both work well.
Favorite beer: I've grown fond of the local brews from Innovation Brewery – the IPA and a Sylva Blonde.  That's the local name.  If I'm away from home a good cold Corona will do." – Jeff Hagberg, 2002 Ford F250, 2006 Travel Lite 800 SBX
"My favorite is my vintage Coleman folding suitcase style table (missing the stools).  The hip factor is high.  It's missing the green paint and a little wobbly, but I had to have it after I found out Georgia O'Keefe camped with one.
Favorite beer: I like Deschutes Dead Guy." – Susan Sande, 2013 Toyota Tundra with that stupid short bed my husband insisted on, I wish…
"I have a collapsible Coleman table with separate small bench seats that is a real pain to set up and almost impossible to get back into the canvas pouch/bag – or whatever it is.  As a result, I rarely bring that table along.
The best table doesn't go in my camper, but it is packed along when I tow my cargo trailer to Idaho every year.  I think I bought the table from Costco.  The table doesn't fold except for the legs and is only six feet in length.  It works great.  It's easy to set up or fold up and fits over the fender well of my 18-foot long cargo trailer.
When I boondock I'm happy to eat on a stump or a log.  You can't beat mother nature.
Favorite beer: I rarely drink, but if I have a beer I tend to get a Bud Light or a Miller Draft (MGD).  I can't stand dark beer or a beer that has a bitter taste." – Steven Cilenti, 1999 Ford F350, 2012 Arctic Fox 990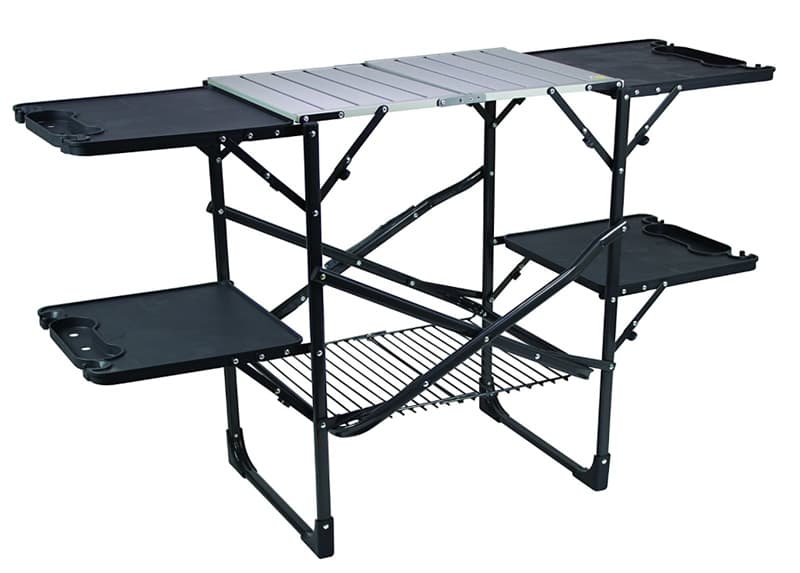 "I have a GCI Outdoor Slim Fold Cook Station.  It's exceptionally well built for a nowadays made product.  It's $60 or so at Amazon.
Favorite beer: All beers are good.  Some are better.  That's not precisely true, but close enough." – David Funk, 2016 Chevy Colorado, 2016 Four Wheel Camper Fleet
"I have three of the Ozark Trail Aluminum Roll Top Camp Tables from Walmart.  They are very lightweight and fold quite flat and don't take up much room.  I got them years ago for about $18 a piece.
They can be set-up inside some campers if you have a side dinette.  They are very easy to move around.  One can hold a small propane grill and the other two I use for holding your dinner/beverage by your folding camp chair.
I used to carry one of those 4-foot Lifetime plastic tables, but they are quite a bit heavier and bulkier.  Now it stays in the garage.
Favorite beer: I like Miller Lite.  My son who is a craft beer aficionado (snob) cringes every time I mention this beer." – Jay Foster, Ford F250, Currently looking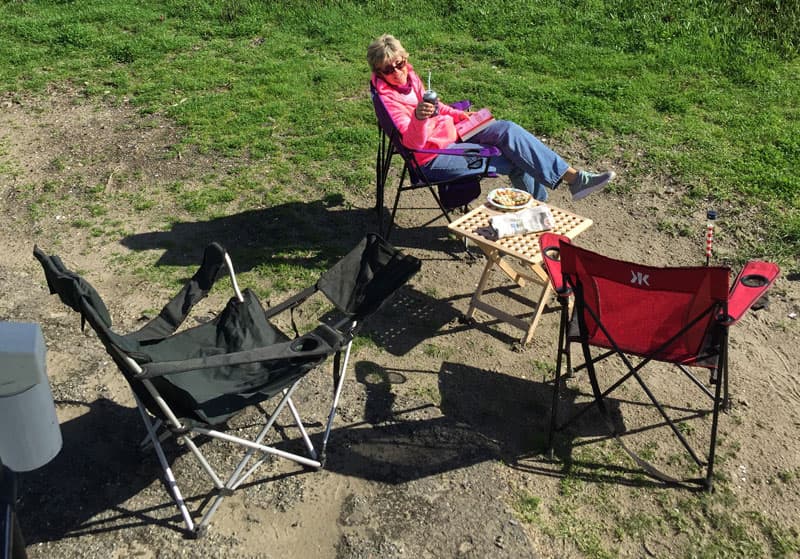 "We have an Ikea Askholmen folding wooden table.  It folds small enough to fit in the side storage.
Favorite beer: I like Pliny the Elder, Lagunitas IPA, and Stone IPA." – Kim and Lori Oliver, 2015 GMC 3500, 2013 Adventurer 86SBS
"I have an Ozark Trails aluminum folding table from Walmart.  I use it for my dinette table, and my outdoor table, if needed.  I have also used it for a fish fillet table, berbecue stand, and a place to set my beer.
Favorite beer: As for beer, Bud Light Platinum (no heartburn), an occasional Stella Artois, and – in a pinch – Michelob Ultra." – Henry Nelsen, 2007 Toyota Tundra, 2012 Northstar Liberty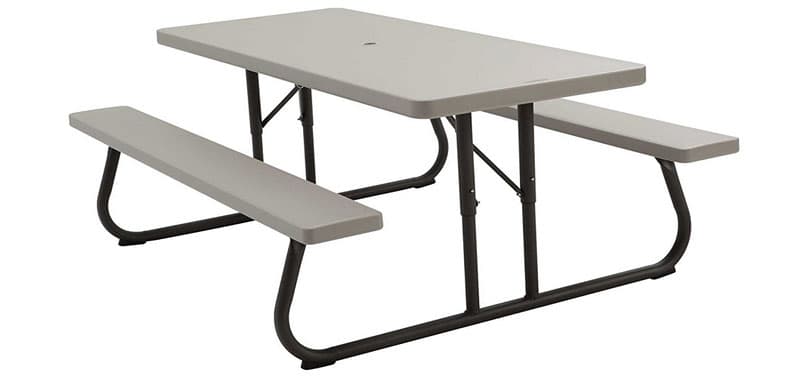 "I have a 6-foot Lifetime bench picnic style table.  We have had ours for thirteen years.  This one has been awesome!  It has been in the desert sun full-time for the last three years.
Favorite beer: I like Coors." – Vickie Welch, 2017 Ram 2500, 2016 Lance 850
"I have a milk crate with a plywood top.  The bottom is storage for level blocks.
Favorite beer: Henry Wineheart root beer." – Jim Catlin, 2011 Ram 3500, 2016 Northstar Laredo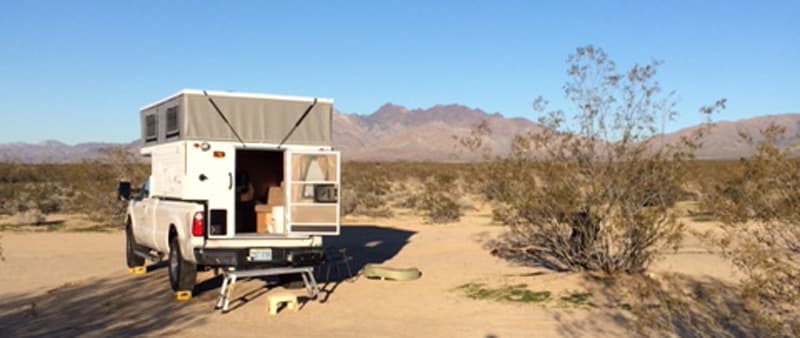 "Well that's kinda hard to answer as we're still trying some.  We have used the table from the camper.  It stows easily and is always with us.  I have used it for grilling and as a drink and appetizer table.  It's one of those cheap plastic tables that folds flat, but it's good as a table between our chairs.  Then there's the 36-inch long gorilla ladder I got on clearance at Home Depot.  It's all around pretty good, but low to eat off.
Favorite beer: That question is easier, I like cold beer." – Russ Sherratt, 2016 ATC Cougar custom build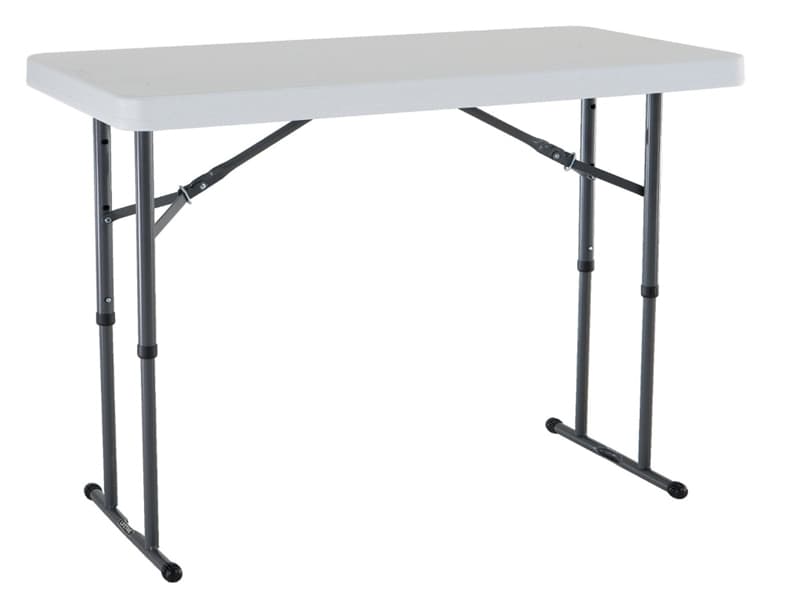 "I have a Lifetime 4-foot fold-in-half adjustable table.  It is item 707610 and model number 80276.  I got it at BJ's Wholesale Club for $36.99.  We own two matching folding chairs for $20 that we take along with us.
Favorite beer: I like root beer." – Carmen Haggerty, 2010 Toyota Tundra, 2014 Northstar Adventurer 8.5
"We have had a few different tables for camping through the years.  We (by we I mean my wife) found a table at Cabela's that we love.  It folds up nicely, is easy to set up, and has an metal top instead of plastic.  We love it so much that we plan on ordering the bigger size table as well.
Favorite beer: What?  A question about beer?  Well, anyone who knows me, knows that I am kind of a fan.  Hmmm… a favorite is really hard to say.  There are so many incredible beers being made now.  Can I just say the one in my hand?
Okay, okay.  I will say my favorite is a Deschutes Black Butte XXVI.  I have had one last bottle sitting in my beer refrigerator waiting for a special time to open it.  It is my last bottle and that year is getting very hard to find.  Its suggested open date was 6/16/15.  I have held onto this beer for about two years now; not in my hand but in the refrigerator.  It does have to stay chilled after all.  So it is more than ready to be consumed.  I actually have a plan to open this amazing beer while we are out camping for spring break the first week of April.
Oh look, I easily talked more about beer than the table.  Who would have thought?" – Rich Bain, 2004 Dodge 3500, 2010 Adventurer 810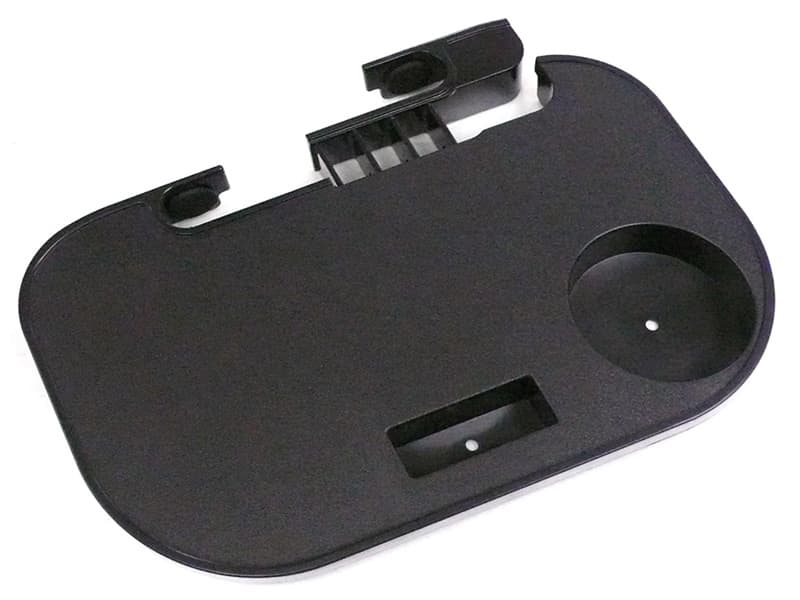 "We have a Backyard Basics 20003BBGD relaxer and beach chair side table. We also use the 18-inch rollup table from LL Bean. Both take up little room and work well.
Favorite beer: Founders Dirty Bastard, of course." – Lynn Van Note, 2016 Ford F350, 2014 Camplite TC11
"I must be the least hip dude out there.  I don't even have a portable table!  My wife has one of those folding chairs with the flip-up side table, so she's cool.  I, on the other hand, am always fidgeting around with something and just setting my beer down wherever I happen to be.
Favorite beer: I only drink Budweiser cans out of a Yeti can cooler.  'Merica!" – Rick Scalise, 2015 Ford F-250, 2016 Ford 6.8
"We don't have a portable camping table although we have been thinking about maybe getting one.  My reason for commenting is to commend Gordon for coming up with a fun way to ask such a question and bring a smile to my face.  I now also have a list of three beers that I need to try.
Favorite beer: One of my favorites is Shiner Bock made in Shiner, Texas." – John Bull, 2004 Dodge 3500, 2015 Arctic Fox 990
Editor's Note: I was introduced to Shiner Bock at the first Texas Truck Camper Rally.  Man that was good.  Nice choice!
"We are currently looking for an aluminum table that stores compactly to use without a grill.  So I will be watching this question closely.
Favorite beer: I like Warsteiner!" – George Visconti, 2015 GMC Sierra 3500 HD, 2016 Arctic Fox 990
"After a year of carrying one and never using it, I don't miss our camping table.  And we don't have drink holders either!
Favorite beer: We like Corona and Miller Lite." – Janet and Jim Manis, 2014 Dodge Ram 2500HD, 2016 Travel Lite 960R Illusion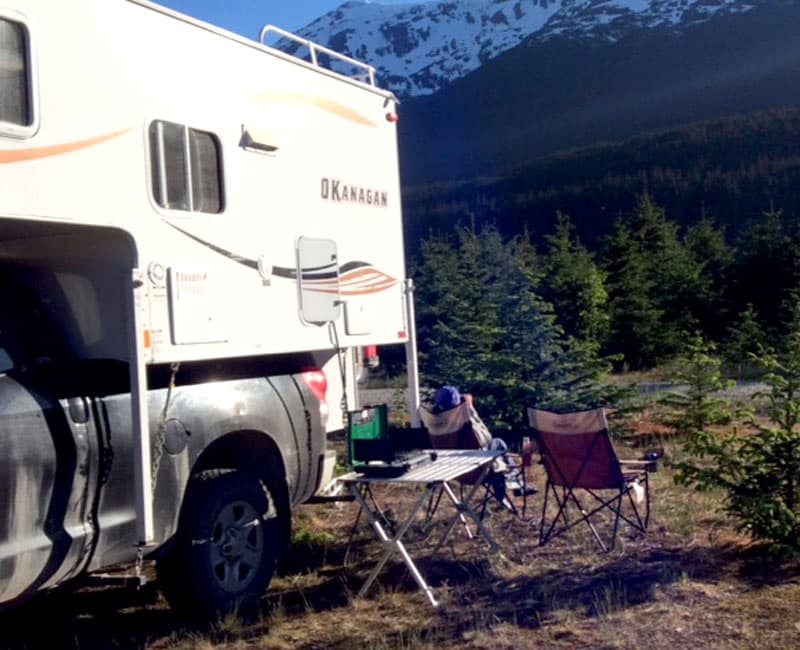 "We like to spend time outside as much as we can, so cooking outside is a pleasure for us.  We got a table at Lee Valleys store which is a chain specialized in tools and garden equipment in Canada.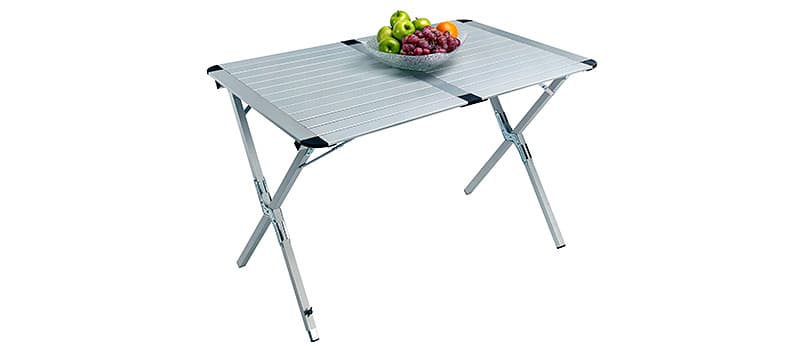 The size at 44 inches by 28 inches is perfect for our needs.  It's easy to set up and take down.  It's aluminum made so it's light and sturdy.  I like the adjustable foot for uneven terrain.  That's very handy.
Favorite beer: Aaah!  I'm glad you asked about beer!  I love local beers.  Every place I travel, I try the local beer.  As I live in the Yukon, I like the product of the (only) two local breweries; especially the Ice Fog from the Yukon Brewing Comany, and the Weekend Warrior from the Wintering Brewing Company.  Both are tasty IPAs.
I like also commercial beer like the Kokannee and Heineken, especially if the Dutch one comes in a 5 liter keg!" – Roch Nadon, 2007 Toyota Tundra, 2007 Okanagan 89WS
"We have a fully collapsible aluminum slat table by Outbound.  It's a good size and collapses into a round storage bag that fits in the camper's basement alongside the camping chairs.  It works well for us!
Favorite beer: My favorite beer would have to be Stella (in cans only)!  I am always open to try good local craft beers as well." – Roger Geisinger, 2013 Chevy 3500, 2013 Northern Lite 10-2
"My favorite table is the GCI Outdoor Compact Camp 20 table.  And the chair with it is a PICO arm chair.  Together they fit in the area of a large brief case.  As I travel alone, I do not have a need for larger equipment.
I seldom drink beer.  If I drink an alcoholic beverage it is hard cider or wine. Mostly, I drink water and tea." – Ralph Bunn, 2015 GMC 2500 HD, 2004 Four Wheel Camper Fleet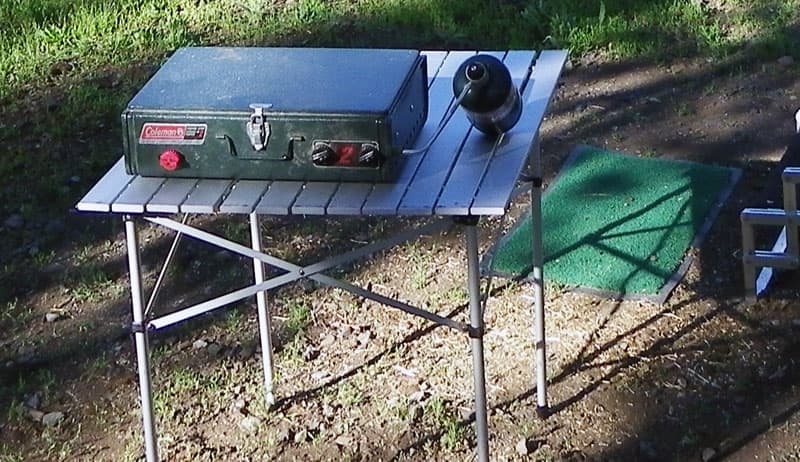 "We have been using a roll-up aluminum table for the last 10 years.  Our particular table is no longer made, but Cabelas has an identical one called a Deluxe Roll-top Table.  We have left it out in all kinds of weather and after 10 years it is in excellent condition.  It is lightweight, sturdy and has a carrying bag.
Favorite beer: We like many micro-brew IPAs.  Our favorite is New Belgium Ranger; aluminum cans only while camping, please, no glass." – Brian Hagen, 2004 Dodge Ram 2500, 2014 Palomino Backpack SS-1251
"My mother-in-law gave me a table for Christmas.  I think she likes me.
It folds into a bag that's 6 x 6 x 49 inches long just like the fish net pocket chairs.  It should fit nicely into our basement storage compartment.  It weighs 13 pounds and is one of the largest table tops available in a table at this size, weight, and price.  I plan to put my Napoleon Pro Q portable grill on it, along with our meals.
I have a folding aluminum picnic table by String Light Company.
Favorite beer: I don't drink much beer, but last month I really enjoyed a Corona, with a lime wedge as a Michelada, in Mexico." – Rene Poulin, 1997 Dodge Ram 2500 CTD, 2000 Bigfoot 2500 9.6