Truck Camper Magazine readers reveal their current thinking on RV surge protectors.  There's one make and model that stands above the rest.  Just one model?  Shocking!
From the reader responses, by far the most popular surge protector is the Progressive International EMS-PT30X.
This 30-amp portable surge protector protects against reverse polarity, open grounds, open neutral, high voltage, low voltage, high frequency, low frequency, and has an amperage usage reading on its digital display.  It also features an all-weather shield assembly.
With the overwhelming popularity and positive feedback on this model, we have put the Progressive International EMS-PT30X on our priority upgrade list.  It has more features than we originally thought we needed, but the reader responses are very convincing.  As many readers comment, it's cheap insurance for our considerable truck camper investments.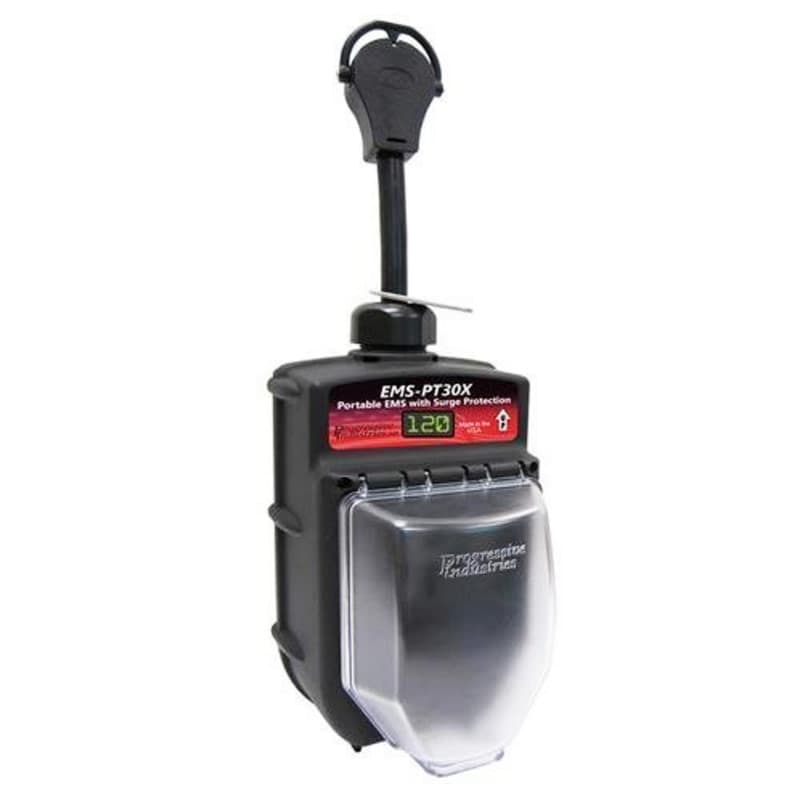 Other models from Progressive Industries and Surge Guard are mentioned and given high marks.  For those who don't want or need all the bells and whistles, many of these models are less expensive and offer nearly the same protection.  Thank you to everyone who responded!
This week's Question of the Week was, "Do you have a RV surge protector for your truck camper?"
"Yes, we have a surge protector for our camper.  I bought a Camco 30-amp dog bone style surge protector with circuit analyzer.  I paid under $80 for it, and it was shipped to the house.
I have never had a power surge while camping, but I have heard of it happening to others.  I feel 80 bucks is cheap insurance, as 80 bucks doesn't fix anything in a modern RV." – Andy Wilson, 1996 Dodge Ram 3500, 2017 Arctic Fox 1140
"Before we picked up our camper we purchased a Progressive EMS PT30 surge suppressor which also has other features including over and under current protection, open ground detection, etc.  The digital readout provides information on voltage, amp draw and codes indicating what to look for if it detects a circuit problem.
Almost everything in RVs these days has a circuit board so electrical issues are a concern.  The Progressive units come with a lifetime warranty unlike certain units sold at the big camping store.
Progressive has now added a weather shield for the portable pedestal mount units or you can install a built-in unit with remote readout display.  They are not cheap but neither is repairing/replacing electronic items." – Greg Chambers, 2015 GMC 3500, 2015 Lance 855s
"Yes. Having to rewire or replace appliances in the camper would probably cost thousands.  We use a Surge Guard 34830.  After a computer search it only cost about $175.  I thought it was a good value.
So far it has detected low voltage twice, improper ground twice, and a polarity issue once.  As the deficiencies were identified, unplugging the camper or changing utility supply outlets corrected the problems.
Even if insurance would fix a burned up motherboard, or a fried air conditioner, just having the inconvenience of no ice cream or warm beer, and shortening a trip while the refrigerator is replaced makes the cost of a surge protector seem insignificant.
In addition, we carry and use a #10 wire extension cord with appropriate ends to use when the power podium is too far away.  I have seen some RVers using small #18 extension cords that are way long for the power they are pulling." – Tom Scholtens, 2010 Silverado 2500HD, 2013 Bigfoot 25C10.4
"Yes, we have a surge protector.  I don't know the brand or model other than it's a 30-amp unit that does not have a cord.  It's more like a block." – Ron Pucul, 2016 Ford F350, 2006 Lance 1055
"We don't.  We dry camp quite a bit, so we're not hooked up to power much of the time. Having said that, we did have our home television fry compliments of another power surge from JCP&L.  It also blew our table lamp (what a pop).
Ever since then I have installed a quality surge protector for my audio/visual equipment. It sounds like a great idea for any campers hooked up to an outside power source.
If you think about it, for under $100, you can buy lifetime protection for a camper that that can be worth 500 times that or more, not to mention a ruined camping trip (or worse). Thanks for a great topic." – Thomas Slack, 2011 Ford F350, 2008 Okanagan 85SL