Truck Camper Magazine readers reveal their current thinking on RV surge protectors.  There's one make and model that stands above the rest.  Just one model?  Shocking!
From the reader responses, by far the most popular surge protector is the Progressive International EMS-PT30X.
This 30-amp portable surge protector protects against reverse polarity, open grounds, open neutral, high voltage, low voltage, high frequency, low frequency, and has an amperage usage reading on its digital display.  It also features an all-weather shield assembly.
With the overwhelming popularity and positive feedback on this model, we have put the Progressive International EMS-PT30X on our priority upgrade list.  It has more features than we originally thought we needed, but the reader responses are very convincing.  As many readers comment, it's cheap insurance for our considerable truck camper investments.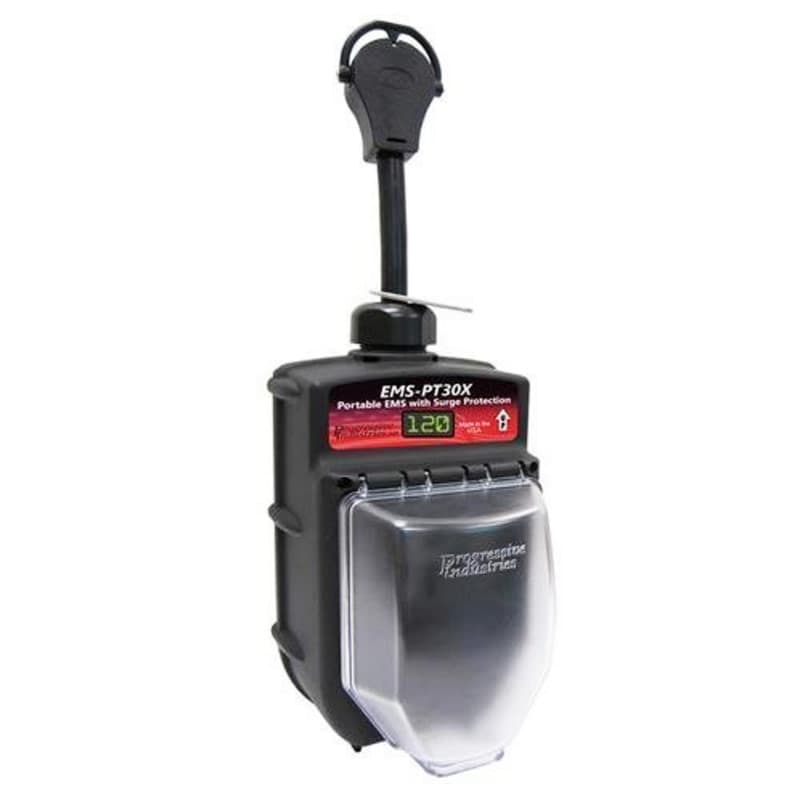 Other models from Progressive Industries and Surge Guard are mentioned and given high marks.  For those who don't want or need all the bells and whistles, many of these models are less expensive and offer nearly the same protection.  Thank you to everyone who responded!
This week's Question of the Week was, "Do you have a RV surge protector for your truck camper?"
"Yes, we have a surge protector for our camper.  I bought a Camco 30-amp dog bone style surge protector with circuit analyzer.  I paid under $80 for it, and it was shipped to the house.
I have never had a power surge while camping, but I have heard of it happening to others.  I feel 80 bucks is cheap insurance, as 80 bucks doesn't fix anything in a modern RV." – Andy Wilson, 1996 Dodge Ram 3500, 2017 Arctic Fox 1140
"Before we picked up our camper we purchased a Progressive EMS PT30 surge suppressor which also has other features including over and under current protection, open ground detection, etc.  The digital readout provides information on voltage, amp draw and codes indicating what to look for if it detects a circuit problem.
Almost everything in RVs these days has a circuit board so electrical issues are a concern.  The Progressive units come with a lifetime warranty unlike certain units sold at the big camping store.
Progressive has now added a weather shield for the portable pedestal mount units or you can install a built-in unit with remote readout display.  They are not cheap but neither is repairing/replacing electronic items." – Greg Chambers, 2015 GMC 3500, 2015 Lance 855s
"Yes. Having to rewire or replace appliances in the camper would probably cost thousands.  We use a Surge Guard 34830.  After a computer search it only cost about $175.  I thought it was a good value.
So far it has detected low voltage twice, improper ground twice, and a polarity issue once.  As the deficiencies were identified, unplugging the camper or changing utility supply outlets corrected the problems.
Even if insurance would fix a burned up motherboard, or a fried air conditioner, just having the inconvenience of no ice cream or warm beer, and shortening a trip while the refrigerator is replaced makes the cost of a surge protector seem insignificant.
In addition, we carry and use a #10 wire extension cord with appropriate ends to use when the power podium is too far away.  I have seen some RVers using small #18 extension cords that are way long for the power they are pulling." – Tom Scholtens, 2010 Silverado 2500HD, 2013 Bigfoot 25C10.4
"Yes, we have a surge protector.  I don't know the brand or model other than it's a 30-amp unit that does not have a cord.  It's more like a block." – Ron Pucul, 2016 Ford F350, 2006 Lance 1055
"We don't.  We dry camp quite a bit, so we're not hooked up to power much of the time. Having said that, we did have our home television fry compliments of another power surge from JCP&L.  It also blew our table lamp (what a pop).
Ever since then I have installed a quality surge protector for my audio/visual equipment. It sounds like a great idea for any campers hooked up to an outside power source.
If you think about it, for under $100, you can buy lifetime protection for a camper that that can be worth 500 times that or more, not to mention a ruined camping trip (or worse). Thanks for a great topic." – Thomas Slack, 2011 Ford F350, 2008 Okanagan 85SL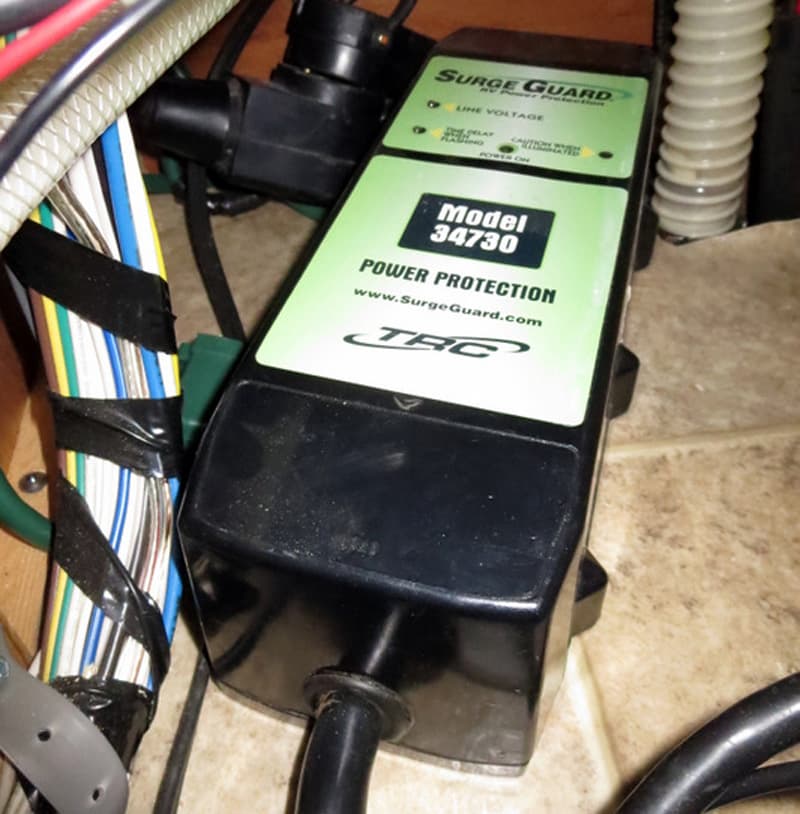 "Yes, I do have a surge protector in my truck camper.  It is a Surge Guard model 34730 that I purchased while I still had my fifth wheel and kept when I purchased my truck camper.  I purchased it because I have seen what an electrical surge can do and it is not pretty.  It has never happened to me and I don't want it to.
The one that I have is designed to plug into the power pedestal at the campground and the camper's power cord plugs into it.  This is okay but, as you say, these are not cheap and I was always aware of the potential that it might be stolen.
I considered upgrading to one that is hardwired but those are even more expensive.  Since I already had this one, and not one to back down from a challenge, I decided to hardwire this one into the camper.
By removing the oven and some panels, I was able to access the junction box where the power cord comes into the camper and connects to the camper distribution panel.  I had a short 30-amp RV extension cord and cut it and wired it at the junction box so that connecting the two ends of the extension cord completes the circuit to the distribution panel.
Then I ran the two ends of the extension cord into the battery compartment under the cabover step.  I can now unplug the extension cord and plug the surge protector in.  This gives me protection from surges and possible loss due to theft.  It is also one less thing I need to keep up with while hooking up and breaking camp." – Eldon Rhodes, 2008 Chevy 3500, 2011 Lance 1050
"Yes!  We have a Class A and I had a Surge Guard hardwired.  I also use the surge guard transformer for low power protection.  I use a Surge Guard on my Lance.  I just purchased a Hughes unit that gives surge protection and low power boost, but haven't used it yet." – Steve Wright, 2015 Ram 3500, 2015 Lance 1172
"Yes, we have always used a surge protector with our truck camper and travel trailer. About one out of ten RV parks we have visited in the northwest have had a problem with their power hookups.  They have wrong polarity or a bad ground.
Our surge protector gives us a heads up before we plug in and take a chance of wiping out a much more expensive refrigerator circuit board.  We also get a lot of lightening in our area and it's just extra insurance." – Jim Holland, 1995 Chevy K1500, 2010 Hallmark Milner
"Yes, we use a surge protector with our truck camper and our travel trailer.  It is a Progressive Industries, model SSP30.  It just makes sense and is cheap insurance." – Hugh McLaughlin, 1999 Ford F350, 1998 Bigfoot Columbia River
"I have camped in an RV since 2000 and I have never had a surge protector, until this last winter camping in southwest.
At one state park we stayed in there was a severe thunder storm.  After the storm we went for a walk around the campground several RV owners were out talking.  They said they had electric problems with their campers caused by the storm.
We purchased a Progressive Industries HW30C Hardwired EMS Surge and Electrical Protection-30 Amps.  It fits perfect under the seat where a electrical junction box was for shore power." – Gary Goyette, 2012 Northern Lite 8-11
"Yes I have an RV surge protector and count on it to protect my camper from over and under voltage situations which can cause harm when you least expect it!
With the model I purchased I can just glance at the power pole and its rotating display tells me exactly what power I am receiving (voltage), and how much current (amps) I am drawing.  Although I have traveled all over the country without one, I now feel that I was lucky that nothing happened along the way.
I purchased the Progressive Industries EMS-PT30X Portable 30-Amp Electrical Management System" – Charles Coushaine, 2001 Ford F350, 2012 Chalet DS116RB
"I have Progressive Industries model EMS-PT30X.  The price and features are what I desired." – Stephen Alipaz, 1994 Dodge 2500, Lance 950s Camper, and Lance 2295 trailer
"Yes!  I have a Progressive Industries EMS-PT30C and I always use it, even at the house." – Mark Joslin, 06 Dodge 3500, Searching for a camper
"Yes, I have a Progressive Industries EMS-PT30C.  I usually use it to check the power pole and only leave it in place if there is a threat of thunderstorms.  I definitely think they are a wise investment to protect the electronics in our camper." – George Visconti, 2015 GMC Sierra 3500 HD, 2016 Arctic Fox 990
"No, I don't.  I run all my electronics (110 volt) through my 2,000 watt AIMS Power PSW Inverter, which is hardwired to my twin house batteries." – Daryl Davis, 1997 Ford F350, 2015 Palomino SS1500
"We don't have a surge protector yet, but I did install a digital AC voltmeter above an outlet.  It is interesting to see the voltage fluctuations in campgrounds when we aren't boondocking.
After reading the responses to this article a surge protector might be moved near the top of the list.  Thanks for all the great work you two do." – Dave Miller, 2015 Ford F350, 2002 Bigfoot 10.6
"Yes, I have a Surge protector.  It is a Progressive Industries model SSP-30XL.  In my opinion it is a smart investment especially not knowing the condition of wiring at different campgrounds we visit.  It gives me peace of mind if we get surges or an electrical storm." – Jerry Dolezal, 2008 Chevrolet 2500, 2006 Lance 881 Max
"Yes, most definitely.  I just purchased our truck camper.  We are using a Surge Guard dog bone style from our travel trailer that we traded in.  I am planning to install a hardwired EMS unit, model EMS-HW 30C.  In my opinion, it is false economy and foolish not to have a surge protector." – Bruce Bowens, 2015 Ram 3500, 2017 Eagle Cap 1165
"I purchased a Surge Guard, model 34830 from Camping World.  This one is supposed to protect my rig from power surges other than a direct hit.  I feel the cost is minimal compared to my investment." – Ken Fuhrer, 2003 Ram 3500, 2017 Eagle Cap 1160
"We do not have one." – Don Norris, 2003 Chevy K2500HD, Travel Lite 800SB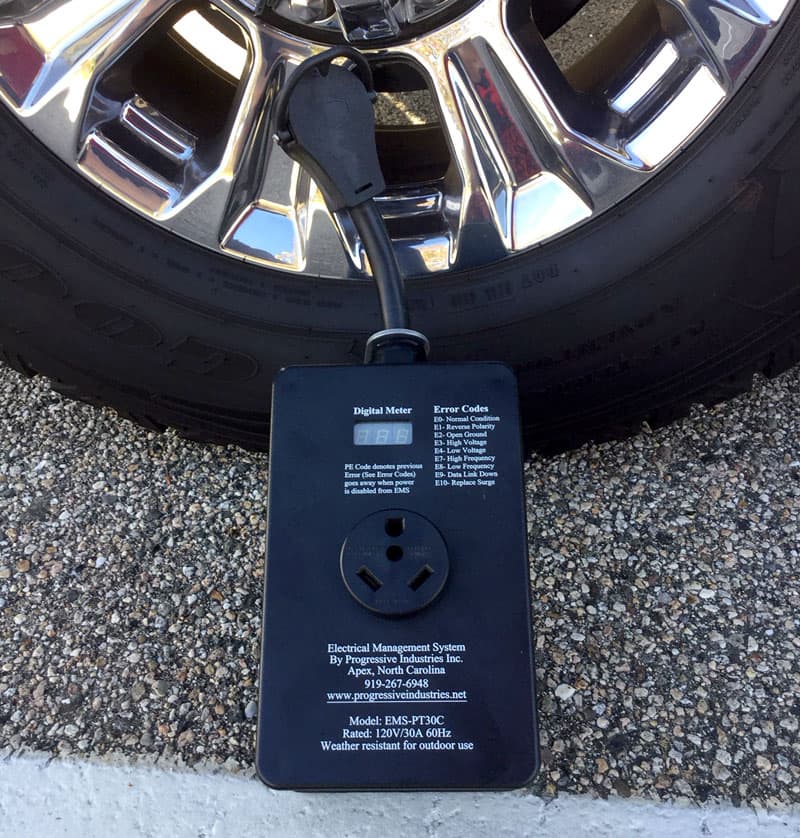 "Yes, I do.  After reading and hearing about the bad experiences of others it seemed to be a no brainer.  I looked at it as a one time insurance policy purchase.
I have a portable model from Progressive Industries, Inc, model EMS-PT30C (since improved as model EMS-PT30X).  But it's not only for surge protection.  It also protects against voltage fluctuations and incorrectly wired shore power.
They are made in the USA and have a lifetime warranty.  The company and their products have an excellent reputation." – Brett Burguard, 2017 Ford F-350, 2012 Northstar 9.5 Igloo
"Besides owning a truck camper we recently purchased a new 32-foot Grand Design fifth wheel.  We intend to snowbird this winter in Arizona and California.
While we have never had any power issues with campgrounds in Canada, we have heard there can be problems with some of the older private campgrounds in the United States.  I have been reading some articles on surge protectors (some can be quite expensive) and looking forward to seeing if we really need one and if we do, what type to buy." – Roger Geisinger, 2013 Chevy 3500, 2013 Northern Lite 10-2
"We travel extensively from April through October and we probably encounter at least one other RV owner per month that has had problems with dirty power of one form or another.  Most report expensive repairs to either the coach or an AC appliance.  The indirect cost is a lost outing.
In any case, the $100 or so you pay for surge protection is worth it.  We shopped around and bought a Surge Guard for around $100." – Ralph Penton, 2007 Ford F350, 2017 Host Mammoth
"Yes, I have the the Hughes autoformer.  Not only does it provide surge protection but also power diagnostics (issues at the pedestal) and voltage booster.  Traveling full-time around the country I want piece of mind knowing I'm not going to burn out my electronics and costly repairs.  I view it as a safety requirement." – Kevin Luppen, 2017 Ford F550 with Douglass bed, 2017 Host Mammoth
"I have a EMS 30-amp remote read in my truck camper.  I have an EMS 50-amp in my 2011 Big Country and I also have EMS 30-amp in my 2005 Fleetwood fifth wheel.  Smart investment." – Ron Day, 2008 Chevy 2500, 2005 Sunlite 865WS
"My surge protector is incorporated in the design of my inverter which is a Xantrex Prosine 2.0." – Richard Dixon, 1998 Dodge Ram 1500, 2007 Bigfoot 8.2
"I don't have one yet but it's probably an oversight.  Questions about reliability have so far kept me away.  I do have a cheap plugin voltage checker with an alarm to warn me of low voltage, mis-wiring, etc." – Robert Mayton, 2014 ford f-450, 2015 Lance 1172
"No, I don't have a surge protector.  I just haven't felt the need for one.  I boondock a lot and, if I hear a thunderstorm, I usually just unplug.  I'd like to have a surge protector with the voltage regulator built in.  I've always heard that campgrounds have bad power." – Jeff Hagberg, 2002 Ford F250, 2006 Travel Lite 800 SBX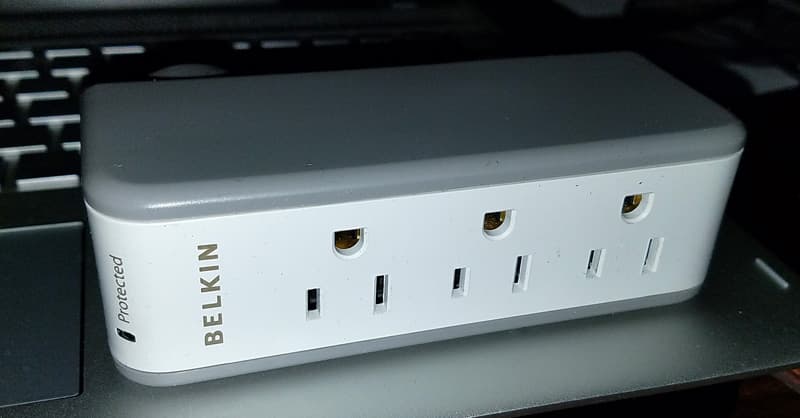 "I own and faithfully use a Progressive 30-amp surge protector.  Sometimes I attach a small Belkin Model BZ103050-TVL surge protector to outlets.  Whenever I plug into a landline I first plug in the Progressive and check the reading to make certain that it has the right amount of minimum and maximum amps/voltage.
I just returned from a 117 day trip from the East Coast through the western states, then through Canada, and finally into Alaska.  We only plugged in about 14 nights.
On one of those occasions there was a problem with lower electrical than appropriate and the surge protector cut service to the camper.  I didn't realize what the problem was and switched to another 30-amp service on the other side of the camper and still had the same problem.  The manager of the complex walked by and told me there was a problem with their electrical and it should be fixed in a few minutes.
Had I not been hooked up to the Progressive 30-amp surge protector I would have received electrical power that could have caused problems with my air conditioner as the air conditioner continued to try to run, but without the proper amps.  In the past two years I have had two times that the surge protector saved the day.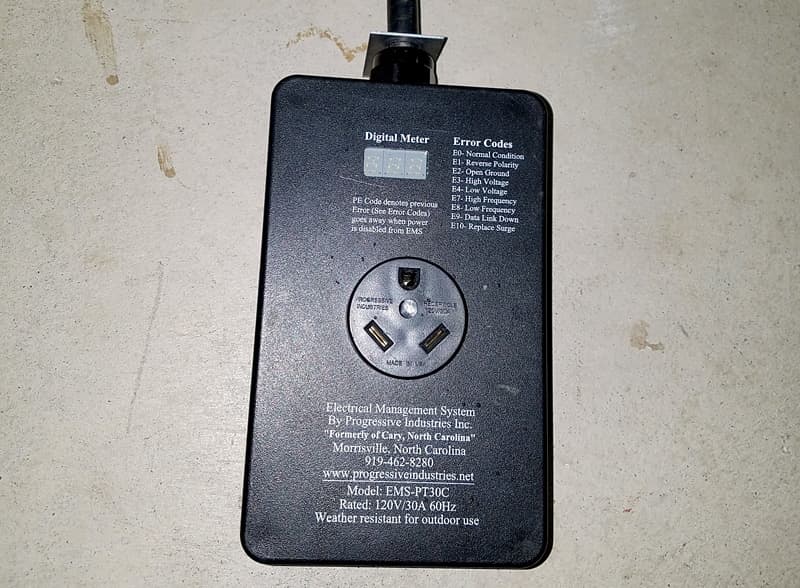 Above: Progressive 30-amp surge protector
When I hook up my computer and portable printer to an outlet, I first attach the small Belkin surge protector.  It has three outlets as well as two USB Ports.  I rarely have shore power and very rarely use my generator, so it doesn't get used very often.  I mostly use it when I need to charge the laptop batteries and/or the portable battery operated printer." – Donald Fox, 2015 Ford F-450, 2016 Lance Model 1172
"I use a power management system to protect against high and low voltage, but I do not worry about surges.  Working an RV technician for 20-plus years I saw far more damage done by campground voltage issues, low voltage being the most common.  On a direct hit, a surge protector is of minimal protection and high voltage down the line from the power station are as rare as chicken's teeth.
I worked on one camper where lightening hit a tree next to the camper.  A surge protector on the shoreline was irrelevant.  It took out most of the control boards and the power converter." – Steve Savage, 2012 Ford F350, 2004 Hallmark Ute XL
"No, I don't have a line surge protector.  I don't have expensive appliances or electronics.  Every night I turn my computer off, but leave it and my cell phone plugged in and charging.  They are both plugged into a strip with a cheap surge protector.
I've been camping for 40 years and have never had a problem with voltage surges.  Luck, maybe.  Some day I'll be upgrading to a coach and will invest in one then." – Rich Shoot, 2006 Ford F250, 1999 Starcraft 952
"I don't have a surge protector yet, but I will be getting one in the very near future.  I know that they are a smart investment.  I'll be interested to see which make and model other campers recommend." – Tony Bridge, 2007 Ford F350, 2007 Arctic Fox 811
"Yes, a Progressive Dynamics, 30-amp portable.  I bought it from a couple who were no longer traveling.  I had installed a 50-amp unit in our last fifth wheel and it worked very well.  I have invested good money in an RV so a little insurance for the electrical system is worth every dollar spent.  Our unit has protected us from open grounds at least five times over the last three years." – Eric Devolin, 2007 GMC 3500, 2006 Adventurer 106DBS
"I do not have a surge protector.  I figure if there is a nasty storm afoot, I can just unplug from shore power and spool up the on-board generator and continue about my day." – Jerry Howard, 2015 Ram 3500, 2017 Arctic Fox 1150
"I haven't bought a surge protector yet, but I did fry my refrigerator electronics during one thunderstorm, so I ought to reconsider.
On the other hand, the camper is fully self-contained.  When I see or hear a risk of a thunderstorm, I simply unplug.  Unlike your house, which you cannot unplug, it is a simple operation with the camper.
On the other hand, I have had to go out in driving rain in the dark a few times and that is neither pleasant nor particularly safe.  I don't like anything with electricity when it is raining.
Unplugging is cheaper and not much trouble.  We usually camp off-the-grid anyway, so that is not much different.  I am considering a whole-house surge protector for my home since I am not always home during thunderstorms." – Steve Merrill, 2009 Silverado 3500, 2007 Lance 992
"We don't use one with the truck camper because it's seldom plugged in and the television is usually plugged in to an inverter.  If we are plugged in and a storm is coming, we simply unplug the power cord." – Brett Nicholas, 2016 Ram 3500, 2014 Palomino HS-8802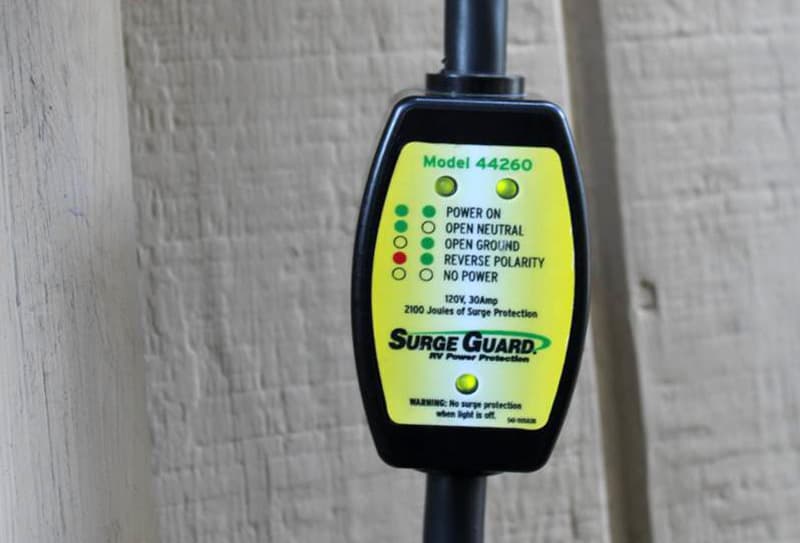 "Yes, I have a surge protector for our camper.  I wouldn't be without it.  I am currently using a Surge Guard Model 44260, 30-amp.  I purchased it at Camping World for $85.  Electric pedestals should not be trusted.
The first thing I do when I park at an RV space – before the blocks go under the wheels, before the hose is attached to the water spigot, and even before the slide goes out – I plug in the surge protector and verify that I have three green lights.
This of course is done after making sure all the switches are in the off position for the 50-30-20 amp plug-ins.  It's amazing how many people do not turn the switch off before pulling the plug.
I have been in parks where the pedestal showed no power.  In another park in Sacramento (California State Fairgrounds) my protector showed reverse polarity.  I went to the office and told them of this issue and their response, "Oh no, all of our pedestals work just fine".
I walked around with trusty protector in hand and found a different space that worked.  The next day an electrician was working on the pedestal and I asked what would have happened if I had plugged in without checking first if it was working correctly.  He said, "It probably would have fried your electronics".
I would definitely say a surge protector is a smart investment." – Roger Odahl, 2008 Dodge Ram 3500, 2004 Eagle Cap 950
"Yes, I do.  I have the Surge Guard #44740.  As an IT person, I know the value of protecting electrical circuits and I am surprised that manufacturers are not providing these on their units at the factory.
I have the Surge Guard mounted inside the camper and out of sight. I don't want to think of fried wiring inside our camper, so this provided peace of mind.  I am surprised that most folks do not give this any consideration." – Lyle Tremblay, 2004 GMC, 2006 Bigfoot
"It's been on the list since I got the camper in October of 2015, but I have not gotten one yet.  I thought I'd be spending more time at hook-up sites and would need it, but I found that I'm spending more time boondocking.  It's hard to plug into a cactus!
After two years on the road full-time, I'm rarely going to a hookup site.  It's too expensive on a full-time basis.  The priority for a surge protector is lower.  I know I should have one, but for the price and number of times it would be used, it's dropped down on the wish list.
I have the Progressive Industries EMS-PT30C Portable EMS RV Surge Protector – 30 Amp on my Amazon wish list." – Frank Poole, 2016 Ram 5500 HD, 2016 Arctic Fox 990