Truck Camper Magazine readers illuminate their favorite portable light sources.  Whether you're looking for a handheld flashlight, camping lantern, or a headlamp, here are some time tested and proven recommendations from experienced campers.
This week's Question of the Week was, "What flashlight or lantern do you use while truck camping?"
"I have several flashlights, but the one that's used the most is a Streamlight Stylus Pro.  It's a small pen light that I carry all the time, and is amazingly bright for its size." – Charles Phy, 2011 Dodge 5500, 2010 Eagle Cap 1160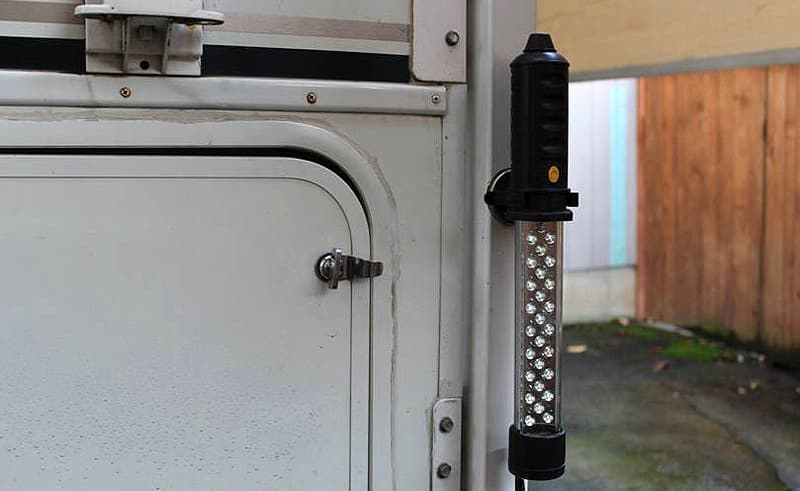 "I have quite a collection of flashlights that we use while truck camping.  A very useful one is the Craftsman rechargeable work light (model 73904).  It has strong, bright LEDs with a swivel magnetic base.  I like using this one attached to a Happijac when sitting outside and reading in the evening.  Who needs a Coleman lantern anymore?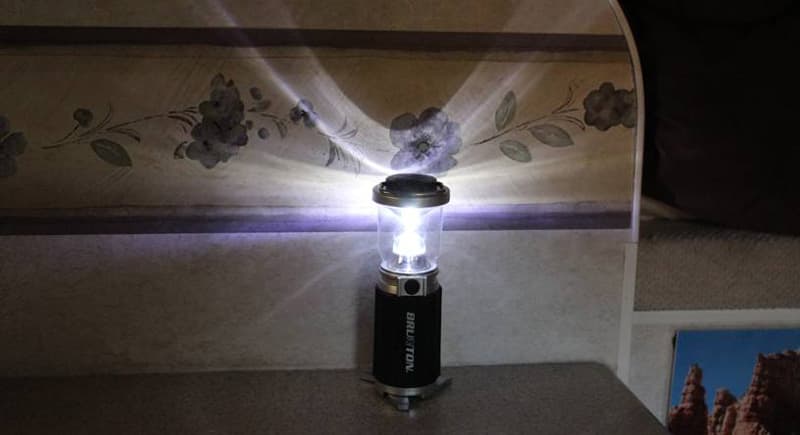 For inside nighttime duty when doing the bathroom run, I find my Brunton miniature LED lantern very useful.  It has both a high and low light output.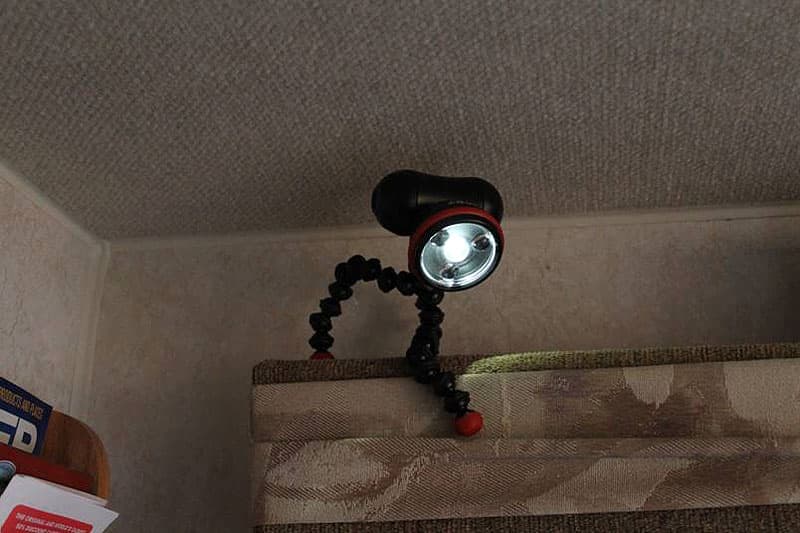 My three Jobe Gorilla lamps are also used a lot.  I get a lot of use with the one over the dinette having low, medium, and high bright LED light output.  We also have two in the cabover for night reading when we're not connected to shore power.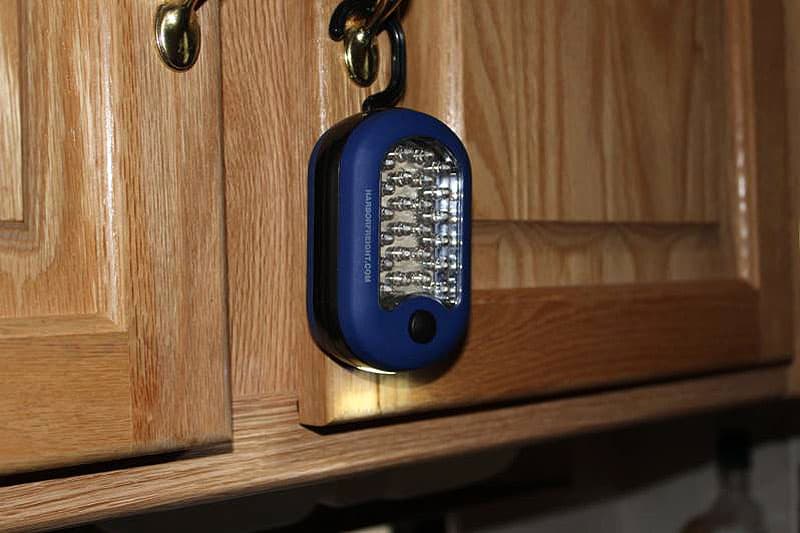 Of course I have at least a half dozen Harbor Freight free flashlights that I store in various locations throughout the camper and truck.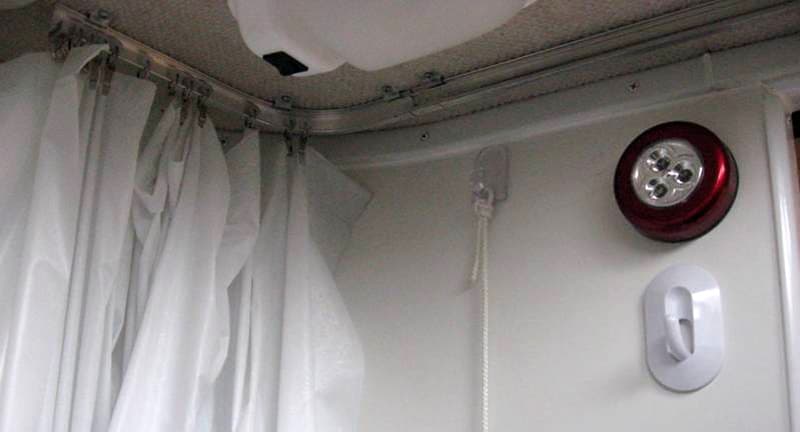 And a mention should go to the five puck lights mounted in the closets, the pantry, and on the bathroom wall.  Needless to say, I carry a good supply of Costco AA and AAA batteries.
So no, I haven't found the need to use my phone's flashlight.  It's usually sitting on the table taking a charge." – Roger Odahl, 2008 Dodge Ram 3500, 2004 Eagle Cap 950
"I use a Super Bright LS-360 LED hand lantern.  This lantern has it all; solar, hand crank, 12-volt, 120-volt charger, a car charger, a durable rubber exterior, and a USB charging socket.  You can purchase it on Amazon for $25.  It's ten inches high and has three power settings for 36 LED bulbs   I also like to use it in the boat on low when I'm night fishing." – Ron Karczewski, 2002 Ford F150, 1999 Jayco pop-up

"I have several LED Lenser flashlights.  They are awesome!  However, they are expensive.  My favorite is the LED Lenser X7R.  It's rechargeable and super bright, maybe even too bright if you are in a campground.  I also have a LED Lenser model TT.  This one is much smaller (pocket sized) and takes standard AAA batteries.  It's perfect for walking my dog at night.
I also spend some time tent camping each year with friends.  These trips are normally to more remote locations.  There are no street lights of any sort.  For these trips we still rely heavily on Coleman lanterns.  They are bulky and produce quiet a bit of heat.  But. in a large camp, they are hard to beat." – Bruce Baker, 1997 Suburban 2500, 2013 Flagstaff Superlite (not a truck camper)
"I use a Maglite Mini.  I always forget about my smartphone flashlight.  If I need some serious outdoor light at night, I flip my exterior lights on.  The Lance 1130 has lights on the left, rear, and right side.  It also has docking lights that are blindingly bright (intrusive).
I prefer moonlight, but there are times when a flashlight comes in handy.  The Maglite Mini is very versatile as it can be used as a broad beam or a strong directed beam.  It fits in my pocket (usually where I find it after stubbing my toe)." – Maggie Karam, 2011 Dodge Ram 3500, 2002 Lance 1130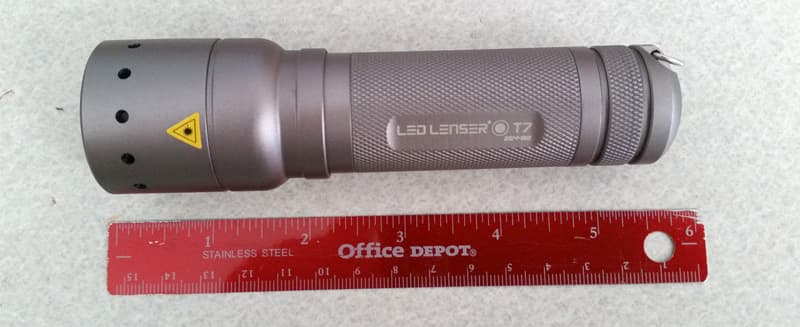 "I carry a LED Lenser T7 in my camper that I have had for several years.  I like it because it is very bright, small enough to fit in the junk drawer of my camper, rugged, has four AAA batteries for longer run time, two brightness levels, and a quick focus adjustment built in that allows me to go from spot to flood quickly.
I have not tested this feature, but it is supposed to also be waterproof.  This flash light is not cheap, but is very good quality and has a nice feel to it." – Eldon Rhodes, 2008 Chevy 3500HD, 2011 Lance 1050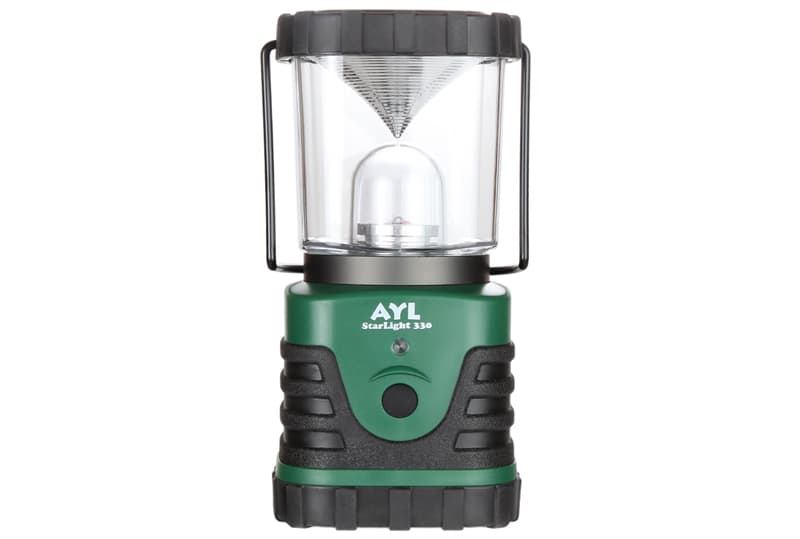 "We carry a couple of LED lanterns that are AYL StarLight, 600 lumens, and very bright.
For working around the camper or taking a late stroll, I use a Black Diamond Icon headlamp, which is 500 lumens with lower settings.  Being a headlamp, it allows for full use of your hands, which is very useful when working on the camper after dark.
The lanterns are bright enough when camping off-the-grid.  This is especially true in the winter because you can really lower your use of the camper's house batteries and still have plenty of light." – Al Stebbins, 2016 GMC 2500 HD, 2005 Northern Lite 8-11 Queen Classic

"My iPhone 7 is my go to flashlight.  That's because it's usually in my pocket.  We have numerous lanterns from Coleman to Luna to another LED type.  But my favorites are the Goal Zero flashlights.  We have both the 250 and the mini.
My favorite is the mini.  It's small enough to put in your pocket and still has 230 lumens.  Both are rechargeable via USB and have little lights to show battery life.  They hang and there's also a magnet on the bottom." – David Drew, 2011 Ford F350, 2005 Travel Lite 1100RX
"I have two mini Maglites and one large Maglite." – Keith Wright, 2008 Dodge Ram 2500, 2013 Arctic Fox 990

"Over the years, my wife has gone through a many different types of flashlights for walking our two Yellow Labs around the campground at night.  It's always been a compromise between brightness and portability.
The quest has ended with a perfect flashlight from Coast.  Home Depot has several, but the one I recommend is the Coast HP7 Focusing LED flashlight for around $25.
I know, it's big bucks for a flashlight, but it's well worth it.  Focusing means you can zoom in and out the bright beam from wide angle to spot.  It's built to last (haven't needed to bang on it once to get it started) and fits into a pocket.
It takes four AAA batteries that need replacing regularly.  Another option is the rechargeable model at about $75 with 760 lumens of brightness.  It's still small enough to easily carry around and will be my next light." – Jerry LaCouture, 2013 GMC Sierra 3500, 2013 Lance 1191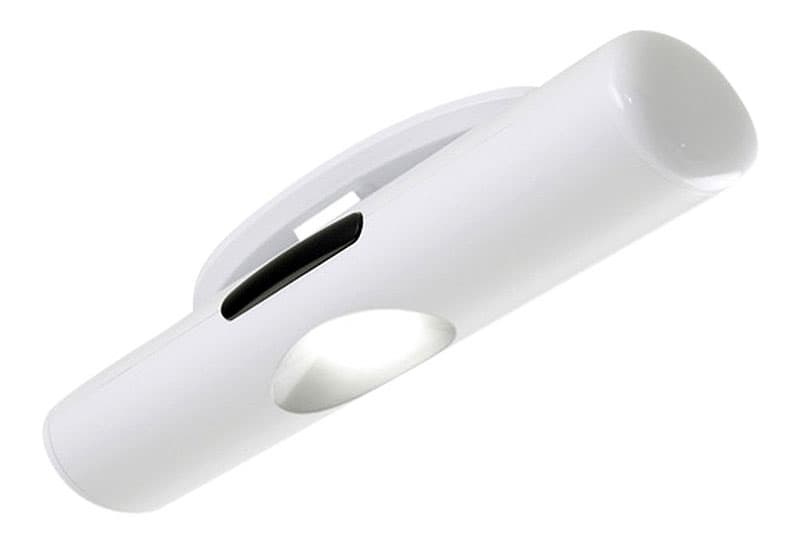 "Having worked for Sylvania as a Consumer Lighting Engineer, we carry multiple lights in our RV.  However, the one we use most often is one I designed and is sold at Home Depot and Amazon as the Utilitech Battery Cabinet LED Light Bar Kit.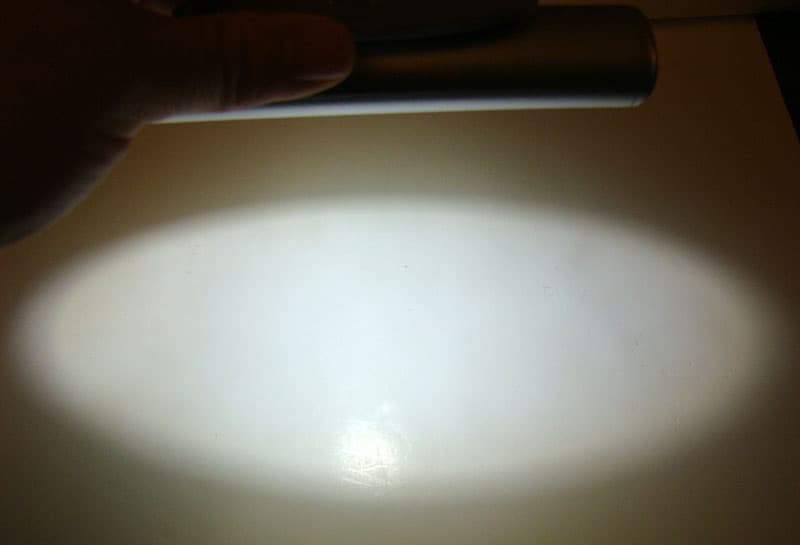 We worked on getting the beam into a beautiful uniform ellipse with smooth illumination. Consequently it works perfect anywhere in your RV especially if working under a sink, in an exterior compartment, or under your truck hood!  It runs on four AA batteries, and is mounted on a magnetic swivel base that makes it ideal for moving around where needed." – Charles Coushaine, 2001 Ford F350, 2012 Chalet DS116RB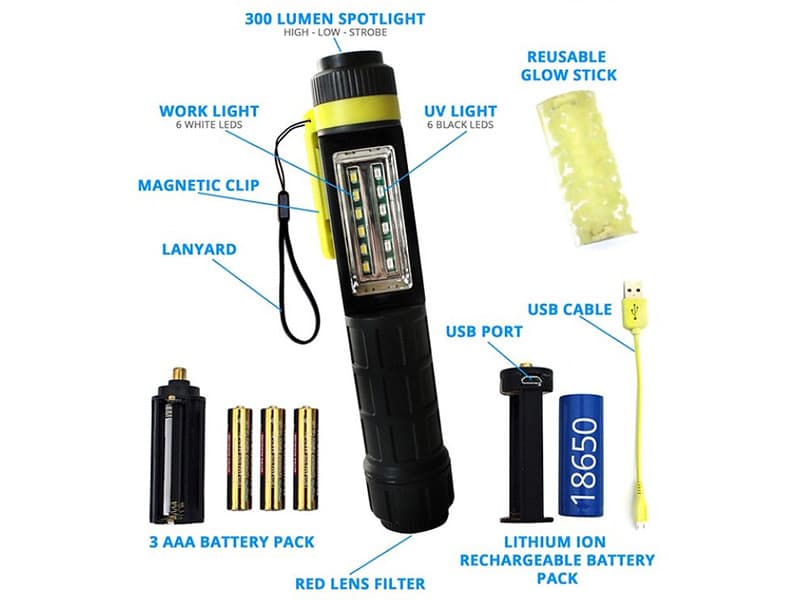 "I have a brand new Mule Light V2 multi-function flashlight.  This light does it all.  Go to the UV Paqlite website to see details.  This is like no other flashlight you've ever seen.  It was a Kickstarter project, so I bought one and I love it.  I have no connection to the company.  I'm just a satisfied customer." – Mark Reefer, 2016 Ram 1500, 2016 Four Wheel Camper Hawk Shell
"I do pull out the trusty iPhone 6 when needed, but I have used Sure Fire flashlights in the desert for camping.  After losing two of them on Jeep rides at the cost of over $140 each, I have since switched over to Lowes flashlights.
A Lowes Kobalt flashlight is $30 and you would be surprised what kind of lumens you get.  If you have to throw it at the fast approaching Mojave green rattlesnake, you're not out of too much cash.  In camp I use a rechargeable LED Coleman lantern and the Four Wheel Camper's LED lighting." – Winston Gotte, 2003 GMC Sierra 1500HD, 2016 Four Wheel Camper Hawk
"I use a Redline by Nebo that I bought at Batteries Plus.  It has a max of 220 lumens for 150 yards for four hours.  It has SOS strobe flashing for 72 hours.  It's light weight and small at 4.5-inches in length.  I have had it for many years and it still works like the day I bought it." – Robert Morrissey, 2011 Ford F350, 2012 Lance 850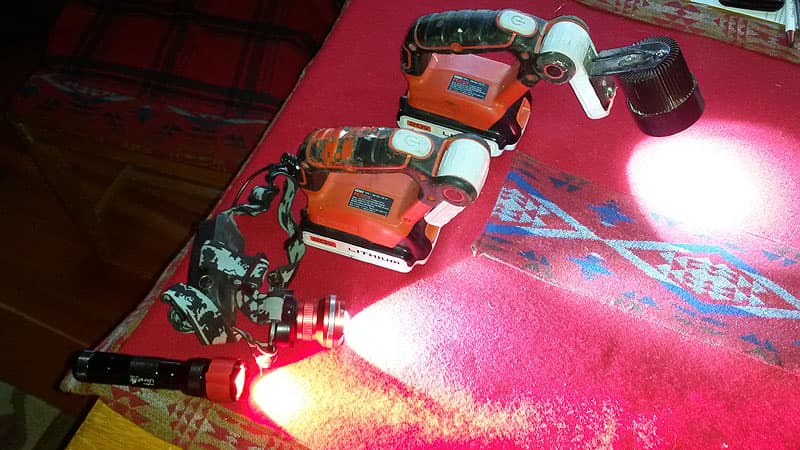 "I have been accused of being a flashlight addict, having gone through almost every flashlight made.  I currently carry and rely on three types while traveling, all of which are LED and lithium ion based.
I will admit that I do look at the flashlight section each time I am in a store.  But, for traveling, I have narrowed down my selection to three.  My closet, on the other hand, is still full of the rest.
For truck camping, I carry two headlamps using 18650 lithium batteries, two small handheld zoomable lights using 18650 batteries (including one that has a red beam), and my favorites are three Black+Decker 20-Volt Max flashlights.
The standard Black+Decker light has a broad stable base, the lamp head can be positioned up or down, and it makes a good area light or task light.  With a handle grip and rotating head that can point slightly downward, it is an excellent light to carry while walking.  I have never run out of juice even leaving one on overnight.  The batteries can be recharged easily and work with my tool assortment.
While excellent for around the campsite, they do not throw a long beam.  I modified one with an 18 volt LED motorcycle headlight from eBay.  This produces an extremely bright beam that reaches a very long distance.  It will run for about an hour on a fully charged battery.  I carry extra batteries and chargers for both systems.  The Black+Decker does not have a 12-volt charger, but does well through an inverter." – Bill Peters, 2013 Chevy Silverado, 2013 Four Wheel Camper Hawk
"I have a two-cell Maglite with a Maglite LED bulb conversation.  It's extremely rugged and reliable.  The two-cell version gives plenty of light.
With the LED bulb conversion, the batteries last many times longer than the standard bulbs.  I have used the LED bulbs for four years and have no idea how long the LED bulbs will last since I have never replaced one in many hundreds of hours of use." – Mark Harrison, 2005 Dodge 2500, 2017 Northern Lite 10.2 EX CD
"I have a Duracell 1300 flashlight that I got it at Costco for under $20.  It is an LED that has high, low, and flash.  It has a zoom feature that will illuminate a door or window sized spot on a wall 100 yards away." – Samuel Heinrich, 2010 Dodge 3500, 2016 Arctic Fox 1140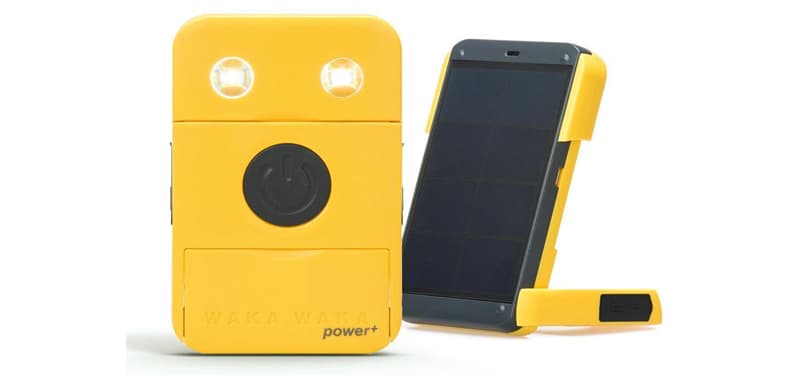 "My handheld travel flashlight is a WakaWaka Power+ solar-powered flashlight and charger.  It's the size of a cell phone but with two bright lights and four intensity settings. The case is designed to fold back to make a stand, or to fit onto the neck of a tall bottle to make a table light.  It holds its charge well and can also charge my phone.  I've had the WakaWaka for several years and it goes wherever I do.
The LED lights in my camper are efficient but harsh.  For a softer light while hanging out or reading in bed, I use a Coleman CPX lantern.  It came with a 4D battery cartridge but I bought the rechargeable cartridge.  This lantern is lightweight and tough." – Christine Dyer, 2012 Chevy Silverado, 2016 Four Wheel Camper Hawk shell

"I have a Maglite 3-cell LED flashlight.  It fits in the hammer loop of the pants I typically wear so, when I'm walking the dog, I have a third hand to carry it.  It can also double as a baton if I ever needed it for defense since we often are in areas where there are a lot of predators.
The light is adjustable and lasts a long time with the LED bulb.  I also used it at a campground one time as a chock when a neighboring camper forgot to put their truck in gear." – Jon Schnebly, 2004 Freightliner M2, 2014 Arctic Fox 1150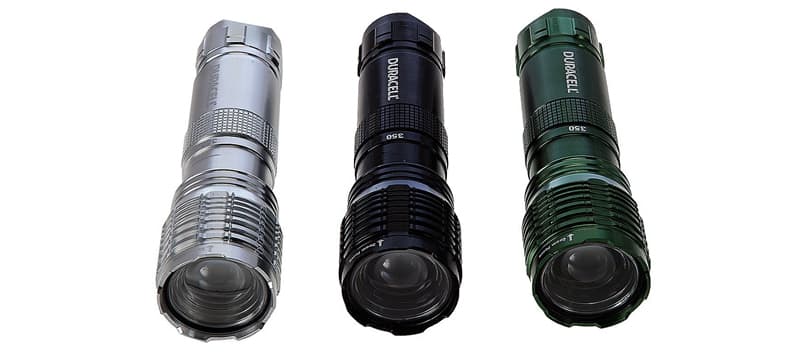 "Generally, we never use lanterns in camp because it ruins night vision.
My favorite flashlight is a Duracell Durabeam Ultra 350.  The LED beam can be adjusted from wide angle to a spot.  There are two levels of power settings.  You can get a package of three at Costco or at Amazon for only a few dollars more.  It fits in my pocket.  I bought three more packages so that I can have one in each vehicle, my man cave, house, shop, barn, and even took a couple to New Zealand.
This seems to be the smallest of the new bright LED units.  Others offer more lumens, but are larger." – Bob Nelson, 2015 GMC Sierra 3500, 2013 Arctic Fox 1140
"You mean there is a lantern other than Coleman?  I have fifteen of them.   The oldest is a 1936 and the newest 2016 National Park Service 100th Anniversary model.  My flashlight is a 6-volt LED Walmart special!" – Denver Woods, 1997 Ford F350, 2001 Lance 1121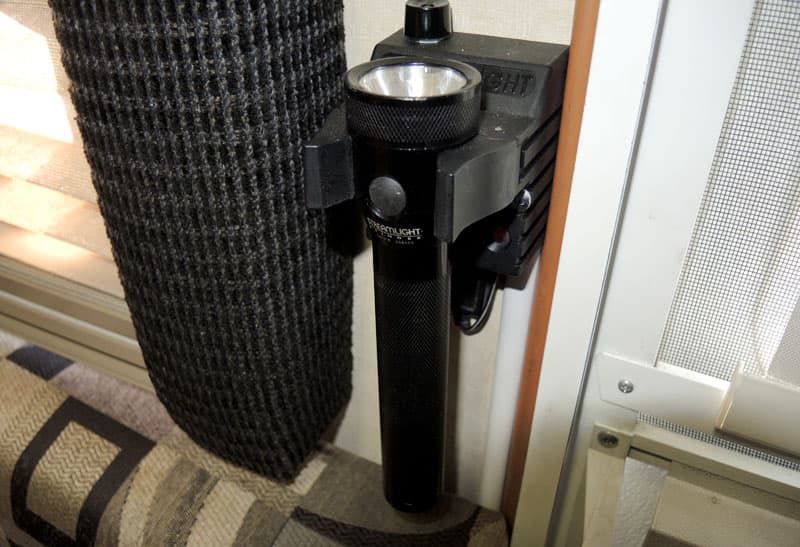 "We have a Streamlight Stinger rechargeable flashlight mounted just inside the door and a Streamlight Siege Lantern that will run 30 hours on high and close to 300 hours on low.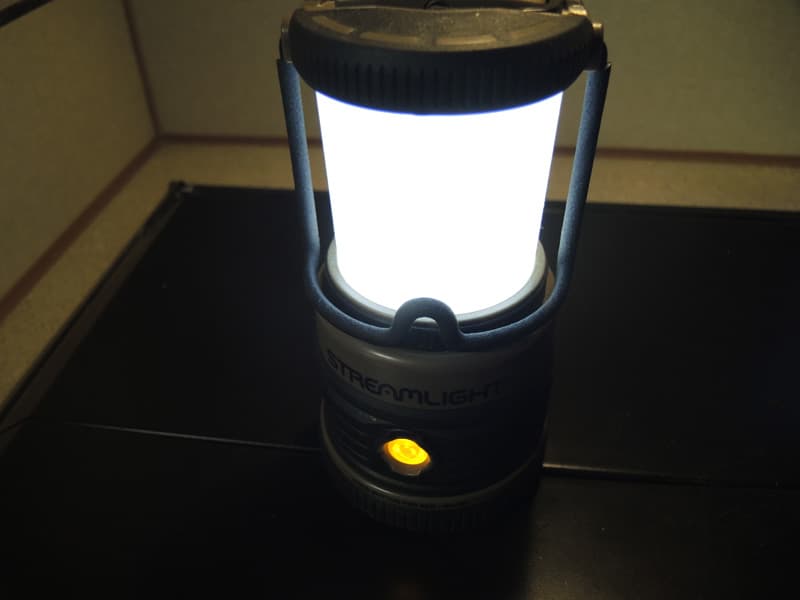 Sometimes we'll take the single or double mantle Coleman white gas lantern as well." – Chuck Currie, 1995 Ford F250, 2009 Lance 815
"I bought an off-brand LED flashlight from Costco (they come in a blister pack of three with mounting clips).  They have worked quite well.  I have one mounted right next to the entry door of my camper so it's always ready for use and it puts out plenty of light.  I also keep a three cell Maglight in my truck that has been converted from incandescent to LED." – Steve Timmings, 2003 Ford F350, 2013 Four Wheel Camper Hawk SC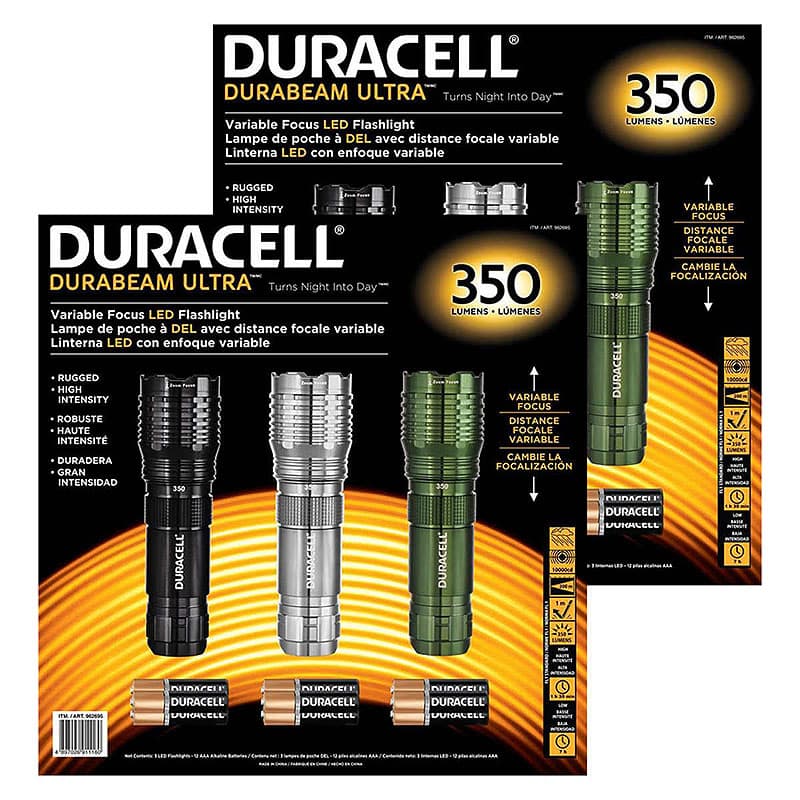 "I purchased a Costco Duracell three-pack LED Flashlight with 350 lumens for $9.97.  I love them.  They are great camping lights and cheap.  I have a set in the camper, a set at home, and a set in the boat with my fishing gear.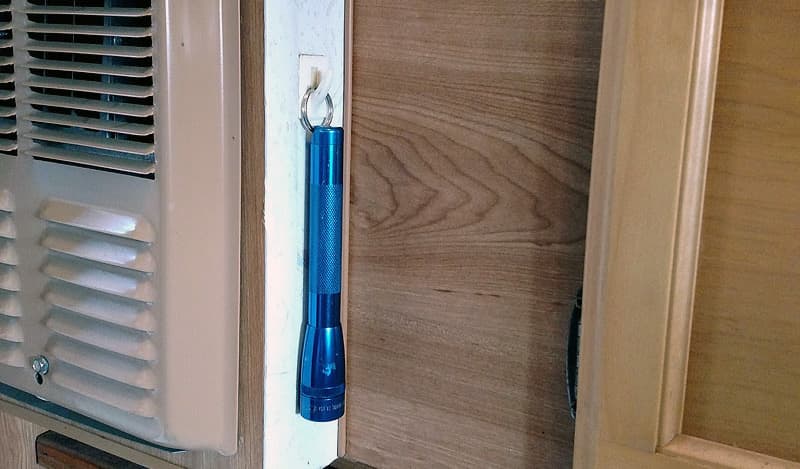 I always have a Maglite LED pen light in the camper hanging on a wall by the kitchen sink.  It's always there and I think it gets used the most.  I also have two large Maglites in the truck at all times.
I also carry a small propane lantern for outside camping with four one-pound propane bottles." – Kenny Beal, 2008 Chevy 2500 HD, 2000 Lance 815
"Most of my flashlights are the little head lamps, Petzls, or Dive lights.  I'm a SCUBA diver, in warm water only, but have so many Dive Lights around that work great.  They are waterproof and bright, so I use them.  I don't use them much when backing into a campsite.  I just listen for a crunch… hehe." – Frank Poole, 2016 Ram 5500 HD, 2016 Arctic Fox 990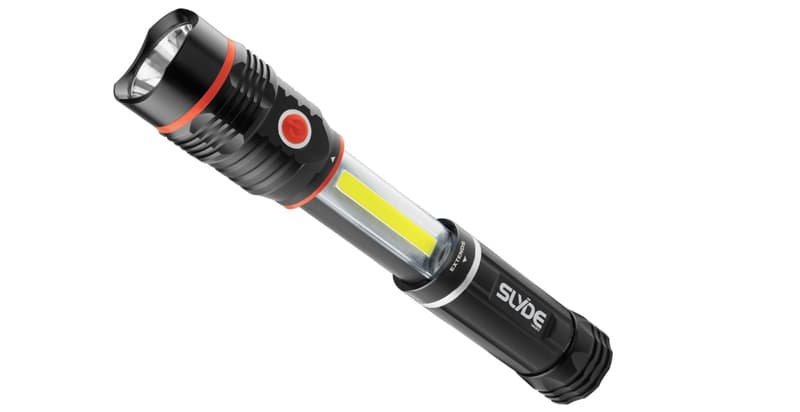 "My main flashlight is a Nebo Slyde.  It has a bright main beam.  It also has a slide-out work light.  It has a magnetic bottom.  I like to stick it to the truck and use the work light. It is also very durable with aluminum housing and LED lights." – Matt Wiegand, 2014 F150 Ford, 2015 Palomino SS-1251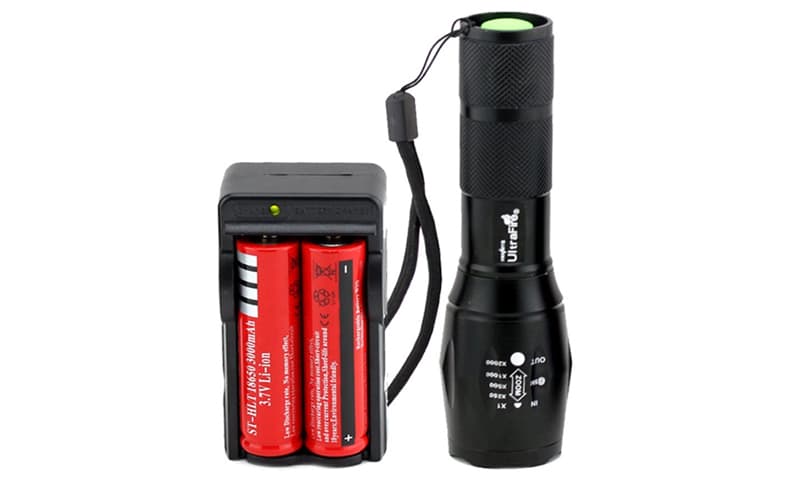 "I have a Ultrafire XML-T6 flashlight and an Emerson LED battery operated lantern.  Both work well.  The lantern is bigger and puts out more light." – Ed Spertzel, 2009 Lance
"I use a free mini light which attaches to my keys.  It's always available.  I also keep a rechargeable military-style LED flashlight with an adjustable beam in the camper.  I can easily find our black dog in a large dark field using the flood light setting.
A magnetic battery powered workshop style lamp is always kept in the truck.  I don't buy particular brands as I normally get something cheap that catches my eye." – Tony Sutton, 2007 Ford Ranger, 2005 Northstar 700 DL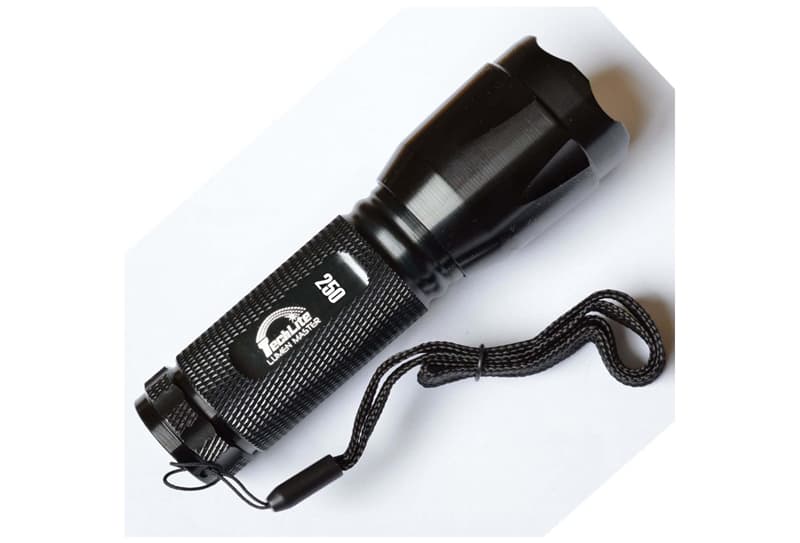 "The flashlights that I have are TechLite Lumen Master Tactical LED lights.  They are very bright at 250 lumens and small enough to stick in your pocket.  You can stand it on its end, and it does not easily roll.  Heck, you can even hold it in your mouth.
The battery life is excellent.  It has a push button switch on the end cap and has three settings including a strobe feature.  I purchased them at a gun show for about $15 each." – Ron Meredith, 1994 Ford F350, 1991 Lance 835

"I hike a lot and backpack overnight and have always used a Petzl.  It fits on my head or I hang it around my neck.  I have had the same one for approximately twelve years.  It has three levels of brightness, a red mode, and low battery consumption." – Harvey Stallings, 2010 GMC Sierra 2500HD, 2007 Travel Lite 890SBRX
"We use a variety of lights depending on the purpose.  Jennifer found some cheap push-on/push-off flashlights at Walmart that aren't too bright.  They are very useful if someone has to get up in the middle of the night.
I keep a couple of Coleman battery lanterns (four D cells) that are basically the battery version of the old reliable Coleman oil lantern.
Another carryover we like from tent camping is again a Coleman, a combo tent fan/nightlight.  Hanging it from the top of our cabover allows some airflow on still summer nights and adds another soft light should we want that.
For outdoors, I love the Nebo Big Larry LED light and my Maglite three D cell flashlights." – Jim McIrvin, 2015 Ford F-350, 2012 Lance 1191
"I use a couple of regular 6-volt lanterns, a couple of LED reading lights, and a 4-volt high intensity LED flashlight by Craftsman.  The Craftsman uses a rechargeable battery and is small at about 1-inch in diameter and is 7-inches long." – Larry Preston, 2013 FORD F350, 2002 Sun Valley Apache 8.65 SE

"Since I live in the woods, used to work nights, fish before and after daylight, and truck camp, I have an almost obsessive amount of flashlights stashed around at all times.
For a small handheld tough flashlight, I like the Underwater Kinetics UK4AA CPO.  I used these at work.  They were what the company issued and they clipped to a holder on a hardhat.  They are as tough as nails and puts out a beam a fair way.  In a pinch you can bite down on the hard plastic case to have a hands free light.
For hands free, I prefer one of the many LED head lamps that run on three AAA batteries.  Even the cheaper ones seem to do a good job, but I do like the numerous Black Diamond brand lamps I have.
I don't see any model number on them, but they are a step or two above the ones put out by various battery companies.  I do like a headlamp that you can switch to a red light.  The bugs will swarm a white light, but not a red one.
For spotlight brilliance in a small package, I have a Steamlight Strion LED HP rechargeable.  I'm too much of a tightwad to spring for one of these, but received one as a gift and guard it with my life.  The beam will cut through darkness for an amazing distance, but don't use it around a campground unless you like blinding people.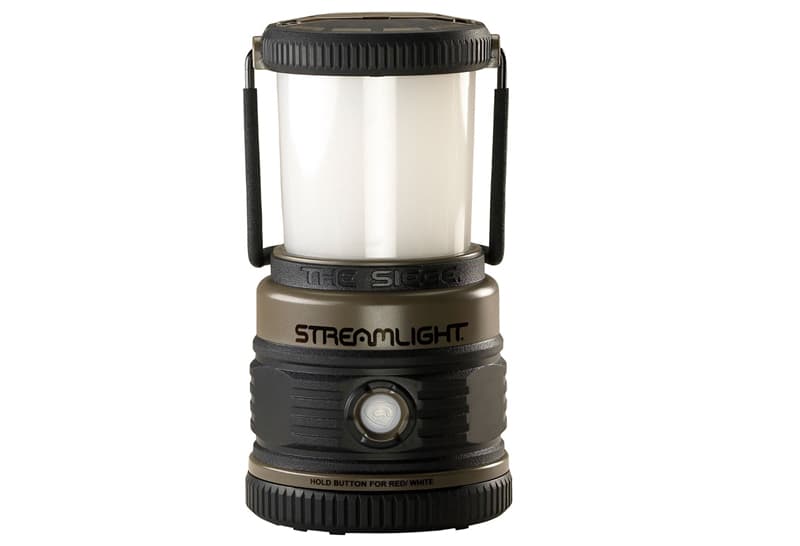 For backup area lighting (also received as a gift) I have a Steamlight lantern called The Siege.  It runs on three D cells.  It puts out a lot of area light with a dimmer and red light feature." – Terry Gfeller, 20015 Ram 2500, 2013 Lance 865
"We live in the land of the midnight sun, so we use the sun all summer long.  Our lighting concern was how to block out the sun from our roof vents so we can sleep." – Allen Jedlicki, 2012 GMC 2500HD, 2014 Wolf Creek 850SB
"I use a d.light solar lantern.  It's about $18 and it's great!  d.light is a great company bringing light to third world countries, and my camper." – William Pendergrass, 2000 GMC Sierra 2500, 2010 Outfitter Apex 8
"Sorry, I'm not a truck camper, but this website has tips for more than cabover campers. My favorite every evening flashlight is the little 3-AAA rubber handle LED flashlights available at big-box stores for about $1 each.
If light is necessary for extended use, I have an Energizer multi-purpose (four light settings) headlamp which is great for hands-free tasks like finding my way back to camp, cooking, etc." – Jeff Freeman, 2013 Chevy Silverado, 2016 Jayco 154BH (not a truck camper)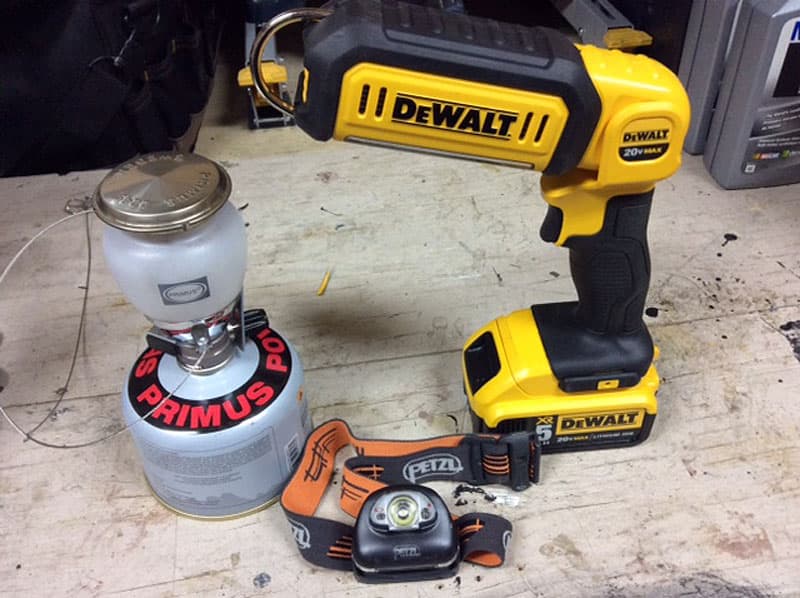 "I use three types of lights depending of the purpose.  I'm a big fan of head lamps.  You are always be able to use your two hands.  Imagine yourself changing a flat tire in a pitch dark rainy night.  I have been using the Petzl brand for the last 25 years and I have never been disappointed.  They are waterproof and batteries matter.  I use the rechargeable batteries with my compact Goal Zero compact solar panel.
For a brighter light, I use the Dewalt LED light working light.  It's powerful and long lasting.  The articulated head gives you many angles to light the area you want.  To recharge the 20V battery, I use it's charger with my 300-watt inverter installed in the camper.
Lastly, as a backup, I use a Primus lantern with a compact butane canister.  The Primus is great when it's colder, like in the winter time." – Roch Nadon, 2007 Toyota Tundra, 2007 Okanagan 89W
"My main hand held flashlight is in my truck door.  It's a Colman with a red, green, and white tip and it's small enough to put in a pocket.  It takes two AA batteries and they last a good time.
My back-up is an Energizer head lamp in the outside storage.  I also have a small flashlight inside, but it does not get used much.  I also have a Colman gas lantern for a back-up, but it has not been used for a few years.  We did put LEDs across the back of the camper." – Cliff R, 2014 3500 Chevy, 2011 Adventurer 93FDS

"I use a Petzl headlamp.  I am always surprised how few people use this hands-free quality product." – Robert Mayton, 2014 Ford F450, 2015 Lance 1172
"I use a couple of lights when camping.  Mostly, I use a Petzl headlamp because it's bright, the battery lasts a long time, and my hands are free.  I also use a two cell AA and two-cell DD battery Maglite.  My next purchase is a handheld rechargeable Maglite so that I don't have to worry about the batteries anymore." – Rick Stolz, 1997 Ford F250SD, 2002 Four Wheel Camper Grandby
"We use a Coleman propane lantern for light and, occasionally, for heat.  We also use an assortment of flashlights, regular and LED, large and small, including small LED lights on our caps.  We like the versatility of the Coleman and the ease of use." – Bill Nelson, 1993 Ford F250, 1994 Cascade 11
"I always have a rechargeable flashlight in a cradle near the door.  My go to lighting sources are two small Deitz Kerosene lanterns from the early 50s.  They are also known as Boy Scout lanterns or Comet lanterns.  I do not like the hissing sound from pressurized and propane models, especially out in the boonies." – Adrian Schafgans, 1995 Dodge Ram, 1993 Six-Pac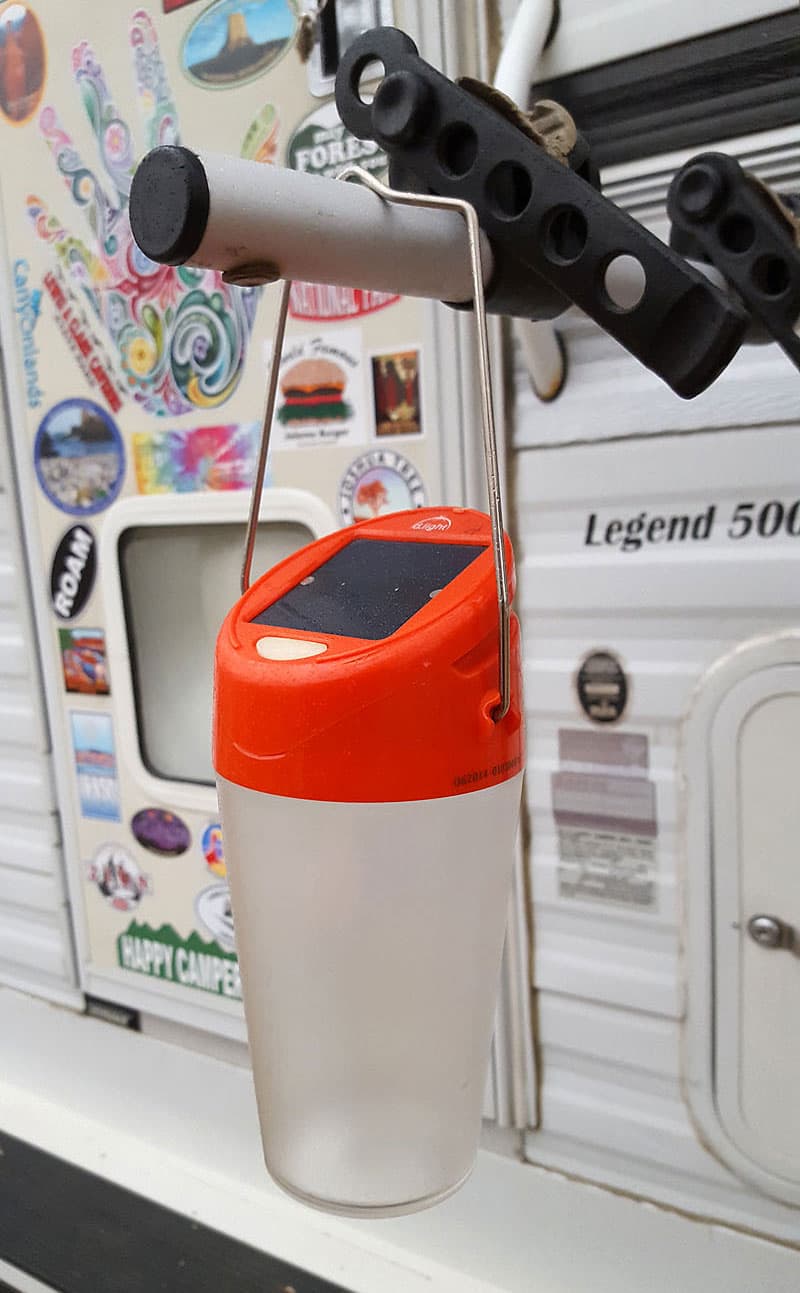 "Let me enlighten you about my favorite lighting made by d.light.  Peace Corps volunteer Sam Goldman's neighbor was badly burned in a kerosene accident in Africa.  Sam was inspired to design better, safer ways to power homes and businesses in the developing world.
Sam enrolled in Stanford's Entrepreneurial Design for Extreme Affordability class, where he met co-founder Ned Tozun.  Ned and Sam founded d.light, developing the initial prototype solar lantern and an ambitious plan to bring safe, bright, clean lighting and power to people without reliable lighting around the world.
When my brother showed me the terrific little solar lantern while camping I decided to find one.  That led to learning the story about this social enterprise.
I use three different styles of their very reliable and surprisingly powerful small lights.  My favorite is the lantern.  I use these all over in my camper instead of the built-in lights, so I never need hookups or use a generator.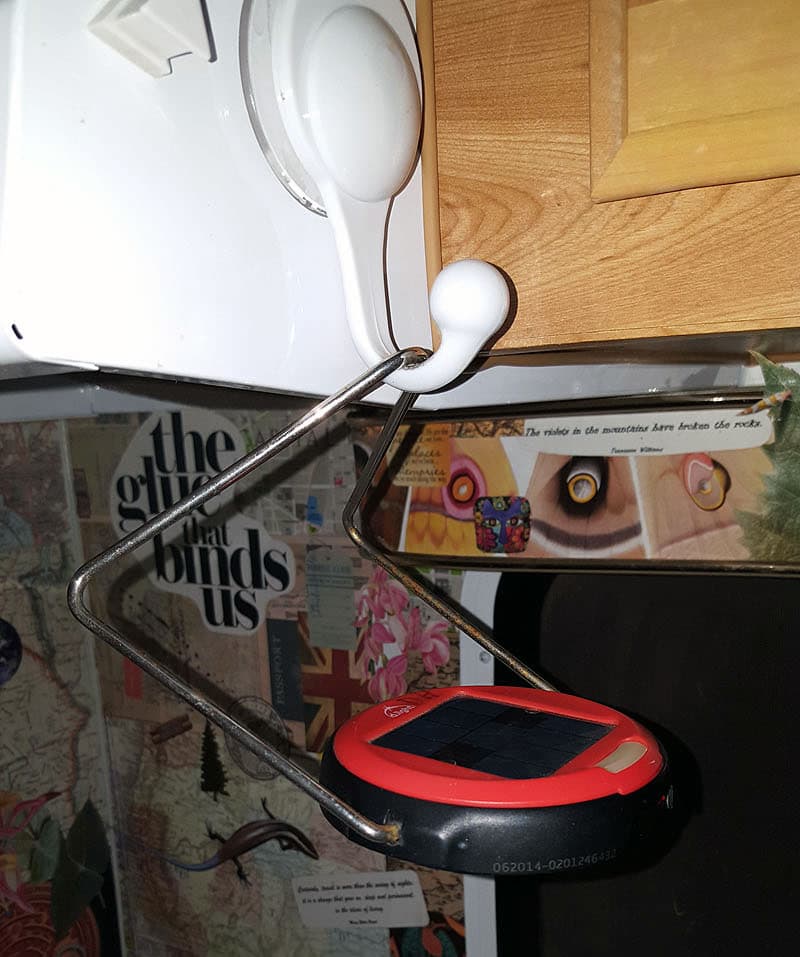 My solar panel keeps the camper batteries charged and I don't use any battery juice for lighting since all my d.lights are solar.  I hang them on the bike rack to charge when they need it, but they can go days without needing to be charged with only evening use.
d.lights are very lightweight, sturdy, rain resistant, and have different brightness settings.  I never travel without one whether I am backpacking, in a hotel, or using the six I have spread throughout the camper." – Darcy Hubbard, 2014 Ram 3500, 1998 Lance Legend
"I have a couple dozen small free flashlights given away every time you buy anything from Harbor Freight.  They are nice, small, and do a good job except for the batteries, which I can replace easily.  I have one in every corner, up at the bed, hanging on hooks, in the cab of the truck, and in the ATV.  Many suppliers give them away for advertising. It's a nice, cheap light and you know where to find one when you have them sitting all over." – Frank Niehus
"I always have a small tactical flashlight in my pocket.  It will light up a tree line at 100 yards.  That said, I keep a bunch of small lights available to grab as well.  I bought a six pack of small LED lights at Bass Pro Shops for $10.  They have a magnet on the side and I leave them all over the place.
I prefer a head lamp to keep my hands free. I have been known to put it on my head and leave it there until bed time.  I learned this from one week in the Army when I spent the better part of a week inspecting weapons with a Mini-Mag in my mouth.  At the end of the week, half of the camo paint was missing." – Kevin Jenckes, 1996 Ford F250, 2006 Northstar 850SC
"I've looked at flashlights from the big online retailers and compared them to the one I purchased for about $4 at Menards, a lumber and hardware store in the Midwest.  The more name brand flashlights are literally the same, only higher priced.  My Menards flashlight has a number of LED bulbs, slides open, and takes a couple AA or AAA batteries.  It's simple and cheap and about the size of a bear claw, so if Gordon's bear gets it, no big loss." – Stan Johnson, 2009 GMC 2500, 2009 Northstar Laredo
"I'm old school.  I have a Coleman lantern.  It's the dual fuel model, and I run it on Coleman fuel all the time.  It usually hangs at the end of the awning and will run all night on low.  I use an amber globe for less bug issues.
My really old school flashlight is the Maglite three D-cell model.  I have one in the camper in a snap in bracket, and one in the truck next to the fire extinguisher.  I'm not fond of wimpy flashlights or lanterns." – Daryl Davis, 1997 Ford F350, 2015 Palomino SS-1500
"I have an Energizer hard case UPN 3980001854.  It is LED and has a high side of 250 lumens and two low settings.  I only use flashlights that take AAA batteries." – Bill Harrington, 2004 Ford F350, 1997 Sportsman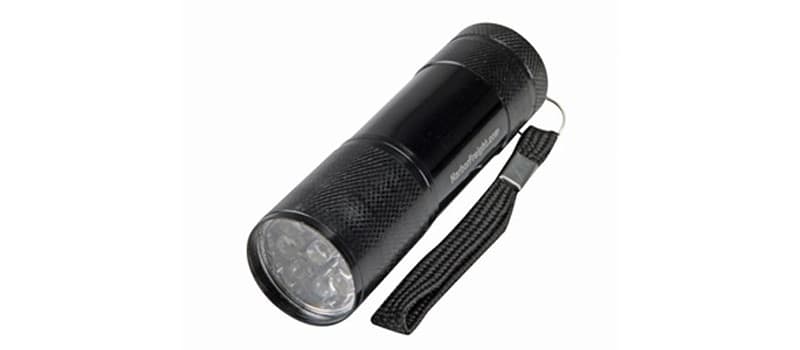 "I typically use a Harbor Freight flashlight, often available free with a coupon, if you are purchasing something else.  It offers spot or flood functions, is amazingly bright, and even has a hook for hanging it when you need both hands free.  Slightly more pocketable, but not as durable or luminous is their tube-type light.  It's also free if you have a coupon, and cheap if you don't." – Mark Obert, 1999 Ford F250SD, 1999 Lance 920
"I have a Colman head worn flashlight.  I also have a Colman single mantel propane lantern that I have had probably 25 years.  I also carry a small LED light that stays in the truck center console." – Jeff Hagberg, 2002 Ford F250, 2006 Travel Lite 800SBX
"We have a cheapo Coleman lantern as a back up light source.  Our primary lights are Spark SD-6 500CW head lamps.   They are not cheap but, oh my goodness, I live by them now.  They were originally purchased for night time clam digging on the Washington coast.  They are great for backing in, and setting up at dark and for walking the dog at night or in the early morning.  They go everywhere. There are two batteries per headlamp and a re-charger with cigarette adapter.  I highly suggest them." – Jim Azinger, 2015 Chevrolet 3500, 2015 Arctic Fox 1150