Truck campers reveal their external and internal water filtration systems, and how they work on the road.  For once we have a question of the week that's in good taste.
This week's Question of the Week was, "Do you use an exterior or interior water filtration system with your truck camper?" 
"We use an installed two canister water filter system in our camper.  They are large canisters that take standard residential type filters so they can be purchased anywhere.
We use one sediment filter and then a charcoal filter inline.  We travel mostly in western Canada where we are spoiled with great water most of the time.  I never fill the tanks with any water that is questionable.
The filter system saves us money on purchasing bottled water.  It's a little more complicated to winterize, but it's worth the effort." – Wes Hargreaves, 2016 Ford F450, 2006 Snowbird 108DS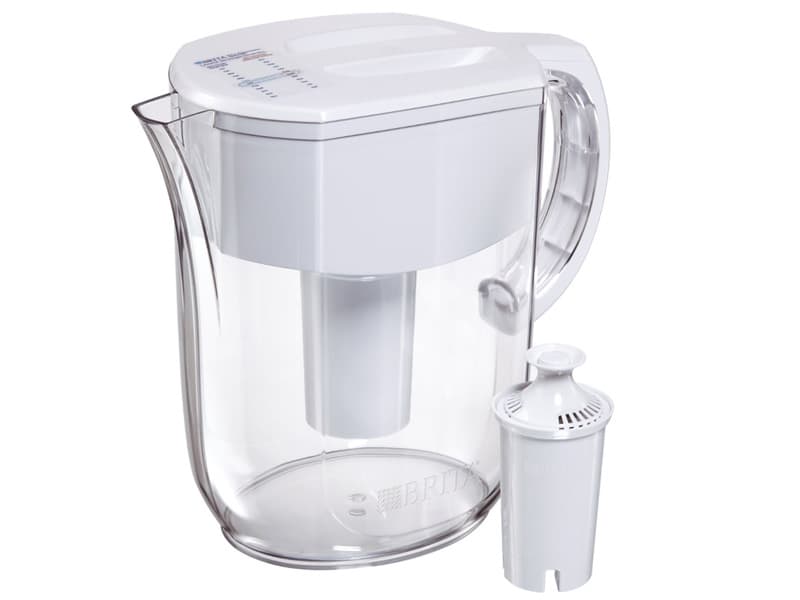 "We use a Brita water filter for coffee.  I tried an inline Camco in the past and could not see the need for it.  We have traveled over 250,000 miles and we're not dead yet.  Happy trails." – Bill Sargent, 2012 Ram 3500, 2009 Lance 971
"Yes, I use a Camco inline filter.  I try not to buy bottled water.  I filter my water at home as well.  For camping, the water filter helps keep the hot water and holding tanks cleaner and improves taste for coffee and drinking.  I noticed a big difference in the water at a favorite campsite since using it." – Kent Leboutillier, 2011 Ford F250, Palomino Backpack SS550
"We exclusively use the on-board fresh water system for drinking, cooking, and washing purposes.  I sanitize the entire water system with chlorine several times a year and I am quite comfortable with the safety of our water.
We always fill our fresh tank at home before trips because our well water rivals any bottled water I've ever had for taste and quality.  Having said that, occasionally trips do outlast our 50 gallon water supply forcing us to refill the fresh tank while on the road.
At that point I use one of the blue Camco inline filters on the hose while refilling the tank.  In previous campers I have used a Pur brand cartridge-type filter on the kitchen faucet.  That takes care of water with a taste or odor problem.  The Pur filter had a bypass for washing dishes and twisted to engage the filter for drinking water.
Since I've been more proactive in sterilizing the water system, I've not found it necessary to reinstall the faucet filter in our current camper." – John and Marylou Wells, 2011 Chevy 3500, 2012 Chalet Ascent S100F
"We use the Camco blue water filter, but only drink bottled water when on the road." – George Visconti, 2015 GMC 3500, 2016 Arctic Fox 990
"I use an exterior dual canister setup from rvwaterfilterstore.com.  It has one filter for sediment and one for all the other bad stuff that could be in the water.
The initial purchase is expensive.  You are getting the heavy duty canisters with hose fittings, a canister wrench along with two sediment filters, and one charcoal filter.  I keep the canisters, hoses, and other fresh water items in an 18-gallon tote that is stored in the back seat of my crew cab.
When I hook up to water, I set the tote next to the camper and leave the canisters inside (out of the sun and out of sight) using an 8-foot hose from the canisters to the camper.  I added quick connect fittings to the canisters and plan to cut holes in the tote to run the hoses.  That way I can leave the lid closed tight.
I chose this system for its quality and good reviews.  With the system, I don't have to worry about what might be in my water.  So far it has worked very well." – Brett Burguard, 2017 Ford F-350, 2012 Northstar 9.5 Igloo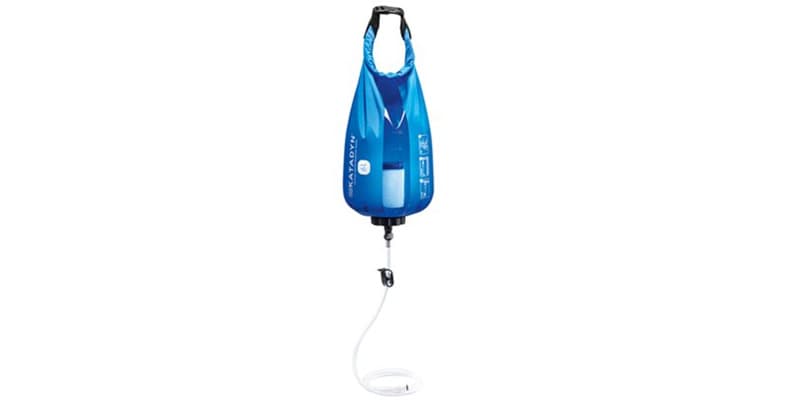 "I use a Katadyn 6-liter hanging gravity filter to refill my three gallon carboy." – John Pence, 2006 Toyota Tundra, 2016 Four Wheel Camper Hawk shell
"Every spring and fall I clean the water tank with chlorine and a few gallons of water and check the hoses for mildew, etc.  If I'm filling up with fresh water from a campground or other source that isn't a municipal source I'll filter the water through a charcoal filter attached to the hose.  For the inside I use a Brita water filter pitcher." – Richard Stolz, 1997 Ford F250SD, 2002 Four Wheel Camper Grandby
"I have an exterior Camco filter and drink bottled water.  We are going to install a Acuva system soon so we can drink from our fresh tank." – Dave Barker, 2014 Ram 3500, 2017 Northstar Laredo
"One of the first things I did when we bought our camper three years ago was to install an under sink water filter with a dedicated drinking water faucet on the sink's edge.
We use a good carbon filter that takes out any bacteria, metals, and chlorine taste.  It works great.  We drink the filtered water and use it for cooking, so we don't have to buy water.
A good filter lasts a whole camping season.  We do add a couple of tablespoons of bleach with every water tank fill up.  We also use a faucet filter when we are hooked up in campgrounds, but that is rare." – Michael Dvorak, Ram 3500, 2007 Okanagan
"I use a Pur water filter that connects right to the kitchen faucet.  I'm very picky with the taste of water.  My husband thinks I'm nuts.  I think he has no taste buds.  He rarely, if ever, uses the filter when making his coffee.
I'm a hot tea drinker and my adult beverage of choice is mixed with Crystal Light (Banana-Orange-Strawberry flavor).  All water that is used to cook food with or in goes through the filter.
The filter works great!  There is no yucky water taste, it's small, and we don't have to haul around bottled water.  And yes, I can tell the difference when someone lovingly makes me a cup of tea in the morning and doesn't use the filter.  Lastly, we always remove the filter from the faucet while traveling." – Sandy Lancaster, 2015 Ram 2500, 2016 Lance 865
"We have used a Camco inline filter since the first fill.  We drink bottled water, but use filtered water to cook, shower, and for the toilet.  We use the Camco because they are available everywhere and the water quality is great.  We replace it every six months or so, depending on use." – Kim and Lori Oliver, 2015 GMC 3500 HD, Adventure 86 SBS
"We travel all over the country and do a lot of hiking and other activities that require lots of water drinking.  On the road you are never sure of the purity of the local drinking water.  We are also environmentally conscious so only use bottled water on rare occasions.  Therefore, we drink a lot of water from our fresh water tank, but it is filtered twice.
We use one of those Camco TastePURE blue filters (purchased at Walmart) at the faucet leading into our holding tank, and then have a second charcoal filter under our kitchen sink that sends the drinking water through a special faucet just for drinking.  In this way we can be assured that the water in our tank is clean, and our drinking water is double clean!" – Charles Coushaine, 2001 Ford F350, 2012 Chalet DS116RB
"We currently use the blue Camco filter while traveling here in Canada, partly because there is very little room under the kitchen sink to put a permanent filter.  We use replaceable cartridge style filters (3) in our home because we pull water from a lake and don't want to risk getting anything nasty.  They are super easy to put together and to change out the filters.  They are also much cheaper.
All you need is a carbon filter in the first filter.  This takes out the smell, odors, and taste of chlorine, etc.  The second filter needs to be ceramic, which will make pretty much any slough water safe to drink.  One ceramic filter easily lasts a year or more, and they run about $30 each.
Most cartridge filters use a 3/4-inch pipe thread and are very easy to convert to garden hose thread.  You could set up the two filters in such a way that, if you only need the carbon filter, then you could use that one.  If you need both, just connect them together and you are good to go.
The ceramic filters have a much slower flow rate, so you don't want to have a bunch of people waiting behind you while you fill up.  When you are done using the filter(s), they are easy to disassemble.  Drain out the water and store them in a plastic tub of some sort so they are ready for next time.  That's my winter project." – Kevin Mooney, 2014 Ford F350, 2006 Okanagan
"Our camper came with a built-in water filter with its own spigot beside the kitchen sink." – Ken Dawson, 2017 F350, 2017 Eagle Cap 1165
"I use an exterior blue water filter.  I don't know that I have the room for an internal water filtration system.  The exterior blue filters seem easy to use and work well.  I want to be able to drink the water out of my holding tank, make coffee, etc.  I also use a pressure regulator at the faucet." – Tom Torrice, 2012 Ford F250, 2018 Wolf Creek 850
"We use the Camco inline filter.  It's easy to use, seems to last a good long time, is relatively cheap, and seems to do a good job.  Campground water is always a little suspect and the filter is pretty cheap insurance against getting particulates as well as other nasties in your system.
I even use a Camco inline filter when I am filling up the water tank on my camper from my hard water line at home.  I've used the filter at home when washing vehicles as well.  When I did this, I did not get water spots.  I was sold then and there.
We also noticed that the campground water (which we tend to drink) generally has an improved taste when running through the filter.  For less than $20 a year, the Camco filter seems like a no brainer." – Arn Chamberlain, 2000 Ford F-250, 2004 Palomino Maverick 8801
"I use an external filter.  We are on a well at home with excellent water quality, but it's prone to sediments.  I use an external filter before we leave on a trip.  I also use it anywhere we hook up to water both to filter out any sediments and to help improve the taste of the local water." – Mike Borrego, 2005 Ram 3500, 2008 Host Yellowstone
"We purchased a two-cylinder Flow-Pur system based on some internet research and availability.  We installed quick-connect adapters for, well, quick connecting!
My wife, with tastebuds far more sensitive than mine, says the system filters out the unpleasant (mostly chlorine) taste from water in many RV parks we've visited.  Since she no longer has to purchase drinking water, I figure the filtration system will have paid for itself in maybe 50 years.  But, hey, as we've all learned, if mama's happy, everybody's happy!" – Bob Branson, 2008 Ford F350, 2014 Lance 1172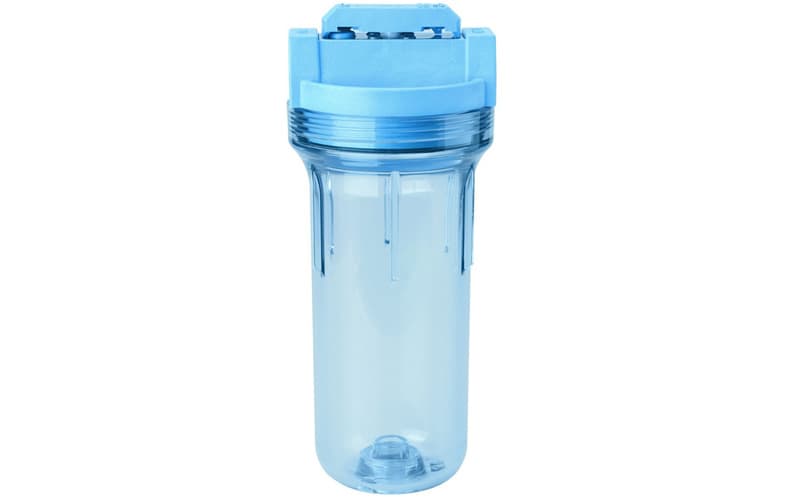 "I bought a Omini whole house U25 filter unit for my camper.  It's the same filter system that's in my home.  It simplifies things to have the same replacement filters for the camper and house.
When leaving a campsite, I remove the filter cartridge, put it in a sealable plastic bag, and place it in the refrigerator.  I attached one short hose to the unit's outlet that connects to my camper's fresh water inlet and a quick connect to the unit's inlet for the water source hose.  I cut a hole in the bottom of a yellow plastic milk crate for the unit to fit in, to stabilize it, and to keep it off the ground." – Ron Holte, 2006 Chevy 2500HD, 2005 Lance 1030
"I use an exterior six-stage system.  It is a 5-micron sediment, 1-micron sediment, 2 to 5-micron granular activated carbon, 1-micron block carbon, and 1-to .5-micron block carbon filter.  The system works great.
It can turn ditch water into drinkable water.  I put it together from parts I bought online from Amazon and the local Home Depot.  For $200 it includes six extra filters for each stage.  I know its overkill but, for about the same price, you can get a three-stage system preassembled." – Marty Commins, 2007 Ford F250, 2006 Nash 22GQ, still shopping for a truck camper
"We have used the Camco disposable inline water filters for years.  I use a new one at the beginning of each season.  We drink from our fresh water tank.  I think it helps keep the fresh water tank clean.  I do sanitize the tanks once a year." – Mark Joslin, 2006 Dodge 3500, 2005 Lance 1181
"Due to chemical sensitives, we do not trust the plastic in the camper's 18-year-old water tank.  For drinking water, we purchase jugs of water from grocery stores or, preferably, refill our newer one gallon and 2.5-gallon jugs from dispensers in grocery stores.  We occasionally will use tap water at campgrounds to refill our jugs.
Prior to making coffee and tea, we run water through a Brita filter to remove the taste of chlorine or chemicals.  For most cooking and bathing, we use the unfiltered water in the onboard tank.  Over the past 30-plus years of RVing, this is the simplest and most cost-effective way of dealing with water." – Stephen Leonard, 2008 Ford F250, 1999 Lance Lite 815
"I use a Camco external filter (just like in the picture for this survey).  This is my first filter so I have nothing to compare it to.  It does what I bought it for; remove the sulfur taste and smell from water at North Carolina beach campsites." – Randy Smith, 2001 Ford F350, 2017 Adventurer 910DB
"I have never used a water filter.  On short hauls, I fill at home and that lasts a week or two.  I have also filled from municipal or good camp sources.  We boil our drinking water and keep it in a container in the sink or refrigerator.
I have never experienced a health problem in in twenty-seven years of camping, but are very careful.  I did pick up questionable water when we were in a pinch, but just flushed and bleached my system when I came to good water, and carried on." – John W. Hallett, 2011 Ram 3500, 2014 Bigfoot 9.6LB
"We don't use a water filter.  In fact, we have never introduced water to our camper's systems.  We prefer to use the facilities at the campground instead of being cramped in the tiny bathroom and shower in the camper." – Scott Johnson, 2014 Ram 2500, 2014 CampCraft Lighthouse 8.0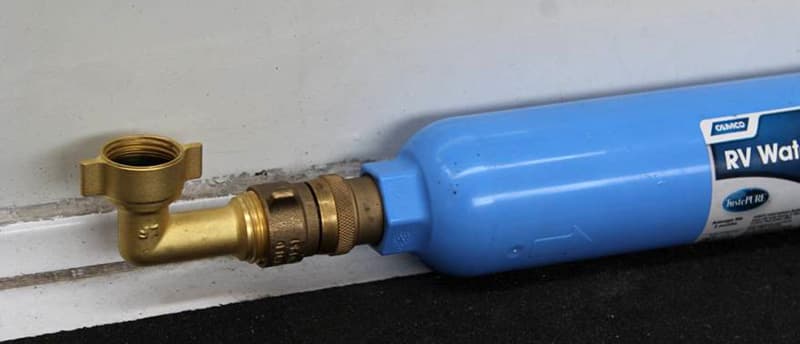 "I use the blue Camco water filter every time we hook up to an RV park water spigot.  It gives me peace of mind since I don't know the quality of water of where we are parked.  I don't want to carry around bottled water and have to think about recycling plastic bottles.  I keep the pressure regulator attached to the filter and if necessary use a 90 degree brass elbow to attach to the park spigot.  We find it convenient to turn on the kitchen faucet for our drinking needs.
I replace the filter every year, usually in spring when de-winterizing and also install a new anode rod into the water heater.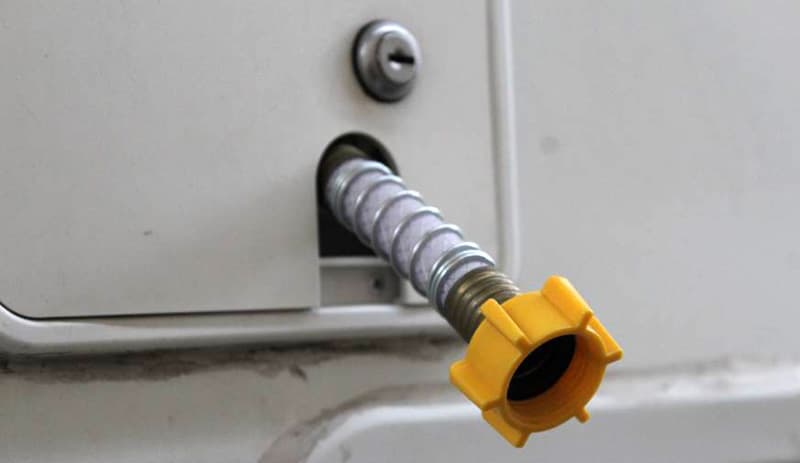 The Camco packages usually supply the flexible six-inch hose connector. My outside water connection is behind a locked door.  So now I keep the short connector permanently attached to the water inlet and the only time I need to unlock the door is when adding to the camper's fresh water tank.  I go through a twice yearly ritual of cleaning the camper's tank with bleach, vinegar, and baking soda.  I only only carry 15 (125.1 pounds) to 20 (166.8 pounds) gallons of water when traveling.  There are some nights when not plugging into water and electric suits us just fine." – Roger and Elaine Odahl, 2008 Dodge Ram 3500, 2004 Eagle Cap 950
"I use the same Camco exterior water filter.  I also bring store bought water and a Brita Water pitcher.  I like to save my on board water for showers and dish washing, etc.  However, if I happen to run out of bottled water, then I can fill my Brita water pitcher for double filtration before I drink it.  I also use Camco's water treatment in my tanks to kill what ever maybe in there." – Dennis De Ville, Waiting for 2018 Ford F350, Waiting for 2018 Lance 1172
"We use a water filtration system when camping in Mexico.  On a campground somebody noticed the brownish water.  I had no idea what he was talking about until I checked my water filter which was totally black." – Niels Clemmensen, 2014 Ford F-350, 2016 Northern Lite 9-6Q SE
"We will use the Camco blue filter canister if we hook up at a campground that has water available.  For taste and odor, and why not?  We will also filter any water that we'd put in the holding tank when replenishing at a campground.
We utilize a Brita pitcher filter to filter all water we'd utilize out of the holding tank for cooking, coffee, drinking, ice cubes and the like.  I like the Camco filters because they are readily available at many different places.  That said, I sterilize my holding tank at the start of the season, and a few months later to be on the safe side.  We always carry at least six one-pint water bottles for emergencies." – Stev Franz, 2007 GMC 3500, 2013 Lance 1191
"I don't use a filter on my camper since I use bottled water for drinking water and coffee.  I do use an exterior blue filter on my park model trailer to catch sediment." – Ron Perkins, 2016 GMC 3500, upgrading campers this spring
"We used an exterior Camco water filter during our first year of truck camping.  That got rid of the chlorine taste in the domestic water supply found in most campgrounds.  We use our fresh water tank supply for cooking, washing, pets and morning coffee.  It has never failed to remove the chlorine taste campgrounds.
We always start with a new canister each year and we find they last us a maximum of about four months.  The canister also keeps all the sediment out of the plumbing system in the rig.
We also carry about twelve bottles of bought water to take on a hike or to sightsee.  In most cases we are traveling with about ten gallons of fresh water during the day since we do not know where our next campsite will be and whether there will be safe fresh water available." – Leo Christl, 2015 GMC 3500, 2005 Lance 1181
"We have used filters.  Our second filter lost its charcoal into the water system.  That made a big mess.  We had to replace the toilet flush valve.  We no longer use one." – Lindsay Pooley, 2000 Ford F350, 2008 Lance 1182
"We have a whole house filter that I have installed in an outside compartment.  It can be configured to filter for tank filling or inline if we are connected to a water line.
We use a standard house charcoal filter cartridge to clean the water.  The standard house filter is an inexpensive method for clean water and has worked well so far." – Russell Berquam, 2014 Ford F350, 2015 Arctic Fox 1140
"I use a Camco TastePure filter when filling my camper's water tank.  I primarily do this in an effort to keep sediment and debris out of the tank, and not so much for taste or purification.
My family does drink water from the camper's fresh water tank, but only after an additional filtering through a GE dual stage drinking water filter.  I've installed a dedicated drinking water faucet at the kitchen sink for which is used for drinking and cooking only.  Most importantly, I will only fill the fresh tank from known potable water sources and I sterilize the tank at least twice a year with a sodium hypochlorite (liquid bleach) solution." – Mark Siminoff, 2005 Dodge Ram 3500, 2004 Alpenlite Saratoga 935