Truck campers reveal their external and internal water filtration systems, and how they work on the road.  For once we have a question of the week that's in good taste.
This week's Question of the Week was, "Do you use an exterior or interior water filtration system with your truck camper?" 
"We use an installed two canister water filter system in our camper.  They are large canisters that take standard residential type filters so they can be purchased anywhere.
We use one sediment filter and then a charcoal filter inline.  We travel mostly in western Canada where we are spoiled with great water most of the time.  I never fill the tanks with any water that is questionable.
The filter system saves us money on purchasing bottled water.  It's a little more complicated to winterize, but it's worth the effort." – Wes Hargreaves, 2016 Ford F450, 2006 Snowbird 108DS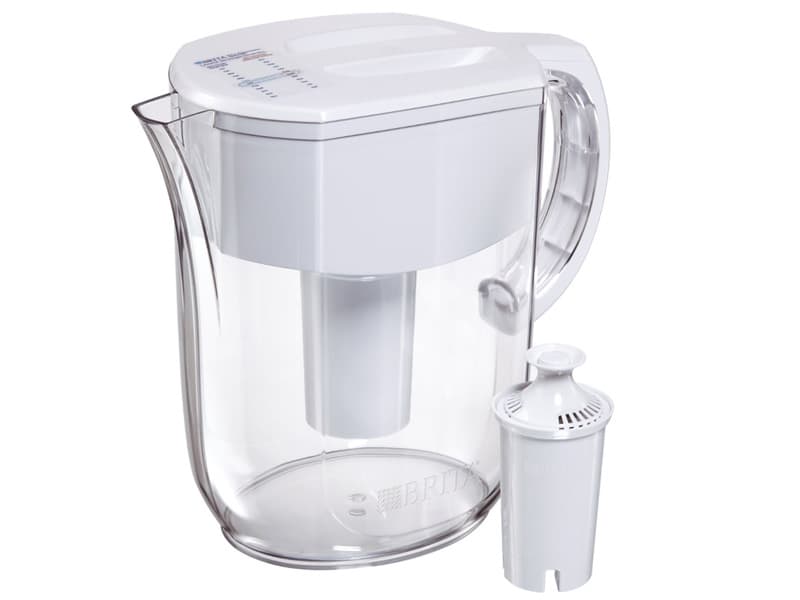 "We use a Brita water filter for coffee.  I tried an inline Camco in the past and could not see the need for it.  We have traveled over 250,000 miles and we're not dead yet.  Happy trails." – Bill Sargent, 2012 Ram 3500, 2009 Lance 971
"Yes, I use a Camco inline filter.  I try not to buy bottled water.  I filter my water at home as well.  For camping, the water filter helps keep the hot water and holding tanks cleaner and improves taste for coffee and drinking.  I noticed a big difference in the water at a favorite campsite since using it." – Kent Leboutillier, 2011 Ford F250, Palomino Backpack SS550
"We exclusively use the on-board fresh water system for drinking, cooking, and washing purposes.  I sanitize the entire water system with chlorine several times a year and I am quite comfortable with the safety of our water.
We always fill our fresh tank at home before trips because our well water rivals any bottled water I've ever had for taste and quality.  Having said that, occasionally trips do outlast our 50 gallon water supply forcing us to refill the fresh tank while on the road.
At that point I use one of the blue Camco inline filters on the hose while refilling the tank.  In previous campers I have used a Pur brand cartridge-type filter on the kitchen faucet.  That takes care of water with a taste or odor problem.  The Pur filter had a bypass for washing dishes and twisted to engage the filter for drinking water.
Since I've been more proactive in sterilizing the water system, I've not found it necessary to reinstall the faucet filter in our current camper." – John and Marylou Wells, 2011 Chevy 3500, 2012 Chalet Ascent S100F
"We use the Camco blue water filter, but only drink bottled water when on the road." – George Visconti, 2015 GMC 3500, 2016 Arctic Fox 990
"I use an exterior dual canister setup from rvwaterfilterstore.com.  It has one filter for sediment and one for all the other bad stuff that could be in the water.
The initial purchase is expensive.  You are getting the heavy duty canisters with hose fittings, a canister wrench along with two sediment filters, and one charcoal filter.  I keep the canisters, hoses, and other fresh water items in an 18-gallon tote that is stored in the back seat of my crew cab.
When I hook up to water, I set the tote next to the camper and leave the canisters inside (out of the sun and out of sight) using an 8-foot hose from the canisters to the camper.  I added quick connect fittings to the canisters and plan to cut holes in the tote to run the hoses.  That way I can leave the lid closed tight.
I chose this system for its quality and good reviews.  With the system, I don't have to worry about what might be in my water.  So far it has worked very well." – Brett Burguard, 2017 Ford F-350, 2012 Northstar 9.5 Igloo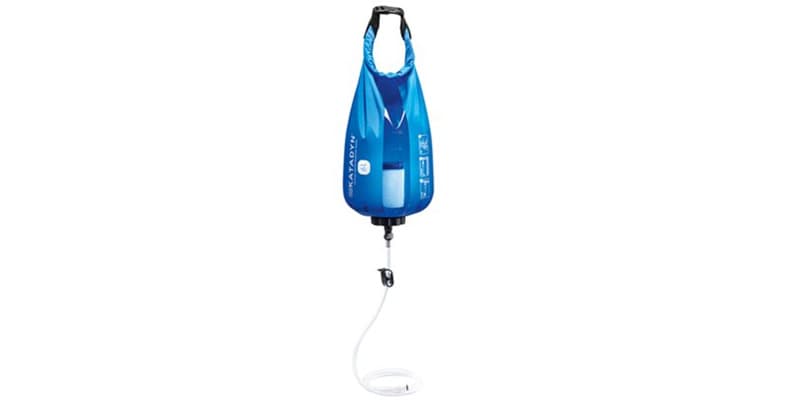 "I use a Katadyn 6-liter hanging gravity filter to refill my three gallon carboy." – John Pence, 2006 Toyota Tundra, 2016 Four Wheel Camper Hawk shell
"Every spring and fall I clean the water tank with chlorine and a few gallons of water and check the hoses for mildew, etc.  If I'm filling up with fresh water from a campground or other source that isn't a municipal source I'll filter the water through a charcoal filter attached to the hose.  For the inside I use a Brita water filter pitcher." – Richard Stolz, 1997 Ford F250SD, 2002 Four Wheel Camper Grandby