Readers showcase clever collapsing products that turn a little camper space into big storage opportunities.  Nesting pots and pans are just the beginning.
This week's Question of the Week was, "How have you used nesting and collapsible products or nesting and collapsible strategies to save storage space in your truck camper?"
"I have three collapsible items.  I use a collapsible bowl as a wash bowl.  I have different sized backpacking pots that are nested inside each other.  I also have collapsible chairs." – Chris Waltron, 2008 Nissan Frontier, 2008 Four Wheel Camper Eagle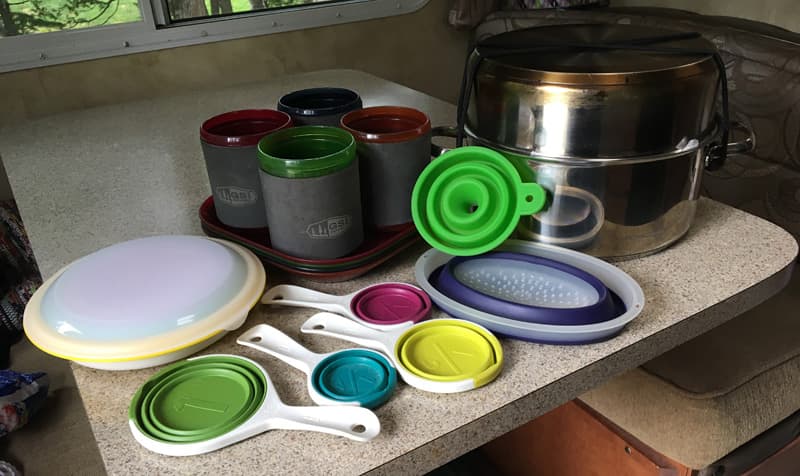 "Our kitchen is full of space saving items; nesting pots and dishes, a collapsible funnel, strainer, four measuring cups, and collapsible and nesting microwave dishes." – Sue Graf, 2008 Ford F350, 2013 Arctic Fox 865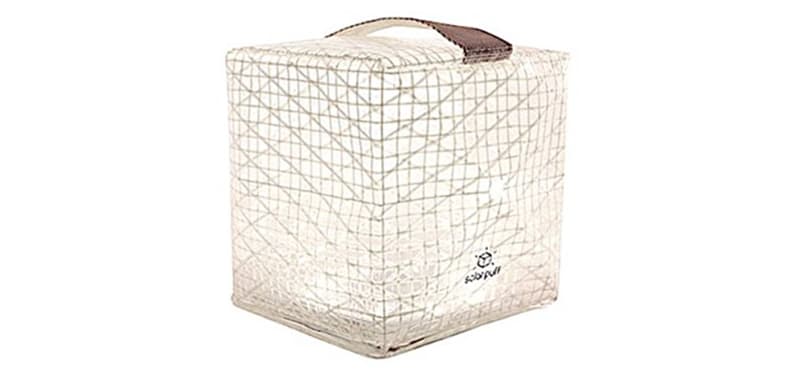 "We have discovered the collapsing dish pans, funnels, colanders, and pet bowls.  For pots and pans, a nesting set works well (backpacking/camping style in steel, not aluminum).  We have a coil-up hose for filling the water tank.  And we have collapsible LED solar lanterns for outdoor lighting." – Bill Peters, 2017 Chevy Silverado 1500, 2013 Four Wheel Camper Hawk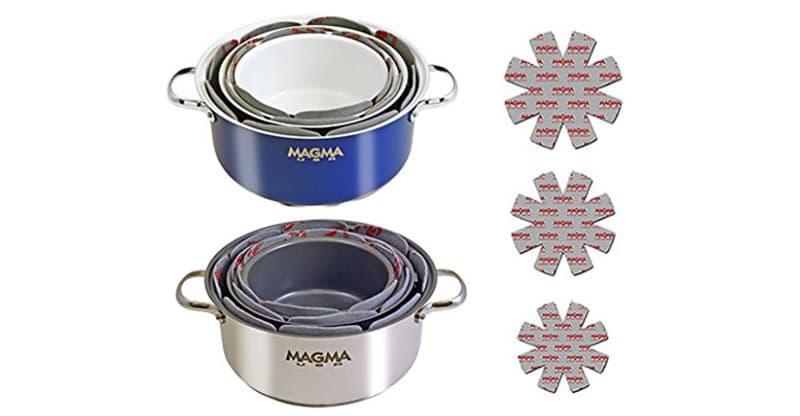 "I love my Magma non-stick nesting pots.  They have a thick bottom so they cook well without burning, clean up easily, and I have a whole kitchen worth of pots and pans in one compact stack.  I use pot liners between the pans when storing them to prevent scratching." – Laurie Heimbigner, 2013 Ford F550, 2013 Phoenix pop-up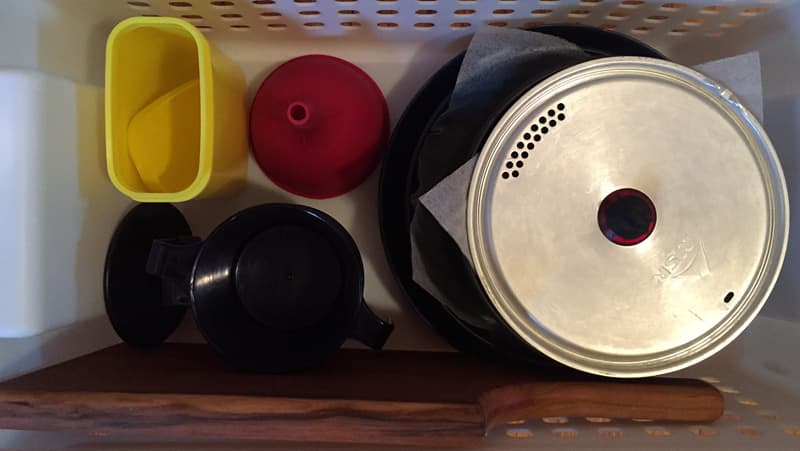 "We use the MSR nesting backpacking pots, fry pan, plastic plates, and nesting backpacking cups and bowls.  They all fit nicely into a plastic bin that slides into our kitchen cabinet." – Laurel Wilson, 2013 Ford F350, 2016 Four Wheel Grandby Shell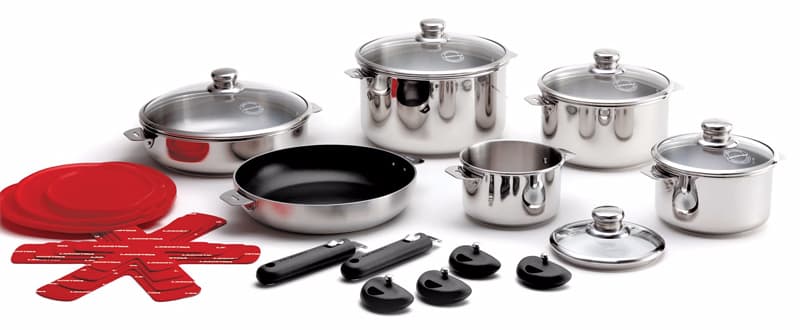 "I bought the greatest Lagostina pot set at Canadian Tire for $199.  All handles are removable and interchangeable.  The set came with four pots, a non stick fry pan, a steel fry pan and six handles (long and short).  It also came with felt pads designed to stop rubbing when nested.
The bonus is that it also has plastic lids.  The beauty of this set is that if you remove the handles you can use them in the oven (lids are all steel and glass).  Also you can fit all the pots on the stove because the handles don't get in the way.
The plastic lids let you use them as salad bowls and leftover storage.  The downside is that they are made with 18/10 stainless steel with thick bases.  They are heavy.  I keep saying I will leave one or two at home, but I never do.  I love these." – Nanette Fliesser, 2013 Chevy Silverado, 2014 Host Mammoth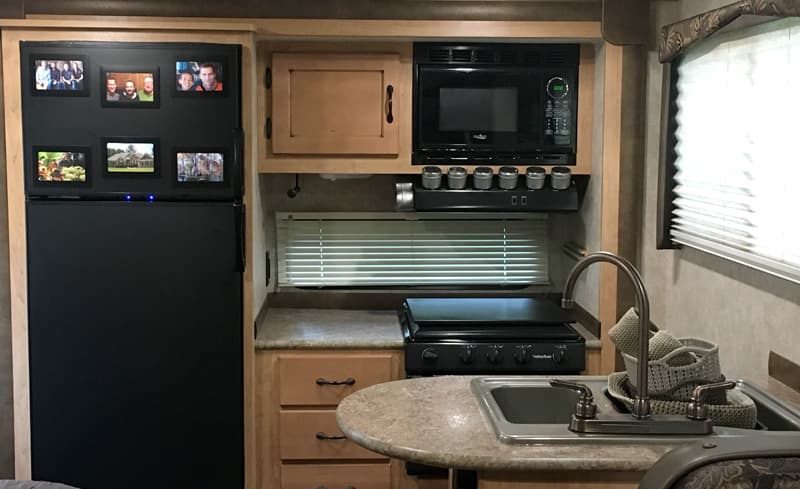 "Above is the kitchen area viewed from the cab end of the camper.  I'm very lucky to have six drawers!  What you don't really see in the photos, because it is a difficult space to photograph well, is the large storage area under the sink.  That is where I keep the Magna cookware set, a four-quart multi-cooker, a cutting board, and a Nespresso machine.  Of course I have lattes when we camp!
The crocheted boxes are from The Container Store.  I use them for fruits and vegetables, and can wash them by hand periodically.  They are great to minimize bruising of fruits and veggies in transit.  I have quite a few spice jars stuck to both the front and one side of the hood.  The quality of those magnetic jars varies widely.  The ones from The Container store have the strongest magnets. I have never had one come down in the other camper, and don't anticipate any problems with this one, either.
Kitchen stuff can quickly take up space, and is a prime nesting location for me.  I use a 7-piece Magma Stainless nesting cookware set.
I added the Magma ceramic coated interior omelet pan, which fits in the nested set.  I also added a tiny stainless kettle from another manufacturer that fits in the center of the smallest pot for the times we boondock and only cook with gas.  This way, all my cookware with the exception of several small baking sheets fits in the space required for one medium-sized dutch oven.