Readers showcase clever collapsing products that turn a little camper space into big storage opportunities.  Nesting pots and pans are just the beginning.
This week's Question of the Week was, "How have you used nesting and collapsible products or nesting and collapsible strategies to save storage space in your truck camper?"
"I have three collapsible items.  I use a collapsible bowl as a wash bowl.  I have different sized backpacking pots that are nested inside each other.  I also have collapsible chairs." – Chris Waltron, 2008 Nissan Frontier, 2008 Four Wheel Camper Eagle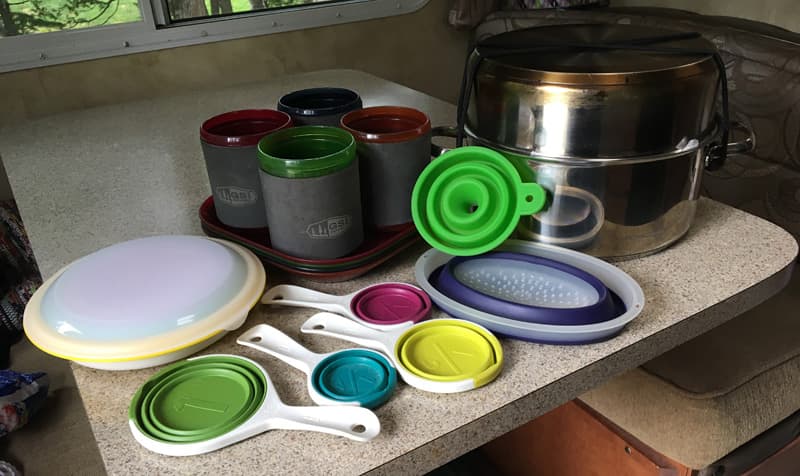 "Our kitchen is full of space saving items; nesting pots and dishes, a collapsible funnel, strainer, four measuring cups, and collapsible and nesting microwave dishes." – Sue Graf, 2008 Ford F350, 2013 Arctic Fox 865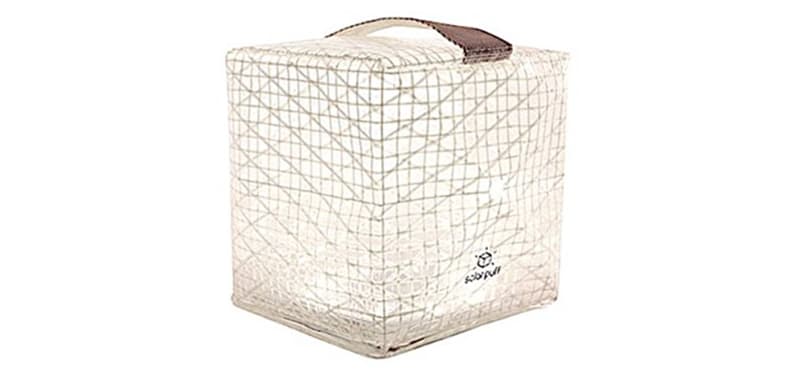 "We have discovered the collapsing dish pans, funnels, colanders, and pet bowls.  For pots and pans, a nesting set works well (backpacking/camping style in steel, not aluminum).  We have a coil-up hose for filling the water tank.  And we have collapsible LED solar lanterns for outdoor lighting." – Bill Peters, 2017 Chevy Silverado 1500, 2013 Four Wheel Camper Hawk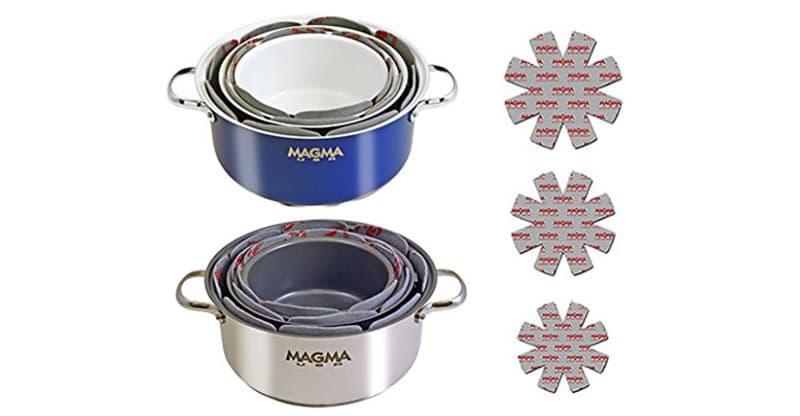 "I love my Magma non-stick nesting pots.  They have a thick bottom so they cook well without burning, clean up easily, and I have a whole kitchen worth of pots and pans in one compact stack.  I use pot liners between the pans when storing them to prevent scratching." – Laurie Heimbigner, 2013 Ford F550, 2013 Phoenix pop-up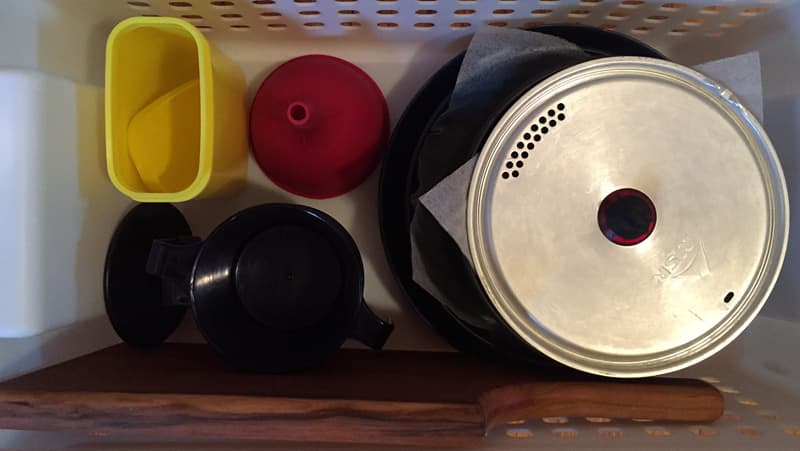 "We use the MSR nesting backpacking pots, fry pan, plastic plates, and nesting backpacking cups and bowls.  They all fit nicely into a plastic bin that slides into our kitchen cabinet." – Laurel Wilson, 2013 Ford F350, 2016 Four Wheel Grandby Shell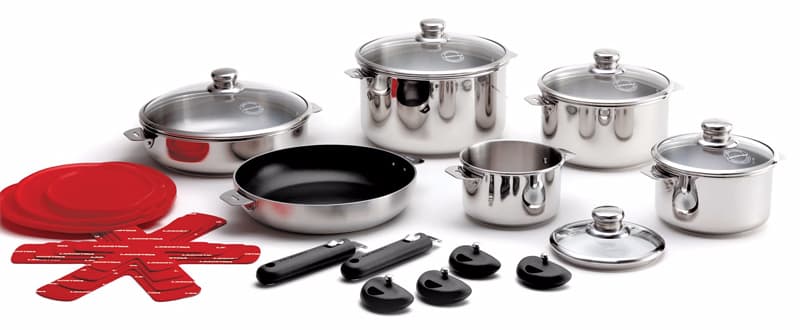 "I bought the greatest Lagostina pot set at Canadian Tire for $199.  All handles are removable and interchangeable.  The set came with four pots, a non stick fry pan, a steel fry pan and six handles (long and short).  It also came with felt pads designed to stop rubbing when nested.
The bonus is that it also has plastic lids.  The beauty of this set is that if you remove the handles you can use them in the oven (lids are all steel and glass).  Also you can fit all the pots on the stove because the handles don't get in the way.
The plastic lids let you use them as salad bowls and leftover storage.  The downside is that they are made with 18/10 stainless steel with thick bases.  They are heavy.  I keep saying I will leave one or two at home, but I never do.  I love these." – Nanette Fliesser, 2013 Chevy Silverado, 2014 Host Mammoth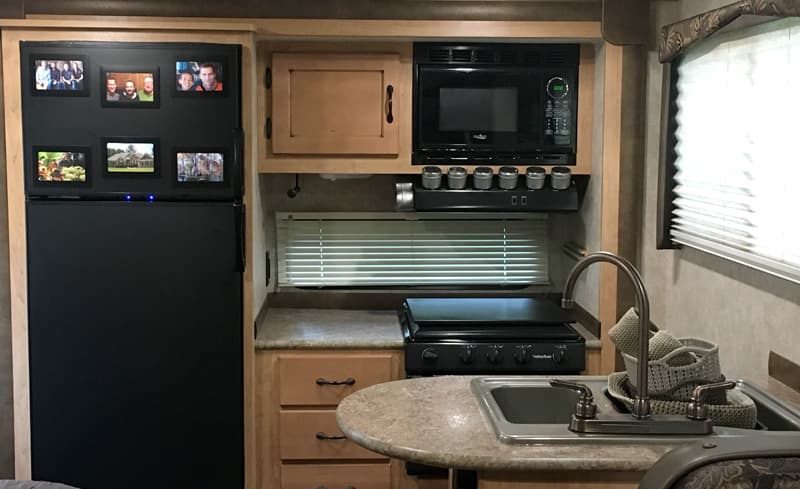 "Above is the kitchen area viewed from the cab end of the camper.  I'm very lucky to have six drawers!  What you don't really see in the photos, because it is a difficult space to photograph well, is the large storage area under the sink.  That is where I keep the Magna cookware set, a four-quart multi-cooker, a cutting board, and a Nespresso machine.  Of course I have lattes when we camp!
The crocheted boxes are from The Container Store.  I use them for fruits and vegetables, and can wash them by hand periodically.  They are great to minimize bruising of fruits and veggies in transit.  I have quite a few spice jars stuck to both the front and one side of the hood.  The quality of those magnetic jars varies widely.  The ones from The Container store have the strongest magnets. I have never had one come down in the other camper, and don't anticipate any problems with this one, either.
Kitchen stuff can quickly take up space, and is a prime nesting location for me.  I use a 7-piece Magma Stainless nesting cookware set.
I added the Magma ceramic coated interior omelet pan, which fits in the nested set.  I also added a tiny stainless kettle from another manufacturer that fits in the center of the smallest pot for the times we boondock and only cook with gas.  This way, all my cookware with the exception of several small baking sheets fits in the space required for one medium-sized dutch oven.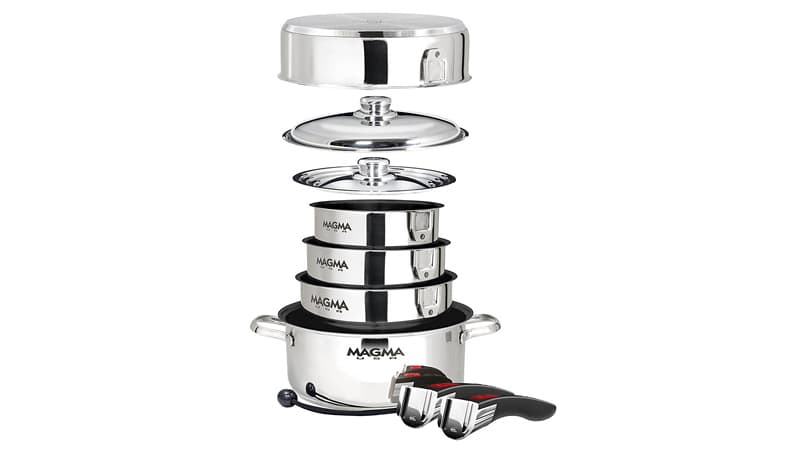 Magma is not cheap, but it will last a lifetime.  It has thick gauge stainless with aluminum clad bottoms for even heating.  This freed up the space necessary for a luxury kitchen item – my 4-quart multi-cooker!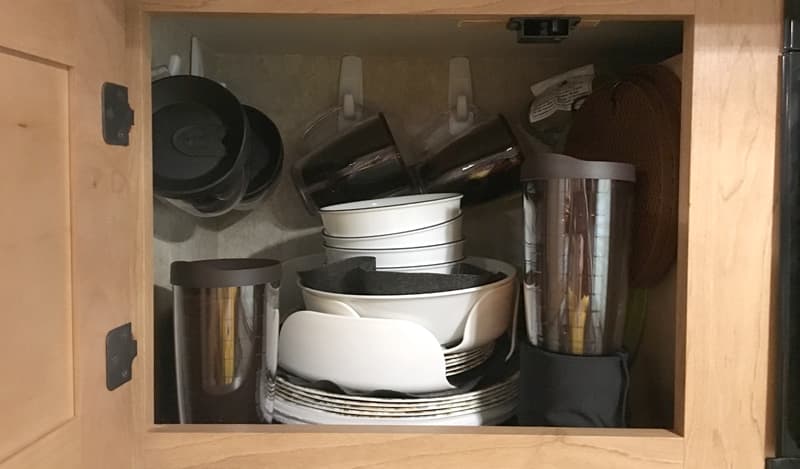 The dish cabinet is small, but everything fits easily.  For the photo above, I removed the pieces of felt I keep in between the bowls so you can see the space better.  Corelle is very break resistant as long as you keep it from clinking against itself.  I use Corelle dishes so I can stack them and because they double as microwave proof dishes.  I put a knit shoe cover (used for suitcase packing) over each of the four Corelle coffee cups, put one cup on each of four corners of stacked plates and bowls, and nest a Tervis tumbler inside each.
I hang four Tervis mugs from the dishware compartment ceiling.  In this way, I can get a complete set of dishes, coffee mugs, tumblers and insulated mugs in a space roughly 14-inches wide, 12-inches deep, and 12-inches tall.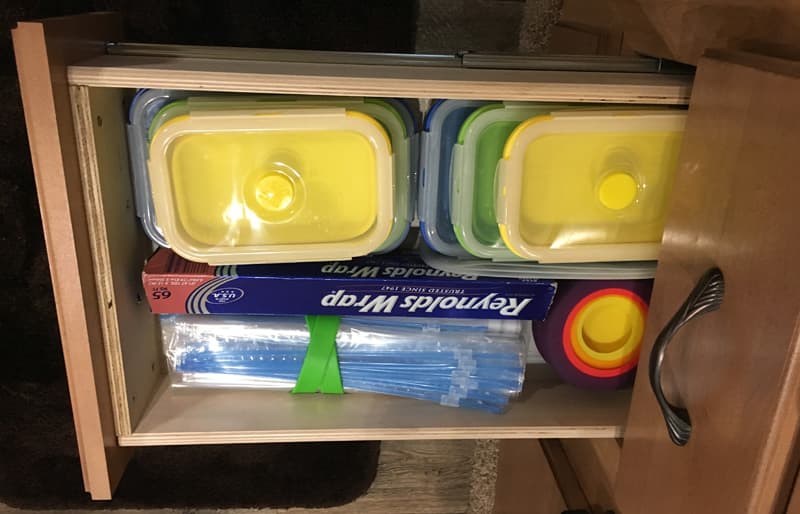 The food storage drawer is where I stack the collapsing silicone locking storage containers that I love.  They are made by Thin Bins.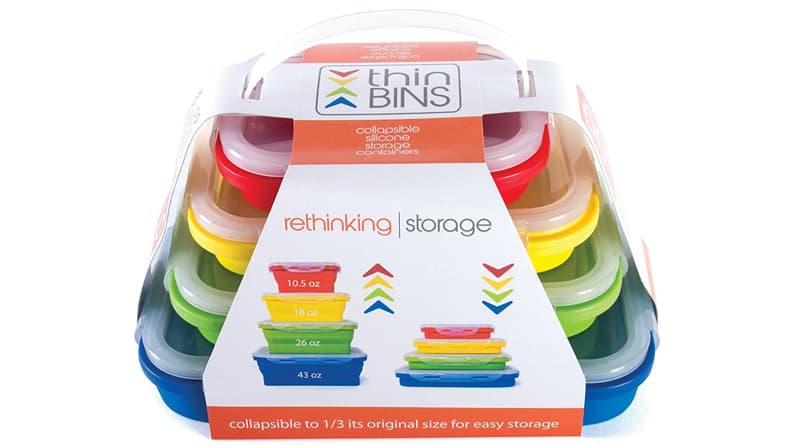 I also have round silicone cups that fit over the cut ends of vegetables.  I love that the containers are also microwave-proof for cooking and have vented lids.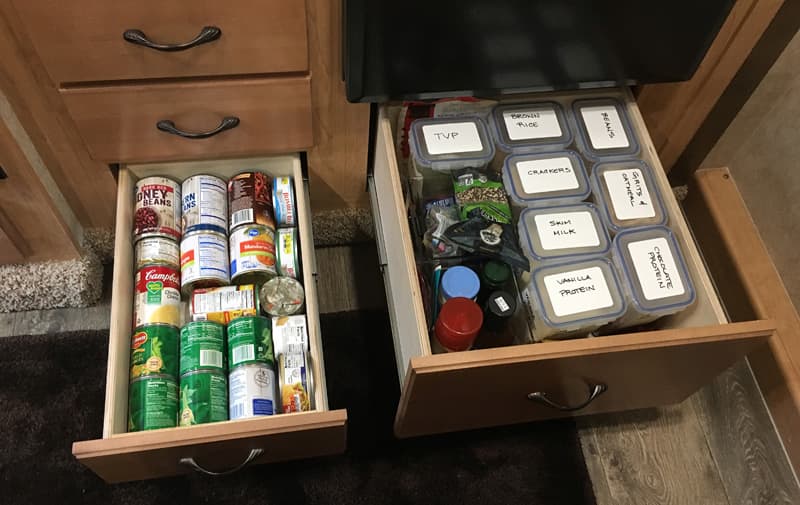 I have Food Huggers silicone food savers.  They are round silicone cup things that slip right over the cut end of a tomato, cucumber, onion, lemon, etc.  They stack into each other.
My biggest area of concern was where to store the food.  The 116DS doesn't have a pantry, per se.  There's plenty of room, though, in the two bottom drawers, one of which is quite deep.   I have canisters of dry goods standing upright.  Using these drawers also keeps the heavy weight of food low on the camper.  We have a few snacks – like jerky and popcorn – in a cabinet over the recliners – seemed fitting to keep snacking stuff near the movies and games.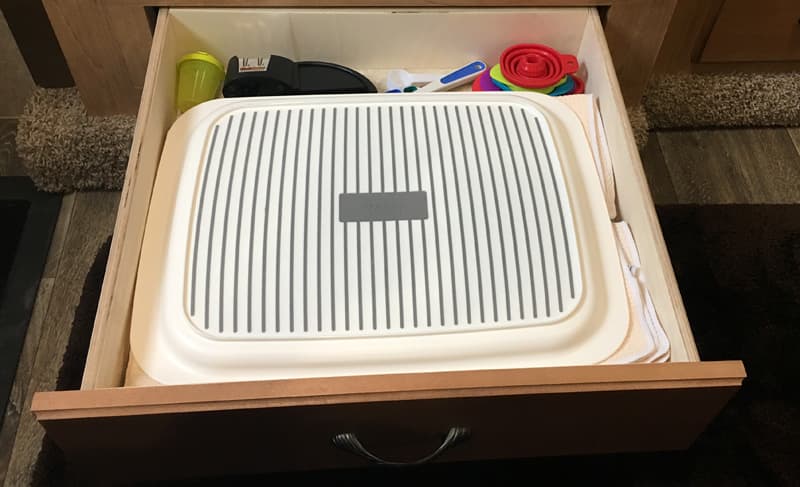 The last photo is of a large shallow drawer under the refrigerator.  I use it for dish towels and dish cloths, and stack a large serving tray on top to keep everything from shifting around.  The tray makes setting up to take food to the grill a one trip endeavor.  A few seldom used items are at the back of the drawer like stacking silicone measuring cups and the collapsing funnel.
When I get to the campsite, I put the espresso machine and frother on the counter, move the knives and utility shears to the knife rack, stick the paper towels on its holder, and we have a very convenient kitchen ready to start supper.
We're very proud of our new camper, and look forward to many long comfortable trips in the years to come." – Nancy Meiners, 2015 Ford F350, 2016 Adventurer 116DS
"One of the best things I bought are pots and pans with removable handles.  I don't recall where I got them.  I purchased them ten years ago, but you can find them online.  They are heavy duty pans (thus heavier than normal pans), and have held up very well.  I have other collapsible items as well, like a dish drainer, colander, measuring cups, leftover dishes, etc." – Jody Smith, 2013 Chevy 3500, 2013 Lance 1172
"I carry a collapsible water dish for my dog.  The dog is 13 pounds, so the dish is small.  It fits very nicely in the door pocket of our truck and car." – Mark McVicker, 2005 Ford F250, 2013 CampLite 11S

"I use IKEA SKUBB lightweight fabric storage boxes and organizers to contain my stuff while camping.  They come in various configurations and sizes.  Some have lids and can stack.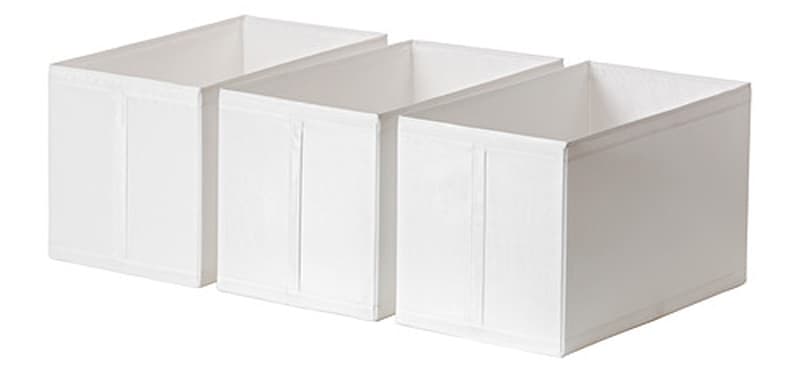 When not in use they collapse, fold flat, and disappear under my mattress.  Very cheap, very tidy!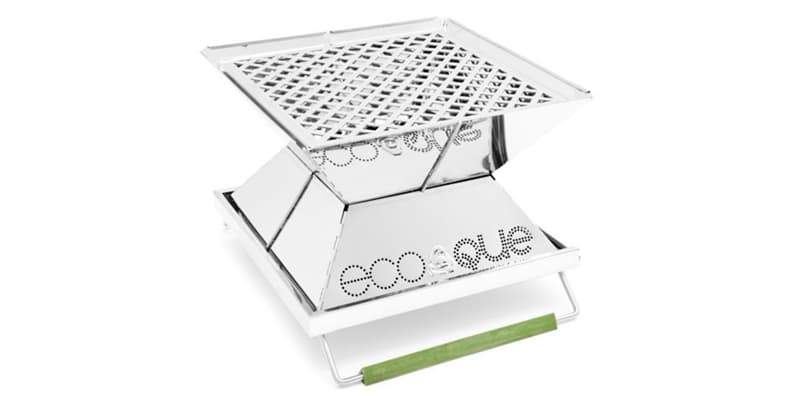 I've also just discovered the EcoQue portable grill, an origami-like steel firepit/BBQ/oven for wood or charcoal.  It folds flat into a small tote bag." – Christine Dyer, 2012 Chevy Silverado, Four Wheel Camper Hawk Shell
"We're leaving on solo three month trip to Alaska and Yukon, so space is at a premium.  In all the cabinets and nooks we have collapsible Tupperware.  All of our loose items are vacuum sealed flat.  Now we have have tons of room.  We love our new SS-550." – Shellie Barnes, 2014 Ford F150, 2017 Palomino SS-550
"One of the few things we kept from our Class C when we upgraded to our truck camper last year, was a set of nesting T-Fal pots and pans.  With removable handles they can be used on both the stovetop and in the oven.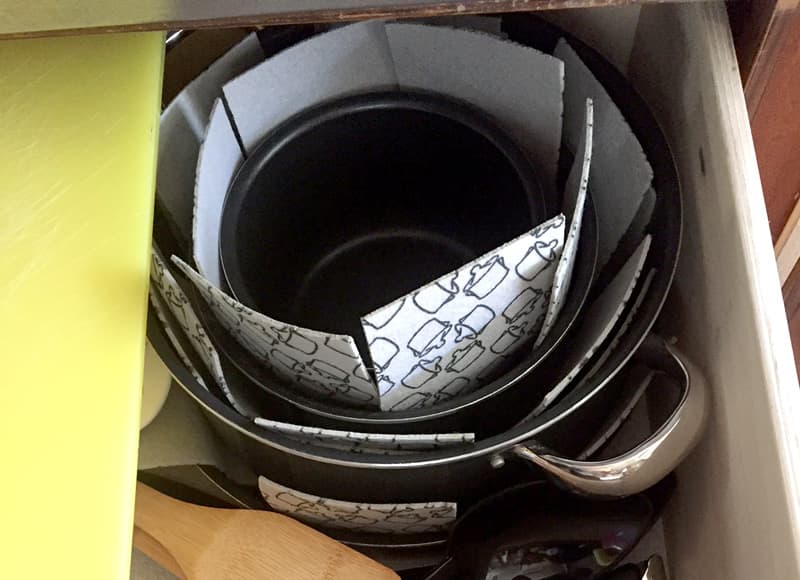 The lids even have a straining feature, so no space sucking colander for us.  The only thing better would have been if they'd been available as squares instead of rounds.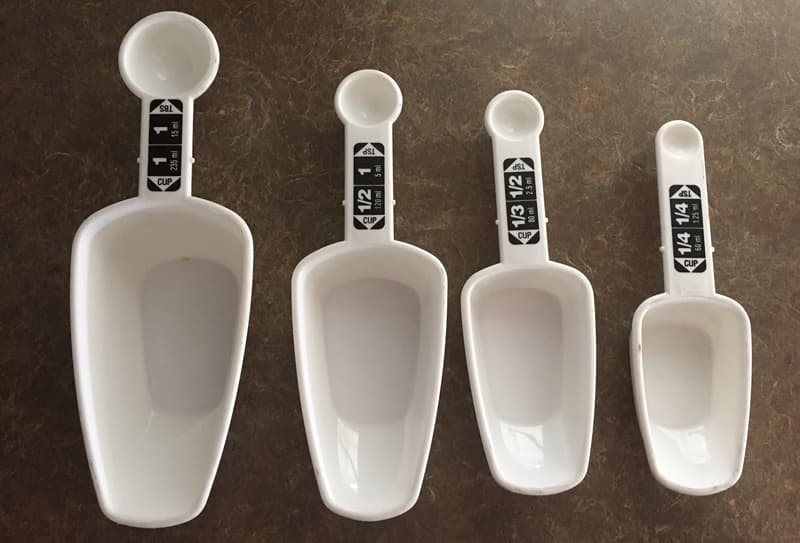 I also have nesting measuring cups/spoons.
For pre-assembling meals, I use my Food Saver vacuum sealer.  It saves space in both the freezer and refrigerator.  Stack 'em." – Kris and Frank Thomas, 2007 Dodge Ram 3500, 2007 Northern Lite 10-2CD SE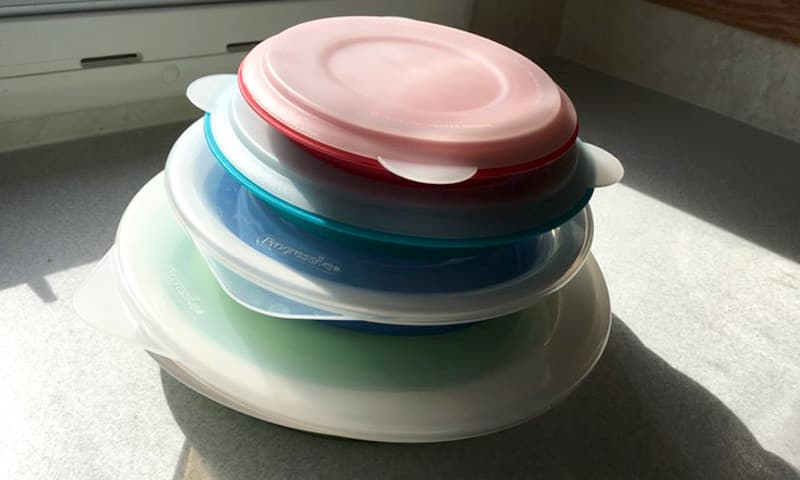 "We were boaters for decades before we became truck campers and early on realized the utility of collapsible bowls and nesting cookware.
Our truck camper and powerboat, a C-Dory 25 named Valkyrie II, have similar storage space and have nearly identical cooking and eating gear.  The nesting pots and pans on our Northstar are by Galleyware and Valkyrie is equipped with Magma nesting cookware made by the company of the same name that builds heavy duty propane grills.  Oh yeah, it comes with a heavy duty price, too!" – Nick Rukavina, 2015 Ford F350, 2015 Northstar Arrow 8.5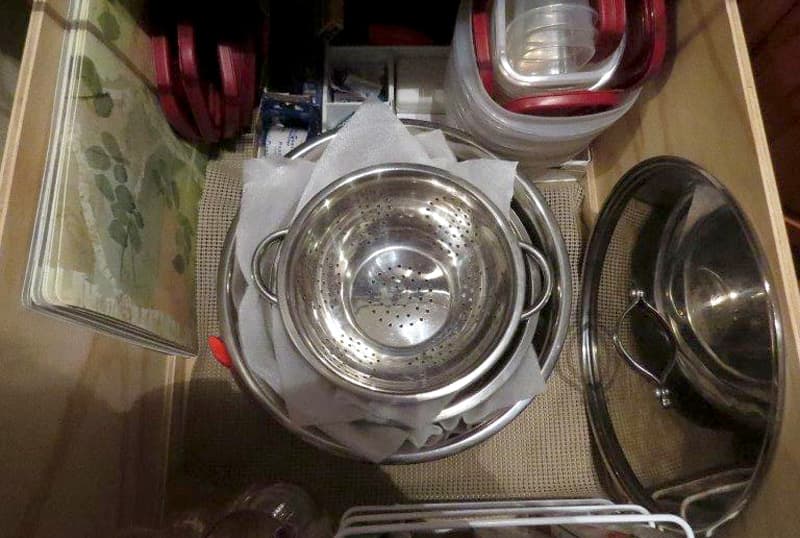 "Our camper has a deep drawer under the stove that can hold a multitude of things if stored properly.  On the bottom of the drawer is a nest of two stainless bowls and a colander.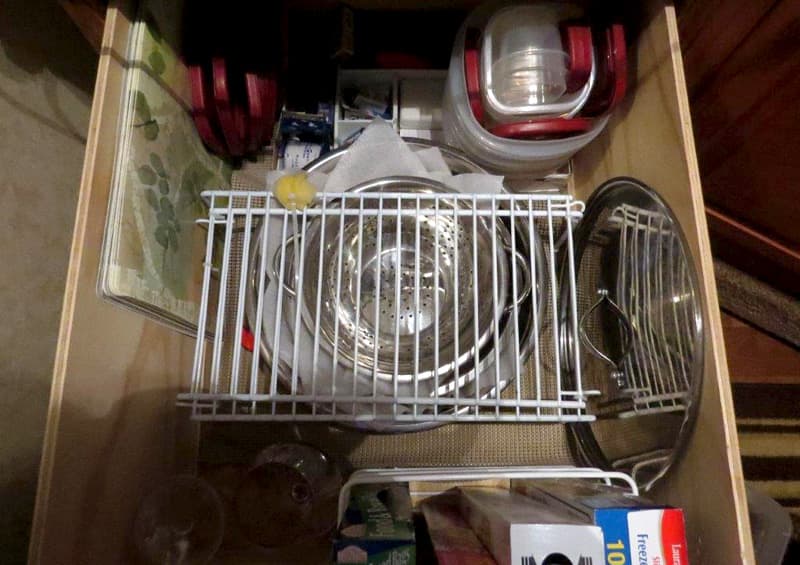 On top of them is a removable wire shelf.  On the shelf are two plastic containers.  One holds kitchen towels and the other has miscellaneous kitchen items.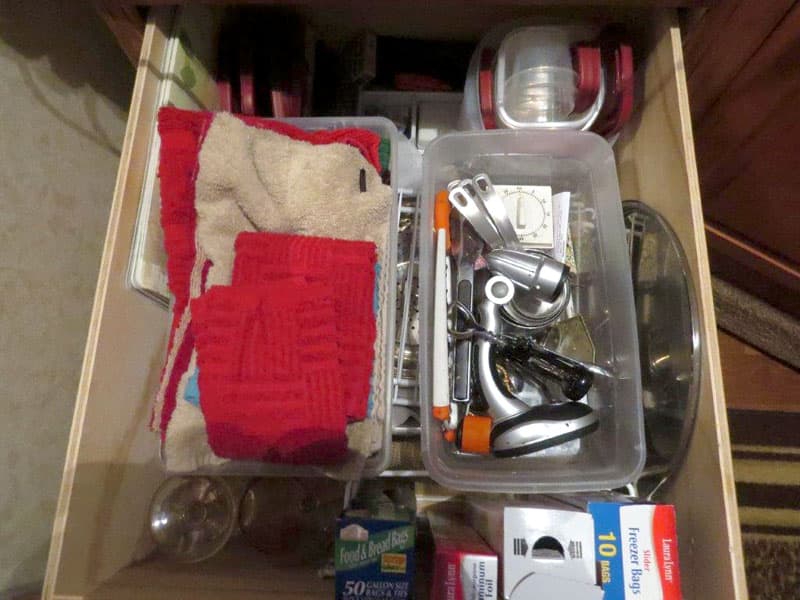 Also, in that drawer is a nest of plastic containers that all fit together and have the same size lid.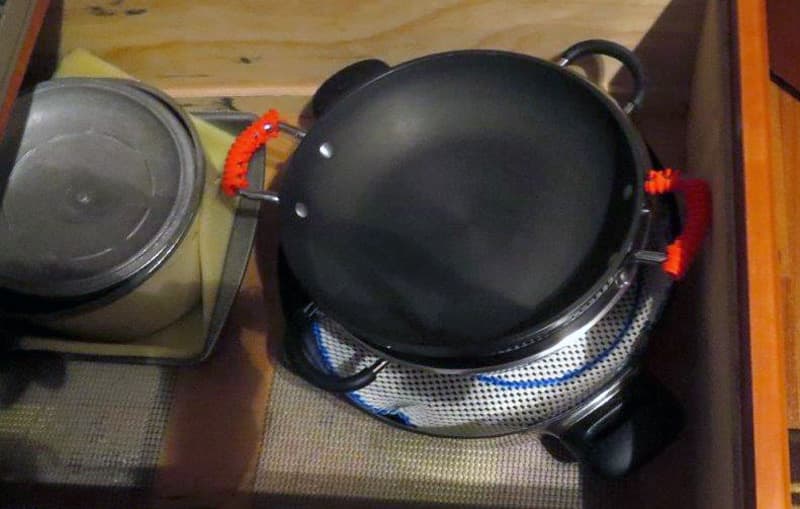 I have traded all my frying pans for sauté pans, which are frying pans without long handles.  The pans nest together beautifully and leave much more space in the drawer for other pans." – Audrey Ruccio, 2008 Ford F450, 2008 Host Everest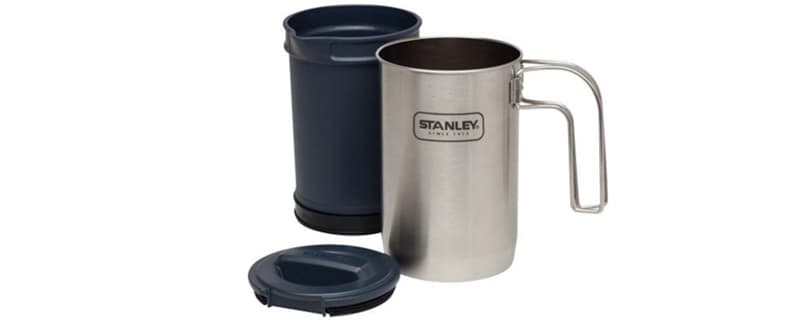 "I use the Stanley camp nesting system.  It has pots, pans, bowls, a soup cooker, and even a French press coffee system." – Winston Gotte, 2003 GMC Sierra 1500HD, 2016 Four Wheel Camper Hawk
"Just speaking from the kitchen, I have tried the collapsible products and didn't like how they cleaned up.  I prefer to use nesting products and have mixed different products together to save space!  For example, my cereal bowls, strainer, and mixing bowls all nest together." – Jeannie Coushaine, 2001 Ford F350, 2012 Chalet double slide

"We have a selection of pots that nest and a collapsing salad spinner that works great for us." – Dave Miller, 2015 Ford F350, 2003 Bigfoot 10.6E

"We have nesting bowls and a collapsible strainer.  I also learned, through a fellow truck camper, how to make a two-tiered silverware drawer.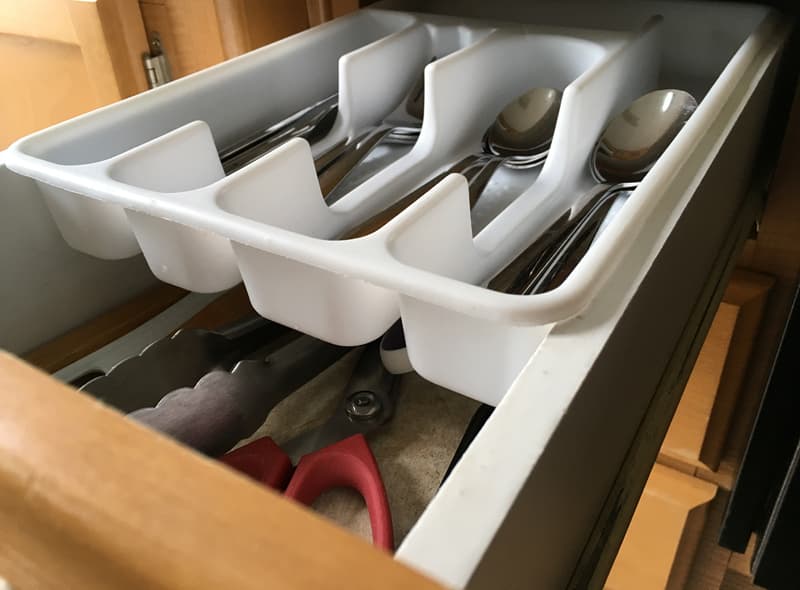 As you can see in the picture, the silverware tray lays on top of the drawer's rail.  I had to find the right sized silverware tray for this to work.  But, with this approach I get two drawers of storage out of one." – Angela White, 2014 Ram 3500, 2004 Alpenlite 1100