Truck Camper Magazine readers reveal the best binocular brands, magnifications, and features for wildlife viewing, hikes, and night sky gazing.  Stop squinting!  Grab a set of binoculars and get eye-to-eye with birds, bears, buffalo and other wild beasts.
This week's Question of the Week was, "Do you have a pair of binoculars in your truck camper?"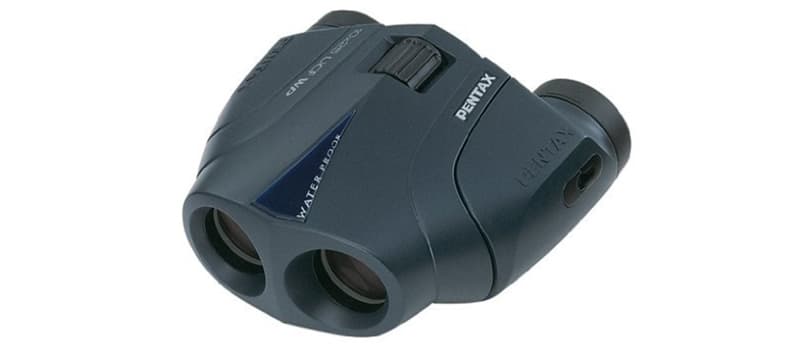 "I have Pentax binoculars.  We have had our Pentax binoculars for about thirteen years.  I love them.  They are Pentax 10×25 5.0 UCF WP.
I recommend Pentax binoculars if you want lightweight and waterproof with very good vision and clarity.  A friend had the eight power and they were also fantastic.  I figured the ten would be even better, so I got these.
We have used our binoculars here in the house looking out at our view, in our kayaks, camping when working in Montana for a summer (glassing elk), and carry them with us on every camping trip.
Being compact, powerful, seemingly rugged, and waterproof, the Pentax binoculars have worked well for us and are worth consideration." – Jim Dailey, 2005 Ram 2500 HD, 1997 Shadow Cruiser HS 10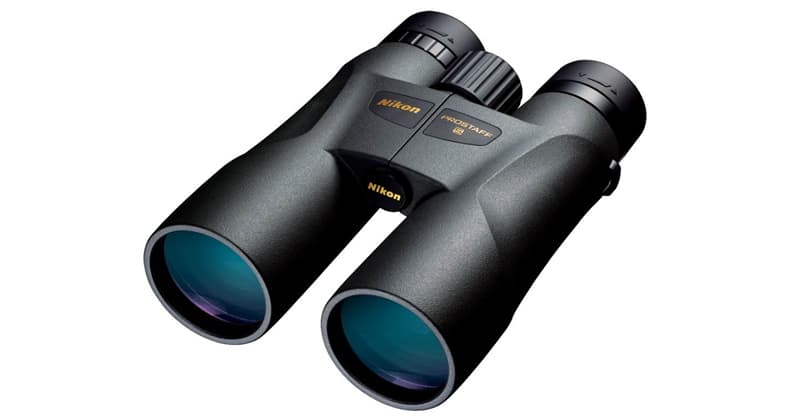 "My motto should be, "Anything worth doing is worth overdoing".  I carry three binoculars and three cameras.  For binoculars, I have a Nikon 10×50 for when things are far off and weight is not a concern (carried in cab).  I have Leica 10×35 stabilizers for hiking and boating.  And I have Zeiss 8×20 for cities and indoors (Sistine Chapel, ornate interiors).  The Zeiss binoculars easily fit in a pocket.
My cameras are all Leicas bought over time and scattered between the truck and camper, so I can never find them in time to take a crucial picture." – Richard O'Connell, 2016 Ford F250, 2009 Northstar Freedom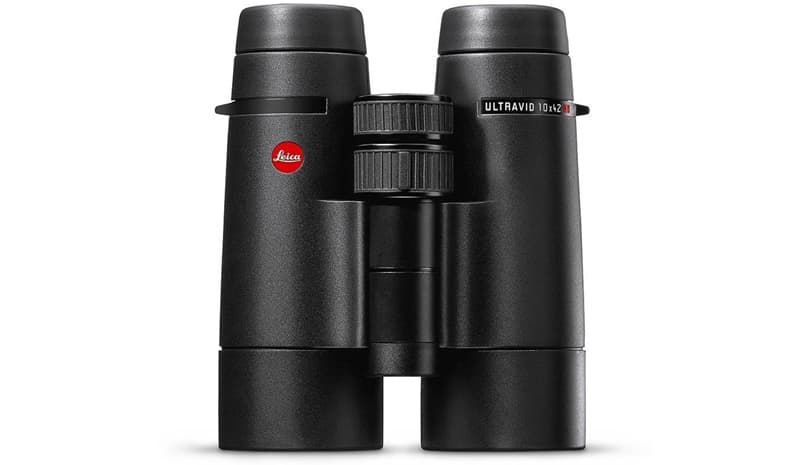 "We both have Leica binoculars.  The first pair we bought many years ago were compact 10×25 BCA Trinovids.  Then we retired.  Before we went out west to the National Parks, I decided I wanted a full size HD waterproof pair of binoculars.  So we went to Cabelas and started to look at binoculars.
It came down to the Leica and Swarovski 10x42s.  I couldn't hold the 12 power steady enough for them to be practical.  I chose the Leica 10×42.  When I was into photography, I shot with a Leica M6.  Leica glass is just phenomenal.  The Swarovski glass is as good or just a smidge brighter.  They are very nice binoculars as well." – George Visconti, 2015 GMC Sierra 3500, 2016 Arctic Fox 990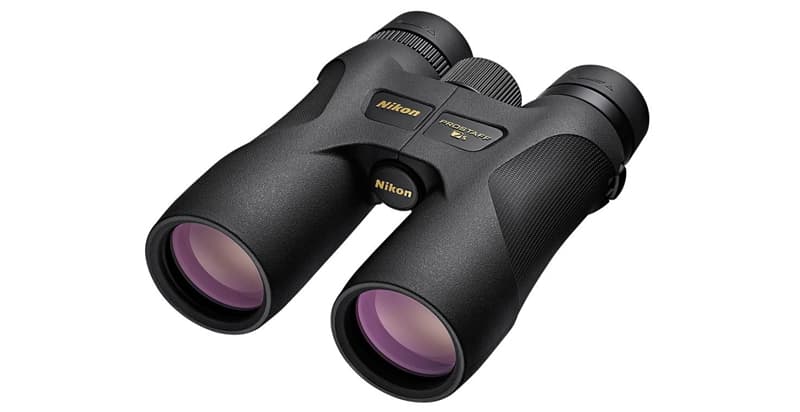 "I have a Nikon Prostaff 7, 8×42.  It's waterproof.  The field of vision, light gathering ability, clarity, and ease of focus are all outstanding.  They are priced for less than $200 with great reviews.  I love them, platonically, of course." – Patrick Strang, 2011 GMC 3500HD, 2011 Lance 950S
"Binoculars are one of the best things to take camping and it is all about the night sky!  A reclining lawn chair, the dark sky, and a good pair of binoculars is an amazing, if not spiritual experience!  I gave up taking telescopes in my camper years ago due to their size and hassle.
When it comes to anything optical, you get what you pay for.  The best overall size is 7×50 or 10×50.  They work great during the day and very well at night.  The first number is the power (7) and the second number is the size of the opening lens (50mm).
With these numbers, bigger is often better!  Night viewing is a low-light event so 50mm or bigger is best to gather dim objects.  Best nights are moonless as the moon wipes out a lot of stars and nebulas.
The second number is tricky.  Go real high in power, say 15 or 20 and they get hard to hold still and may need a tripod.   I love my Celestron SkyMaster 20x80s, but they are just for night viewing and need a tripod.
For day use and some night use I love my Nikon 10x50s.  If I had to pick one for overall use and very rewarding nights it would be the 10x50s.  Remember the sky changes all night and all year leaving you with a lifetime of discovery!" – Dick Sullivan, 2010 Chevrolet 1500, 2007 Lance 845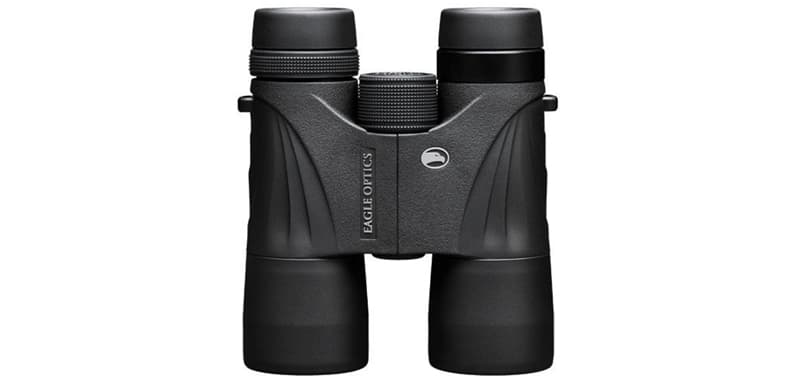 "I have been a bird/critter watcher since I was a kid.  I got my first binocular by saving up four books of S&H Green Stamps.
I keep binoculars in all my vehicles because I don't want to miss anything!  Nowadays, I use Eagle Optic Rangers.  I bird in all kinds of weather, and they can take the abuse.  They are an excellent value and have good optics at a decent price.  Eagle has great customer service, too.
Most of the time I use a 10×42, but I also have a pair of 8x42s when light is low because the 8×42 binoculars can gather more light." – Lori Markoff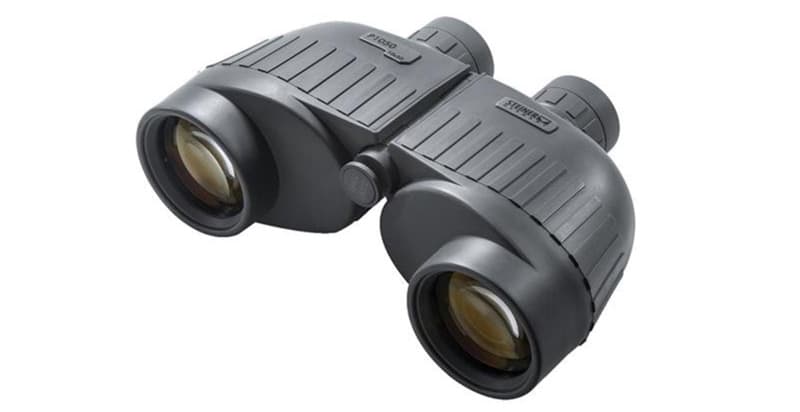 "I have Steiner P1050 binoculars.  What I like is the Sports-Auto-Focus system. Focus each eyepiece to your vision once.  Then, it keeps images razor-sharp from 20 yards to infinity.  There is no more chasing focus on moving targets." – Richard Duzenack, 2015 Ford F350, 2015 Arctic Fox 1140
"My binoculars travel with me everywhere.  They are with me when I go camping, traveling (in the car or the RV), when I go hunting, and go on nature walks.  To that end, I require a high quality, weatherproof binocular with reasonable magnification.
With binoculars, optical quality and image (light gathering capability) is paramount.  With cheaper binoculars you won't be able to see details at distance and you won't be able to see images during the early morning or evening during low light conditions.
Binoculars need to be lightweight and rugged.  I would suggest a dedicated harness for walking.  A harness keeps them centered on your chest and not swinging when you walk, so they are ready for instant viewing.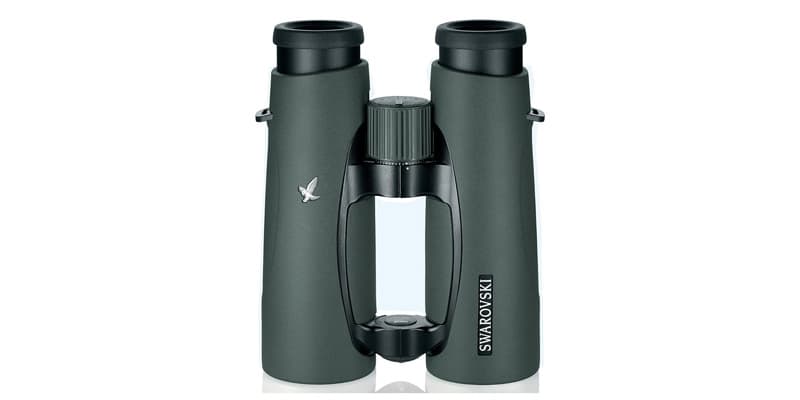 I use Swarovski EL Series 10×40 binoculars.  They are guaranteed for a lifetime with a transferable warranty.  They are lightweight with a magnesium case, rugged (sealed and nitrogen filled which prevents fogging), and have the highest quality optical glass made as well as BAK 4 prisms.
I look at binoculars as an investment to last a lifetime.  They will be handed down to my kids.  Swarovski, Leupold and Zeiss are all expensive, and worth every penny.
With any optic, cheap equates to not being able to see clearly what you are looking at, at distance.  Buy quality or stick with your iPhone." – Daryl Davis, 1997 Ford F350, 2014 Palomino SS1500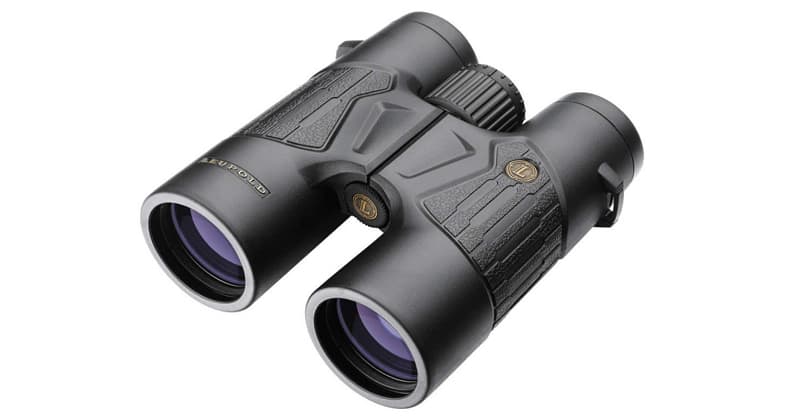 "I have Leupold Windriver Cascades 10×42.  They are best in all areas for about $300." – DeWayne Brown, 2014 Ram 3500, 2007 Capri Rodeo Deluxe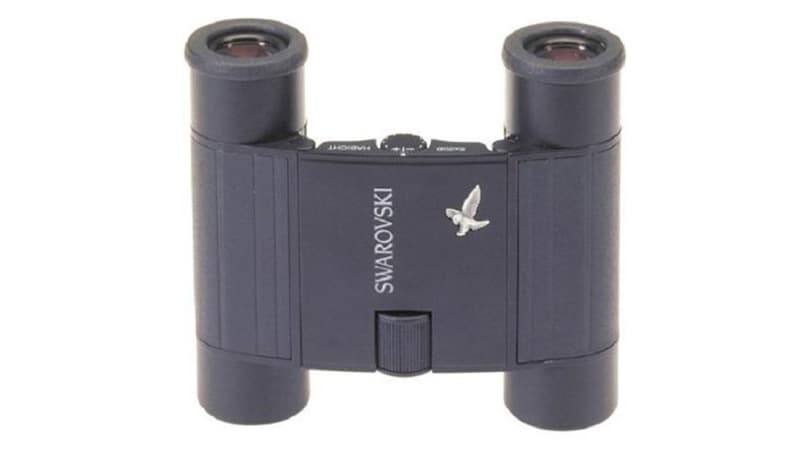 "I always carry a pair of Swarovski 10x25B pocket binoculars in my day bag.  I have several others including Stabilized, but they are bulky to carry.  The Swarovskis are always at the ready." – Ralph Bunn, 2015 GMC Sierra 2500 HD, 2004 Four Wheel Fleet
"I have a pair of Minolta binoculars.  I bought them about 35 years ago before doing any truck camping.  It says 8×40 on them.  It also says standard, extra wide 95 degrees, 500 feet at 1000 yards.  They are multi-coated.  The Minoltas are probably not the fanciest, but they seem to do the job.
I carry them in the truck so if we pull over and want to look at something, they are handy.  Sometimes I like to check out the moon with them." – John Bull, 2004 Dodge 3500, 2015 Arctic Fox 990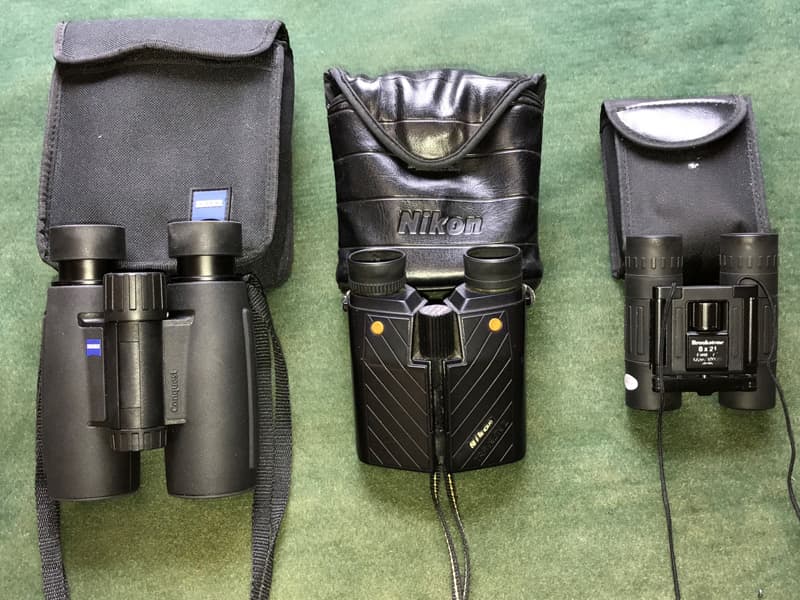 "We carry three sets of binoculars in our truck camper rig.  First, we have a Ziess Conquest power 10×30.  Second, we have a Nikon Travelite II power 9×25 and third, a Brookstone 8×21.
The Ziess is great for power and standing still clarity, but they're pricey.  They were a gift from my wife for both of us.  The Nikons are actually my favorites.  I got them at a yard sale for $15 and they are great.  They are light, small, and exceptionally clear.  The Brookstones are inexpensive, but still a pretty good glass for the price.  They're small, so easy to carry and clear.  Overall, I have no complaints about any of them." – Dave Pracht, 2015 GMC K3500, 1987 Lance LC900
"We have two pairs of binoculars.  The Selsi 7x35s are rubber coated in case you drop them and are great for long distance viewing.  The Bushnell 8×25 are waterproof and for good shorter distances." – Kim Oliver, GMC 3500 HD, 2014 Adventure 86SBS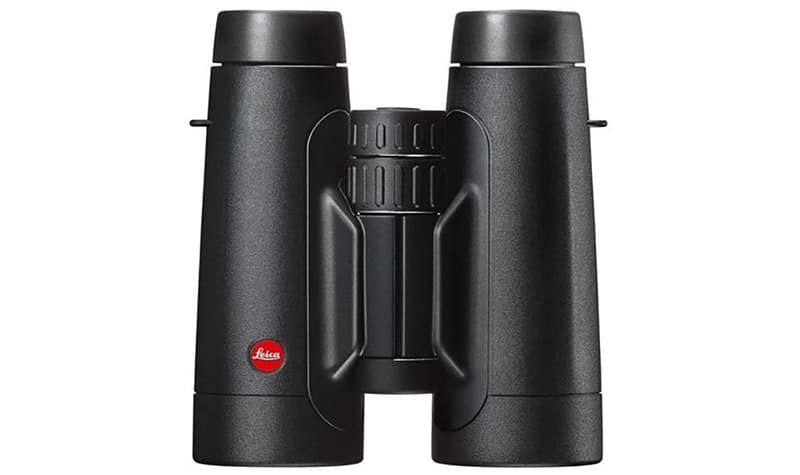 "I have one pair of binoculars that I purchased five years ago.  As long as I keep track of them, I will pass them along to my son.  They are Lieca 10×42 Ultravid HD binoculars.
My dad had a pair of Leicas when we were growing up and one of my brothers dropped them into a lake.  But before they went overboard, I remember how great it was to have a great piece of glass when looking at things far away.
Yes, they are expensive.  They are always locked up when I'm not in the truck or camper.  That said, a good pair of binoculars are something that you buy right the first time, and won't have to buy over again later." – Neal Haymore, 1997 Four Wheel Camper Grandby
"I bought my first pair of Vortex binoculars years ago because they have good clear lenses and a reasonable price.  They are also made here in Wisconsin, so I was supporting a local business.  They lasted for a long time with years of use for hunting and camping.
I noticed that one side wouldn't focus a couple of years ago and I tried to fix them myself.  Well, that didn't go well at all and I completely ruined them.
When I called the company, I told them what had happened and they said that it was not a problem.  Vortex has a bulletproof, no questions asked, lifetime warranty.  I also asked to get them back as soon as possible as opening weekend of deer season was in one week and I needed them.
I couldn't believe it when I received a package two days after I sent them in.  When I opened the package, I had a letter explaining that my binoculars were beyond repair so they replaced them with a comparable model.  They also knew that I needed them fast, so they overnighted the binoculars to me at their own cost!  I cannot recommend Vortex optics enough." – Steve Bakos, 2012 Chevrolet 2500, 2016 Arctic Fox 811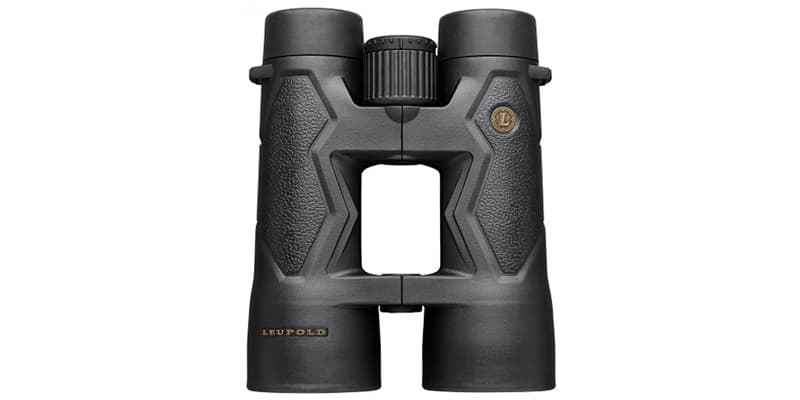 "I have two pairs of the exact same binoculars; Leupold Mojave Roof Prisms.  I leave one in the truck all of the time for chance encounters wherever I am.  The second pair is on my boat, which I use to view wildlife, other fisherman, hazards, etc.
There are better binoculars on the market, and one can spend as much as one wants for the top of the line.  The Mojaves were the entry point for a really fine pair.  I have found no optical distortion.  They handle being knocked around.  And the customer service from Leupold is excellent.
The Mojaves are 10×50.  As with everything, there are pluses and minuses.  In the case of 10×50, the extra power (magnification) demands a steady hand, or bracing against a steady object.  This can be extra challenging in a boat on the water.
That said, if I'm going to use a pair of binoculars, it means I'm trying to see something at a distance.  The 10 power reliably brings objects into view at a level that is satisfying.
The 50mm glass (referring to the optic furthest from your eye) allows for a generous amount of light to enter the binocular (and your eye).  This means you can more easily see objects in shadows, under trees, and other low-light situations – the places where you will often find wildlife.
Here is a little side note.  I recently returned from an African safari.  I brought one pair of binoculars and a Nikon spotting scope.  If I could do it over, I would have brought two pairs of binoculars and no scope.  I learned that a spotting scope was unnecessary.  I provided no measurable viewing advantage.  I also learned that there is no reason to share binoculars.  Everyone should just be able to observe the wildlife without the compromise of sharing." – David Goodman, 2015 Ford F250, 2004 Lance 835
"I have several sets.  The best are my Swarovski 10×40.  The rest are all Nikons (8×10 and 8×24) which are very close in clarity.  The 8×24 pair is very light.  These are the ones I carry if I'm going to hike any distance.  Otherwise, I carry the Swarovski.
I think all of the binoculars are water resistant.  I have carried them in the rain with no hesitation and have had no problems.  I'm not too sure that I would want to bring them for a swim.  I have looked at the stabilized variations but chose not to as most often I can find something to lean on for stability.  I have not chosen the rubber coated models.
I do use a harness when out for a walk.  This eliminates the bouncing binoculars on the chest and I think the harness adds a bit of stability for the binoculars when I'm using them.  I put small rings on all of my binoculars so I can use the harness on any of the binoculars.  The harness is also good for cameras." – Steven Cilenti, 1999 Ford F350, 2012 Arctic Fox 990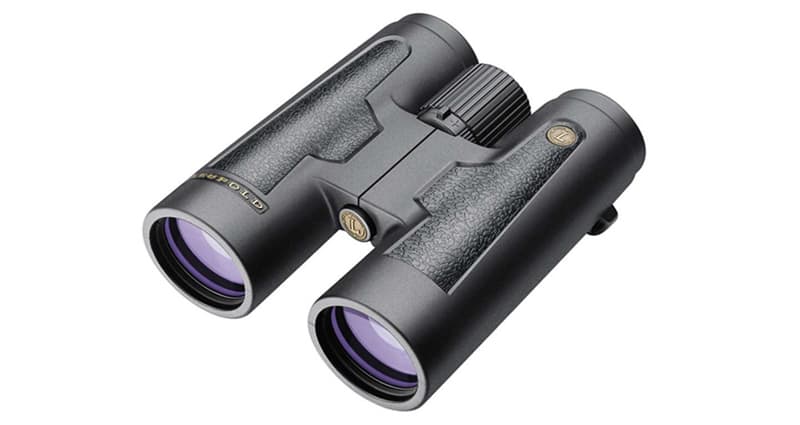 "I have Leupold BX-2 Acadia 10×42 binoculars.  They are very comfortable and easy to use.  I would love to have the stabilization feature, but that put the binoculars out of my financial comfort zone.  I definitely recommend the Leupold BX-2 Acadia." – Dennis Glow, 2003 Ford F350, 2015 Wolf Creek 840
"I have Barska 10×50 binoculars.  I purchased them at Big 5 Sporting Goods at a good price.  They do the job I need.  They are stable with a clear view and have good power for general use and wildlife viewing in Arizona." – Kenneth Reynolds, 2015 Ford F250, 2015 Adventurer 89RB
"I have Steiner 10×40 binoculars.  They are fog and waterproof." – Steve Stewart, 2015 Chevy 2500HD, 2012 Arctic Fox 992
"I have a Swarovski EL 10×40 binoculars." – Montt Craig, 2010 GMC Sierra 2500, 2010 Travel Lite 890SBRX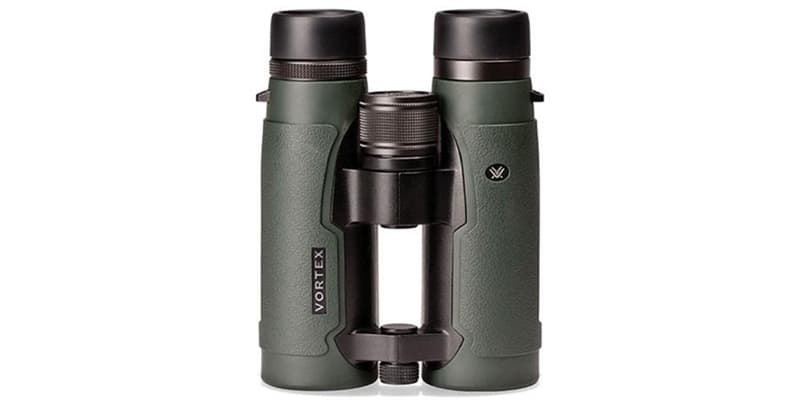 "First, if you're traveling with a significant other, you don't need a pair of binoculars, you need two pairs of binoculars or somebody's going to bed hungry.
We have two pairs of Vortex Optics Talon HD 10x42s.
We have had a Vortex spotting scope for several years and were very pleased with it.  When these binoculars come up on sale, we took a hard look.  They are not terribly compact, but we're not going backpacking, right?  The 10x magnification is the very most I would choose.  In fact, I'd argue that it's too much in a lighter binocular (where I think 8 is just right).  In a full-size model, the weight helps you hold them steady enough for a good view.
Our Vortex binoculars are not stabilized.  I have a stabilized Nikon camera lens, and the technology is very impressive.  When you stack it on top of good optics in binoculars, the dollar signs roll over fast.
They are rugged (shock-resistant and waterproof), and I think that's worth the cost.  A truck camper can have extreme swings of temperature and humidity – not a friendly environment for optics.  Add to that the possibility of getting caught in the rain on a hike.
I think the bottom line is that there are few places other than binoculars where "you get what you pay for" is more true.  For a pleasant and useful binocular experience, don't skimp." – Scott Ellis, 2012-2014 Chevy 3500 (in a year), Northern Lite 9-6 (in a year or two)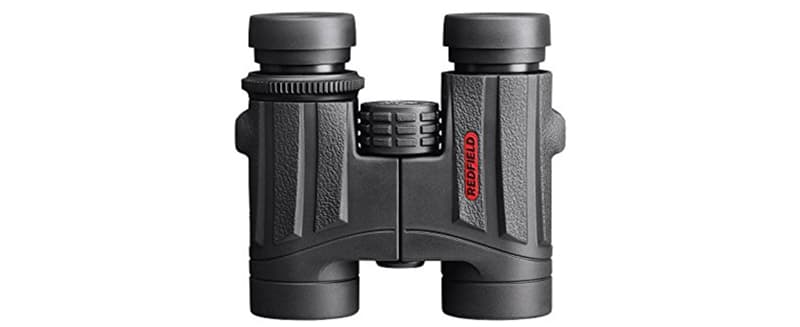 "In the Chevy, I have Redfield 8×32 waterproof lightweight binoculars.  I carry them when elk hunting.  I leave them in the pickup truck most of the time.
In the Jeep Wrangler, I have Nikon Action 7×35 Naturalist 111.  I won them in a drawing.  They are good to have along any time.
In the house, I have my Dad's Novar 7×50 Nippon Kogaku from the mid 1950s.  They bring the deer and antelope in the pasture out our back door up to where we can really see them." – Tom Ralls, 2009 Chevy Silverado 2500, 1994 Shadow Cruiser 800

"I have a pair of Swarovski 10×42 EL binoculars and also a pair of Swarovski 8×30 CLs.
For my eyes, it is hard to beat the EL model since the view is amazing and there is no eye strain.  Chromatic aberration is non-existent and the colors are true and sharp.  I put these on a tripod quite often and the difference is amazing on the amount of detail that can be seen even through 10 power.
Swarovski binoculars are expensive, but I can use them for the next 10 years and sell them for more than half of what I paid for them – if I could ever part with them.  "Buy once, cry once" is my motto.  Swarovski 15×56 HD binoculars are next on the list." – Greg Fox, 2016 Ram 3500, 2013 Wolf Creek 850
"I have Coast 200, 7×50 waterproof binoculars for $199.  I got these because we are always out in the water or desert.  So far we are happy!  I got them at West Marine." – Vickie Welch, 2016-Dodge 2500, 2106 Lance 860
"The Leupold 10×42 HD are my hunting binoculars.  They are good binoculars at a reasonable price." – Wayne Nelson, 2014 Ford F350, 2017 Lance 850S
"I have two pairs of binoculars.  The one that I keep in my truck is a small Bushnell 13-8230 (365′ at 1,000 yards).  It's what I believe they call the Spectator series.  These are small and easily stored in the side pocket of the door.  They are inexpensive and do a good job for checking out the wildlife." – RJ Bickford, 2007 Dodge 2500, 2003 Palomino Maverick 1000
"I own a pair of Steiner Military-Marine 8×30 binoculars.  I chose this model because they have a longer eye relief than a lot of them.  This allows me to use them with eyeglasses on.  The cost on this model is in the $250 range." – Jim Wood, 2014 Chevy, 2008 Northstar 8.5 Arrow
"I have Bushnell Perma focus 10×50 binoculars.  These are great.  Just grab them and look.  They are rugged and fairly lightweight." – Kevin Hasch, 2013 Ram 5500, 2013 Lance 1172
"I have Swarovski 8×30, waterproof binoculars.  A guide once told me, "Buy the best binoculars you can afford" and for good reason.  Unless one is trying to judge a trophy (necessitating high magnification) or needs extremely (over two miles) distance capability, 8×30 binoculars are usually more than adequate.
Weight is certainly a consideration if you're carrying a great deal that day.  Lens coating is important if all the foregoing is important, and the better lens quality and coating will increase the cost appreciably.  Frequency of use will also influence choice.  If you're looking at bison a couple times yearly, a less expensive pair of glass will suffice.  However, if one uses the optics several times a year, especially when hunting, a $200+ (minimum) set of binoculars is the low end.  Anything less may unduly tire eyes and provide less than adequate results." – Jeff Freeman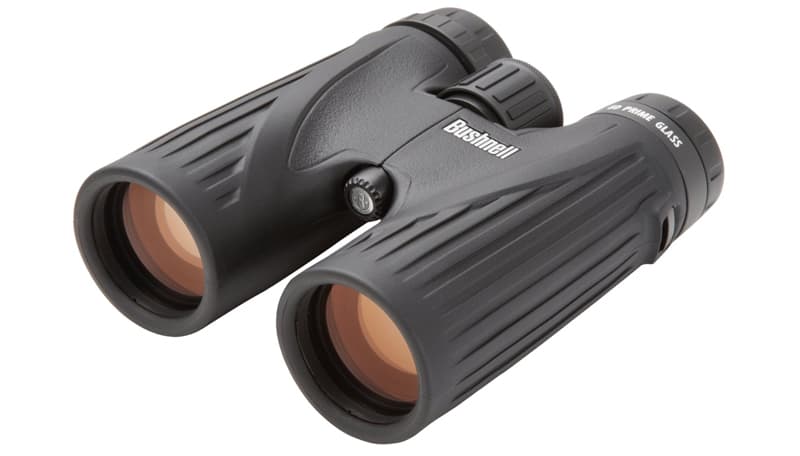 "We have two pairs of binoculars.  One set is for my wife and the other for myself.  One pair is the Nikon Prostaff 7 10×42 and they do a excellent job if you have a steady hand.
The other pair is the Bushnell Legend Ultra HD 10×42 – which I prefer.  They seem to have better clarity and light gathering capabilities.  Both are very good for my price range.  If you are kind of shaky, use a lower magnification." – Harvey Stallings, 2010 GMC Sierra 2500HD, Travel Lite 890SBRX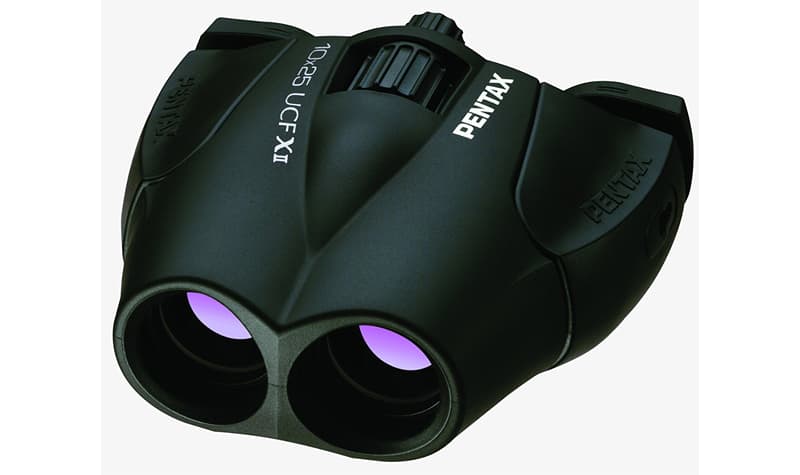 "I have three pairs of binoculars when camping on Yellowstone-type camping trips.  Two I keep in the truck and one is usually around my neck anytime I get out.  None of mine are super expensive, and I have been satisfied with them.
The one I usually have with me most of the time is a Pentax 10×25 UCF X.  It's small in size and I can view wildlife very well with them.  I have a bigger but more cumbersome pair of Nikon Action 12×50 binoculars that I can grab out of the truck for more distant viewing.  I also have a pair of Bushnell Legend Ultra-HD 10×26 that I keep as backup.
These are adequate, but I would not want to go any lower in quality.  With binoculars, your get what you pay for.  You can do some pretty good viewing for $200 or less, but please avoid the real cheap ones.  You will be disappointed." – Terry Gfeller, 20015 Ram 2500, 2013 Lance 865
"I have a pair of Pentax 10×42 DCF HR11 binoculars that I purchased to go on a Caribou hunting trip in the Northwest Territories in 2004.  I purchased them on the recommendation of a friend who said they were comparable to many of the major brands at a portion of the price.  They were $480.  I keep them in my truck 24/7 and use them continually while camping and hunting.  They are waterproof and shock proof." – Rick Jones, 2005 Chevy 2500HD, 2013 Wolf Creek 850 SB
"As an amateur astronomer binoculars are dear to my heart.  I own several pairs but keep one set in the camper; a Celestron Ultima 7×50.  I find them to be the most versatile size for everyday use.  7X50 binoculars are easy to handhold, fit into most storage cubbies, usually have good eye relief, and offer enough magnification to suit most situations.  Ten power tends to be the maximum for steady hand holding and apertures larger than 60 are a bear to support for any long period.  Stabilized binoculars are very nice, but also very pricey.
I chose the Celestrons because of their outstanding optics, value, center focus wheel, and ability to accept a tripod adapter.  They are about 25 years old, but have kept their alignment even through some rough handling.  The leatherette covering is coming off but I still love them.
Whatever you choose, be sure they have fully multi-coated lenses, BAK4 prisms or equivalent, and an independent eyepiece adjustment.  Choosing a binocular from a well known optics company or camera manufacturer is a pretty safe bet.
I have a pair of Nikon 10×25 binoculars in the truck's cab.  They are easy to tuck in a shirt pocket and fit nicely in the center console." – Tim Streagle, 2006 Ford F350, Wolf Creek 840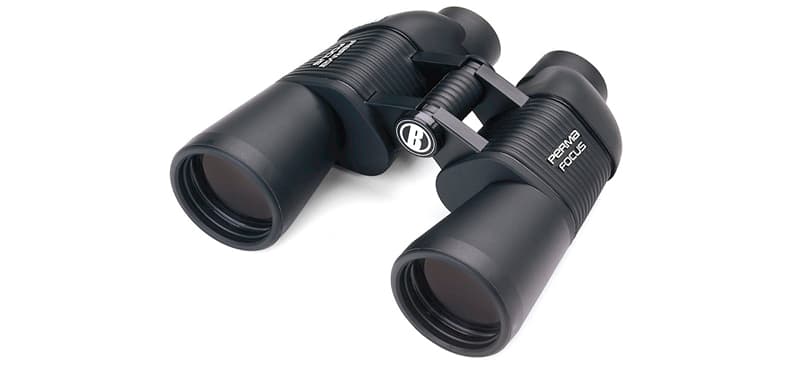 "Yes, we have a set of binoculars.  I usually always have them with my backpack.  I stress usually.  I forgot them on our last week long outing with the camper where we did a ton of hiking in central Washington.  Duh!
I have Bushnell Perma Focus 10×50 binoculars.  These are fairly rugged.  What I really like about them is the auto focus.  They are just a good pair of fairly basic binoculars.  I actually got them as a gift for my tenure where I work." – Rich Bain, 2004 Dodge 3500, 2010 Adventurer 810
"We carry multiple pairs.  My wife uses a Minolta Standard XL 7×35 for bird watching.  I use a pair of Nikon Naturalist II 7×35.
For real distance we use a pair of Celestron 11×80.  The Celestron should be used with a tripod or rest because they are big and heavy.  They are hard to hold by hand for very long.  But they sure work great for distance.  The Minolta is a rugged rubberized pair.
These are older pairs that we have had for probably 20 plus years and are probably no longer available.  All pairs have great clear crisp optics and have lasted all these years with no problems.  They still work great." – Erwin Greven, 2002 Chevrolet 2500HD, Lance 921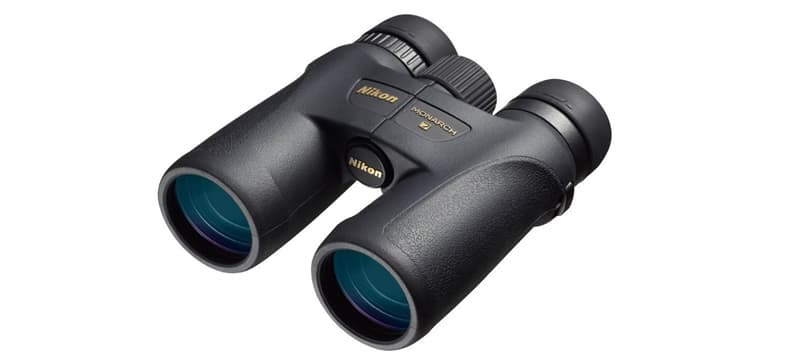 "My wife and I always have our binoculars along.  I have a Nikon Monarch 8×42.  Bonnie has the Nikon Monarch 10×42 binoculars.  They are reasonably priced with high quality optics.
We also have the harness from Cabela's that allow the binoculars to hang from your shoulders and not around your neck.  We wear them all the time when hiking.
We chose Nikon Monarch models as they are able to focus at close range and that helps when bird watching.  The different power was just a fluke.  I had mine for several years and when Bonnie got hers.  They were temporarily out of 8×42, so we went with the 10×42." – Dan Forry, 1996 Ford F250, 2006 Palomino Bronco 1251
"We always carry our binoculars with us in the truck.  They are Bushnell Celebrity 7×35 wide angle, fully coated optics.  Years ago these were recommended to us as a good all around set for birding and traveling.  They are not very heavy and they are well worn.  I do not think that one could find a pair today – maybe at a flea market.
They ride in the center console of the truck year round.  I have used them to check road signs at long distances before GPS.  We watched the Bison in Yellowstone (not the pooping ones).  I may have to wait for that." – Lewis E. Turner, 2014 Ford 350, 2008 Northern Lite SE Classic
"Actually, I have three pairs of binoculars.  First are old Manon 10×50 beaters that I bought at the Marine PX at Da Nang in 1966 (and yes they still work great).
Second, I use a Nikon 10×25.5 when compactness and weight are an issue.  These are great for kayaking and are waterproof.
Third, I have Canon 18×50 binoculars.  These are waterproof, image stabilized, and very rugged while still being fairly compact.  Yes, they are very expensive.
I use all of them for different things.  I mostly use the Canon for the magnifying power and image stabilization.  Using the Canons, I could probably count the fleas on that buffalo you mentioned in the article." – Steve Timmings, 2003 Ford F350, 2013 Four Wheel Camper Hawk SC
"Yes, have a pair of binoculars.  They were my dad's and I put them in the camper just in case I need them.  They are Binolux 7×50.  They are old, but good." – Jeff Hagberg, 2002 Ford F250, 2006 Travel Lite 800SBX
"I have Pentax 8×43 DCF SP binoculars, a Pentax 80mm spotting scope with a camera mount, a Pentax K5 DSLR with waterproof kit lens, a 55-300 zoom, and their new 150-450mm telephoto.  All are weatherproof and all are excellent, especially for the money.
For a really good comparison of optics, see the slightly outdated website betterviewdesired.com.  It's a bird watcher's website." – Philip Tron, 2009 Chevy 3500, 2012 Lance 1050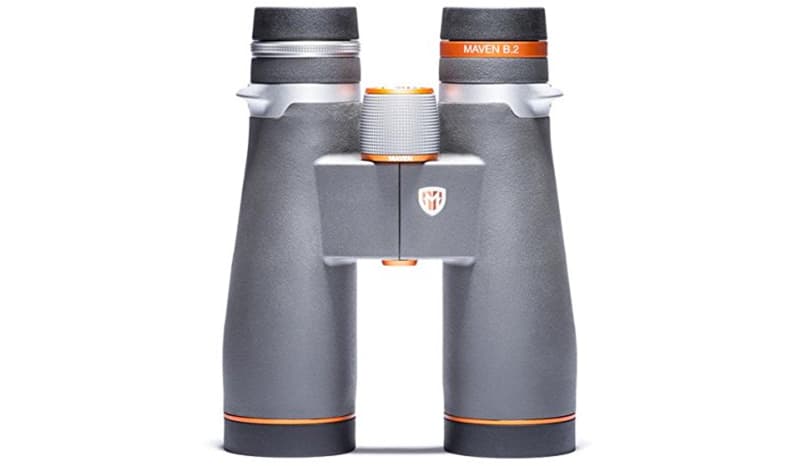 "I have Maven B-2 9×45 binoculars.  These compare with Swarovskis, but at half the price.  I'm a bird watcher and chose these.  I am glad I did." – Brett Grant, 2017 Ford F350, 2017 Northern Lite 8-11Q SE
"I own five sets of binoculars.  One set I've had for almost 45 years, and another is a Zeiss that I've had since 1987.   The Zeiss I bought in East Germany before the wall came down.  All are 10×50.
I'm starting to look for better ones since my eyes are not what they used to be.  I wear trifocals and have one artificial lens.  The newer ones are much more durable and you can even have a camera as part of the setup.  I'm interested to see the results of the survey." – Harry Palmer, 2008 Dodge Ram 2500, 2008 Lance 915
"Birdwatching.com is a great site to see comparisons and reviews of different binoculars." – Garnet Simms, 1997 Dodge 3500, 2013 Lance 992