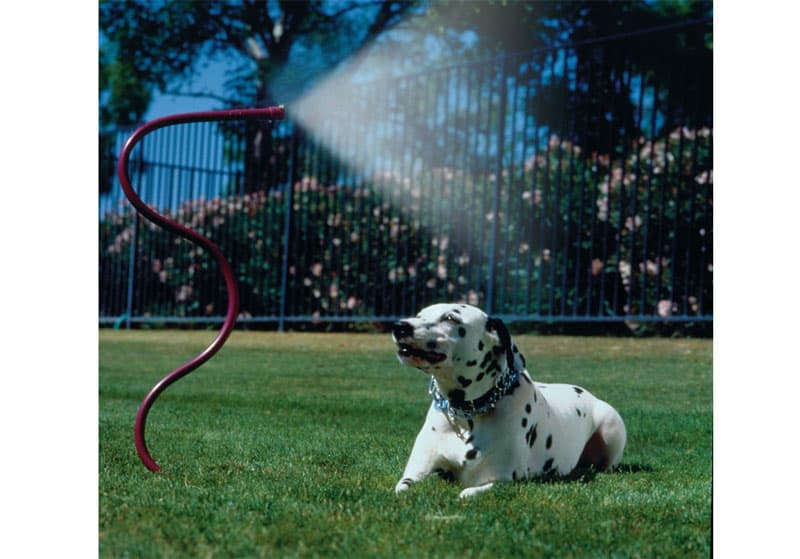 "More often than not, we camp where its cooler.  If were are in the heat, we have the Coleman Polar Cub 9000 that runs on the Honda 2000.  It's nice if you're stopping someplace to make lunch and don't need to run it for a long time.  We have a Fantastic reversible fan and the Fantastic Breeze box fan we can set outside too.  We also take a hose mister that we hang from the awning.  If we know it's going to be hot, we will usually be in a park with electric hook-ups." – Chuck, 1995 Ford F250, 2009 Lance 815
"We have a built in air conditioner (Carrier), we open the windows and roof vent fans, we open windows without fans, and we sweat.  It depends on available electricity and whether we have none, some or all power.  We do not have a generator." – Gary Veeder, 2001 Northern Lite
"There is no air conditioner installed in our camper as of yet, although I am thinking about it.  We have not had an issue with the temperatures.  If I do travel to very humid places, then I might want an air conditioner.  All we use now is the Fantastic Fan in the cabover.  We keep a window open and the airflow is great.  It's worked for us with no issues." – Rich Bain, 1999 Chevy c3500, 2010 Adventurer 810WS
"I installed a second Fantastic Fan over the bed.  I also added the Arctic Pack insulation kit, which not only helps retain heat in the winter, it also does a great job keeping the heat out in Summer.  With both fans pulling air out, and the windows cracked open, pulling fresh air in, I can keep the camper at a comfortable 75 degrees in 90 degree weather." – Aaron Summers, 2005 Nissan Titan, 2003 Northstar TC650
"We use a Coleman Mach air conditioner, Fantastic Fan, and head for the mountains.  Do not let anyone sit on the cooler of beer.  The obstruction can be dangerous." – Roy Garland II, 2011 Ford F350, 2012 Outfitter Apex 9.5
"Mostly I use a Fantastic Fan and shade.  When it is too hot and humid, I go for hook ups and run my air conditioner unit, which is rare." – Bill Gahafer, 2008 Ford F-450, 2013 Lance 1181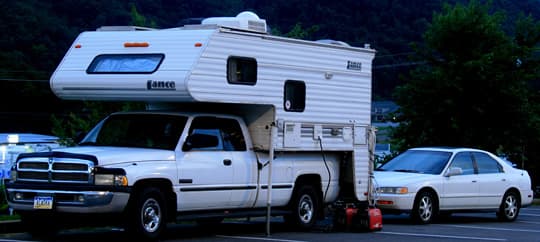 "If we are simply traveling from point A to B, and it's a two or three day journey, we pull into store parking lots, like Walmart, parallel our Honda EU2000 generators, and run the air conditioner.
During the cooler shoulder seasons, we open the large vent opening above the bed and use the Fantastic Fan to circulate the air throughout the RV.  Both work great.  In a campground we use the air conditioner." – Mike Chiles, 1999 Dodge 2500, 2004 Lance 915
"We use a roof top air conditioner or turn-on the Fantastic Fan with the windows open.  It works great!" – Eric and Linda Anderson, 2001 Dodge 3500, Arctic Fox 990
"We love our built-in air conditioner on our Eagle Cap.  It has proven very effective in some of the hot locations we have visited.  We mostly camp in RV parks with full hook-up service especially in Palm Desert or areas of Arizona.  I've only used the generator a couple of times to power the air conditioner.
We arrived in Cody, Wyoming the day before July 4th and there were no RV parks with open spaces.  So the next best thing was being at Walmart, along with two dozen other campers.  We ran the generator for about four hours to keep the interior cooled down.  There was a lot of high wind and blowing dust so we had to keep vents and windows closed.
Most of the time we're able to keep comfortable with the front, rear, and/or bath overhead vents open.  If I turn on the bath vent fan and leave the door about six inches open it does a great job of drawing air through the camper.
When I reserve a campsite, I try and request a shady area.  If we're in an open area, I'll roll out the left side and rear awning which helps make it feel cooler inside.  One thing I've learned is to never leave awnings out if you leave your campsite.  The micro-burst we experienced in Mills City, Montana seemed like a mini tornado, but I did manage to save the rear awning from being ripped off the Eagle Cap." – Roger Odahl, 2008 Dodge Ram 3500, 2004 Eagle Cap 950
"When it's not too hot, a Fantastic Fan sucks in cool air and blows out hot air.  Otherwise we use the camper air conditioner unit.  We do a lot of beach camping and the mountains." – Guy Cornell, 1995 Ford F350, 2002 Lance 1025
"We have a pop-up truck camper and we love it.  The queen size bed is surrounded by screens on three sides which allows for a nice breeze at night.  We have an air conditioner too, but have only used it once.  Our lab was left in the camper when we took a half day train trip.
We popped up the camper in the parking lot, unzipped the screens around the bed and she stayed cool there in the shade watching people go by. If we had a hard side truck camper, we couldn't do that." – Jody and John Herman, 2001 GMC 1500, 2007 Palomino 1200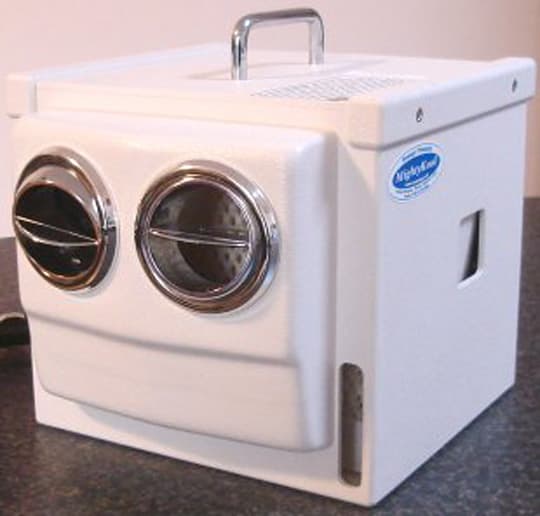 "Since my tent trailer days I have used a MightyKool MW1 by Swampy.  The MW1 I have is a twelve-volt model.  I also have a 110 volt adapter so it can be used when working in my garage.