This week's Question of the Week is, "What devices do you use to keep your truck camper warm in cold weather?"
"We use a 1500W Vornado electric heater.  It takes about ten minutes to reach and maintain our desired inside temperature of 65 degrees.  The lowest temperatures we've camped in are the mid-30s." – Mark Bluth, 2013 Ford F550, 2012 Northern Lite 10-2RR dry bath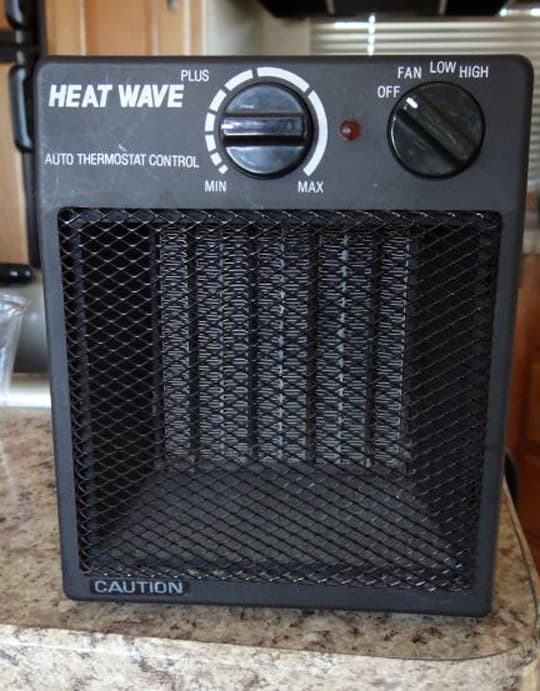 "If we are dry camping, we use the camper propane fired heater.  If we are plugged in, we use our Heatwave Ceramic Safety Heater; 1500W, 5200 BTU.  It's about a six inch cube that heats well and stores away nicely!" – Charles Coushaine, 2001 Ford F350, 2012 Chalet DS116RB
"When boondocking, we use the propane furnace.  I would love to install a catalytic heater but I don't have any room for a wall mount.  When we are at a campground, we have a portable electric unit." – Tim Burk, 2005 Dodge 3500, 2011 Eagle Cap 950
"We use our camper year round including roughly ten weekends a year snow skiing on Mt Hood in the Cascades.  Since I refuse to go without water in the tanks, I use the furnace exclusively to keep the tanks from freezing.  I have 150 watt solar panels with LED lighting, but many times the panels are covered with snow so I do have to run my 2000 watt Honda generator from time to time.
I have thought about adding a small wind turbine that I saw at the Overland Expo, but have yet to do that.  Depending on the temperature, I go through about 2.5 gallons a propane on a typical weekend." – Ken, 1998 Dodge 3500, 2002 Arctic Fox 1150 dry bath
"During the deer hunting season in North Dakota, I use a small 120V space heater near the door.  The temperature setting is adjusted so the camper's propane furnace runs occasionally to keep the holding tanks from freezing." – Philip Tron, 2009 Chevy 3500, 2012 Lance 1050
"I have two devices.  When hooked-up to electric, we use a small electric heater.  When we're off electric, we have an Olympian catalytic heater that runs off propane.  Both work great." – D.L. Martin, 2010 Ford F-250, Four Wheel Hawk
"I use the furnace to get things warm in the morning.  I also use a Pelonis Quartz Heater to keep things warm.  I never sleep with the furnace going.  We sleep in or on 30 degree sleeping bags so we generally don't use heat at night.  Sometimes we are even opening windows to get it cooler inside for sleeping." – Charlie Jordan, 1999 F350, 1999 Lance
"If AC is available, we use an electric baseboard heater and an electric mattress pad.  If we need to dry camp, we just the propane furnace.  The coldest we have been out in is -34F for snowmobiling." – Rag, 2003 Chevy Silverado, 1980 Sportsman 8 foot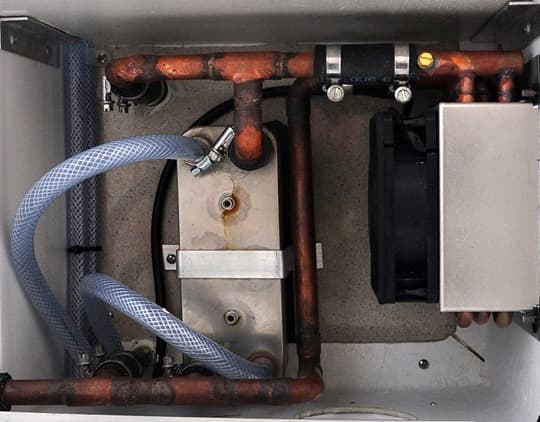 "I have gas-oil heater and hot water heater by Eberspächer D4WSC (CE marking).  I also have a hot water temperature regulator." – Frederic Amorós, 2011 Toyota Hilux, 2011 Azalai (PSI, France) Fix Camper
"I use the furnace on propane and DC, and rarely use the Quartz heater on AC." – Ronald Vander Bosch, Dodge Ram 2500, Northern Lite 10.2 SE
"We try to use 30 amp shore power whenever possible.  Our roof air has a heat strip in it.  We put a digital baseboard heater thermostat on it to keep the temperature constant.  If we are not on 30 amp service, we use the propane furnace." – Bill and Sue Billyard, 2000 Dodge Ram 3500, 2000 Real Lite 10.5
"I've installed an electric baseboard heater wired to the 120V plug circuit.  It uses very little electricity and keeps my camper very comfortable without having to use propane. When the weather is extremely cold, a quick boost from the propane heater first thing in the morning makes it warm the rest of the day from the baseboard heater." – Ronnie Driggers, 2013 Ford F150, 2013 Lance 825
"When we have shore power, we use the heat strip in the air conditioning unit.  When we don't, I use the propane furnace.  The Arctic Fox has two thirty pound cylinders, so we can go for two weeks with that much propane." – Eric and Linda Anderson, 2001 Dodge 3500, 2013 Arctic Fox 990 Milestone Edition
"The factory propane heater worked fine on a trip to Florida in early March.  We normally used it when we got up in the morning for thirty minutes or so.  The heater worked great and warmed the camper up very quickly.  During the night, it would get down to the mid 50s so we just added more blankets.  One night it got down to 34 and that was a bit brisk without the heater.  We just added another blanket." – Mike Shropshire, 2014 Dodge 2500, 2014 Palomino SS1251
"We use the onboard LP furnace exclusively.  We get it nice and warm before getting ready for bed and turn it down during the night.  It's warm enough to keep the chill out." – Allen Brummel, 2008 Dodge Ram 1500, 2008 Northstar TC 650
"My Lance 920 has a winter package and retains its heat fairly well.  I rely on layers primarily and, when sleeping alone, a mummy bag.  The furnace wakes me up when it cycles on at night, so I only use it when it gets really cold.