This week's Question of the Week is, "What devices do you use to keep your truck camper warm in cold weather?"
"We use a 1500W Vornado electric heater.  It takes about ten minutes to reach and maintain our desired inside temperature of 65 degrees.  The lowest temperatures we've camped in are the mid-30s." – Mark Bluth, 2013 Ford F550, 2012 Northern Lite 10-2RR dry bath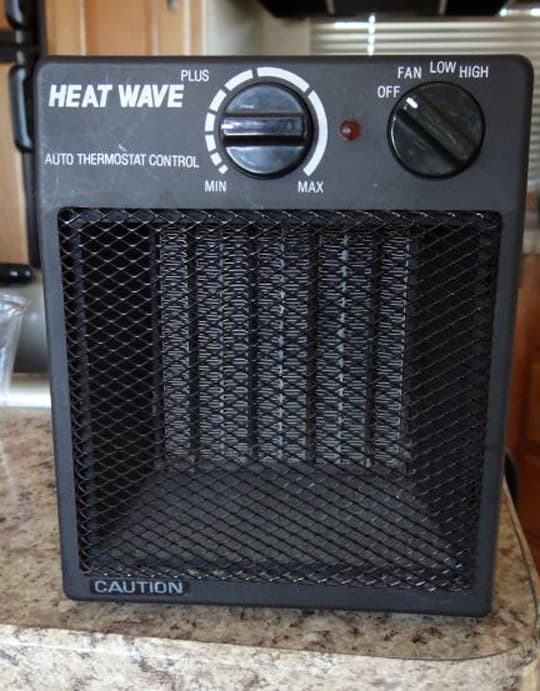 "If we are dry camping, we use the camper propane fired heater.  If we are plugged in, we use our Heatwave Ceramic Safety Heater; 1500W, 5200 BTU.  It's about a six inch cube that heats well and stores away nicely!" – Charles Coushaine, 2001 Ford F350, 2012 Chalet DS116RB
"When boondocking, we use the propane furnace.  I would love to install a catalytic heater but I don't have any room for a wall mount.  When we are at a campground, we have a portable electric unit." – Tim Burk, 2005 Dodge 3500, 2011 Eagle Cap 950
"We use our camper year round including roughly ten weekends a year snow skiing on Mt Hood in the Cascades.  Since I refuse to go without water in the tanks, I use the furnace exclusively to keep the tanks from freezing.  I have 150 watt solar panels with LED lighting, but many times the panels are covered with snow so I do have to run my 2000 watt Honda generator from time to time.
I have thought about adding a small wind turbine that I saw at the Overland Expo, but have yet to do that.  Depending on the temperature, I go through about 2.5 gallons a propane on a typical weekend." – Ken, 1998 Dodge 3500, 2002 Arctic Fox 1150 dry bath
"During the deer hunting season in North Dakota, I use a small 120V space heater near the door.  The temperature setting is adjusted so the camper's propane furnace runs occasionally to keep the holding tanks from freezing." – Philip Tron, 2009 Chevy 3500, 2012 Lance 1050
"I have two devices.  When hooked-up to electric, we use a small electric heater.  When we're off electric, we have an Olympian catalytic heater that runs off propane.  Both work great." – D.L. Martin, 2010 Ford F-250, Four Wheel Hawk
"I use the furnace to get things warm in the morning.  I also use a Pelonis Quartz Heater to keep things warm.  I never sleep with the furnace going.  We sleep in or on 30 degree sleeping bags so we generally don't use heat at night.  Sometimes we are even opening windows to get it cooler inside for sleeping." – Charlie Jordan, 1999 F350, 1999 Lance
"If AC is available, we use an electric baseboard heater and an electric mattress pad.  If we need to dry camp, we just the propane furnace.  The coldest we have been out in is -34F for snowmobiling." – Rag, 2003 Chevy Silverado, 1980 Sportsman 8 foot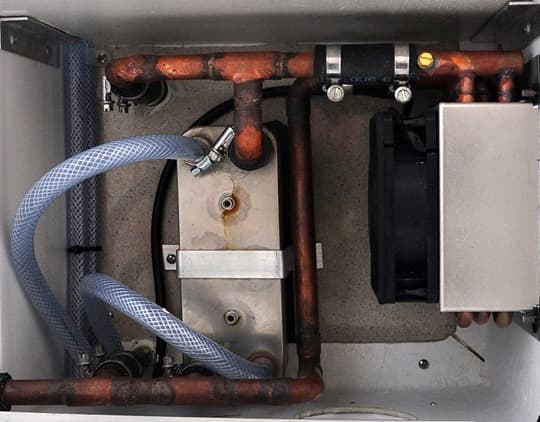 "I have gas-oil heater and hot water heater by Eberspächer D4WSC (CE marking).  I also have a hot water temperature regulator." – Frederic Amorós, 2011 Toyota Hilux, 2011 Azalai (PSI, France) Fix Camper
"I use the furnace on propane and DC, and rarely use the Quartz heater on AC." – Ronald Vander Bosch, Dodge Ram 2500, Northern Lite 10.2 SE
"We try to use 30 amp shore power whenever possible.  Our roof air has a heat strip in it.  We put a digital baseboard heater thermostat on it to keep the temperature constant.  If we are not on 30 amp service, we use the propane furnace." – Bill and Sue Billyard, 2000 Dodge Ram 3500, 2000 Real Lite 10.5
"I've installed an electric baseboard heater wired to the 120V plug circuit.  It uses very little electricity and keeps my camper very comfortable without having to use propane. When the weather is extremely cold, a quick boost from the propane heater first thing in the morning makes it warm the rest of the day from the baseboard heater." – Ronnie Driggers, 2013 Ford F150, 2013 Lance 825
"When we have shore power, we use the heat strip in the air conditioning unit.  When we don't, I use the propane furnace.  The Arctic Fox has two thirty pound cylinders, so we can go for two weeks with that much propane." – Eric and Linda Anderson, 2001 Dodge 3500, 2013 Arctic Fox 990 Milestone Edition
"The factory propane heater worked fine on a trip to Florida in early March.  We normally used it when we got up in the morning for thirty minutes or so.  The heater worked great and warmed the camper up very quickly.  During the night, it would get down to the mid 50s so we just added more blankets.  One night it got down to 34 and that was a bit brisk without the heater.  We just added another blanket." – Mike Shropshire, 2014 Dodge 2500, 2014 Palomino SS1251
"We use the onboard LP furnace exclusively.  We get it nice and warm before getting ready for bed and turn it down during the night.  It's warm enough to keep the chill out." – Allen Brummel, 2008 Dodge Ram 1500, 2008 Northstar TC 650
"My Lance 920 has a winter package and retains its heat fairly well.  I rely on layers primarily and, when sleeping alone, a mummy bag.  The furnace wakes me up when it cycles on at night, so I only use it when it gets really cold.
I've also taken to running my Mr Heater Buddy (with appropriate ventilation) just before lights out and as a silent chill-breaker in the AM.  I never use the air conditioner's heat strip since initially testing its function as I'm seldom plugged in and the Buddy is so much more effective." – Mark Obert, 1999 Ford F250, 1999 Lance 920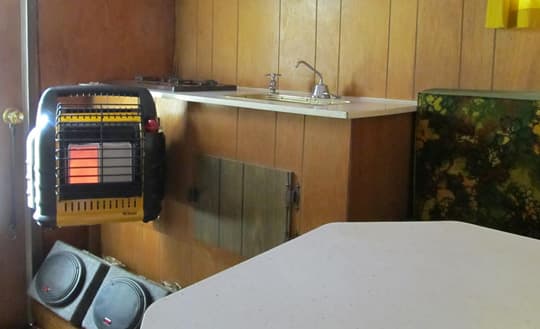 "I have a 18,000 BTU Mr. Heater.  You can't beat it." – Chris
"For cool nights when we are on full hookups, we use an electric quartz heater.  As it gets colder, we supplement with the on-board propane furnace.  If we need it, we also have an electric blanket.  We have never been unable to keep warm.  If anything, sometimes we heat up too much." – Wade and Becky Johnson, 2004 Ford F-350, 2003 Lance 1161
"We use a built in propane furnace or a stand alone electric AC heater." – Sam, 2002 Ford F-250, 1995 Shadow Cruiser
"We use the strip heater in the air conditioner unit which requires shore power." – Ken Wright, 2005 Dodge 2500D, 2011 Travel Lite 860
"My camper has a built-in propane furnace.  It can run on either AC or DC power.  I also have a small electric heater that I can use just to take the chill out if I am plugged in the electricity at a campground." – Greg Giese, 2010 Chevy Silverado, 1990 Sunlite Eagle
"I use the camper's furnace the most if we are not plugged in, which is most of the time. I did change the thermostat to digital to allow lower temps at night and allow for unlevel parking.  We use a small electric heater when we have power.  I like having AC power when the night is going to be freezing." – Bruce Gamsby, 2008 Toyota Tundra, 2008 Lance 825
"We use the propane heat system in the camper.  We tried using some electric heaters, but there were issues of wattage and room to store them.  So we stuck with the nice ducted system that came in the camper.  Since we have two thirty pound tanks, the propane lasts pretty long." – Barry Schoenwetter, GMC Sierra 2500 HD, 2005 Lance 1030
"I use the camper furnace while sleeping and a Buddy propane heater while I'm awake." – Gerard Estelle, 2005 Ford F350, 2003 Lance 1071
"I use the built-in propane heater and the heat strip in the air conditioner unit.  I also use a cube electric heater if I'm in a full hook-up campground.  If I have AC power, I'll use the electric cube heater to keep warm, but set the gas in case power goes out or the electric can't keep up.  That combination works well." – Jeff Hagberg, 2002 Ford F250, 2006 Travel Lite 800SBX
"For a quick warm-up, the onboard ducted heating system generates plenty of BTUs and distributes them best.  We leave the factory thermostat on, but added a 1500W AC ceramic cube heater if we happen to be plugged in.  It will maintain heat reasonably well down to 40 degrees outside.  If the interior temperature drops below the thermostat setting, the furnace kicks on.  But nothing beats snuggling for keeping warm!" – John and Marylou Wells, 2011 Chevy 3500HD, 2012 Chalet Ascent S100F
"After twenty years in Alaska, we camp only where it is warm.  No heater is needed!" – Captain Glenn Martin, 2011 Ford F-350, 2011 Alaskan 8.5
"I use an electric space heater requiring 120 volts of AC." – John Jones, 2002 Chevy 3500, 2008 Lance 1191
"I know I do not have a truck camper, but I have always been a fan.  I have a strip heater in air conditioner unit.  The main heat is blown air heater off propane.  I also have a 230 volt 2 kilowatt electric element/fan heater, which is used on hook up only for morning warm ups and evening wind downs.  I have solar electric DC charging of the battery bank." – Les, Ford E-450, Gulfstream Ultra
"I mostly camp in Florida but, when heat is needed, I use a small electric ceramic AC heater.  Ninety percent of the parks have AC power.  Otherwise I cycle the propane furnace a couple of times in the morning and get moving." – Reggie Fox, 2002 Chevy Silverado 2500HD, 2005 Apache Warrior 800RK
"The primary heat source is a small electric heater.  If that doesn't hack it, then we use the propane furnace.  We snuggle too!" – Don Norris, 2003, Chevy K2500 HD, Travel Lite 800SBX
"I use propane if there is no electricity.  The Lance 815 has only one propane tank, so I use the electric ceramic heater whenever possible." – Denise Barber, 2011 Chevy 2500, 2007 Lance 815
"We use our furnace that runs off propane as well as the heat strip in the air conditioner unit if we're plugged in.  Frankly, we're not the best sleepers in the world and the furnace cycling on and off makes for a lousy night's sleep.  For the next camper I would look hard at a catalytic heater." – Ed Amato, 2000 Ford F350, 2011 Lance 1050S
"I use the propane furnace." – William Moscript, 2008 Ford F-250, 2002 Northstar 850SC
"The camper propane furnace uses DC power for the fan." – Hyperactive, 2008 Toyota Tundra, 2014 Travel Lite 770R
"My wife Genie and I have an older 1993 Shadow Cruiser pop up.  We do camp more in the Spring and Fall and, if we are able, the warm weather months of summer.
When we are on shore power, we use a small Little Buddy heater that runs on a small can of propane.  It does a great job taking the chill off when needed.  For sleeping, we just add layers as needed.  If it is a bit brisk some mornings, it just makes the heat more appreciated. The camper warms up well.  When connected we simply run the camper heater as needed.  Depending on battery strength we will run the heater on 12 volt and will be comfortable for sure." – Jim and Genie Dailey, 2002 GMC 2500HD, 1993 Shadow Crusier pop up
"If we are off the grid, we use the propane furnace built in the camper most of the time. Running our Honda, we use a portable electric heater that works off 120 volts.  We also use the portable heater when we're in a campground with hook-ups.  We set it on a low temperature with the propane set lower for back up." – Mike Suan, 2008 Chevy Silverado 2500 HD, 2010 Lance 830
"So far, I have used the furnace (DC power) and a small electric space heater (AC power), but I have ordered an Olympian Wave 3 catalytic heater.  I'm planning on doing some boondocking in the future and hope the catalytic heater keeps me warm without draining the batteries running the furnace.  I also hope to save on propane usage." – Eldon Rhodes, 2008 Chevy 3500 HD, 2011 Lance 1050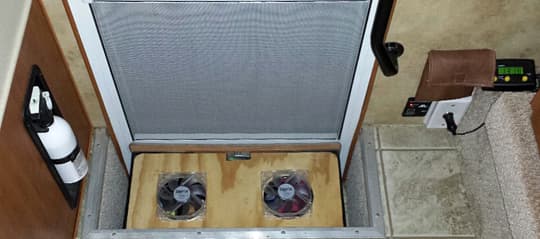 "It depends.  If we're in a campground on shore power, then we use a ceramic heater on AC power.  If it's below freezing, then we switch to the on board LP 15/22k furnace with the addition of three basement circulation fans to keep our tanks/plumbing from freezing.
When boondocking, we use the same onboard LP furnace and three fans if it's below freezing temperatures.  Of course our five solar panels of 385 watts keep our two Trojan batteries fully charged everyday." – Steven Price, 2012 Dodge Ram 3500, 2011 Lance 1181
"To get toasty, we use the propane furnace which has a 12V fan built in.  The fan is noisy when it starts up so we leave the furnace off at night.  If we have access to a 110V AC outlet, we use a small electric oil heater to keep the chill off at night.  When boondocking, we bundle up under down quilts at night and fire up the furnace in the morning.  I can reach the thermostat while still in bed." – Ken Woodward, 2012 Ford F150, 1992 Trav-L-Mate 8'
"We mainly use the furnace.  If we run the generator for a couple of hours, we plug in a small ceramic heater while it's running." – Bill Tex, 2006 Chevy Silverado 2500HD, 2013 Eagle Cap 850
"While the Question of the Week specifically refers to the shoulder seasons, we often find we need heat in our Idaho mountains during the summer.  If we are in a campground with electricity, we use a small portable electric cube heater which uses 120 volt AC.  If we are camping without electrical hook-ups, we use the camper's propane furnace.
The furnace heats our camper easily, but wakes us up when it kicks on, so we prefer the electric heater if we have power.  In addition, the propane furnace eats up a lot of battery capacity.  Generally we leave the thermostat set at fifty degrees at night and then heat up the camper to room temperature when we get up in the morning." – Dave Neumann, 2010 Toyota Tundra, 2011 Adventurer 80GS
"I use the propane heater the truck camper came with.  It requires me to run the generator or plug in.  If I do not do this, it will run the single battery down quickly." – Charles Cashion, 1993 Chevrolet C3500, 1995 Lance 990
"I use the camper's propane furnace (12v for blower), and a heating pad when 110v is available." – Dale Wilmot, 2007 Chevrolet Silverado 2500HD, 2012 Lance 992
"If full services are available, we use a portable electric table top heater.  If we are bondocking, we use the house propane heater." – Greg Romig, 1996 Ford F250, 2005 Okanagan 96DB
"We love to camp when it's cool.  We call it snuggle weather.  When it's really cold out, 20 degrees or below, we heat with a AC Milkhouse heater.  This has kept us toasty warm even at -26.  When I first bought the camper I tried the LP heater to see if it worked.  It did, but I haven't used it yet." – Mike and Nancy Pohl, 1999 Ford F150, 1985 American Pilgrim 8.5 hard side
"If I'm at a campground, I use a ceramic cube heater plugged into the wall.  If it is colder, I use the forced air furnace.  I also have a Wave 3 catalytic heater if it is really cold.  I have never used all three at one time.  If I'm dry camping, I use either propane heater.  It just depends on how cold it is." – Bob Chan, 1989 Ford F250, 1988 Lance 780
"Most of the time we use the propane heater in the camper.  With hook-ups, we sometimes use a small electric heater or an electric blanket." – Guy Cornell, 1995 Ford F350, 2002 Lance 1025
"When dry camping, we use the onboard propane heater and extra clothes and blankets.  If we have AC hookup, we use the electric heater and electric blanket on the bed." – Alston and Kelli Hammons, 2007 Chevy 3500, 2007 Arctic Fox 1440
"We use cuddling.  Serious cuddling.  Then we dress in layers.  We use propane if it's below fifty degrees when we get up in the morning.  The propane heater fan draws some DC power." – Donna, 2011 Ford F250, 2005 Lance 915
"I use the forced air heater built into the camper and added a catalytic heater.  If the temperature is going to be thirty degrees or above, we use the catalytic heater because it's quieter and uses less propane.  On its lowest setting it will kept the camper about fifty degrees at night when it's about thirty to forty outside, which is perfect for sleeping." – Dave, 2011 Ford F350, 2006 Arctic Fox 990
"My camper does not have a heater.  I put on a second sleeping bag if it gets really cold.  In the morning, I light my one burner Coleman stove that burns naphtha, sometimes known as white gas.  It's not a safe practice.  I will be purchasing a catalytic heater when I find one." – Léo LaRochelle, 2002 Chevy Silverado 2500, 2012 Four Wheel Camper Hawk Shell
"I installed a Cadet multi-watt in-wall fan heater in the winter of 2013/2014.  I have been very pleased with it.  I removed the small door to the outside in the truck bed that's 14″ by 8" and made a new door.  In this door I installed the 12″W x 5.5″H x 4″D heater which I purchased at Menards in Indiana.
The Cadet is a very compact heater with a very silent squirrel cage fan.  The unit can either be 700, 900 or 1600 watts.  It's not switchable so you must decide the wattage you want.  You can change by changing the wiring.  Also you must install your own wall thermostat.
I put mine on 700 watts and have overnighted in ten degrees.  I am very pleased with it.  I set the propane heater lower than electric and it comes on if electric can't keep up.  The propane hardly ever comes on.  If I want to trade the camper off, I will put the old door back and keep the heater." – Robert G. Martin, 2008 GMC 2500 HD, 2011 Northstar Laredo SC
"Off the grid, I just use the RV furnace.  It seems to work just fine.  In February, I did a trip from my home in New England to the Gulf Coast.  I had snow as far south as North Carolina.  I used a modern electric heater as I was plugged in every night.  I was really surprised how well it worked.  I never turned the camper's furnace on." – Al Stebbins, 2006 GMC 2500 HD, Northern Lite 8'11" Queen Classic
"We heat the camper with the Webasto Air Top 2000.  It burns diesel and uses a little bit of DC electricity when starting up and for the ventilator.  We still cook on propane." – JW Korthals and MJC Engel, 1992 Iveco 40-10, a modified Iveco Daily, 2002 Twiga Travel Cars, a one-off
"I use two sixty-five pound yellow labs to keep me warm.  They are good snugglers, require a few pats on the head, and three square meals a day." – Sue Surateaux, 2002 Chevy Silverado 2500HD, 2008 Arctic Fox 811
"We use the forced air furnace most of the time but, if we're in a park with electric hookups, we have the heat strip installed in our Coleman Polarcub too.  It's just like having the AC on, but you get heat.  I can't run it with the generator though.  Our Honda EU2000 won't carry the load.  It will run the AC fine but not the heat strip." – Chuck, 1995 Ford F250, 2009 Lance 815
"In North Dakota, the temperatures hang around freezing when I'm at work.  I plug into AC, so I have a Delonghi radiant heater to keep my place warm during the day.  I also have a heating blanket on the bed, but it shuts off every ten hours, so about lunch time I have go turn it back on or wait for it to warm up at night.
At night I plug in the inverter.  Also at night, I have a Mr Buddy propane heater.  If it's 10 or below, I put it on low.  If it's above -20, I put it on medium.  Anything less I put it on high.  If anyone is thinking about getting one, I recommend them.  They work great.  The Mr Buddy heater is on its own tank.  Two gallons last about two weeks." – Robert Gregory, 1994 Ford F250, 1996 Fleetwood Caribou
Editors Note: Always have ventilation when using a propane heat source.
"I just use the camper's furnace when we dry camp.  If I'm using the camper in my own driveway, I use a small 1500 watt space heater." – Ron Williams, 1997 Ford F-250, 2003 Lance 1010
"We use the heat strip in the AC unit when on shore power and the propane furnace otherwise.  We do like the fan running on the AC to provide white noise at night, but prefer the warmth of the gas heat.  We intend to add a switch to the thermostat to let us run the AC fan along with the propane furnace." – Stan Carman, 2002 Chevy Silverado 2500HD, 2003 Lance 1030
"We use the onboard propane heater since our camper insulation is poor." – Jim, 2013 Ford F350, 2013 Host Shasta 9.5
"We run the camper furnace with the temperature set at sixty.  We also carry a small 1500 watt electric heater that we will run of of shore power, our onboard generator, or our Honda generator.  The Honda requires gasoline and we can usually get by on a six gallon gas can for about four days, depending on how often we run it.  For the most part, the camper's built-in furnace is the primary source of heat." – Tom Warren, 2013 Dodge Ram 3500HD, 2013 Eagle Cap 1160
"I have a heated mattress pad and electric space heater that run off AC and a furnace that runs off propane." – Harry Tempke, 2005 Chevy Silverado 3500, 2008 Lance 1055
"I boondock about four nights per week at my work location, which is quite a distance from home base.  AC power is usually not available, so I have two twenty-pound propane tanks and two Group 27 deep cycle 12V batteries to get me through.
I have laid a soft foam layer (about three inches thick) on the overcab mattress.  Over that, I have opened up and laid out a cheap flannel sleeping bag.  On top of all that, I just make up a regular bed with cotton sheets and a thick comforter.
I use the main furnace all night to keep the inside temp at about 70 degrees Fahrenheit, which consumes about one propane tank per four night week (which also powers the refrigerator and hot water tank for four showers).  The batteries easily last two full nights before falling below 12V under load, and then I just recharge them by running the truck engine for about twenty minutes.  I don't have, nor do I want, a generator.  The furnace runs about twenty minutes/hour on very cold nights, but it does a very good job.
The biggest issue I have with cold weather has to do with plumbing.  In the wet bath of the camper, I open up the service door to expose the plumbing lines whenever I'm parked, either when sleeping at night or when stored during the day.  That keeps the interior water lines unfrozen.  The outside dump valve, however, freezes shut when the outside temperature drops even just a little bit below freezing.  My practice is to park with the rear end of the truck extended over the grassy area behind the parking lot, and I just leave the master valve and gray water valve both wide open to drain the gray water tank all the time.
I protect the closed black water tank by pouring about a cup or two of rock salt into the toilet each week along with the treatment fluid, and then I dump the black water at a regular dumping station on my way home after each week on the road.  The black tank stays okay down to low double-digit temperatures, but once it approaches about ten to fifteen degrees Fahrenheit outside, I'm done for the season, just because of plumbing.
I'm looking for good ideas on how to extend my season longer into the winter, as that shuts me down for about five months here in New Hampshire!" – Reed Prior, 2007 GMC Sierra 2500 HD, 2000 Travel Lite
"I have a 1800 watt AC electric fireplace, which was a factory option.  I also have an electric mattress pad that runs on AC, and extra blankets.  The propane furnace runs off DC.
Addtionally, I have a bus heater mounted in the camper basement and plumbed into the pickup cooling system (hot coolant).  The bus heater is ducted into the camper furnace ducting.
The bus heater has quick disconnect couplers for the coolant hoses and DC wiring from the pickup cab control switches, for when camper is unloaded.  This system keeps the camper interior warm in cold weather without running propane furnace." – Leonard Eagle Jr., 2009 Ford F450, 2008 Okanagan TKS126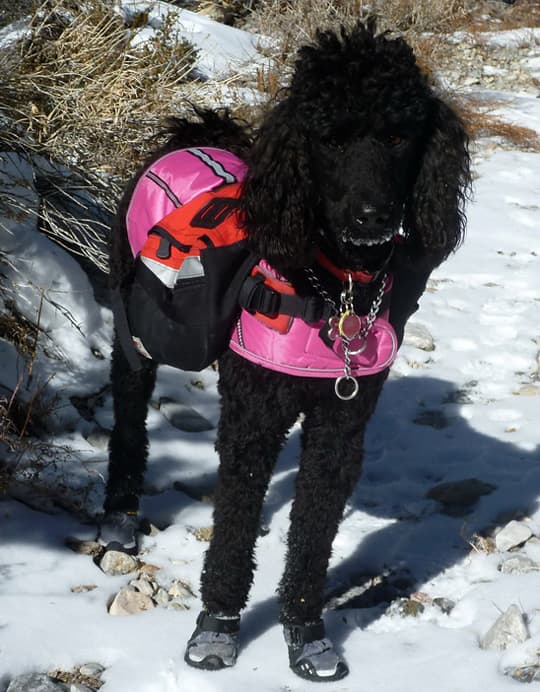 "In our Outfitter, I primarily use a Wave 3 catalytic heater.  In the Adventurer 86FB, I will have a standard furnace, down comforter, and 55 pound standard Poodle that takes up lots of room and puts out lots of heat." – Mike Wolf, 2005 Dodge Ram 2500, This week 2011 Outfitter Apex 8, Next week 2014 Adventurer 86FB
"I have a 9600 BTU heater buddy to speed up the warming when it's cold.  I have two 1500 watt heaters when hooked up to AC power.  I have two 12 volt blankets to warm up the bed one hour before I get in.  One is under the mattress and one is above the sheets.  I only use the bottom one in the dead of winter." – Roy , 1999 Dodge Ram 2500, 2013 CampLite 8.6
"I mainly use the camper furnace since it also keeps the tanks warm.  I supplement with an electric ceramic heater if it's really cold." – Lee Erickson, 2008 bGMC 2500 HD, 2009 Arctic Fox 811
"I added a programmable thermostat, and set it to turn on when I want to get up.  I use the newer forced air heater that is in the new Four Wheel Campers.  I also carry a small 110v heater if I am somewhere I can plug in." – Bill Harr, 2005 Toyota Tundra, 2013 Four Wheel Camper Hawk
"While sleeping we prefer to use a portable space heater (Pelonis Safety Furnace).  It keeps the temperature just right, and is less noisy than the camper heater.  We can use it both on battery or shore power.  When it's really cold, or day time, we use the built in camper heater, which runs on propane and electric power/generator.  It's noisier, but gets the camper toasty warm." – Valerie, 2005 Chevy 2500, 2001 Fleetwood Elkhorn