We asked Truck Camper Magazine readers for their suggestions on where to camp when the thermometer reaches 90-degrees Fahrenheit / 32-degrees Celsius, or hotter.  Where can you camp to beat the heat?

For this question, we asked readers to imagine that (a) their generator was stolen by pilfering pussycats – it happens – and (b) they had to dry camp.  Now that's a challenge!
As a bonus, none other than Mike Tassinari, aka Mikeee of the North-East Truck Camping Jamboree, chimed in to give his not so subtle opinion on the question itself.  His response is at the bottom.  Don't miss it.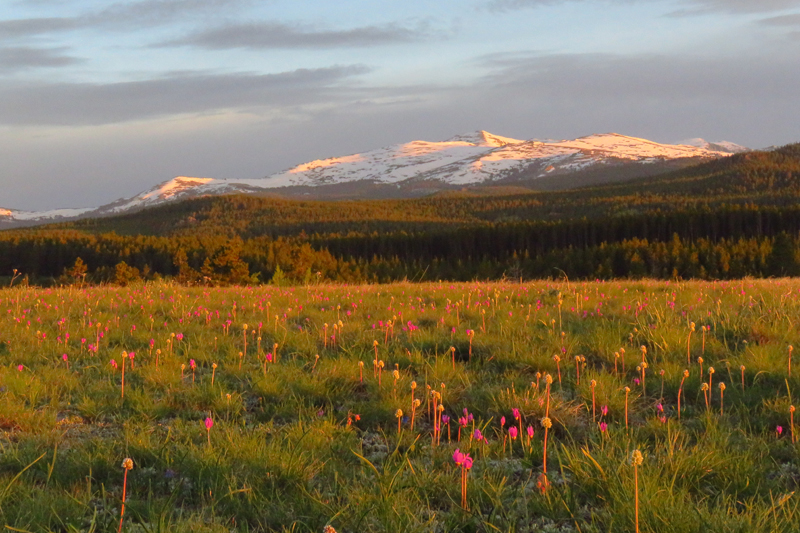 "We spend many summer days in the Bighorn Mountains of Wyoming.  Our boondock spots are usually around 9,000 feet.  It's always cool, sometimes even too cool, at those elevations.  We have been snowed in during every summer month we have camped there, but it melts quickly." – Pat Eastes, 2005 Chevy, 2013 Lance 865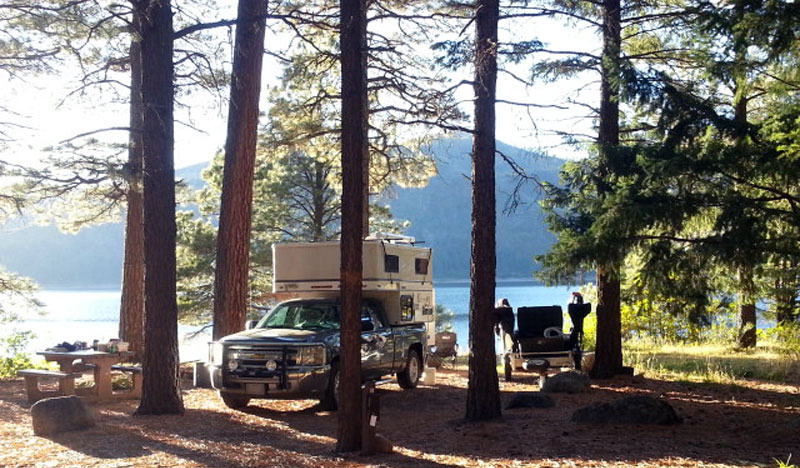 "Usually we'll be in the Rocky Mountains, anywhere from Pecos, New Mexico at the southern end to Glacier National Park at the northern end.  The Yellowstone area is a favorite go to destination.  Other options include Olympic, the Cascades, and the Pacific Coast.
This summer we are headed to Alaska.  Being from Texas, we don't do Texas in the summer.  We have also learned to schedule many of our trips for fall.  It's less crowded and cooler.  The above picture is from the mountains above Durango, Colorado." – Bill Peters, 2017 Chevy Silverado, 2013 Four Wheel Camper Hawk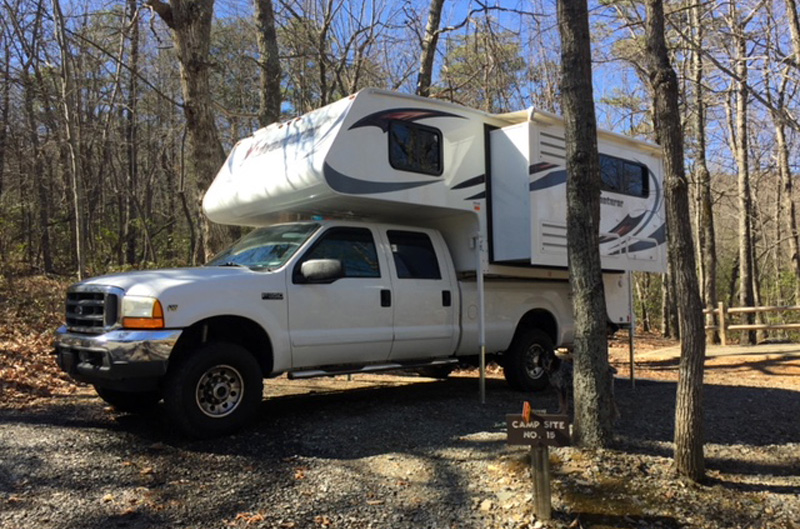 "We head for the hills to avoid the heat.  Some of our favorites are Hanging Rock, the Davidson River Campground, and Linville Falls; all in North Carolina.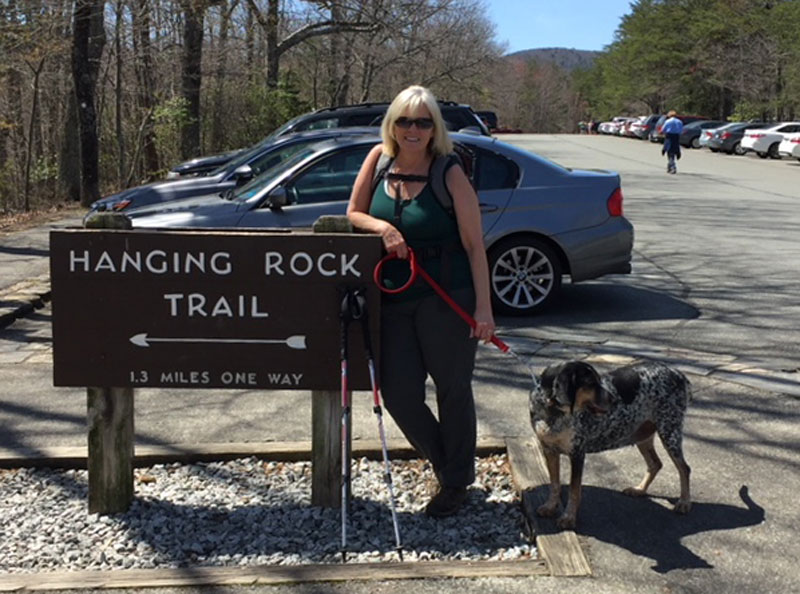 It's still pretty warm in the daytime, but cools off decently at night." – Randy Smith, 2017 Ram 3500, 2017 Adventurer 910DB
"We stay anywhere in the White Mountains or the Mogollon Rim country of Arizona.  We really like the areas north and east of Payson.  It's a four hour very scenic drive from our home in Mescal." – Mike and Sharon Nervik, 2002 Silverado 3500, 2004 Eagle Cap 1150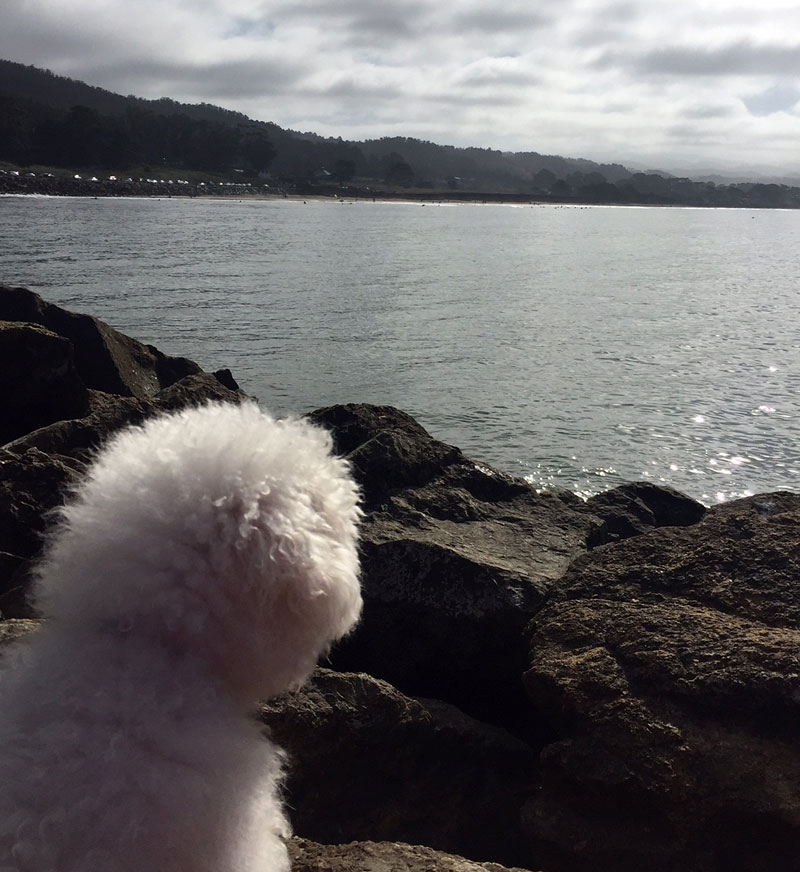 "When it gets too hot, we love to go to Half Moon Bay, California.  It is a short drive with a beautiful place to park right up against the ocean.  It is always cool there and you can sit and watch people surf.  Our little truck camper buddy loves it, too." – Marc Cuslidge, 2006 Chevy 3500HD, 1994 Weekender 1010
"We live in the deep south.  Our temperatures rarely exceed 100 degrees, but the humidity will be in the mid to upper 90-percent range.
In the summer, we either use a prepared campground or our Honda 2000 buzzing away.  If we can't use shore power or a generator, our camper resides in the barn!
When we leave the area for more northern areas, we are so heat tolerant that we can be comfortable with windows open and our overhead vent fan on." – Jay Knight, 2018 Chevrolet 3500, 2015 Northstar Adventurer 8.5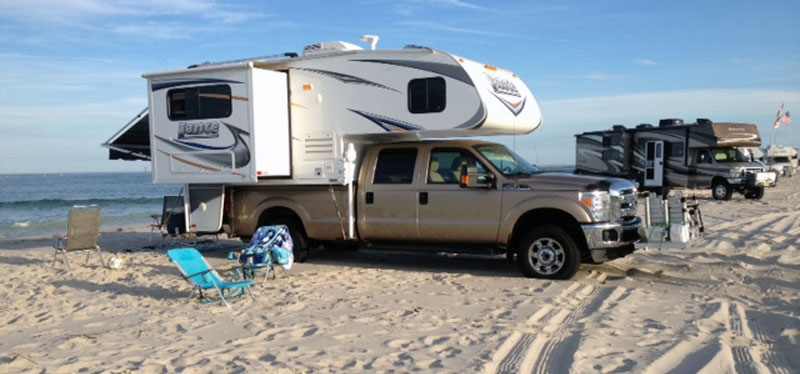 "When it's hot, we sometimes camp on the beach.  Most of the time we just stay home when it's hot and lounge in the pool or in the air conditioning.  We live in the mountains at 2,000 feet of elevation and it rarely hits the 90 degree mark.
I found it's not too enjoyable trying to have fun in very hot weather.  Sitting in the camper with the air conditioning on gets old." – Frank Paglianite, 2013 Ford F350, 2012 Lance 992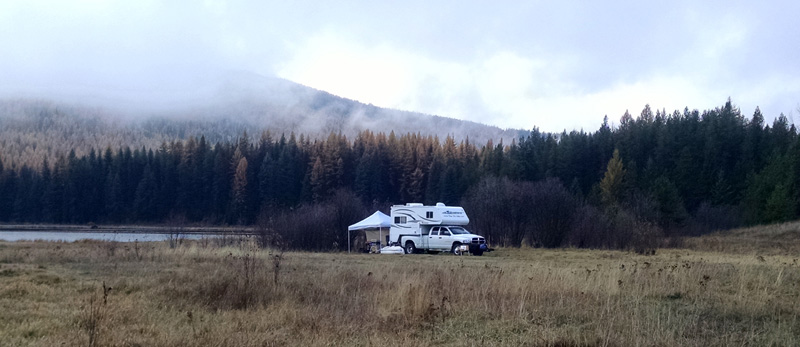 "Ah, June 2015.  Yes, I remember it well.  We were in Tri-Cities, Washington for a big geocache event.  At the time my camper did not have air conditioning.  After a weekend of 117 degrees, that changed.  That's when I installed an air conditioner unit on the camper.
Where do we normally go when the temperatures get hot?  To the mountains.  Here in eastern Washington we have so many choices nearby; with different types of terrain.  We love the basin area of Washington State, but try to avoid it during the summers.  It gets too hot.  The mountains are where we go." – Rich Bain, 2004 Dodge 3500, 2010 Adventurer 810WS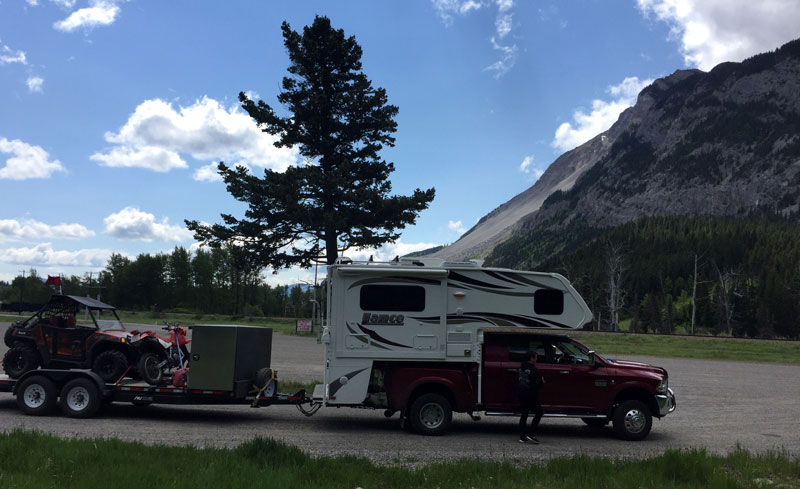 "When we can get away from the heat, we tend to go towards the foothills and mountains of Alberta.  The temperatures are usually hot during the day and the night air normally cools down.
Days can break 30 Celsius and nights drop to 10 to 15 degrees.  So the cool air is a nice change.  Also there usually is a river or stream for us to go swimming in to keep cool.  If the days are too hot, we just go higher.  The air is always cooler.  We even find snow to play in and keep the drinks cold." – Ken and Leona Atamaniuk, 2012 Ram, 2016 Lance 855S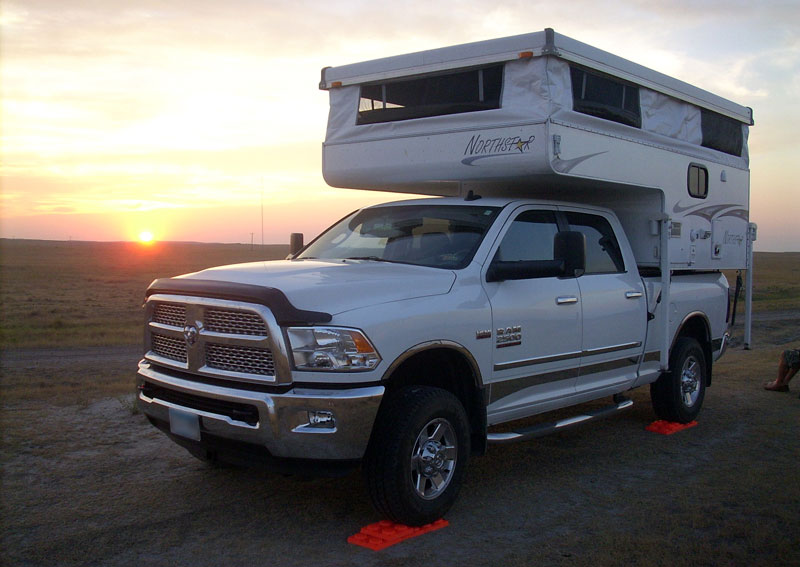 "Heat is our friend.  We love it.  Our favorite times to camp is when it is hot.  We run the furnace far more than the air conditioner in our camper.  If it is really hot, we can zip the windows open all the way around our pop-up and get a nice breeze through, and maybe run the Fantastic Fan if necessary.
Of course a lot of the time we are off-grid so we don't have shore power.  To save weight, we rarely take the generator along and don't miss it most of the time.
Last summer we disperse-camped in Buffalo Gap Grasslands in western South Dakota when it was 105 degrees, and I can't say we really suffered at all.
When we are camped at our children's homes, we are plugged-in.  In those instances, we will use air conditioning when getting dressed up to go out or go to church.  So we do appreciate having the air conditioner at times." – Allen Brummel, 2013 Ram 2500, 2016 Northstar 650SC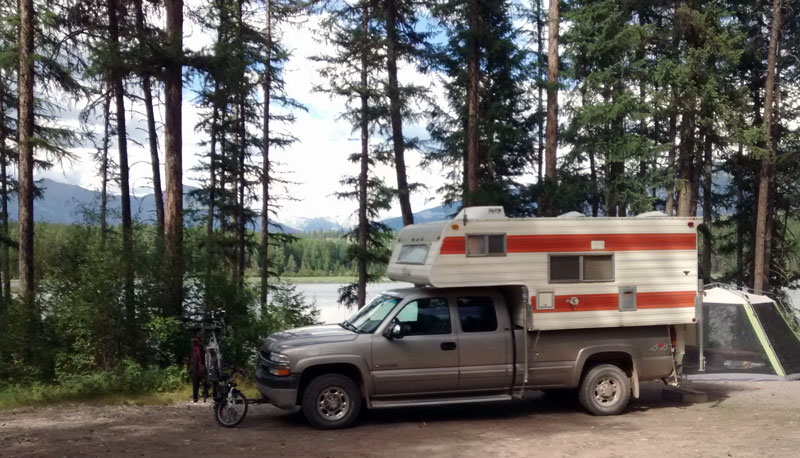 Above: Suzanne Lake, British Columbia
"In the summer of 2017, we camped when it was very hot.  We don't have an air conditioner unit in our camper, so it doesn't matter whether we have power.  It hit 36 degrees Celsius (96.8 degrees Fahrenheit) on multiple days that we were away.
Our destinations were planned regardless of the heat, but worked out quite well.  We went to Suzanne Lake, British Columbia where I had to stop making supper one night to literally go jump in the lake.

Above: Tally Lake in Montana
Tally Lake in Montana is where the trees are tall and the lake is very deep and cold.  I took both my dog and disabled cat into the water to cool them off.  We also visited the Big Sky Waterpark.  They have some big trees that we parked under to keep the pets comfortable.
We rely heavily on cooling towels, a system of computer fans in the camper, and doing our best to suck it up." – Melissa Malejko, 2002 Chevy Silverado 2500HD, 1981 Okanagan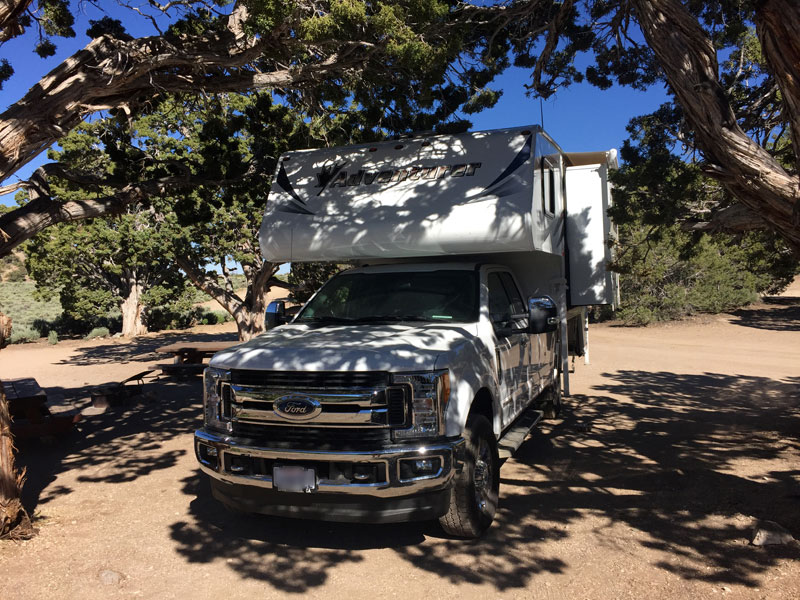 "Elevation, elevation, elevation, shade, shade, shade.  Last summer we escaped the heat to the White Mountains and the High Sierras.
The Bristlecone Pine Forest in the White Mountains has the oldest trees in the world.  Some are over 5,000 years old. The elevation is from 8,000 to 11,000 feet and the temperatures stayed in the 70s in June.
Campgrounds do not have hook-ups, but you won't need them.  Horseshoe Meadow in the Sierras also stays in the 70s in August.  Again, there are no hook-ups and no need.  There are lots of trails for horses and hikers." – Marc Wilde, 2017 Ford F250, 2017 Adventurer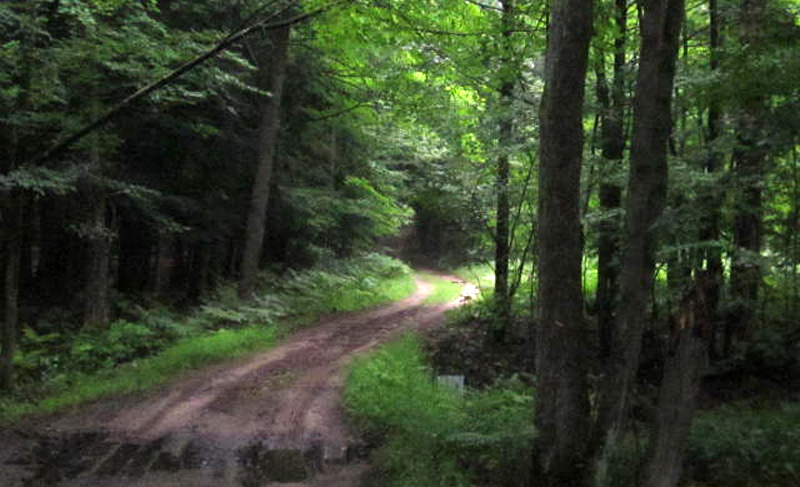 "I am in the woods 90-percent of the time.  Even in July and August, the north Michigan woods are cool and comfortable.
The days are warm and nights are always cool.  The canopy of the trees keeps the sun off the camper.  I don't have an air conditioner and have never considered it.  The pop-up Palomino has plenty of ventilation.  The entire upper sidewalls open up to screens or I zip up the windows if it rains.  It's just like sleeping in a tent but with all the conveniences on board and I'm not sleeping on the ground.
In reality, if I didn't require a CPAP machine every night I'd leave my small inverter generator at home.  I run two Group 27 batteries, which is plenty enough juice for a weekend or longer stays.
Of course camping like we do in the woods precludes the use of solar power.  Not much sunlight comes through the canopy, at least not nearly enough to make solar a viable option." – Daryl Davis, 1997 Ford F350, 2014 Palomino SS-1500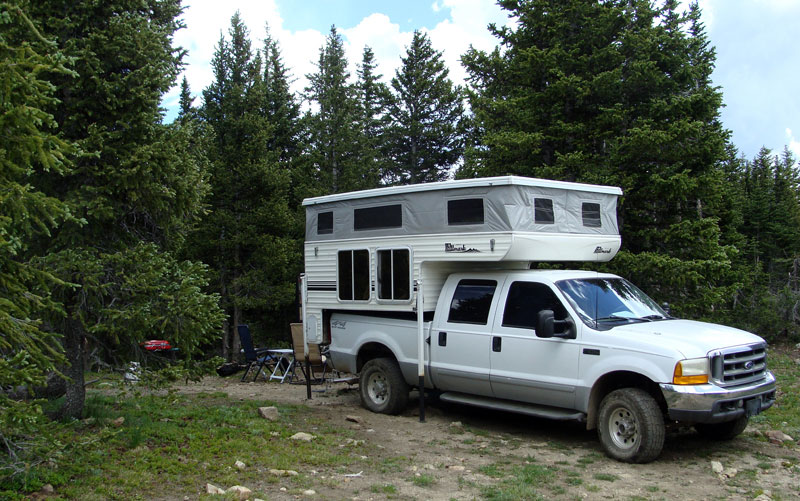 "Living in Colorado makes it pretty easy to get away from the heat if we want to make the short drive.  We almost always camp above 9,000 feet, even during the winter.
Even when its sweltering in on the plains, it rarely gets above 80-degrees at higher elevations.  Two years ago, in the middle of July, when record breaking temperatures were running rampant, we were camped on Georgia Pass at 11,800 feet and the temperate never exceeded 70.  That's less than three hours from home and includes seven miles of unpaved roads at 10 to 15 miles per hour to the top.
We just bought a 2001 Lance and will make our maiden outing this weekend." – John Bailey, 2001 Ford F-250, 2005 Hallmark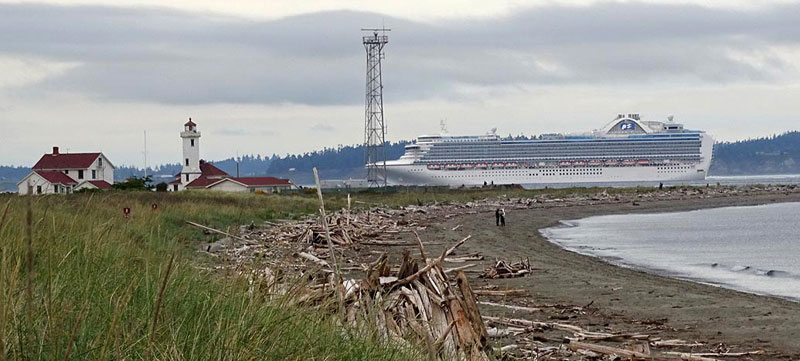 Above: The Puget Sound
"Here in Oregon, everybody knows that the coast is almost always 20-degrees cooler than inland during heat waves.  The problem is that everybody knows.  So, unless you are right on it and manage to reserve a site somehow, you're stuck in the valley with 100-degree temperatures, which are not as rare as you think here in the Northwest.
The second problem is that, during these heat waves, the coast can actually be equally uncomfortable, like 60-degrees and foggy.  There is, however, a place about two to three miles from the beach that is just perfect (seriously).  There are not too many campgrounds or much to do there though.  There is one place we know of but we're not telling.
The third problem with the Oregon coast is traffic jams – all the way around.
You can get stuck in hour-plus traffic jams between the valley and the coast.
The Puget Sound area fares better because Seattle, being on the water already, rarely gets hot, so there are not as many people looking to escape.  Also, there is quite a lot of cool territory on the Kitsap and Olympic Peninsulas.  So the crowds are more dispersed.  We sometimes head that direction.
Getting a campsite is not exactly a breeze up there either.  Summer is short.  Sites in popular parks are sometimes reserved a year ahead.
Since you mentioned the mountains.  Yes, they are little cooler, but sometimes not enough cooler.  And heat waves often come in fire season, so that can be a problem too.  While there are some good heat escapes here they don't always come easy, especially on weekends.
We can't just jump in the camper, head over to the beach, and grab a site like people did in the 1960s." – Vince, 2014 Dodge, Custom camper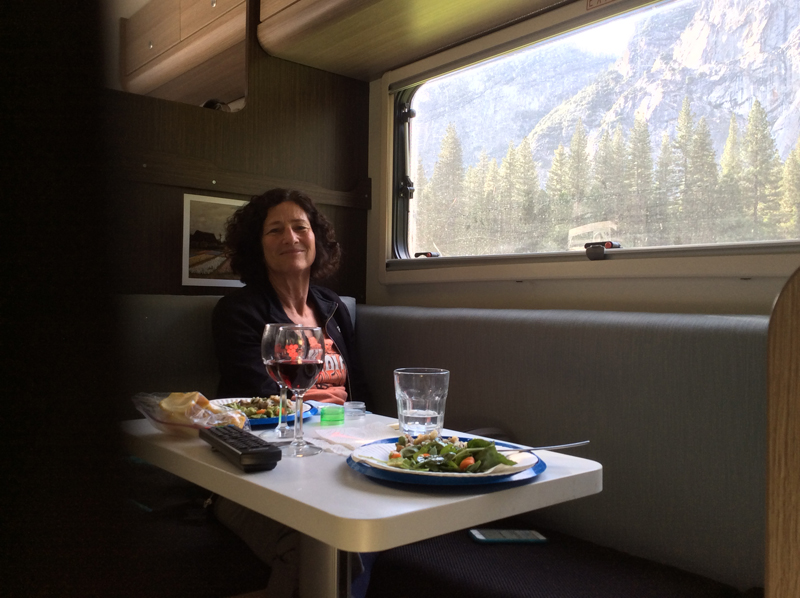 "We live three miles from the coast in central California, so it rarely gets over 90-degrees.  If it does and we are not on the coast, we like to head up to the National Park and Forest lands of the Sierra Nevada mountains and stay near the rivers and lakes at 6,000-feet or above.
Our favorites are Yosemite National Park, Lake Tahoe, Stanislaus, Toiyabe and Eldorado National Forest.  The National Forests offer excellent boondocking and their rivers are lined with glacier smoothed rock for drying out on after a brisk swim!" – David Casterson, 2016 Ram 3500, 2016 Cirrus 800
"We live in the very Tip of the Mitt (northern Michigan 20-miles south of the Mackinac Bridge).  If it gets to 90+ we just go to the Upper Peninsula or Canada.  Pick your place.  You can't swing a dead cat without hitting a good camp site.
I love the National Forest campground.  It is secluded without a whole lot of people.  If I had to pick a location I would go up around Tahquamenon Falls State Park to Rivermouth Campground." – Mark Brown, 2004 Ford F350, 2015 Palomino HS-2902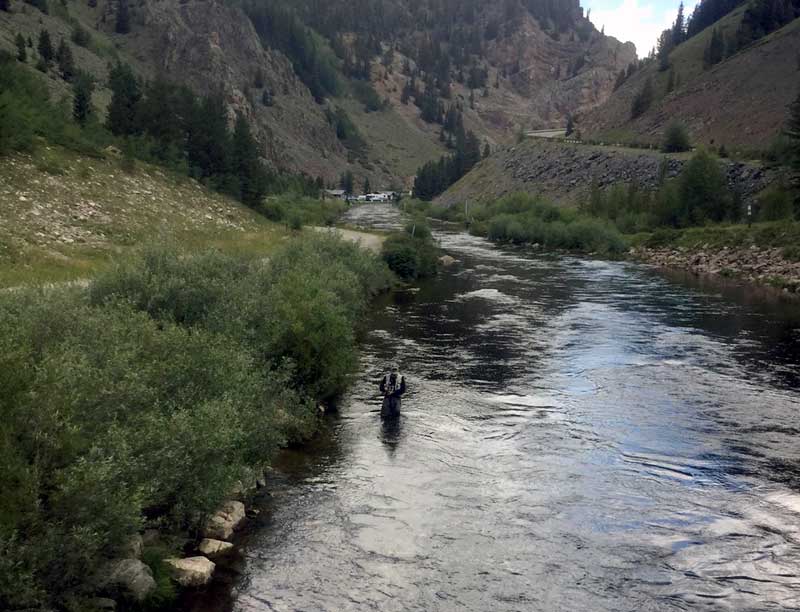 "The last couple of years we have headed out for the cooler spots in Colorado with the fishing gear and the Good Book." – Ed Krech, 2006 3500 Dodge, 2011 Northern Lite 8-11
"I deploy my roof-mounted shade cloth awning system that provides shade to all four sides of the rig while leaving my solar panels exposed to the sun.  The shade cloth is not torn up by wind.  It is black which is the best cloth for additional heat absorption.  I do all this in my mind because I haven't built it yet.
I've camped in 24-inches of fresh snow on May 21 in Alberta.  That was cool." – Laurie Berg, 2006 Dodge 3500, 2007 Snowbird 8.5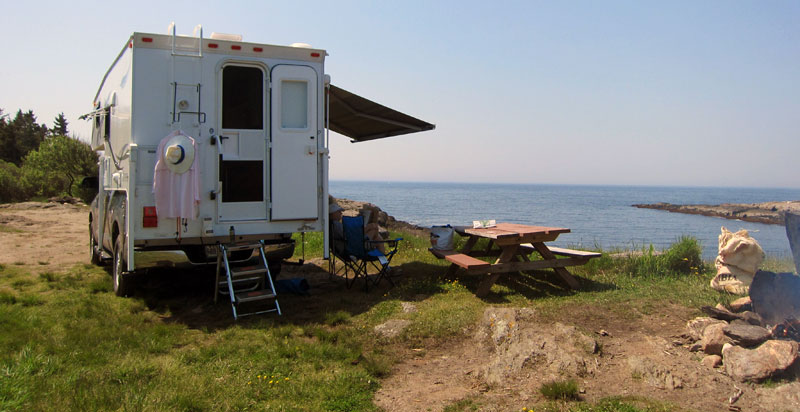 "I go to the northern Maine lakes, Maine coastal sites, or the Atlantic Provinces making sure that I find shade or the shady side of the camper." – Carmen E. Haggerty, 2010 Tundra, 2013 Northstar Adventurer 8.5
"We live in northeast Texas, so we always plan our summer trips in the worst of the summer heat and head to the Rockies.
If we have a few weeks, we usually go all the way to Montana to visit good friends, making stops along the way.  If we have a short time, we head to Red River, New Mexico.  That's the closest higher elevation to us and it's a huge difference in temperature and humidity.
There's a nice RV Park in Red River, Road Runner RV Resort, and several very nice national forest campgrounds close to town." – Connie Westbrook, 2003 Chevy 3500, 1997 Lance Squire 5000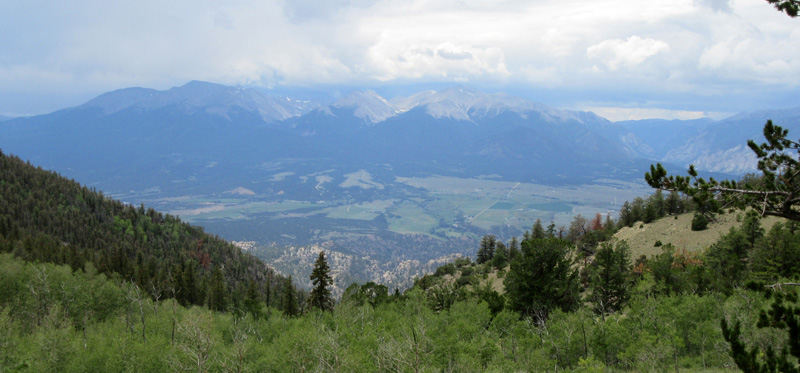 "We usually go to Colorado in the summer for a couple of weeks.  A lot of times we try to go to Silverton, Colorado at 9,300 feet.  We also go to Leadville, Colorado at just over 10,000 feet." – Erwin Greven, 2002 Chevrolet Silverado 2500HD, 2002 Lance 921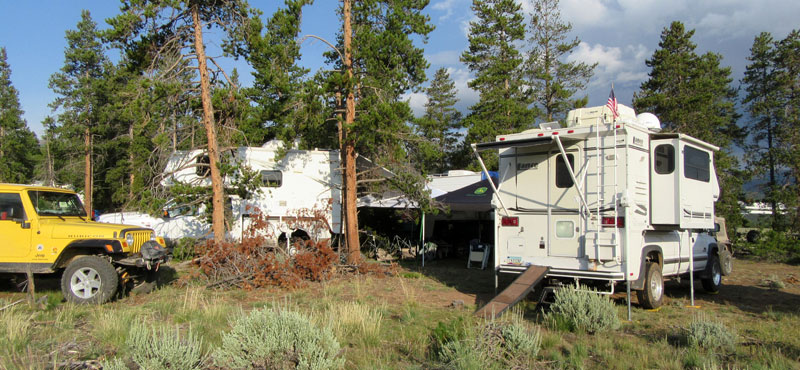 "I go to the beach because there's always a nice breeze." – Deb Rose, 1990 Lance Squire
"The Beartooth Mountains of Montana and Wyoming is our preferred destination, or any other mountain range in Montana and Wyoming." – Wayne J. Erhart, 2002 Dodge Ram 2500, 2017 Northstar 950SC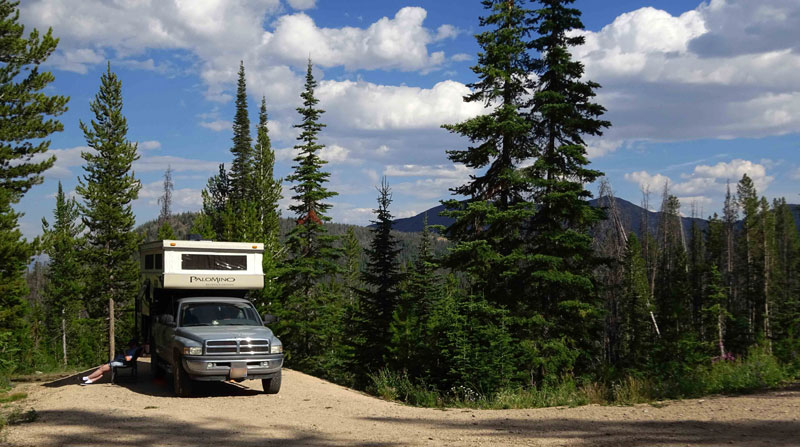 Above: Bayhorse Lake Campground near Challis, Idaho
"We have several high altitude forest service campgrounds we go to in the summer.  None of them have power or fees.  Most are in central Idaho within a three or four hour drive from our home.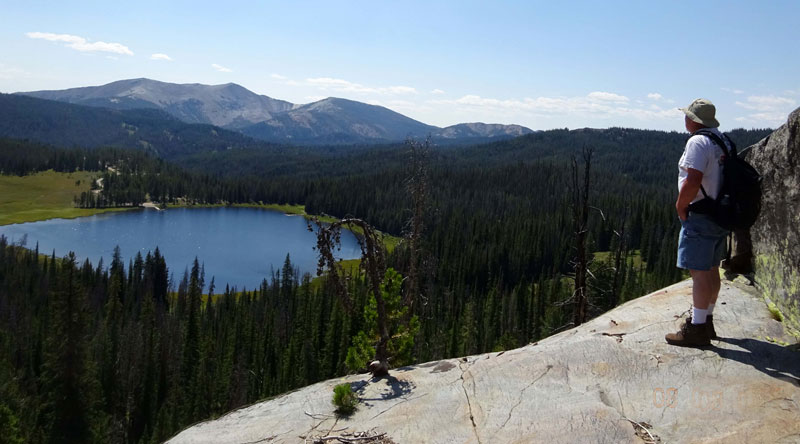 One of our favorites is Bayhorse Lake Campground near Challis, Idaho.  The elevation is 9,600 feet and temperatures at night in July and August usually drop below freezing.  The daytime highs are 20-degrees cooler than the valley.  It's a pretty mountain lake with fishing and hiking." – Brian and Chris Hagen, 2004 Dodge Ram 2500, 2014 Palomino Backpack 1251S pop-up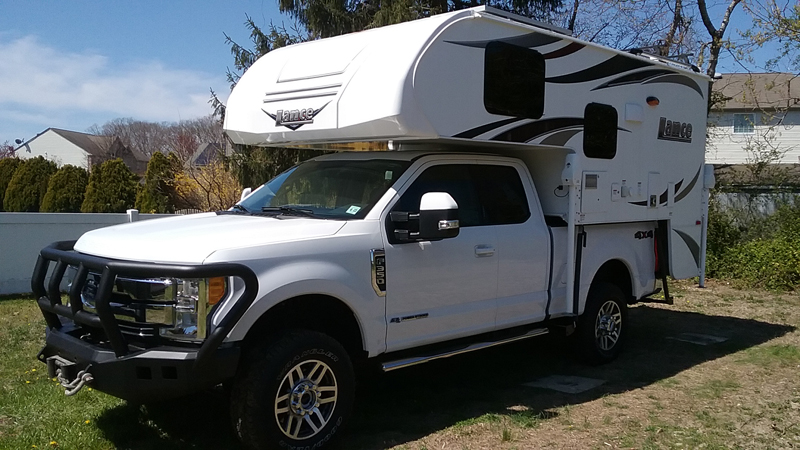 "I always go to the great state of Maine.  I start in Bar Harbor and work my way up to Westmanland." – Mike Branca, 2017 Ford F350, 2017 Lance 865
"In Northern Michigan we love Barnes Park in Antrim County and Harrisville State Park in Harrisville.  When in Alaska, we love to camp in Palmer, Homer, and in the Homer Spit." – Shellie Barnes, 2017 Ford F250, 2017 Palomino SS-550
"We enjoy camping between April and June in the western part of the United States. When August comes around we prefer the shade and ocean breeze of Myrtle Beach, South Carolina.  In the fall we enjoy parts of Canada and our New England states.
When it's hot outside, we have an air conditioner.  That works everywhere except for the Mohave Desert in California.  We broke down there one summer and never again!" – RJ Bickford, 2007 Dodge Ram 2500, 2003 Palomino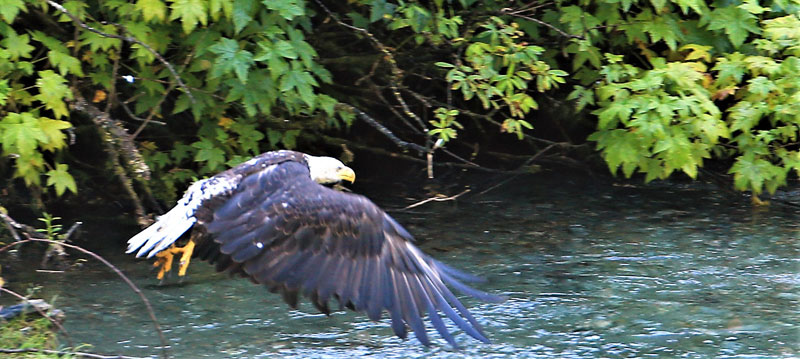 "We live in the deep south in Alabama.  The southern heat and humidity are tough to say the least.
For the months of July and August, we are usually in the north somewhere.  We have cooled off in Alaska twice.  We have also gone to Newfoundland, Nova Scotia, the Upper Peninsula of Michigan, British Columbia, the Yukon, northern Maine, and Ontario.
Sometimes we wander around beautiful western New York state.  Those are a few of the areas where we like to cool off." – William Chiles, 2015 Ram 3500, 2013 Lance 1050S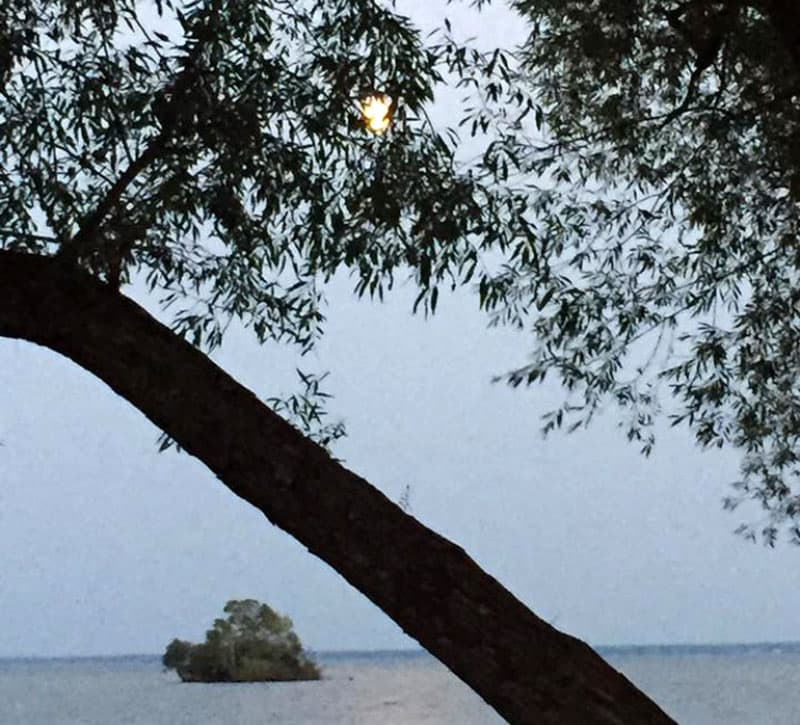 "We head for the city of Washburn's West End Park on Lake Superior.  The breeze off from Lake Superior is about 42 degrees, even in summer.  That's built in air conditioning!" – Randall Gilbertson, 2013 Ford F250, 2017 Wolf Creek 850
"If we're in California, we go to the High Sierras above Fresno where there are lots of areas to boondock above 7,000 feet.  Otherwise we love southwest Colorado around Silverton where the city is 9,300 feet.  Boondocking at South Mineral Creek or Eureka is always pleasant.
Our Norcold refrigerator can't handle anything above 7,500 feet, so we have to be careful about using our generator to keep the refrigerator working.
Another good place we go is off Highway 395 in eastern California, above Bishop.  We found a dry camp spot on the Tom's Place Road that nobody seems to know about.  It's about 7,500 feet and our Norcold works on and off enough that we can camp for a week or so with clear skies and beautiful cool dry days." – Jim Cornwell, 2011 Chevy 3500 HD, 2012 Lance 1191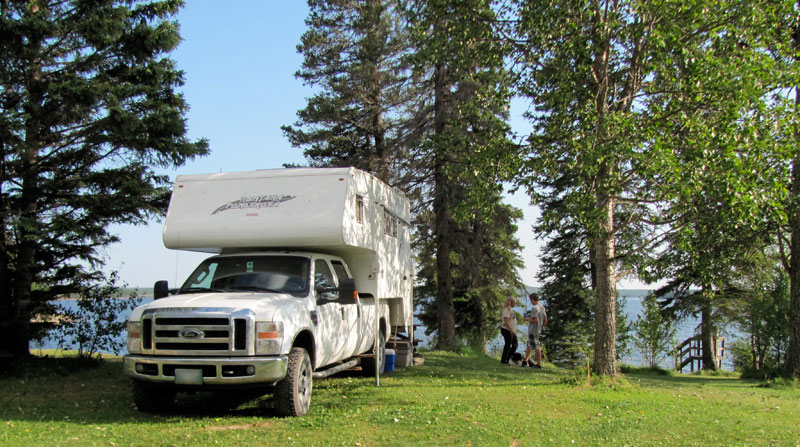 "First, let me say that we do not have air conditioning in the camper, so there is no pretending required.  It frequently gets above 30-degrees Celsius in Manitoba in the summer.  Camping at those temperatures is nothing unusual, but ask me about the bugs.
We usually like to camp where there are trees for shade and some kind of water.  Those are conditions met by most parks in this province.  Breezes here tend to come off the water.  We usually sleep with one bedside window open and the Fantastic Fan on in the living area.  If it is really hot, my husband likes to sleep on the table where he has more space around him." – Tricia Mason, 2009 Ford F350, 2008 Montana Ponderosa 9.6
"The Boundary Waters Canoe Wilderness Area in Deluth, Minnesota is a million acres of wild country.  The ice hasn't even melted in May!" – Beverly DeGroot, 2017 Ford F350, TBD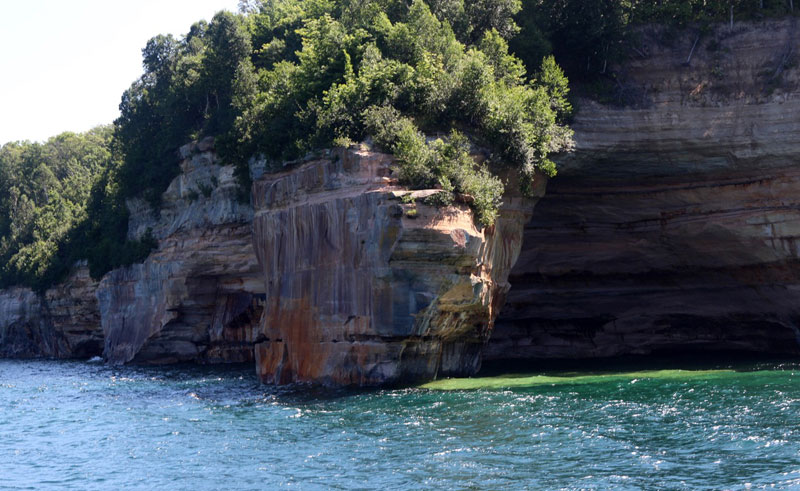 Above: Pictured Rocks, Upper Peninsula, Michigan
"Last summer we headed to the Upper Peninsula of Michigan, Wisconsin, and Minnesota.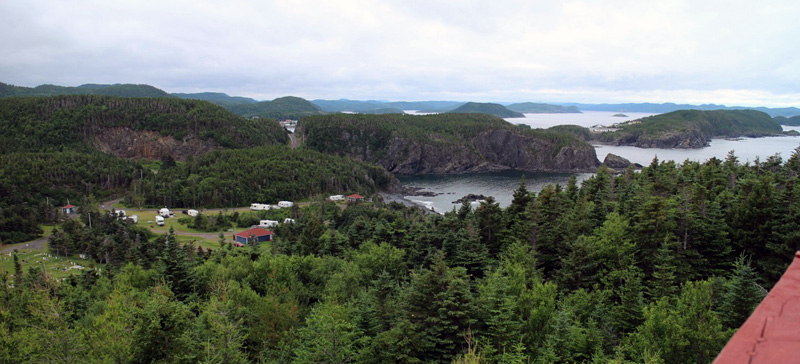 Above: Leading Tickles, Newfoundland
The previous summer we hung around Canada with about a month in Newfoundland.  Anything beats home here in South Carolina." – Tom Scholtens, 2010 Chevy 2500HD, 2013 Bigfoot 25C10.4
"With a home base in Portland, Oregon, we go to the coastal campgrounds.  Our first choice is Cannon Beach, then Neskowin, Nehalem, Newport, Florence, and Brookings.
Otherwise we go up the hill to the top of the Cascades.  There is plenty of BLM land and state parks up there." – Ean McClane, 2017 Ford F350, 2011 Lance 1191
"Last year my wife and I were on a trip the see the Mighty 5 National Parks in Utah.  Yes, we knew it was going to be warm in June, but that was the only time our work schedules allowed for us to go.
On our way from Capitol Reef to Canyonlands and Arches it was supposed to be 105 to 115-degrees on average for five days.  My wife looked at me and said, "Let's take a detour and go to Telluride for a few nights since we have seen those two parks before."
The average highs in Telluride for the next four to five days was 73 to 78 degrees.  We stayed at Sunrise campground in one of our great national forest campgrounds.  Elevation is our way to get rid of heat.  Plus, your view is always better at elevation!" – Josh and Stephanie Papp, 2007 Chevy 2500HD, 2016 Lance 865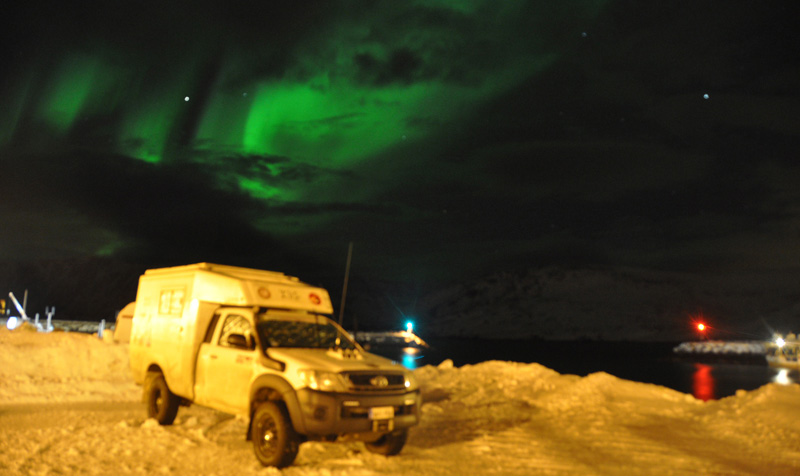 "With our camper, we have been in the Sahara desert at +48ºC (118ºF) and in Russia and northern Norway at – 22ºC (- 8ºF) and we are still traveling!  On our tour of the world in 2017, we loved Canada, the continental United States, and especially Alaska!
The photo above is from Skarsvag, Norway observing the northern lights." – Frederic Amorós Le-Roux, 2011 Toyota Hilux, 2011 PSI-Azalaï (French fixed cell)
"When it's hot, the higher the better.  Chama, New Mexico at 8,000-feet is nice.  Our favorite has to be Tetons and Yellowstone, which are at about the same elevation.  You cannot visit that area too many times because there is so much to experience.
There are quite a few off the beaten path campsites in the Teton area.  We were awakened one evening by a bear banging on the grill.  I asked my wife, Elaine, "Should we see how big it is?"  She said, "Don't you dare".  Too funny.  However, it certainly sounded huge." – Ron and Elaine Meredith, 1994 Ford F350, 1991 Lance LC300
"For quick getaways or weekends we head up to the high Uintas in Utah.  We live in Salt Lake City so, in about 1.5 hours, we can be at 10,000 to 11,000-feet in elevation.
It's nice and cool with lots of lakes, boondocking sites, and hiking.  For longer stays we like to go to the Sierras in California.  We usually go to Yosemite high country or Lake Tahoe." – Jim Hignite, 2016 Ram 3500, 2007 Lance 1055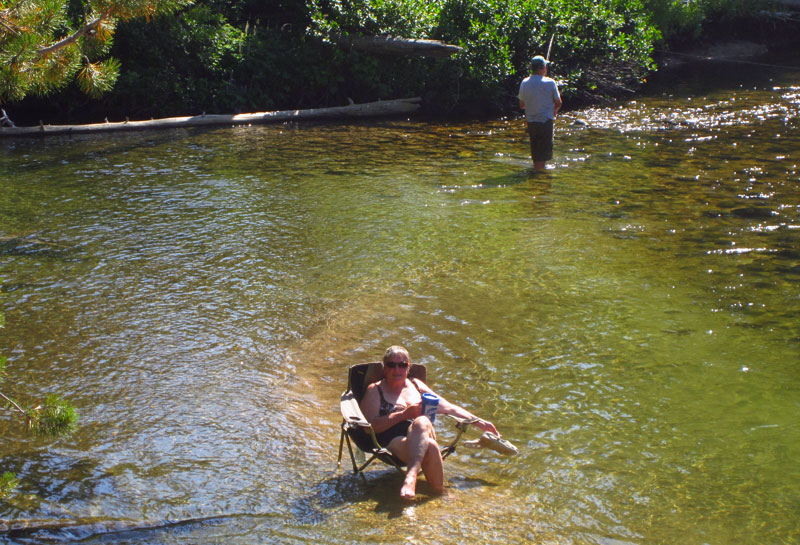 Above: The Deadwood River, Idaho
"We go to the rivers and lakes in the mountains of Idaho.  Specifically, we go to Deadwood River, Copper Basin, the south fork of the Boise river above Anderson Ranch Dam, and the Gospel Hump area south of Grangeville.  These areas can still get pretty warm, but the water is great." – Dave Erickson, 2011 Ford F350, 2006 Arctic Fox 990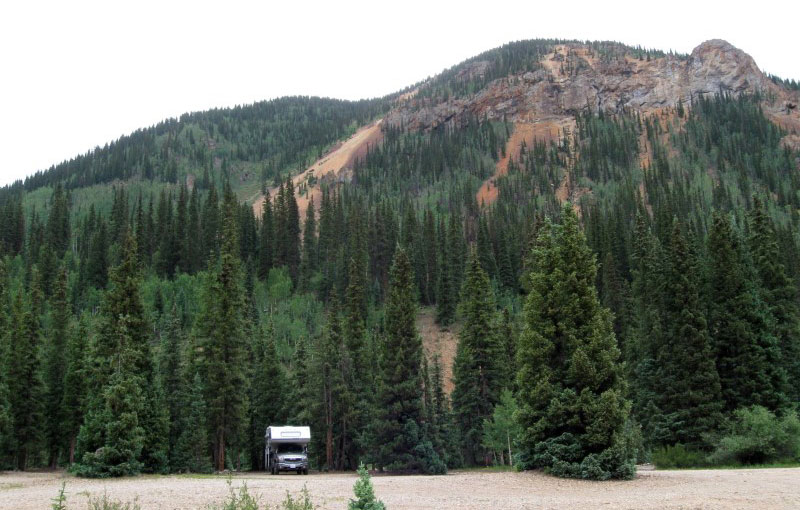 Above: Boondocking near Silverton, Colorado
"I don't have to pretend my generator was stolen, because I don't have one. And, I don't have air conditioning, so plugging-in won't help.  So, what do I do?  Motel it or head for high elevation?  Higher elevation is my choice.
Last summer, on my way to Montana, it was low 90s at 4,000 to 5,000 feet in eastern Oregon.  So I headed for Stanley, Idaho where I could camp at around 6500 feet.  It was still 88F there, but I could tell the difference.
I'm a half-time full-timer in my Lance camper and have covered 117,000 miles in the last twelve years of ramblin'.  Here are some of the highest camping spots I've been in." – Ralph Goff (aka Ramblin' Ralph), 2006 GMC 2500HD, 2001 Lance 845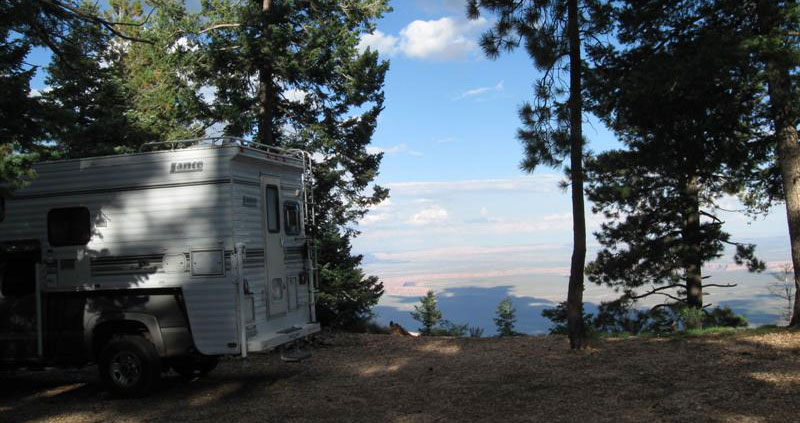 Above: Boondocking on the Kaibab Plateau
"When it is hot, we head for the mountains.  We were intending to aim for the desert southwest a few years ago and hit 105-degrees in western Kansas.  Fortunately we had power and air conditioning but, for us, the noise of the air conditioner is almost as bad as the heat.
That evening we changed our plans and aimed as soon as possible for the mountains of Colorado.  We would love to explore the Southwest in our camper, but I am a teacher.  While I have my summers, it is not feasible to take off during the school year.
In a couple of years I will retire and then we intend to head for the Southwest in the spring.  We have spent the last two summers as campground hosts at Meadow Creek USFS Campground in the Idaho Panhandle National Forest.  It is almost never hot and there are literally dozens of similar campgrounds in the area.  I highly recommend that people consider these." – Steve Merrill, 2009 Chevrolet 3500, 2007 Lance 992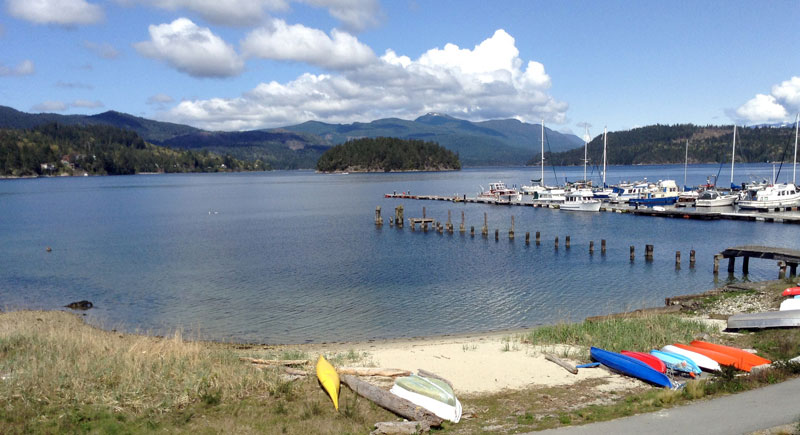 "The temperature seldom tops 30 degrees Celsius where we spend the summer in East Porpoise Bay on Sechelt Inlet.  If it does, the ocean breeze helps.  Kayaking, SUPing, boating, swimming, crabbing, fishing keep us busy.  Our truck camper sits in the driveway of our small townhouse serving as an extra bedroom in case too many family and friends arrive.  We only explore Canada and the USA in the spring, fall and occasionally winter. Why would we fight crowds in campgrounds, RV parks and highways in the heat of the summer?" – Brian and Joan Humphrey, 2015 GMC Sierra 2500, 2014 Adventurer 80GS
Editor's Note: Okay folks, this next one is from none other than Mike Tassinari, aka Mikeee the Grand Poobah of the North-East Truck Camping Jamboree.  Mikeee thinks this Question of the Week is our way to rationalize not having generator, a topic we have discussed with him for some time.  It wasn't, but he makes a fair point.
"Do not let the heat chase you out of anywhere.  We promote truck campers as the go anywhere and camp anywhere type of RV.  Buy a generator and get it over with.  Stop worrying about the weight factor!  I do not like the parameters of you question as it is darn silly.  Double darn silly, so take that!
Some of us have purchased an on-board propane generator, so to pretend that it was stolen just does not cut it and I suspect a lot of truck camper owners with on-board generators agree with me as well.
I used both 30-pound propane bottles at the Florida Flywheelers this past year and had less than one-pound left in the second one when I finally topped them off.  I put close to 25 running hours on the generator running the air conditioner during the fair and stayed nice and comfortable.
I also have set up my RV to run on a portable 2,000-watt gasoline generator and, with my 6-gallon extended fuel tank, can go many, many days on that 6-gallons as well.
The day that I have to run from the heat is the day I hang up my hat, sell the RV and sign up for the old age home.  Last time I checked, my hometown Senior Citizen Center has an air conditioner and I am pretty sure their roof top air conditioner unit was there and not stolen." – Mike Tassinari, 2002 Ford F350, 2016 Lance 1172