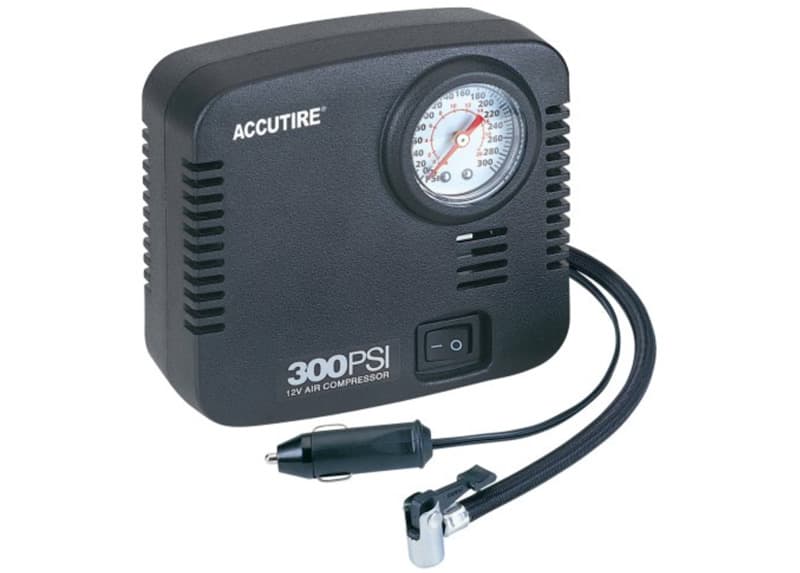 It does a great job with the Air Lifts but is very, very slow for the tires.  Storage space and weight are at a premium and this little compressor fits its niche just fine and keeps it simple." – Gary Scott, 2015 Toyota Tacoma, 2014 Four Wheel Camper Eagle
Slime Heavy Duty Air Compressor
"I carry a Slime 40026 2X Heavy Duty air compressor.  I used to carry a cheap unit that came free with a set of jack stands, but you get what you pay for.  This one isn't expensive as far as these things go (it was about $65 on Amazon), but it is much heavier duty than my previous one.
It is a double-pumper (it has two pistons) so the inflation rate is higher than my old one.  In tests at home, it inflated my tires from 85 psi (where I have them when the camper is not on the truck) to 110 psi (for the camper) in less than four minutes.  I don't believe my old air compressor could have done that.
It also inflates fast enough to have let me limp 100 miles on the Dalton Highway with a screw in a tire (so I could get to a tire repair shop).  This not only saved changing a tire for me, but getting to my spare would have involved taking the camper off as well.  I use airbags as well and this lets me inflate quickly.
I have found the integral gauge to be accurate when compared with my hand-held gauge.  My only complaint is that it has the screw-on type of valve connector.  This is fine with the tires, but the airbags have so little volume that the time it takes to remove the connector looses significant air.  I am going to try using a high-quality locking chuck (Silca) this summer to see how it works.  The air pump comes in a case that I put behind my seat in the cab." – Steve Merrill, 2009 Chevy Silverado 3500, 2007 Lance 992
Smittybilt Portable Air Compressor
"We have a portable compressor.  It is a Smittybilt that came from 4-Wheel Parts.  I have it in case I need to air tires up during a trip." – Michael Suan, 2008 Chevrolet Silverado 2500 HD, 2010 Lance 830
More TCM Reader Recommended Products:
The 50 Best Flashlights and Lanterns | The Best Maps, Apps, and GPS
"A lot of people mount their compressors in the engine compartment.  In spite of the size of my rig, the engine compartment is already stuffed.  Also, a lot of people mount them under the chassis.  I have plenty of room to do this, but it's constantly exposed to the elements down there, so I decided against that.
Instead I have a large capacity portable compressor from Smittybilt that's designed to air up large tires.  I keep it in a bag with the deflators, patch kit, and other recovery gear.  I originally planned to bring along an air tank to run power tools, but now I use cordless electrics." – Steve Timmings, 2003 Ford F350 Super Duty, 2013 Four Wheel Camper Hawk SC
Campbell Hausfeld Air Compressor
"My portable air compressor is carried under the back seat of my truck.  My compressor is a Campbell Hausfeld model RP30001AV.  I have it for general tire inflation when I'm not at home.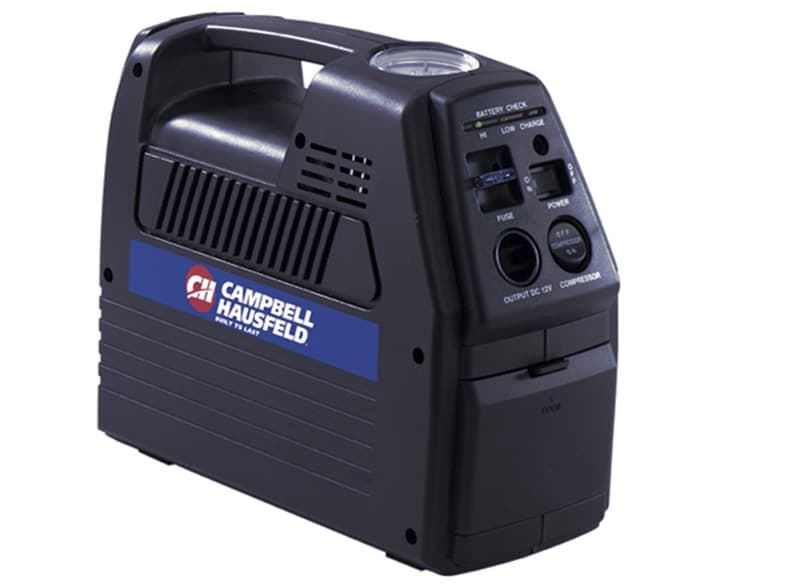 It also gets used when I am airing back up after taking my camper of road onto the beach.  I live in Florida and there are a lot of beaches that you can access for camping." – Michael Davis, 2016 Dodge Ram 3500, 2016 CampLite 8.6
LifeLine AAA 300 PSI 12-volt DC Air Compressor
"I only carry a small DC compressor that fits in about any drawer.  I don't air the truck tires up or down often, so I only keep it for filling bike tires and for emergency situations.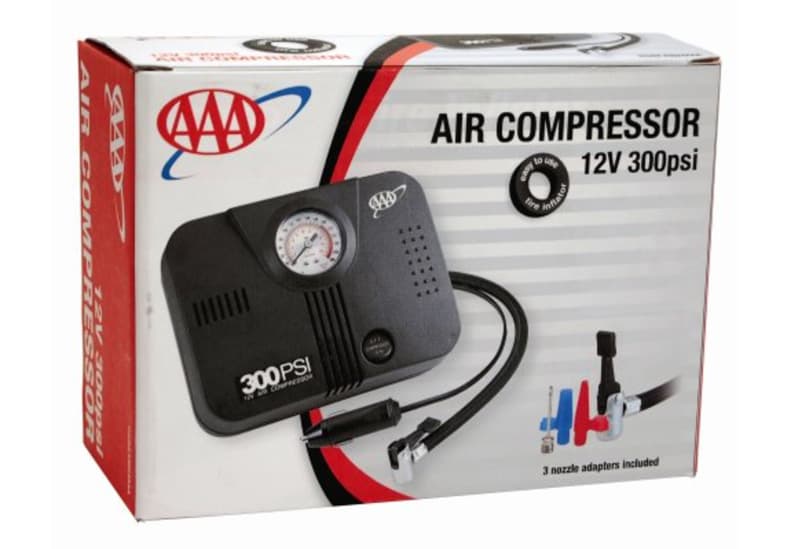 I have had to use it several times to air up trailer tires and ATV tires that have slow leaks.  It works well for that.  The model I have is a LifeLine AAA 300 PSI 12-volt DC air compressor." – Jason Haymore, 2004 Ford F350, 1968 Telescopic Siesta
Firestone Air Compressors
"I do have a Firestone air compressor that's primarily used to inflate and deflate my air bag suspension.  However, I can also use a quick disconnect to inflate tires if needed.  It's mounted on the underside of the truck behind the in-floor storage compartment." – Rick Guffey, 2012 Ram 2500, 2013 Hallmark Everest
More TCM Reader Recommended Products:
Water Filtration Systems | Surge Protectors For Campers
Harbor Freight
"I have a cheap Harbor freight $10 model that I keep in a compartment inside the camper.  It's a 12-volt compressor.  It works.  You just have to take your time." – Jim Dailey, 2005 Ram 2500, 1997 Shadow Cruiser 10
"My compressor is a 12-volt compressor and its under the back seat of my pickup.  The compressor is sold under various brand names.  I bought mine at Harbor Freight.  It's Harbor Freight item # 61788, a 12V air compressor, 100psi max pressure with 0.88cfm volume rating.  I paid $30.  It has not been used yet, but it seems better built than any 12V compressor I've owned before.  I learned about it in NATCOA or LOA forums, where it was highly recommended." – Philip Tron, 2009 Chevy 3500, 2012 Lance 1050