Truck campers who venture off-road often need to deflate their tires to maximize traction and avoid sinking into loose beach sand, trail dirt, and mud.  Upon returning to pavement, deflated truck tires need to be accurately re-inflated for safety, proper tire wear, and fuel mileage.
Since installed air stations are not found at every beach and trail head, truck campers often bring their own portable air compressors.   TCM readers reveal, after many miles of off-road research, the best portable air compressors they have used in the field.
Most Popular Portable Air Compressors
VIAIR Continuous Duty Compressor
Accutire MS-5530
Slime 40026 2X Heavy Duty
Smittybuilt Air Compressor
Campbell Hausfeld
LifeLine AAA 300 PSI 12-volt DC

"The flexibility of a portable air compressor is fully justified when traveling with multiple vehicles."
Viair Air Compressors
"I have a VIAIR continuous duty compressor with a 5 gallon tank mounted in the right rear storage area.  I use it for impact tools and to air up tires." – Stephen O'Neal, 2013 Chevy 3500, 2011 Alaskan 11-foot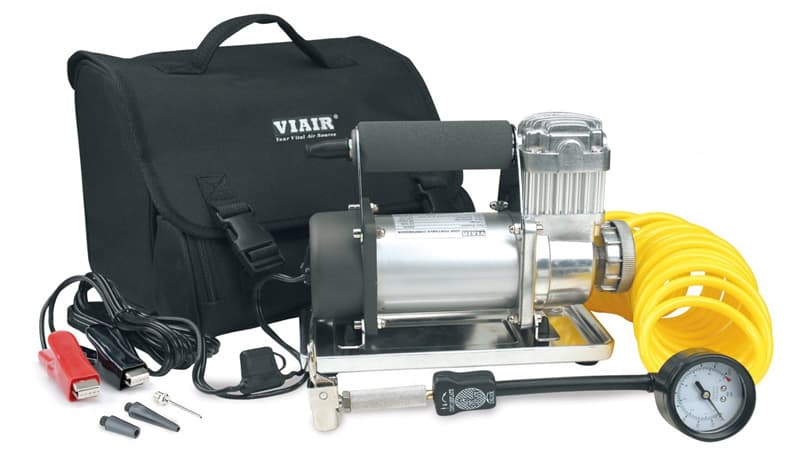 "I have a VIAIR Model 300P which is a portable air compressor kit designed for 33-inch tires.  This unit was specifically purchased for our off-road adventures with our Jeep.
As described in the article, in most cases we will air down our tires when venturing out on an off-road trail.  Although consideration was given to a permanent mount, it was decided to use the portable unit.  Owning three vehicles, I didn't want to commit to the Jeep only, but felt there was a need to have availability for the truck when traveling.  There isn't a need to deflate the truck tires, but one can find a nail or screw in the road which may cause a problem.
I also need to check the air in the Air Lift suspension air bags on the truck.  In most cases the pressure will have to be corrected every thirty days when traveling with the camper.  The flexibility of a portable compressor is fully justified when traveling with multiple vehicles." – Warne Todd, 2000 Ford F250, 2005 Lance 981 Max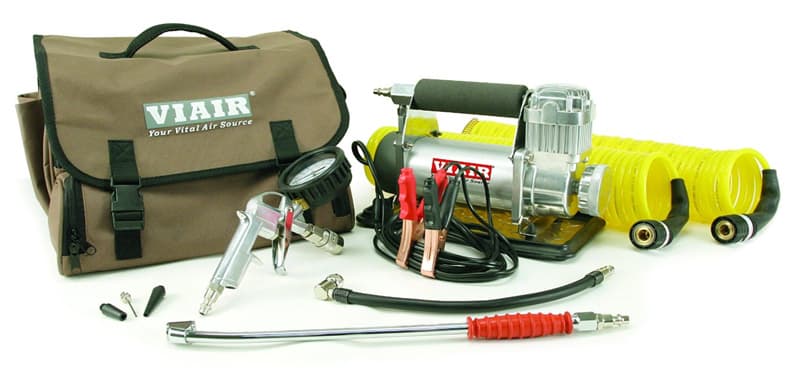 "I have a portable air compressor, the VIAIR 40047 400P-RV automatic portable compressor kit.  It sits in the cab on the back seat.  Check it out on Amazon.  There's a high rating and lots of accessories included.  Like Mikeee says, "You can't be too prepared!" – Gary Usher, 2015 Ford F350, 2015 Lance 1172
More TCM Reader Recommended Products:
Collapsible Storage Solutions | Binoculars for Birds, Bear, and Buffalo
"I have a 12-volt Viair continuous duty compressor mounted in one of the under bed boxes.  I use it for airing tires after simple flat fixes and for airing up after running sand.  I was at Assateague Island National Seashore this week and beach road was open.  I got excited until I was told it took a permit and the only option was a $90 annual fee.  That was too much for a one day trip." – Ron Niemann, 2014 Ford F350, 1973 Alaskan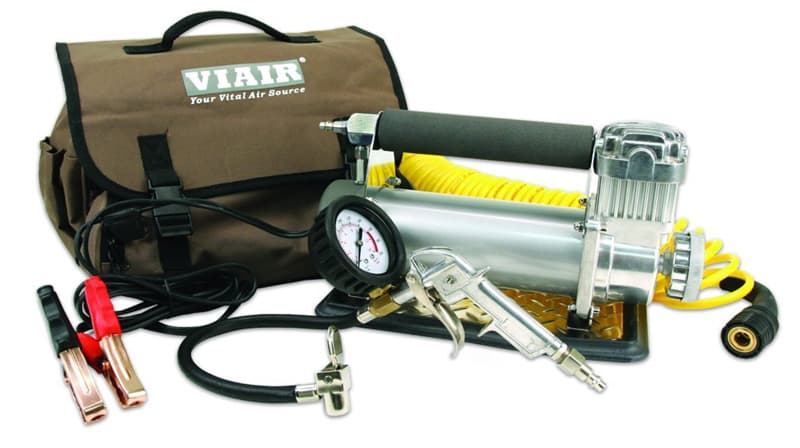 "We carry a portable VIAIR 450P-A automatic 100% duty cycle compressor.  A twelve gallon holding tank with three air ports is installed under the truck and the portable compressor is used to charge it up to 120 PSI.  This gives us on-board air for the air horns and for airing up tires, etc.
Since the compressor is not mounted to the truck, it is available to take it wherever the need arises.  I would never think of traveling without having some type of compressed air capability." – Jon Hancock, 2016 Ram 3500, 2016 Northern Lite 10-2EX CDSE
"I got tired of buying junky compressors from big box stores that were super loud and would inevitably die after a few months anyway."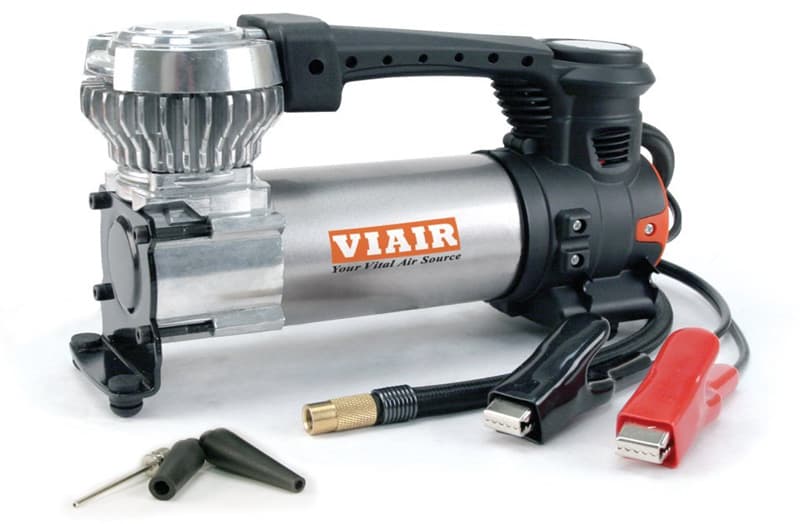 "When I'm not using my truck camper or hauling a heavy load of some kind, I generally keep my rear tires at 45 pounds for a smoother ride.  So when it' time to load the camper, I add another 25 pounds.
I got tired of buying junky compressors from Home Depot, Walmart, etc. that were super loud and would inevitably die after a few months anyway.
I recently bought a Viair 88P compressor.  It's small enough that it will fit under the back seat of my truck and it's powerful enough that it will easily inflate my tires in just a couple minutes.  It's also the quietest compressor I've ever used.  I highly recommend them to anyone who wants something small enough to stow under your truck seats or under the dinette of your truck camper." – Tony Dechert, 2015 Ram 3500, 2015 Cirrus 800
Accutire Air Compressors
"I have an Accutire MS-5530 purchased from Amazon for $15.  It is stored in the bin under the rear seat in the cab of the truck.  The main purpose of the compressor is to adjust the pressure of my Air Lift helper springs, but I occasionally adjust tire pressures also.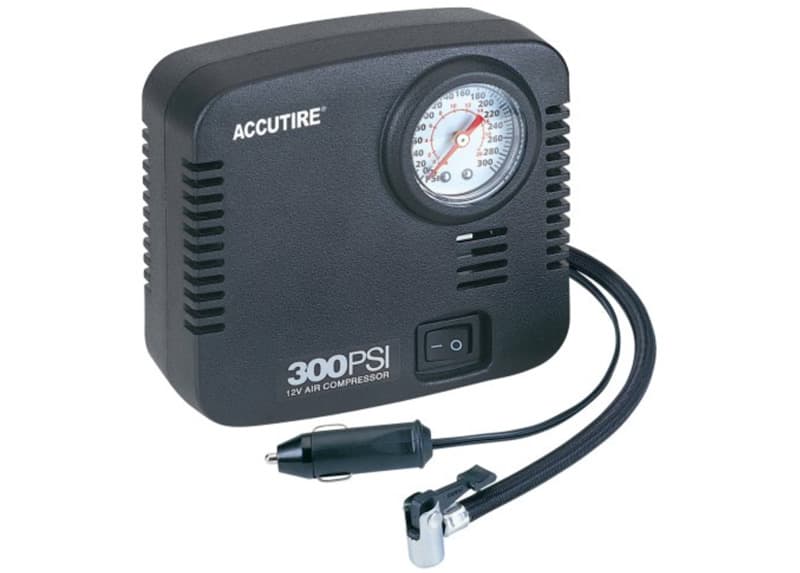 It does a great job with the Air Lifts but is very, very slow for the tires.  Storage space and weight are at a premium and this little compressor fits its niche just fine and keeps it simple." – Gary Scott, 2015 Toyota Tacoma, 2014 Four Wheel Camper Eagle
Slime Heavy Duty Air Compressor
"I carry a Slime 40026 2X Heavy Duty air compressor.  I used to carry a cheap unit that came free with a set of jack stands, but you get what you pay for.  This one isn't expensive as far as these things go (it was about $65 on Amazon), but it is much heavier duty than my previous one.
It is a double-pumper (it has two pistons) so the inflation rate is higher than my old one.  In tests at home, it inflated my tires from 85 psi (where I have them when the camper is not on the truck) to 110 psi (for the camper) in less than four minutes.  I don't believe my old air compressor could have done that.
It also inflates fast enough to have let me limp 100 miles on the Dalton Highway with a screw in a tire (so I could get to a tire repair shop).  This not only saved changing a tire for me, but getting to my spare would have involved taking the camper off as well.  I use airbags as well and this lets me inflate quickly.
I have found the integral gauge to be accurate when compared with my hand-held gauge.  My only complaint is that it has the screw-on type of valve connector.  This is fine with the tires, but the airbags have so little volume that the time it takes to remove the connector looses significant air.  I am going to try using a high-quality locking chuck (Silca) this summer to see how it works.  The air pump comes in a case that I put behind my seat in the cab." – Steve Merrill, 2009 Chevy Silverado 3500, 2007 Lance 992
Smittybilt Portable Air Compressor
"We have a portable compressor.  It is a Smittybilt that came from 4-Wheel Parts.  I have it in case I need to air tires up during a trip." – Michael Suan, 2008 Chevrolet Silverado 2500 HD, 2010 Lance 830
More TCM Reader Recommended Products:
The 50 Best Flashlights and Lanterns | The Best Maps, Apps, and GPS
"A lot of people mount their compressors in the engine compartment.  In spite of the size of my rig, the engine compartment is already stuffed.  Also, a lot of people mount them under the chassis.  I have plenty of room to do this, but it's constantly exposed to the elements down there, so I decided against that.
Instead I have a large capacity portable compressor from Smittybilt that's designed to air up large tires.  I keep it in a bag with the deflators, patch kit, and other recovery gear.  I originally planned to bring along an air tank to run power tools, but now I use cordless electrics." – Steve Timmings, 2003 Ford F350 Super Duty, 2013 Four Wheel Camper Hawk SC
Campbell Hausfeld Air Compressor
"My portable air compressor is carried under the back seat of my truck.  My compressor is a Campbell Hausfeld model RP30001AV.  I have it for general tire inflation when I'm not at home.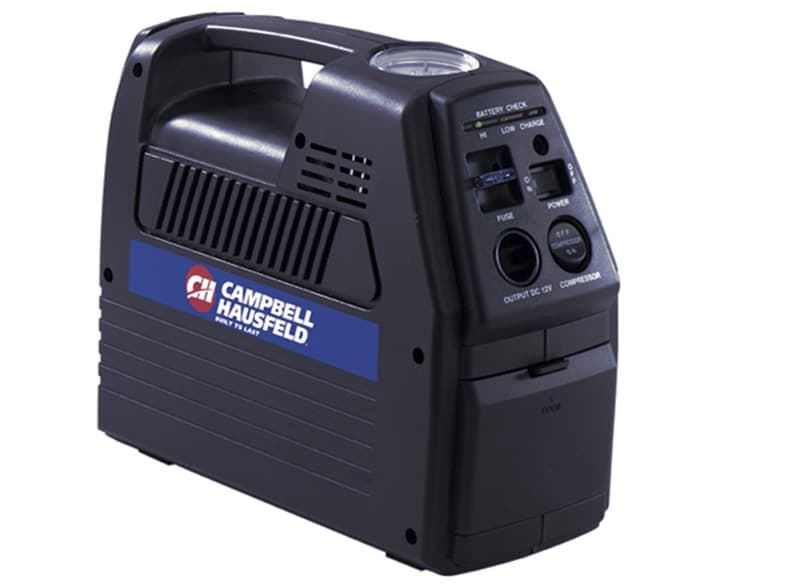 It also gets used when I am airing back up after taking my camper of road onto the beach.  I live in Florida and there are a lot of beaches that you can access for camping." – Michael Davis, 2016 Dodge Ram 3500, 2016 CampLite 8.6
LifeLine AAA 300 PSI 12-volt DC Air Compressor
"I only carry a small DC compressor that fits in about any drawer.  I don't air the truck tires up or down often, so I only keep it for filling bike tires and for emergency situations.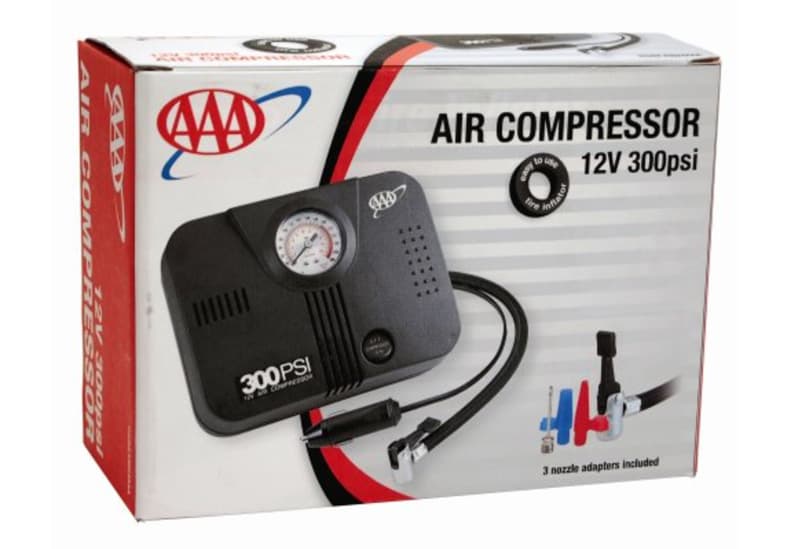 I have had to use it several times to air up trailer tires and ATV tires that have slow leaks.  It works well for that.  The model I have is a LifeLine AAA 300 PSI 12-volt DC air compressor." – Jason Haymore, 2004 Ford F350, 1968 Telescopic Siesta
Firestone Air Compressors
"I do have a Firestone air compressor that's primarily used to inflate and deflate my air bag suspension.  However, I can also use a quick disconnect to inflate tires if needed.  It's mounted on the underside of the truck behind the in-floor storage compartment." – Rick Guffey, 2012 Ram 2500, 2013 Hallmark Everest
More TCM Reader Recommended Products:
Water Filtration Systems | Surge Protectors For Campers
Harbor Freight
"I have a cheap Harbor freight $10 model that I keep in a compartment inside the camper.  It's a 12-volt compressor.  It works.  You just have to take your time." – Jim Dailey, 2005 Ram 2500, 1997 Shadow Cruiser 10
"My compressor is a 12-volt compressor and its under the back seat of my pickup.  The compressor is sold under various brand names.  I bought mine at Harbor Freight.  It's Harbor Freight item # 61788, a 12V air compressor, 100psi max pressure with 0.88cfm volume rating.  I paid $30.  It has not been used yet, but it seems better built than any 12V compressor I've owned before.  I learned about it in NATCOA or LOA forums, where it was highly recommended." – Philip Tron, 2009 Chevy 3500, 2012 Lance 1050
Permanently Mounted Air Compressors
"I have an Extreme Outback Extremeaire High Output compressor permanently mounted just to the right of the door on the floor of the camper.  There is a place under the roll over couch that provides the perfect place for it.  It is wired directly to the camper batteries and I installed a switch.
It's not a cheap compressor, but it can run continuously when needed and fills the four tires back up quickly – about 3 to 5 minutes each.  I need the compressor because I like to drive on roads where airing down makes for a much smoother ride." – Kevin MacAfee, 2012 Toyota Tacoma, 2012 Four Wheel Camper Eagle
"I keep it on the frame, under the driver, with the skid plate.  I have an Extreme Outback Magnum continuous duty air compressor with quick connects in the front and rear bumpers.  I have a need to air tires down and back up for a more comfortable off-roading experience and for sand.  This is the ultimate compressor set up by Adventure Trailers in Prescott and it works flawlessly." – Dennis Umshler, 2015 Ram 3500, FWC Grandby flatbed
"My compressor is mounted behind the front left wheel well, between the frame rail and the body – sort of below the driver's left foot.  The air intake hoses are routed to the engine compartment just under the wiper blades so that water and dust doesn't get sucked into the compressor.  Aft of the compressor is a manifold for connections to ARB locking differentials (that I have yet to install), then a two-gallon air tank, and lastly a bracket with a Milton V-Style air hose quick connect installed just behind the driver's running board.
The compressor is a ARB CKMTA12 which pumps enough air to take my four 33×12.5 off-road tires from 25 to 45 psi in about six minutes (with assist from my daughter and a four-tire hose kit – inflate or deflate all four tires at once).
I like to camp in remote spots and having properly inflated (actually deflated) tires is essential in getting back with minimal fuss and maximum comfort.  There has been no need to upgrade to the locking differentials yet.  Just having the right air pressure makes traction so much better.  Having the fill be so quick and easy removes the decision of "is this road bad enough that I need to air-down"?  Just do it and the ride will be more comfortable even if the traction wasn't really needed." – Beachley Main, 1999 Ford F250, Looking for a used FWC Grandby
"My air compressor is under the hood.  Air Lift is the make, and the model is HD.  I use the on board air compressor to inflate my air bags.  This is all accomplished from the driver's seat.  I can inflate or deflate with the push of a button.  I also can control the left or right side independently.
Future plans call for an air storage tank along with quick disconnect for an air hose.  A small Craftsman 12-volt is now used to inflate the tires.  It is stored behind the front seat." – Lucien Langlois, 2012 Ford F-250 Super Duty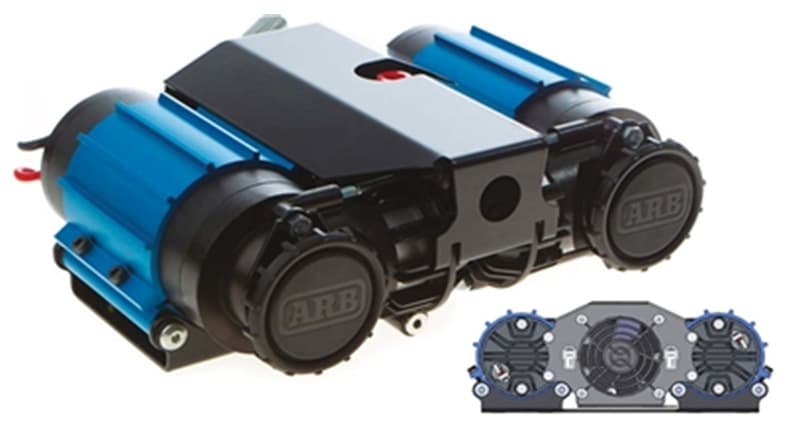 "The ARB 12-volt twin air compressor (CKMTA12) is a fantastic small and powerful compressor.  You can mount it under the hood or in a storage compartment.  I have one in the Jeep and one in the camper.  ARB also makes a portable version, the CKMTP12, that can be moved between different vehicles.
"Our air compressor and small receiver tank are mounted on the chassis about midship.  They fit neatly beside the chassis member up next to the floor.  Originally, it was piped to the air shocks.  I have added lines to each side of the truck and mounted air quick connections to each running board.  Now I can air up my tires with a short coiled air hose." – Mike and Paula Bostic, 1999 Ford F350, 2012 Chalet S95R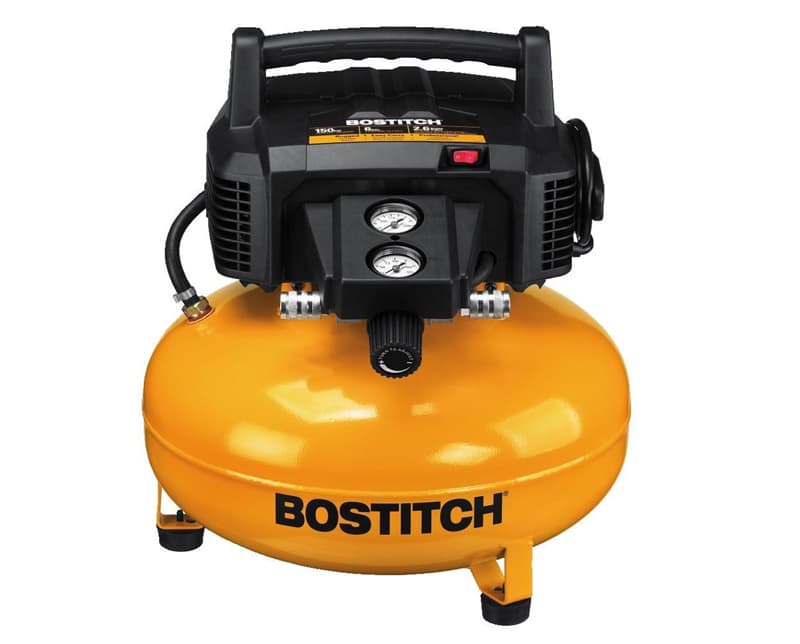 "I removed the back seat.  The compressor and tool box go behind driver's side and the dog and two folding rocker chairs are on the other half of the back seat.  I have a Stanley Bostitch 150psi 20scfm at 90psi six gallon pancake tank.  The air bag's tire pressure is checked regularly during our travels." – C Ramsey, 2012 Chevy 3500, 2014 Adventurer 116DS
"I don't have a permanently mounted air compressor.  Instead, I use a portable 12VDC air compressor I purchased at Camping World.  It is an Airtight brand made by the Wilmar Corp part #60404.  I am not very happy with it since the power cord isn't long enough to reach my rear dual wheels.  I purchased it just to be able to inflate/adjust pressures when not near a gas station or truck stop.  Beach driving is not happening, so there has been no need for me to air down.  I'm thinking about getting a Viair 40047 400p-RV portable system designed for RVs that has a long chuck designed for dual rear wheels with a long extension hose." – Hugh Redmon, 1997 Ford F350, 1998 Lance 990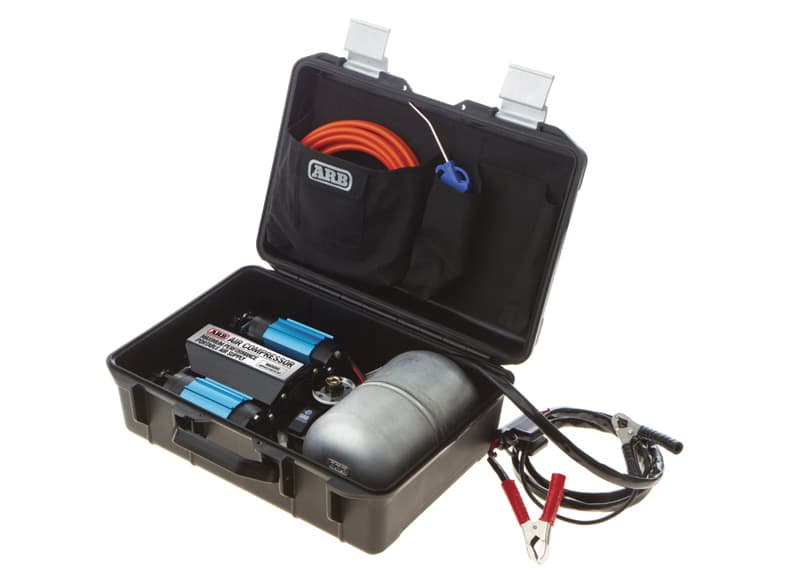 This is a 100% duty cycle compressor, so you won't have to stop after 15 minutes to let the compressor cool down.  If you have ever used a small 12-volt compressor, this is a very important feature.  Some of the small 12V compressors can get so hot that you have to wait for them to cool down before storing them back in your vehicle.  We do a lot of Jeeping and it's not uncommon for us to have to air down and air up once or twice a day." – Rex Carroll
Co2 To Air Up Tires
"I have it mounted in the cab with a five pound CO2 canister with gauges.  For me, CO2 is easier and faster.  I have the CO2 for airing up and down when needed.  Of course they're for helping others that need air too." – Roger Redmond, 2009 Ford F250 Super Duty, 2015 Four Wheel Camper Hawk
"We carry our compressor in our enclosed trailer.  It can also be stored on the roof rack of our camper or in the back seat of the truck if we don't have the trailer.
We use a PowerTank – which is a compressed CO2 tank.  PowerTanks are with our Jeeps to quickly air up our 35 to 37-inch tires.  We found that an air compressor can take fifteen or so minutes to do the job a PowerTank can do in three to four minutes.
Our PowerTank is now used for our truck's air bags (they tend to lose air with time) and our RZR tires.  PowerTanks are pricy, but with some ingenuity and some searching, a five to ten pound CO2 tank with a regulator and air hose can be found for less money.
A fire extinguisher maintenance company is our source for the compressed CO2.  Some 4×4 shops will also sell and fill the tanks, but they are usually much more expensive." – Tracy Schuster, 2015 GMC 3500, 2012 Lance 992
Three Air Compressors – All Do A Different Job
"As silly as it may seem, I actually have three air compressors each with a specific job!
I have one small portable air compressor mounted in the engine compartment.  That is dedicated to the exhaust brake and supplies air to restrict the exhaust and slows me down at any speed above 20mph.
Another, mounted below my truck bed, is an automatic air inflation unit for my rear axle air bags.  This works great, and constantly inflates/deflates the air bags depending on the current conditions like temperature, elevation, etc.
The third one, carried in the back storage compartment of my Chalet, I built from scratch.  This is a continuous duty air compressor, with two gallon air tank and a 30-foot hose reel.  This is used to fill my truck or scooter tires when needed.  I use all of these compressors every time I travel and wouldn't leave home without them!" – Charles Coushaine, 2001 Ford F350, 2012 Chalet DS116RB
More TCM Reader Recommended Products:
Coffee Makers When Camping | Dash Cameras For Campers
Advice About Buying Air Compressors
"I had one on my previous truck and plan on getting one on my new truck.  I will use the Firestone big boy compressor along with the air bags.  These compressors install under the truck, so it's out of the way.
One thing that I would make a required option is a kill switch.  The compressor starts to bring the cylinder up to pressure as soon as the engine starts.  Like generators, the compressor is noisy and if you leave at 6:00am, you'll probably get some shoes – or worse – thrown at you.  A kill switch turns it off until you get on the road.
I used the compressor for filling my buggy tires and blowing/cleaning dust off clothes/buggy and anything else that gets in the way.  I like them." – Frank Poole, 2016 Ram 5500HD, 2016 Arctic Fox 990
"Let's start with 120 volt AC air compressors.  Version 1 air compressorhas no storage tank and is what I own.  You will need a generator of some sort to power it up.
Pros: Has a smaller foot print so it takes up less storage space.
Cons: Will take a bit longer to fill a tire because you have no storage tank.
Version 2  air compressor has a storage tank and can look like a pancake or a torpedo style of storage tank.  You will need a generator of some sorts to power it up.
Pros: Will fill up the first tire faster because of the storage tank, but once that storage tank has been drained, you have an air compressor just like mine.
Cons: Generally has a larger foot print thus needing a larger storage space.
Portable Air Compressor Pros and Cons
Then, there's portable air compressors.  In 2003 or 2004, when I was looking at compressor options, the 12-volt DC compressors just did not have the SCFM (Standard Cubic Feet per Minute) to fill up a tire to 80 PSI in a fairly decent length of time.
So I took the 12-volt option out of consideration.  Also it helped that I had an on board generator on my 2001 Lance 1121.  I do not know when 12-volt air compressors started getting better, but a few beach friends of mine now own 12-volt DC units and they are now very powerful.
Pros: Very small foot print and easy to store, and can use your truck's 12-volt DC system to power up this compressor.
Cons: The cost of purchasing a 12-volt compressor can run in the hundreds of dollars.
Note that there are larger 12-volt DC compressors that can bolt to the frame rail of your truck with a storage tank.  You have to run battery cables to power them up but you are talking in the $600 to $800 or more dollar range.
The most important part of purchasing a compressor is the SCFM per minute.  The higher the rating, the faster you can pump up a tire.
On some compressors, like mine, you will have twin ratings.  I do not have access to my compressor at the moment, so I will have to give you my best estimate on the ratings.  Up to 40 PSI, my compressor has a SCFM rating of 4.2.  Over 40 PSI, my compressor has a SCFM rating of 2.9." – Mike Tassinari
More TCM Reader Recommended Products:
Most Comfortable Camping Chairs