Truck campers who venture off-road often need to deflate their tires to maximize traction and avoid sinking into loose beach sand, trail dirt, and mud.  Upon returning to pavement, deflated truck tires need to be accurately re-inflated for safety, proper tire wear, and fuel mileage.
Since installed air stations are not found at every beach and trail head, truck campers often bring their own portable air compressors.   TCM readers reveal, after many miles of off-road research, the best portable air compressors they have used in the field.
Most Popular Portable Air Compressors
VIAIR Continuous Duty Compressor
Accutire MS-5530
Slime 40026 2X Heavy Duty
Smittybuilt Air Compressor
Campbell Hausfeld
LifeLine AAA 300 PSI 12-volt DC

"The flexibility of a portable air compressor is fully justified when traveling with multiple vehicles."
Viair Air Compressors
"I have a VIAIR continuous duty compressor with a 5 gallon tank mounted in the right rear storage area.  I use it for impact tools and to air up tires." – Stephen O'Neal, 2013 Chevy 3500, 2011 Alaskan 11-foot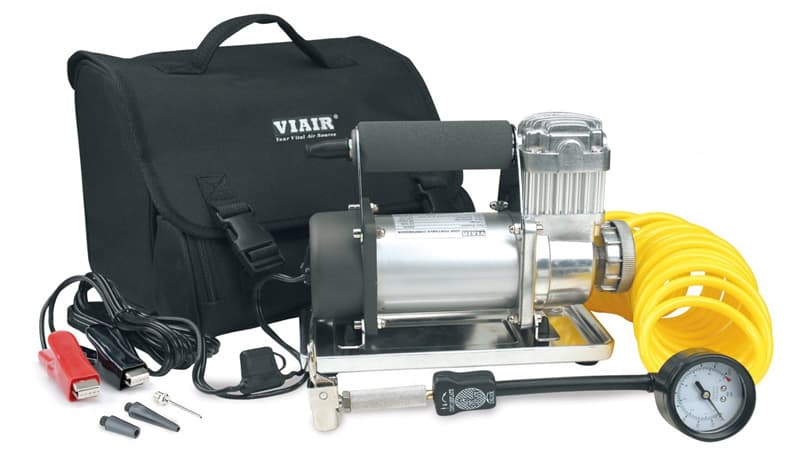 "I have a VIAIR Model 300P which is a portable air compressor kit designed for 33-inch tires.  This unit was specifically purchased for our off-road adventures with our Jeep.
As described in the article, in most cases we will air down our tires when venturing out on an off-road trail.  Although consideration was given to a permanent mount, it was decided to use the portable unit.  Owning three vehicles, I didn't want to commit to the Jeep only, but felt there was a need to have availability for the truck when traveling.  There isn't a need to deflate the truck tires, but one can find a nail or screw in the road which may cause a problem.
I also need to check the air in the Air Lift suspension air bags on the truck.  In most cases the pressure will have to be corrected every thirty days when traveling with the camper.  The flexibility of a portable compressor is fully justified when traveling with multiple vehicles." – Warne Todd, 2000 Ford F250, 2005 Lance 981 Max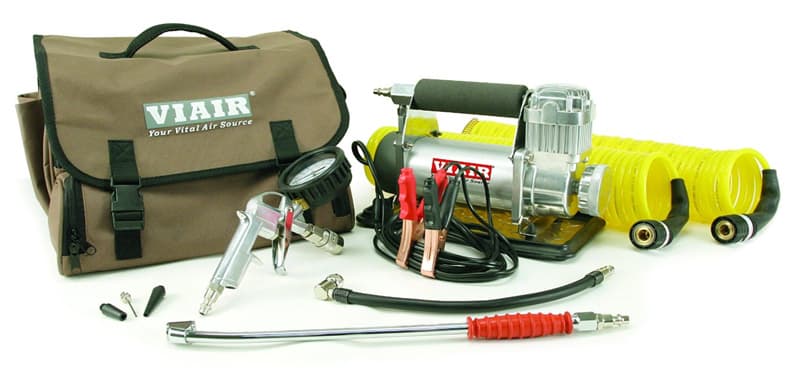 "I have a portable air compressor, the VIAIR 40047 400P-RV automatic portable compressor kit.  It sits in the cab on the back seat.  Check it out on Amazon.  There's a high rating and lots of accessories included.  Like Mikeee says, "You can't be too prepared!" – Gary Usher, 2015 Ford F350, 2015 Lance 1172
More TCM Reader Recommended Products:
Collapsible Storage Solutions | Binoculars for Birds, Bear, and Buffalo
"I have a 12-volt Viair continuous duty compressor mounted in one of the under bed boxes.  I use it for airing tires after simple flat fixes and for airing up after running sand.  I was at Assateague Island National Seashore this week and beach road was open.  I got excited until I was told it took a permit and the only option was a $90 annual fee.  That was too much for a one day trip." – Ron Niemann, 2014 Ford F350, 1973 Alaskan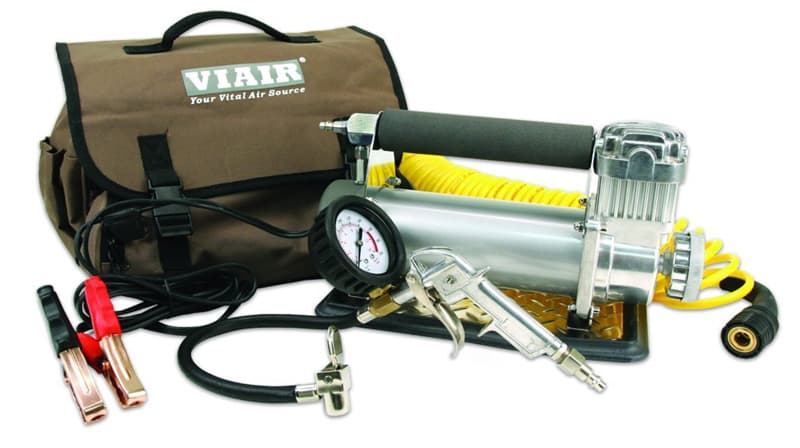 "We carry a portable VIAIR 450P-A automatic 100% duty cycle compressor.  A twelve gallon holding tank with three air ports is installed under the truck and the portable compressor is used to charge it up to 120 PSI.  This gives us on-board air for the air horns and for airing up tires, etc.
Since the compressor is not mounted to the truck, it is available to take it wherever the need arises.  I would never think of traveling without having some type of compressed air capability." – Jon Hancock, 2016 Ram 3500, 2016 Northern Lite 10-2EX CDSE
"I got tired of buying junky compressors from big box stores that were super loud and would inevitably die after a few months anyway."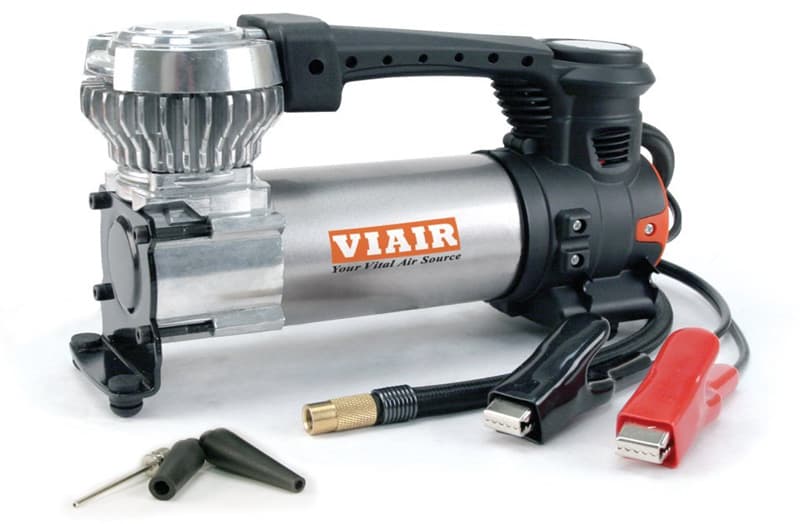 "When I'm not using my truck camper or hauling a heavy load of some kind, I generally keep my rear tires at 45 pounds for a smoother ride.  So when it' time to load the camper, I add another 25 pounds.
I got tired of buying junky compressors from Home Depot, Walmart, etc. that were super loud and would inevitably die after a few months anyway.
I recently bought a Viair 88P compressor.  It's small enough that it will fit under the back seat of my truck and it's powerful enough that it will easily inflate my tires in just a couple minutes.  It's also the quietest compressor I've ever used.  I highly recommend them to anyone who wants something small enough to stow under your truck seats or under the dinette of your truck camper." – Tony Dechert, 2015 Ram 3500, 2015 Cirrus 800
Accutire Air Compressors
"I have an Accutire MS-5530 purchased from Amazon for $15.  It is stored in the bin under the rear seat in the cab of the truck.  The main purpose of the compressor is to adjust the pressure of my Air Lift helper springs, but I occasionally adjust tire pressures also.