A good number of the 40-plus respondents are medical professionals, while others have taken extensive first aid training. Their advice is particularly insightful as they remind us that there's no substitute for medical training in an emergency situation.
This may not be the most compelling question we've ever asked, but it's certainly one of the most important. Angela and I will be purchasing a proper first aid kit for our truck camper, most likely a reader recommended Adventure Medical Kits.
Thank you to Tom Bierschenk for inspiring this week's question, and everyone who participated.
"I've have had to use my first aid kit many times for everything from minor cuts to watching a guy flip his motorcycle 100 yards in front of me."
"We have a homemade first aid kit. It is contained in a diaper wipe box to keep everything clean. Contents are band-aids, sterile gauze pads (2″ x 2″), a gauze roll, disinfectant cream, small bottle of Hibiclens, Benadryl, waterproof bandage tape, and mole skin. We have used this kit for treating minor cuts." – David Gladstone, 2016 Ford F350, 2006 Arctic Fox
"As a widow of a Special Forces Combat Medic, I have an extensive first aid kit that I rarely use. It usually has band-aids, vet tape, and antibiotic ointment.
On the other hand, I have a significant first aid kit for my dogs, which gets used regularly. I have used plenty of vet tape, tweezers, gauze pads, gauze rolls, antibiotic ointment, styptic powder, Benadryl, baby aspirin, de-wormer, and spare antibiotics and steroids (prescribed by my vet specifically because of the amount we travel). I've used the dog kit much more often than my human kit!" – Karen House, 2005 Ram 2500, 2005 Lance 811
"We do carry a small commercially available first aid kit, approximately the size of a thick library book. It contains some basic bandages and band-aids, tape, gauze pads, tube of antibiotic ointment, scissors, etc. Also, various common over the counter medicines are in the medicine cabinet in the bathroom.
We've use the occasional band-aid and a bit of the triple antibiotic ointment. No major surgery… yet!" – John and Marylou Wells, 2011 Chevy 3500, 2012 Chalet Ascent S100F
More TCM Reader Recommended Products:
The Best Portable Air Compressors  |  Most Comfortable Camping Chairs
"Yes, we always carry a first aid kit. I would say it is a medium sized kit, with the essentials; Motrin, various size band-aids, alcohol wipes, antibiotic ointment, etc." – George Visconti, 2015 GMC 3500HD, 2016 Arctic Fox 990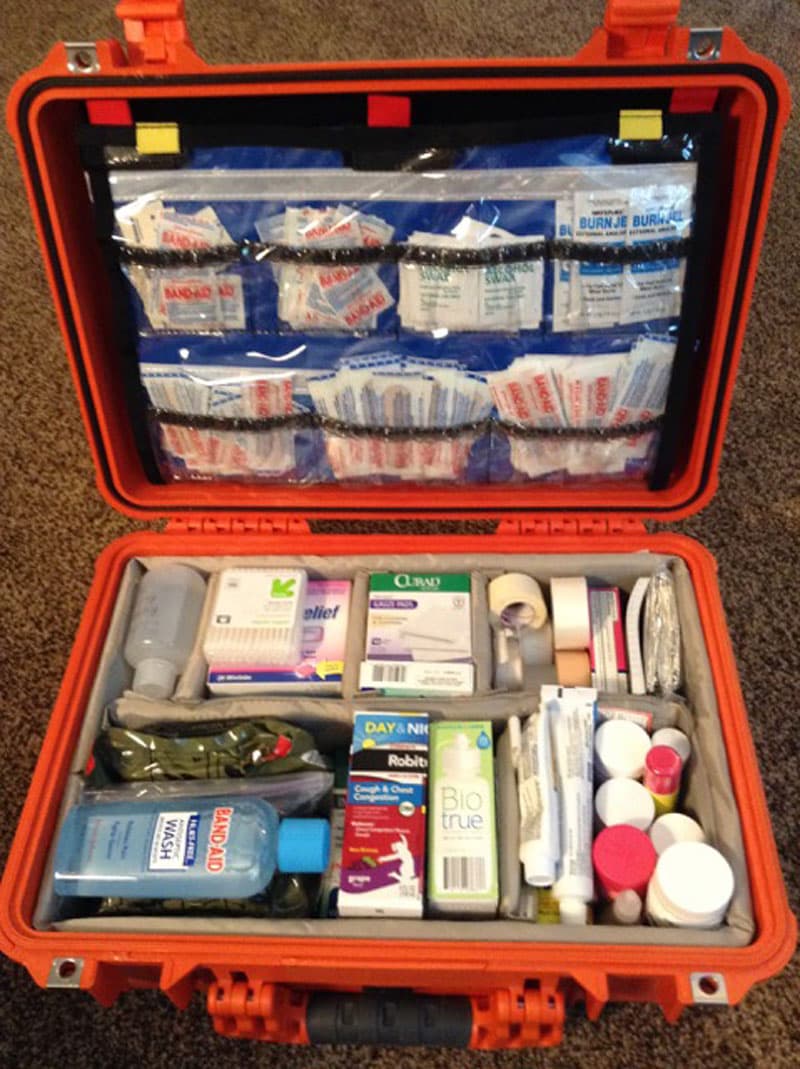 "Absolutely! I wouldn't leave home with out it. I use a Pelican 1500 EMS case. It is super tough and waterproof, so moisture is not an issue with storing first aid supplies. I keep it stocked with everything from band-aids and cold medicine to a CPR mask and tourniquet.
If you spend enough time on the road you will see accidents with people hurt (hopefully not you). If you travel to areas that are not close to medical care or even a CVS/Walgreens, you will be thankful you have it. I've have had to use my kit many times for everything from minor cuts to watching a guy flip his motorcycle 100 yards in front of me." – Bill K., 2005 Ford F-250, 2007 Lance 815
"Yes, I have a first aid in my camper and a first aid kit in my truck. Both have items ranging from band-aids to Aspirin to major trauma bandages.
I have never had to use the upper end of these kits. Of course I haven't used my life insurance either, but I have it. However, if a life threatening occurrence did occur, a high compression bandage could be the difference between life and death.
I think those basic first aid kits are a joke and only good for a simple scratch and give a false illusion. It's too simple and inexpensive to be prepared in your truck, camper, or on a hike to not prepare for a serious emergency." – David Kremer, 2015 Ford F350, 2000 Lance 1130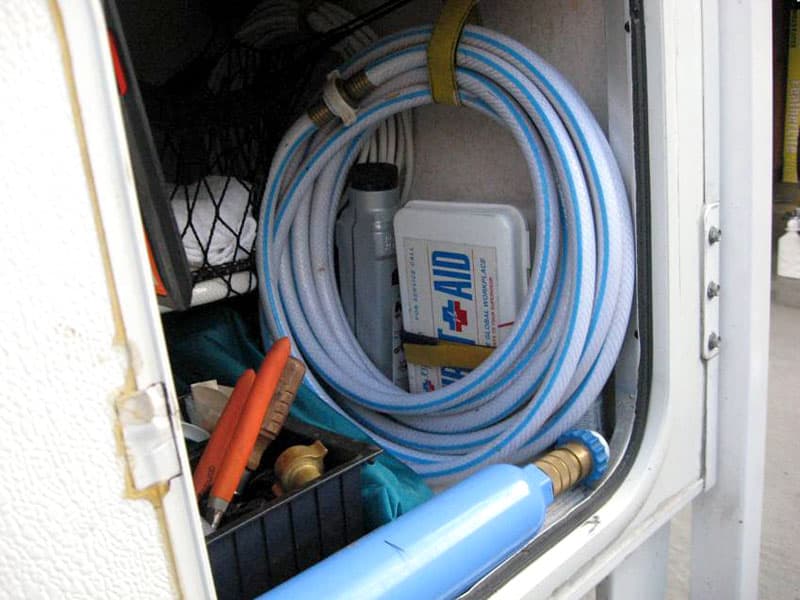 "I always carry a first aid kit.  I have one in the outside rear storage box in the Eagle Cap.  I also have one in the truck under the back seat and one in my storage bag on my bicycle.  All three are fairly comprehensive as to the items that are carried in them.  I seem to get cuts and scrapes at various times.